"Welcome to Montana. Now leave."
That should be the state motto.
Montana is truly one of the nation's gems. One of the most beautiful states in all the land, you could get lost there for months and not even care. At least, the truly adventurous could.
A bunch of tough, hard-working, meat-eating, and all-around friendly bunch of folks, they'll welcome you with open arms as long as you act respectfully and keep their state awesome.
You could do a lot worse when you pick a place to live, that's for sure.
But is it all good in Big Sky Country? Of course not. Just like every other state, Montana has its least desirable spots. The purpose of this post is to use science and data to determine which cities are the worst you could possibly live in if you make Montana your home.
After analyzing 32 of the state's most populous cities (over 2,100 people), we came up with this list as the 10 worst places to live in the state of Montana:
The 10 Worst Places To Live In Montana For 2021
What? Where are these places you wonder? And before you get all riled up and say we're picking on small town America, that's not the case.
We understand there's a lot of good in every place.
However, according to data (which doesn't measure things like beauty and 'friendly people'), there are far better options in the state for making a place home. And the worst place to live in Montana? That would be Polson.
Read on below to see how we crunched the numbers and see how your city fared in 2021.
If you're looking for something more national, check out the worst cities in America or the worst states in America.
For more Montana reading, check out:
The 10 Worst Places To Live In Montana For 2021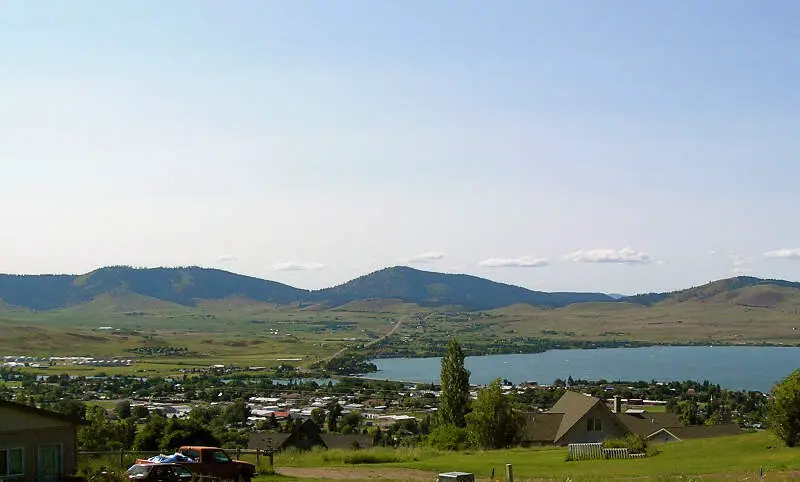 Squint and the name "Polson" looks a lot like "poison." That could adequately describe the town's economy, which supports a median income of just $37,054 and an unemployment rate of 8.2%. This leaves nearly 1 in 5 residents to struggle below the poverty line.
These financial troubles spill over into other aspects of community life. For instance, crime tops the national average by more than 75%. Meanwhile, life in Polson is relatively expensive, with a median home price of $187,200.'
Still, there are benefits to life in Polson. The town, located on the Flathead Indian Reservation, sits along the banks of Flathead Lake, making it a great base for outdoor recreation.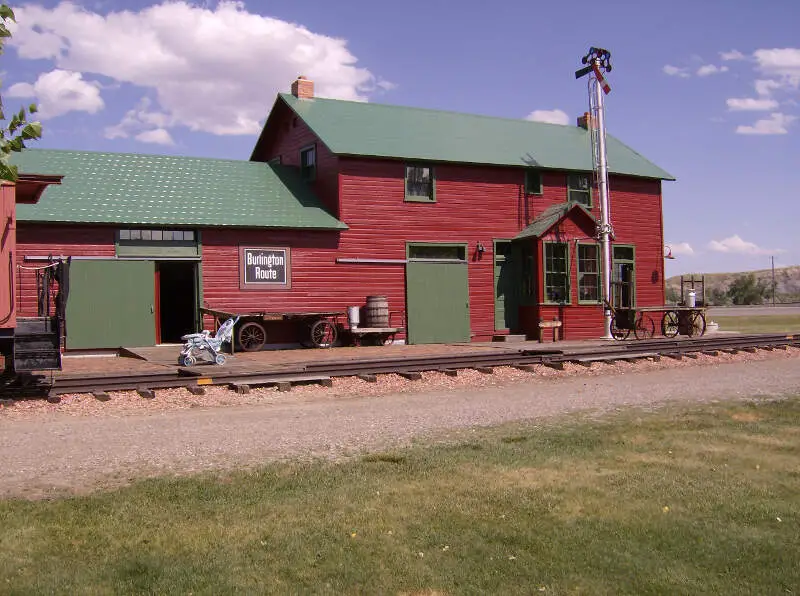 About three or four beers east of Billings is the small town of Hardin. Here, the unemployment rate is sky high at 8.8%, which is the 2nd highest in Montana. As you might guess, the families here are bringing in less than it takes to be comfortable, at least for what most people would consider a decent living.
And, like we're seeing in other towns with economic issues, the crime is far above the norm for Montana.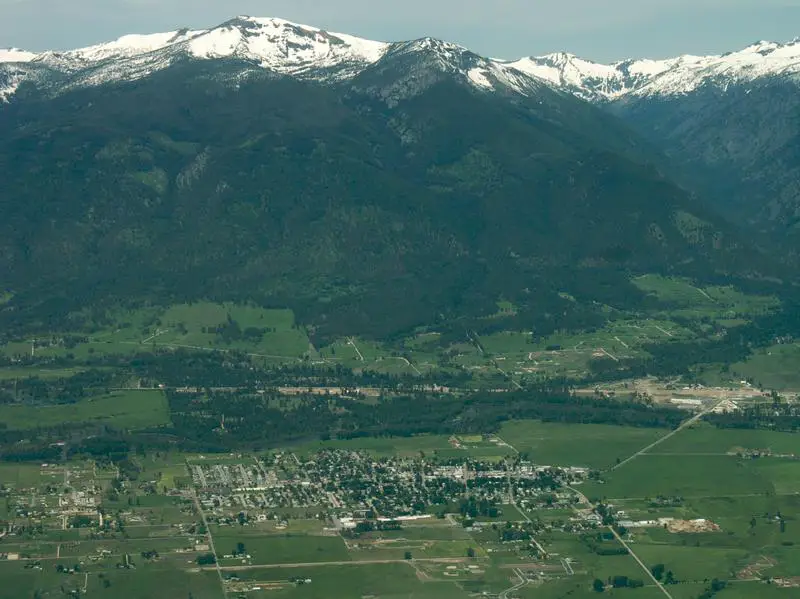 Stevensville has a long history. In fact, the town dates back to the start of European settlement in the region, with a founding in the early 1830s. These days, the town, located in the western part of the state, near the Idaho border, suffers from a significant poverty problem. It ranks as the 3rd worst place to live in Montana for 2021.
The community's unemployment rate comes in at a respectable 3.9%. But the available jobs don't pay very well, with a median income of just $33,219. The result? About one in four residents has to make due with sub-poverty conditions.
If you want to get a glimpse of early settlement in Stevensville, you can check out the Historic St. Mary's Mission. The church was originally founded in 1841.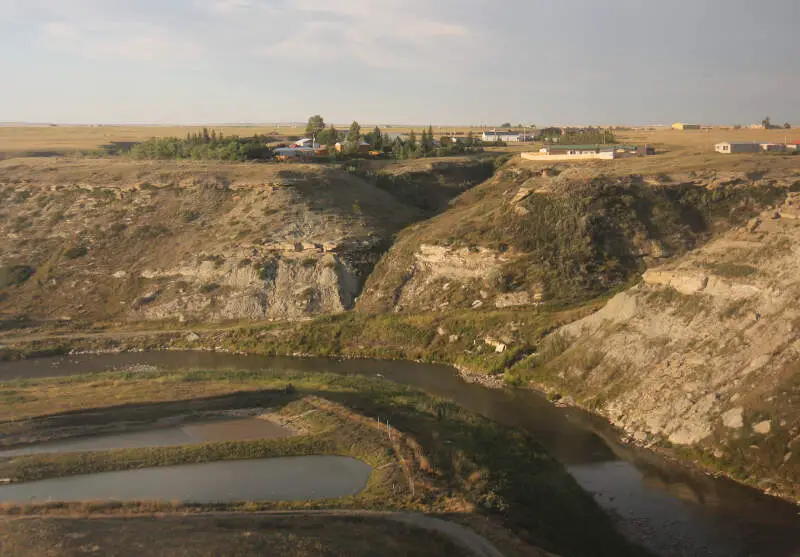 Cut Bank gets its name from a local creek. The town itself stands in the northwest part of the state, about a 40-minute drive south of the Canadian border.
For a small town (population: 3,058 people), Cut Bank has a big crime problem. In fact, the crime rate runs about double the national average. You don't need a sociologist to tell you that poverty plays a role in this. Despite an unemployment rate of 3.9%, the community suffers a poverty rate of more than 25%.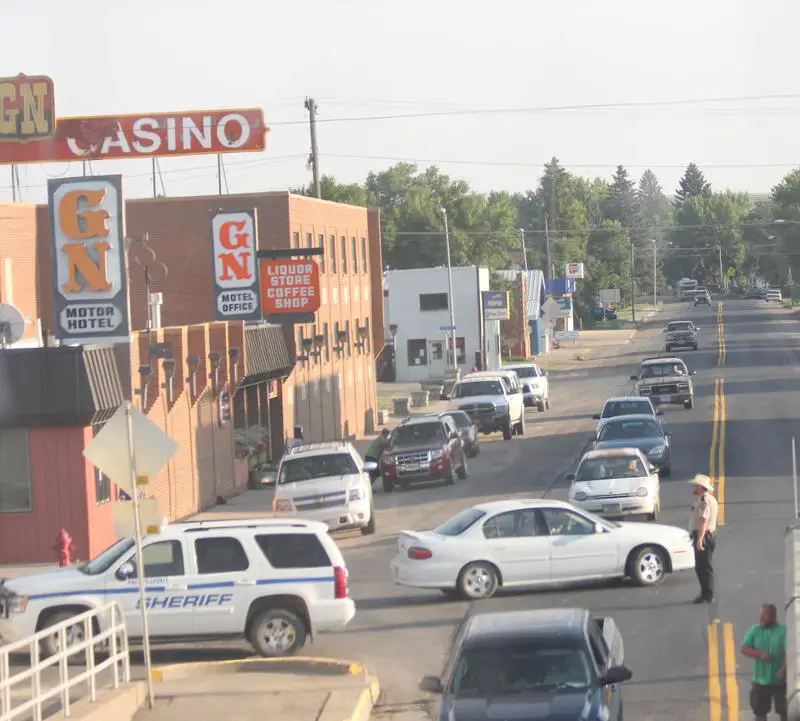 There's an enchanting island in the Mediterranean Sea called Malta, an ancient, mysterious outpost that sits within a shimmering sea and inspires legends like that of the Maltese Falcon. Then there's Malta, Montana. Different vibe entirely.
This Malta stands in the north-central part of Big Sky Country, situated at the intersection of Highway 2 and Highway 191. What's so bad about life in Malta? Well, beside not being a mysterious outpost in the Mediterranean Sea, it sports an unemployment rate of 8.3% and has schools that can't score better than a 6/10 on Great Schools.
Still, the Montana version of Malta isn't without its beguiling elements as well. Head over to the Great Plains Dinosaur Museum to see what we mean.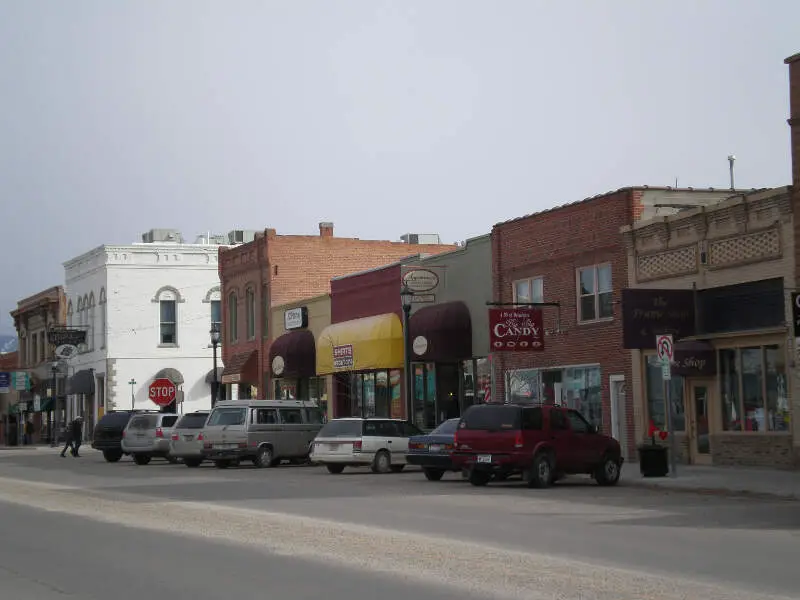 South of Missoula on Route 93 is the beautiful city of Hamilton, tucked away at the base of the Bitterroot Mountains. However, while people here might 'hack out a living' to a certain extent, the economic outlook here is pretty bleak.
The average household brings in about $32,006 a year, and 19.2% of them live below the poverty line. Plus, in Montana terms, the crime rate is really high. Residents here have a 1 in 31.9 chance of being the victim of a property crime, meaning car and home break ins and other thefts. We're pretty sure Montana people know how to handle a gun.
Additionally, you have a 1 in 262 chance of being the victim of an attack, rape or outright murdered when you're within Hamilton city limits.
Perhaps they need to lay down the law more aggressively out here.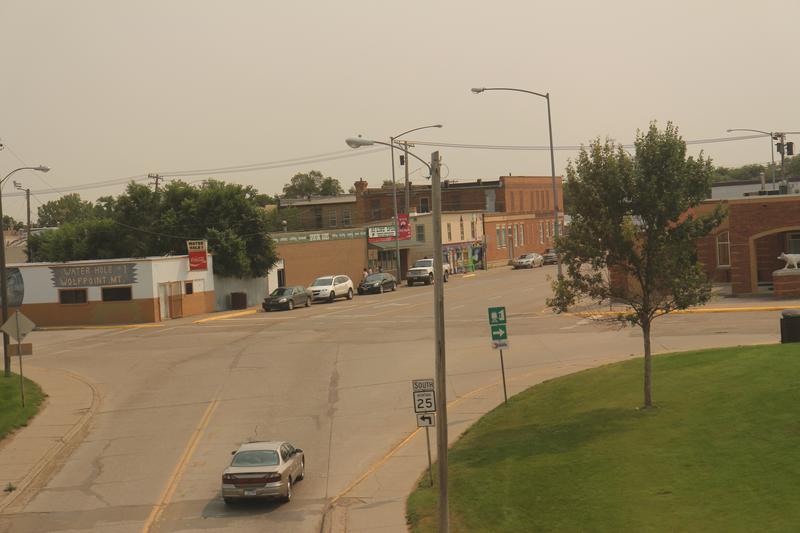 Wolf Point has significant historical significance. Lewis and Clark passed by in 1805 as part of their exploration of the area. And, even now, the town has a lot to offer. This includes the annual Wild Horse Stampede, considered the "Grandaddy of Montana Rodeos."
Day-to-day life has its challenges though. When the rodeo isn't in town, the economy tanks. The unemployment rate sits at 10.8% and the poverty rate hovers at 28.3%.
At the same time, safety represents a significant issue. You'd expect the home of the oldest rodeo in Montana to get a little rowdy. But a crime rate nearly 20% above the U.S. norm goes a little too far.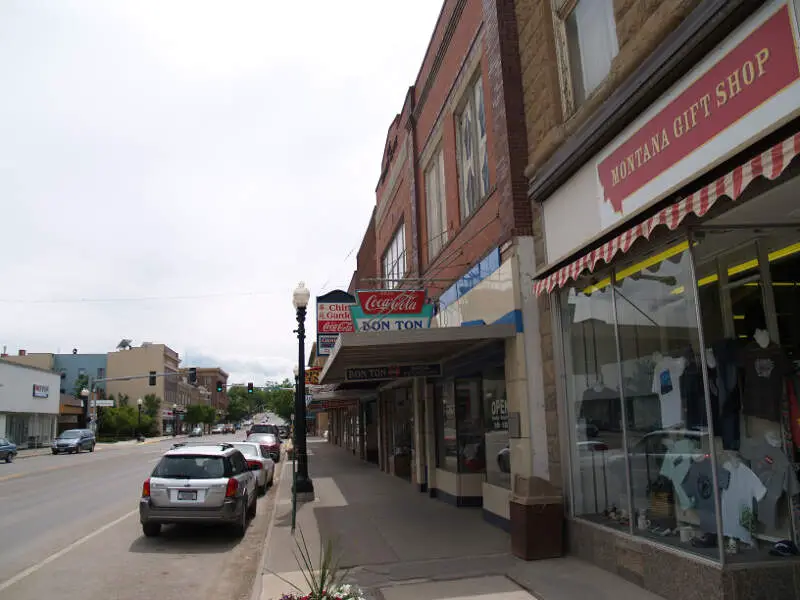 Lewistown started life as a boom town, springing up as part of the gold rush of the 1880s. It also gained early prominence as a key railroad stop.
Unfortunately, the wealth built up during those early days didn't stick. The modern-day version of the town has a relatively low unemployment rate of 4.9%. But the poverty rate hovers around 20%, thanks, in part, to a median income of just $38,575. Housing and diversity present problems as well.
Despite these issues, life in Lewistown has its bright spots. For instance, the town hosts the annual Chokecherry Festival.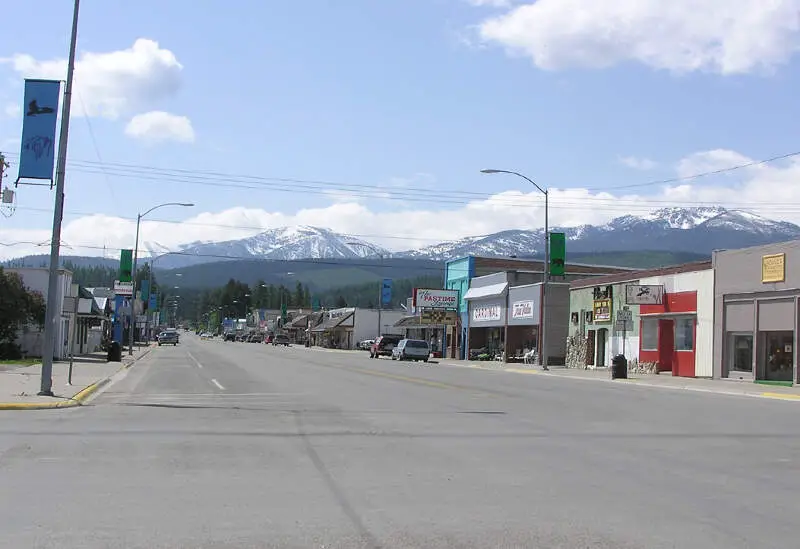 Source: Public domain
LIttle Libby is having a hard time, at least when you look at the data. More than 7.7% of the people here are unemployed, and 19.1% live below the poverty line. The area was largely supported by logging and mining, which have since closed down. Tourism has helped the locals make up for that loss in jobs.
Additionally, the area around Libby has been dealing with a Superfund clean up for the last 15 years. Apparently, the soil is contaminated, and there have been major medical concerns as a result.
Beyond these facts, the schools are poorly rated and crime is above average, even way out here.
Libby is on Route 2 near the Idaho panhandle.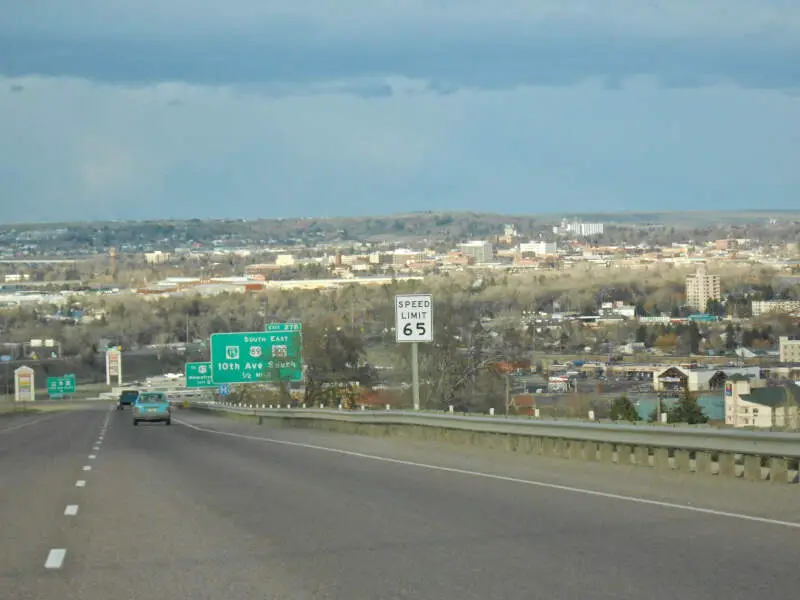 Like its name suggestions, Great Falls sits near a series of waterfalls. These define the town, even beyond its name. The community is built around the Missouri River and it reached its early prominence as a regional trading hub.
To a large degree, this continues to be the case. Great Falls boasts a robust economy, with a 3.8% unemployment rate and a $46,965 median income. Education, housing, and amenities are also strong.
So how did Great Falls end up on this list? Well, life in the community gets expensive, at least compared to the norm in Montana. The median home price sits at $176,500. Meanwhile, prices for services and groceries both top the national average.
How we determined the worst places to live in Montana for 2021
To figure out how bad a place is to live in, we only needed to know what kinds of things people like and then decide what cities have the least amount of those things.
We don't think it's a stretch to assume that people like the following things:
Good education
Lots of jobs
Low crime
Low poverty
Nice homes
High incomes
High population density (Lots of things to do)
Short work commutes
Health insurance
The data comes from the Census's most recent American Community Survey and from the FBI Uniform Crime Report.
We broke crime down into violent crime and property crime to give violent crime a larger weight — if you did a simple calculation of all crimes per capita, property crimes are normally 7x more common and really bias that ranking.
Furthermore, only cities with at least 2,000 people were considered — leaving 32 cities.
We then ranked each city from 1 to 32 for all the criteria with a #1 ranking being the worst for the particular criteria.
Next, we averaged the rankings into one "Worst Place To Live Score".
Finally, we ranked every city on the "Worst Place To Live Score" with the lowest score being the worst city in Montana — Polson. Read on for a detailed look at the 10 worst cities in Montana. You can download the data here.
This list is a scientific analysis based on real data and is completely unbiased.
Wrapping Up The Worst In Montana
If you're looking at areas in Montana with the worst economic situations, where there's higher than average crime, and not a lot to do, this is an accurate list.
And in the end, Polson ranks as the worst city to live in Montana for 2021.
If you're curious enough, here are the best cities to live in Montana:
Glasgow (Pop. 3,344)
Deer Lodge (Pop. 2,934)
Colstrip (Pop. 2,448)
For more Montana reading, check out:
Where Are The Worst Places To Live In Montana?
| Rank | City | Population |
| --- | --- | --- |
| 1 | Polson | 4,918 |
| 2 | Hardin | 3,808 |
| 3 | Stevensville | 2,182 |
| 4 | Cut Bank | 3,058 |
| 5 | Malta | 2,090 |
| 6 | Hamilton | 4,723 |
| 7 | Wolf Point | 2,774 |
| 8 | Lewistown | 5,885 |
| 9 | Libby | 2,703 |
| 10 | Great Falls | 58,835 |
| 11 | Townsend | 2,104 |
| 12 | Shelby | 3,078 |
| 13 | Kalispell | 23,241 |
| 14 | Livingston | 7,575 |
| 15 | Missoula | 73,710 |
| 16 | Whitefish | 7,714 |
| 17 | Billings | 109,595 |
| 18 | Sidney | 6,416 |
| 19 | Belgrade | 8,685 |
| 20 | Helena | 32,024 |
| 21 | Columbus | 2,194 |
| 22 | Havre | 9,786 |
| 23 | Bozeman | 46,746 |
| 24 | Dillon | 4,261 |
| 25 | Laurel | 6,834 |
| 26 | Red Lodge | 2,212 |
| 27 | Conrad | 2,633 |
| 28 | Columbia Falls | 5,429 |
| 29 | Glendive | 5,126 |
| 30 | Glasgow | 3,344 |
| 31 | Deer Lodge | 2,934 |
| 32 | Colstrip | 2,448 |
Editor's Note: This article is an opinion based on facts and is meant as infotainment. Don't freak out we updated this article for 2021. This is our seventh time ranking the worst places to live in Montana.