This article is an opinion based on facts and is meant as infotainment. Don't freak out.
Swipe left for slideshow. Article continues below.
Advertisement
[adrotate banner="4″]
Do you know anyone whom you'd refer to as Trashy? Most likely. Either there's someone at your job, in your neighborhood, or in your family that you'd throw that label on.
Essentially, Trashy is everywhere.
While calling someone Trashy might be a mean-spirited way of ridiculing or poking fun at a particular demographic, it can also serve as a way to express disdain about the way someone lives their life. It isn't as derogatory as using other racial slurs, and in fact, the term has a bit of humor associated with it, making it the focus of pop culture.
Take for instance Jerry Springer, Honey Boo Boo, Kid Rock, Eminem, Uncle Rico from Napoleon Dynamite and even Cousin Eddie in National Lampoon movies.
According to the Merriam Webster Dictionary, trashy is defined as:
"A term used broadly to define a person or group of persons whom embody the concepts of ignorance, racism, violence, alcoholism, poverty, and anglo-saxon ancestry. Similarly used with the term 'cracker,' 'hillbilly' or 'redneck'."
So, using some data crunching, we should be able to measure where the most Trashy communities in the state of New Jersey are actually located.
After pouring over data, watching too many fist fights and perusing illiterate Facebook comments, we've determined these are the most Trashy cities in New Jersey:
Time to take some meth and stay up all night with us as we go through the cities one by one. And before you say we're some kind of reverse racist, you can also check out the most Ghetto city in New Jersey.
For more reading, check out:
Advertisement
[adrotate banner="5″]
How we determined the most trashy cities in New Jersey?
Using publicly available government data, as well as Google Maps, we were able to collect the data on the following trashy metrics:
Cities where there are lots of white people
Cities where residents are poorer than average
Cities where a high number of residents are high school dropouts
High drug use
Higher than average Payday Loan Outlets and bargain stores
Violent cities (measured in aggravated assaults)
Cities with a high number of residents on welfare
We used the government Census for most of the data. For drug use and violence, we used FBI data, and for Cash Advance Outlets, we used Google Maps.
Simple, right?
We limited the analysis to non-CDPs that have over 5,000 people.
Then, we ranked each place from 1 to 145 for each of the trashy criteria.
Next, then averaged all the ranks to create a "trashy index".
In the end, Keansburg ended up being the the most trashy city in the Garden State. And by the way, Jersey Trashy likes to play online sweepstakes games where you can win real money. Click here to see an example where you can sign up and play for free.
Advertisement
[adrotate banner="7″]
1. Keansburg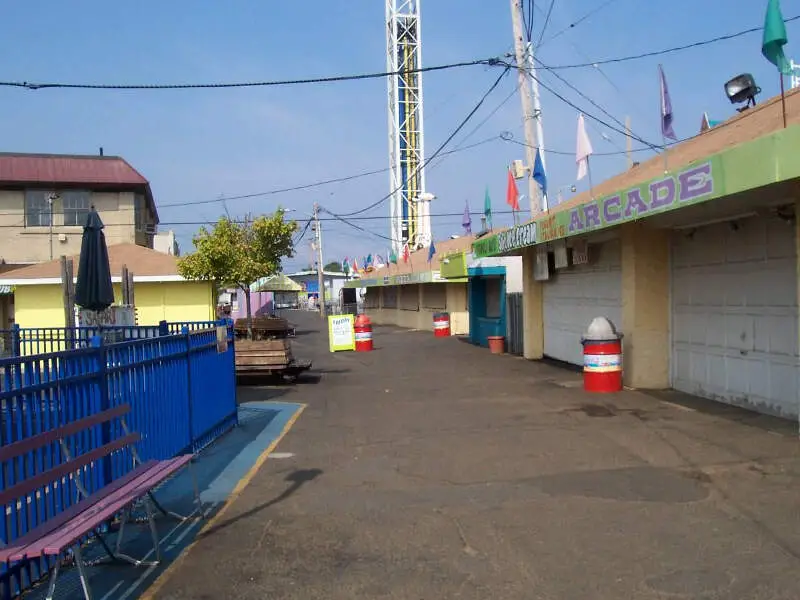 Population: 10,904
Estimated Trashy: 2,204
Welfare population: 17%
Toss back a Natty Light, and suck down another Camel, Keansburg, cause you're the whitest trash of all in New Jersey. 'The Burg' ranks in the top 10% for several categories, including number of residents on welfare, most amount of high school dropouts, as well as a high number of aggravated assaults.
Many of the folks in Keansburg smell of cheap cigarettes and meth. The meth problem is so bad here that they have created a 'Meth Watch'. The people on meth watch the people on meth because they have nothing better to do with their day.
Don't laugh, Laurence Harbor. You, either Atco. You weren't too far out of the top 10 yourself.
2. Gloucester City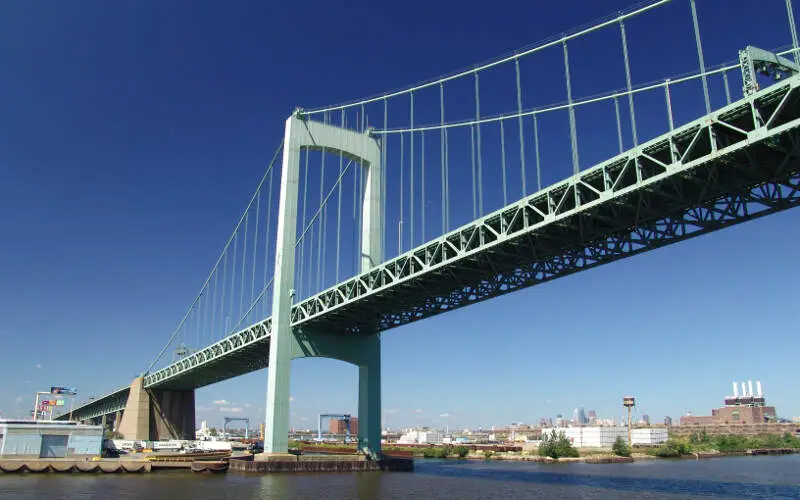 Population: 12,196
Estimated Trashy: 3,674
Assaults: 3rd
Gloucester City (AKA Gloucester Shitty) comes grocery cart rollin' in at a cool 2nd. This number, however, doesn't reflect the high number of mullets (is it a mullet, a perm, or merm G-town?), shag haircuts, bangs teased out like it's 1990, and the number of people methed out Eagles fans.
If you're from this city in Camden County, there is a good chance you know someone who did not graduate from high school. And, if you're a dead-beat dad named Rick who snorts Tylenol (because he can't afford adderall), and you moved to Camden with your sister's best friend, you might be from G-town.
3. Garfield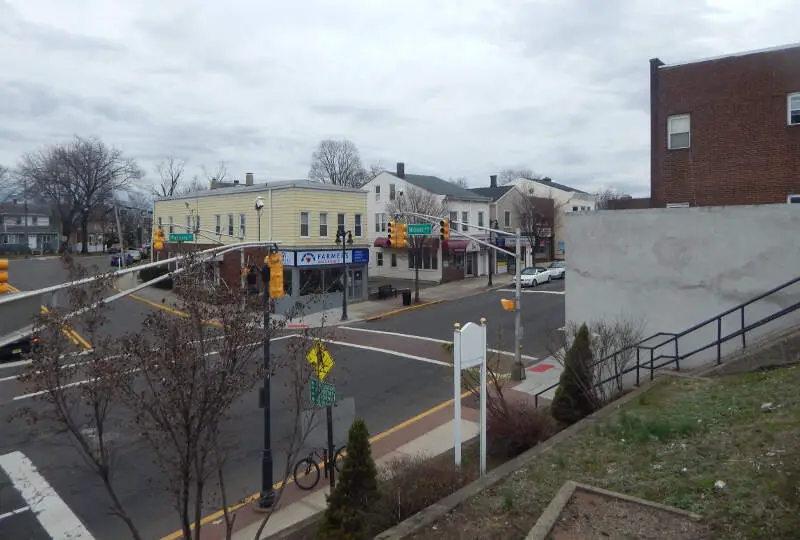 Population: 32,196
Estimated Trashy: 7,674
Payday Loan Outlets: 5
Garfield is located close to the New Jersey, New York border along the Saddle River. According to online forums, Garfield has a major drug problem. Even the river rats are doing heroin, here. Trashy river rats? That should be a reality show for sure!
You know you're from Bergen County if you're hangin' with your hick click at the local bowling alley and you send your best friend to get cigs and he calls 30 minutes later to tell you he got arrested with a sack of weed after running a stop light.
#DrivinWhileHuffinThey'llPutYouAway
4. Millville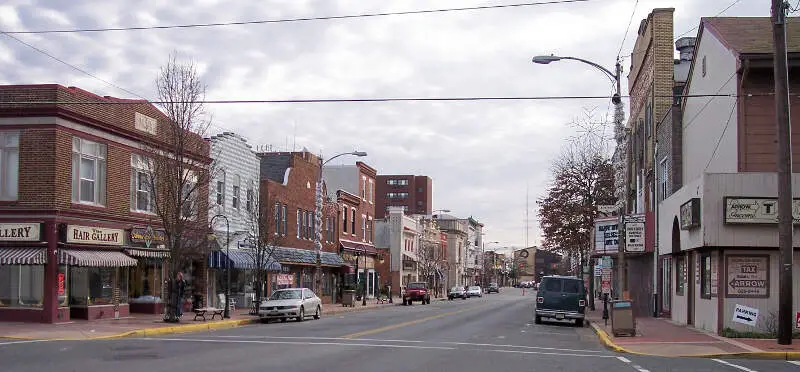 Population: 29,415
Estimated Trashy: 7,979
Assaults ranking: 5th in NJ
Chances are, if you and your kid(s) moved in with someone after just two dates, than you might be from Millville (AKA Meth-ville).
This city, in Cumberland County, ranks fifth in the state for aggravated assaults (meaning drunken fist fights). And in pure trashy form, when it comes to fightin' over who has better meth, you better believe it will be handled bare knuckle to bare knuckle in your trailer's front yard. Just watch out for the dirty diaper, the tub, and the broken down mower.
The culture in this city is as if Tonya Harding and Eminem got together and had a baby, you would get this hybrid blend of ghetto trashy all rolled into one.
5. Sayreville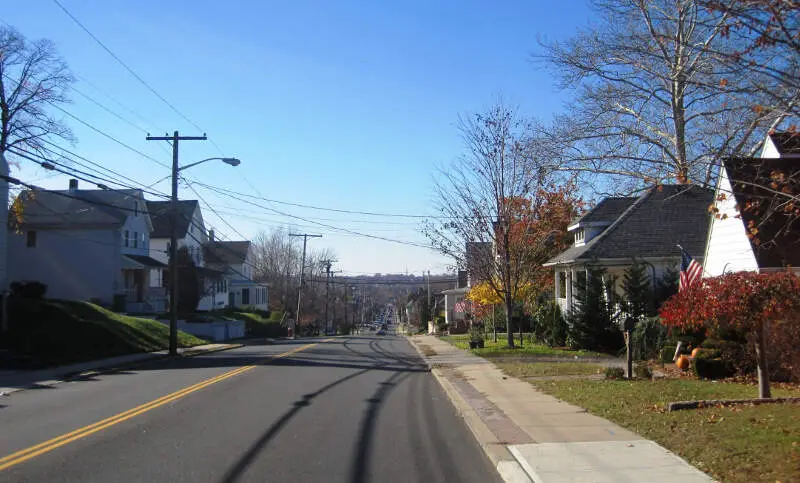 Population: 42,196
Estimated Trashy: 10,674
Aggravated Assaults: 3rd
Located on Jersey's Raritan River is Sayreville. Here, a large number of people either work as aerosol and sudafed mixologists, or at one of the bargain stores in the area. Shopping at the local dollar stores does not make you 'East Coast chic,' Sayreville, it makes you trashy.
And a lot of your trash must be getting into fist fights at your local Dollar Store when it's 50% off day, because you are 3rd for aggravated assaults.
That's right, in Middlesex County, they fight over the lawn mower; they fight over what beer is better (Busch or Natural Light); they fight over who has more teeth; and of course, they fight over who has the best meth. They just have a real chip on their shoulders.
Simmer down, Sayre-town. #NoShoesNoShirtNoTeethNoProblem
6. Wildwood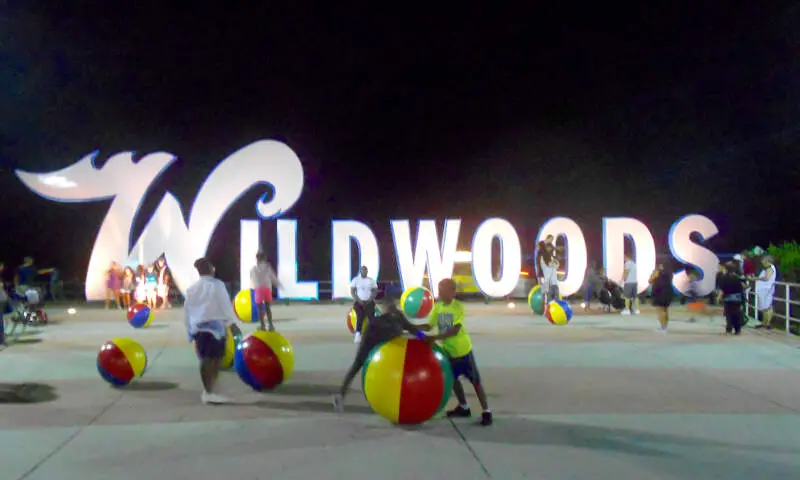 Source: Public domain
Population: 6,210
Estimated Trashy: 1,439
Welfare population: 15%
Well break out the PBR, suck down another can of squirt cheese, put your cig out in the sand, Wildwood peeps, cause your population is as close to 100% white as you can possibly get.
Many of the 'carnies' in this town smell of cheap cigarettes, stale beer, and seafood buffets. And if you grew up in Cape May County, there's a decent chance you know the trashy likes to hang at Morey's Pier.
This is why the Trashy Coastal Capital of New Jersey ranks in the top 10% for several categories, including the number of residents on welfare, the most amount of high school dropouts, as well as a high number of aggravated assaults.
7. Vineland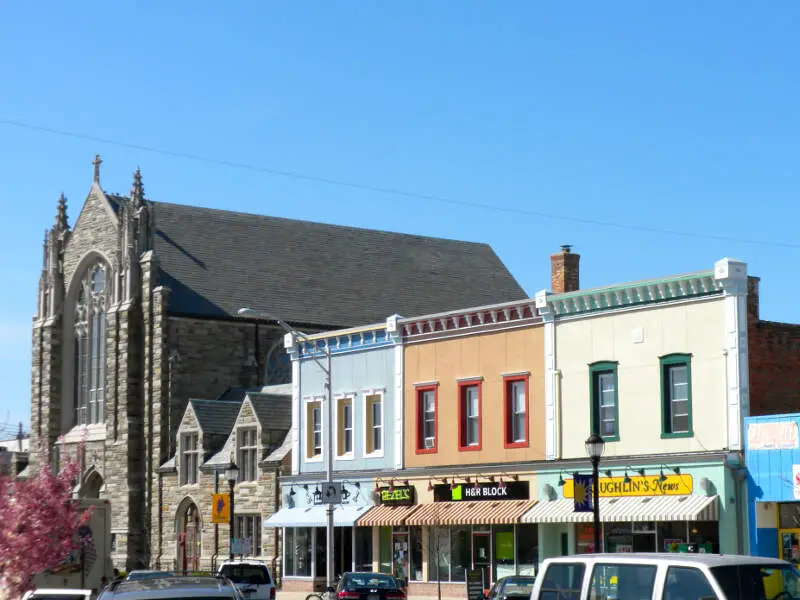 Source: Public domain
Population: 60,196
Estimated Trashy: 9,674
Dollar Stores: 10
According to online forums, Vineland is known as New Jersey's trailer park.
Hey, don't get your boxers in a bunch, we know the three things you don't mess with in trashy trailer park land: NASCAR racin', drinkin', and makin' meth. And if you live in Cumberland County, there's a good chance you ain't racin' – you're makin' meth.
Hey V-town, if it's 3 am and you're reading this while devouring your "methwich" instead of changing your baby's diaper, you're probably Trashy.
#BestPlaceToGetYourFixInThe856
8. Phillipsburg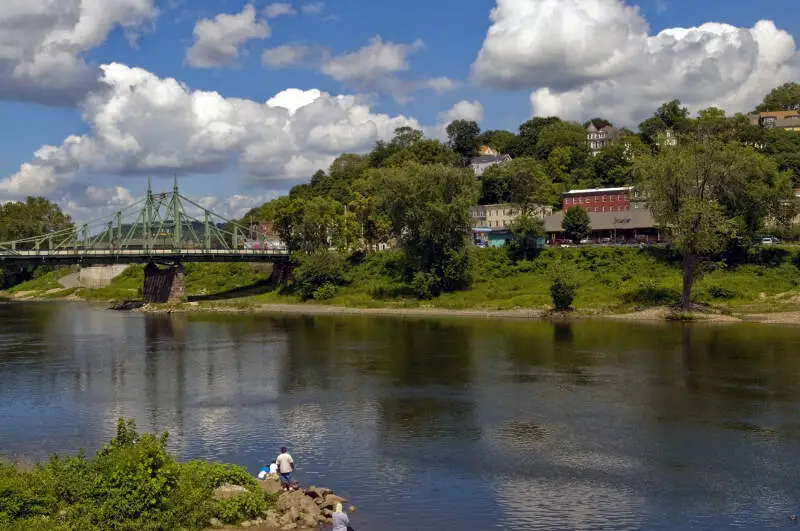 Source: Public domain
Population: 15, 229
Estimated Trashy: 3,283
Thefts per capita: 5th
Nothin' says trashy like a good 'ol ass whoopin at a Walmart. You just might see that in Phillipsburg on the first of the month.
In fact, P-town was home to the infamous trashy Walmart fight between the woman in the jammies and the other woman in the jammies. Maybe they should fight at one of their local bargain stores so they won't feel like they have to dress up.
Here, three of their favorite pastimes are making meth, smoking meth, and driving the "loop."
In Warren County, they ARE down with O.P.P. – other people's pills. They are 15th in the state for drug use. And when they say they have their G.E.D., it means they "got every drug".
9. Keyport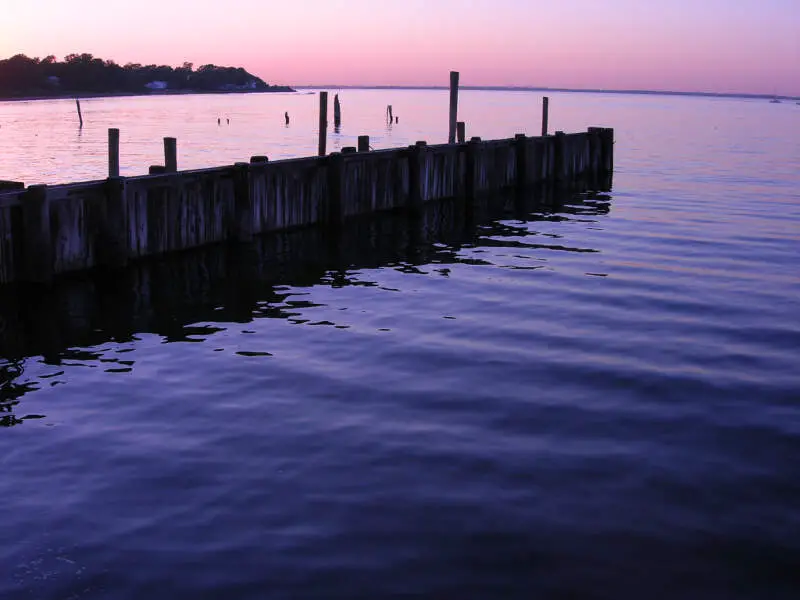 Population: 8,301
Estimated Trashy: 1,999
Welfare population: 18%
Keyport (AKA Sleaze-port) ranks in the top 5 for three separate trashy metrics, including number of aggravated assaults, number of bargain stores, and number of people on welfare.
When it comes to defining proper trashy etiquette in this town, always remember the cardinal rule: You need to be careful what you say in Monmouth County because someone might come over and pop the wheels on your house. Or was it, you mess with me, you mess with the whole trailer park? So confusing. That's what happens when you try livin' the K-town Way: 24 Busch Lights in a case, 24 hours in a day. Genius.
#MauryWorthy
10. Bayonne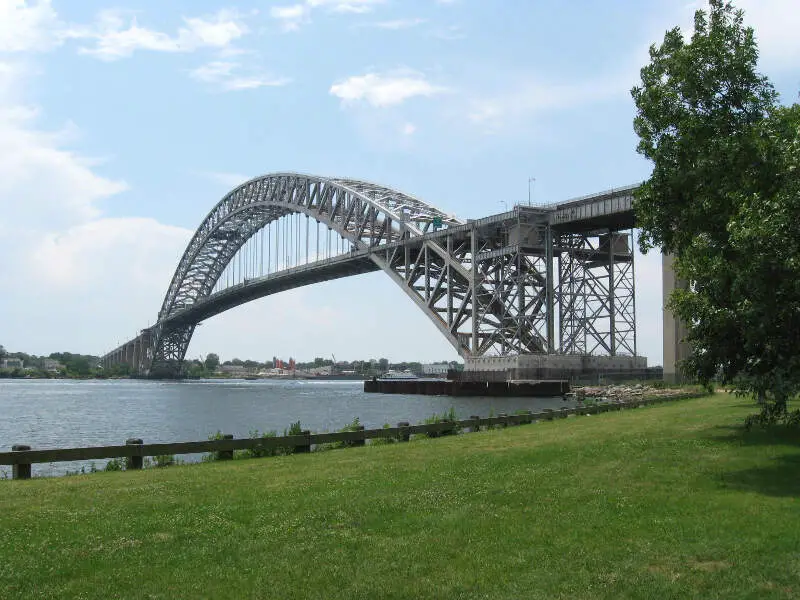 Source: Public domain
Population: 61,632
Estimated Trashy: 15,439
Assaults: 8th
Rounding out the list of the ten most trashy cities in New Jersey brings us to Bayonne. This is where the high class trashy live. You think you're 'all that' with your multiple bargain stores, 13 payday loan outlets, and large number of fast food restaurants to wear your pajamas, swimsuits, and wife beaters to.
Located in the Gateway Region of New Jersey, this city is off the charts for it's use of high class trashy attire. Pink Crocs, feathered mullets, jorts, and beer guts galore, can be seen any given day of the week: it's a lifestyle here.
But for the residents of Hudson County, it's just home sweet home. Where the meth heads roam, and the hillbillies and pillbillies play.
There You Have It
According to the official dictionary definition of Trashy, and based on stereotypes that the internet says are true, using science to determine the most Trashy cities in a state can't be too far off.
If you're analyzing cities in New Jersey with lots of angry welfare recipients, single mothers and where people have lots of options for payday cash loans, this is an accurate list.
If you're curious enough, here are the least trashy places in New Jersey:
Demarest
Upper Saddle River
Cresskill
For more New Jersey reading , check out: