This article is an opinion based on facts and is meant as info-tainment. Don't freak out.
Swipe left for slideshow
Depending on how old you are, or where you're at in life, you might be reading this wearing a somewhat pleased smile, a grimace—recognizing that yes, your hometown is a little too rowdy; or, you might just be too drunk to read this at all. In which case, don't worry, there are pictures.
But for those of you who aren't in Manchester, Iowa and seeing double right now, let's discuss (perhaps over a glass of wine, or a 12-pack), just what makes one place "drunker" than the next.
First, off: the number of places you can actually buy booze. Certainly an important factor in actually getting drunk. Then, the amount of people who actually go around saying things like "Dude I was so tanked last night," or "How did I wake up in my neighbor's attic… again?!"
And of course, playing to stereotypes, the divorce rate. Because studies have shown that when one or both partners drink a lot, they are three times more likely to divorce.
Don't worry, we'll talk more about our methodology in the next section. First, though, these are the 10 drunkest places in Iowa, according to the research:
Manchester
Cherokee
Clear Lake
Algona
Grinnell
Mount Vernon
Spirit Lake
Davenport
Dubuque
Cedar Rapids
Whoa, whoa, whoa, whoa. Don't you throw your empty beer can at the computer just yet, there, Buster. First off, it'll damage the computer. Second, there's actually a method behind this madness.
How We Determined the Drunkest Places in Iowa
We said it once and we'll say it again (because really, if you're as drunk as we think you are, you won't remember): We didn't just come up with this list based on our own opinions. No, we used the magic of numbers.
First, we made a list of all of the places in Iowa with populations of 5,000 people or more. Then, we looked at each of these 95 places in terms of these boozy criteria:
Number of bars and pubs per capita
Number of wineries per capita
Number of liquor stores per capita
Each city's drunk-related Tweets within the past week
Each city's divorce rate
Yeah, $#** just got real. But hey—if you're drinking so much that you've ruined your marriage, you're probably too bleary-eyed to read this anyway.
Once we gathered up our information, we ranked each place with scores from one to 95 in each category. We then averaged each place's ranking into one overall score, where the lowest scores went to our 10 drunkest places. (Cheers!)
If you care to see how more than just these top 10 ranked, you can wind your way down to the bottom of the post (you should be seeing just one table.) Otherwise, let's take a look at our top 10 winners!
Or, you can read our breaking news: We have the list of cities in Iowa with the most Ashley Madison accounts. This is the site where people go to cheat on their spouses. Click here to read that one.
1. Manchester
Population: 5,160
Divorce rate: 18.71%
Bars per capita: 8th most per capita
Liquor stores per capita: 5th most per capita
Over the past week, Manchester residents have come up with a veritable SNL episode-worth of material in the Twittersphere. Mostly you guys were grumbling about politics, but hey, ain't nobody got time for that. We're talking booze.
And apparently, so were many of you. Here are a couple favorites:
"Iowa Hawkeyes for the win. Drinks on me!"
And then one around 2 AM that simply says, "DRUNNNNNNKKKK."
It's good you managed to tell us though, anonymous Twitter user. It was a useful update.
No wonder Manchester has the second highest divorce rate in the state.
2. Cherokee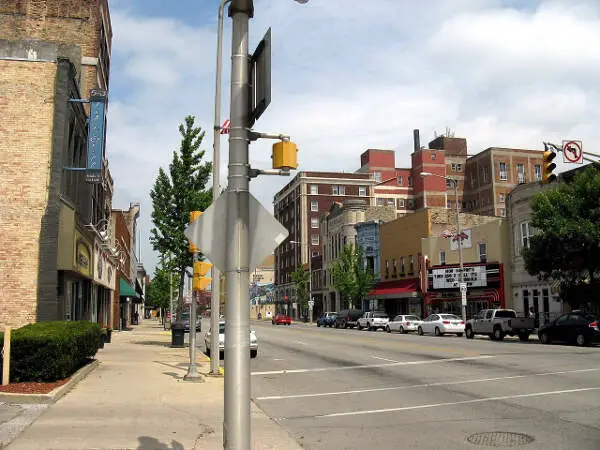 Population: 5,196
Divorce rate: 14.04%
Bars per capita: 10th most per capita
Liquor stores per capita: 13th most per capita
Hot damn, Cherokee, you're winning us over already! With more bars per capita than 85 percent of the state and a divorce rate within the top 20 highest, we're packin' our bags!
No, just jokes. We'd probably be drinking a lot, too, if our hometown had as many liquor stores per capita. Or as one Twitter user said: "Tornado watch? Time to drink." Yeah, that'll help.
3. Clear Lake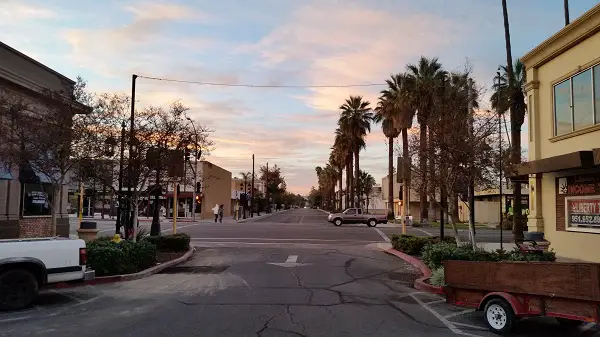 Population: 7,765
Divorce rate: 10.58%
Bars per capita: The MOST per capita
Liquor stores per capita: 6th most per capita
With a whopping nine Tweets this past week (pretty high for a relatively small place), Clear Lake residents seem to be doing a lot of #drinking, having a lot of #drinks, and doing a lot of #SundayFunday activities. One Tweeter reported doing them on a Monday… We rest our case.
What can you expect, though, with the absolute highest number of bars per capita and among the 10 highest number of liquor stores per cap in the state?
4. Algona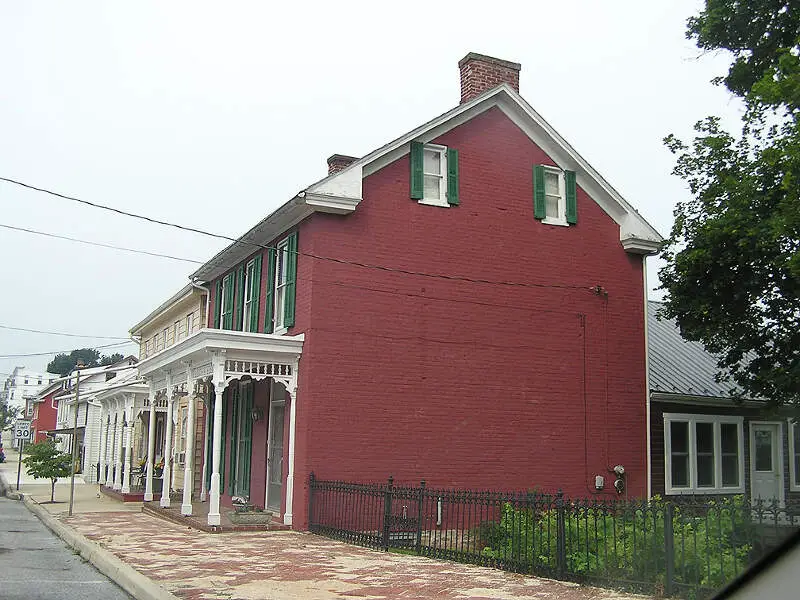 Population: 5,534
Divorce rate: 12.01%
Bars per capita: 7th most per capita
Liquor stores per capita: 15th most per capita
Well, Algona, we can't say we blame you for drinking so much. Check out this lovely Tweet from the week: "Hi I'm Alex I'm a senior journalism major from Algona Iowa and I hate condoms but I love making new friends"
Thanks, Alex! You've also cleared up why the divorce rate here is so high!
Aside from that lovely quote, Twitter blew up with Tweets about drinking seven times over the past week. Pretty impressive for a place of just 5,534 residents, don'tcha know?
5. Grinnell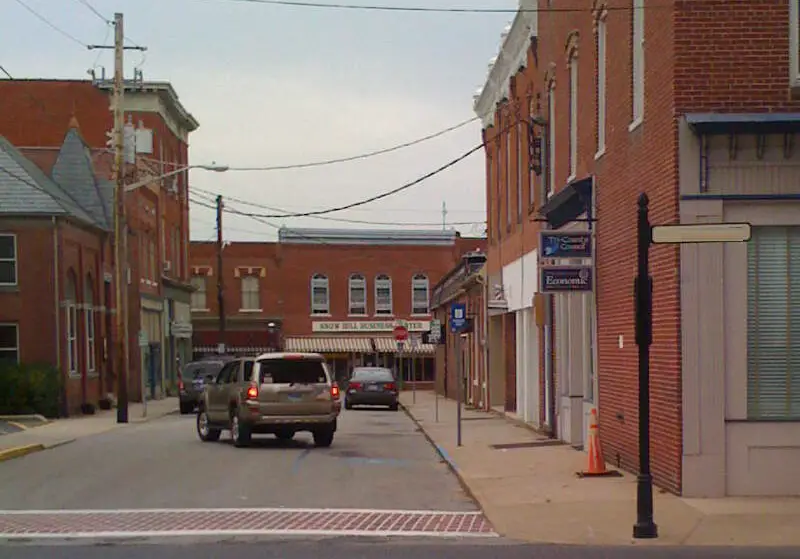 The gang at Prairie Canary, Grinnell, IA. From their Facebook page.
Population: 9,205
Divorce rate: 11.34%
Bars per capita: 20th most per capita
Liquor stores per capita: 9th most per capita
Okay, we get it. When a good portion of the Twitter activity in your town is devoted to #AgDay and #Dinerfood, we understand why you drink. What else is there to do? Apparently—tweet about it!
(But seriously, the Candyland Station does seem pretty cool.)
6. Mount Vernon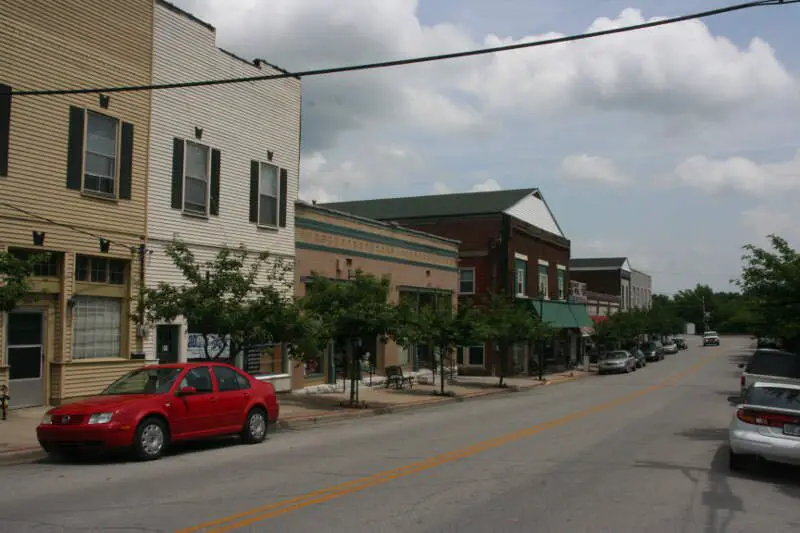 The gang at Chameleons Pub and Grub, Mount Vernon, IA. From their Facebook page.
Population: 4,498
Divorce rate: 7.58%
Bars per capita: 13th most per capita
Liquor stores per capita: 3rd most per capita
Sure, the divorce rate in Mount Vernon is pretty low, but who says that two drinks can't live happily together—or at least until the booze run out?
Luckily, in this town, that's not much of an issue. Not only are there more bars per capita than most places in the state, but Mount Vernon has the third most liquor stores.
PS: According to Twitter, it is illegal to pick a flower from a city park in Mount Vernon, so you know, next time you're drunk and walking around the park naked, just don't pick any flowers.
The former part, we're sure is expected.
7. Spirit Lake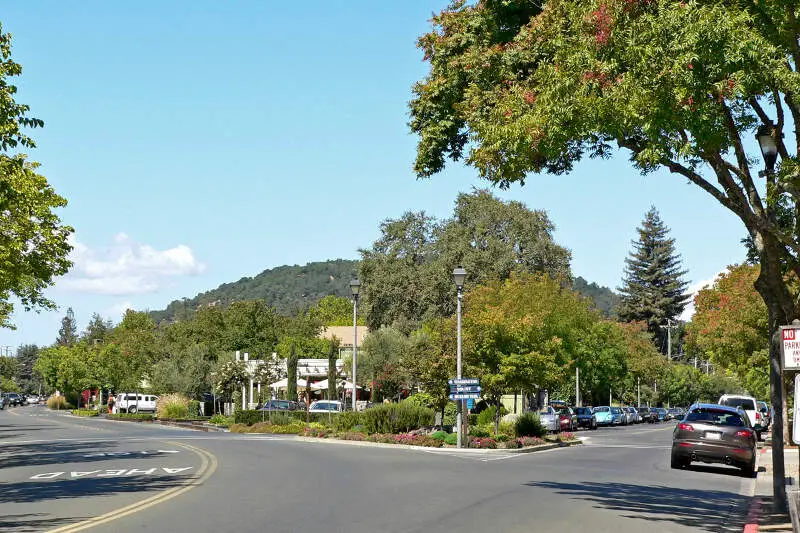 The gang at MUGSHOTZ, Pewaukee, WI. From their Facebook page.
Population: 4,830
Divorce rate: 9.47%
Bars per capita: 8th most per capita
Liquor stores per capita: The MOST per capita
Oh c'mon. Spirit Lake? Spirit Lake? The booze are right there in the title! Okay, okay, we'll level with you guys, you didn't really have all that many drinky-Tweets this week (a slow week maybe?) You had four that we could find.
But we think you more than make up for that with your number of liquor stores—the highest number per capita in the state, and the eighth most bars to boot!
8. Davenport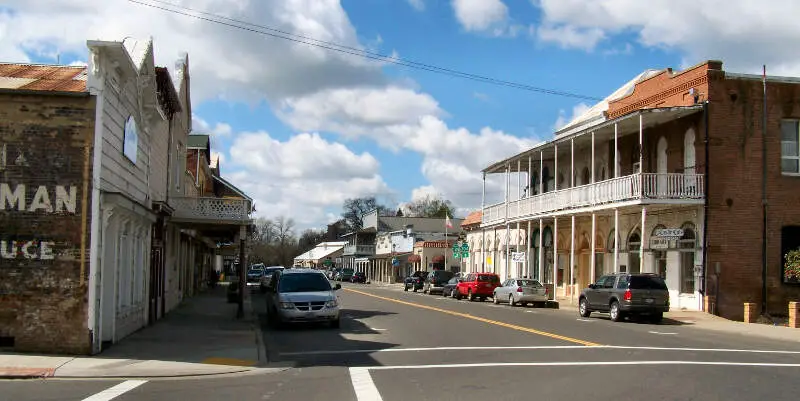 Population: 99,781
Divorce rate: 13.33%
Bars per capita: 9th most per capita
Liquor stores per capita: 30th most per capita
Maybe it's all the floods, (Davenport is smack dab on the Mississippi River), or maybe it's just the prospect of having to drive all the way to Chicago or Des Moines for a good time; whatever the reason, Davenport residents sure do seem to love their liquor.
Yes, we know that the number of liquor stores per capita here fall right about in the middle, but perhaps that's just because residents prefer to get their drink on in the company of others. It has the ninth most bars per capita.
And perhaps, not unexpectedly with a larger population, Davenport residents sure do love to talk about drinking. Over the past week alone, we counted 32 Tweets about drinking coming from this city. Here's a good one: "Liquor – check." Keeping it simple.
9. Dubuque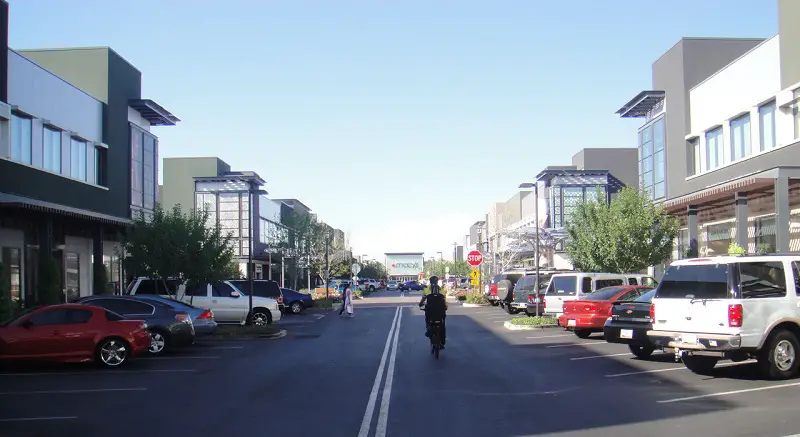 The gang at Mississippi Boon Bar, Dubuque, IA. From their Facebook page.
Population: 57,727
Divorce rate: 10.70%
Bars per capita: 3rd most per capita
Liquor stores per capita: 20th most per capita
Sure the 20th most liquor stores doesn't sound that bad, but remember, we did look at nearly 100 places. Besides, Dubuque has more than enough bars per capita to keep everyone plenty satiated.
While the divorce rate is high, it's not among the 20 highest. Where Dubuque really seemed to garner its drunk points, was in the Twitterland. There were 51 Tweets coming from Dubuque about drinking over the past week. Here's our favorite:
"The @realDonaldTrump is in Dubuque today. To celebrate, I'll drink a beer and spend some time scratching my crotch."
Hey, can't argue with that.
10. Cedar Rapids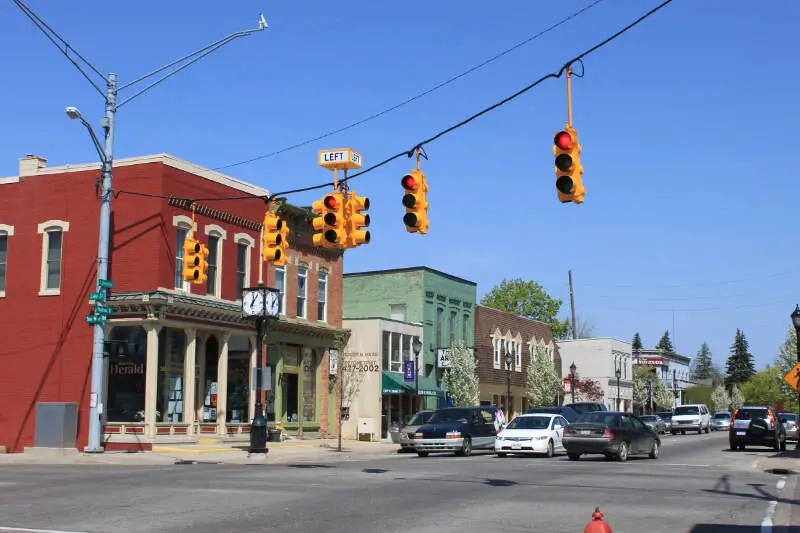 The Red Baron Bar and Dance Club, Cedar Rapids, IA. From their Facebook page.
Population: 126,921
Divorce rate: 12.10%
Bars per capita: 12th most per capita
Liquor stores per capita: 40th most per capita
Cedar Rapids, taking the keg with a whopping 75 Tweets all about boozin'. Not just any booze will do in this city it seems, Cedar Rapids seem to love their beer. We saw such excellent Tweets as "To the beer cave!", one saying that Cedar Rapids "smells like a big bowl of dog food and cheap beer" (their words, not ours), and one that simply said "Bring the beer!!!" Priorities.
It's no surprise, though, when you realize Cedar Rapids has some of the most bars per capita… and one of the higher divorce rates.
Kind of a chicken or the egg situation, eh?
Glass is Half Full
If your hometown was boozy enough to make this list and you're feeling a little upset, don't worry. While the numbers and data clearly point to the fact that you guys don't just drink, but you "drriiiiiiiiiiiiiiiiiiiiink," we're still just saying this all in good fun. So buck up.
After all, the glass is always half full.
We also wrote a story on the most redneck cities in Iowa in case you didn't happen to see it. Click here to read it.
Or, you can read our breaking news: We have the list of cities in Iowa with the most Ashley Madison accounts. This is the site where people go to cheat on their spouses. Click here to read that one