Article Table Of Contents   
(Skip to section)
Crime in America has been slowly but steadily dropping for the past several decades.
And despite a small, recent uptick, it's basically as safe as it's ever been.
However, much like how some parts of a city are more dangerous than others, there are parts of America that still haven't got the memo that were in a more peaceful time. These are the cities in America were murder is relatively common -- yet, we must stress, still very uncommon.
In an effort to you make you better aware of these potential danger zones, we dug into the most recent FBI data to determine where the murder rates are the highest amongst America's largest cities.
In a surprise to no one that's looked at the data before, Chicago isn't in the top ten -- it's such a huge city that even high absolute numbers don't translate into actually high murder rates.
These are the 10 cities in America with the highest murder rates per capita:
The city with the highest murder rate according to the most recent FBI Data? That would be St. Louis with 0.0009 murders per capita -- or about 1 for every 1,134 people, which is relatively low compared to historical norms and isn't THAT dangerous.
So while murder might be a problem in these cities, we have a feeling that the top offenders will get their murder rates under control in the comming years.
Read on for more information on how we calculated these numbers, or feel free to check out something a little less dreary:
Editor's Note: We updated this article for 2022. This is our ninth time ranking the murder capitals of America. This article is an opinion based on facts and is meant as infotainment -- don't freak out.
The 10 Cities With The Highest Murder Rate In America For 2022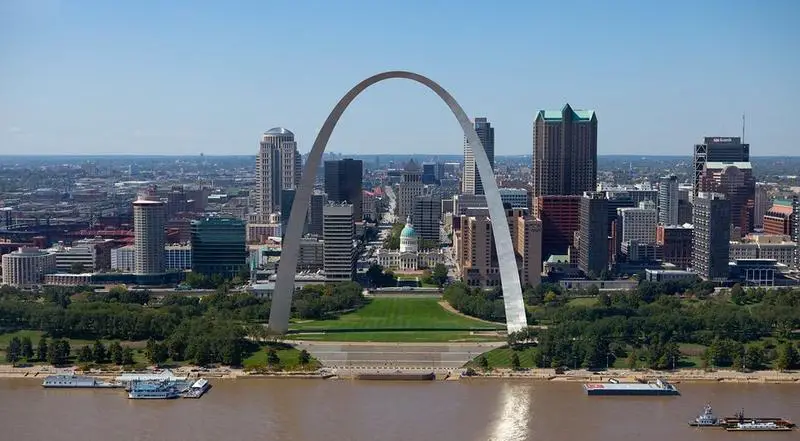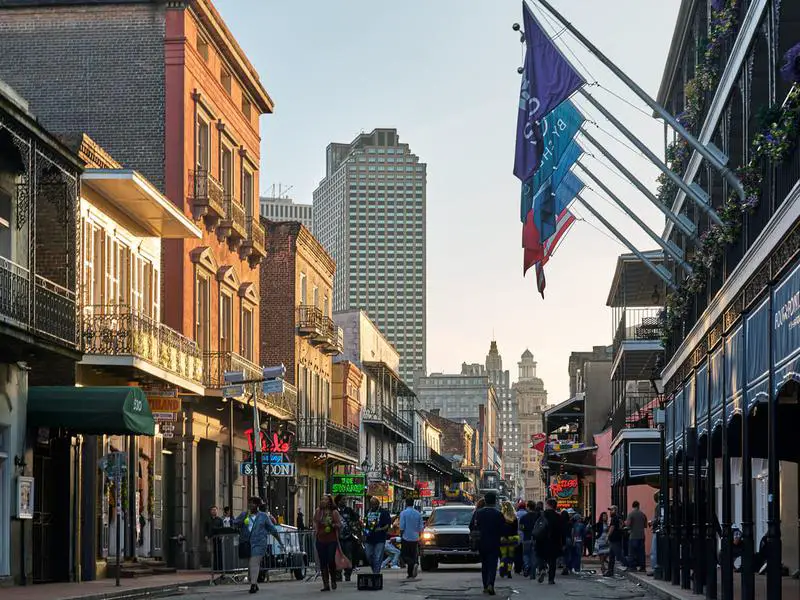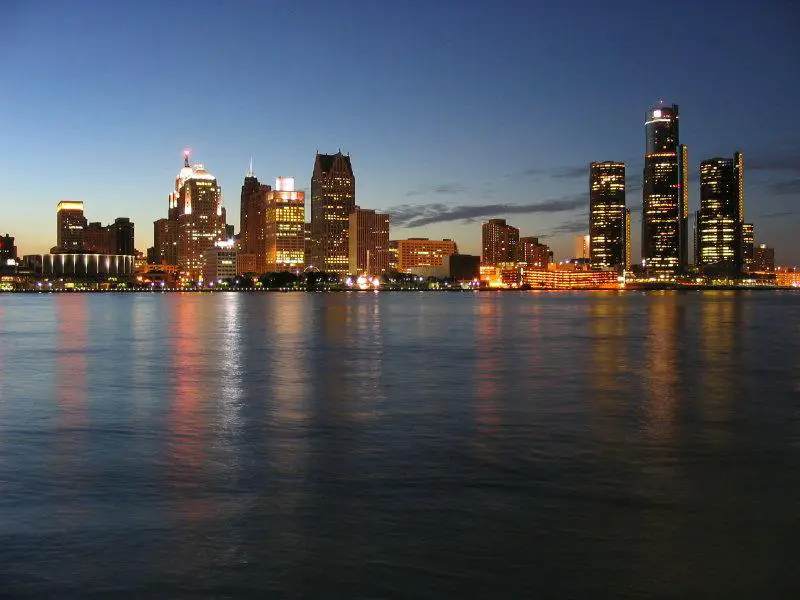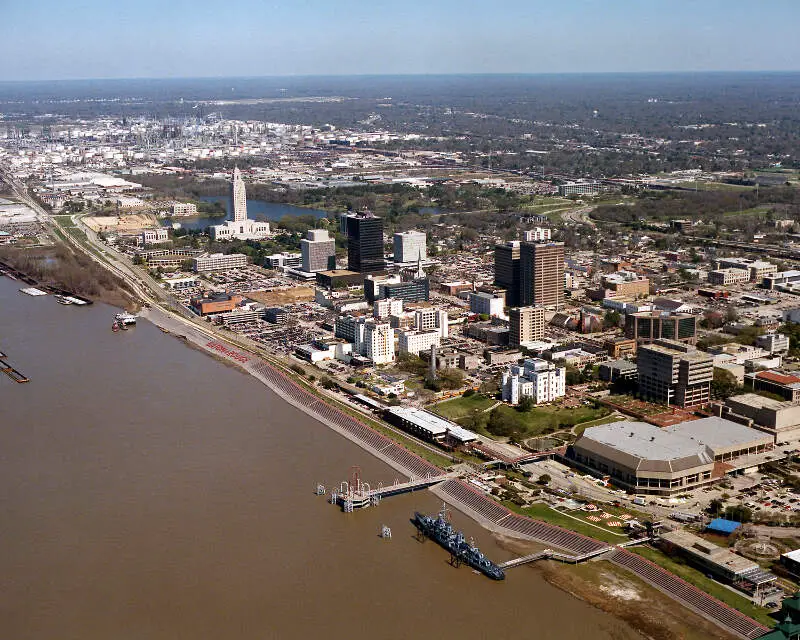 Source: Public domain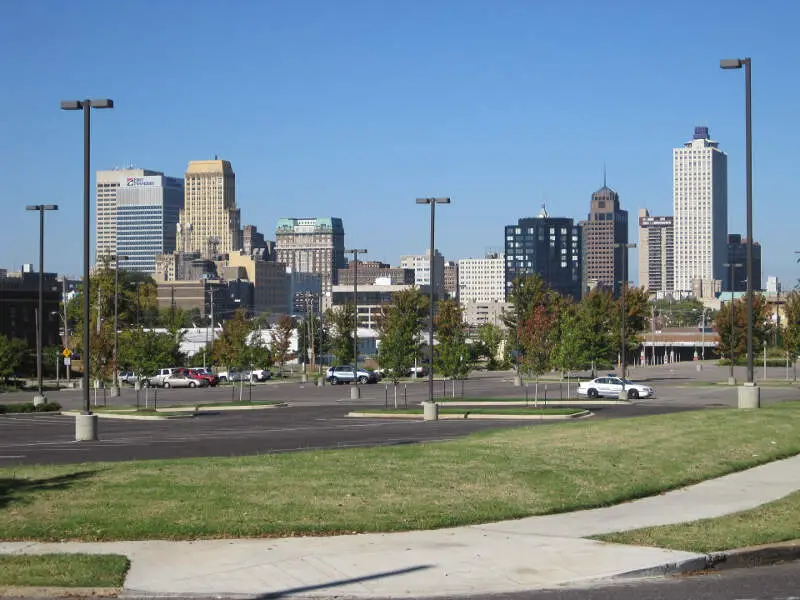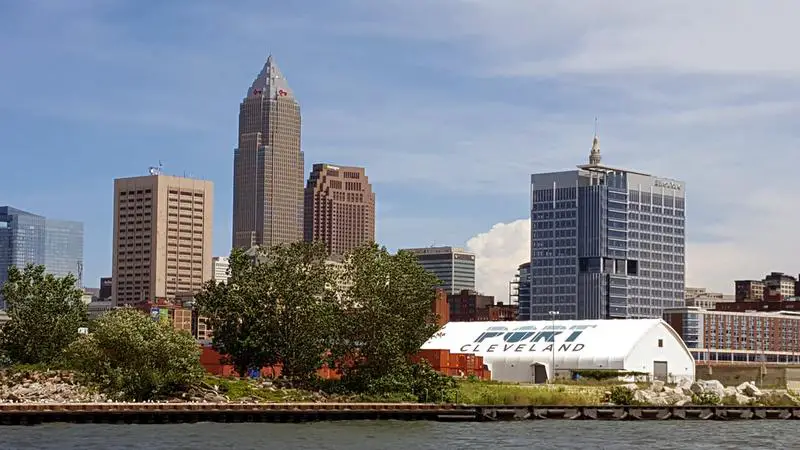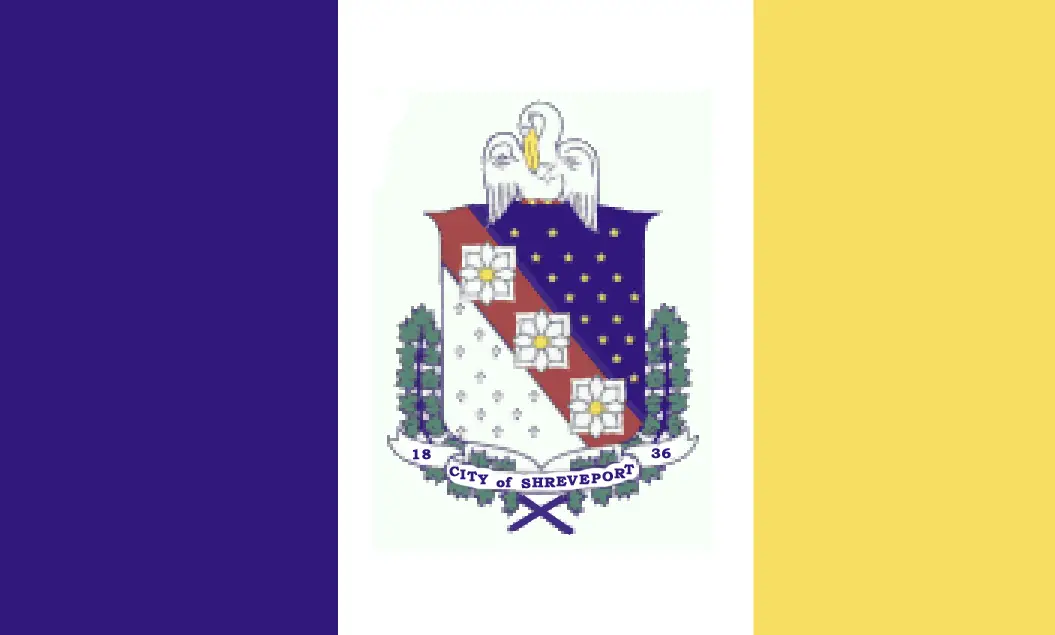 Source: Public domain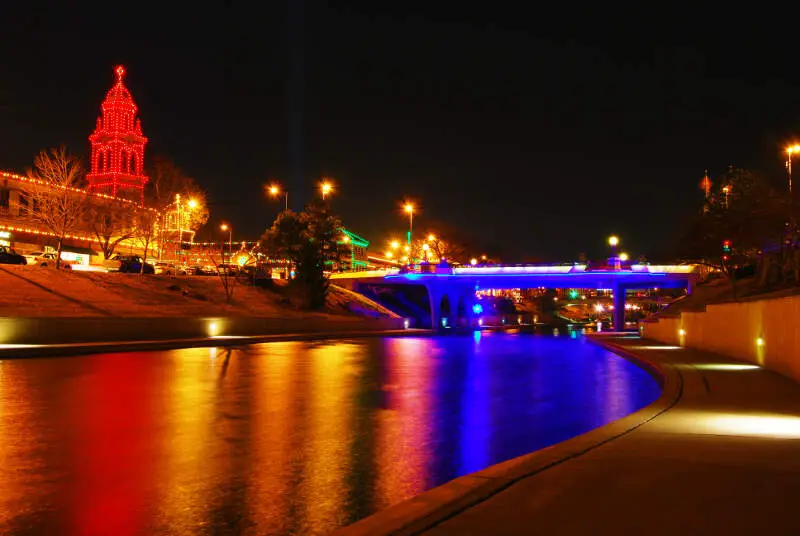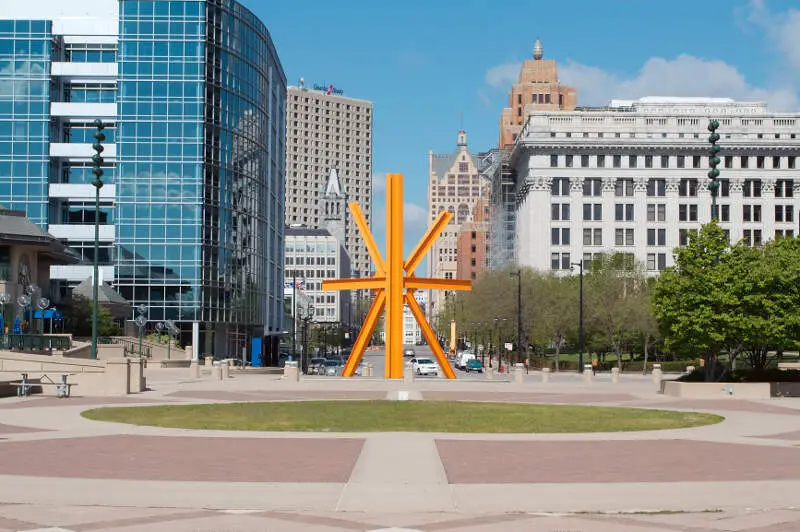 Methodology: How We Determined The Murder Capitals Of America For 2022
While there are surveys and public polls on what cities in a state are the most dangerous, we didn't want to rely on speculation and opinion. Instead, we looked at the hard numbers from the FBI's last year of reporting. Specifically, we analyzed the FBI's Uniform Crime Report which summarizes the number of murders that happen in each city per year.
We only looked at cities in America with over 100,000 people -- that left us with 283 cities in America to analyze.
We then calculated the number of murders per capita for these cities to make everything an apples to apples comparison along with the raw number of murders -- because more absolute murder is more murder.
We then averaged the two rankings together to create a Murder Index.
The cities with a higher Murder Index were deemed the "Murder Capitals of America For 2022". You can download the data here.
We must note that this report is not an analysis of the effectiveness of local police departments. It simply states where murders occurred.
Summary: Locking Up Murders Row For 2022
There you have it -- a look at the cities with the highhest murder rates in America for 2019 with St. Louis at the top of the list.
If you're looking for the safest cities in America when it comes to murder, check out Lee'S Summit and Temecula.
For more reading around America:
The 100 Cities In America With The Most Murders For 2022
| Rank | City | Population | Murders |
| --- | --- | --- | --- |
| 1 | St. Louis, MO | 298,422 | 263 |
| 2 | New Orleans, LA | 393,779 | 201 |
| 3 | Detroit, MI | 659,616 | 328 |
| 4 | Baton Rouge, LA | 219,245 | 102 |
| 5 | Memphis, TN | 650,937 | 289 |
| 6 | Cleveland, OH | 379,121 | 160 |
| 7 | Shreveport, LA | 185,588 | 69 |
| 8 | Kansas City, MO | 499,335 | 176 |
| 9 | Dayton, OH | 140,193 | 46 |
| 10 | Milwaukee, WI | 589,105 | 191 |
| 11 | North Charleston, SC | 117,503 | 38 |
| 12 | San Bernardino, CA | 216,365 | 68 |
| 13 | Cincinnati, OH | 304,724 | 92 |
| 14 | Chicago, IL | 2,693,598 | 771 |
| 15 | Richmond, VA | 233,350 | 66 |
| 16 | Washington, DC | 712,816 | 198 |
| 17 | South Bend, IN | 102,119 | 28 |
| 18 | Little Rock, AR | 197,688 | 49 |
| 19 | Indianapolis, IN | 890,672 | 216 |
| 20 | Buffalo, NY | 254,627 | 61 |
| 21 | Akron, OH | 197,433 | 47 |
| 22 | Rochester, NY | 205,199 | 48 |
| 23 | Oakland, CA | 437,923 | 102 |
| 24 | Syracuse, NY | 142,011 | 32 |
| 25 | Vallejo, CA | 122,326 | 27 |
| 26 | Rockford, IL | 144,795 | 30 |
| 27 | Norfolk, VA | 242,516 | 49 |
| 28 | Knoxville, TN | 188,672 | 38 |
| 29 | Fort Lauderdale, FL | 184,347 | 37 |
| 30 | Newark, NJ | 282,242 | 56 |
| 31 | Greensboro, NC | 299,887 | 59 |
| 32 | Toledo, OH | 271,237 | 53 |
| 33 | Columbus, OH | 911,383 | 174 |
| 34 | Hartford, CT | 121,749 | 23 |
| 35 | Paterson, NJ | 144,947 | 27 |
| 36 | Minneapolis, MN | 435,116 | 79 |
| 37 | Richmond, CA | 111,367 | 20 |
| 38 | Chattanooga, TN | 184,211 | 33 |
| 39 | Tulsa, OK | 402,166 | 72 |
| 40 | Hampton, VA | 134,082 | 24 |
| 41 | Stockton, CA | 314,981 | 56 |
| 42 | Wilmington, NC | 125,794 | 22 |
| 43 | Dallas, TX | 1,363,028 | 236 |
| 44 | Beaumont, TX | 116,766 | 20 |
| 45 | Houston, TX | 2,346,155 | 400 |
| 46 | Pompano Beach, FL | 113,545 | 19 |
| 47 | Bridgeport, CT | 144,350 | 24 |
| 48 | Miami Gardens, FL | 110,284 | 18 |
| 49 | New Haven, CT | 130,299 | 21 |
| 50 | West Palm Beach, FL | 113,268 | 18 |
| 51 | Victorville, CA | 123,085 | 19 |
| 52 | Des Moines, IA | 215,290 | 33 |
| 53 | Jacksonville, FL | 920,508 | 140 |
| 54 | Columbia, SC | 131,777 | 19 |
| 55 | Fresno, CA | 535,472 | 77 |
| 56 | Fort Wayne, IN | 272,270 | 39 |
| 57 | Albuquerque, NM | 562,065 | 80 |
| 58 | Pueblo, CO | 113,002 | 16 |
| 59 | Fayetteville, NC | 212,033 | 30 |
| 60 | Newport News, VA | 178,896 | 25 |
| 61 | Grand Rapids, MI | 202,513 | 28 |
| 62 | Lansing, MI | 118,651 | 16 |
| 63 | Denver, CO | 737,709 | 97 |
| 64 | Elizabeth, NJ | 129,518 | 17 |
| 65 | Springfield, MO | 168,856 | 22 |
| 66 | Inglewood, CA | 107,986 | 14 |
| 67 | Miami, FL | 476,102 | 61 |
| 68 | Peoria, IL | 109,924 | 14 |
| 69 | Tacoma, WA | 220,123 | 28 |
| 70 | Billings, MT | 110,157 | 14 |
| 71 | Durham, NC | 284,925 | 36 |
| 72 | High Point, NC | 113,727 | 14 |
| 73 | Tallahassee, FL | 196,012 | 24 |
| 74 | Charleston, SC | 139,582 | 17 |
| 75 | Waterbury, CT | 107,263 | 13 |
| 76 | Fort Worth, TX | 929,509 | 110 |
| 77 | Springfield, MA | 153,084 | 18 |
| 78 | Bakersfield, CA | 388,265 | 44 |
| 79 | Tucson, AZ | 550,448 | 61 |
| 80 | Lafayette, LA | 126,679 | 14 |
| 81 | Phoenix, AZ | 1,708,960 | 187 |
| 82 | Lubbock, TX | 262,146 | 28 |
| 83 | Orlando, FL | 293,363 | 31 |
| 84 | Lakeland, FL | 113,876 | 12 |
| 85 | Columbia, MO | 124,829 | 13 |
| 86 | Corpus Christi, TX | 329,050 | 34 |
| 87 | Odessa, TX | 126,288 | 13 |
| 88 | Hollywood, FL | 156,434 | 16 |
| 89 | Lancaster, CA | 157,689 | 16 |
| 90 | Aurora, CO | 385,720 | 39 |
| 91 | Tampa, FL | 407,350 | 41 |
| 92 | Waco, TX | 140,870 | 14 |
| 93 | Davenport, IA | 101,806 | 10 |
| 94 | St. Paul, MN | 309,859 | 30 |
| 95 | Springfield, IL | 113,912 | 11 |
| 96 | Oklahoma City, OK | 663,661 | 63 |
| 97 | Providence, RI | 179,603 | 17 |
| 98 | Independence, MO | 116,648 | 11 |
| 99 | Glendale, AZ | 255,468 | 24 |
| 100 | Clarksville, TN | 161,167 | 15 |