Editor's Note: This article is an opinion based on facts and is meant as infotainment. Don't freak out we updated this article for 2021. This is our seventh time ranking the worst places to live in North Carolina.
Article Table Of Contents   
(Skip to section)
If you're from North Carolina, you know how great you have it there. It's not quite the deep south, a little bit of east coast, and a lot of awesome. If you just moved here, join the party! You now realize that the Tar Heel State is one of America's finest states.
You have the mountains, the ocean, and some of the best college basketball teams in the nation. What else could you want? Oh yeah, great barbecue. South Carolina can't hold a candle to it.
But is it all cheery in North Carolina? Of course not. Just like every other state, North Carolina has its issues. There are some places that are having a hard time right now. The purpose of this post is to use science and data to determine which North Carolina cities need a little tender loving care.
After analyzing 131 of the Tar Heel State's most populous cities, we came up with this list as the 10 worst places to live in the state:
The 10 Worst Places To Live In North Carolina For 2021
What? Where are these places you wonder? And before you get all riled up and say we're picking on small town America, that's not the case.
We understand there's a lot of good in every place.
However, according to data (which doesn't measure things like beauty and 'friendly people'), there are far better options in the state for making a place home. And the worst place to live in North Carolina? That would be Wadesboro.
Read on below to see how we crunched the numbers and see how your city fared in 2021.
If you're looking for something more national, check out the worst cities in America or the worst states in America.
For more North Carolina reading, check out:
The 10 Worst Places To Live In North Carolina For 2021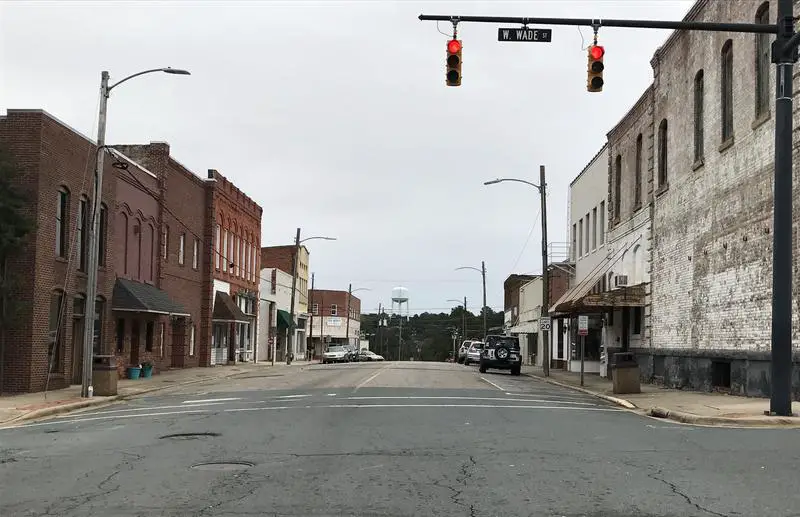 Built in the south-central part of the state, Wadesboro sits in a mostly rural section of North Carolina. It takes more than an hour to drive to Charlotte, the closest big city. As a result, Wadesboro suffers from a lack of economic opportunity - the main strike against the community as it ranks at number 1 on the list of the state's worst hometowns.
The economic struggles are obvious in the statistics. Wadesboro suffers a 15.3% unemployment rate and a 32.3% poverty rate. The median income sits at $26,680. This financial structure leads to other deficiencies, like high crime and a troubled school system.
It's not all gloom and doom for Wadesboro's 5,305 residents. The town boasts a quaint downtown and numerous historical points of interest.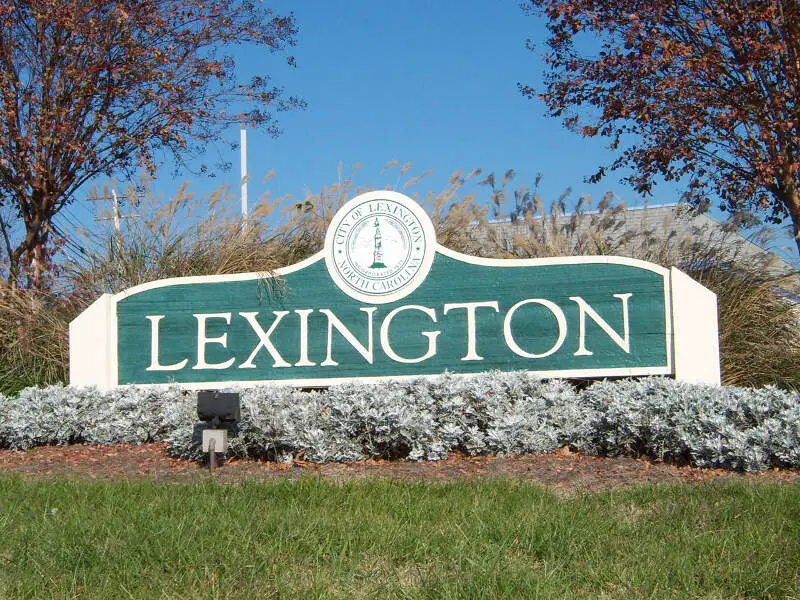 Source: Public domain
Lexington sits among several of North Carolina's most prominent urban areas. An hour drive to the southwest takes you to Charlotte. Go half hour to the north and you'll get to Winston-Salem. Despite this promising location, the town still ranks as the number 2 least attractive spot to live in North Carolina.
A lack of opportunities holds the town back. It suffers an unemployment rate of 11.0% and the median income only totals $29,938. The area also has problems with high crime and substandard schools.
Don't cry for the 18,861 people of Lexington, though. The town also happens to bill itself as "The Barbeque Capital of the World"...and great BBQ solves a lot of problems.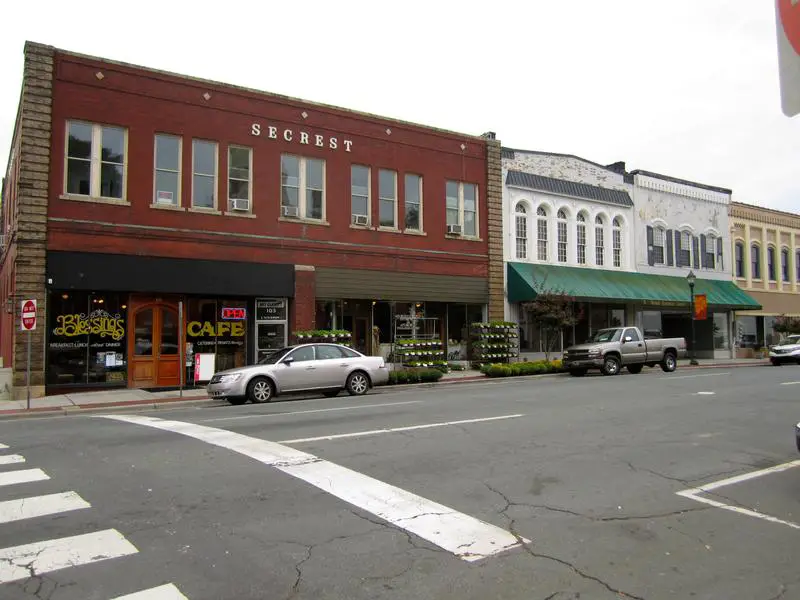 Monroe could count as an outer suburb of Charlotte, located about 40 minutes from the city. However, this hasn't saved the town from becoming one of the least attractive places in North Carolina.
The community suffers from a sluggish economy. Meanwhile, some of the big city's problems (like crime) have seeped into Monroe. The 35,105 residents face a 8.6% unemployment rate and a median income of $51,754. Meanwhile, the median home price sits at $164,000.
Still, there are lots of benefits to life in Monroe. There are plenty of amenities (including a vineyard). The town also features a picturesque county courthouse, complete with a quaint clock tower.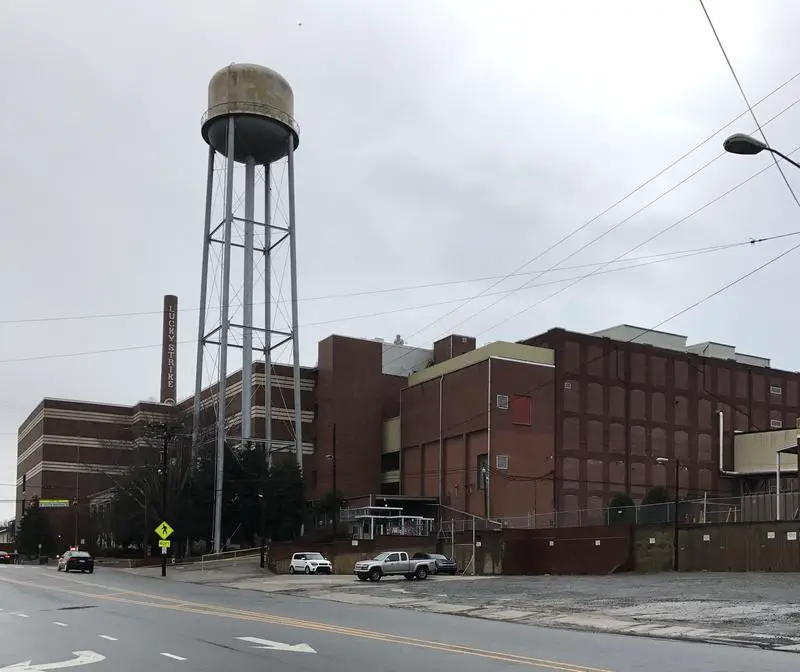 A mid-sized town of 13,915 residents in the north-central part of the state, just south of the Virginia border, Reidsville once received a significant economic boost from the tobacco industry. That source of cash dried up in the 1990s, leaving significant economic turmoil. At this point, Reidsville counts as the number 4 least inviting location in North Carolina.
The economic dislocation has led to an unemployment rate of 9.5% and a median income of $32,339. It has also undermined other civic services. The crime rate sits about 190% off the national norm and the educational system is below average.
Still, there are pleasant aspects to life in the area. Locals have sponsored a revitalization effort for the cute downtown area. Also, nearby Lake Reidsville provides access to fun water activities.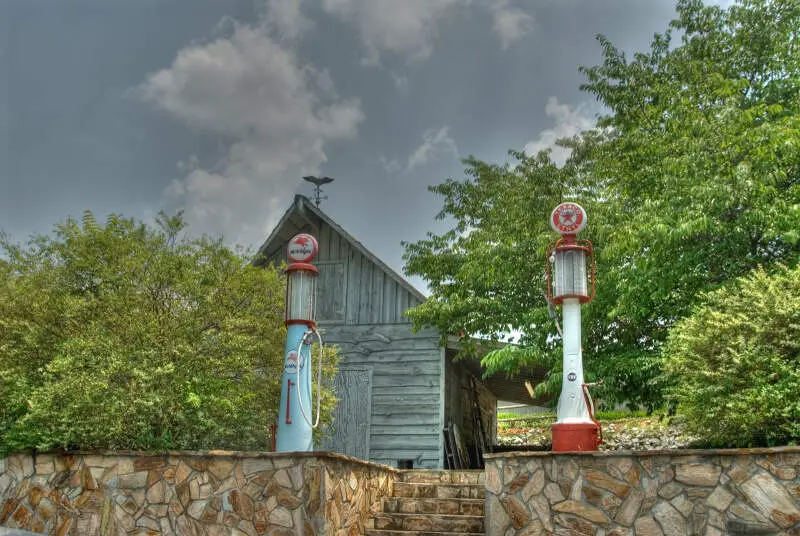 Roxboro faces significant economic hardships. Thanks to a daunting poverty rate, high crime, and issues surrounding housing and education, the community sits at number 5 on the list of North Carolina's worst hometowns.
The unemployment rate stands at 12.1%, while median incomes only reach $31,427. As a result, fully 34.4% of the community scrapes by below the poverty line. Meanwhile, the crime rate comes in at more than double the national average.
Life isn't completely dreary in Roxboro, however. Located in the north-central part of the state, it serves as a local cultural hub. You can check out its regular farmers markets, or stick around for annual events, like the Willow Oak Bluegrass Festival.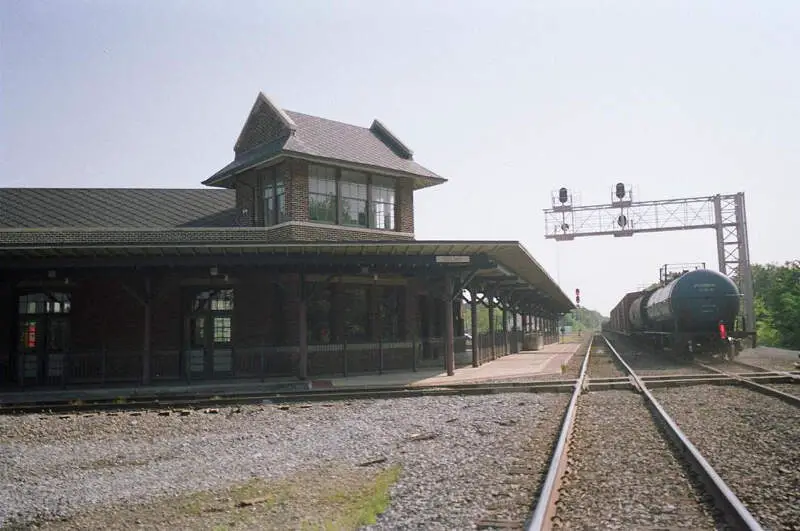 This is not the Selma of historic Civil Rights consequence. This is a different Selma (the more famous one is in Alabama). This one is located in east-central North Carolina and ranks among the least appealing spots in the state.
Poverty represents the biggest problem in the area. A full 35.3% of the 6,746 residents struggle below the poverty line. The unemployment rate sits at 7.2% and the median income comes in at $27,676. Crime in the area is also an issue, with 50% more violations per capita than the national average.
Despite these problems, Selma has its small-town charms. This includes the Mitchener Station, a historic train station originally built in 1855.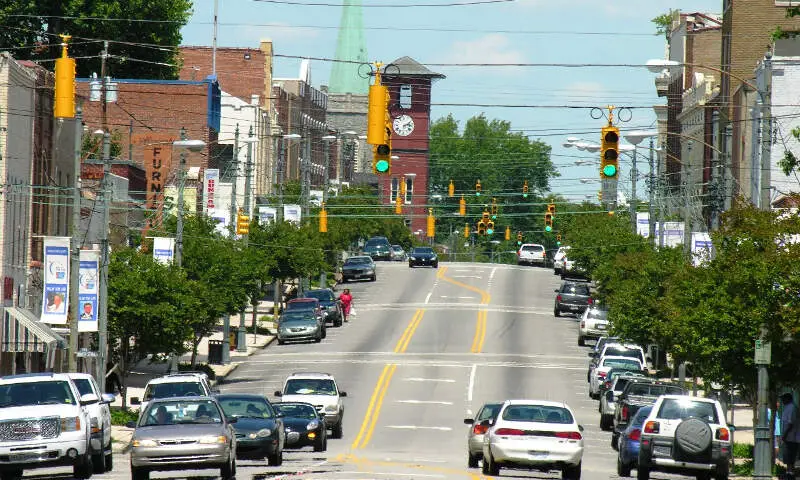 Henderson sits along I-85, about 40 minutes northeast of Durham. A lack of jobs and high crime rates make this one of the least appealing locations in all of North Carolina.
The 14,948 residents of Henderson suffer with a 9.5% unemployment rate and a median income of just $31,408. These economic hardships contribute to a high crime rate, which runs 190% above the national average. Schools and housing are also problems in the area.
There are pleasant aspects to life in Henderson. A short ride north takes you to the Roanoke River on the Virginia border, a great spot for outdoor fun.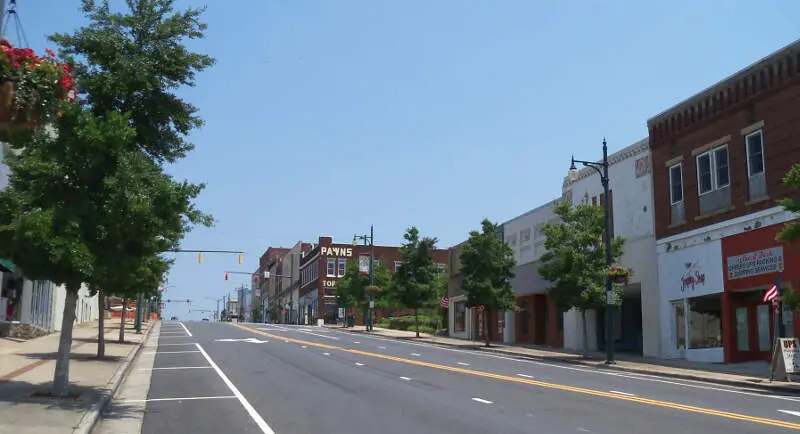 Like most of America, smallish rural communities in North Carolina struggle with drugs. Albemarle, a town about 45 minutes outside of the Charlotte metro area is located in Stanly County. And Stanly County has the highest drug overdose rate in the state. Historically, smaller, impoverished communities like Albemarle have struggled to contain drug use because of a lack of resources. I mean when they arrested the head honcho drug dealer here not too long ago, he got out on bond and was dealing the next day. This is also the 4th most dangerous place in the state.
A quarter of the community lives in poverty and the number of folks out of work here is three times higher than the national average. And crime is super bad - like a 1 in 16 chance of being attacked or robbed every year.
Crime gets an F, employment gets an F, housing gets a D and schools get a D-.
Not a place you want to live in, indeed. Average home price - $119,000.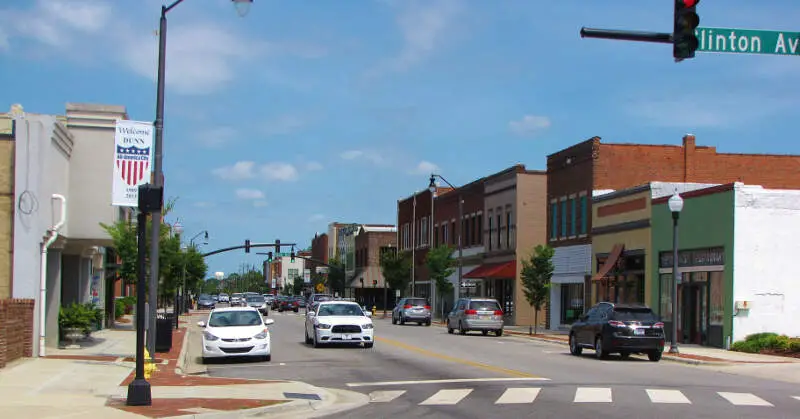 Located along I-95, about a half hour northeast of Fayetteville, Dunn provides a home to 9,664 residents. Unfortunately, these folks might be better somewhere else...almost anywhere else, really. That's because Dunn represents the number 9 worst place in North Carolina to put down roots.
What makes the area so unappealing? Well, Dunn has economic problems, including a 8.0% unemployment rate and a 29.1% poverty rate. It also has high crime and a spotty educational system.
There are spots of joy in town. Dunn provides typical small-town charm, access to a couple of nearby Civil War battlefields, and several educational facilities, including the William C. Lee Museum.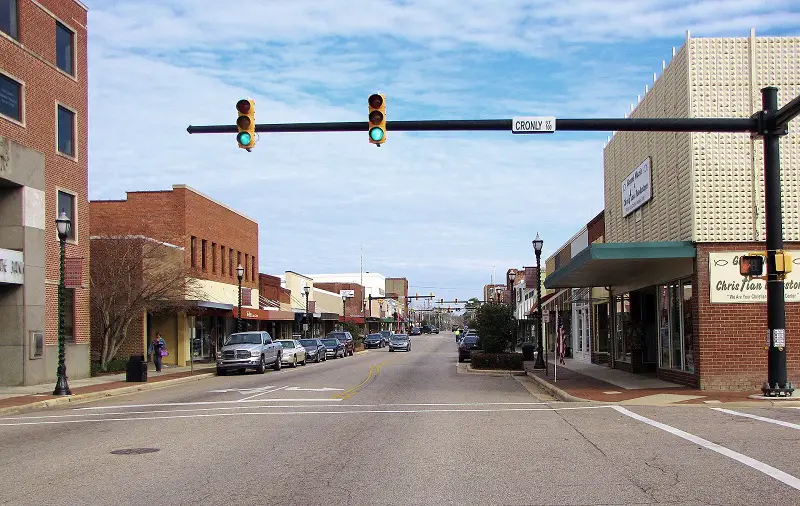 Now a lot of people in North Carolina haven't heard of little Laurinburg, located near the South Carolina border in Scotland County. The LBG. The Burg.
A whopping one third of this community of 16,000 people lives at or below the poverty line, and it's super cheap to live here, too. Meaning it's a very poor place with little opportunity - it's really just churches and fast food outlets. That's just one reason that this small city loses 100 people every year. 15% of the population here is out of work, and most of them, chronically.
It's also the 5th most violent place in the state, and it has the 28th highest burglary rate in the state, too. Like every single day here, there's a burglary. For such a tiny community, that's just so sad.
The school taxes are high, but they're still closing schools down here. The County can't afford to build new ones. Or so they say. A home is $30,862, which is bottom of the barrel for this state. Again, small town rural North Carolina folks. You get what you pay for.
But hey Laurinburg, at least you dont have some weird legs sculpture like they do in Henderson. Which is also a bad place to live in this state.
How we determined the worst places to live in North Carolina for 2021
To figure out how bad a place is to live in, we only needed to know what kinds of things people like and then decide what cities have the least amount of those things.
We don't think it's a stretch to assume that people like the following things:
Good education
Lots of jobs
Low crime
Low poverty
Nice homes
High incomes
High population density (Lots of things to do)
Short work commutes
Health insurance
The data comes from the Census's most recent American Community Survey and from the FBI Uniform Crime Report.
We broke crime down into violent crime and property crime to give violent crime a larger weight -- if you did a simple calculation of all crimes per capita, property crimes are normally 7x more common and really bias that ranking.
Furthermore, only cities with at least 5,000 people were considered -- leaving 131 cities.
We then ranked each city from 1 to 131 for all the criteria with a #1 ranking being the worst for the particular criteria.
Next, we averaged the rankings into one "Worst Place To Live Score".
Finally, we ranked every city on the "Worst Place To Live Score" with the lowest score being the worst city in North Carolina -- Wadesboro. Read on for a detailed look at the 10 worst cities in North Carolina. You can download the data here.
This list is a scientific analysis based on real data and is completely unbiased.
Wrapping Up The Worst In North Carolina
If you're looking at areas in North Carolina with the worst economic situations, where there's higher than average crime, and not a lot to do, this is an accurate list.
And in the end, Wadesboro ranks as the worst city to live in North Carolina for 2021.
If you're curious enough, here are the best cities to live in North Carolina:
Cary (Pop. 166,268)
Chapel Hill (Pop. 60,998)
Elon (Pop. 11,516)
For more North Carolina reading, check out:
Where Are The Worst Places To Live In North Carolina?
| Rank | City | Population |
| --- | --- | --- |
| 1 | Wadesboro | 5,305 |
| 2 | Lexington | 18,861 |
| 3 | Monroe | 35,105 |
| 4 | Reidsville | 13,915 |
| 5 | Roxboro | 8,298 |
| 6 | Selma | 6,746 |
| 7 | Henderson | 14,948 |
| 8 | Albemarle | 15,980 |
| 9 | Dunn | 9,664 |
| 10 | Laurinburg | 15,119 |