When it comes to being a snob, there are all types. You've got your Wine Snobs, your Book Snobs, and of course, your Clothes Snobs. Then there are the Technology Snobs, Car Snobs, and yes, even City Snobs—as in, I'm better than you because I live in (insert snooty city here).
Now, if you're reading this from Indiana, you might think that there's no way you could be a snob. With your mid-western hospitality and attitude, you bask in humble pie.
And while you certainly may be less snooty than the rest of the country, there are always pockets of snobbery in every state and Indiana is no exception.
So without further adieu, here are the 10 snobbiest places in The Hoosier State, starting with our winner, Zionsville:
So I guess Zionsville is the Zion of Indiana snobbery.
And to be clear, we didn't form this list based on our own biases — we relied on the cold hard data. For more on how we ran the numbers, keep on reading. Then we'll take a closer look at each of our top 10 snobbiest places.
For more Indiana reading, check out:
How We Determined The Snobbiest Places In Indiana
If you're feeling a bit haughty about these rankings, calm down. See, we relied on facts and figures to create this list not just our opinions of those cities.
We started by making a list of every place in Indiana over 5,000 people based on the 2013 American Community Survey (We excluded the crazy townships of Indiana). That left us with 101 places in the Hoosier State.
We then looked at the following snob-tastic criteria for each of the places on the list:
Median home price (Higher is snobbier)
Median household income (Higher is snobbier)
Percent of population with a college degree (Higher is snobbier)
Private schools per capita (Higher is snobbier)
Theaters per capita (Higher is snobbier)
Art galleries per capita (Higher is snobbier)
Next, we ranked each place in each category from one to 101, where the lower the score, the snobbier the place. Finally, we averaged each place's rankings where the place with the lowest score was crowned 'The Snobbiest Place In Indiana'.
Now before we start really making fun—or rather, taking a closer look at our top 10 cities, let's just be clear: this list may be completely scientifically proven and absolutely irrefutable (hah), but, really, it's all in good fun. These aren't bad places to live (In fact, if you can get in, they are great places to live), so don't get that idea.
If you'd like to see more than these top 10, feel free to head down to the bottom of the post for a look at the full list. Otherwise time to put on your monocle as we examine the snobbiest places in Indiana.
1. Zionsville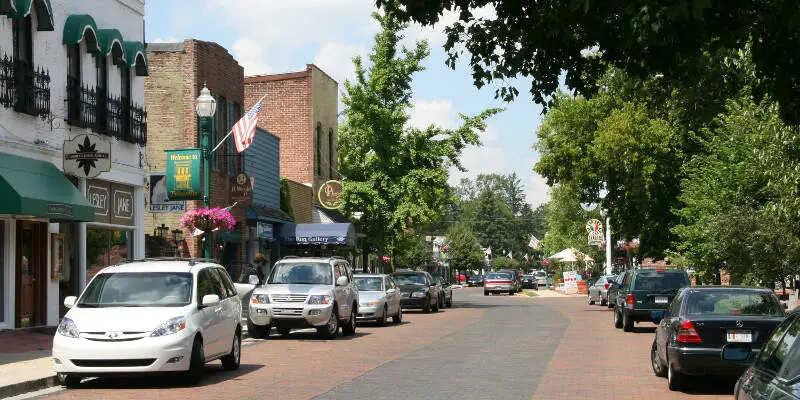 Source: Public domain
Population: 23,134
Median Income: $104,455
Median Home Price: $331,700
Well, well, well Zionsville, we meet again. This time however, I'm not here to let you gloat about how awesome you are. No this time, I'm here to take you down a peg.
I mean honestly, Zion, you named yourself after one of the holiest places on earth. Conceited much?
But I guess that's what happens when you have the highest home prices, second highest median income, and third most people with college degrees in all of Indiana. And then to top it off, there are the second most galleries per capita in the Hoosier State.
So maybe, just maybe, we should consider changing the name of the city to Snobbyville.
2. Carmel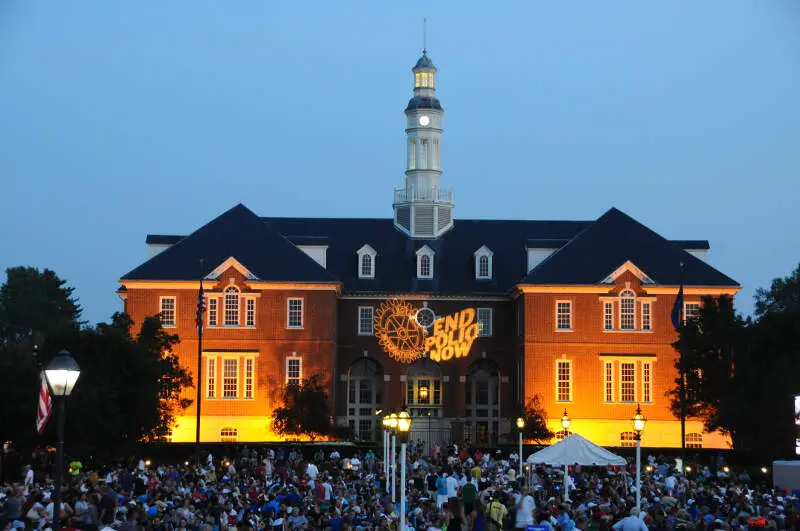 Population: 80,060
Median Income: $107,505
Median Home Price: $293,600
I quickly realized that this list prominently features a lot of places we praised from the best places to live in Indiana and Carmel is no exception.
It's sugary sweet to live in Carmel, but to those outside of the city, it comes off as snotty and hoity toity.
Why is that? Because it's the richest place in Indiana with the second highest home prices, so don't even think about moving here unless you're rich.
Carmel has slightly less snobby things to do, per capita, than Zionsville, which is the only reason why it didn't top the list.
3. Avon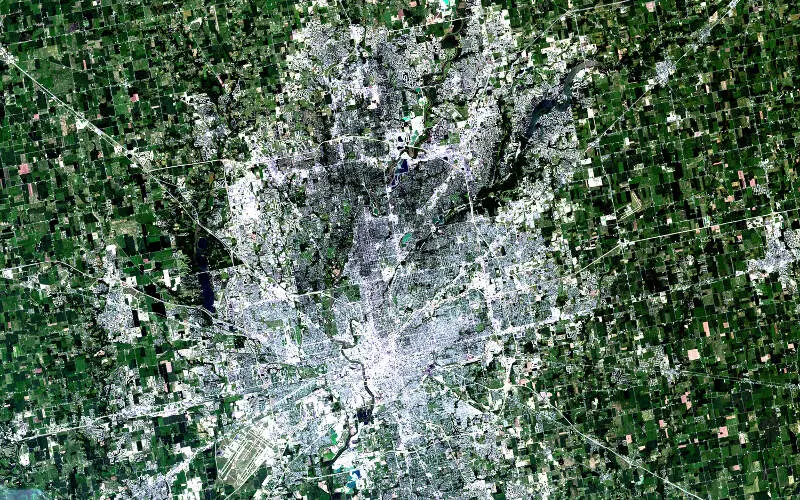 Population: 12,542
Median Income: $72,452
Median Home Price: $171,000
The third most snobby place in Indiana goes to Avon, where even the local high school marching band thinks its 'well known throughout the country', according to Wikipedia.
I guess that makes sense given that there are more private schools per capita than any other place in Indiana, so there's plenty of time to march around between snobby schools.
The city also ranks as having the ninth highest median income in the Hoosier state, which is another snobby feather in its marching band cap.
4. Munster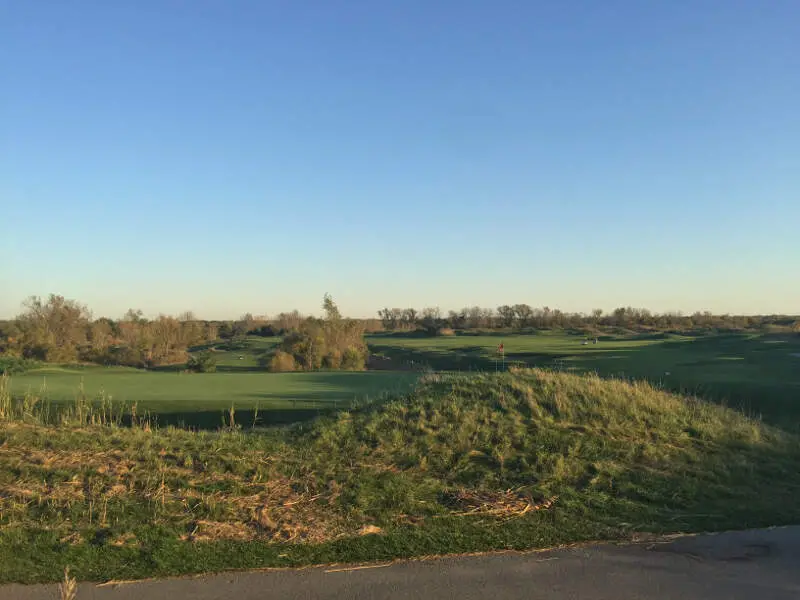 Population: 23,460
Median Income: $70,708
Median Home Price: $197,600
There's no cheesing around with this one, Munster ranks as the fourth snobbiest place in Indiana. The bed-room community where people sleep on pillows of snobbery and thinks so highly of itself that it's part of the Chicago metro area even though it's located in Indiana
The city has the third most private schools per capita and ninth most art galleries per capita of any place in Indiana. Throw on some high-stinkin' home prices (fifth highest in the state)and there's no wonder Munster smells like (stinky cheese level)snobbery.
5. Batesville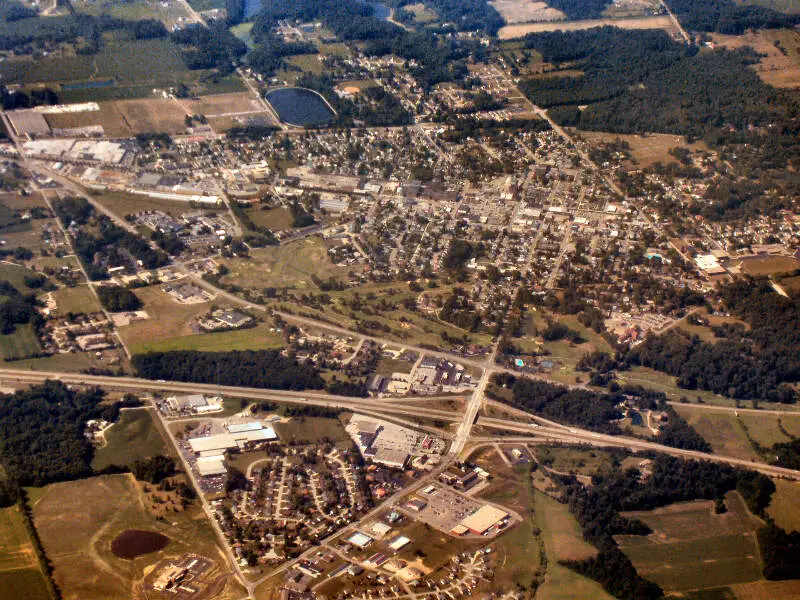 Source: Public domain
Population: 6,727
Median Income: $62,250
Median Home Price: $184,700
Batesville may be the smallest city in the top ten, but it still packs a snobby punch as the fifth snobbiest place in Indiana.
Take for instance the 888 word diatribe on the development of the city on Wikipedia. That's more words per capita than any other place on this list (Based on my eye test. May not actually be true, but you get the idea)
And bringing it back to the actual data, Batesville has the fifth most galleries per capita and the ninth highest home prices in Indiana — the most obvious sign of snobbishness.
6. Dyer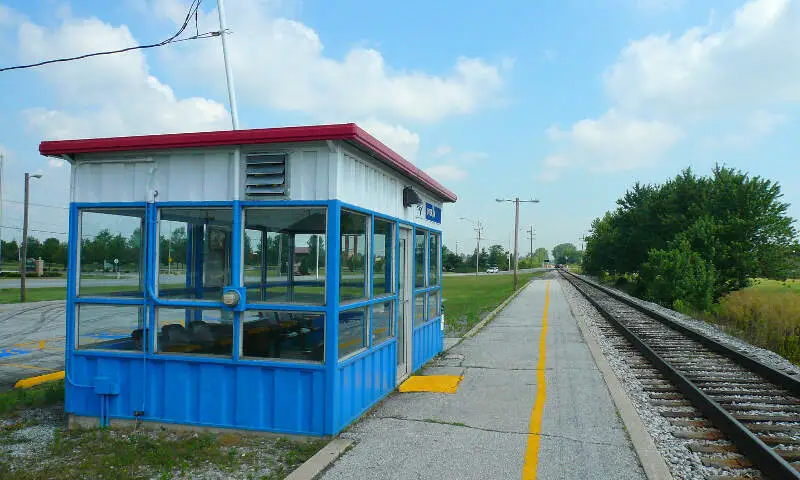 Population: 16,283
Median Income: $78,881
Median Home Price: $197,500
Dyer is the kind of place that ranks as one of the best places to live according to CNN in 2005 and still likes to brag about it. That, and the data, makes it good enough to be the sixth snobbiest place in Indiana.
The city has the eighth highest median income and sixth highest home prices in the state. It also has the sixth most private schools per capita of any place in Indiana.
And now they might realize that 'striving higher in Dyer' attitude is not only cheese-y, its pretty snooty too.
7. Chesterton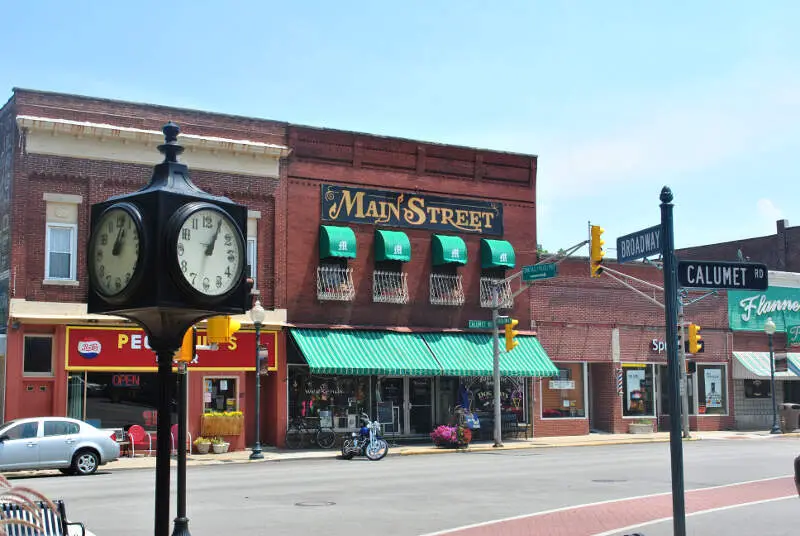 Population: 13,571
Median Income: $64,183
Median Home Price: $174,500
Chesterton takes the seventh spot on our list of the snobbiest places in Indiana. While it was once home to the 'most famous' Wizard of Oz Festival, the festival wised up to the snobbiness of that statement and shut down in 2013.
And now Chesterton is just known for having the fourth most galleries per capita in Indiana. So you can go around town and see different artistic renderings of 'man's inhumanity to man', or whatever snobby art critics say.
8. Valparaiso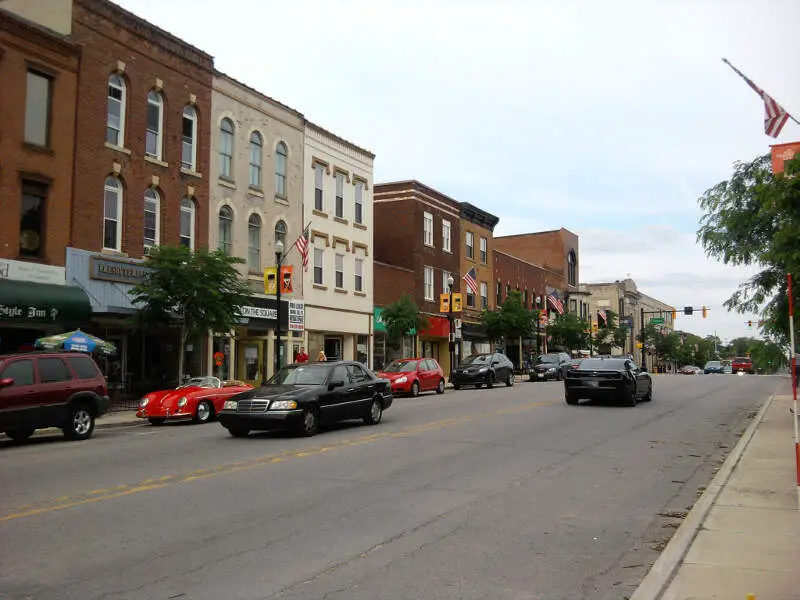 Population: 31,347
Median Income: $50,182
Median Home Price: $165,200
Valparaiso, the eighth snobbiest place in Indiana, is so snobby that you need a lesson just to pronounce it correctly:
(/?v??lp??re?zo?/ vahl-p?-ray-zoh)
Come on guys, take out some vowels for us more down to earth folk.
Anyways, when the town isn't celebrating popcorn during the annual popcorn festival, it ranks as having the 12th most educated population in the state with the 13th most art galleries per capita.
9. Granger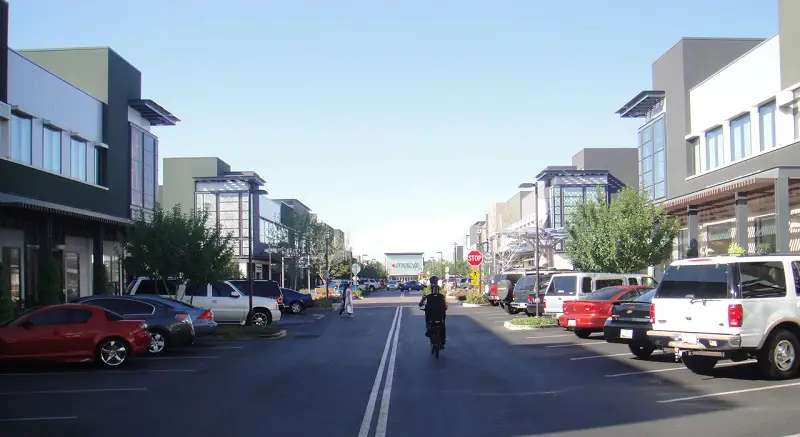 Source: Public Domain
Population: 29,302
Median Income: $91,124
Median Home Price: $192,700
Granger ranks as t he ninth snobbiest place in Indiana, breaking a tie with Crown Point because of its higher median income.
In fact, the median income is so high that it ranks as the fourth highest in all of Indiana. Throw on top of that the seventh highest home price and seventh most college educated people per capita, and the snobbish starts to shine through.
(Un?)fortunately for the town, there aren't that many snobby things to do within its borders. So the town must export their snobbish elsewhere.
10. Crown Point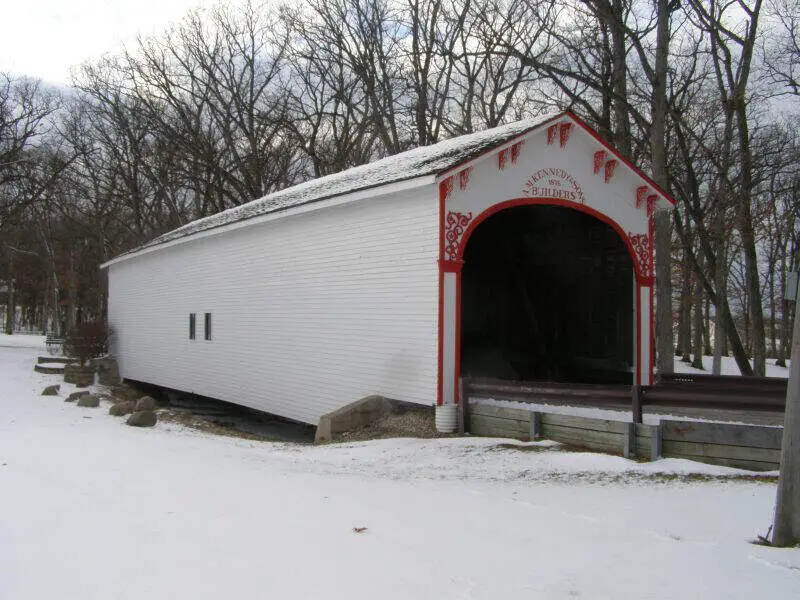 Population: 27,477
Median Income: $64,876
Median Home Price: $174,900
And rounding out the top ten snobbiest places in Indiana is Crown Point.
Unlike its name, Crown Point doesn't actually rank as the highest point for any of our criteria. Instead, it maintains a steadily level of snobbery across all the criteria.
So while it may be the 'Hub of Lake County', it should really be named the 'Snob Hub Of Lake County'.
Summing Up The Hoosier Cream Humble Pie
Well there you have it, the places in Indiana that needed a piece of humble pie, with Zionsville in particular being called out as the snobbiest place in Indiana.
And, at the very least, they can all take solace in the fact that they are not the worst places to live in Indiana.
Snobtastic Data For Indiana