Is there anything wrong with being called the drunkest city in your state? Especially in Indiana, where you guys are only about average when it comes to alcohol consumption per capita in the nation.
Hey, someone has to pick up the slack, right?
So, how do you decide which city drinks the most? By the number of available places to buy booze, and by how often people are talking about drinking, that's how.
Plus, we thought why not add in a stereotype? Cause, you know, drinking is one reason for divorce, and something that divorced people do a lot of.
Using that criteria, it's not hard to scrape the internet, run some scientific data on where the biggest partiers might live in Indiana, and then put out a list.
So, hold our beers and watch this. After analyzing all cities with a decent amount of people in them, we came up with this list as The Drunkest Cities in Indiana. Read on below to see how your town ranked.
As it turns out, many of these are smaller cities with many bars in town or nearby, where there's a higher than average divorce rate. Studies have indicated that when one or both partners in a marriage are alcoholics, that couple is three times more likely to divorce.
For more reading on Indiana, check out:
What drunken criteria did we use?
In order to rank the drunkest cities in Indiana, we had to determine what criteria defines someone who drinks a lot.
We threw a lot of criteria at this one in order to get the best, most complete results possible. Using Yelp and Sperling's Best Places, this is the criteria we used:
Number of bars and pubs per capita
Number of wineries per capita
Number of liquor stores per capita
Each city's drunk related tweets within the last week
Each city's divorce rate
For geo-located tweets, we measured the following raw number of tweets that came from within a city's general are: #Drunk, #Party, #Beer, #Wine and #Cocktails
Note: For the sake of getting reliable numbers, we counted places within a city's border, as well as within a short driving distance.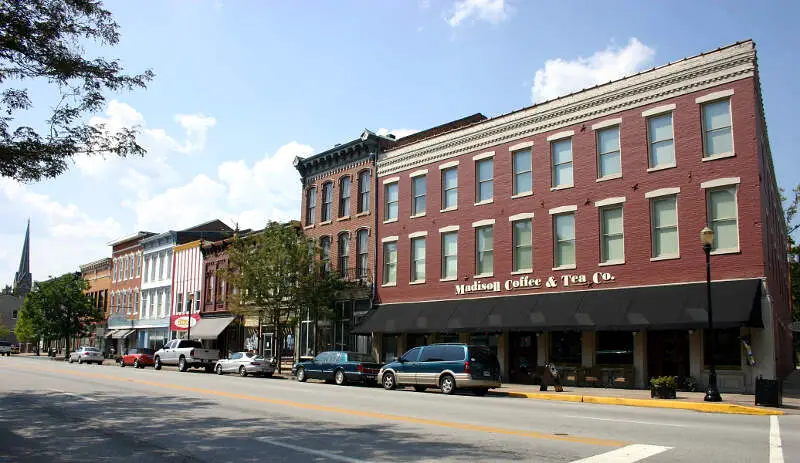 Source: Public domain
Population: 12,048
Divorce rate: 16.8%
Bars per capita: 4th in the state
Liquor stores per capita: 11th
Hot damn, Madison, you are tore up from the floor up! We're impressed. Based on the data, it sounds like you are all having a really, really good time.
If you've even been down to Madison, you'll know that this downtown area is crawling with bars and restaurants. People park their boats along the Ohio River and climb out to get hammered.
And don't even think you're not walking away buzzed in Madison during one of the many festivals that takes place here during the summer.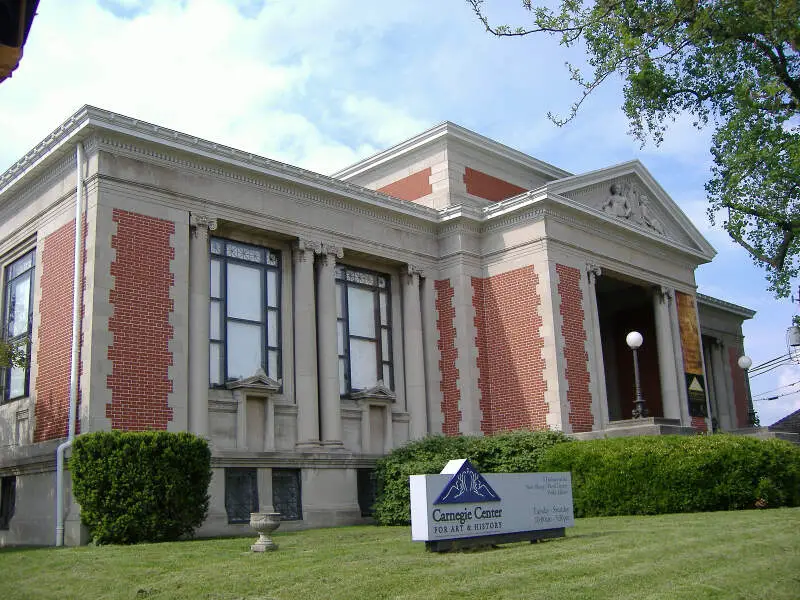 Source: Public domain
Population: 36,450
Divorce rate: 17%
Bars per capita: 22nd in Indiana
Liquor stores per capita: 3rd
New Albany's nickname is Kentuckiana for a reason. People here like to get after it quite a bit. With the 3rd most liquor stores in the state per capita, there's no lacking in available options for grabbing some booze.
Except on Sundays. You'll have to drive into Kentucky to get your hooch then.
And holy matrimony, New Albany. You all have the highest divorce rate on this list. About 1 in 6 of you decided to call it quits. No wonder there are so many liquor stores here..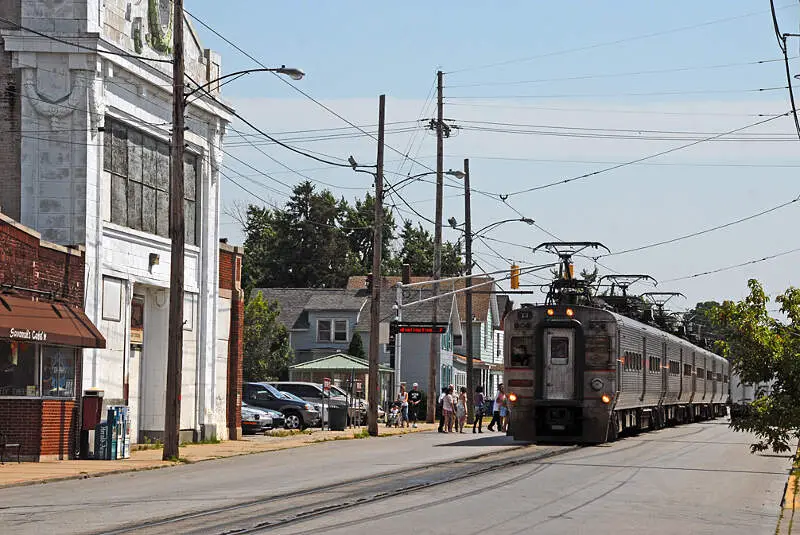 Source:
Wikipedia User Drew Jacksich from San Jose, CA, The Republic of California
|
CC BY-SA 2.0
Population: 31,442
Divorce rate: 15%
Bars per capita: 8th in IN
Liquor stores per capita: 12th
Right along the banks of Lake Michigan is Michigan City, which is a huge draw for tourists in the summer. That might explain the number of places to get drunk.
Michigan City is also home to the sprawling Blue Chip Casino, where you can bet lots and lots of suckers get hammered every night of the week.
Surprisingly, there weren't very many drunk related Tweets coming from Michigan City. But this one is a gem:
"Why is it tht the students of michigan city like to yell about getting drunk and high over the weekend durign school? Have some class."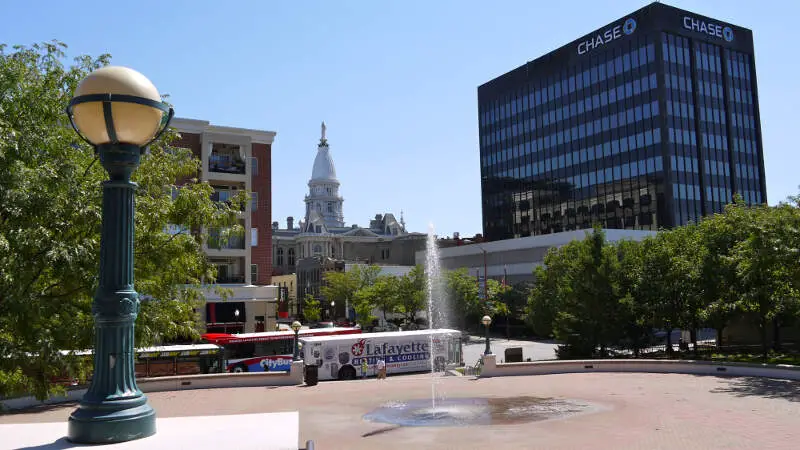 Source: Public domain
Population: 67,302
Divorce rate: 14%
Bars per capita: 1st in Indiana
Liquor stores per capita: 16th
We can definitely confirm that there are bars all over Lafayette. Not only are there a ton of them downtown on Main Street and out on Sagamore Parkway, you can find them in the most random places if you turn a corner on some back road.
Some local faves include DT Kirby's and the rough and tumble divey bars such as The Hideaway and Champs.
Perhaps the best part about Lafayette is that the Purdue students stay on their side of the river, allowing the adults to handle it on their own.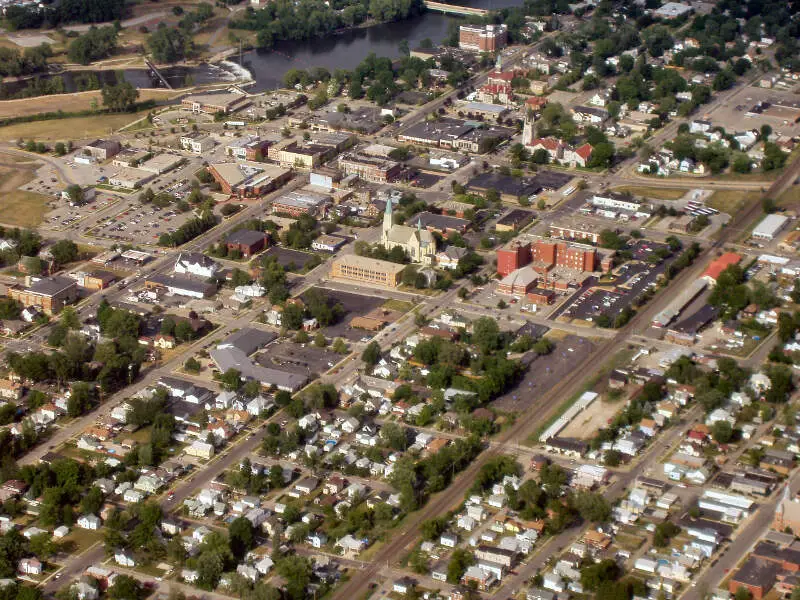 Source: Public domain
Population: 48,107
Divorce rate: 16.5%
Bars per capita: 7th in IN
Liquor stores per capita: 31st
You're probably thinking Mish-a-where-a? But that's right. This town probably can attribute its party scene to being right next door to South Bend. There are plenty of bars here to keep folks occupied all year long.
The divorce rate here is really high, too. Remember, alcoholism is a big factor in divorce rates. We're not sure if drinking was a factor for people calling it quits, or if there are lots of single people looking to mingle, but there are most likely some interesting moments taking place in Mishawaka bars after hours.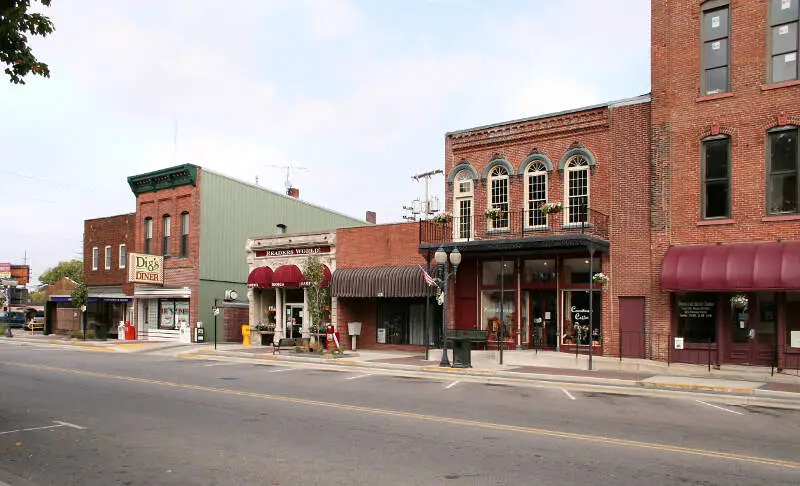 Source: Public domain
Population: 13,620
Divorce rate: 13.4%
Bars per capita: 10th in IN
Liquor stores per capita: 10th
Warsaw is out in the middle of the sticks, about 4 beers west of Fort Wayne. But we're sure that you guys out there know all the back roads, right?
What else are 13,000 people going to do all year long except stare at the TV and drink wine at home or go to one of the many local bars and drink mixers? Nothing. There's nothing to do in Warsaw except get drunk.
That's not a bad thing. We're just making an observation is all.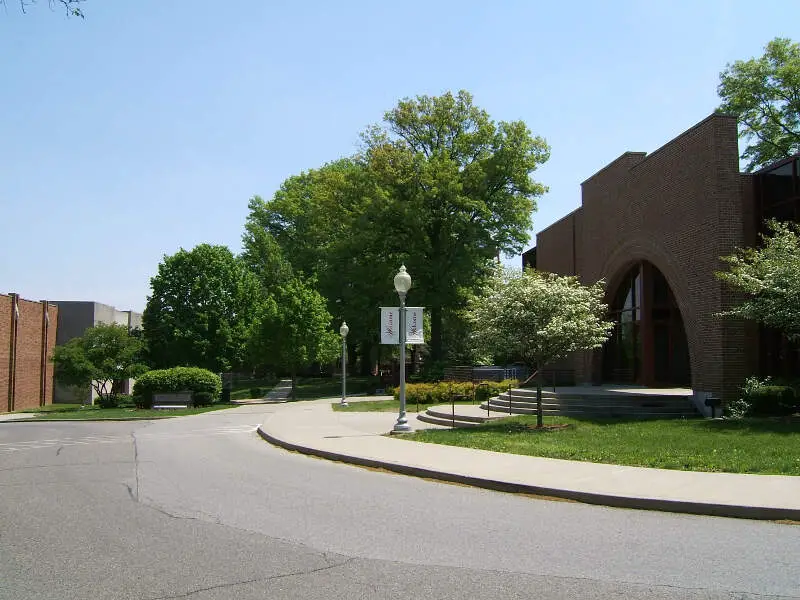 Source:
Wikipedia User
|
CC BY-SA 2.0
Population: 60,850
Divorce rate: 14%
Bars per capita: 12th in IN
Liquor stores per capita: 13th
Home of Indiana State, Terre Haute has a huge party scene. And the fact that there are lots of college students makes the already high divorce rate seem extra high.
Terre Haute might not be as crazy party town as Bloomington, but they get after it big time. And the number of drunk related tweets was surprisingly high here as well, including lots of mentions of drunk driving.
Here are a couple of goodies:
"my dad drove back and forth to Terre Haute for ten years drunk as hell.
You can do it! :)"
And
""so what am I gon do in terre haute until classes start?. get drunk"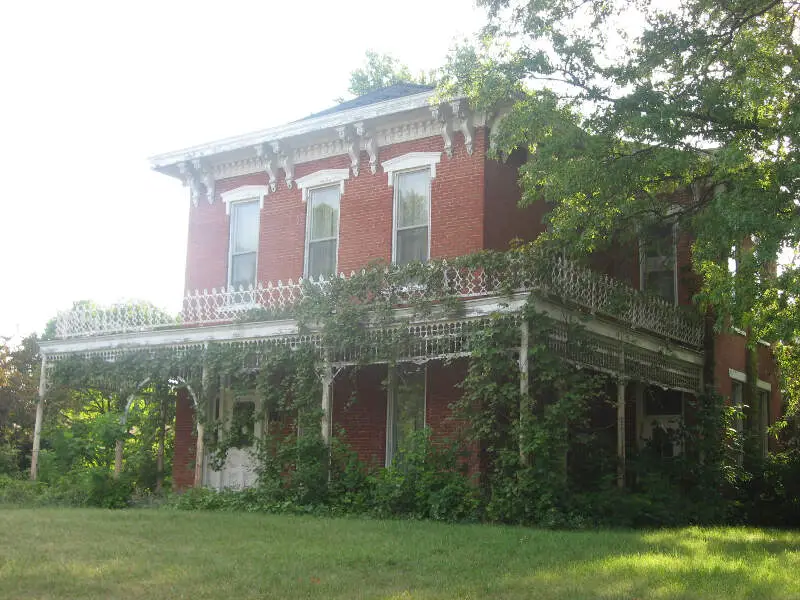 Source: Public domain
Population: 5,384
Divorce rate: 9.8%
Bars per capita: 25th in IN
Liquor stores per capita: 2nd
We're impressed, Monticello residents. You have the lowest divorce rate of any of the cities on this list.
Is alcohol the glue in your marriage, or are you guys able to turn the other cheek when your spouse is out till the wee hours? Either way, you've been able to mix in the partying with the family values, which is something some of these other cities should take notice of.
Because you can have the best of both worlds, right?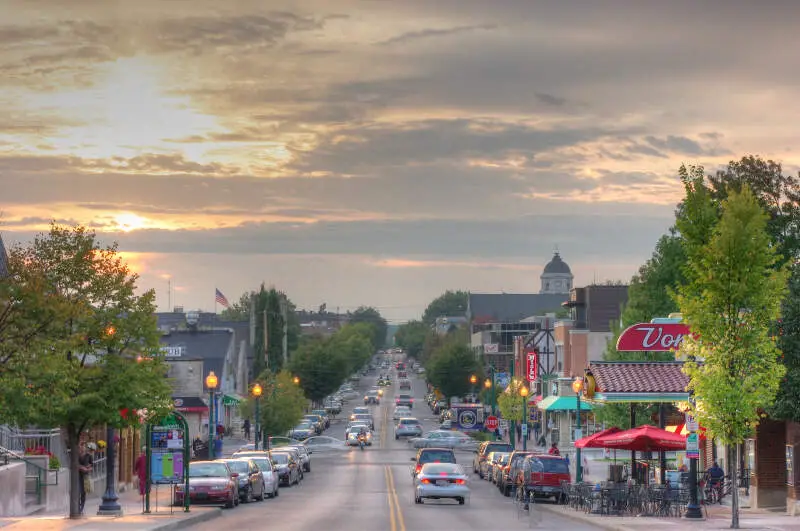 Source:
Wikipedia User Yahala
|
CC BY-SA 3.0
Population: 80,044
Divorce rate: 8,3%
Bars per capita: 5th in the state
Liquor stores per capita: 17th
Bloomington is a party town for sure. If you're anywhere between Washington Street and Morton Street, you have bars on top of bars on top of bars. And the college kids here sure take advantage of it.
Bloomington had more drunk Tweets per capita than any other city in the state. Stuff like this:
"I love Bloomington bc I just woke up but 90% of the people down here are already drunk."
And this:
"Fridays in Bloomington=people already getting drunk at 9 am"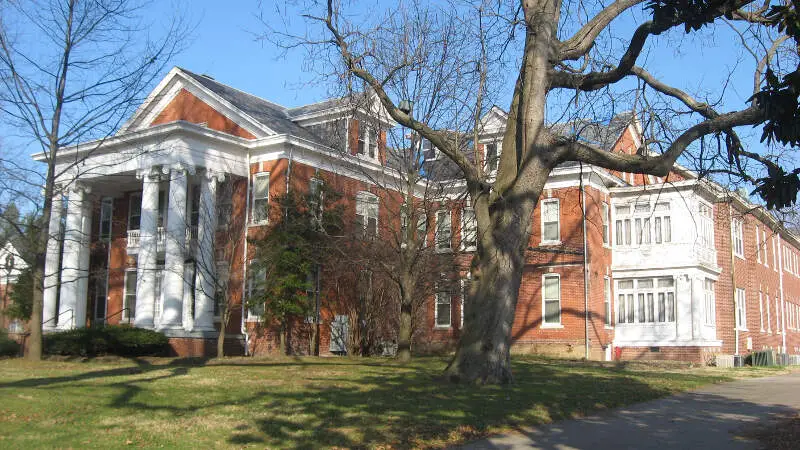 Source: Public domain
Population: 119,226
Divorce rate: 17%
Liquor stores per capita: 16th
Bars per capita: 20th
Kiplinger once called Evansville one of the best places in America to "live, work, and play." And play they sure do. The bars are a playground, and it seems like it's recess all the time down here in the southern end of the state.
And, considering it's a college town, the divorce rate is really high. If you're sitting on your couch at home, depressed because your spouse had enough of the boozy lifestyle, it's time you put down the remote and got back into the scene.
Who knows? Maybe the next Mrs. You is sitting at the end of some dive bar waiting for you to come say hello.
There You Have It
If you're measuring the locations in Indiana where there are a high number of divorced people, bars and liquor stores, and where people are talking about drinking the most often, this is an accurate list.
And while you might think the larger cities and college towns are more drunk' than these places, when you measure the percentage of people who have access to alcohol, and who are separated, it makes sense. Cause, the data never lies, does it?
The 10 Drunkest Cities In Indiana
Bright
New Whiteland
Hidden Valley
Dunlap
Yorktown
For more reading on Indiana, check out: