Is there anything wrong with being called the drunkest city in your state? Especially in Mississippi, which ranks 37th in the nation for amount of booze consumed each year.
I mean, someone has to pick up the slack, right? As it stands, each Mississippian only drinks about 22 beers a year.
The people in the cities below sure make up for it, though.
How do you decide how much a place drinks? By the number of available places to buy booze, and by how often people are talking about drinking, that's how.
Plus, we thought why not add in a stereotype? Cause, you know, drinking is one reason for divorce, and something that divorced people do a lot of.
Incidentally, Mississippi has an above average divorce rate.
Using that criteria, it's not hard to scrape the internet, run some scientific data on where partiers might live in Mississippi, and then put out a list.
So, hold our beers and watch this. After analyzing all cities with a decent amount of people in them, we came up with this list as The Drunkest Cities in Mississippi:
The 10 Drunkest Cities In Mississippi
Read on below to see where your town ranked.
For more reading on Mississippi, check out:
What drunken criteria did we use?
In order to rank the drunkest cities in Mississippi, we had to determine what criteria defines someone who drinks a lot.
We threw a lot of criteria at this one in order to get the best, most complete results possible. Using Yelp and Sperling's Best Places, this is the criteria we used:
Number of bars and pubs per capita
Number of wineries per capita
Number of liquor stores per capita
Each city's drunk related tweets within the last week
Each city's divorce rate
For geo-located tweets, we measured the following raw number of tweets that came from within a city's general are: #Drunk, #Party, #Beer, #Wine and #Cocktails
Note: For the sake of getting reliable numbers, we counted places within a city's border, as well as within a short driving distance.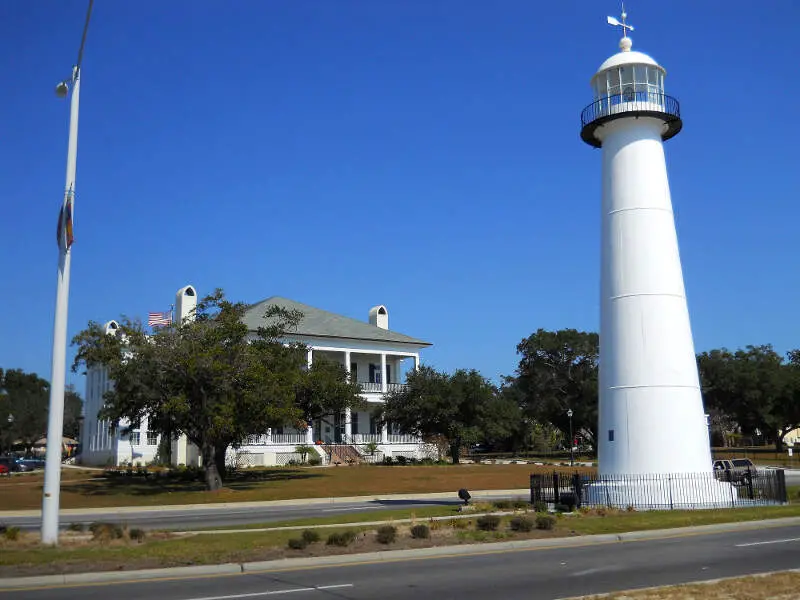 Source:
Wikipedia User Woodlot
|
CC BY-SA 3.0
Population: 44,343
Divorce rate: 14.3%
Bars per capita: 2nd
Liquor stores per capita: 14th
When you look at the sheer numbers, it's pretty clear that Biloxi is the drunkest city in Mississippi. Let's see why.
First off, there are a ton of bars and restaurants here along the coast. You can just about trip and fall into a bar anywhere from Gulfport east, along the gulf coast. There's actually only one other place in the state with more bars per person.
The number of divorced residents is the 8th highest in the state at 14.3%.
There were plenty of drunk Tweets originating from the Biloxi area. Here's an example: "If you're from Biloxi, you're probably drunk."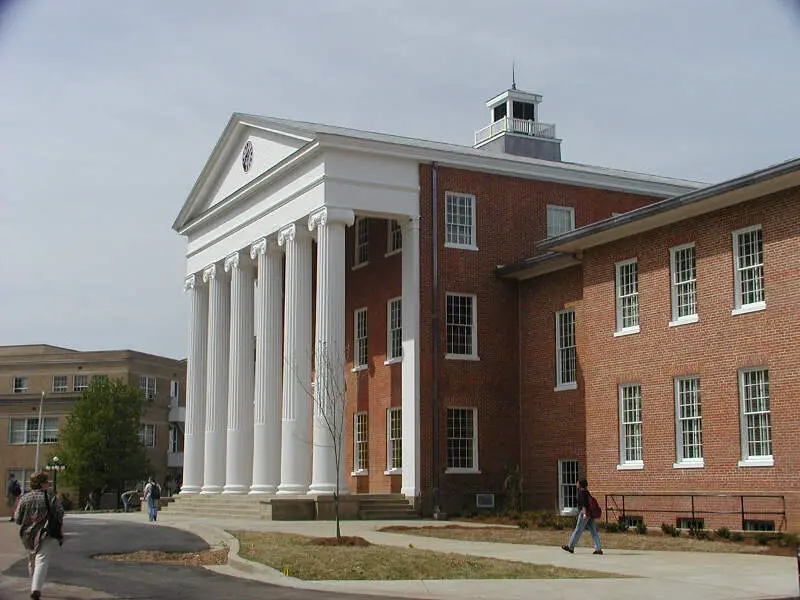 Source:
Wikipedia User The original uploader was Enjoybeta at English Wikipedia
|
CC BY-SA 2.0
Population: 20,998
Divorce rate: 7%
Bars per capita: 2nd
Liquor stores per capita: 1st
Did you really think that one of the biggest college party towns in the country wouldn't rank high on this list? The fact is, on any given night, there are lots and lots of completely wasted individuals in Oxford, Mississippi.
Especially on a Saturday in the fall. You can probably smell the whiskey a county away on game days.
Oxford has the third most bars per person, and the center of downtown near the square' has the biggest concentration of bars in the region. Plus, there are more liquor stores per capita here than anywhere else in the state.
Colleges.com gave Oxford an A for its party scene. Apparently, there are a lot of bars here that allow 18 year olds inside. That's a great way to kick off their next four years.
We only measured Tweets after football season ended, but there were still a ton of them coming from Oxford. Example: "Im convinced everybody in Oxford is drunk or tipsy!"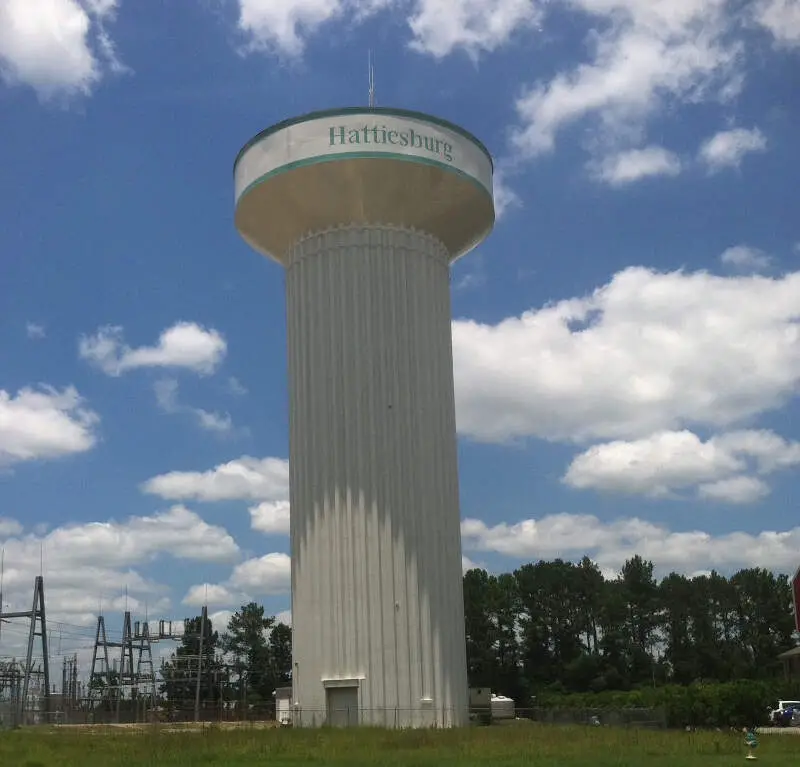 Source:
Wikipedia User Sturmgewehr88
|
CC BY-SA 4.0
Population: 46,484
Divorce rate: 11.4%
Bars per capita: 5th
Liquor stores per capita: 4th
There are a bunch of bars and restaurants that serve alcohol along Route 98 in downtown Hattiesburg. If you've ever been there, then you know how drunk people can get here just about any night of the week.
Overall, Hattiesburg has the 4th most bars per capita, but the divorce rate is only 11.4%. So that means lots of people are keeping things together, despite having so many long nights out at the bar.
Bravo to Hattiesburg drinkers for being such good examples for the rest of the state. Perhaps alcohol is the glue to your marriages.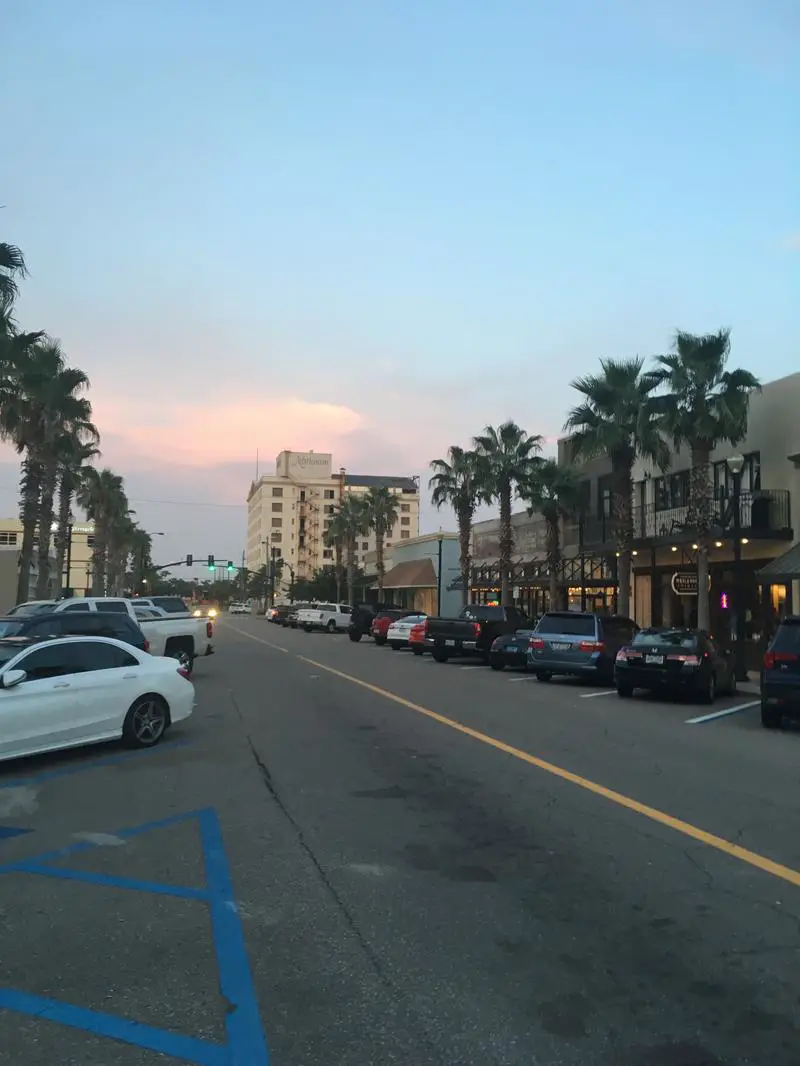 Source:
Wikipedia User Redditaddict69
|
CC BY-SA 4.0

Population: 68,185
Divorce rate: 15.3%
Bars per capita: 6th
Liquor stores per capita: 19th
Holy Matrimony, Gulfport! It says Till Death Do Us Part' for a reason. Obviously, many of you have decided that working on your buzz is more important than working on your relationships.
We can't blame you though; Gulfport has just about as many places to get your drink on as Biloxi has. It's just that per person, there are less since Gulfport has a much larger population.
You can understand why people come down here to get drunk. It's just such an awesome, fun place right along the water. It's just dangerous for relationships, apparently.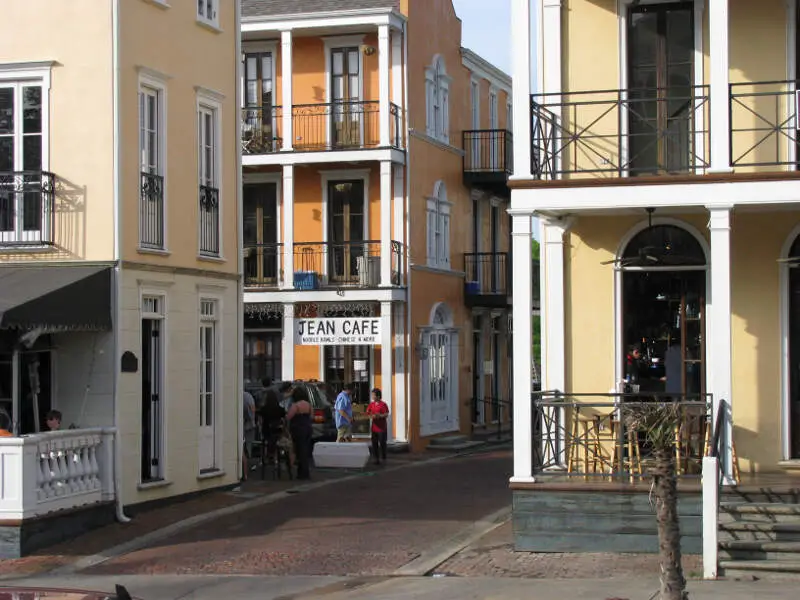 Source:
Wikipedia User NatalieMaynor from Jackson, Mississippi, USA
|
CC BY 2.0
Population: 23,96
Divorce rate: 8%
Bars per capita: 3rd
Liquor stores per capita: 7th
The home of Mississippi State has obviously made its mark on the drinking scene in the state of Mississippi. There aren't a TON of bars here, but there aren't that many people here, either. Believe us, there are still lots of options for both the general public and the students to get their swerve on.
Starkville was given a B+ for its party scene by Colleges.com. Students have indicated that lots of people leave town on the weekends, leaving house and apartment parties to pick up the slack for some of the slow bars and clubs in the area.
"If you want to go to a hard core party school, you go to Ole Miss."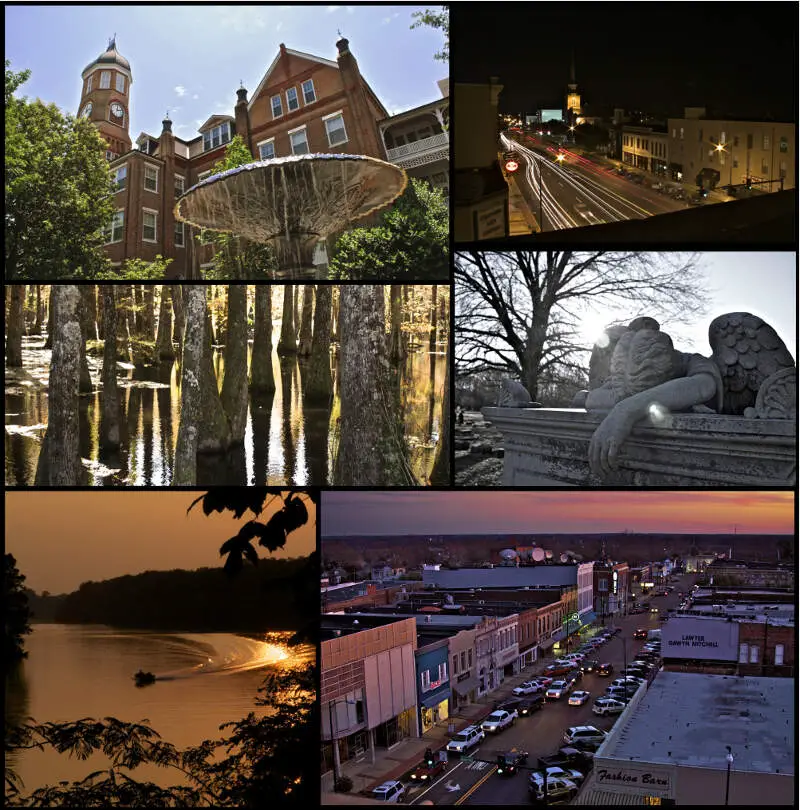 Source:
Wikipedia User Shayanasadi
|
CC BY-SA 3.0
Population: 23,605
Divorce rate: 13%
Bars per capita: 11th
Liquor stores per capita: 7th
Columbus is a short drive east of Starkville, along the Alabama state line. But we're sure lots of Columbus residents have all of the back roads memorized, right?.
Home of the Mississippi University for Women, folks here have lots to choose from when they decide to get hammered. With places like Legends, Possum Town Tavern and Sey's Sports Bar & Grill all packing it in on the weekends, you can expect to see lots of drunk, divorced people out until the wee hours.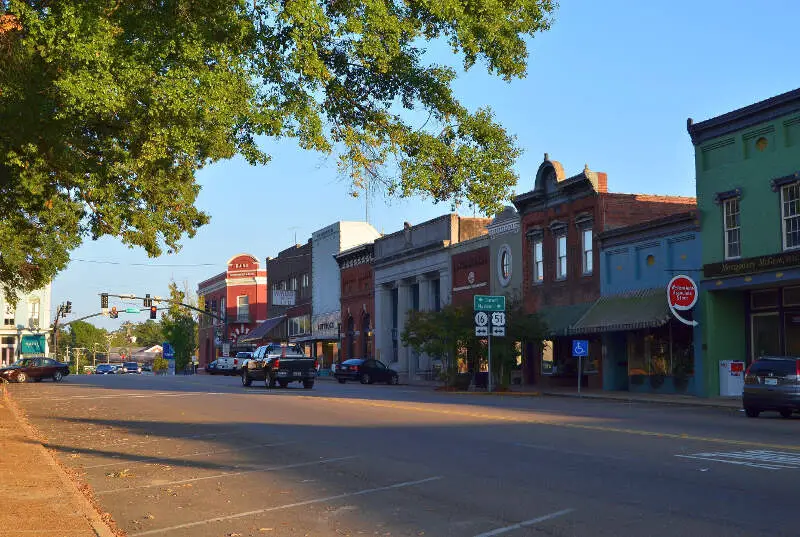 Source:
Wikipedia User James Case from Philadelphia, Mississippi, U.S.A.
|
CC BY 2.0
Population: 13,295
Divorce rate: 12.8%
Bars per capita: 13th
Liquor stores per capita: 6th
There are apparently lots of closet drinkers in little Canton, Mississippi when you look at the high number of liquor stores per capita here. That coincides with a divorce rate that's much higher than average.
If you've wrecked your marriage due to booze, don't sit around on the couch and pout about it. Get back out there to your favorite Canton bar stool. Who knows, the next Mrs. You could be out as well, waiting for you to buy her a shot.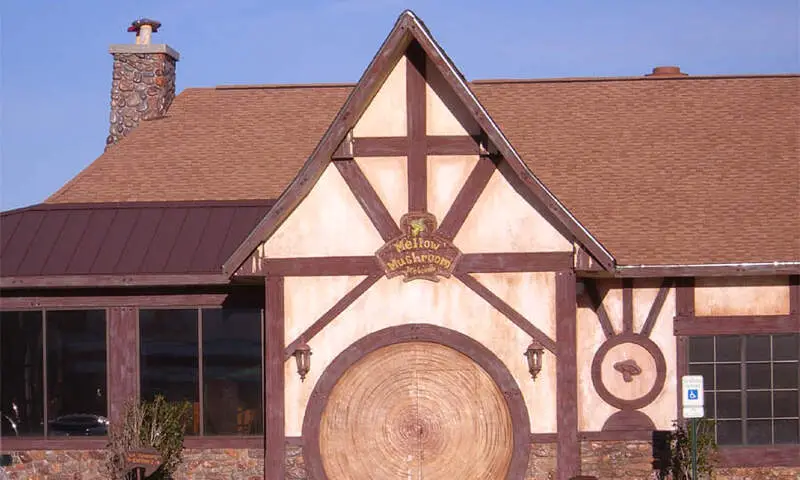 Source:
Wikipedia User
|
CC-BY-SA-2.5
Population: 7,483
Divorce rate: 11.7%
Bars per capita: 1st
Liquor stores per capita: 29th
Flowood is a teeny place just outside of Jackson, near the airport. It ranks so high because most of the locations here are chain restaurants that serve booze.
So while it might not be the locals who are getting plowed all the time, you can bet that there's lots of alcohol consumed here quite regularly. And that makes it a very drunk town.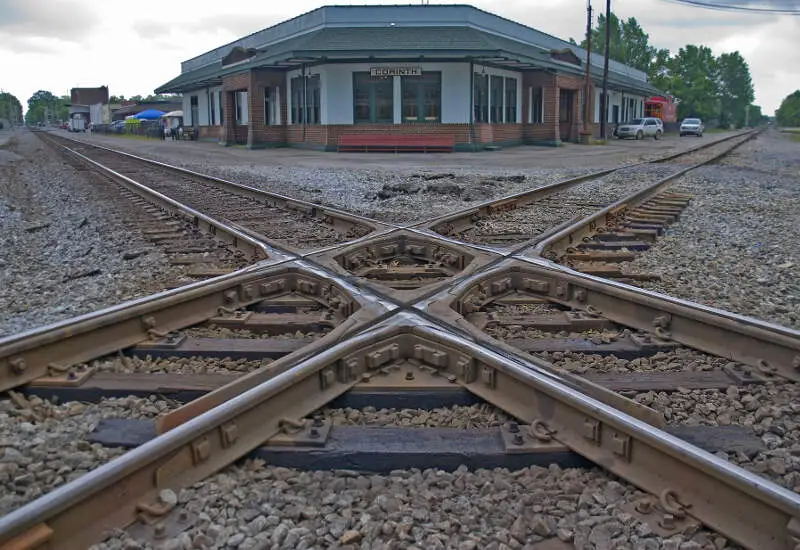 Source:
Wikipedia User Ron Cogswell
|
CC BY 2.0
Population: 14,595
Divorce rate: 15%
Bars per capita: 4th
Liquor stores per capita: 14th
When you look at the sheer numbers, it's pretty clear that Corinth is one of the drunkest city in Mississippi.
Corinth is 4th in the number of places that serve booze, per capita in the state. And the divorce rate is 15%, which is the 6th highest.
This small city near the Tennessee state line probably indulges in plenty of moonshine as well. At least, that's what people in Tennessee drink all of the time, right?

Source:
Wikipedia User FlickreviewR
|
CC BY 2.0
Population: 174,494
Divorce rate: 12.8%
Bars per capita: 12th
Liquor stores per capita: 14th
Yeah, yeah, we hear ya. Jackson barely made the top 10. We're aware that on any given night, there are simply thousands of Jackson residents pouring themselves into the gutters every night.
But we're looking at per capita. There's tens of thousands of Jackson residents who are perfectly happy with a quiet night in to monitor the Ole Miss Twitter feed.
There were lots of people on Twitter talking about the tough drunk driving laws in Jackson. And here is a quick sample of other Tweets we saw coming from Jackson in the last six days:
"I'm drunk in a bathroom in Jackson, Mississippi"
"Jackson Mississippi what's up!!!!! Ready to get drunk"
There You Have It
If you're measuring the locations in Mississippi where there are lots of places to get drunk, and where people are divorced at a high rate and Tweeting about the latest party they're attending, this is an accurate list.
If you're curious, here are the most sober places in Mississippi:
Latimer
Booneville
Clinton
Crystal Springs
Brandon

We also wrote about the 10 Most Redneck Cities in Mississippi if you didn't read it yet.

The 25 Drunkest Cities In Mississippi With Divorce Rates

Desktop users: Here's a complete chart with the data, along with the divorce rates for each city:
For more reading on Mississippi, check out: