Is there anything wrong with being called the drunkest city in your state? Especially in Oklahoma, which ranks 47th in the nation for amount of booze consumed each year.
I mean, someone has to pick up the slack, right? As it stands, each Oklahoman only drinks about 19 beers every 12 months.
The people in the cities below sure make up for it, though.
How do you decide how much a place drinks? By the number of available places to buy booze, and by how often people are talking about drinking, that's how.
Plus, we thought why not add in a stereotype? Cause, you know, drinking is one reason for divorce, and something that divorced people do a lot of.
Incidentally, Oklahoma has the 7th highest divorce rate in the U.S.
Using that criteria, it's not hard to scrape the internet, run some scientific data on where partiers might live in Oklahoma, and then put out a list.
So, hold our beers and watch this. After analyzing all cities with a decent amount of people in them, we came up with this list as The Drunkest Cities in Oklahoma:
The 10 Drunkest Cities In Oklahoma
Yeah, yeah, we hear ya. OKC isn't even in the top 10. It's 17th. And yes, we're aware that on any given night, there are simply thousands of Oklahoma City peeps pouring themselves into the gutters every night.
But we're looking at per capita. There's hundreds of thousands of OKC residents who are perfectly happy with a quiet night in to monitor Kevin Durant's Twitter feed.
Read on below to see where your town ranked.
For more reading on Oklahoma, check out:
What drunken criteria did we use?
In order to rank the drunkest cities in Oklahoma, we had to determine what criteria defines someone who drinks a lot.
We threw a lot of criteria at this one in order to get the best, most complete results possible. Using Yelp and Sperling's Best Places, this is the criteria we used:
Number of bars and pubs per capita
Number of wineries per capita
Number of liquor stores per capita
Each city's drunk related tweets within the last week
Each city's divorce rate
For geo-located tweets, we measured the following raw number of tweets that came from within a city's general are: #Drunk, #Party, #Beer, #Wine and #Cocktails
Note: For the sake of getting reliable numbers, we counted places within a city's border, as well as within a short driving distance.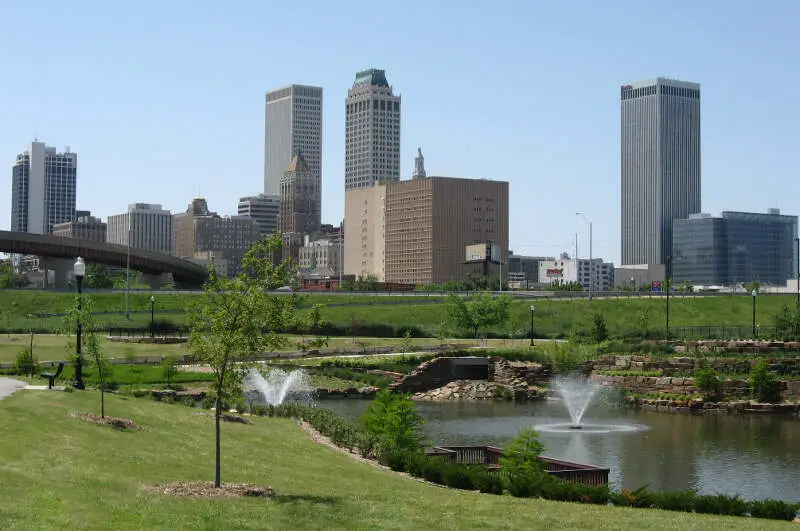 Source:
Wikipedia User Caleb Long
|
CC BY-SA 2.5-2.0-1.0
Population: 391,234
When you look at the sheer numbers, it's pretty clear that Tulsa is the drunkest city in Oklahoma. Let's see why.
First of all, there are more bars per capita than anywhere else in the state. That's saying a lot, since there are lots and lots of people here. You could just about trip and fall into a bar anywhere between 1st and 7th street in downtown Tulsa.
We're sure many people do just that.
Almost 15% of the residents in Tulsa have already kissed their marriages goodbye. Was booze a factor?
Finally, Twitter blew up with drunken Tweets coming from Tulsa. Example:
"Anyone drunk in the morning right now in Tulsa and need me to be their uber driver????"
Wow, that Uber driver has a great marketing plan going. And it sounds like he's pretty busy, when you look at the data.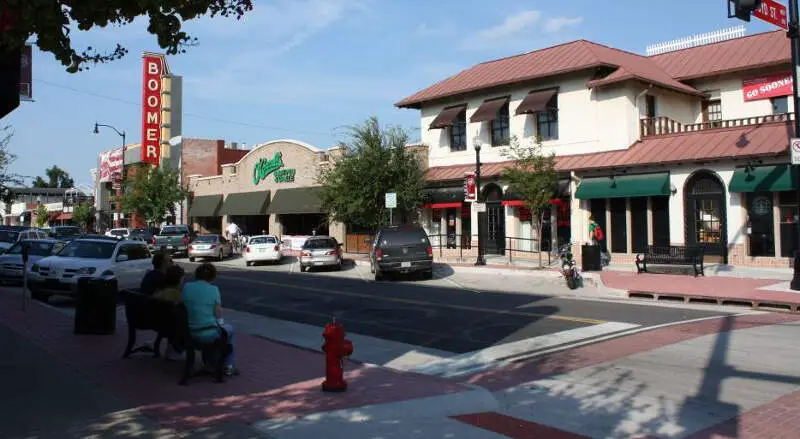 Source:
Wikipedia User Okguy
|
CC BY-SA 3.0
Population: 111,573
Did you really think that one of the biggest college party towns in the country wouldn't rank high on this list? The fact is, on any given night, there are lots and lots of completely wasted individuals in Norman, Oklahoma.
Especially on a Saturday in the fall. You can probably smell the whiskey a county away on game days.
Norman has the third most bars per person. There are three main concentrations of bars here, so it's pretty much a drunken mess any which way you go.
Colleges.com gave Norman an A- for its party scene. Apparently, the greek houses have the biggest parties, but with OU SafeRide in place, students are encouraged to mix it up and get plowed, AND get a free ride home.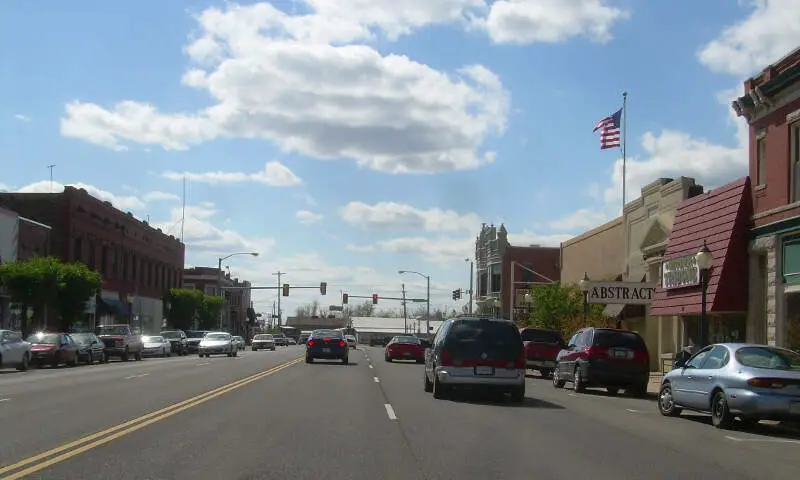 Source:
Wikipedia User Caleb Long
|
CC BY-SA 2.5-2.0-1.0
Population: 8,395
Where is this small drunken town that most people don't know of? We're glad you asked.
Wagoner is outside of Tulsa along Route 51, on the banks of Fort Gibson Lake. But we're pretty sure all Wagoners have the back roads memorized by now.
While there isn't any whiskey in the water here, there are quite a few bars for such a small population. And, the divorce rate here is almost 16%.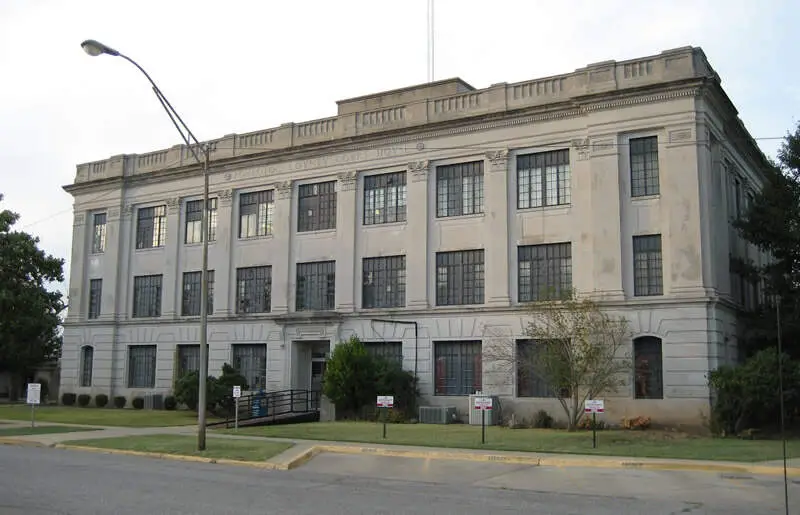 Source: Public domain
Population: 16,852
How many bars does a town of 16,000 need? Try about 10 or 11. They don't build bars where there aren't customers, right?
Ada also ranks third for number of liquor stores per capita. So it sounds like you've got lots of choices here: Go out and get hammered, or stay in and drink quietly alone on the couch. Judging by the high divorce rate here, it sounds like people are doing a little bit of both.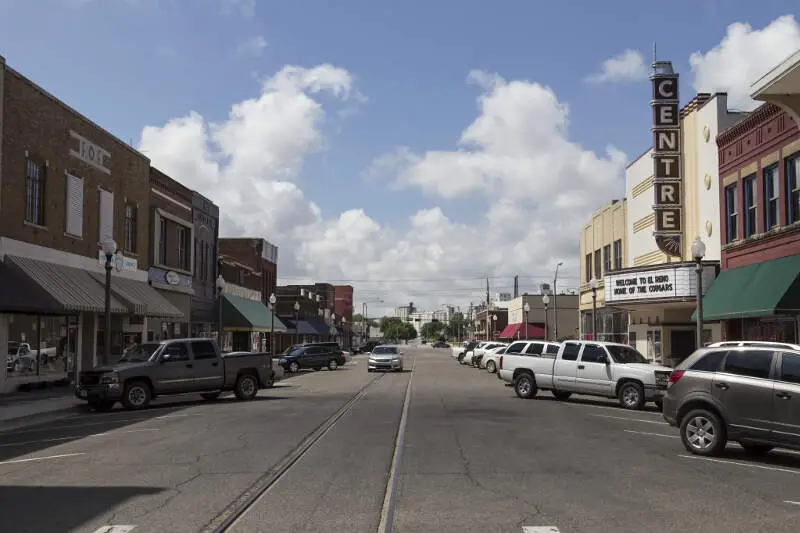 Source:
Wikipedia User katsrcool
|
CC BY 2.0
Population: 17,000
Holy Matrimony, El Reno. It says, "Till Death Do Us Part." Your divorce rate is through the roof! When more than 16% of you has decided that marriage is no longer in the cards, what do we expect you to do?
Head on out to the bars, that's what. Or, were all of the late nights the reason that you're divorced in the first place? Either way, if you're newly single in El Reno, quit moping and get back out there. Who knows, the next Mrs. You might be at the bar waiting for you to buy her a shot or five.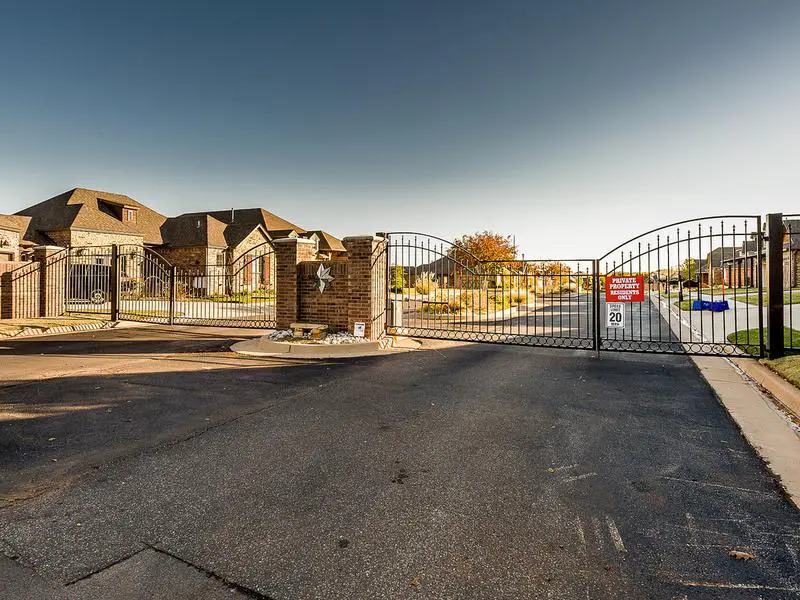 Source:
Flickr User okchomeseller
|
CC BY 2.0
Population: 81,594
There are two major colleges in Edmond: The University of Central Oklahoma, and Oklahoma Christian University. Which do you think parties more?
Colleges.com gave Central Oklahoma a C+ for its party scene, and OC got a C. One commenter said that the only parties allowed at OC are ones with games, food, and possibly a movie. How boring.
Edmond has the 9th most bars per capita and the 12th most liquor stores per person.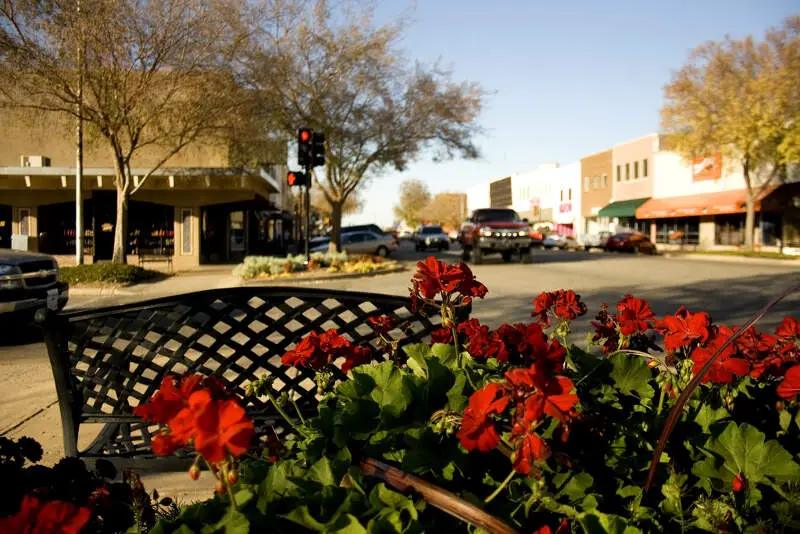 Source:
Wikipedia User Fletcherspears
|
CC BY-SA 3.0
Population: 45,044
Stillwater has the 9th most bars and the 15th most liquor stores, per person, in Oklahoma. As you might expect, being a college town, the divorce rate is really low at 7.4%.
But the kids make up for the lack of adult craziness. Oklahoma State got an A for its party scene. Reviews indicate that the house parties always run out of liquor. If that's te case, then Main Street has quite a few bars.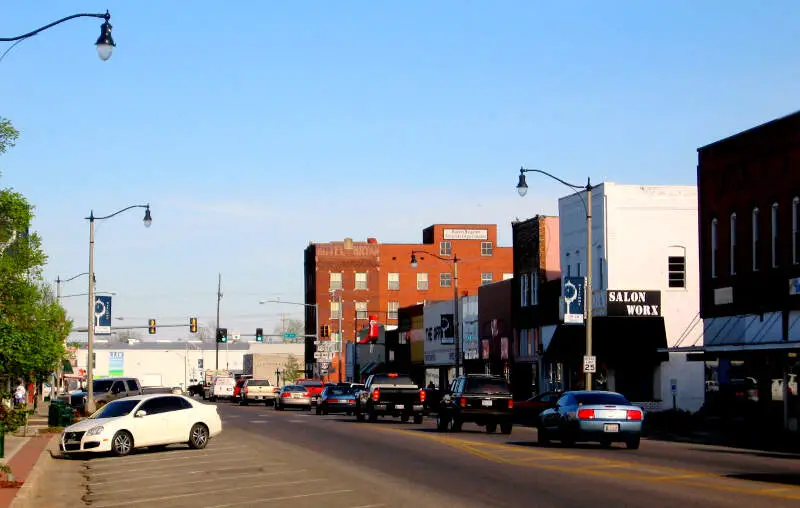 Source:
Wikipedia User Kerwin Moore
|
CC BY 3.0
Population: 16,904
Durant was ranked as the fastest growing rural city in Oklahoma in 2004. We wonder if the drinking that was going on here was a reason for that. After all, the Home of the World's Largest Peanut' has more bars in this one city than anywhere else within an hour drive.
Stop by and see em' sometime. Maybe you can buy them a shot as a congratulations for ranking so highly on this prestigious list.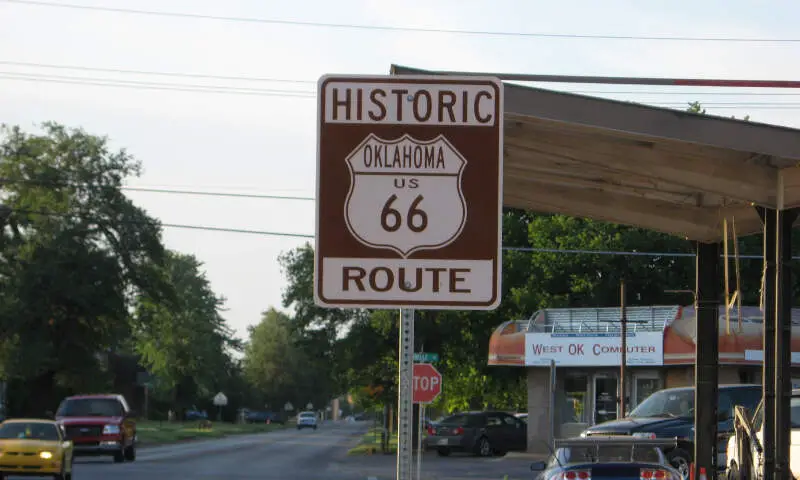 Source:
Wikipedia User Wallace Parry
|
CC BY-SA 3.0
Population: 9,071
Little Clinton, Oklahoma has more liquor stores per person than anywhere else and a divorce rate that's creeping towards 15%. It's along I-40, perhaps a six-pack west of Oklahoma City.
People in Oklahoma don't ever drive with an open container fairly often, do they?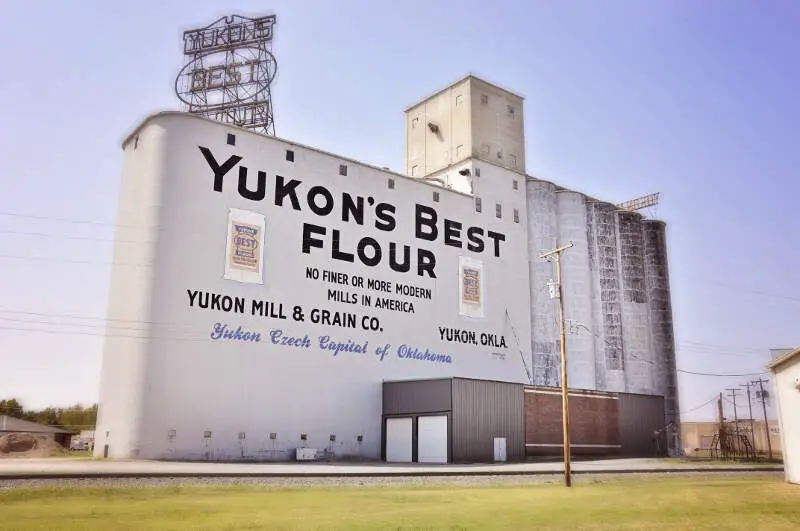 Source:
Wikipedia User Kristi Ellis
|
CC BY-SA 3.0
Population: 23,038
If you live in Oklahoma City, you may have crossed over into Yukon, a city that's just on the western side of town. You might not actually know you've reached it, since there are bars all along the way.
When you get to Big Dick's Road House, that's Yukon. There are about 20 other places to get liquor in the area, and that includes bars and restaurants. You'll probably see a crowd.
Basically, if you're not out and about in Yukon, getting your buzz on at least 4 times a month, then you're a minority.
There You Have It
If you're measuring the locations in Oklahoma where there are lots of places to get drunk, and where people are divorced at a high rate and Tweeting about the latest party they're attending, this is an accurate list.
If you're curious, here are the most sober places in Oklahoma:
Bixby
Mustang
Sapulpa
Pryor Creek
Broken Arrow
For more reading on Oklahoma, check out: