Is there anything wrong with being called the drunkest city in your state?
Especially in New Jersey, which is right in the middle in the nation in terms of the amount of beer and spirits consumed every year. So someone has to pick up the slack, right? And boy do these cities below.
How do you decide how much a place drinks? By the number of available places to buy booze, and by how often people are talking about drinking, that's how.
Plus, we thought why not add in a stereotype? Studies have indicated that when one or both partners in a marriage are alcoholics, that couple is three times more likely to divorce.
So, hold our beers and watch this. After analyzing all cities with a decent amount of people in them, we came up with this list as The Drunkest Cities in New Jersey:
The 10 Drunkest Cities In New Jersey
Atlantic City
Belmar
Highlands
Wildwood
For more reading on New Jersey, check out:
What drunken criteria did we use?
Number of bars and pubs per capita
Number of wineries per capita
Number of liquor stores per capita
Each city's drunk related tweets within the last week
Each city's divorce rate
For geo-located tweets, we measured the following raw number of tweets that came from within a city's general area: #Drunk, #Party, #Beer, #Wine and #Cocktails
Note: For the sake of getting reliable numbers, we counted places within a city's border, as well as within a short driving distance.
1. Atlantic City
Population: 39,680
Divorce rate: 11.5%
Bars per capita: 2nd in NJ
Liquor stores per capita: 30th
Atlantic City being the drunkest city in New Jersey isn't a surprise. Based on the data and number of raw tweets coming from your location, per capita, it sounds like the people there are all having a really, really good time.
There are more just about more bars per capita here than anywhere else in the state. You can trip and fall into a bar every step of the way along Pacific Avenue. And we're sure many of you guys do just that.
And, just the in Monopoly, you screw up here, and you get a free pass to jail. We're sure many of you do that, too.
With all of the distractions in the city, we're not surprised that the divorce rate in Atlantic City is one of the highest in the state. Gambling and booze: You've got a real disastrous combination for relationships.
1. Belmar
Population: 5,796
Divorce rate: 10.7%
Bars per capita: 5th in Jersey
Liquor stores per capita: 3rd
So here's the thing about Belmar. It actually tied Atlantic City for the drunkest in New Jersey. We put our heads together and decided that since Atlantic City is just a magnet for drunks of all ages year round, that it had to win the tiebreaker.
But good job, Belmar. We're impressed that you guys can hang.
Belmar is a small community right along the coast, not too far from Seaside Heights and the rest of the drunken towns along the Atlantic that explode with debauchery in the summer. Here in Belmar, there are simply a ton of bars and liquor stores, per capita, and folks here get wasted. That's a nice way of putting it.
We're most likely going to see a lot of coastal cities on this list.
This Tweet just about sums it up Belmar:
"The amount of drunk guido crap I see every evening #Belmar"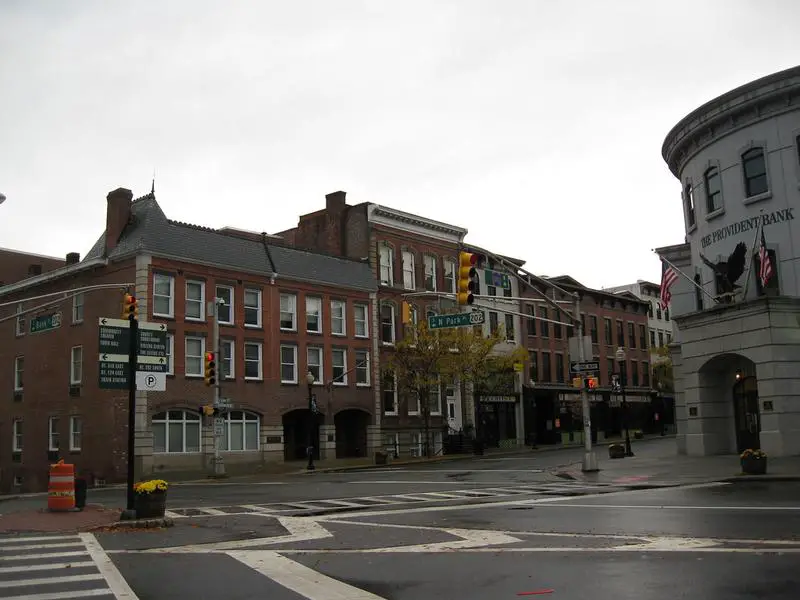 Source:
Flickr User Dougtone
|
CC BY-SA 2.0
Population: 18,461
Divorce rate: 11%
Bars per capita: 7th
Liquor stores per capita: 15th
This one kind of came out of nowhere. Morristown is a smaller town about 4 or 8 beers west of Newark along I-187. But we're sure all of you guys in Morristown know all of the back roads, right?
Besides the sheer number of bars here, the drunk Tweets coming from Morristown here way above average, including quite a few people talking drinking and driving.
This Tweet was a classic:
"It's kinda weird seeing your High school teacher when you're drunk in Morristown."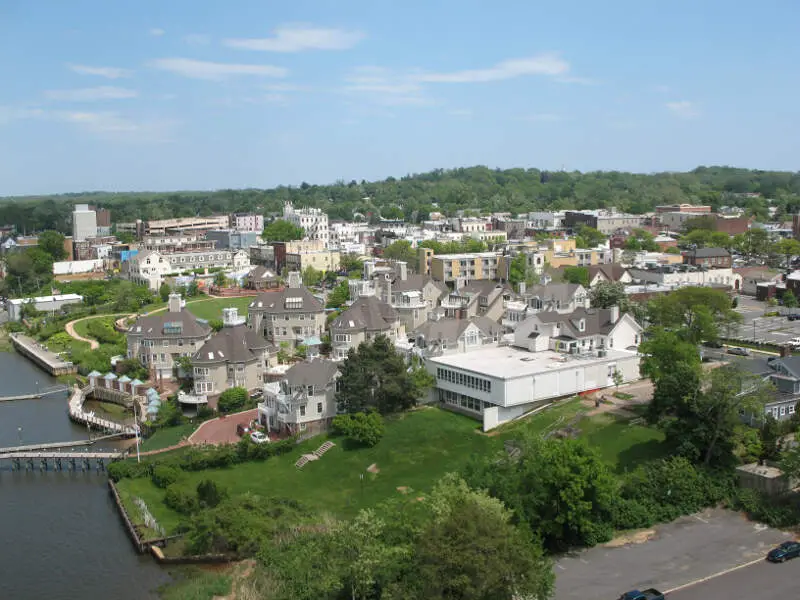 Source: Public domain
Population: 12,194
Divorce rate: 10%
Bars per capita: 9th in NJ
Liquor stores per capita: 12th
Red Bank is a smallish borough along the coast near the Navesink River. If you're reading this from Red Bank, you might just be hungover when you consider the number of inebriated distractions in your area.
For such a small place, Red Bank had a lot of drunk related Tweets. Lots of mentions of parties and drunken behavior. This one was kinda odd and needed a Google for an explanation:
"Where freshman girls get beer showered at their first party"
5. Highlands
Source:
Wikipedia User Jared Kofsky/PlaceNJ.com Media
|
CC BY-SA 3.0
Population: 5,009
Divorce rate: 11.5%
Bars per capita: 12th
Liquor stores per capita: 31st
Having the 31st most liquor stores in a small town doesn't sound that impressive. But keep in mind, we looked at more than 250 cities in New Jersey.
Highlands is close enough to Red Bank that the drunk people can most likely bike back and forth between the cities. Some probably do.
Highlands is home to director Kevin Smith, who undoubtedly based his drunken and stoned comedy style on growing up in this part of the state.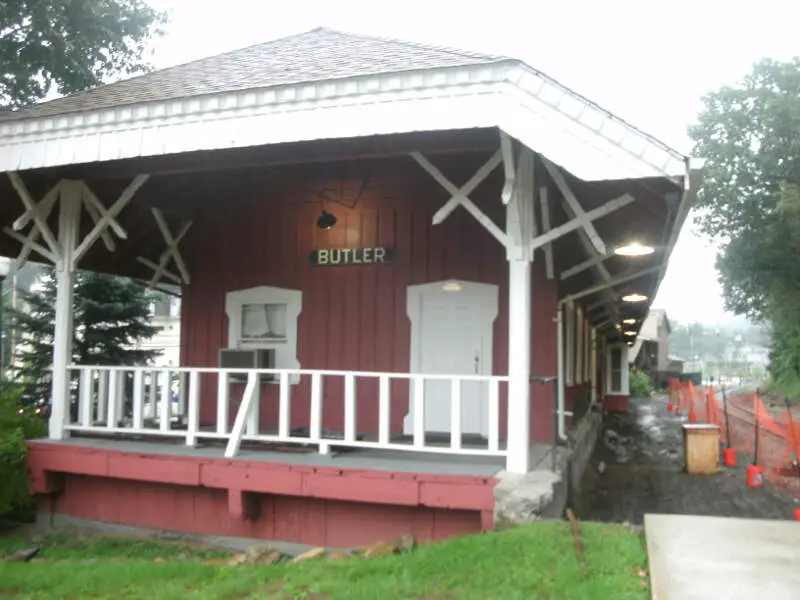 Source:
Wikipedia User Adam Moss
|
CC BY-SA 2.0
Population: 7,547
Divorce rate: 14%
Bars per capita: 30th
Liquor stores per capita: 23rd
Holy Matrimony, Butler. It says Till death do us part' for a reason, but your divorce rate is through the roof!
If you're in Butler and newly single, stop moping and get back out there into the bar scene. After all, that's probably where you met your spouse in the first place.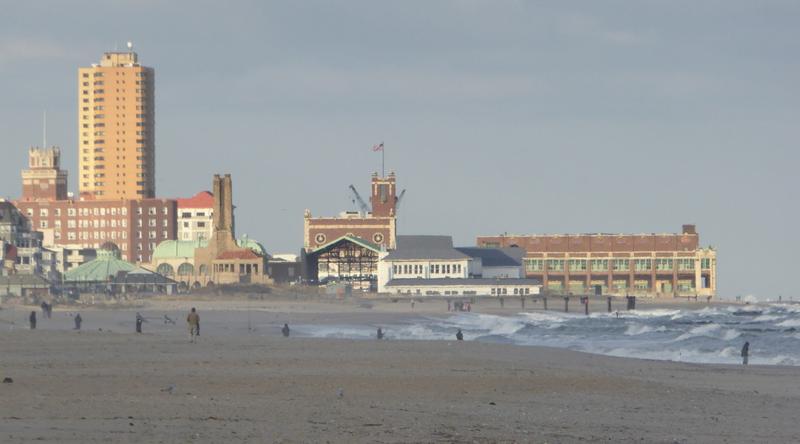 Source:
Wikipedia User Lhcollins
|
CC BY-SA 4.0

Population: 16,081
Divorce rate: 12.5%
Bars per capita: 4th in Jersey
Liquor stores per capita: 39th
If you Google Asbury Park, the first item that pops up on the map is the Stone Pony Summer Stage, a large music club that supposedly launched Bon Jovi. We can't verify that, but what is verifiable are the sheer number of places to get hammered every night.
Another fun fact: In 2013, the largest gathering of zombies was achieved here when 9,592 people dressed as zombies stood in one place. Were a lot of these people brain cell challenged? Or, was the entire idea was conceived over a drunken night out?
8. Wildwood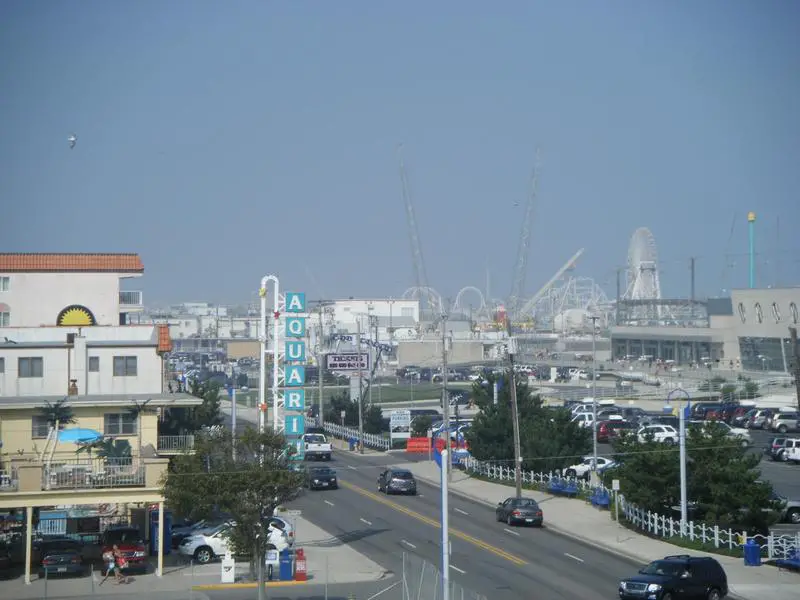 Source: Public domain
Population: 5,290
Divorce rate: 8.6%
Bars per capita: 1st
Liquor stores per capita: 1st
So Wildwood has the MOST bars and liquor stores per capita out of any other place in New Jersey, and that's saying a lot. It's been voted as one of the best beach towns in the nation many times over.
You can tell why. Who wouldn't come back to a place where lots of people get drunk from sun up to sun down, walking along the boardwalk, watching the hotties walk around. That actually sounds like a really good time.
Have you ever listened to Bobby Rydell's song, "Wildwood Days?" He grew up here and talks about the night life in the song.
"Oh those Wildwood days, wild, wild, Wildwood days
And then those party lights wild, wild Wildwood nights"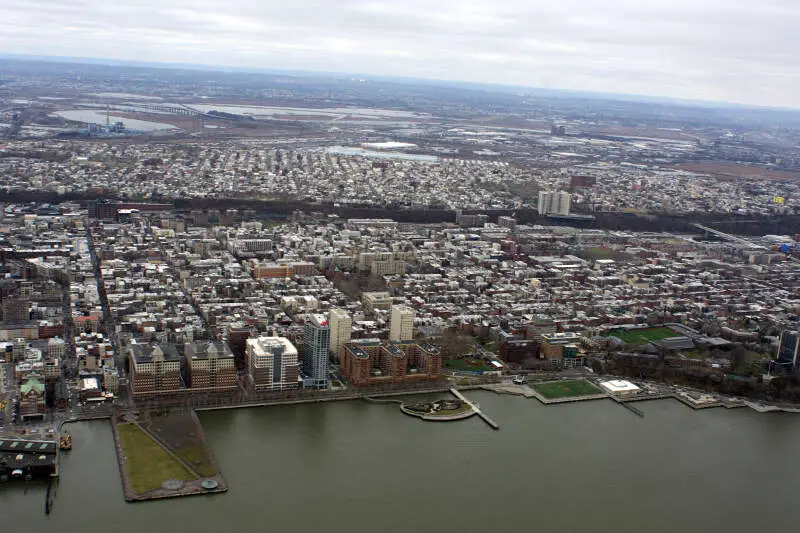 Source:
Wikipedia User
|
CC BY 4.0
Population: 49,887
Divorce rate: 5.6%
Bars per capita: 5th in NJ
Liquor stores per capita: 12th
There are tons of places you can get bleary eyed and sideways in Hoboken. No one is gonna deny that.
Hoboken would have finished way higher up had the divorce rate been higher. Good for you guys – staying together and all. Hoboken has a very high income, it that helps explain anything.
10. Hackettstown
Population: 9,743
Divorce rate: 10%
Liquor stores per capita: 34th
Bars per capita: 14th
For such a small place, Hackettstown has quite a few places to go out and get sloppy. And they're spread out all over the place, so hopefully you guys are using Uber or something.
Sure, there are bigger cities that have way more bars in them, where thousands of people are stumbling home through the gutters every night of the week. But we're looking at this per capita, people. And, the fact is there are tens of thousands of people in places like Newark and Jersey City who are content with a night on the couch with the cat.
How boring.
There You Have It
If you're measuring the locations in New Jersey where there are a high number of divorced people, bars and liquor stores, and where people are talking about drinking the most often, this is an accurate list.
And while you might think the larger cities and college towns are more drunk' than these places, when you measure the percentage of people who have access to alcohol, and who are separated, it makes sense. Cause, the data never lies, does it?
For more reading on New Jersey, check out: