This article is an opinion based on facts and is meant as infotainment. Don't freak out.
Swipe left for slideshow. Article continues below.
There's no denying it: there are plenty of places in Indiana that are downright beautiful and full of excitement.
Unfortunately, not all towns and cities in IN are so lucky. In fact, we used to live there, and outside of maybe five places, it's really quite a boring place.
Just like in all U.S. States, there are definitely some boring places within Indiana's borders. You know the places: the ones where everyone has an AARP card and the most exciting thing they do all day is post a picture of their grandchild on Facebook.
Like Yorktown, for instance. In our latest analysis, we found that this city was the most boring city in all of Indiana. But don't feel bad if you're a resident of Yorktown. There are plenty of other boring, lackluster places in Indiana as well.
Here they are. Try not to jump out of your seat with excitement:
Yorktown
St. John
Hartford City
Monticello
Wabash
Sellersburg
Batesville
Bargersville
Rochester
Munster
Before you get all upset if your city's name is on the list, rest assured that we didn't use personal opinion when it comes to what classifies a city or town as "boring" or "exciting". We crunched actual numbers to figure out which towns are statistically more boring.
By the way, where are the most exciting places in Indiana? They are West Lafayette, Bloomington, Lafayette, Mishawaka (believe it or not) and Indianapolis. That makes sense.
How we determined the boring cities in the Hoosier State
To figure out how boring a place is, we rely on a complex algorithm that factors in things we generally think make people exciting, and then we figure out which cities have the least number of those exciting people. We used the U.S. Census data to gather the information. Here are some of the things people tend to think of as making a city's population boring:
% of Population Over 35 (higher is more boring)
% of Married Household (higher is more boring)
Average Age (higher is more boring)
% of Households With Kids (higher is more boring)
% of Households with People Over 65 (higher is more boring)
Population density (lower is more boring)
Then, our algorithm generates several lists of the cities that have plenty of residents with high rankings in all of these categories. After a crunching of the numbers, a list of all of the cities magically appears listing them from most boring to most exciting.
For this list, we used every Indiana city that qualified for our rankings based on having a population of at least 5,000 residents. This keeps us from prejudicing our rankings by including very small pockets of retired people.
Grab your rocker and hold on.
1. Yorktown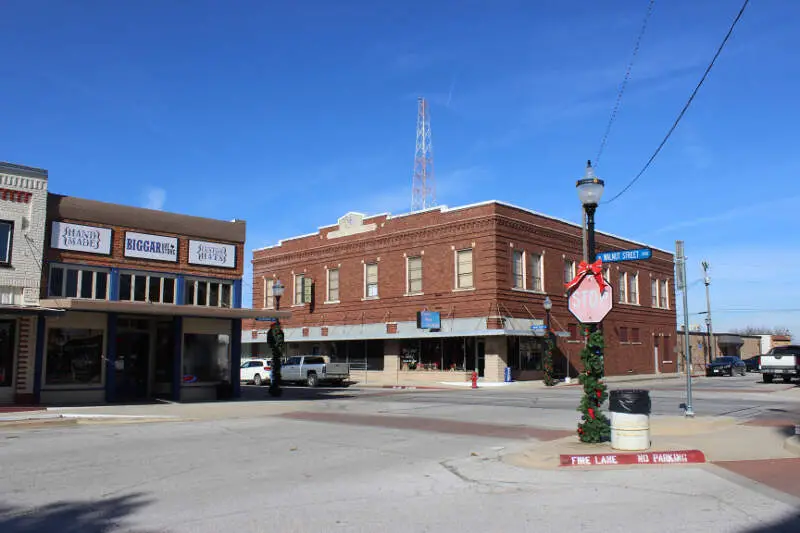 Source: Public Domain
Population: 11,298
Average Age: 41.5
Married Households: 63.9%
Households With Kids: 40.7%
2. St. John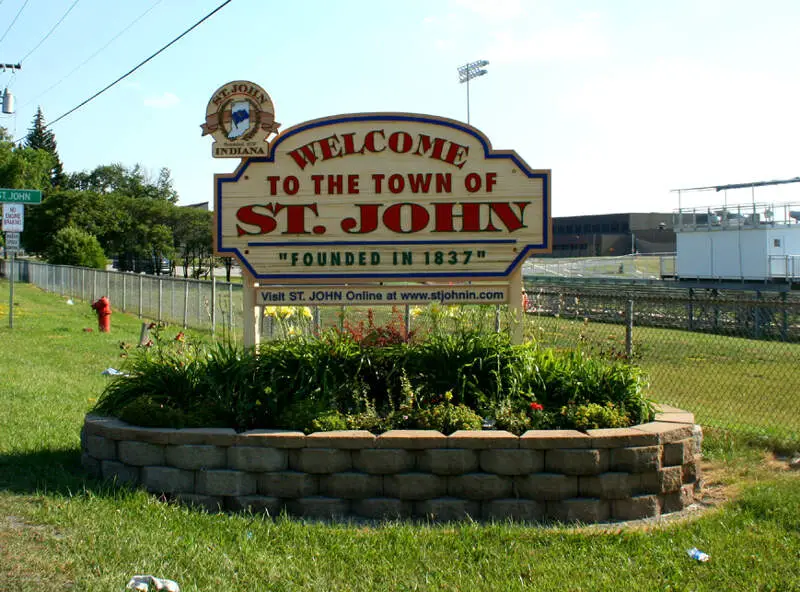 Population: 15,160
Average Age: 40.9
Married Households: 66.7%
Households With Kids: 38.6%
3. Hartford City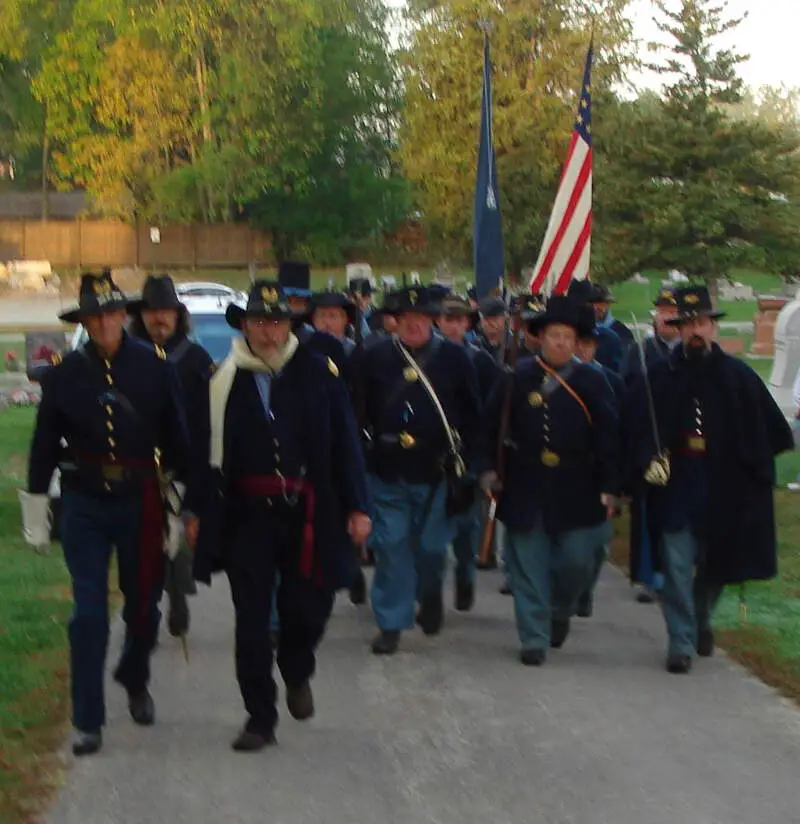 Population: 6,216
Average Age: 40.0
Married Households: 51.7%
Households With Kids: 36.5%
4. Monticello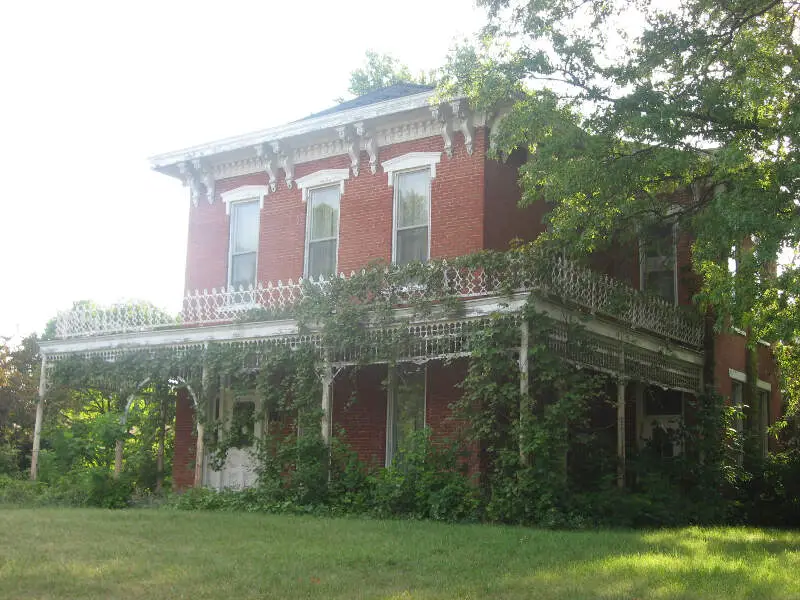 Population: 5,367
Average Age: 42.8
Married Households: 52.6%
Households With Kids: 28.2%
Yeah, this place has a theme park nearby, so at least there's that. We just got word that Indiana Beach has been sold to another out-of-state owner – Apex Parks Group from California, which has 'many years of amusement park experience,' and that additionally, millions of capital dollars are currently being spent to upgrade and renovate Indiana Beach.
We sure hope so. That place was really going downhill.
5. Wabash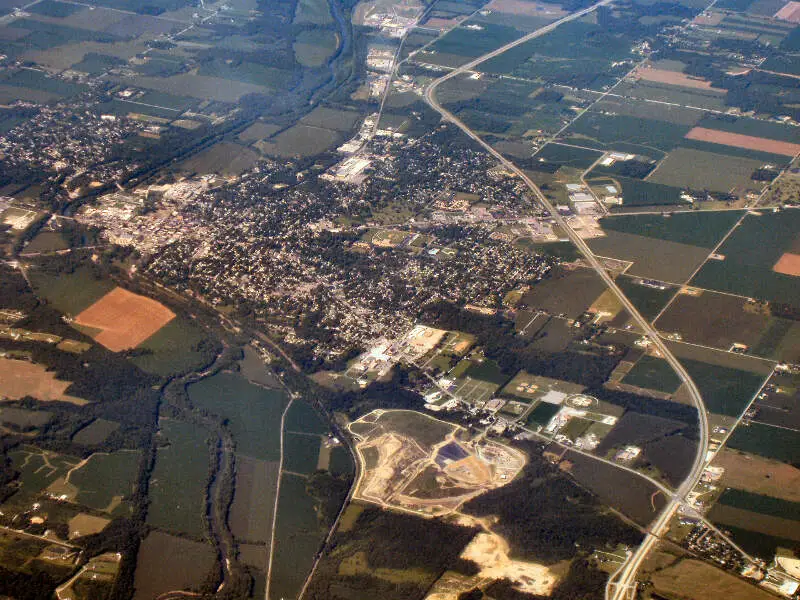 Population: 10,598
Average Age: 41.2
Married Households: 49.9%
Households With Kids: 32.2%
6. Sellersburg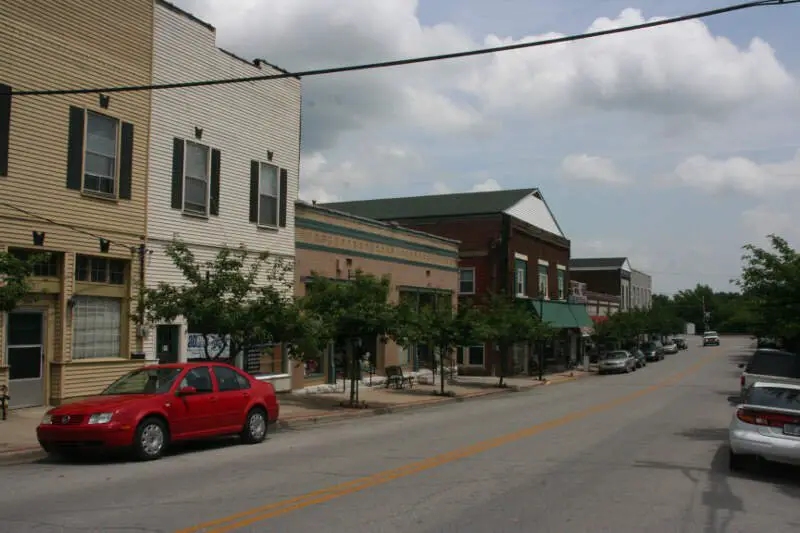 Source: Public Domain
Population: 6,147
Average Age: 38.6
Married Households: 54.5%
Households With Kids: 34.6%
7. Batesville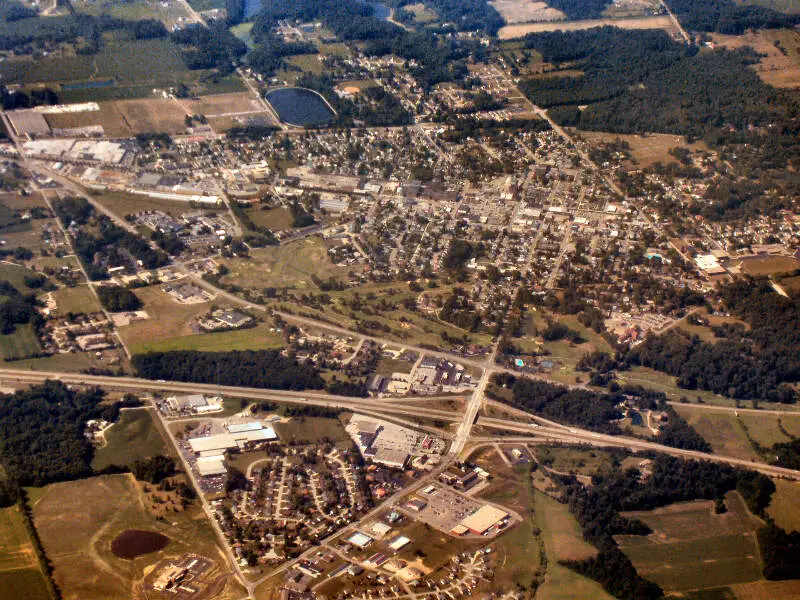 Population: 6,753
Average Age: 39.0
Married Households: 59.4%
Households With Kids: 35.1%
8. Bargersville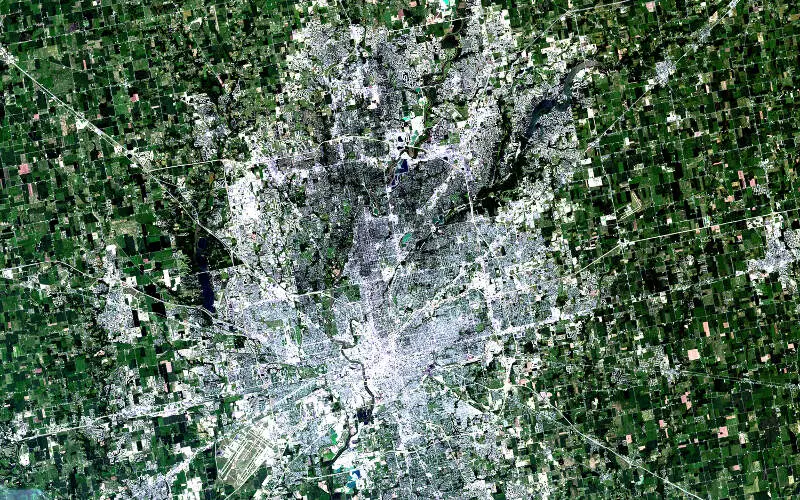 Population: 5,841
Average Age: 36.7
Married Households: 66.8%
Households With Kids: 42.1%
9. Rochester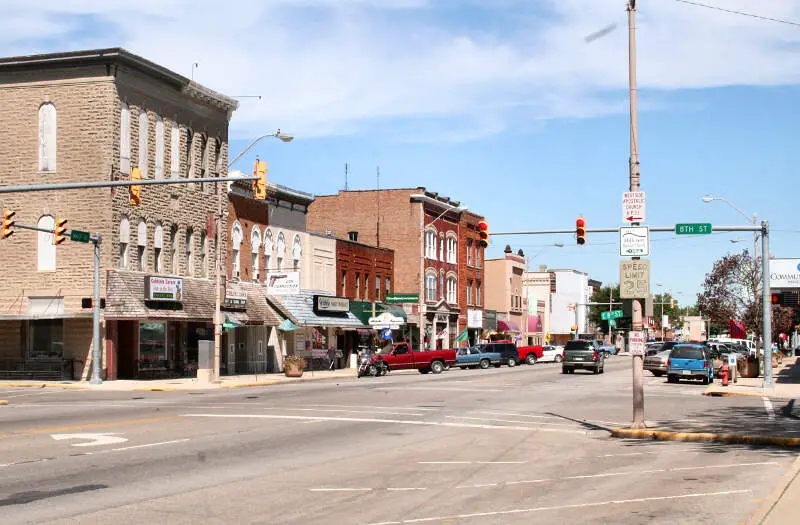 Population: 6,181
Average Age: 44.3
Married Households: 50.1%
Households With Kids: 22.7%
10. Munster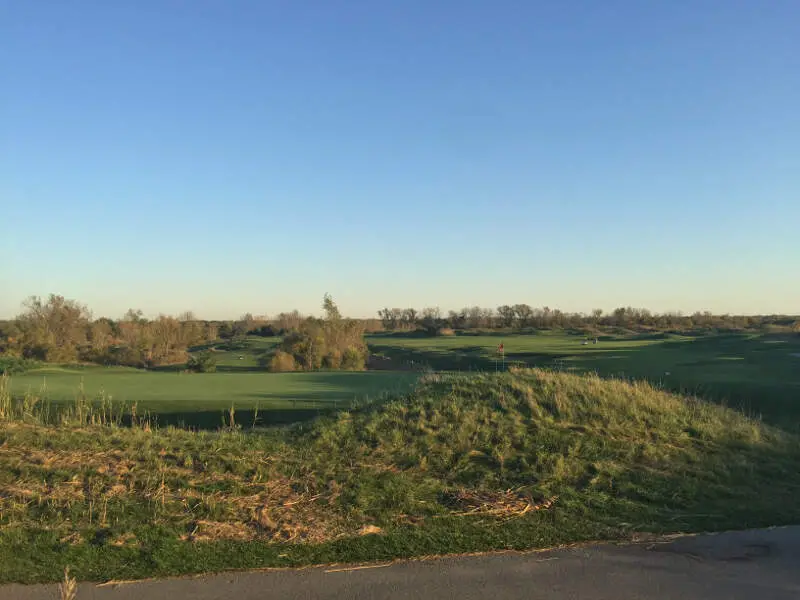 Population: 23,445
Average Age: 44.5
Married Households: 54.7%
Households With Kids: 31.8%
Now That You're Asleep
On a list like this, there are usually no winners, but since Indiana isn't necessarily the most boring state in the United States (barely), the cities on this list can at least take solace that there are, in fact, more boring cities in the country.
Just not these places.
We also wrote about the 10 worst Indianapolis suburbs you could possibly live in. You might be surprised by what the data had to say.
Detailed List Of Boring to Exciting Cities In Indiana
| City | Rank |
| --- | --- |
| Yorktown | 1 |
| St. John | 2 |
| Hartford City | 3 |
| Monticello | 4 |
| Wabash | 5 |
| Sellersburg | 6 |
| Batesville | 7 |
| Bargersville | 8 |
| Rochester | 9 |
| Munster | 10 |
| Gas City | 11 |
| Linton | 12 |
| Mooresville | 13 |
| Dyer | 14 |
| Jasper | 15 |
| Alexandria | 16 |
| Rensselaer | 17 |
| Hobart | 18 |
| Carmel | 19 |
| Madison | 20 |
| Crown Point | 21 |
| Tell City | 22 |
| Boonville | 23 |
| Bedford | 24 |
| Huntingburg | 25 |
| Decatur | 26 |
| Chesterton | 27 |
| Schererville | 28 |
| Tipton | 29 |
| Danville | 30 |
| Plainfield | 31 |
| Scottsburg | 32 |
| Zionsville | 33 |
| Rushville | 34 |
| Bluffton | 35 |
| Avon | 36 |
| Lebanon | 37 |
| Connersville | 38 |
| Westfield | 39 |
| Mount Vernon | 40 |
| Portage | 41 |
| Plymouth | 42 |
| Greensburg | 43 |
| Highland | 44 |
| Auburn | 45 |
| Lawrenceburg | 46 |
| Cedar Lake | 47 |
| Nappanee | 48 |
| North Vernon | 49 |
| Columbus | 50 |
| Hunte | 51 |
| Princeton | 52 |
| Charlestown | 53 |
| Elwood | 54 |
| Lake Station | 55 |
| Warsaw | 56 |
| Garrett | 57 |
| Greenfield | 58 |
| New Haven | 59 |
| Seymour | 60 |
| Brownsburg | 61 |
| Merrillville | 62 |
| Noblesville | 63 |
| Gary | 64 |
| La Porte | 65 |
| Goshen | 66 |
| Jeffersonville | 67 |
| Richmond | 68 |
| Anderson | 69 |
| Martinsville | 70 |
| Lowell | 71 |
| Washington | 72 |
| Franklin | 73 |
| Peru | 74 |
| Crawfordsville | 75 |
| Kendallville | 76 |
| New Castle | 77 |
| Fishers | 78 |
| Shelbyville | 79 |
| Salem | 80 |
| Kokomo | 81 |
| Columbia City | 82 |
| Portland | 83 |
| Michigan City | 84 |
| Logansport | 85 |
| Brazil | 86 |
| Griffith | 87 |
| New Whiteland | 88 |
| Ellettsville | 89 |
| Greenwood | 90 |
| North Manchester | 91 |
| Marion | 92 |
| Clarksville | 93 |
| Speedway | 94 |
| Lawrence | 95 |
| Beech Grove | 96 |
| Westville | 97 |
| Frankfort | 98 |
| Angola | 99 |
| New Albany | 100 |
| Huntington | 101 |
| Cumberland | 102 |
| Fort Wayne | 103 |
| East Chicago | 104 |
| Elkhart | 105 |
| Valparaiso | 106 |
| Hammond | 107 |
| Evansville | 108 |
| South Bend | 109 |
| Greencastle | 110 |
| Terre Haute | 111 |
| Vincennes | 112 |
| Indianapolis | 113 |
| Mishawaka | 114 |
| Lafayette | 115 |
| Muncie | 116 |
| Bloomington | 117 |
| West Lafayette | 118 |