This article is an opinion based on facts and is meant as infotainment. Don't freak out.
Swipe left for slideshow. Article continues below.
There are lots of people who throw the term 'ghetto' around. But which of Alabama's largest cities are the most ghetto of all?
How do you decide if a place is ghetto or not? You ask the internet. According to the Urban Dictionary, a ghetto is defined as:
"urban; of or relating to (inner) city life" and "poor; of or relating to the poor life."
Using that criteria, it's not hard to scrape the internet, run some scientific data on where ghettos might exist in a state and then put out a list.
After analyzing all cities with 10,000 people or more, we came up with this list as the most ghetto places in Alabama:
Read on below to see where your hometown ranked and why.
Note: We're aware that there are more 'ghetto' cities that are smaller than 5,000. We wanted to rank only the largest cities here for a more clear indication of which major city centers are ghettos. Therefore, it's assumed that the cities above (and their suburbs) are more ghetto than the larger cities not listed here.
For more Alabama reading, check out:
What ghetto criteria did we use?
In order to rank the most ghetto places in Alabama, we had to determine what criteria defines a ghetto city or neighborhood.
Since a ghetto is defined as a poor area, we used income levels, crime and education levels as a guide to determine where the most broke citizens of a state live.
Additionally, the staples of inner city life include cheap and discounted retail outlets.
We started by making a list of every place in Alabama with more than 5,000 people based on the 2013 American Community Survey. That left us with 86 places in the Yellowhammer State.
We threw a lot of criteria at this one in order to get the best, most complete results possible. Using Yelp and Area Vibes, this is the criteria we used:
Household income levels
High school graduation rates
Number of convenience stores
Number of drug stores
Number of discount stores
Crime
Note: For the sake of getting reliable numbers, we counted places within a city's border, as well as within a short driving distance.
All of these results are listed in a per capita basis. Meaning number of stores per person in a state. Additionally, high school graduation rates are determined by looking at the total number of people who live in a city, not the current graduation rate of an area's high schools.
1. Selma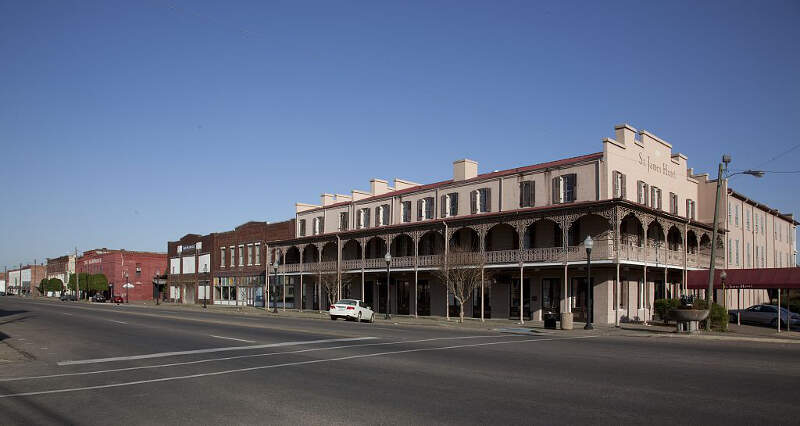 Income: $24,331
Drop out rate: 29%
Crime: 4th highest
When you look at the numbers, Selma is the most ghetto city in the state of Alabama. Here's why.
First off, it's really dangerous there. Not as bad as some other cities on this list, but there were three murders here in 2013, and long-term residents have a 1 in 12 chance of being the victim of a property crime (thefts such as laptops and televisions).
That's just about a high a rate as you'll see in the nation.
Additionally, a large percentage of the population lives below the poverty line.
Selma is a medium-sized town about an hour west of Montgomery.
2. Lanett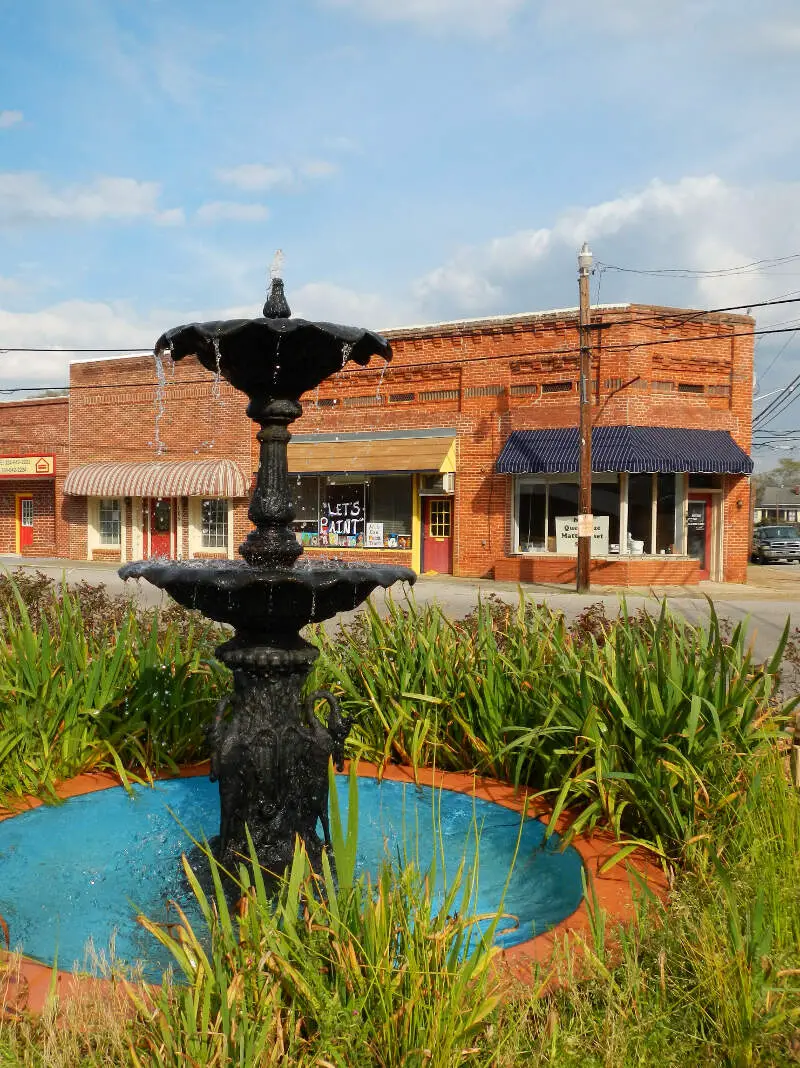 Income: $25,703
Drop out rate: 34%
Crime: 8th worst
Things aren't too much better in Lanett, a small town on I-85 right on the Georgia state line.
The number of dropouts here is staggeringly high: More than 1 in 3 people walking around in Lanett never graduated high school. That's a sure sign that things are not only bad here now, but will be bad for a long time.
And crime is one of the worst in Alabama. Four murders for a city of barely 6,000 people is one of the highest rates you'll hear about.
3. Anniston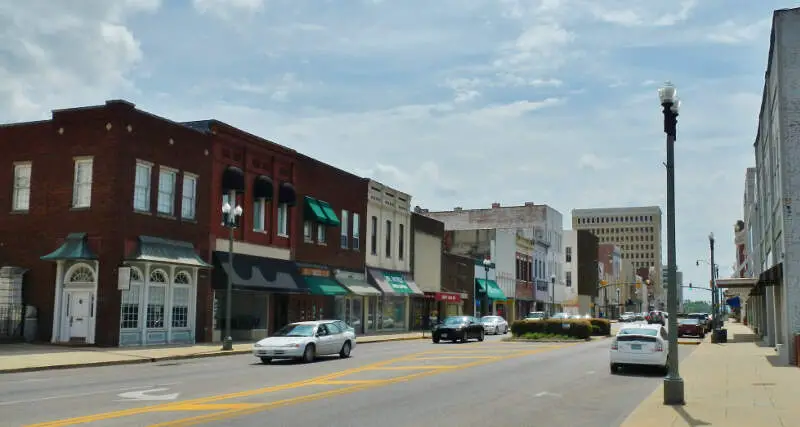 Income: $26,667
Discount stores: 12th most
Crime: 2nd highest
It doesn't get much more poor or dangerous than in Anniston, which is along I-20, about halfway between Birmingham and Georgia.
This city of 22,000 saw five murders just two years ago. And just about every day here, someone was raped, attacked or outright killed. It's the second most dangerous place in the state, statistically, according to the FBI.
35% of the population below the age of 18 live below the poverty line here as well.
4. Prichard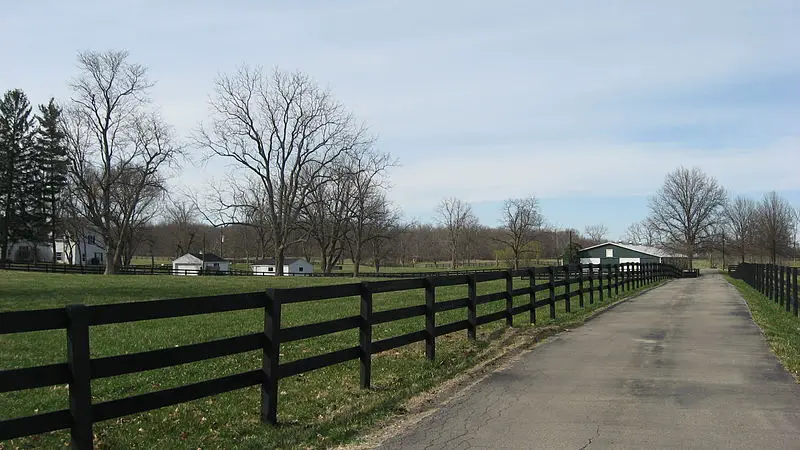 Income: $43,514
Drop out rate: 30%
Crime: 5th highest
There were just about as many Tweets about how ghetto Prichard is than there were for any other city in Alabama.
Here's an example of what Prichard residents had to say about their city:
"everybody from Prichard ghetto"
"Won't ever catch me defending prichard again. I hate ghetto people"
Crime is really bad here – there were 4 murders here not too long ago, and anyone who spends a year within Prichard city limits has a 1 in 14 chance of having something taken from them or burned in an arson attack.
Just about 1 in 3 people in Prichard over 18 years old never completed high school.
5. Tarrant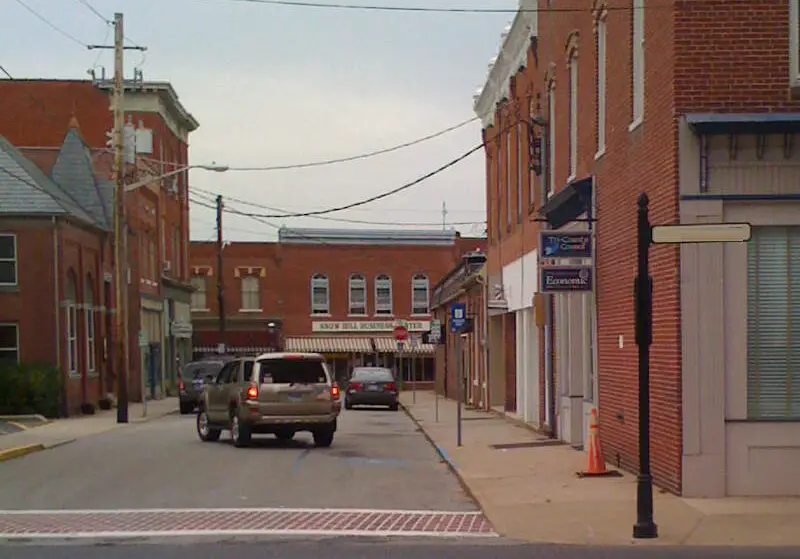 Source: Public Domain
Income: $21,496
Drop out rate: 26%
Crime: 34th highest
Tarrant is by far the poorest city in Alabama. And based on the definition of a ghetto, then this makes Tarrant one of the worst ghettos in Alabama.
Families here bring in less than $22,000 each. A full 50% of the people here under the age of 18 are living below the poverty line – which the government has defined at $25,000 for a family of four.
Crime is above average, but not over the top. And, looking at the numbers, a high drop out rate is one of the reasons for the low income factors here.
For a small place, there were a decent amount of Tweets coming from Tarrant:
"Oh how I love the smell and look of the ghetto in the mornings. #Tarrant"
6. Fairfield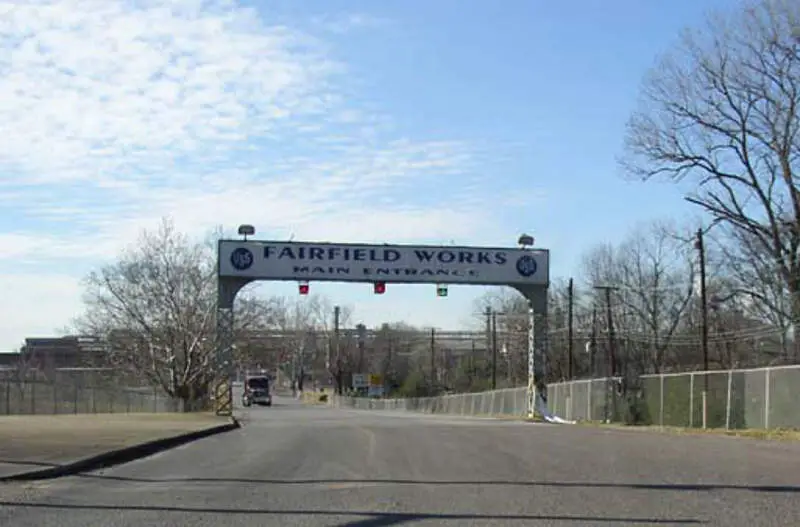 Income: $44,941
Drop out rate: 17%
Crime: 3rd highest
Fairfield is a little pocket just west of downtown Birmingham. It's the 3rd most crime ridden place in Alabama, in terms of violent and property crimes, according to the FBI.
This little city of 11,000 people saw four murders not too long ago. And you have almost a 1 in 10 chance of being robbed here if you spent a year within Fairfield city limits. That means if you weren't robbed, someone you knew was.
The income levels and dropout rates aren't the worst by any stretch. They're definitely well below average.
A lot of the decline in Fairfield has been to the decline of the steel industry in the area. In addition, major retailers such as Kmart, Winn-Dixie and Sears have all left town in the last ten years.
7. Alexander City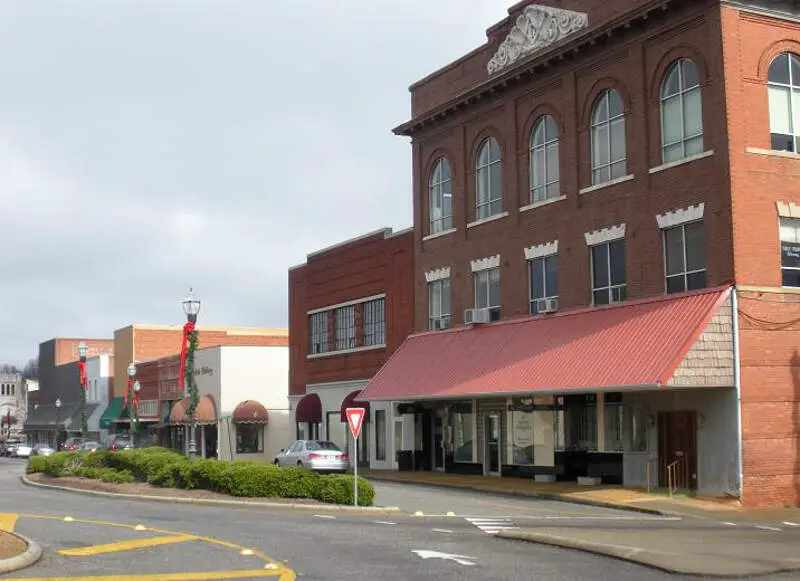 Income: $22,961
Drop out rate: 30%
Crime: 29th highest
Alexander City has one of the highest concentrations of convenience stores and drug stores in the state. Sociologists have indicated that a high number of these types of shopping experiences are a staple of inner city life.
It's a very poor place, where a significant percentage of the population lives below the poverty line, and where 30% of the population is relatively uneducated.
8. Talladega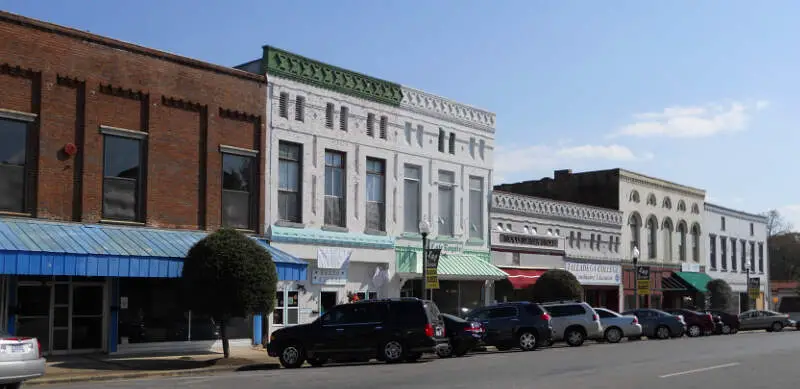 Income: $29,432
Drop out rate: 32.7%
Crime: 10th highest
Here's but one example of what a resident of Talladega had to say on City Data:
"Talladega is nothing but a ghetto and the people don't want to work."
The unemployment rate here is 6.7% – which is slightly above the national average, but not too bad. Income levels are far below living comfortably, and it's the 10th most dangerous place in the state of Alabama.
9. Bessemer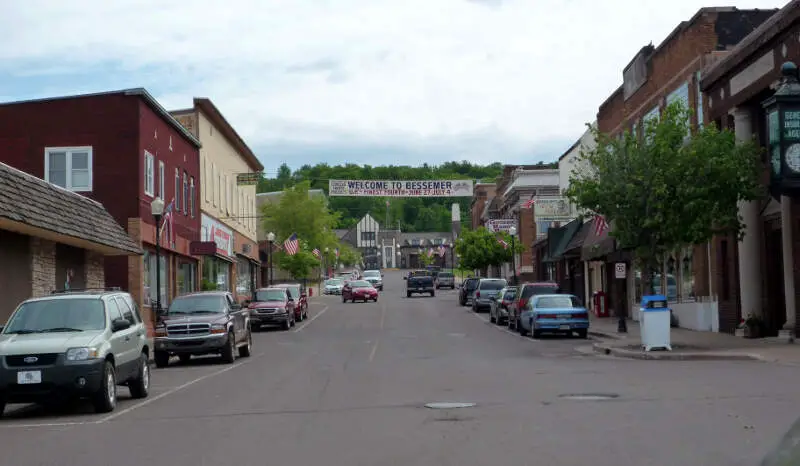 Income: $39,764
Drop out rate: 24%
Crime: Highest in Alabama
Bessemer is the most dangerous city in Alabama. That's according to the chances a resident here has of being the victim of a crime each year.
There were three murders here, and for every year you spend in Bessemer, you have a shockingly high 1 in 7 chance of being robbed. We can't remember a city that has that high of a statistic for property crimes in the nation.
There were about 2,300 robberies here in 2013. On average, 6 times a day someone has something stolen. Just wow.
The decline of steelmaking and railcar manufacturing led to Bessemer's economic crisis in the 1980s, when about 30% of the population was unemployed. While the city has made strides to diversify its economy, it's clear that huge setback has had an impact that's been hard to shake.
Bessemer is just outside of Birmingham.
10. Atmore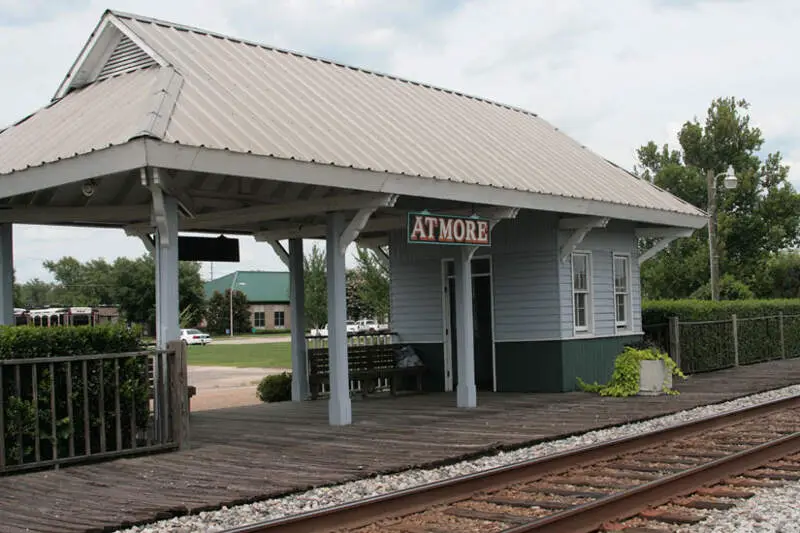 Income: $26,080
Drop out rate: 41%
Crime: 57th worst
You read that right. Atmore has the highest number of uneducated adults in the state of Alabama. It's going to be hard for this city to recover from a setback when 4 in 10 residents doesn't have even a high school diploma.
Crime isn't bad, despite the fact that residents have trouble making ends meet. So at least there's a bright side to living in Atmore.
There You Have It
If you're measuring the locations in Alabama where there are a high number of poor and uneducated residents, and where there are a high number of discounted shopping stores, this is an accurate list.
Additionally, here are the least ghetto places in Alabama:
Mountain Brook
Helena
Daphne
Pelham
Satsuma
We also wrote about the 10 Most Redneck Cities In Alabama if you didn't happen to see it. Click here to read it.
Desktop users, below is a ghetto ranking chart of all large cities in Alabama, along with their crime rates: