This article is an opinion based on facts and is meant as infotainment. Don't freak out.
Article continues below.
There are lots of people who throw the term 'ghetto' around. But where is the actual ghetto in California?
How do you decide if a place is ghetto or not? You ask the internet. According to the Urban Dictionary, a ghetto is defined as:
"urban; of or relating to (inner) city life" and "poor; of or relating to the poor life."
Using that criteria, it's not hard to scrape the internet, run some scientific data on where ghettos might exist in a state and then put out a list.
After analyzing all cities with a decent amount of people in them, we came up with this list as the most ghetto places in California:
Oasis
Read on below to see where your town ranked.
What ghetto criteria did we use?
In order to rank the most ghetto places in California, we had to determine what criteria defines a ghetto city or neighborhood.
Since a ghetto is defined as a poor area, we used income levels, crime and education levels as a guide to determine where the most broke citizens of a state live.
Additionally, the staples of inner city life include cheap and discounted retail outlets.
We started by making a list of every place in California with more than 5,000 people based on the 2013 American Community Survey. That left us with over 600 places in the Golden State.
We threw a lot of criteria at this one in order to get the best, most complete results possible. Using Yelp and Area Vibes, this is the criteria we used:
Household income levels
High school graduation rates
Number of convenience stores
Number of drug stores
Number of discount stores
Crime
Note: For the sake of getting reliable numbers, we counted places within a city's border, as well as within a short driving distance.
All of these results are listed in a per capita basis. Meaning number of stores per person in a state. Additionally, high school graduation rates are determined by looking at the total number of people who live in a city, not the current graduation rate of an area's high schools.
For more California reading, check out:
1. Oakland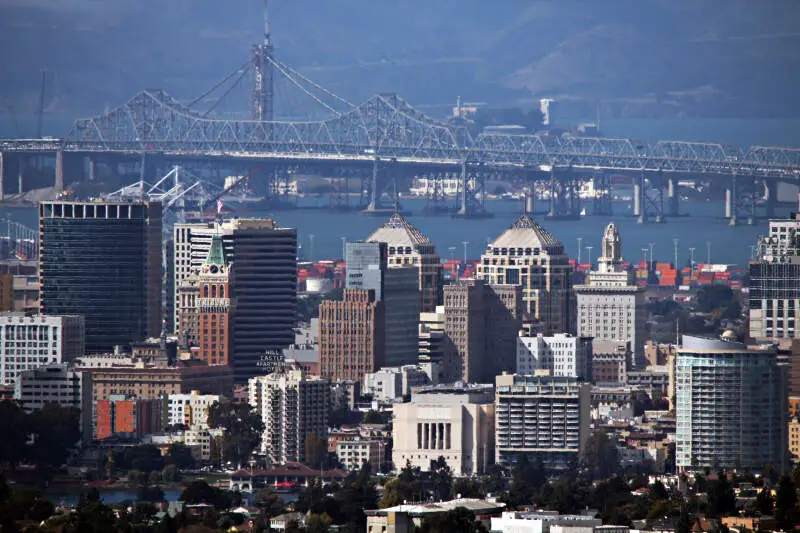 Income: $51,684
High school: 78%
Crime: 23rd highest in CA
Drug stores: 45th
If there is any doubt as to whether or not Oakland is the most ghetto city in the state, look at the numbers. It's just about in the top 20 for danger, residents earn far below the state average in income levels, and almost 1 in 4 people here never graduated high school.
Other numbers that stand out: more than 10% of residents of Oakland are without jobs, and there are a high number of drug stores within city limits. According to studies, one common theme that all ghetto cities have are high number of drug stores and convenience stores.
2. Sacramento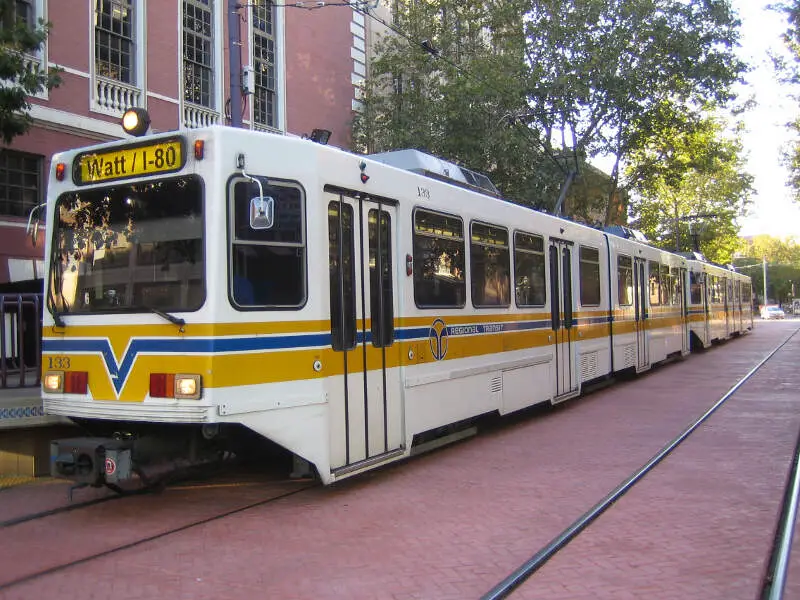 Income: $50,661
High school: 79%
Crime: 44th worst
Convenience stores: 40th most
This may or may not come as a surprise, but Sacramento is really ghetto. It's almost as dangerous as Oakland (relatively speaking in comparison to the rest of the state), and residents earn less than they do in Oakland.
The high number of convenience stores in Sacramento is also a sign of the ghetto times.
Twitter seemed to agree:
"From living in Sacramento I learned to the way to tell when you're in the ghetto is when people have fences around their front lawn too."
And then this:
"I swear I thought Oakland was ghetto, but Sacramento is on a whole nother level."
3. National City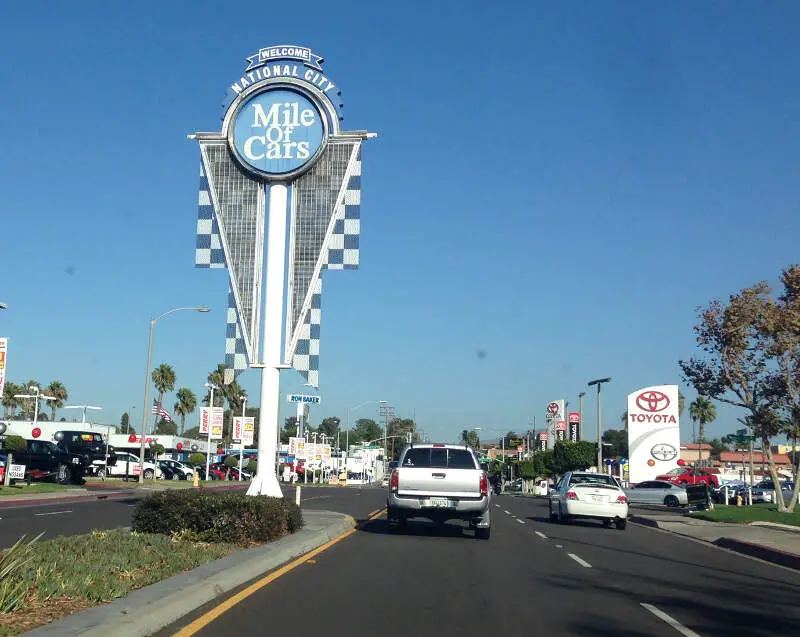 Income: $38,798
High school: 65%
Crime: 82nd worst
Being the 82nd most dangerous place in the state may not sound that intimidating, but keep in mind, we looked at almost 650 cities here. Frankly, this San Diego suburb is pretty dangerous and pretty broke, too.
The folks who live here barely earn enough to keep their lives together, and just about 1 in 3 residents didn't finish high school.
There are also a really high number of discount stores and drug stores in National City, both signs of inner city life.
4. Compton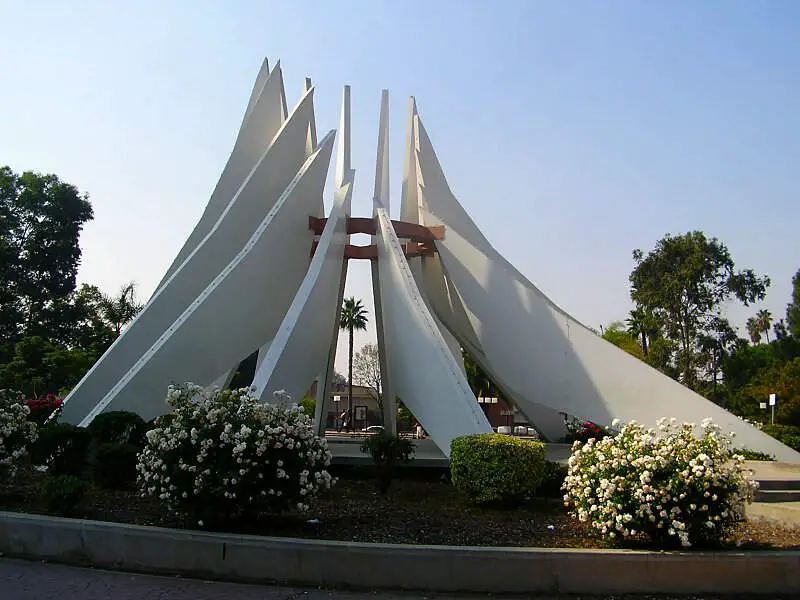 Income: $42,335
High school: 57%
Crime: 37th
Compton has notoriously been ranked as not only one of the most ghetto cities in the nation, but certainly in the Los Angeles area. When nearly 1 in 2 people drops out of high school, and crime is off the charts high, what you've got is a real ghetto.
For years, pop culture has featured Compton as the prototypical 'ghetto' in music, movies and television shows. Although things have changed here (murders and gang activity is down), it might just take another decade before this one-great city can remain off of lists like this.
5. San Bernardino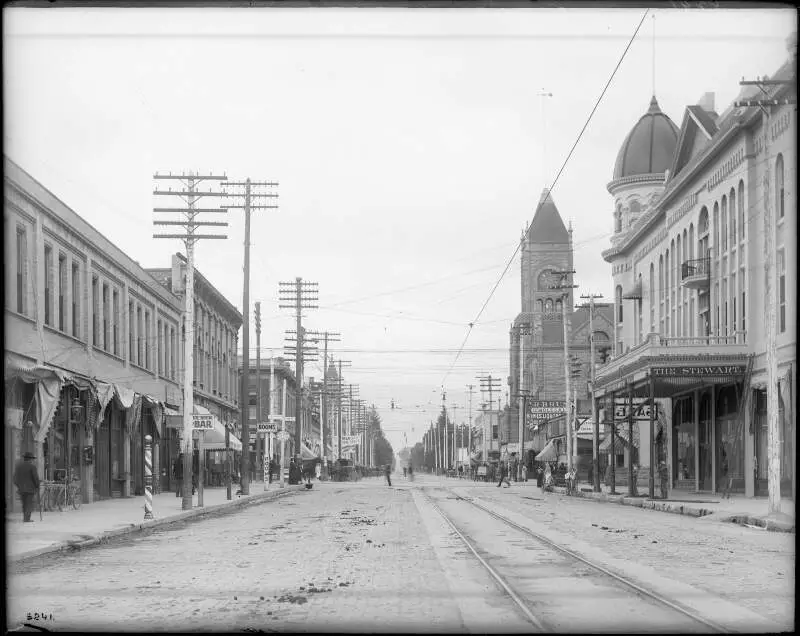 Income: $39,097
High school: 64%
Crime: 47th worst
While Compton's has worst years are seemingly in the rear view mirror, San Bernardino's worst years seem to be at the next exit. This city has gotten worse and worse over time. You might be surprised to hear that San Bernardino is 'only' the 47th most dangerous city in the state.
Frankly, a majority of the residents here are broke and uneducated. And it seems that government corruption here has such a stranglehold on the community that it's going to take a community activism effort to get this place turned around in the other direction.
And that doesn't seem like it's coming any time soon.
6. Richmond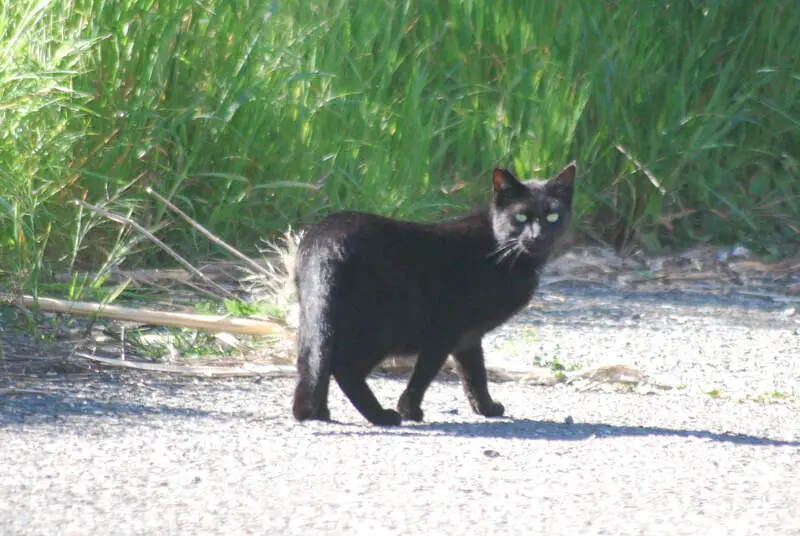 Income: $54,657
High school: 77%
Crime: 29th highest
Richmond is a small city just north of Oakland and Berkeley on the San Francisco Bay. Like Oakland, the residents of Richmond deal with high crime, low income levels and a relatively uneducated population.
According to the Contra Costa Times, Richmond is heading in a positive direction, and weekly killings that were once the norm are no longer the case. Richmond's police Captain Mark Gagan told the Times that what has turned the tide here is "above-average involvement in the community."
7. Westmont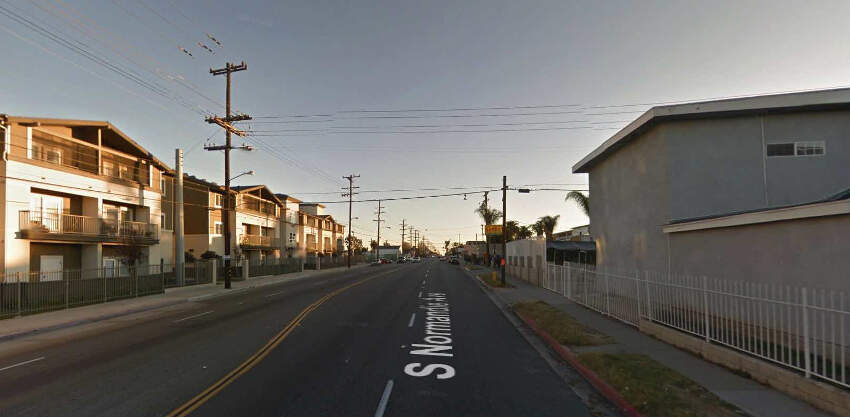 Income: $31,110
High school: 65%
Crime: Highest in the state
Last year, the Los Angeles Times called South Vermont Avenue in Westmont 'LA County's Death Alley.' There are more killings in Westmont than in any other place in L.A. County (and that's saying a lot). And Westmont is the most dangerous place in the state.
Residents here barely earn enough to get by on a daily basis, and 1 in 3 dropped out of high school. It's truly a dangerous, scary (and quite sad) place in California.
Where is Westmont? Wedged between Inglewood and Compton. Ghetto central.
8. Stockton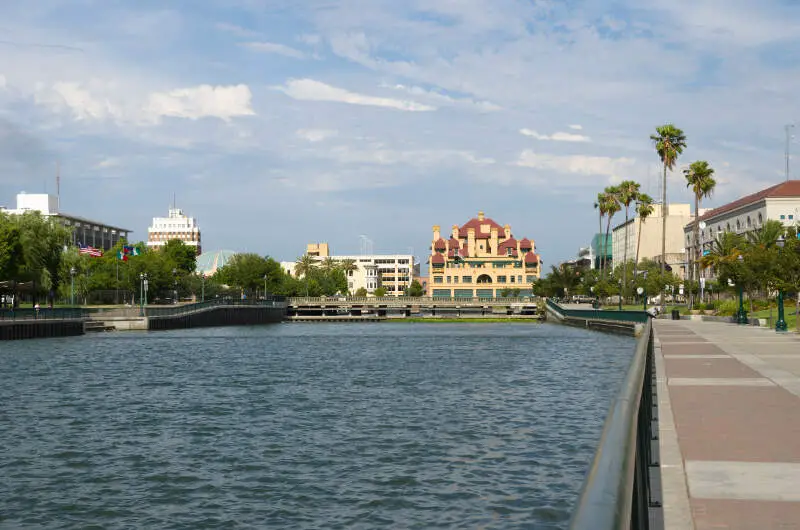 Income: $47,236
Crime: 14th highest
High school graduation: 70%
Stockton has received more than its fair share of bad press lately. A few years back, Forbes called it the most miserable place in the nation.
You might not realize it, but Stockton has the 14th highest crime rate in California. There were 32 murders here just two years ago, and if you spent a year within Stockton city limits, statistically, you'd have a 1 in 83 chance of being killed, raped or attacked.
Not a fun place at all.
9. Commerce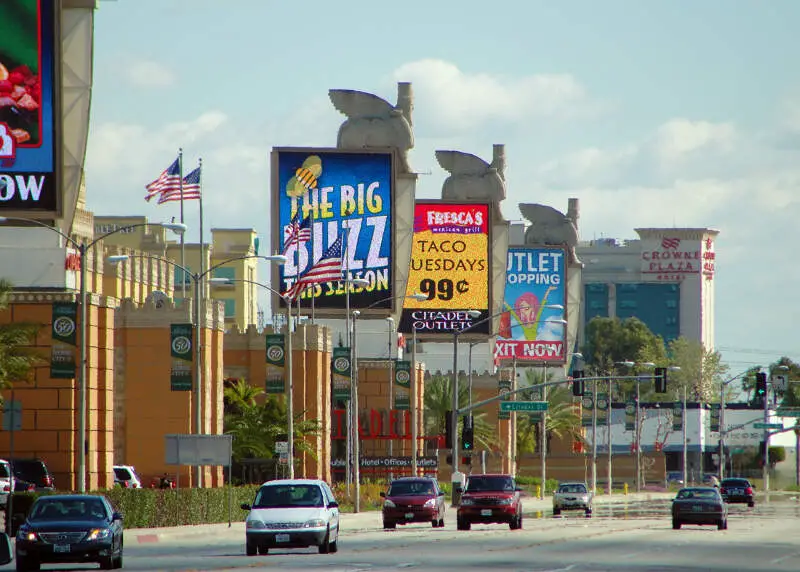 Income: $51,022
High school: 48%
Crime: 5th most
Discount stores: 20th most
We continue on the 'south central' area of Los Angeles with Commerce, a smallish city just outside of downtown L.A. Crime is just about as bad in Commerce as it is in Westmont. And more than half of residents are high school dropouts. We've been combing through a lot of data for this site, and that's one of the highest dropout rates we've seen.
There are also a very high number of discount stores in the Commerce area, which is a sign of inner city life.
10. Oasis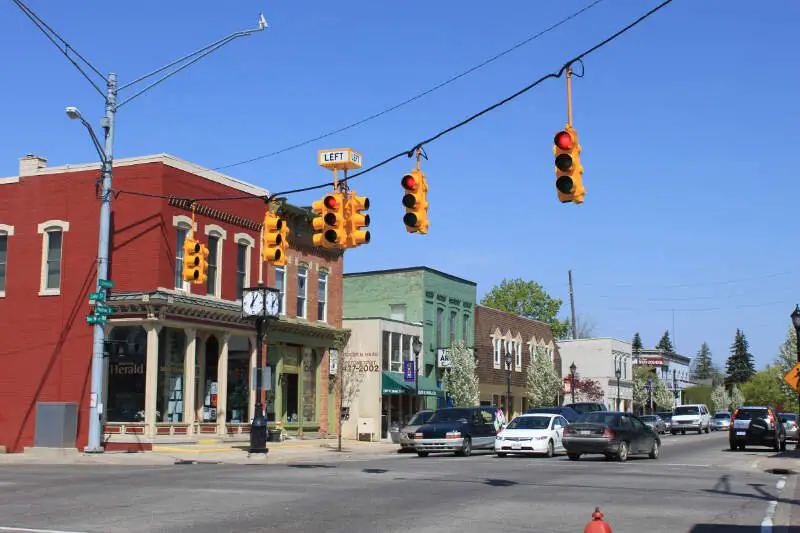 Source: Public Domain
Income: $24,971
High school: 22%
Crime: 10th highest
Oasis might be the most ghetto place in California you've never heard of. The graduation rates of residents are as low as you'll see in the nation, and just about everyone here lives below the poverty line. It's a truly poor, dangerous ghetto.
Where is this hidden jungle? It's actually not a city, but a census designated place in Riverside County right on the banks of the Salton Sea, just south of La Quinta.
Trust us, you're not missing anything.
There You Have It
If you're measuring the locations in California where there are a high number of poor and uneducated residents, and where there are a high number of discounted shopping stores, this is an accurate list.
Additionally, here are the least ghetto places in California:
Coto De Caza (Pop. 15,041)
San Diego Country Estates (Pop. 10,044)
Rossmoor (Pop. 10,294)
Alta Sierra (Pop. 6,782)
Lake Wildwood (Pop. 5,547)
We also wrote about the drunkest cities in California if you didn't happen to see it. Click here to read it.