This article is an opinion based on facts and is meant as infotainment. Don't freak out.
Swipe left for slideshow. Article continues below.
There are lots of people who throw the term 'ghetto' around. But which of Florida's largest cities are the most ghetto of all?
How do you decide if a place is ghetto or not? You ask the internet. According to the Urban Dictionary, a ghetto is defined as:
"urban; of or relating to (inner) city life" and "poor; of or relating to the poor life."
Using that criteria, it's not hard to scrape the internet, run some scientific data on where ghettos might exist in a state and then put out a list.
After analyzing all cities with 50,000 people or more, we came up with this list as the most ghetto places in Florida:
Read on below to see where your home town ranked and why.
Note: We're aware that there are more 'ghetto' cities that are smaller than 50,000. We wanted to rank only the largest cities here for a more clear indication of which major city centers are ghettos. Therefore, it's assumed that the cities above (and their suburbs) are more ghetto than the smaller cities not listed here.
For more Florida reading, check out:
What ghetto criteria did we use?
In order to rank the most ghetto places in Florida, we had to determine what criteria defines a ghetto city or neighborhood.
Since a ghetto is defined as a poor area, we used income levels, crime and education levels as a guide to determine where the most broke citizens of a state live.
Additionally, the staples of inner city life include cheap and discounted retail outlets.
We started by making a list of Daytona Beach (Photos)
'>every place in Florida with more than 50,000 people based on the 2013 American Community Survey. That left us with 50 places in the Sunshine State.
We threw a lot of criteria at this one in order to get the best, most complete results possible. Using Yelp and Area Vibes, this is the criteria we used:
Household income levels
High school graduation rates
Number of convenience stores
Number of drug stores
Number of discount stores
Crime
Geo-located mentions of #ghetto on Twitter
Note: For the sake of getting reliable numbers, we counted places within a city's border, as well as within a short driving distance.
All of these results are listed in a per capita basis. Meaning number of stores per person in a state. Additionally, high school graduation rates are determined by looking at the total number of people who live in a city, not the current graduation rate of an area's high schools.
1. Daytona Beach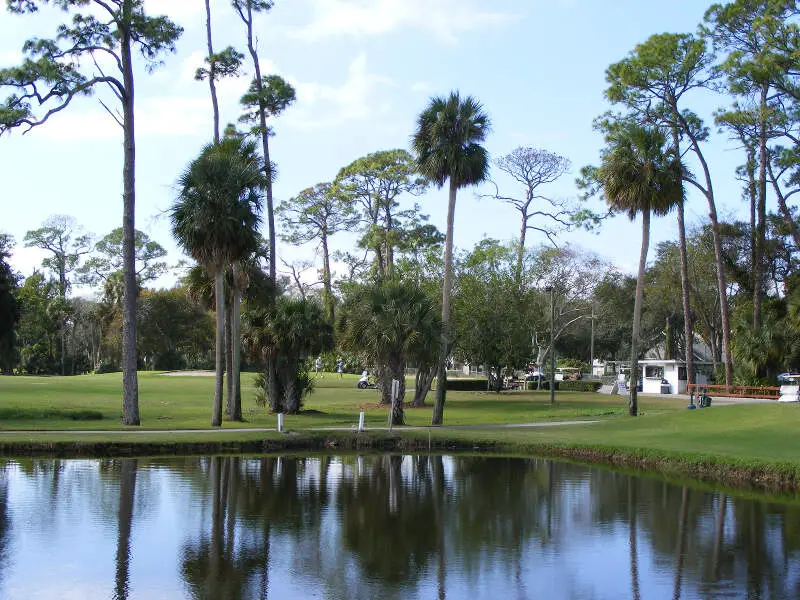 Income: $28,983
Drop out rate: 20%
Crime: 2nd highest
We've had this discussion before with Daytona Beach when we ranked it as one of the most dangerous cities in Florida. Yes, we're aware that much of the crime that occurs here is aimed at the tourists that pack the area in the warmer months.
Still, if you spent a year in Daytona Beach, statistically, you'd have a 1 in 15 chance of being the victim of a property crime.
Other factors that make Daytona Beach ghetto include a low median income (a lot of the population barely makes ends meet), and a lot of convenience and discount stores per capita.
Sociologists have indicated that these types of stores are a staple of inner city life.
2. North Miami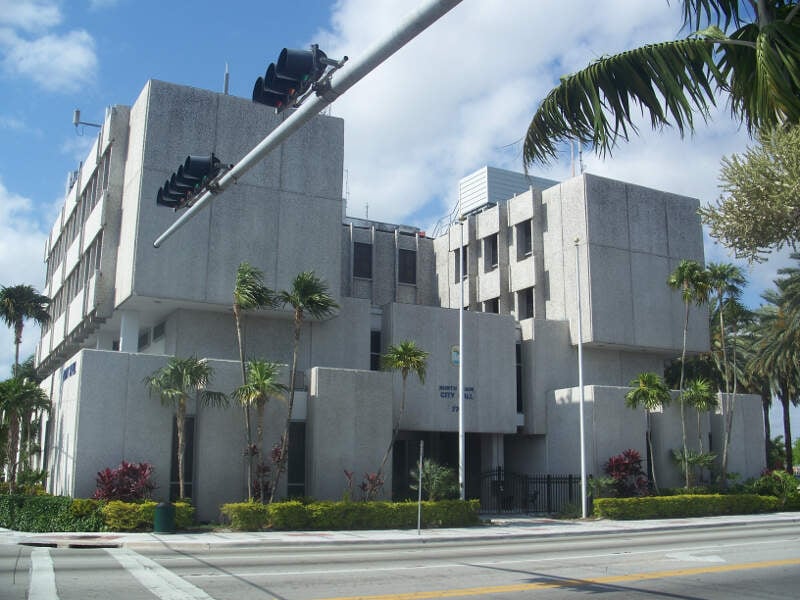 Income: $37,000
Drop out rate: 28.4%
Crime: 12th highest
Nearly 3 in 10 residents of North Miami don't have a basic high school education, which is the 4th highest number of Florida's largest cities. Partially due to that fact, income levels are the 9th lowest here, and the unemployment rate is 7.1%.
If you spent a year here, you or 21 of your neighbors would be the victim of a property crime each year. That's a lot of stolen laptops and cell phones.
Like Daytona Beach, Twitter had lots to say about the matter. North Miami was one of the leading cities with mentions of the word ghetto. Example:
"I feel weird blasting country music in my hood because north miami is literally the ghetto."
3. Fort Myers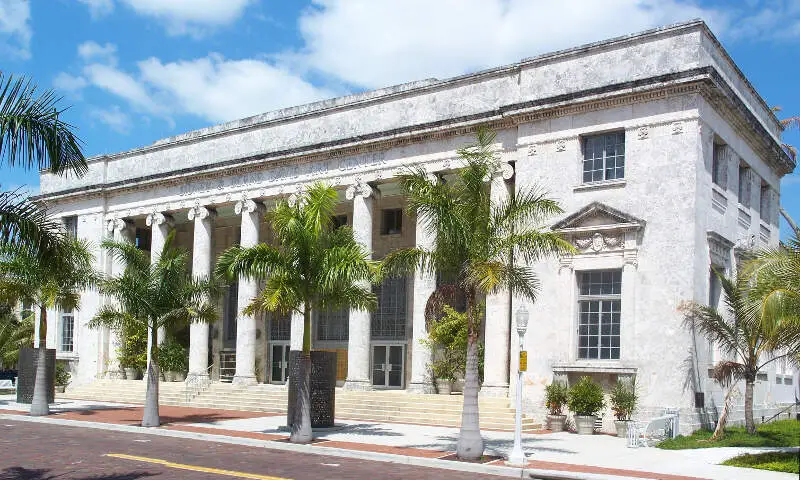 Income: $37,322
Drop out rate: 24.2%
Crime: 20th highest
A lot of the advice on sites such as City Data indicated that as long as you stay out of the hood at night, and aren't attempting to buy drugs or solicit a prostitute, you won't be killed in Fort Myers. That's saying a lot about how ghetto this place really is.
The numbers back it up. It's a poor place where 1 in 4 people doesn't have a basic education. Additionally, Fort Myers has the 5th highest number of discount stores within its borders. These types of stores are notoriously connected to inner cities.
4. Lauderhill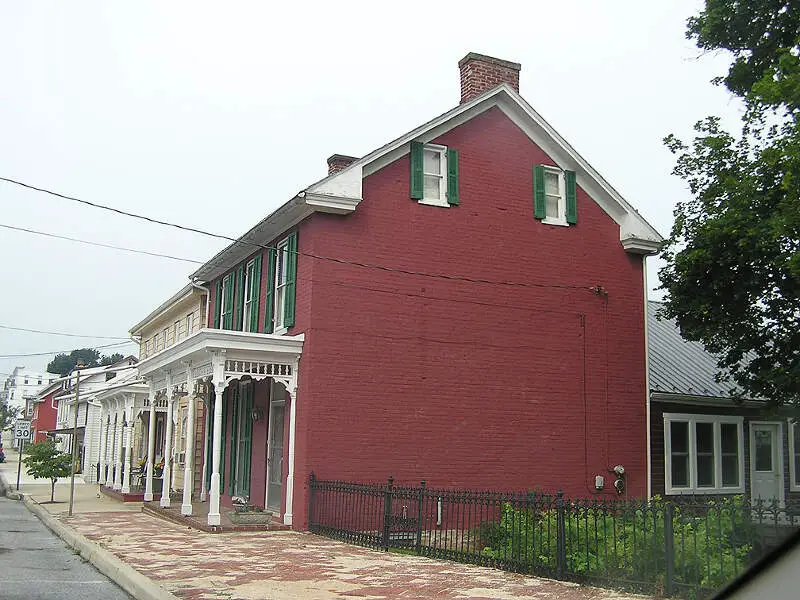 Source: Public Domain
Income: $37,149
Drop out rate: 21%
Crime: 22nd highest
This Broward County city, just outside of the Miami-Fort-Lauderdale area, has the 7th lowest income levels of all major cities. Almost 1 in 4 people here lives below the poverty level. That's a really bad sign of a ghetto city.
Lauderhill has a large foreign-born population, and according to Wikipedia, a noticeable proportion of the city is from the West Indies. Lauderhill has the highest percentage of Jamaican ancestry in America, and one of the highest concentrations of Haitians as well.
There were quite a few mentions on Twitter regarding Lauderhill: "Lauderhill is mad ghetto. I gotta move."
5. Miami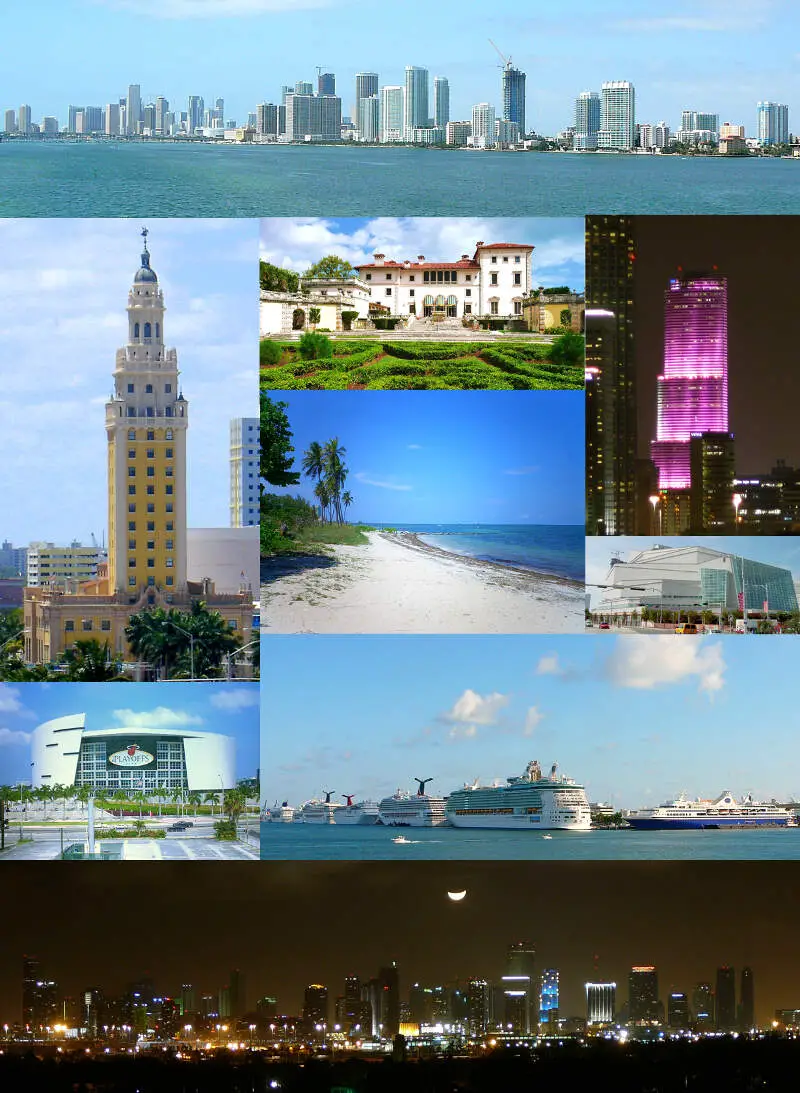 Income: $29,762
Drop out rate: 32.4%
Crime: 5th highest
Miami is the 2nd poorest city we measured. Only Daytona Beach has a lower income, per family.
In Miami, the average family earns less than $30,000. And there are some really high incomes here, which means that there are tens of thousands of families living in Miami under the poverty line. In fact, 3 in 10 members of the Miami community earns less than what the government defines as a livable income: $25,000 for a family of 4.
We don't have to tell you how dangerous Miami is. And it probably wouldn't surprise you to hear that 1 in 3 people living here never completed high school.
6. Pompano Beach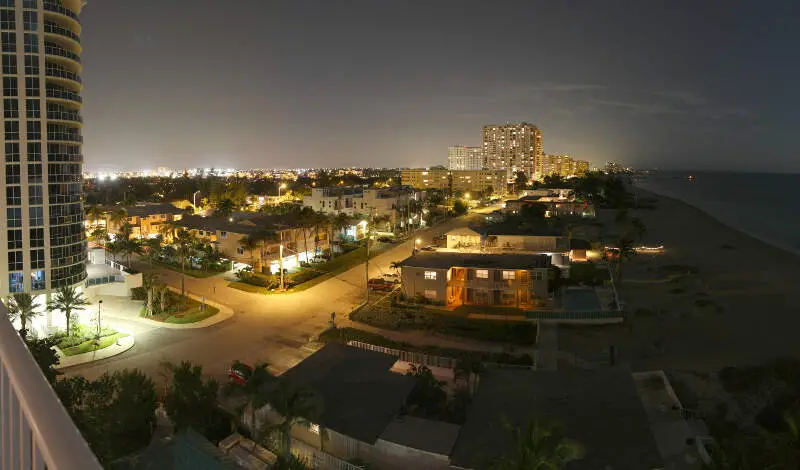 Income: $39,656
Drop out rate: 22.8%
Crime: 8th highest
Pompano Beach is in this general area surrounding Miami and Fort Lauderdale. Therefore, it's probably not a surprise to see it listed here along with Miami.
There were seven murders in Pompano Beach in 2013, and every year, people face a 1 in 20 chance of being the victim of a property crime. The western part of the city is the worst area of Pompano Beach.
Fort Lauderdale itself was 14th on this list.
7. Miami Gardens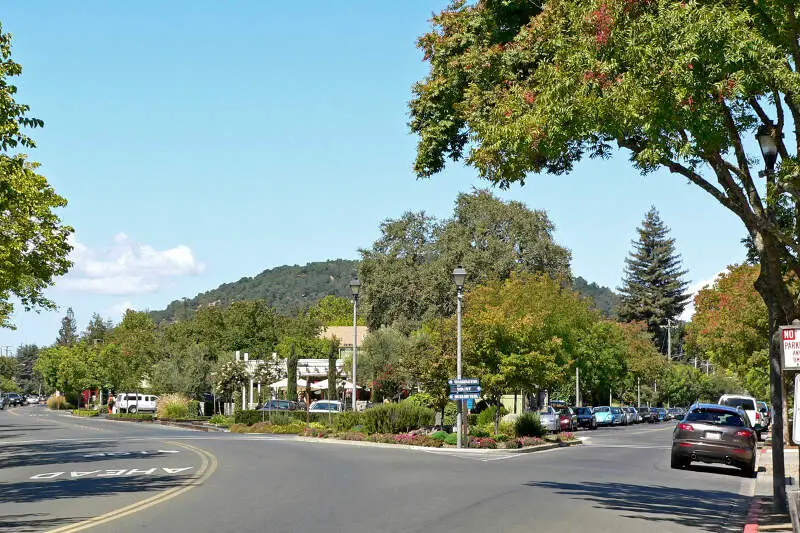 Source: Public Domain
Income: $42,742
Drop out rate: 25.3%
Crime: 18th highest
Miami Gardens has the 2nd highest dropout rate in the state of Florida. And as a result, crime is bad, and the unemployment rate is one of the highest you'll see for a large city in Florida.
Lots of people online commented about how uncomfortable they felt going to watch the Miami Dolphins play in Sun Life Stadium, which is located here. That, and there were a lot of people calling the Walmart in Miami Gardens ghetto.
In 2007, the mayor of Miami Gardens announced that the city wouldn't allow low income housing developments, as many residents blamed them for the spreading crime and drug use. And in 2012, it was announced that a Community Redevelopment Agency would remove the 'slum and blight' from the city.
8. Homestead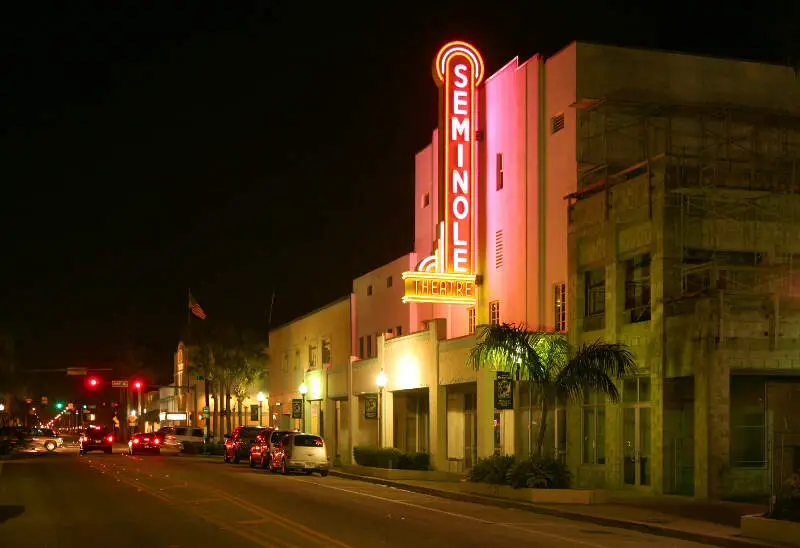 Income: $39,279
Drop out rate: 32.7%
Crime: 4th highest
By definition, Homestead is one of the most ghetto cities in Florida. A third of the population is uneducated, and it's the 4th most dangerous large city in the Sunshine State.
1 in 3 people who live here are below the poverty line, including 44% of kids below the age of 18. That's just a shame.
Here's but one example of what a resident of Homestead had to say on City Data:
"Homestead is hell. Do NOT move to Homestead. Not only will you have to commute about an hour and a half to FIU, but you live in a crime filled, rude, and depressing city."
9. Kissimmee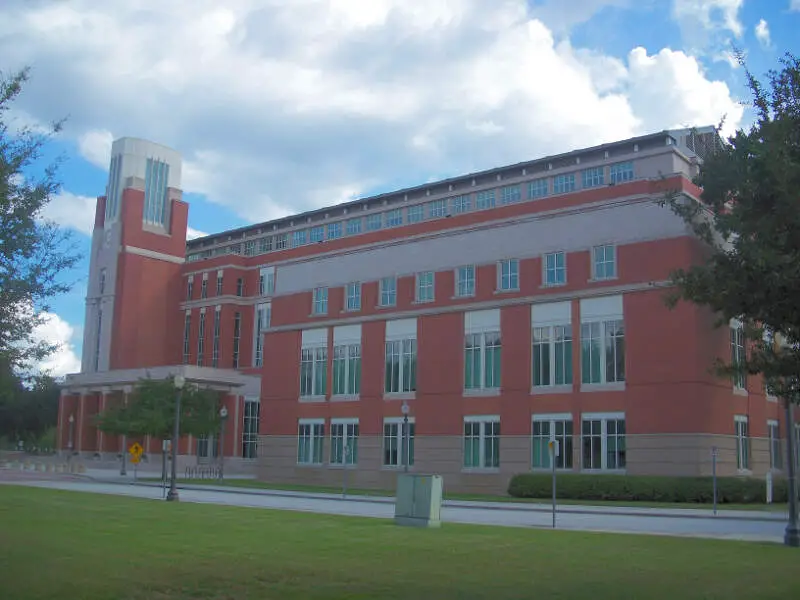 Income: $35,764
Drop out rate: 23%
Crime: 14th highest
In 2013, there were almost 3,000 property crimes, and three murders here. And twice a day, someone was attacked, robbed, or raped here. That's not good.
Kissimmee, Daytona Beach and Sanford (below) are the only cities on this list that aren't in the greater Miami area.
1 in 5 people in Kissimmee lives below the poverty level, and it was 5th in terms of ghetto Tweets. Here's an example:
"I'm in a ghetto part of Kissimmee & I'm most likely gonna die (:"
10. Sanford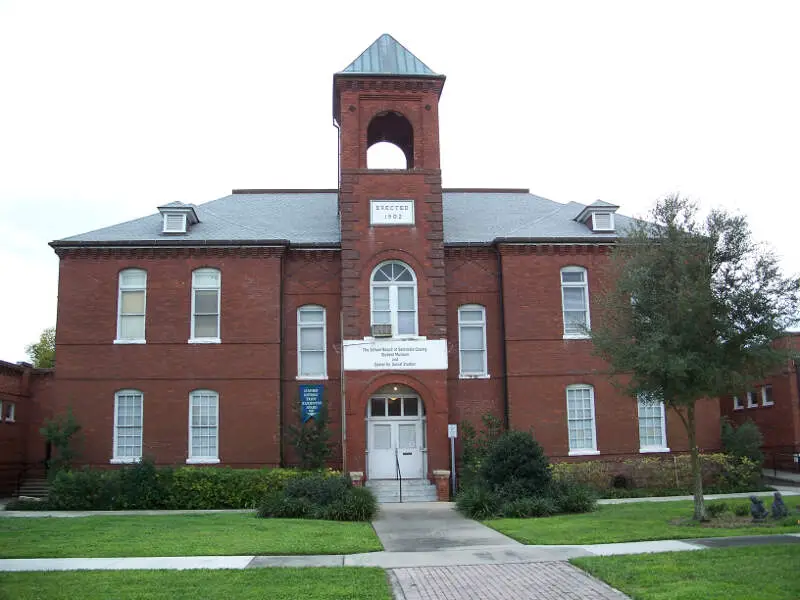 Income: $43,514
Drop out rate: 21.6%
Crime: 11th highest
This Orlando suburb just missed the top 10 in terms of crime levels. There were 5 murders here two years ago, and more than 3,500 reported property crimes.
More than 1 in 5 residents never completed high school, and 1 in 5 lives below the poverty line. There is a far higher than average concentration of drug stores and discount stores in Sanford as well.
There You Have It
If you're measuring the locations in Florida where there are a high number of poor and uneducated residents, and where there are a high number of discounted shopping stores, this is an accurate list.
Additionally, here are the least ghetto places in Florida (big cities only):
Weston (Pop. 65,233)
Jupiter (Pop. 55,133)
Boca Raton (Pop. 85,694)
Wellington (Pop. 56,343)
Cape Coral (Pop. 155,506)
We also wrote about the 10 Snobbiest Cities in Florida if you didn't happen to see it.
Or, if you live in Florida, this will be the most gut-busting laugh you have all day. Guaranteed.
Desktop users, below is a ghetto ranking chart of all large cities in Florida, along with their crime rates. Lowest is worse.