This article is an opinion based on facts and is meant as infotainment. Don't freak out.
Swipe left for slideshow. Article continues below.
Advertisement
[adrotate banner='4′]
There are lots of people who throw the term 'ghetto' around. But which of Kentucky's largest cities are the most ghetto of all?
How do you decide if a place is ghetto or not? You ask the internet. According to the Urban Dictionary, a ghetto is defined as:
"urban; of or relating to (inner) city life" and "poor; of or relating to the poor life."
Using that criteria, it's not hard to scrape the internet, run some scientific data on where ghettos might exist in a state, and then put out a list.
After analyzing the largest cities in the Bluegrass State, we came up with this list as the most ghetto places to live in Kentucky:
In case you're wondering, Edgewood is the least ghetto city of all we measured.
Read on below to see where your hometown ranked and why.
For more Kentucky reading, check out:
Advertisement
[adrotate banner='5′]
What ghetto criteria did we use?
In order to rank the most ghetto places in Kentucky, we had to determine what criteria defines a ghetto city or neighborhood.
Since a ghetto is defined as a poor area, we used income levels, crime and education levels as a guide to determine where the most broke citizens of a state live.
Additionally, the staples of inner city life include cheap and discounted retail outlets.
We started by making a list of the largest 100 cities in KY based on the 2013 American Community Survey.
We threw a lot of criteria at this one in order to get the best, most complete results possible. Using Yelp and Area Vibes, this is the criteria we used:
Household income levels
High school graduation rates
Number of convenience stores
Number of drug stores
Number of discount stores
Crime
Twitter mentions of #ghetto
Note: For the sake of getting reliable numbers, we counted places within a city's border, as well as within a short driving distance.
All of these results are listed in a per capita basis. Meaning number of stores per person in a state. Additionally, high school graduation rates are determined by looking at the total number of people who live in a city, not the current graduation rate of an area's high schools.
For geo-located Tweets, we measured all mentions coming from a city with #ghetto
Advertisement
[adrotate banner='7′]
1. Somerset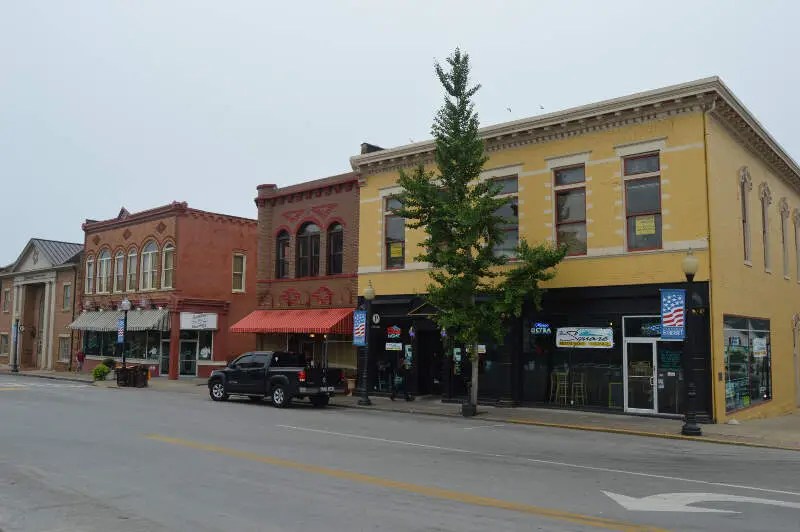 Income: $31,429
Drop out rate: 31%
Discount shopping: 1st in KY
When you look at the data, Somerset is the most ghetto place in the state of Kentucky. Let's see why.
First of all, this city of under 12,000 people on the Cumberland Parkway is the poorest of the cities we measured. Families here simply struggle to make ends meet every month. While not the absolute poorest place in the state, it is the poorest of the largest 100 cities we measured.
An 8.4% unemployment rate, as well as more than 3 in 10 residents never having completed high school is one big reason for the economic woes.
Additionally, the number of discount shopping outlets per person is the highest in the state in Somerset. Sociologists have indicated that these types of shopping venues (drug stores, discount stores) are a staple of inner city life.
2. Grayson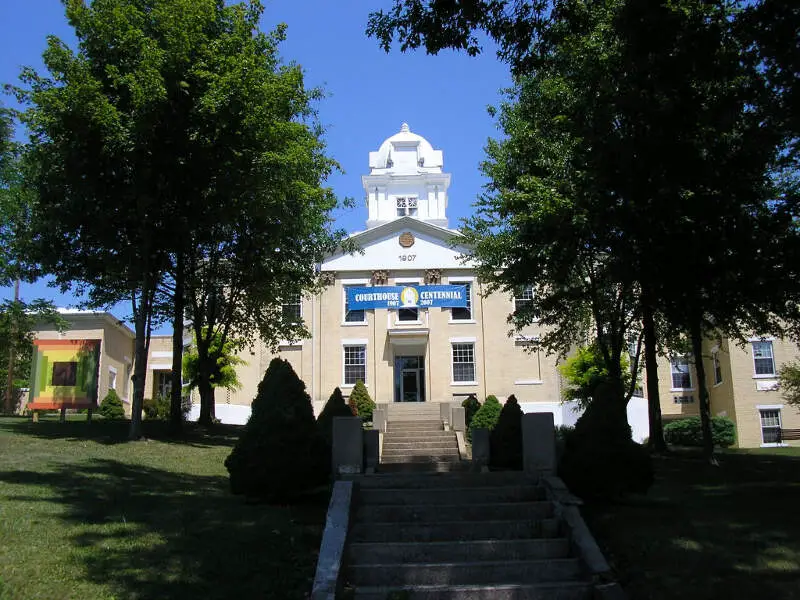 Income: $40,236
Drop out rate: 33%
Convenience stores: 6th most
Grayson is an Ashland suburb that's also a very poor and uneducated place. More than 40% of the kids here live in poverty, and there are a high number of convenient stores here.
More than 3 in 10 residents dropped out of high school, and 10% of residents are unemployed. Homes are some of the cheapest in the state here, which is a sign that there's not a lot of demand to live here.
3. Hazard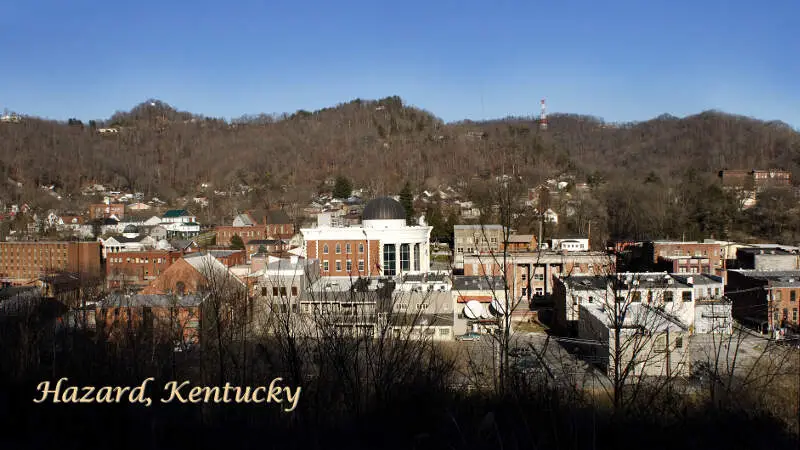 Income: $48,884
Drop out rate: 29%
Drug stores: Most
Statistically, according to the FBI, Hazard is the 2nd most dangerous places in Kentucky. Violent crime has increased by 58% from 2011-2013, but property crimes fell by more than 40% in that same period. So that's good news.
This city with a population of more than 5,000 also has the highest concentration of drug stores in the state. And while the population here is exploding (up 10% in the last 10 years), the jobless rate is more than 11%.
So there are no jobs and more people.
4. London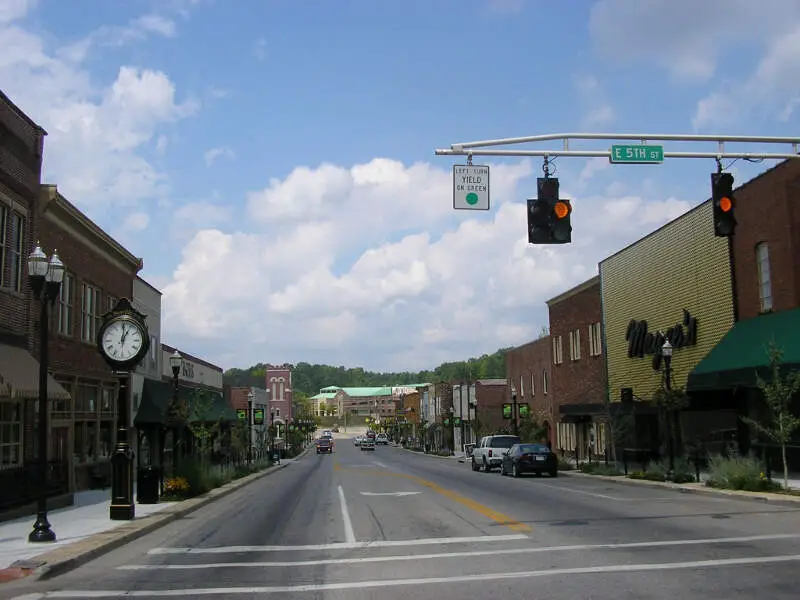 Income: $37,384
Discount stores: 3rd most
Dropout rate: 29%
Half of the population under 18 and over 65 lives in poverty in London, a smallish city of about 8,000 people in southeast Kentucky.
The population here has plummeted more than 12% in the last 10 years. Perhaps a jobless rate of 8% and an uneducated population means people are trying to move to areas that have a more stable economy.
5. Paducah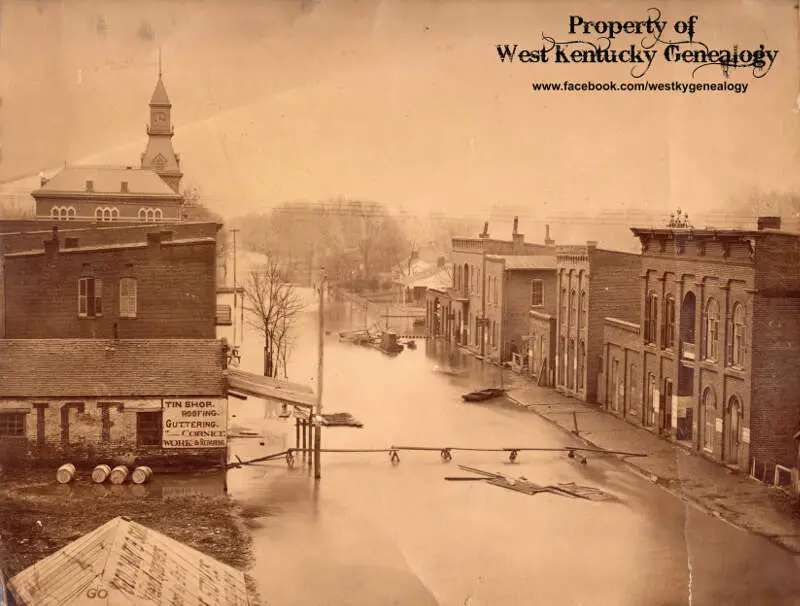 Income: $41,293
Drop out rate: 21%
Discount outlets: 10th most
Paducah is the largest city to make this list, meaning technically, it's the biggest ghetto in the state.
Yes, we're aware that there are pockets in the Paducah area that are horribly dangerous and very broke. But overall, these small areas are outweighed by the population as a whole. And the fact remains, Paducah is more 'ghetto' than other larger cities.
Paducah was 5th in terms of ghetto Tweets. Example:
"you ever lived in the ghetto at night??? Lol especially Paducah!? Scary place."
6. Russellville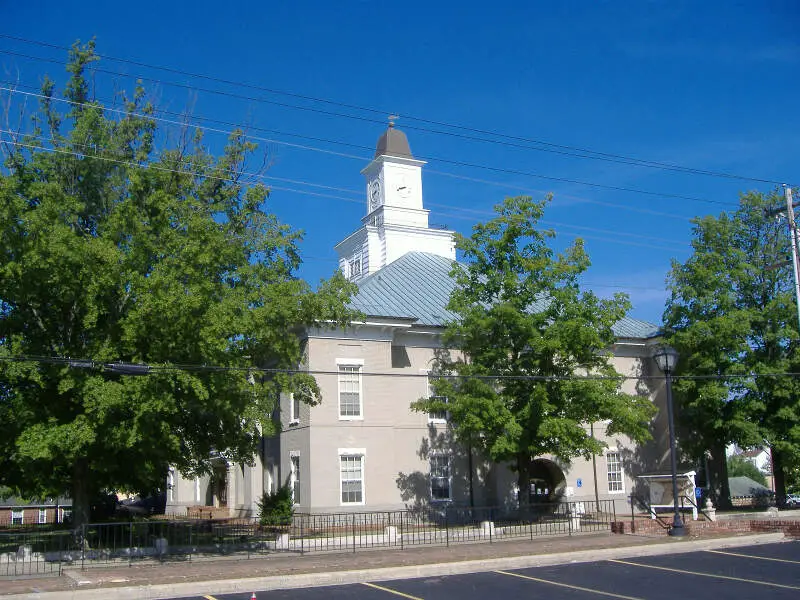 Income: $41,283
Drop out rate: 34%
Convenience stores: 8th most
There were quite a few Tweets talking about the 'ghetto side' of Russellville, meaning there are definitely good and bad areas of this small city on Route 68 near the Tennessee state line.
"Driving in the Russellville ghetto and three 10 year olds flashed gang signs at me. Pretty sure they could've killed me too."
Sadly, a 34% dropout rate isn't even enough to crack the top 10 in Kentucky, which is one of the last educated states in the U.S.
7. Mayfield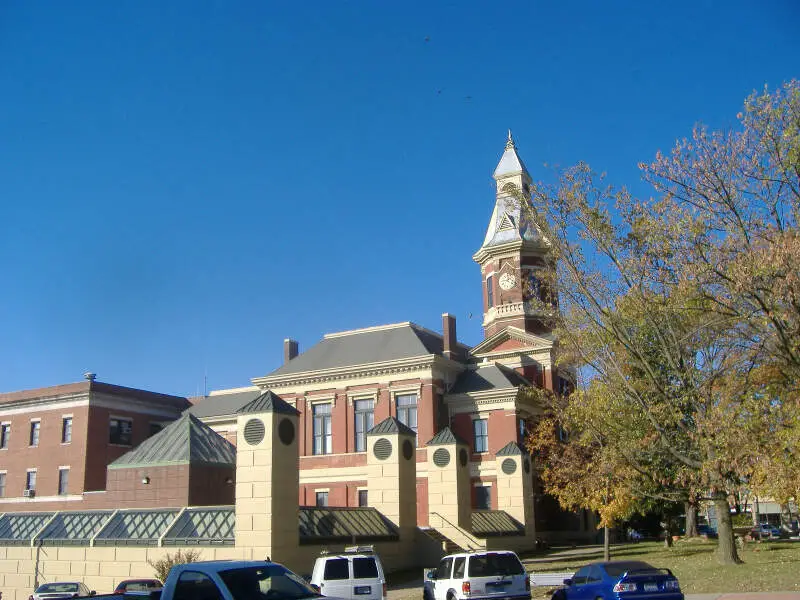 Income: $41,275
Drop out rate: 32%
Crime: 7th worst
More than half of kids and the elderly live in poverty in Mayfield, a small city on the Tennessee line.
The unemployment rate is 8.5%, and homes average just over $70,000 each, a sure sign that people don't view Mayfield as a viable option for long-term living.
8. Columbia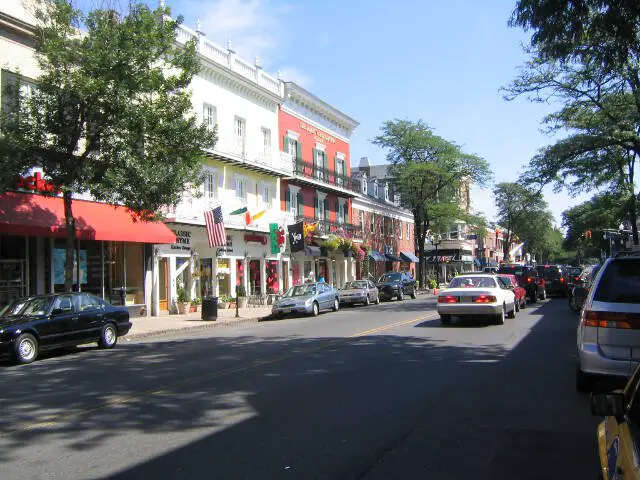 Source: Public Domain
Income: $40,815
Drop out rate: 46%
Drug stores: 13th
When you look at the data, Columbia is one of the most ghetto place in the state of Kentucky.
First of all, this city of under 5,000 people on the Cumberland Parkway is very uneducated and mostly poor. Clearly, when almost half of the population is without a high school diploma, you're going to have some issues to deal with.
While residents aren't as poor as some of the tinier communities in Kentucky, families earn the 8th lowest incomes of the 100 largest cities we measured. 40% of kids live in poverty here.
9. Carrollton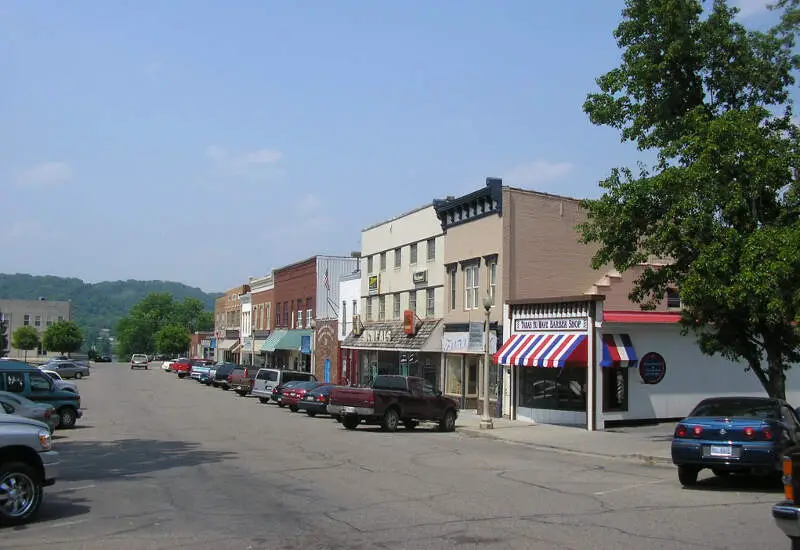 Income: $45,033
Drop out rate: 35%
A staggering 60% of kids and folks over 65 struggle just to make ends meet every single month in Carrollton, a small city at the confluence of the Ohio and Kentucky Rivers.
While the population has trickled upwards, jobs are hard to come by, as is evident by a 7.5% unemployment rate.
Surprisingly, for such a small place, Carrollton had lots of #ghetto Tweets:
"Carrollton crossing so ghetto, i'm moving next year."
10. Paintsville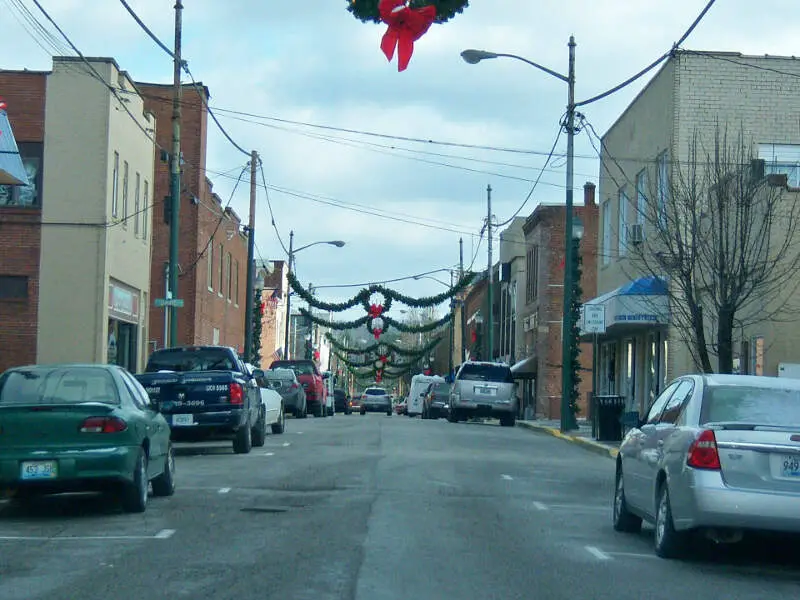 Income: $44,505
Drop out rate: 33%
Drug stores: 3rd most
This city of just under 4,000 people has a 10% unemployment rate. Perhaps its isolation along Route 460 is one reason the economy here stinks.
Paintsville is relatively poor and uneducated. About 1 in 3 residents never completed high school.
There You Have It
If you're measuring the locations in Kentucky where there are a high number of poor and uneducated residents, and where there are a high number of discounted shopping stores, this is an accurate list.
Additionally, here are the least ghetto places in Kentucky: Reidland, Villa Hills, Edgewood, Oakbrook, St. Matthews.
We also wrote about the 10 Most Redneck Cities In Kentucky if you didn't happen to see it.
Desktop users, below is a ghetto ranking chart of all large cities in Kentucky, along with their dropout numbers: