This article is an opinion based on facts and is meant as infotainment. Don't freak out.
Swipe left for slideshow. Article continues below.
Advertisement
[adrotate banner='4′]
There are lots of people who throw the term 'ghetto' around. But which of Louisiana's largest cities are the most ghetto of all?
How do you decide if a place is ghetto or not? You ask the internet. According to the Urban Dictionary, a ghetto is defined as:
"urban; of or relating to (inner) city life" and "poor; of or relating to the poor life."
Using that criteria, it's not hard to scrape the internet, run some scientific data on where ghettos might exist in a state, and then put out a list.
After analyzing the largest cities in the Bayou State, we came up with this list as the most ghetto places to live in Louisiana:
In case you're wondering, Youngsville is the least ghetto city of all we measured.
Read on below to see where your hometown ranked and why.
For more Louisiana reading, check out:
Advertisement
[adrotate banner='5′]
What ghetto criteria did we use?
In order to rank the most ghetto places in Louisiana, we had to determine what criteria defines a ghetto city or neighborhood.
Since a ghetto is defined as a poor area, we used income levels, crime and education levels as a guide to determine where the most broke citizens of a state live.
Additionally, the staples of inner city life include cheap and discounted retail outlets.
We started by making a list of the cities in LA with a population over 5,000 people based on the 2013 American Community Survey. That left us with 108 places in Louisiana.
We threw a lot of criteria at this one in order to get the best, most complete results possible. Using Yelp and Area Vibes, this is the criteria we used:
Household income levels
High school graduation rates
Number of convenience stores
Number of drug stores
Number of discount stores
Crime
Twitter mentions of #ghetto
Note: For the sake of getting reliable numbers, we counted places within a city's border, as well as within a short driving distance.
All of these results are listed in a per capita basis. Meaning number of stores per person in a state. Additionally, high school graduation rates are determined by looking at the total number of people who live in a city, not the current graduation rate of an area's high schools.
For geo-located Tweets, we measured all mentions coming from a city with #ghetto
Advertisement
[adrotate banner='7′]
1. Bastrop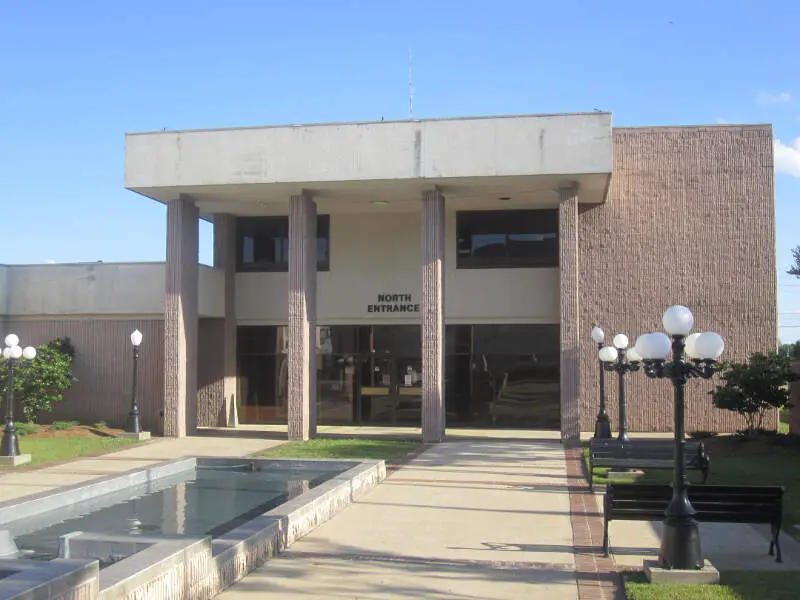 Income: $23,188
Drop out rate: 38%
Crime: 4th worst
When you look at the data, the small town of Bastrop in Morehouse Parish is the most ghetto place in the state of Louisiana. Let's see why.
First of all, income levels are extremely low – the 4th lowest in the state. Combine that with a 38% dropout rate and you've got a real mess on your hands. It's no wonder that 6% of the population is out of work (which is high for Louisiana).
Additionally, this city has the 4th worst crime in Louisiana, where there were two murders in 2013, and where you have a 1 in 9 chance of being the victim of a property crime if you spend a year within the city limits.
2. Opelousas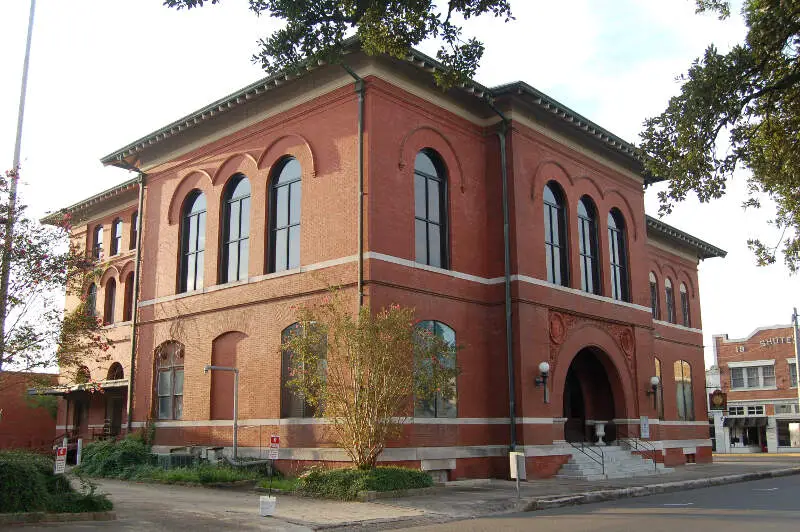 Income: $20,983
Drop out rate: 34%
Drug stores: 6th most
This is the absolute poorest city in the state, and one of the most broke places in the country.
Opelousas, in St. Landry Parish north of Lafayette, has a serious economic issue on its hands. Entire families bring in about $20,000 a year. The government says families of 4 need about $25,000 a year to just live at the poverty line.
57% of the kids in this city live below poverty.
This city has the 6th most drug stores per capita in the state. Sociologists have indicated that these types of discount shopping outlets are a staple of inner city life.
3. Ville Platte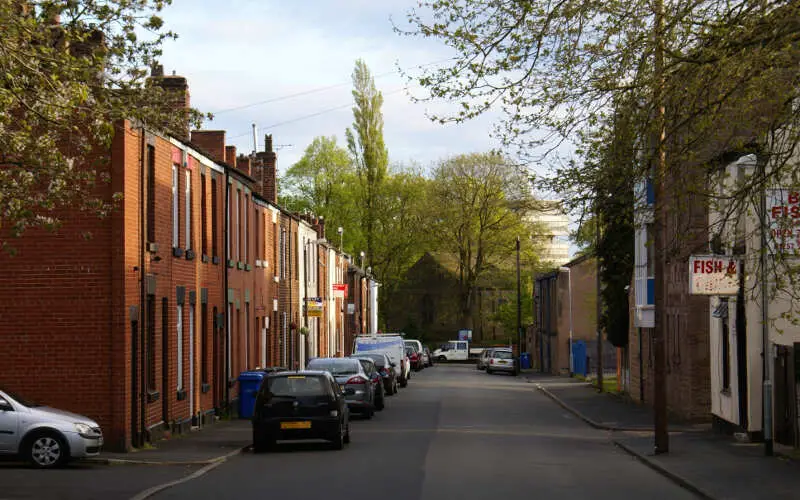 Source: Public Domain
Income: $21,276
Drop out rate: 47%
Drug stores: 2nd most
Nearly half of the adults in this small Evangeline Parish city are walking around without even a high school diploma. That's a true sign of a ghetto, and a situation that Ville Platte may never recover from.
This is part of the reason that 3 in 4 people lives in poverty. That's 'worst in the nation' territory right there.
Crime is bad, but not outright horrible. And there are just about more drug stores per person than anywhere else in the state.
There were quite a few #ghetto Tweets coming from this area of the state.
Example: "When you have to use your map to get out of the ghetto in ville platte"
4. Mansfield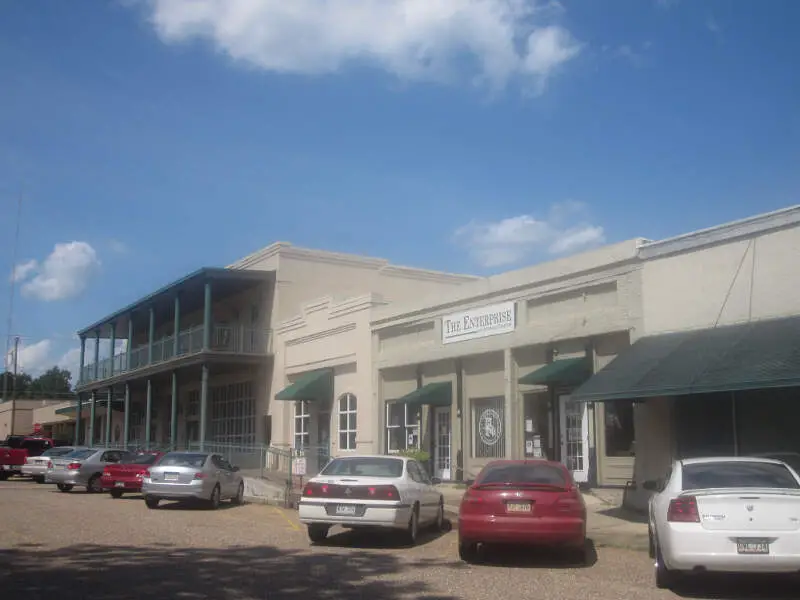 Income: $22,197
Crime: 5th highest
Dropout rate: 29%
The population of Mansfield has dropped 10% in the last 10 years, and shows no signs of slowing down. You can tell why when you look at the data.
Like the cities above, this is a very poor place. Most families struggle to make ends meet every month, and you have a 1 in 16 chance of being victimized by a crime for every year you spend within Mansfield city limits.
You know things are bad when you google Mansfield Louisiana and the first auto suggestions are "Mansfield Walmart" and "Mansfield Police Department."
5. St. Martinville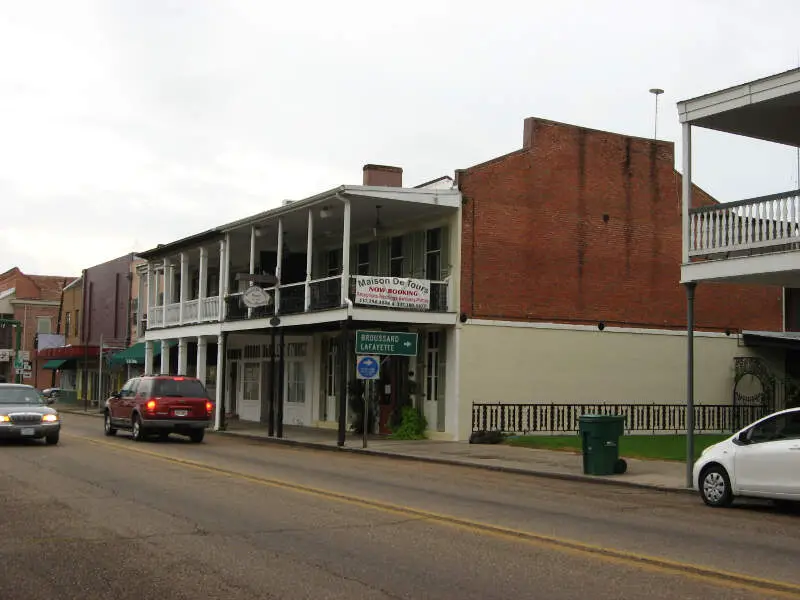 Income: $29,383
Drop out rate: 32%
Crime: 18th worst
It appears as if those 4 above are the absolute worst ghettos in Louisiana, and the rest of the cities on this list are ghettos as well, but not extreme ghettos.
Take St. Martinville. The incomes are horribly low for families to be comfortable, and more than 3 in 10 residents is uneducated. But the crime is 'only' the 18th worst in the state. Which means you don't have to worry about getting shot or robbed every night.
St. Martinville ranked in the top 10 in the country for 'ghetto' Tweets.
"you don't know ghetto until you see st martinville."
6. Franklin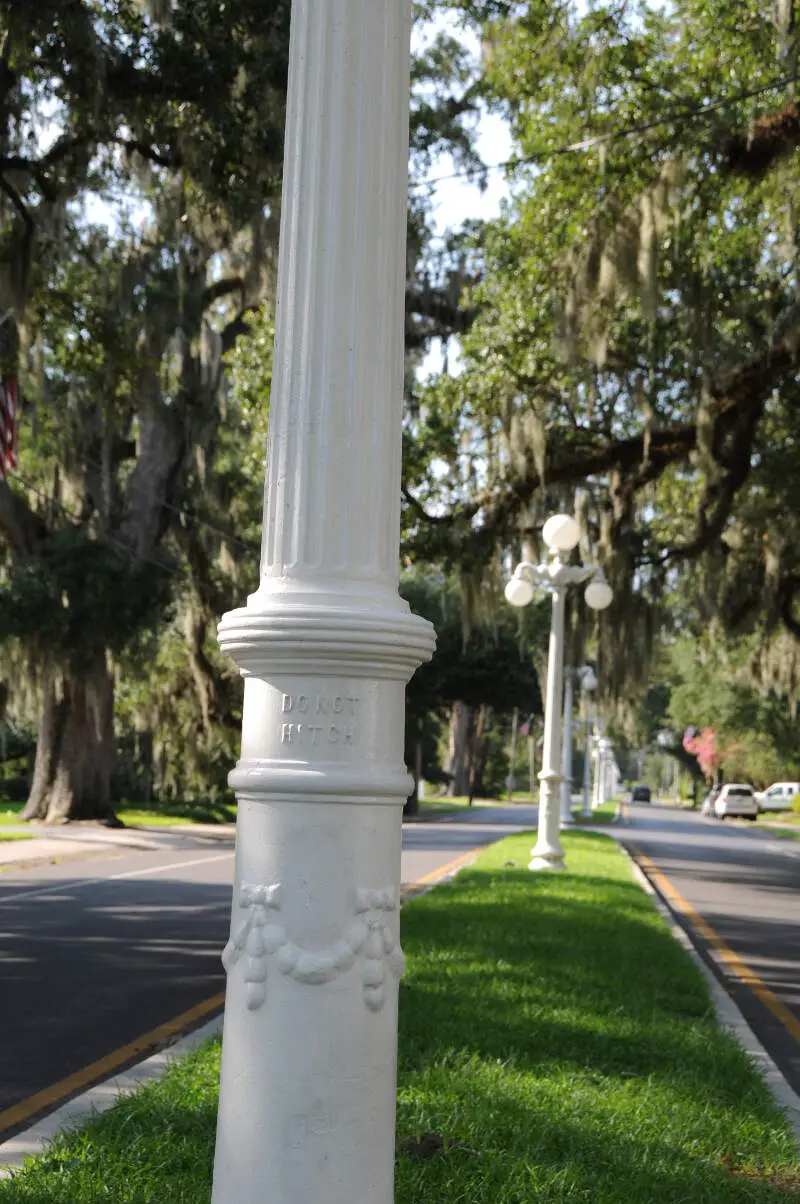 Income: $29,760
Drop out rate: 31%
Crime: 13th worst
The population of Franklin is plummeting, even when prices of homes average about $86,000 each. That's a sign that things aren't so rosy here in this small city in St. Mary Parish, south of Lafayette.
Incomes are really low here – so low in fact that 4 in 10 children live in poverty. There was a murder here two years ago, and you have about a 1 in 18 chance of being the victim of a crime if you live here long enough.
7. Bogalusa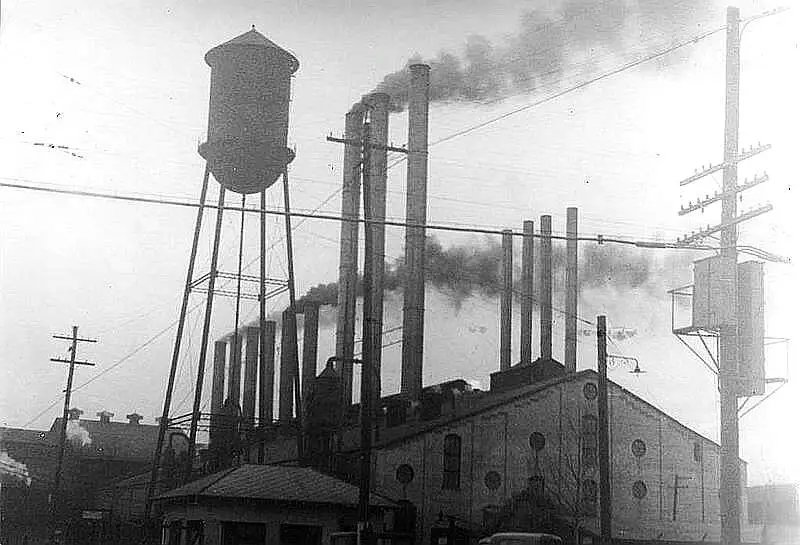 Income: $25,315
Drop out rate: 32%
Crime: 7th worst
Bogalusa has the unfortunate distinction of being 7th worst in two categories: Crime and income levels. By definition, this is truly a ghetto.
There are also a really high number of drug stores per person in this small city in Washington Parish. For a small town, a murder is a big deal. And just about every day, two people were either robbed, attacked or raped here.
For a place of just over 12,000 people, there were quite a few ghetto Tweets.
Here's one: "Driving to bogalusa makes me feel like I'm going to a drug deal so I had to turn on my ghetto music."
8. Tallulah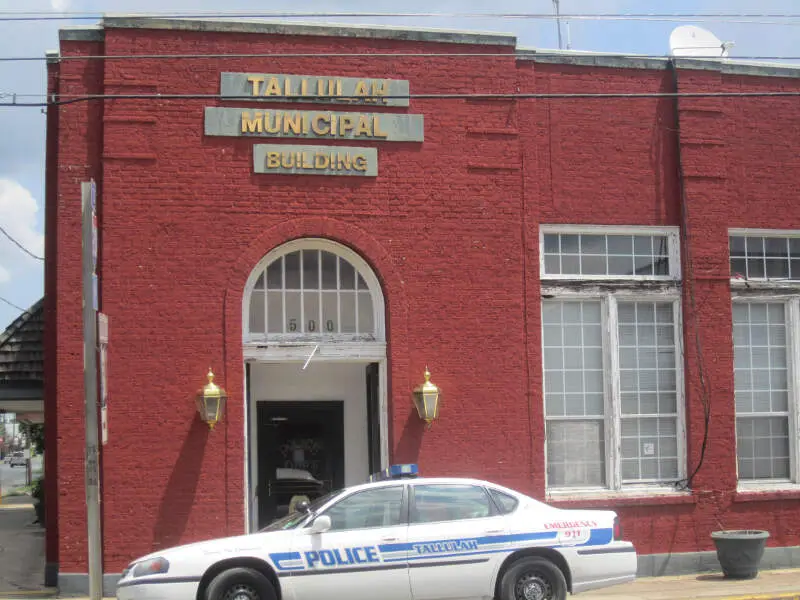 Income: $24,704
Drop out rate: 29%
Drug stores: 10th most
This small city in Madison Parish of northeastern Louisiana has seen a 20% decrease in population over the last ten years. The reason people are fleeing in droves? It's ghetto.
Residents of Tallulah had lots to say about how ghetto their city is.
"I'm doing what it takes to make it out of the ghetto (Tallulah)."
"Tallulah can turn things ghetto in 3.5 seconds"
Residents here are the 5th poorest in the state.
9. Monroe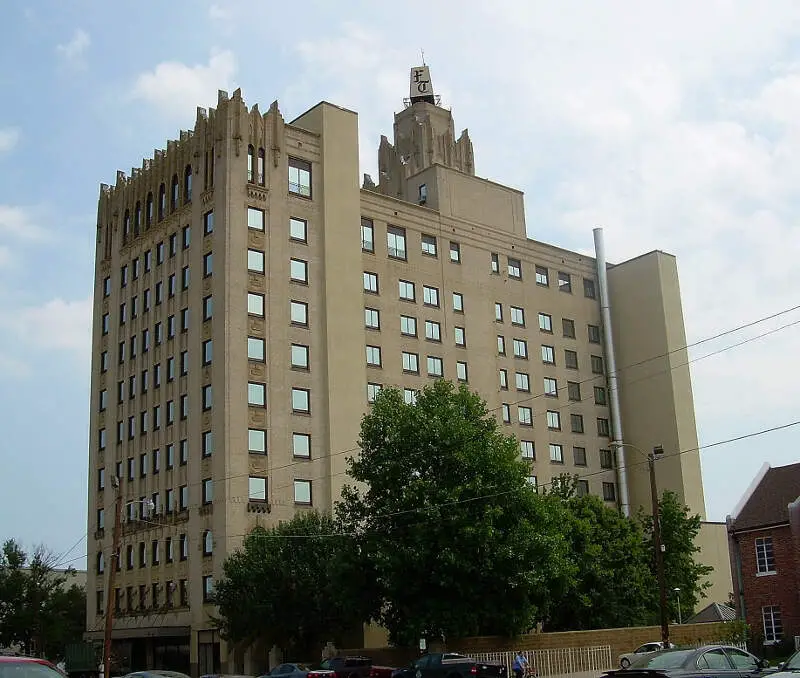 Income: $28,948
Drop out rate: 24%
Crime: 8th worst
Monroe is by far the largest city to make this list, meaning it's the biggest ghetto in the state.
Crime is really bad here (as if you didn't already know). This city of 50,000 people has to contend with both violence and robberies on a daily basis. Six people were killed here in 2013, and statistically, according to the FBI database, 1 in 10 people within city limits was a property crime victim that year.
10. Rayne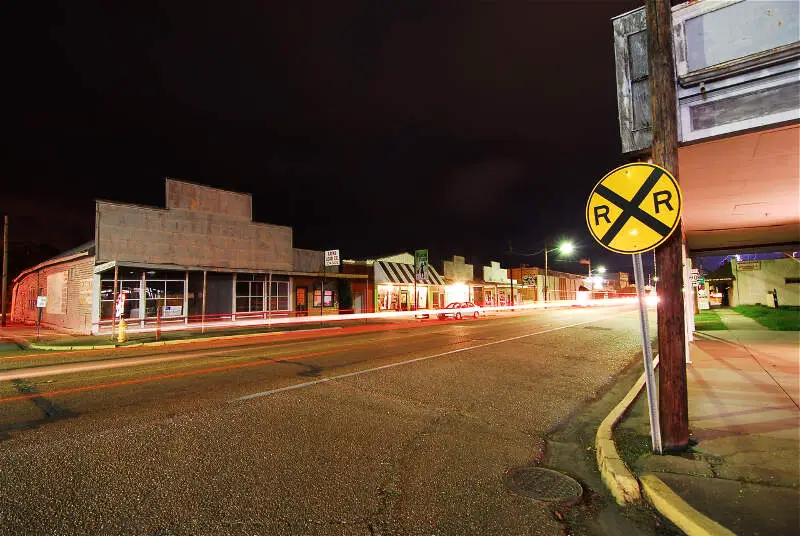 Income: $30,997
Drop out rate: 42%
Crime: 3rd worst
If you weren't aware that Rayne is a really, really dangerous place, then you are now. Actually, this small city in Acadia Parish is just about as dangerous as you can get as a Louisiana resident.
1 in 24 people was the victim of a crime, statistically. For a city of 8,000 people (and plummeting), having 37 violent crimes in a year as Rayne did in 2013, is really bad.
The fact that most residents here are broke and out of work, highly uneducated and struggling to make ends meet makes this a true Louisiana ghetto.
There You Have It
If you're measuring the locations in Louisiana where there are a high number of poor and uneducated residents, and where there are a high number of discounted shopping stores, this is an accurate list.
Additionally, here are the least ghetto places in Louisiana: Youngsville, Shenandoah, Prairieville, Red Chute, Eden Isle.
We also wrote about the 10 Most Redneck Cities In Louisiana if you didn't happen to see it.
Desktop users, below is a ghetto ranking chart of all large cities in Louisiana, along with their crime numbers: