This article is an opinion based on facts and is meant as infotainment. Don't freak out.
Swipe left for slideshow. Article continues below.
There are lots of people who throw the term 'ghetto' around. But which of Maryland's largest cities are the most ghetto of all?
How do you decide if a place is ghetto or not? You ask the internet. According to the Urban Dictionary, a ghetto is defined as:
"urban; of or relating to (inner) city life" and "poor; of or relating to the poor life."
Using that criteria, it's not hard to scrape the internet, run some scientific data on where ghettos might exist in a state, and then put out a list.
After analyzing the largest cities in the Old Line State, we came up with this list as the most ghetto places to live in Maryland:
In case you're wondering, Edgewood is the least ghetto city of all we measured.
Read on below to see where your hometown ranked and why.
For more Maryland reading, check out:
What ghetto criteria did we use?
In order to rank the most ghetto places in Maryland, we had to determine what criteria defines a ghetto city or neighborhood.
Since a ghetto is defined as a poor area, we used income levels, crime and education levels as a guide to determine where the most broke citizens of a state live.
Additionally, the staples of inner city life include cheap and discounted retail outlets.
We started by making a list of cities with populations over 5,000 based on the 2013 American Community Survey. That left us with 190 cities in Maryland to measure.
We threw a lot of criteria at this one in order to get the best, most complete results possible. Using Yelp and Area Vibes, this is the criteria we used:
Household income levels
High school graduation rates
Number of convenience stores
Number of drug stores
Number of discount stores
Crime
Twitter mentions of #ghetto
Note: For the sake of getting reliable numbers, we counted places within a city's border, as well as within a short driving distance.
All of these results are listed in a per capita basis. Meaning number of stores per person in a state. Additionally, high school graduation rates are determined by looking at the total number of people who live in a city, not the current graduation rate of an area's high schools.
For geo-located Tweets, we measured all mentions coming from a city with #ghetto
1. Hyattsville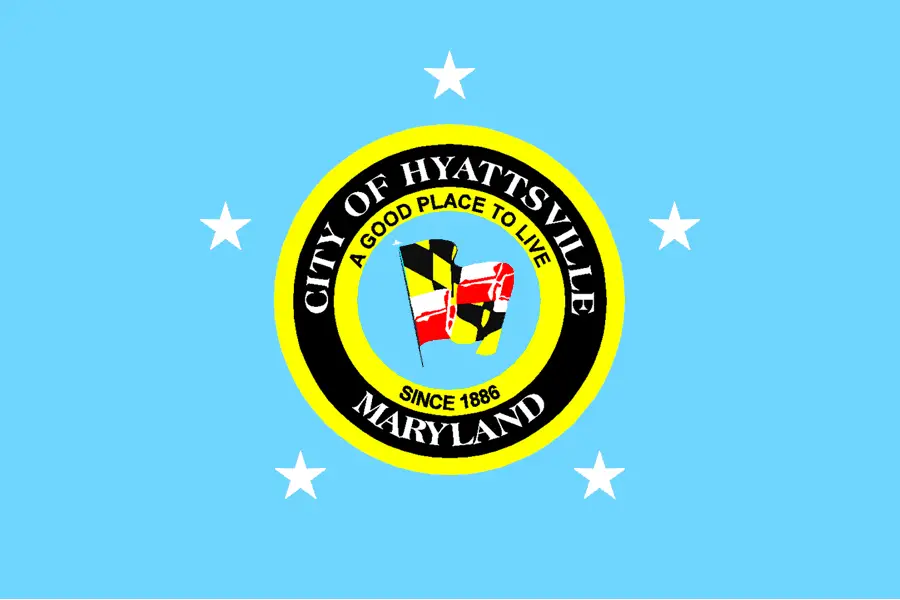 Discount shopping: 1st in MD
Drop out rate: 31%
Crime: 16th worst
When you look at the unbiased data, Hyattsville, right outside of DC, is the most ghetto area of Maryland. Here's why.
There is a larger concentration of discount outlets in Hyattsville than anywhere else in the state. Sociologists have indicated that drugs stores, convenience stores and discount stores are a staple of inner city life.
Property crimes are really bad here – yes, we're aware that the PG Mall attracts lots of personal property thefts. But the fact is, that statistically, every year you spend within Hyattsville city limits, you have a 1 in 15 chance of being robbed.
Finally, 3 in 10 residents dropped out of high school.
There were quite a few #ghetto Tweets, too: "The only ghetto parts of pg are right around DC. Landover/Hyattsville, Capitol Heights and Suitland."
2. Salisbury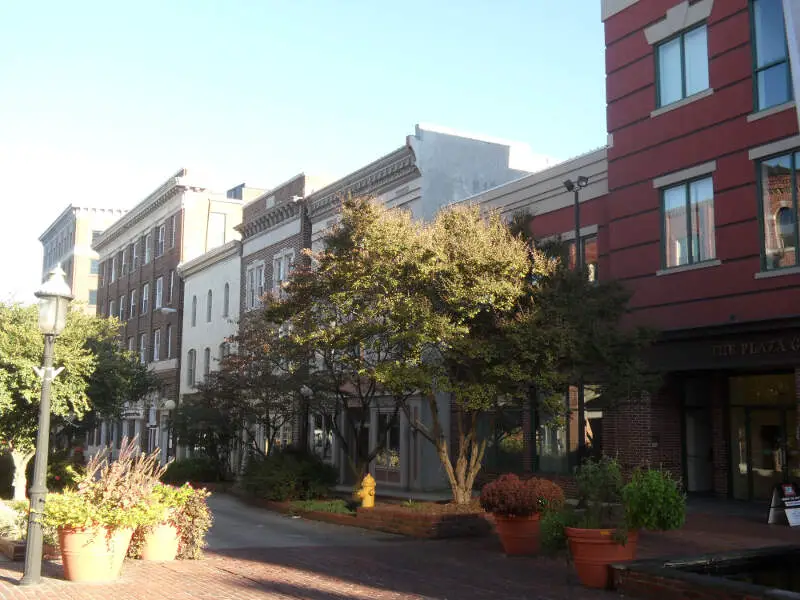 Income: $38,524
Drop out rate: 19%
Crime: 8th worst
If you spent a year within Salisbury, you'd have a 1 in 96 chance of being raped or attacked. That's according to the latest FBI data available.
Not only that, but Salisbury is the 6th poorest city in Maryland. This Delmarva Peninsula city saw 40% of its kids or its elderly living in poverty every month.
For a city of just 30,000, there were plenty of Tweets, which helped Salisbury move up the rankings:
"Welcome to Salisbury where everyone you meet is either a redneck or ghetto !!!"
3. Baltimore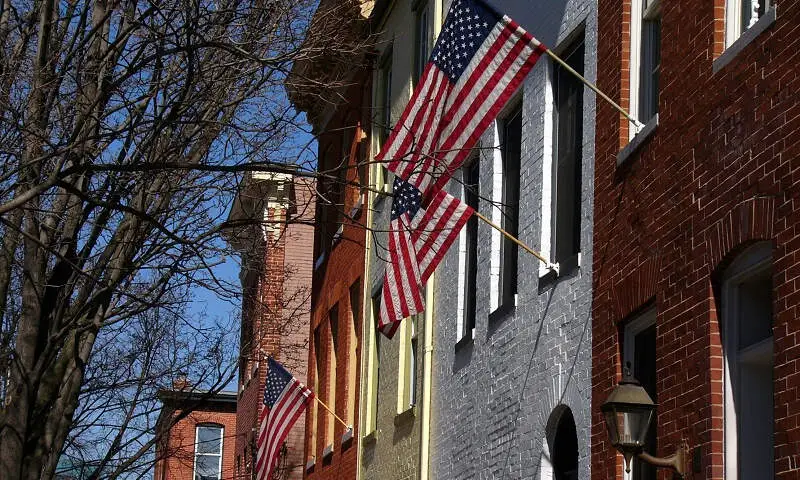 Income: $40,803
Drop out rate: 25%
Crime: 3rd worst
Of course, you're going to have lots of people say Baltimore is not only the most ghetto city in Baltimore, but one of the worst ghettos in the nation. Sure, we get it. This is an unbiased look, using science, and the data says it's third.
1 in 4 Baltimore residents doesn't have a high school degree, and income levels are the 7th lowest in the state.
In terms of crime, there were 233 murders here in 2013. But you already know how dangerous Baltimore is.
When we got the Twitter data back, it took about 10 minutes to read through all of the #ghetto Tweets from here.
This was a gem: "You know you live in the ghetto when someone steals your cat's sweater right off of your cat. #Baltimore"
4. Bladensburg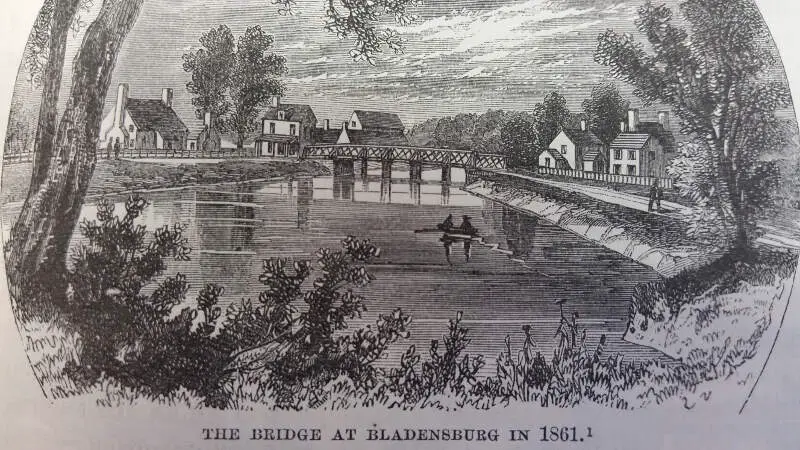 Income: $44,436
Crime: 18th worst
Dropout rate: 21%
This is another city in Prince George County, where the city motto is, "A past to remember, a future to embrace." Hopefully, that future involves getting residents to stay in school and quit committing crimes.
This city of 9,300 saw a murder in 2013, but the real threat are robberies. More than once a day, on average, someone here had their lives changed due to a robbery of some type.
3 in 10 residents under 18 or over 65 kids lives in poverty here.
5. Cambridge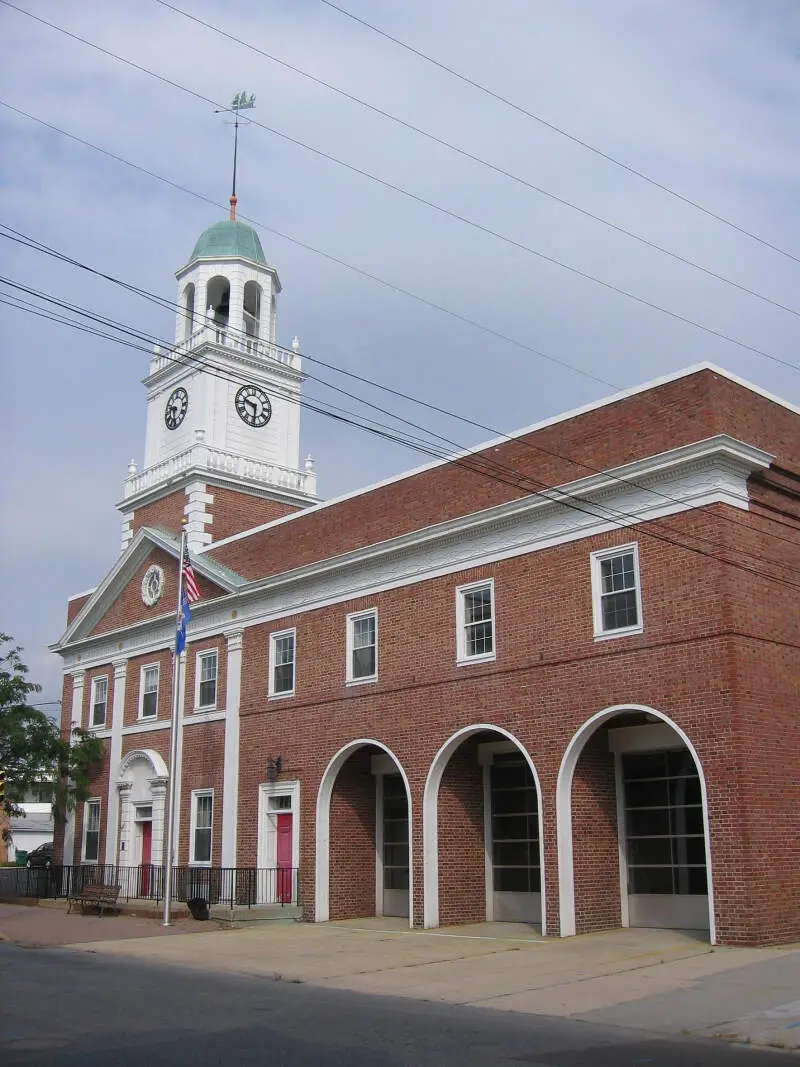 Income: $35,090
Drop out rate: 24%
Crime: Top 15%
A quarter of the children in Cambridge lives in poverty, and a majority of the population has trouble making ends meet every month. This small city of 12,000 near the eastern shore certainly isn't safe either. You have a 1 in 14 chance of being the victim of some type of crime for every year you spend here.
That means if you weren't a victim, your neighbor was. That's the true sign of a ghetto – poor, uneducated and dangerous.
6. District Heights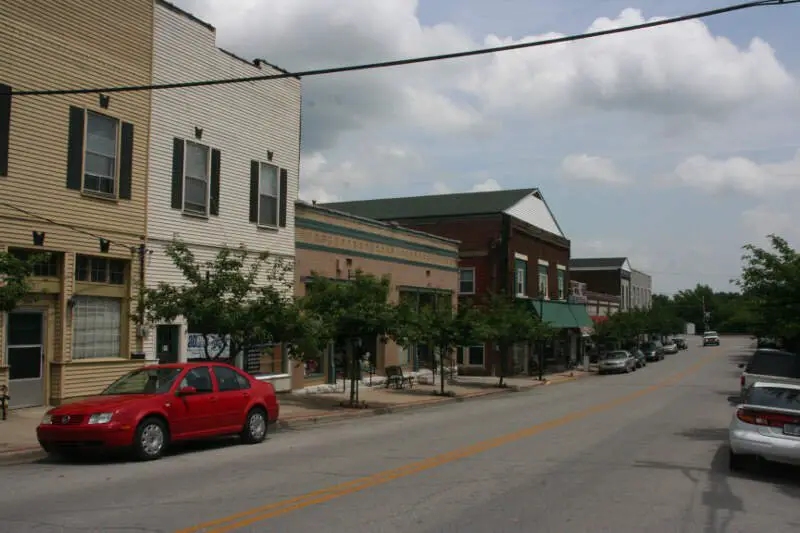 Source: Public Domain
Income: $66,650
Drop out rate: 15%
Discount shopping: 3rd most
Another PG County ranks on this list. The residents of District Heights were both supportive of this ranking, and cautious to take too much from it.
The apartment areas in District Heights are crime ridden for sure. But some of the areas with single family homes are decent, they say. Additionally, most people agree that the police response time here is quick.
But does that make it any easier to live here?
There aren't many other places in the entire state with a higher concentration of convenient stores, discount stores and drug stores.
7. Hagerstown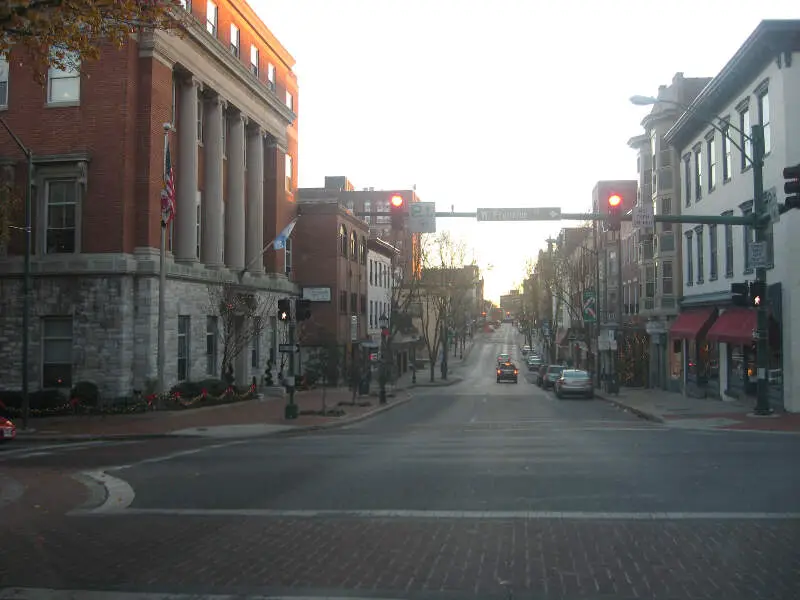 Income: $37,289
Discount shopping: 5th highest in MD
Dropout rate: 25%
H-Town makes it onto another list of ours. There are several data sets that make it a real ghetto – 1 in 4 residents is a high school dropout, residents are the 5th poorest in the state, and there are a large number of inner city shopping experiences.
As a result, Hagerstown has the 6th highest unemployment rate (7.4%) and the 4th cheapest homes in the state – $116,000.
8. Suitland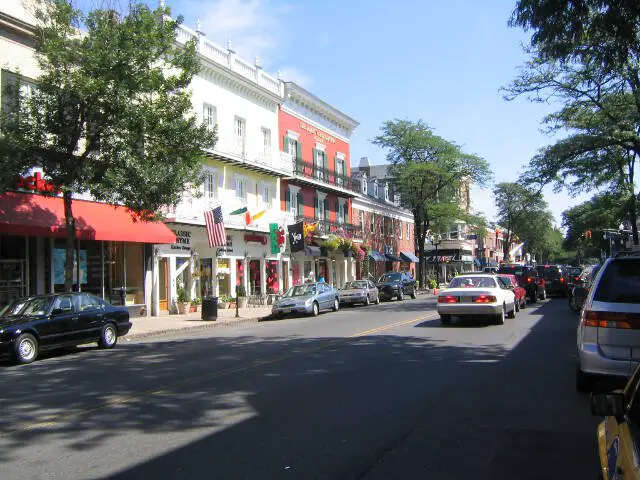 Source: Public Domain
Income: $54,922
Drop out rate: 14%
Crime: 4th worst
Maryland residents are aware that many areas inside the beltway on the south side of D.C. are ghetto. Perhaps these rankings actually put the whole 'which places are the worst' debate in order, though.
Suitland is clearly one of the most dangerous places in the state. Robberies and car thefts happen regularly, and there are places you shouldn't walk around by yourself, even in the day time here.
9. Temple Hills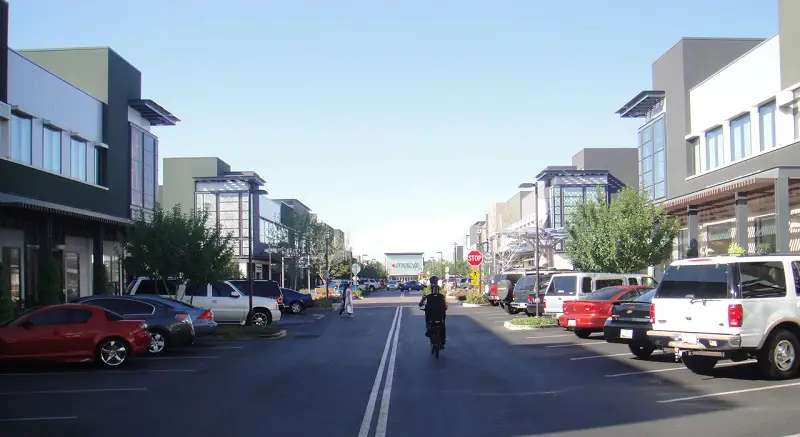 Source: Public Domain
Crime: 5th worst
Just outside the beltway is the small area of Temple Hills, which is the 5th most dangerous place in the state. It isn't an actual city, but it's what the government calls a 'census designated place.'
Judging by the sheer number of Tweets mentioning the Royal Farms gas station here, we're going to assume this is the center point of the ghetto activity in Temple Hills. People Tweeted that they had been offered drugs, sex, and had been threatened here.
10. Elkton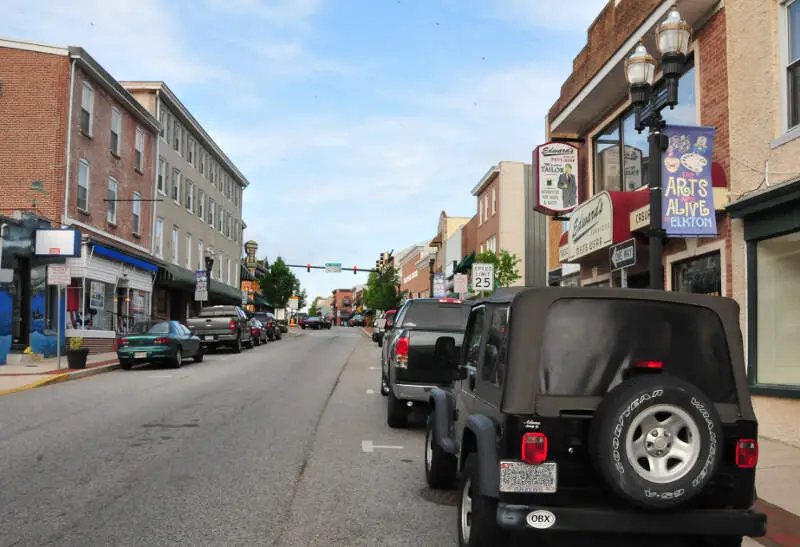 Income: $54.071
Drop out rate: 26%
Crime: Highest in the state
Believe it or not, little Elkton, near the Pennsylvania/Delaware state line, is the most dangerous place in the state, according to the chances residents have of being the victim of a crime every year.
You have a 1 in 81 chance of being the victim of violence, and a 1 in 15 chance of being the victim of a robbery or property crime for every year you spend here.
And those numbers are way down from previous years. So apparently, things are improving here, at least in terms of crime.
There You Have It
If you're measuring the locations in Maryland where there are a high number of poor and uneducated residents, and where there are a high number of discounted shopping stores, this is an accurate list.
Additionally, here are the least ghetto places in Maryland: South Kensington, Linganore, Spring Ridge, Annapolis Neck, Travilah.
We also wrote about the 10 Drunkest Cities in Maryland if you didn't happen to see it.
Desktop users, below is a ghetto ranking chart of all large cities in Maryland, along with their crime numbers: