Maryland is a pretty fantastic state, overall. There are some of the most underrated beaches on the east coast here. The western side has some awesome mountains and scenery. And Baltimore, is well, Baltimore. At least the Ravens are always contenders, and the O's have proven they can contend in the AL East.
But is it all great in the Old Line State? Of course not. Just like every other state, Maryland has its trouble spots. The purpose of this post is to use science and data to determine which cities in Maryland are the least desirable to live in.
Of course, you'll most likely disagree if you see your town atop this list. But nonetheless, according to science, these cities are the worst places you could possibly live if you make Maryland your home. These places need a big hug right about now.
After analyzing 37 of the state's most populous cities (over 5,200 people), we came up with this list as the 10 worst places to live in Maryland:
The 10 Worst Places To Live In Maryland For 2021
What? Where are these places you wonder? And before you get all riled up and say we're picking on small town America, that's not the case.
We understand there's a lot of good in every place.
However, according to data (which doesn't measure things like beauty and 'friendly people'), there are far better options in the state for making a place home. And the worst place to live in Maryland? That would be Cambridge.
Read on below to see how we crunched the numbers and see how your city fared in 2021.
If you're looking for something more national, check out the worst cities in America or the worst states in America.
For more Maryland reading, check out:
The 10 Worst Places To Live In Maryland For 2021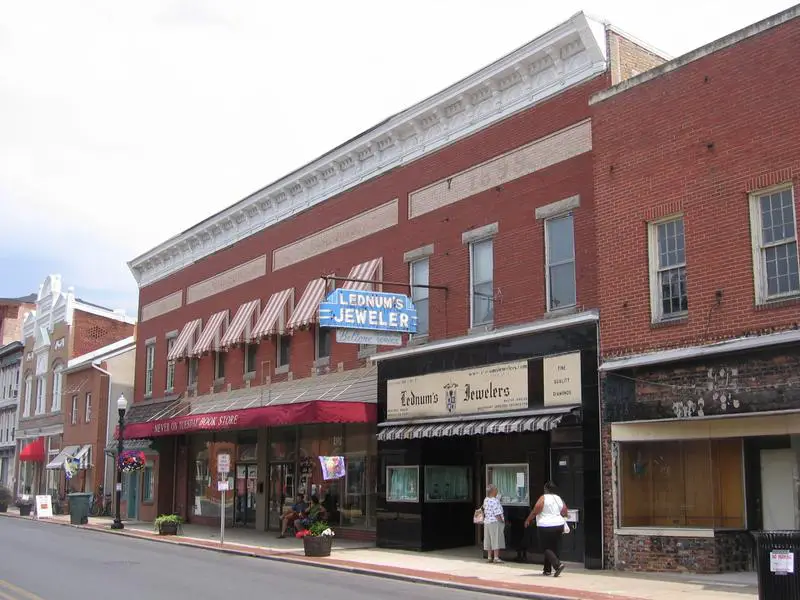 In a surprise move to the top, Cambridge, located across the sound on Route 50, takes the top spot for worst places to live in Maryland for 2021. That's not a honor you really want, but let's see why.
There are some real economic issues here as the unemployment rate is at 9.5%, which is the 4th highest in Maryland. And the household income levels are $43,120 a year, which are the 5th lowest. Additionally, crime is far above the state average. You have a 1 in 18.8 chance of being robbed out here.
That's a lot of stolen cell phones, laptops and Ray Rice jerseys.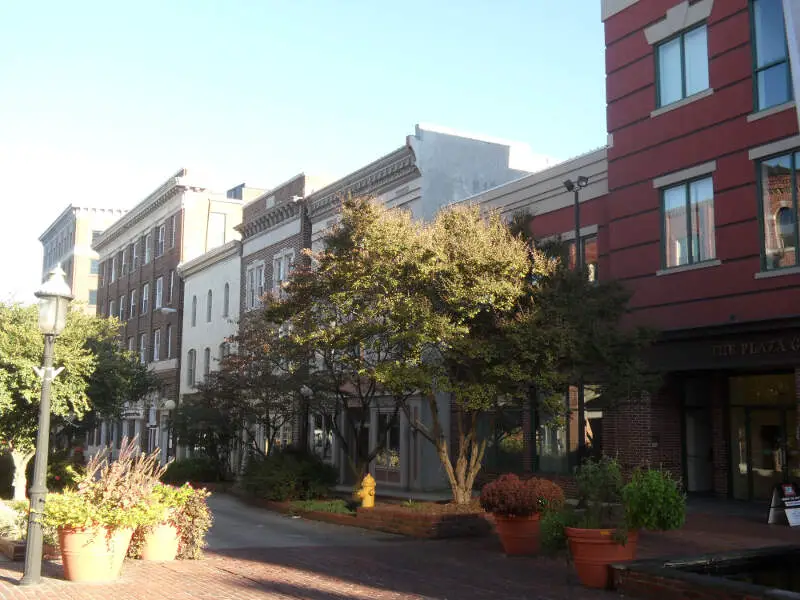 The same problems that plague Elkton affect Salisbury. The only real difference is Salisbury is a tiny bit safer, and the schools are rated a lot higher in terms of resources for students. In fact, Salisbury actually has one of the lowest student-teacher ratios in the state, which means lots of personal attention for the kids here.
However, the unemployment rate in Salisbury is at 8.3%, which is the 7th worst in Maryland. And households earn a combined $41,905 a year, which is far below the state average. An average home in Salisbury is merely $158,700.
Salisbury is across the Tangier Sound on Route 50.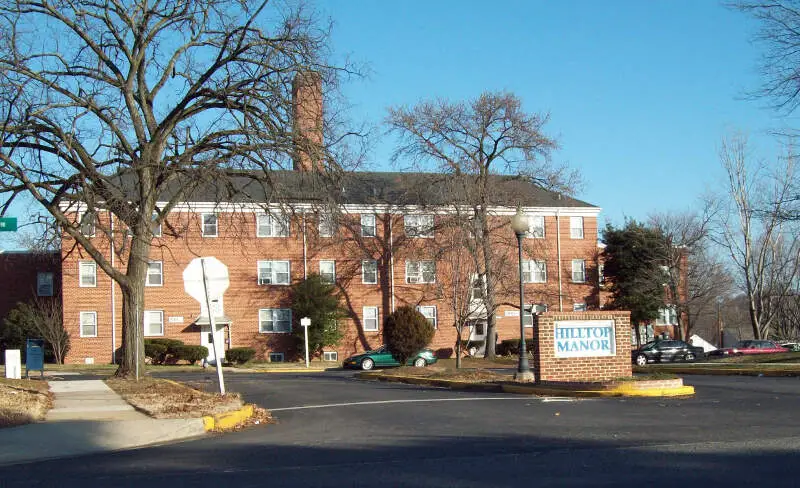 Source: Public domain
Part of the web of communities that surround Washington, DC, Bladensburg sits close to the border, in the southwest part of Maryland. This isn't a haven for rich lobbyists and high-powered politicians, though. Instead, a weak economy, high crime, and terrible public schools make this one of the worst hometowns in the state.
You'd expect the nearby national capital to give Bladensburg an economic boost. Nope. The unemployment rate sits at 7.3% and the median income comes in at just $44,905. Meanwhile, the town's crime rate hovers more than 50% above the national average. Its schools top out at a 4/10 on Great Schools.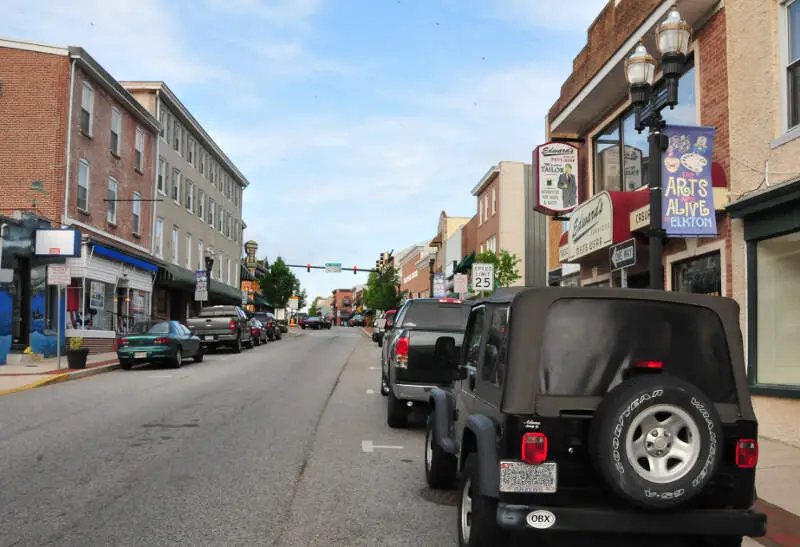 Source: Public domain
When you're looking at the worst places you could live in Maryland, Elkton ranks 4th worst. Let's see why.
When you're comparing the crime rate to the rest of the nation, Maryland is above average, but not completely out of line. Here in Elkton, crime is the highest in the state, and 1 out of 15.1 residents was robbed here according to the latest FBI numbers.
That's not the first place you think of making home, is it?
Additionally, you have a 1 in 103 chance of being the victim of a violent crime, which includes rapes, attacks or murders. That's really high.
When you look at adult education in Maryland, the folks in Elkton have the 8th highest drop out rate. And other factors that make Elkton undesirable are the low median incomes and home prices.
The unemployment rate is the 13th highest in Maryland, at 6.2%. That's actually on par with the national average, which means Maryland has some hard workers.
Elkton is on Route 40 right on the Delaware state line.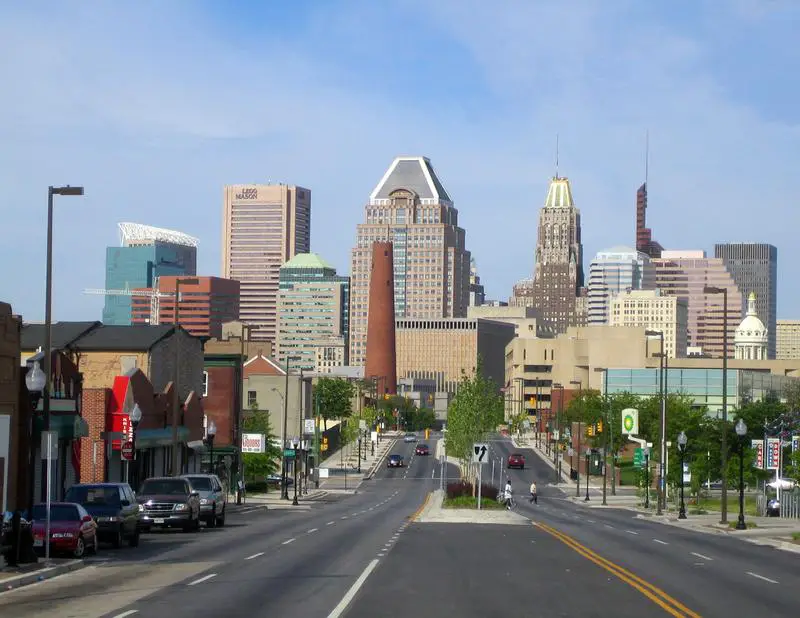 Source: Public domain
Ever seen the TV show The Wire? If so, you probably don't have a high opinion of Baltimore. Well, the show's depiction of a community plagued by crime, drugs, and corruption was based on reality. Even now, well after The Wire ended its run, Baltimore ranks as the number 5 least attractive spot in Maryland.
With 609,032 residents, Baltimore is the most populous city in the state. As such, it comes with its share of amenities. The National Aquarium is located in town, or you can grab crab cakes down by the waterfront.
But get away from the tourist sections of town and life gets hard. The unemployment rate comes in at 8.3% and the poverty rate hovers at 21.2%. Crime ranks nearly 150% above the national average, with 348 murders in a year.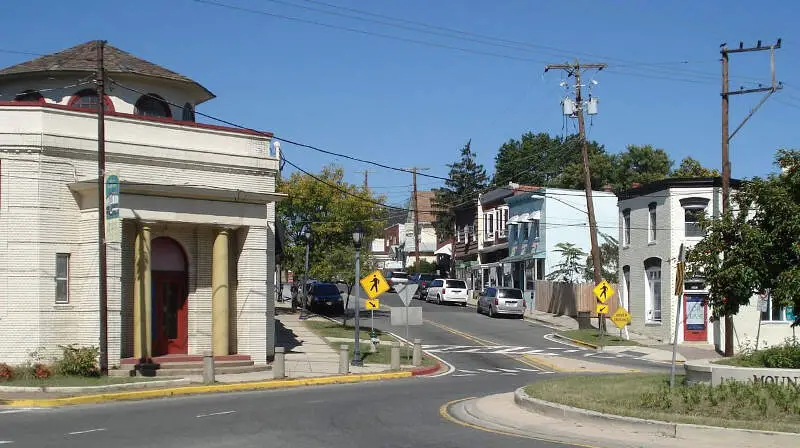 Sitting right along the border of the District of Columbia, Mount Rainier acts as a suburb of the national capital. Still, sitting within a 20-minute drive of the White House doesn't save this community from dealing with significant problems. A lack of jobs, high crime, bad schools, and a challenging cost of living all make it difficult for the town's 8,107 residents.
Jobs in the region are relatively well paying, with a median income of $55,768. Still, these positions can be hard to find. As a result, the unemployment rate sits at 7.1%. At the same time, schools in the area fall short of expectations. At their best, they score just a 4/10 on Great Schools.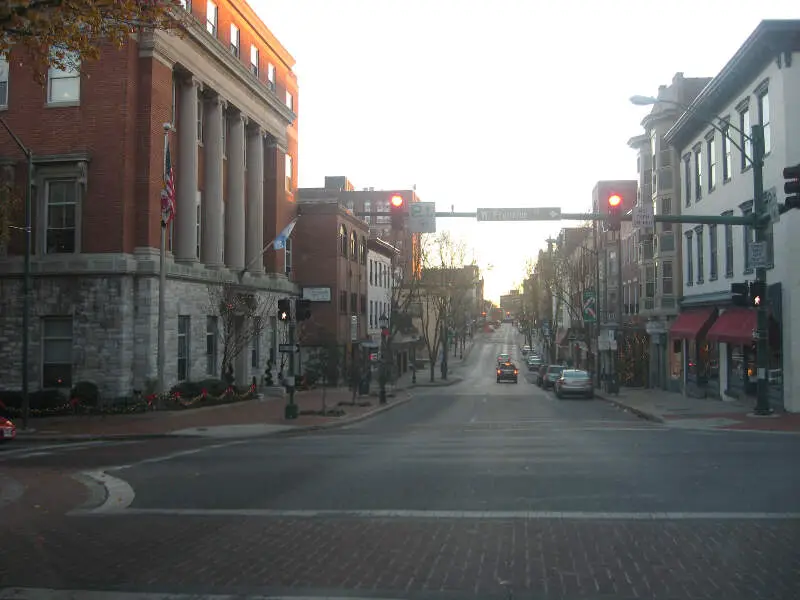 Source: Public domain
Hagerstown is by far the largest city to make this list. It was the state's 8th highest unemployment rate (7.4%), along with some of the lowest home prices and household incomes. Residents earn about $42,000 a year, and their homes are only valued at $116,000.
The public schools are in the bottom 10% when it comes to resources for the kids.
Apparently there are a lot of ex-cons who have been released from the numerous nearby prisons. On a positive note, the crime here is above the state average, but not horrendous.
As one lifelong resident of Hagerstown said on City-Data: Take a look at the city of Baltimore and it's urban decay and drug problems, and you see the future of Hagerstown. It's sad but at this point I only see Hagerstown going from bad to worst."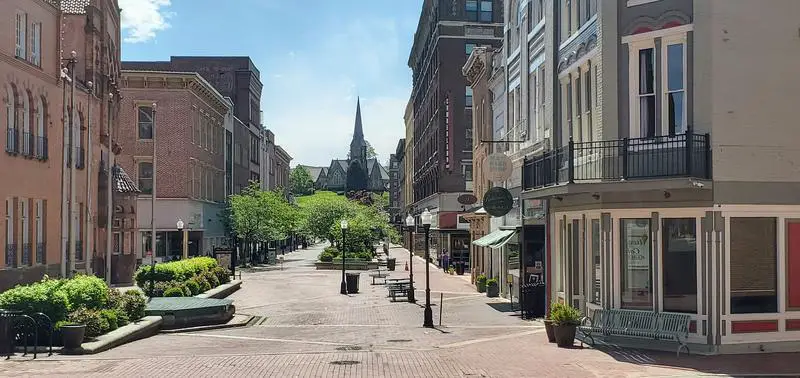 You might assume that the cities out on Maryland's manhandle are a little behind the times economically. That's why several of them rank atop this list.
Sure, it's beautiful up there. But there's a certain lifestyle that comes with it. While Cumberland's unemployment rate is at the national average, it's very low for Maryland. But the income levels out here are some of the lowest in the state. Residents earn a combined $36,145 a year in salaries. That's not enough to really get ahead in life.
Additionally, the homes are the cheapest in the entire state at $94,100. Again, some people like the cheap cost of living, but housing is priced on demand, and the fact is, there's not a lot of demand to live way out in Cumberland. Plus, what do you do for fun way out there for half the year when it's snowing?
Crime is the 7th worst in the state. You have a 1 in 22.6 chance of being robbed here and a 1 in 130 chance of being attacked or raped. Yikes.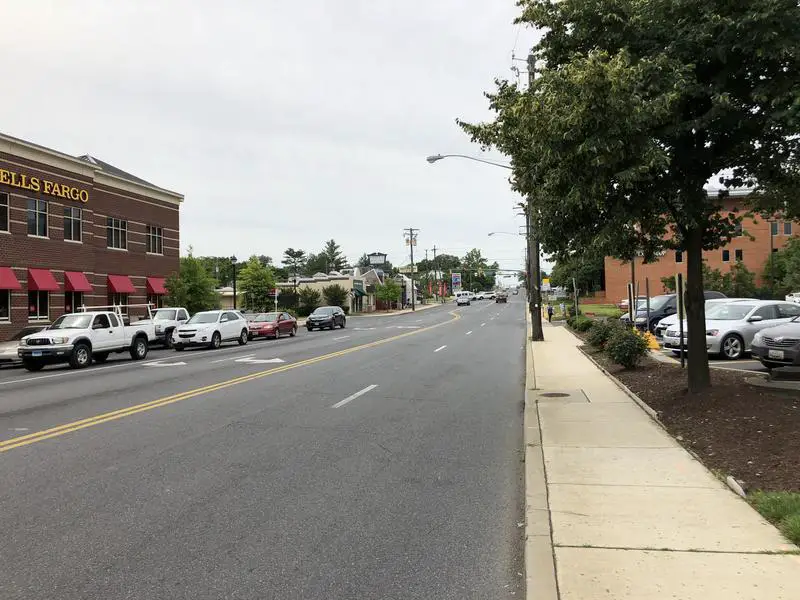 Here's another community on the outskirts of Washington, DC that makes this list. Riverdale Park has some highlights. As its name suggests, there's plenty of nearby green space, especially the sprawling Greenbelt Park. Also, the area supports a relatively strong economy, with a median income of $79,219.
The main issue comes from the cost of living. Expenses here run 20% above the U.S. standard, including a median home value of $328,600. Given that kind of housing market, you'd expect suburban bliss. Not quite. Riverdale Park also suffers a crime rate above the national average. The schools are also bad, with a 3/10 on Great Schools.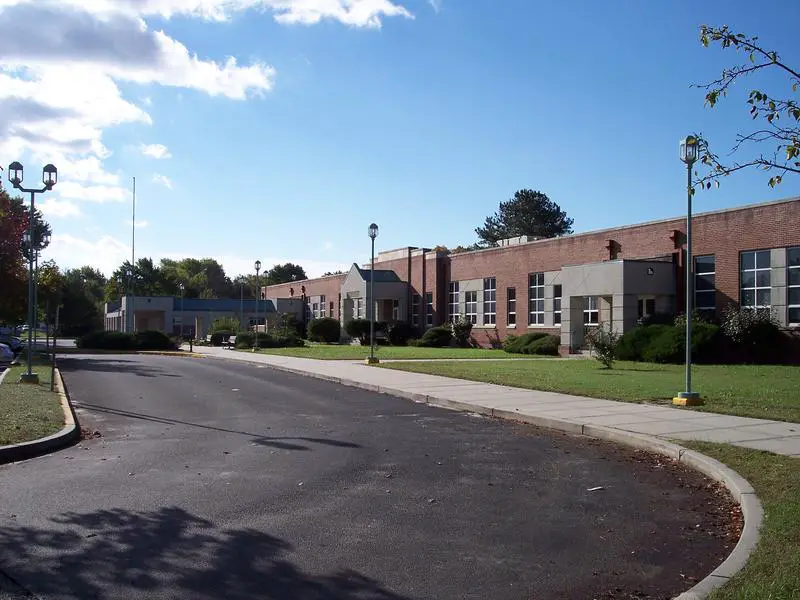 Finally, we get away from the Washington/Baltimore urban sprawl, to a more peaceful part of the state. Fruitland is located on the Delmarva Peninsula, in the eastern part of Maryland. It sits near the Delaware border, just outside of Salisbury , and a 20-minute drive from the shores of the Chesapeake Bay.
Unfortunately, getting away from the big cities doesn't guarantee an idyllic hometown. Fruitland still ranks among Maryland's least attractive hometowns. A soaring unemployment rate of 12.6% handicaps the local economy.
At the same time, the area contends with high crime, mediocre schools. and an expensive cost of living.
How we determined the worst places to live in Maryland for 2021
To figure out how bad a place is to live in, we only needed to know what kinds of things people like and then decide what cities have the least amount of those things.
We don't think it's a stretch to assume that people like the following things:
Good education
Lots of jobs
Low crime
Low poverty
Nice homes
High incomes
High population density (Lots of things to do)
Short work commutes
Health insurance
The data comes from the Census's most recent American Community Survey and from the FBI Uniform Crime Report.
We broke crime down into violent crime and property crime to give violent crime a larger weight — if you did a simple calculation of all crimes per capita, property crimes are normally 7x more common and really bias that ranking.
Furthermore, only cities with at least 5,000 people were considered — leaving 37 cities.
We then ranked each city from 1 to 37 for all the criteria with a #1 ranking being the worst for the particular criteria.
Next, we averaged the rankings into one "Worst Place To Live Score".
Finally, we ranked every city on the "Worst Place To Live Score" with the lowest score being the worst city in Maryland — Cambridge. Read on for a detailed look at the 10 worst cities in Maryland. You can download the data here.
This list is a scientific analysis based on real data and is completely unbiased.
Wrapping Up The Worst In Maryland
If you're looking at areas in Maryland with the worst economic situations, where there's higher than average crime, and not a lot to do, this is an accurate list.
And in the end, Cambridge ranks as the worst city to live in Maryland for 2021.
If you're curious enough, here are the best cities to live in Maryland:
Thurmont (Pop. 6,638)
Bowie (Pop. 58,481)
Mount Airy (Pop. 9,397)
For more Maryland reading, check out:
Where Are The Worst Places To Live In Maryland?
| Rank | City | Population |
| --- | --- | --- |
| 1 | Cambridge | 12,375 |
| 2 | Salisbury | 32,693 |
| 3 | Bladensburg | 9,402 |
| 4 | Elkton | 15,644 |
| 5 | Baltimore | 609,032 |
| 6 | Mount Rainier | 8,107 |
| 7 | Hagerstown | 40,152 |
| 8 | Cumberland | 19,650 |
| 9 | Riverdale Park | 7,198 |
| 10 | Fruitland | 5,244 |
| 11 | New Carrollton | 12,935 |
| 12 | Greenbelt | 23,219 |
| 13 | Hyattsville | 18,242 |
| 14 | Laurel | 25,767 |
| 15 | La Plata | 9,376 |
| 16 | College Park | 32,159 |
| 17 | Annapolis | 39,278 |
| 18 | Westminster | 18,552 |
| 19 | Aberdeen | 15,848 |
| 20 | Takoma Park | 17,672 |
| 21 | Chesapeake Beach | 5,960 |
| 22 | Frederick | 70,887 |
| 23 | Brunswick | 6,258 |
| 24 | Gaithersburg | 67,742 |
| 25 | Easton | 16,591 |
| 26 | Cheverly | 6,435 |
| 27 | Walkersville | 6,179 |
| 28 | Frostburg | 8,591 |
| 29 | Poolesville | 5,191 |
| 30 | Taneytown | 6,787 |
| 31 | Hampstead | 6,362 |
| 32 | Havre de Grace | 13,652 |
| 33 | Rockville | 67,542 |
| 34 | Glenarden | 6,140 |
| 35 | Thurmont | 6,638 |
| 36 | Bowie | 58,481 |
| 37 | Mount Airy | 9,397 |
Editor's Note: This article is an opinion based on facts and is meant as infotainment. Don't freak out we updated this article for 2021. This is our seventh time ranking the worst places to live in Maryland.