This article is an opinion based on facts and is meant as infotainment. Don't freak out.
Swipe left for slideshow. Article continues below.
There are lots of people who throw the term 'ghetto' around. But which of the largest cities in Massachusetts are the most ghetto of all?
How do you decide if a place is ghetto or not? You ask the internet. According to the Urban Dictionary, a ghetto is defined as:
"urban; of or relating to (inner) city life" and "poor; of or relating to the poor life."
Using that criteria, it's not hard to scrape the internet, run some scientific data on where ghettos might exist in a state, and then put out a list.
After analyzing the largest cities here, we came up with this list as the most ghetto places to live in Massachusetts:
13th: Boston
In case you're wondering, Sudbury is the least ghetto city of all we measured.
Read on below to see where your hometown ranked and why.
For more Massachusetts reading, check out:
What ghetto criteria did we use?
In order to rank the most ghetto places in Massachusetts, we had to determine what criteria defines a ghetto city or neighborhood.
Since a ghetto is defined as a poor area, we used income levels, crime and education levels as a guide to determine where the most broke citizens of a state live.
Additionally, the staples of inner city life include cheap and discounted retail outlets.
We started by making a list of cities with populations over 5,000 based on the 2013 American Community Survey. That left us with 223 cities in Massachusetts to measure.
We threw a lot of criteria at this one in order to get the best, most complete results possible. Using Yelp and Area Vibes, this is the criteria we used:
Household income levels
High school graduation rates
Number of convenience stores
Number of drug stores
Number of discount stores
Crime
Twitter mentions of #ghetto
Note: For the sake of getting reliable numbers, we counted places within a city's border, as well as within a short driving distance.
All of these results are listed in a per capita basis. Meaning number of stores per person in a state. Additionally, high school graduation rates are determined by looking at the total number of people who live in a city, not the current graduation rate of an area's high schools.
For geo-located Tweets, we measured all mentions coming from a city with #ghetto
1. Lawrence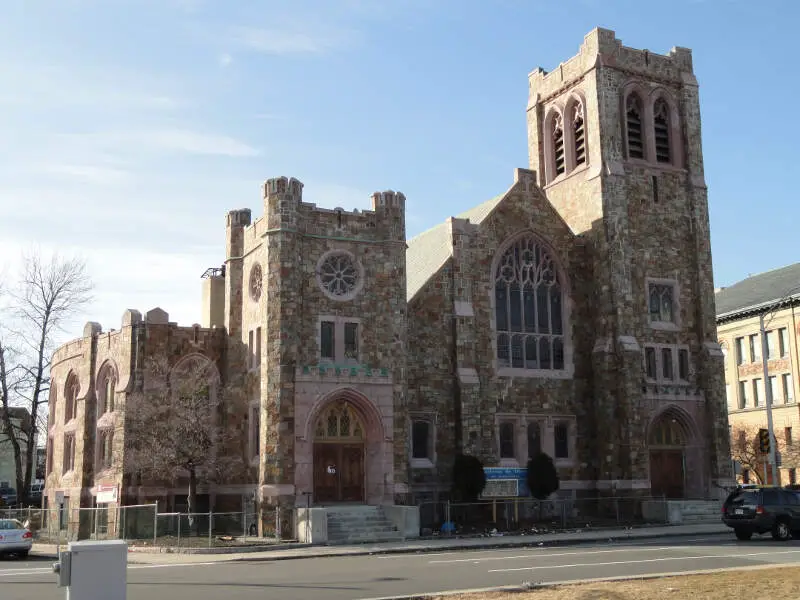 Income: Lowest in MD
Drop out rate: 38%
Crime: 10th worst
When you look at the unbiased data, Lawrence, right up near the New Hampshire state line, is the most ghetto area of Massachusetts. Here's why.
The residents of Lawrence are the poorest in the state. Families average about $31,000 a year here, which isn't too far away from what the government says is the poverty line.
Almost 4 in 10 residents doesn't have a high school diploma here, which is the 2nd lowest in the state.
And crime is really bad in Lawrence. You have a 1 in 100 chance of being raped, attacked or killed for every year you spend within the city limits here.
2. Springfield

Income: $35,163
Drop out rate: 30%
Crime: 2nd worst
According to the data, Springfield, Mass. is ghetto. Is that a surprise? Probably not.
Residents are the 7th poorest in the state and 3 in 10 never finished high school. That's a long term problem that Springfield is going to have to contend with for years down the road.
Crime is just about as bad in Springfield than anywhere else in the state. Only one other city (Holyoke, lower on the list) is more dangerous. In Springfield, there were 22 murders in 2013, and you have a 1 in 21 chance of being victimized by a robbery, property theft or arson.
3. Chelsea

Income: $43,919
Drop out rate: 41%
Crime: 3rd worst
A whopping 4 in 10 people in Chelsea is walking around without even a high school diploma. That's not only the highest in MA, that's one of the highest rates in the entire northeast.
Because of that, people here are really poor, and crime is horrible. There were 5 murders, and over 200 robberies here in 2013 alone.
There were a lot of Twitter mentions about how ghetto Chelsea is. Example:
"My brother thinks he's leaving to rhode island. no kid you're staying here in ghetto ass chelsea."
4. New Bedford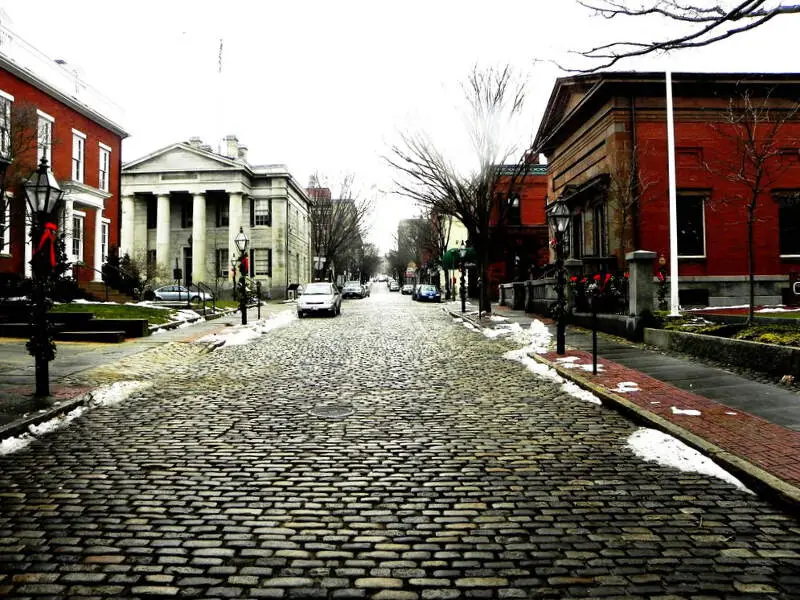 Income: $36,789
Crime: 4th worst
Dropout rate: 37%
This entire general area (New Bedford, Fall River, Taunton) all make up a pretty ghetto little triangle when you look at the data.
New Bedford's Wikipedia entry has its own section devoted to crime, and even a section devoted to the number of housing projects here. Now, you can learn about the 30 unsolved murders in New Bedford since 2000. Most of those stem from the ongoing feuds between the United Front and Monte Park neighborhoods.
Meaning the projects.
5. Brockton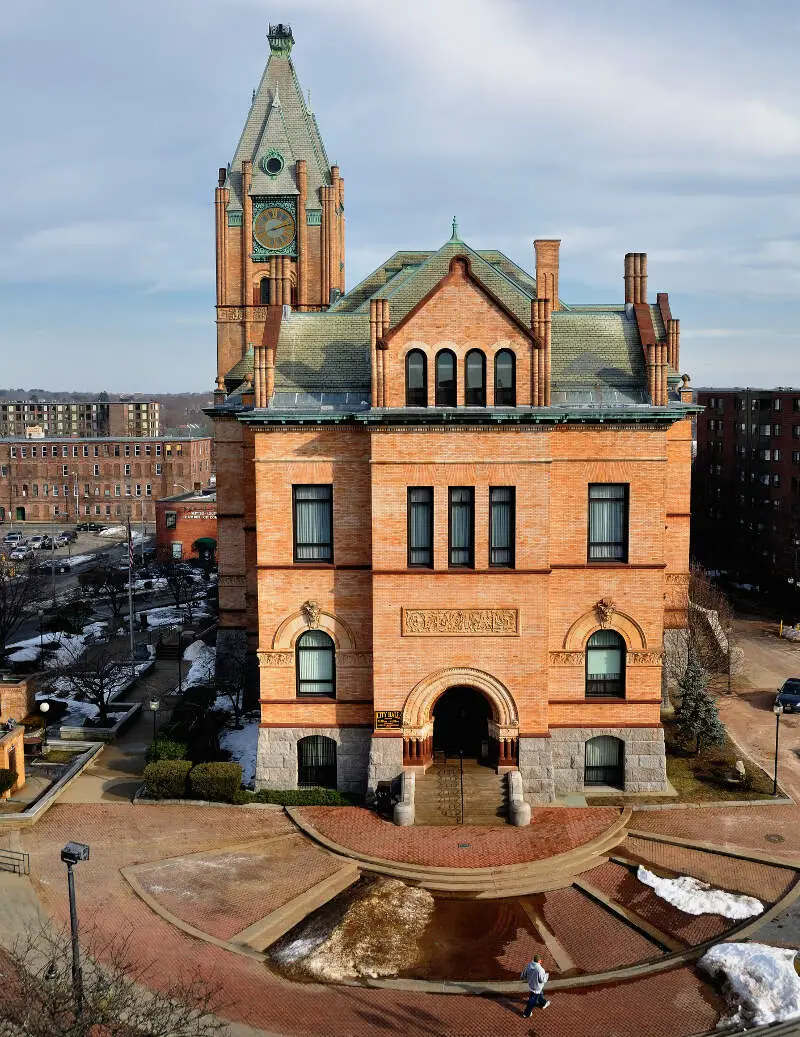 Income: $49,484
Drop out rate: 25%
Crime: 8th worst
Such is the sad state of the Massachusetts ghetto when a 25% dropout rate is considered 'good.' So at least in Brockton, the kids are (sort of) attending class on a regular basis.
For perspective, in Upton, Massachusetts, the dropout rate is about 4.5%.
Twitter had lots and lots to say about how ghetto Brockton is:
"winner winner chicken dinner to the most ghetto town in the state. Brockton."
"Yes, I live in Brockton. But sorry to disappoint you I'm not 'ghetto' or don't act like a typical Brockton girl"
6. Holyoke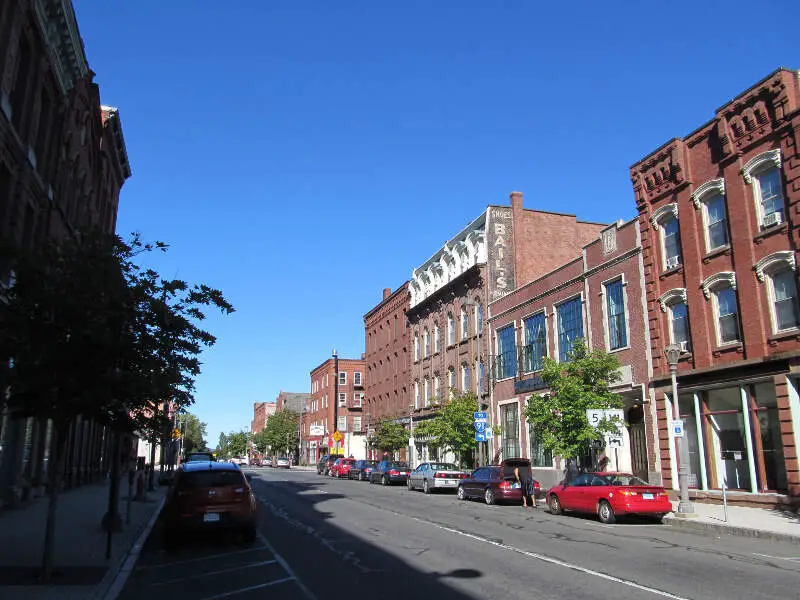 Income: $34,961
Drop out rate: 31%
Crime: Worst in MA
Things are very bad in Holyoke, crime wise, and not getting any better. The danger level has been ticking up since 2011, and now, for every year you spend within Holyoke city limits, you have a 1 in 15 chance of being the victim of a property crime or arson.
You also have a 1 in 100 chance of being attacked, raped or killed every year you live here. Just wow.
7. Lynn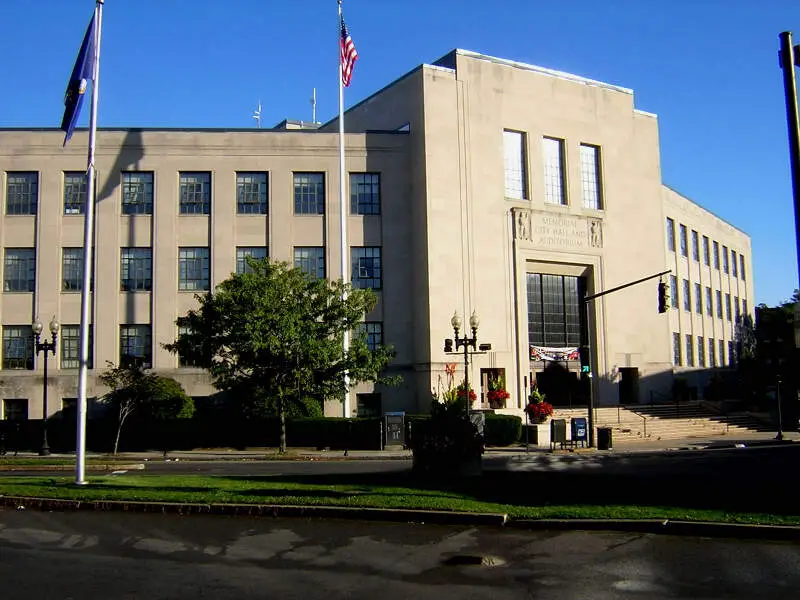 Income: $43,128
Dropout rate: 25%
Discount shopping: Top 20% in MA
This Essex County city is just north of Boston. Here, residents are relatively poor and uneducated.
There are a far higher than average number of discount shopping places per person in the Lynn area. Sociologists have indicated that convenience, drug stores and discount outlets are a staple of inner city life.
8. Lowell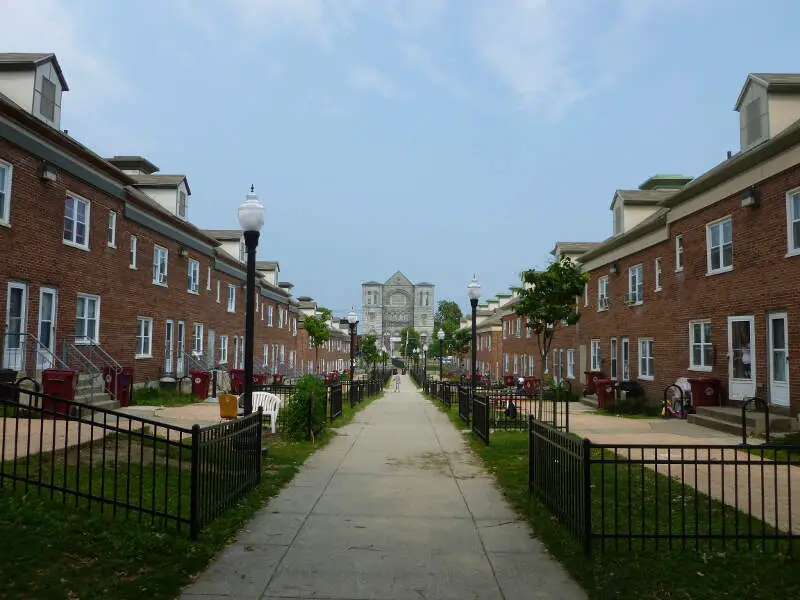 Income: $51,714
Drop out rate: 27%
Crime: 7th worst
This Middlesex County city is pretty ghetto overall, when you look at the numbers. 38% of the population that's either below 18 or over 65 lives at or below the poverty line.
While Lowell's crime rate has dropped tremendously since the 1990s, it's still the 7th worst in MA. One in every 1,126 residents was victimized by a property crime in 2013.
Lowell has been notorious over the years for being a place for drug trafficking and gang activity.
9. Fall River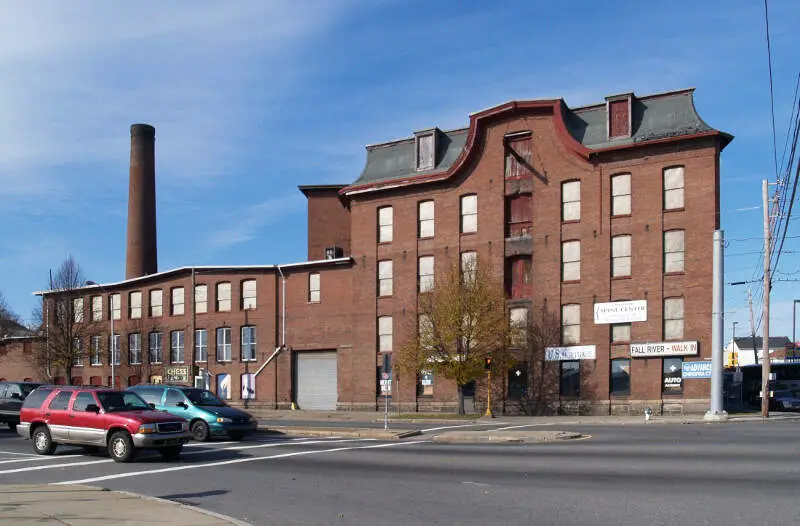 Income: $34,595
Drop out rate: 36%
Crime: 5th worst
Fall River has lots of issues to contend with. It would be hard to find a place in MA that's more dangerous, broke and uneducated.
Many Fall River residents used Twitter to vent their frustrations on how ghetto Fall River truly is. Many people complained that the McDonalds, gas stations, Walmart and more are 'ghetto' or frequented by 'ghetto people.'
Tweets like this: "Fall River gets more ghetto everyday."
10. Worcester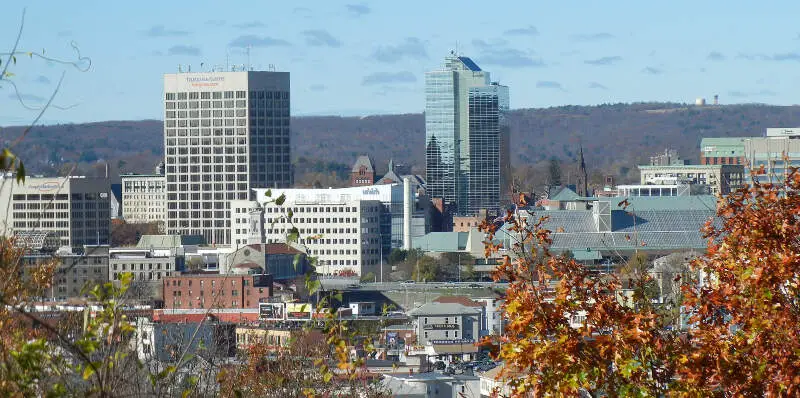 Income: $45,679
Drop out rate: 19%
Crime: 9th worst
Outside of the raw numbers, we looked at internet forums to see what people's thoughts were of Worcester. Most agreed that there are some really bad parts, and some decent areas as well.
There were 9 murders here in 2013. For a city of more than 180,000 people, that's not outright horrible, but certainly not safe, either. A 6.8% unemployment rate and $177,000 homes are both signs that there are some major issues to contend with here.
Twitter said: "idk what's worse, the ghetto people in Worcester Walmart or the hicks in Leicester Walmart…this is why I go to Target"
There You Have It
If you're measuring the locations in Massachusetts where there are a high number of poor and uneducated residents, and where there are a high number of discounted shopping stores, this is an accurate list.
Boston came in 13th. Its income levels are $53,126, dropout rate is 18% and crime is the 11th worst in the state. There are obviously lots of discount shopping locations here, too.
Additionally, here are the least ghetto places in MA: Sudbury, Weston, Norfolk, Southborough, Concord.
We also wrote about the 10 Drunkest Cities in Massachusetts if you didn't happen to see it.
Desktop users, below is a chart of the top 100 most ghetto cities in MA, along with their crime numbers.