This article is an opinion based on facts and is meant as infotainment. Don't freak out.
Swipe left for slideshow. Article continues below.
There are lots of people who throw the term 'ghetto' around. But which of Michigan's largest cities are the most ghetto of all?
How do you decide if a place is ghetto or not? You ask the internet. According to the Urban Dictionary, a ghetto is defined as:
"urban; of or relating to (inner) city life" and "poor; of or relating to the poor life."
Using that criteria, it's not hard to scrape the internet, run some scientific data on where ghettos might exist in a state and then put out a list.
After analyzing all cities with 10,000 people or more, we came up with this list as the most ghetto places in Michigan:
What's interesting is that when you run the data, two of the biggest 'known' cities for being ghetto aren't in the top three. So, statistically, by the dictionary definition of a ghetto, Detroit and Flint aren't the worst.
Read on below to see where your hometown ranked and why.
For more Michigan reading, check out:
What ghetto criteria did we use?
In order to rank the most ghetto places in Michigan, we had to determine what criteria defines a ghetto city or neighborhood.
Since a ghetto is defined as a poor area, we used income levels, crime and education levels as a guide to determine where the most broke citizens of a state live.
Additionally, the staples of inner city life include cheap and discounted retail outlets.
We started by making a list of every place in Michigan with more than 10,000 people based on the 2013 American Community Survey. That left us with more than 100 places in the Wolverine State.
We threw a lot of criteria at this one in order to get the best, most complete results possible. Using Yelp and Area Vibes, this is the criteria we used:
Household income levels
High school graduation rates
Number of convenience stores
Number of drug stores
Number of discount stores
Crime
Note: For the sake of getting reliable numbers, we counted places within a city's border, as well as within a short driving distance.
All of these results are listed in a per capita basis. Meaning number of stores per person in a state. Additionally, high school graduation rates are determined by looking at the total number of people who live in a city, not the current graduation rate of an area's high schools.
1. Muskegon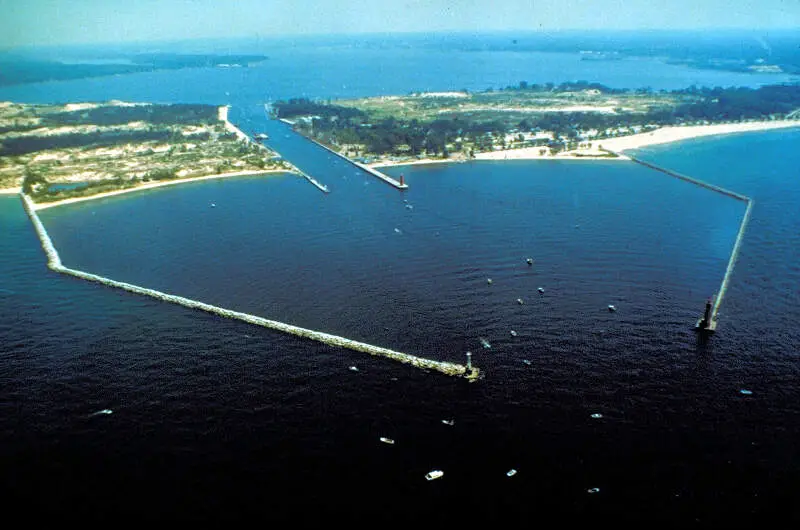 Income: $25,480
Drop out rate: 30%
Convenience stores: 4th highest
This may or may not come as a surprise, but technically, according to the data, Muskegon is more ghetto than any other city in Michigan. Let's see why.
First off, 3 in 10 residents never finished high school. Does that make a ghetto? Not always, but the income levels sure reflect it. The government stipulates a family of four has to earn about $25,000 a year, or they're considered in poverty. The average family earns that here in Muskegon.
Crime isn't the worst, but it's in the top 20 in terms of what the FBI considers dangerous.
And, Muskegon has the 4th highest number of convenience stores per capita. Sociologists have indicated that discount stores like these are a staple of inner city life.
2. Saginaw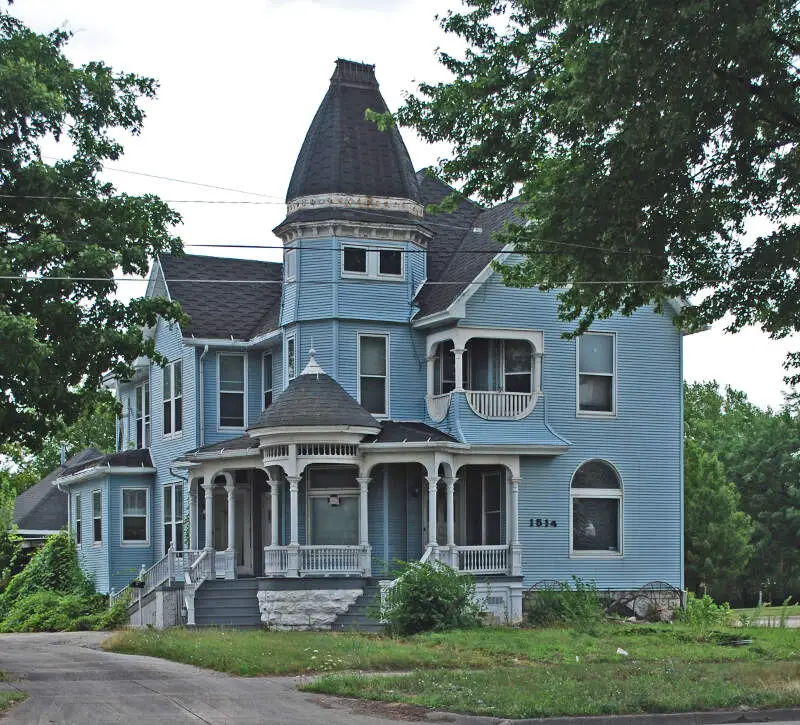 Income: $27,658
Drop out rate: 29%
Crime: 6th worst
Saginaw is in a bad place, economically, and with crime. This mid-size city north of Flint is statistically, one of the brokest and most dangerous places in Michigan.
There were 29 murders here in 2013. Wow. For a city of barely over 50,000 (and obviously shrinking fast), that means you have a 1 in 1,744 chance of being killed if you spent a year within Saginaw city limits.
To put that into perspective, the average Facebook person has 350 friends. If all of your Facebook friends lived in Saginaw, there's a 1 in 5 chance one of them would be killed next year.
3. Benton Harbor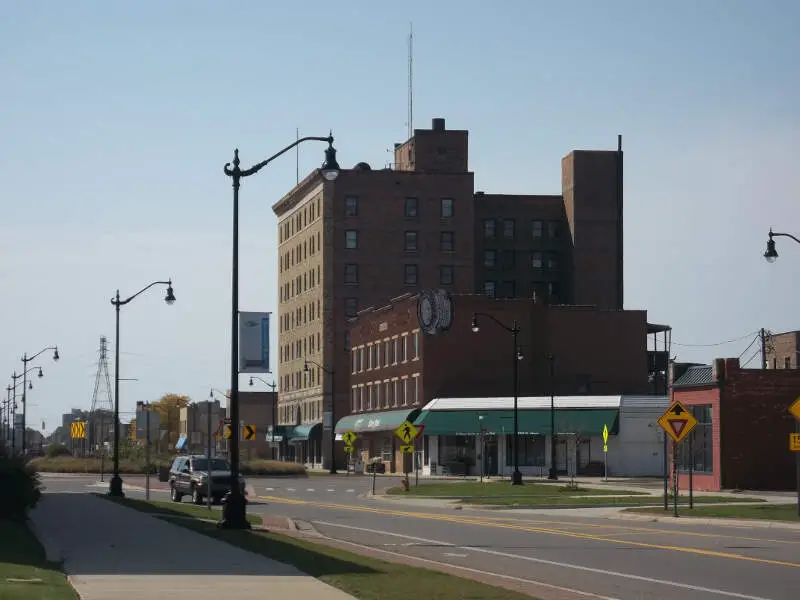 Income: $17,766
Crime: The worst in MI
High school dropout rate: 38%
A lot of people call this place 'Benton Harlem". You can see why when you look at the numbers. Harlem isn't even this bad.
There isn't a more broke and outright dangerous place in the state of Michigan (and likely in the entire midwest) than Benton Harbor. The 10,000 people just a short drive north of the Indiana state line have quite a lifestyle to endure.
There were quite a few #ghetto Tweets that we found coming from this location. Stuff like this: "Ghetto ghetto so ghetto, Benton harbor. So ghetto."
4. Detroit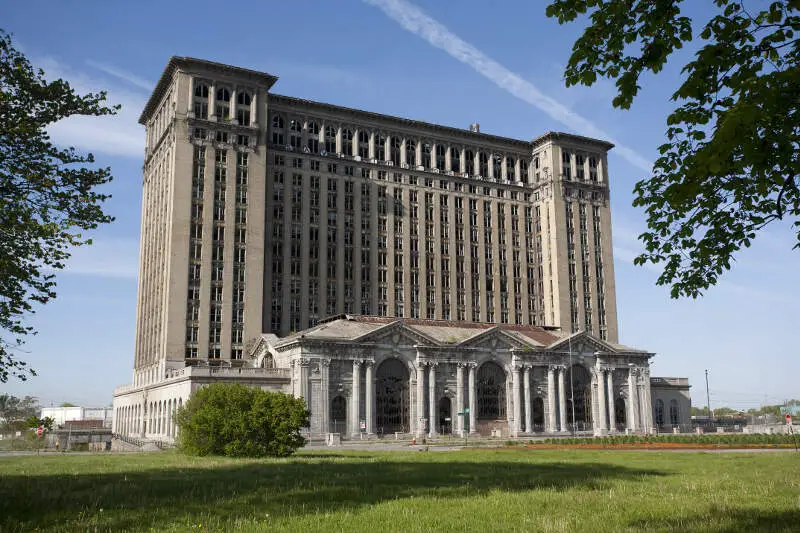 Income: $26,955
Drop out rate: 30%
Crime: 4th worst
Here's why Detroit isn't the most ghetto place in Michigan:
Incomes are really, really low, but far above a few other places. In fact, 1 in 3 Detroit families lives in poverty, and that's only the 9th lowest in the state.
Crime, of course, is horrible here, and even the police won't drive into certain neighborhoods for routine calls. Just about every day, someone is murdered in Detroit (at least that's what it was in 2013).
In Michigan, there are higher pockets of crime, where people are even poorer and less educated than they are in Detroit. Or Flint.
5. Hamtramck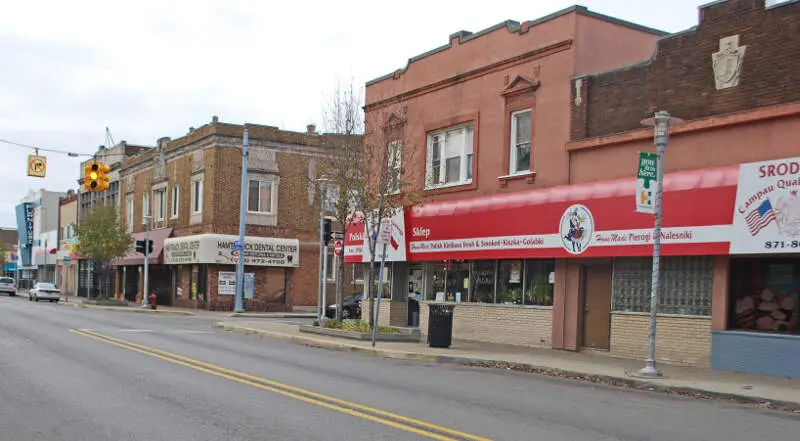 Income: $24,488
Drop out rate: 40%
Crime: 2nd highest
This ghetto city might be a little under the radar. Hamtramck is a city of about 22,000 people that's just north of Detroit. Statistically, this place is even more dangerous than Detroit proper, and it's certainly poorer and less educated.
4 in 10 people here is walking around without a high school education. That's just crazy.
If you're between the GM Assembly Center off of I-94 and Carpenter Avenue, get outta there. 'Only' 1 in 7,000 people here was murdered in 2013.
6. Inkster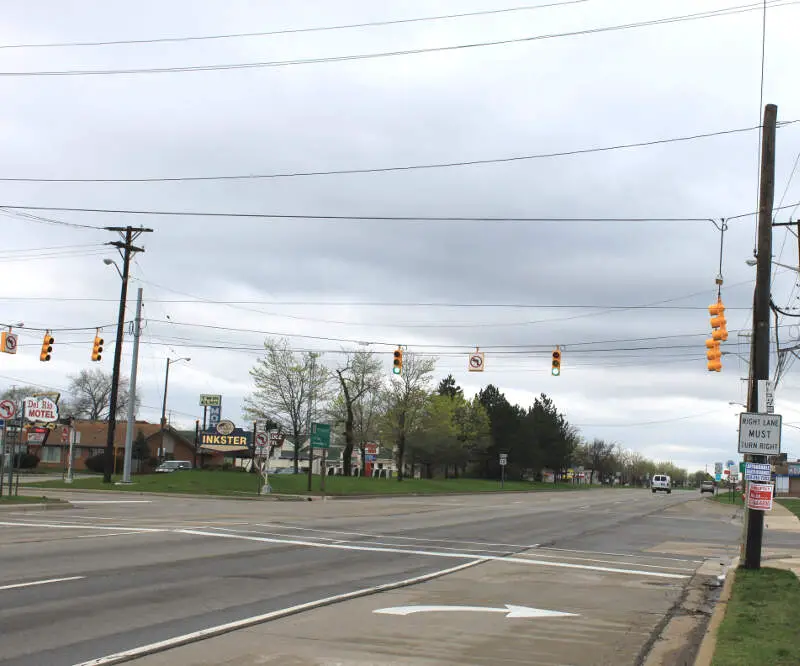 Income: $28,095
Drop out rate: 26%
Crime: 7th worst
Continuing our tour of ghetto cities and neighborhoods in the Detroit area, we come to Inkster. This mid-size city is jam packed on the western side of the Detroit sprawl, between Annapolis Avenue, Beech Daly Road, Cherry Hill Road, and Henry Ruff Road.
And 'Ruff' this place is. There were 15 people killed here in the last reporting year, and you have a 1 in 22 chance of being robbed for every year you stay here. Essentially, either you, or someone you know, had something taken from them this year.
Route 12 goes right through the heart of Inkster. There are about 10 gas stations along this stretch. Don't stop.
7. Flint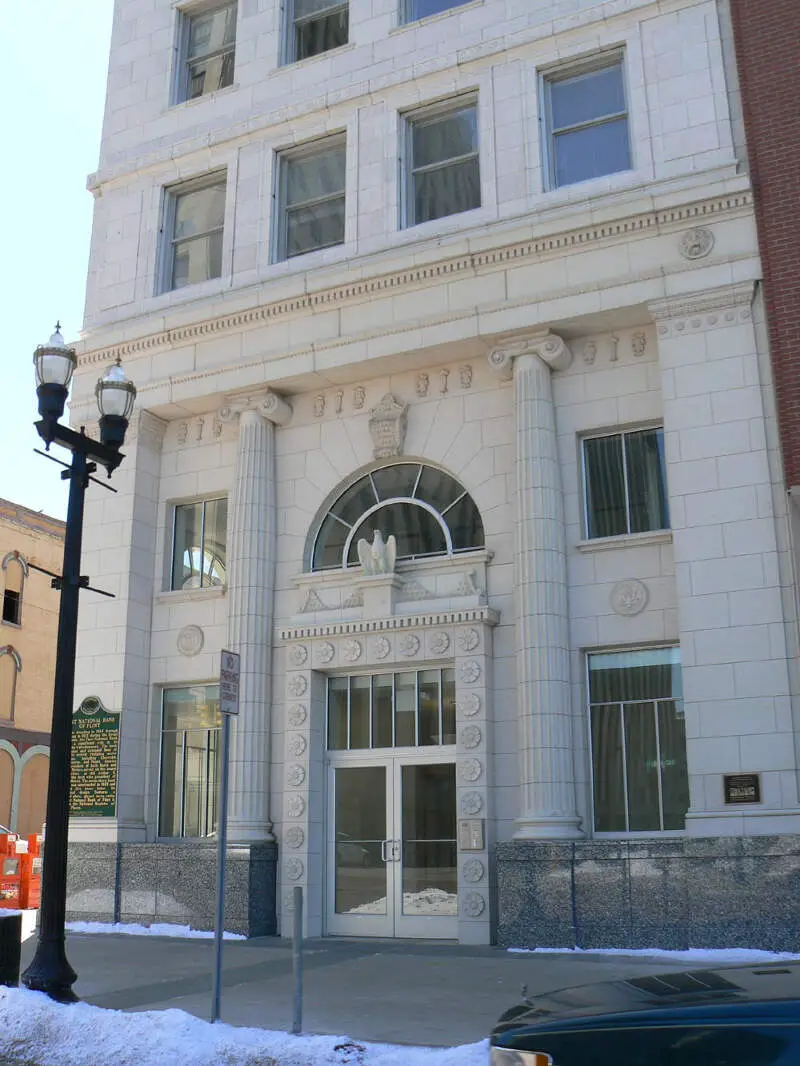 Income: $26,595
Drop out rate: 24%
Crime: 3rd worst
Of course, Flint is ghetto. We already know that. What the data is telling us is that Flint is not as 'ghetto' as other places. People in Flint are either going to argue with us on that or praise the Lord that we published this.
Sure, Flint had 48 murders. But there are more than 100,000 people. We digress.
We were a little entertained combing through the ghetto Tweets coming from Flint.
"Flint..where you have to wait for the ghetto bird to fly past before you can get home"
A ghetto bird is a police helicopter in case you didn't know the lingo.
8. Niles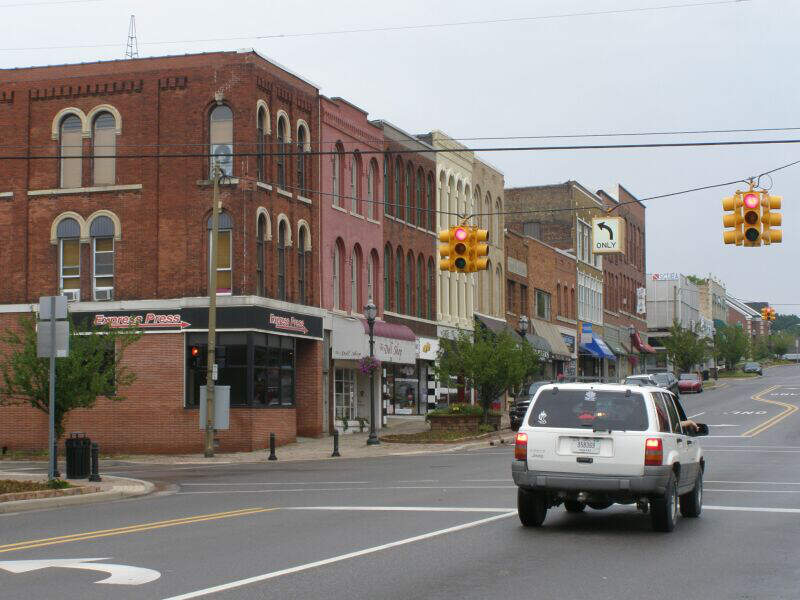 Income: $31,264
Drop out rate: 25%
Convenience stores: 10th most
Niles is above average for crime, but it isn't horrible. There weren't any murders here in 2013 (surprise!). But other factors make it a ghetto.
More than a quarter of the adults here don't have a high school diploma. And the Census measures adults 25 years or older. Which gives lots of people plenty of time to get their GED instead of always trying to get their BUD.
It's a pretty poor place, not too far away from South Bend, Indiana.
And if you've ever been to South Bend, you know that two blocks from Notre Dame, that place is really ghetto, too.
9. Muskegon Heights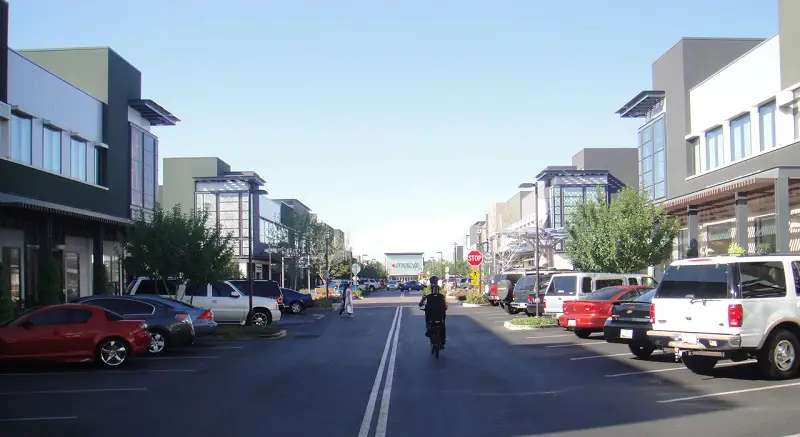 Source: Public Domain
Income: $19,853
Drop out rate: 28%
Crime: 4th worst
While the people in 'The Heights' might earn an extra few hundred bucks a month than those in Muskegon, it's a far more dangerous place. Each city had three murders, but Muskegon Heights is much smaller, meaning your chances of getting a bullet to the head are that much higher.
If you're driving along Route 31, wait until you've made it to either Grand Haven or Whitehall to stop.
10. Highland Park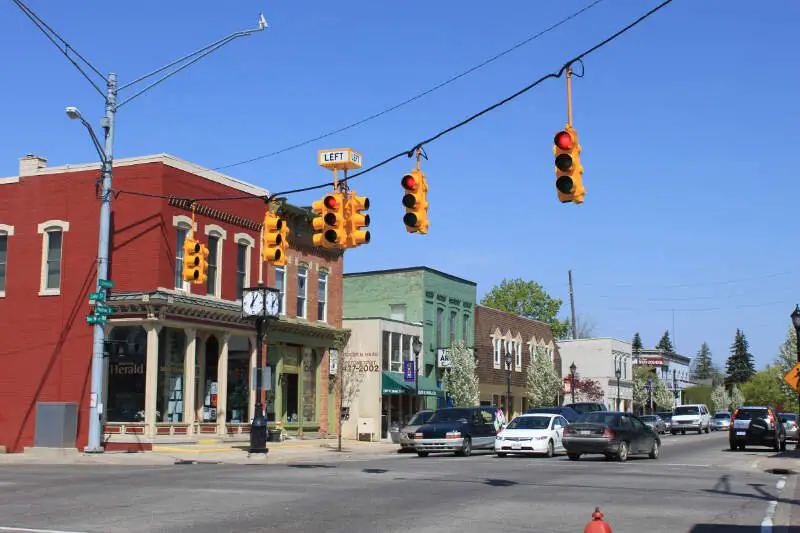 Source: Public Domain
Income: $20,298
Drop out rate: 28%
Crime: 9th worst
Highland Park is another 'city' within the Detroit metro area. It's very dangerous and poor. It's bordered by McNichols, Woodrow Wilson and Woodland Avenue.
It's quite literally across the tracks.
If you live in the area, you know what we're talking about.
There You Have It
If you're measuring the locations in Michigan where there are a high number of poor and uneducated residents, and where there are a high number of discounted shopping stores, this is an accurate list.
Additionally, here are the least ghetto places in Michigan:
East Grand Rapids
Grosse Pointe Park
Berkley
Jenison
Okemos
Now that you're done reading that story, you might enjoy our video summary of the 10 most redneck cities in Michigan. Hilarious. Click here to watch it.
Desktop users, below is a ghetto ranking chart of all large cities in Michigan, along with their crime numbers: