This article is an opinion based on facts and is meant as infotainment. Don't freak out.
Swipe left for slideshow. Article continues below.
Advertisement
[adrotate banner='4′]
There are lots of people who throw the term 'ghetto' around. But which of the largest cities in North Carolina are the most ghetto of all?
How do you decide if a place is ghetto or not? You ask the internet. According to the Urban Dictionary, a ghetto is defined as:
"urban; of or relating to (inner) city life" and "poor; of or relating to the poor life."
Using that criteria, it's not hard to scrape the internet, run some scientific data on where ghettos might exist in a state, and then put out a list.
After analyzing the largest cities here, we came up with this list as the most ghetto places to live in North Carolina:
In case you're wondering, Pinehurst is the least ghetto city of all we measured.
Read on below to see where your hometown ranked and why.
For more North Carolina reading, check out:
Advertisement
[adrotate banner='5′]
What ghetto criteria did we use?
In order to rank the most ghetto places in North Carolina, we had to determine what criteria defines a ghetto city or neighborhood.
Since a ghetto is defined as a poor area, we used income levels, crime and education levels as a guide to determine where the most broke citizens of a state live.
Additionally, the staples of inner city life include cheap and discounted retail outlets.
We started by making a list of every city in North Carolina over 10,000 people based on the 2013 American Community Survey.
We threw a lot of criteria at this one in order to get the best, most complete results possible. Using Yelp and Area Vibes, this is the criteria we used:
Household income levels
High school graduation rates
Number of convenience stores
Number of drug stores
Number of discount stores
Crime
Twitter mentions of #ghetto
Note: For the sake of getting reliable numbers, we counted places within a city's border, as well as within a short driving distance.
All of these results are listed in a per capita basis. Meaning number of stores per person in a state. Additionally, high school graduation rates are determined by looking at the total number of people who live in a city, not the current graduation rate of an area's high schools.
For geo-located Tweets, we measured all mentions coming from a city with #ghetto
Advertisement
[adrotate banner='7′]
1. Henderson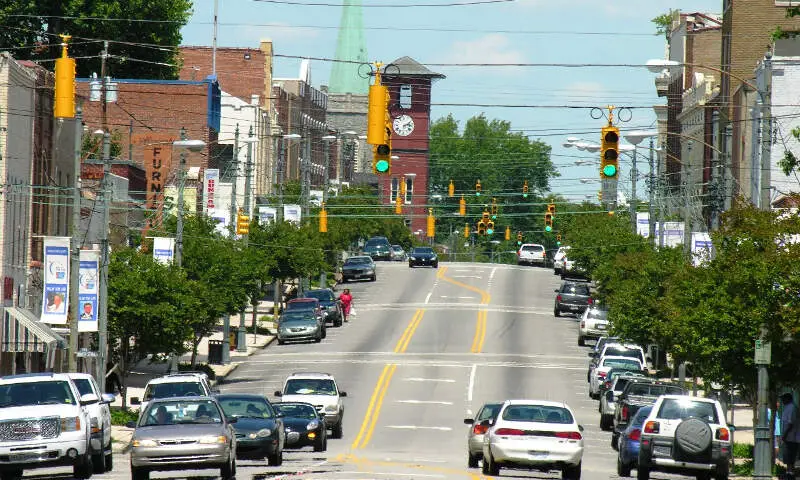 Income: $26,253
Drop out rate: 35%
Crime: 2nd worst
When you look at the data, Henderson is the most ghetto city in the state of North Carolina. Let's see why.
First off, people here are really broke. The government says a family of four needs about $25,000 a year to live above the poverty line. Most residents here are hovering right around that mark.
When measuring the largest cities in North Carolina, Henderson is the 2nd worst for crime. A whopping 4 murders in 2013, plus 1,400 property crimes means you have to seriously watch your back all the time here.
2. Statesville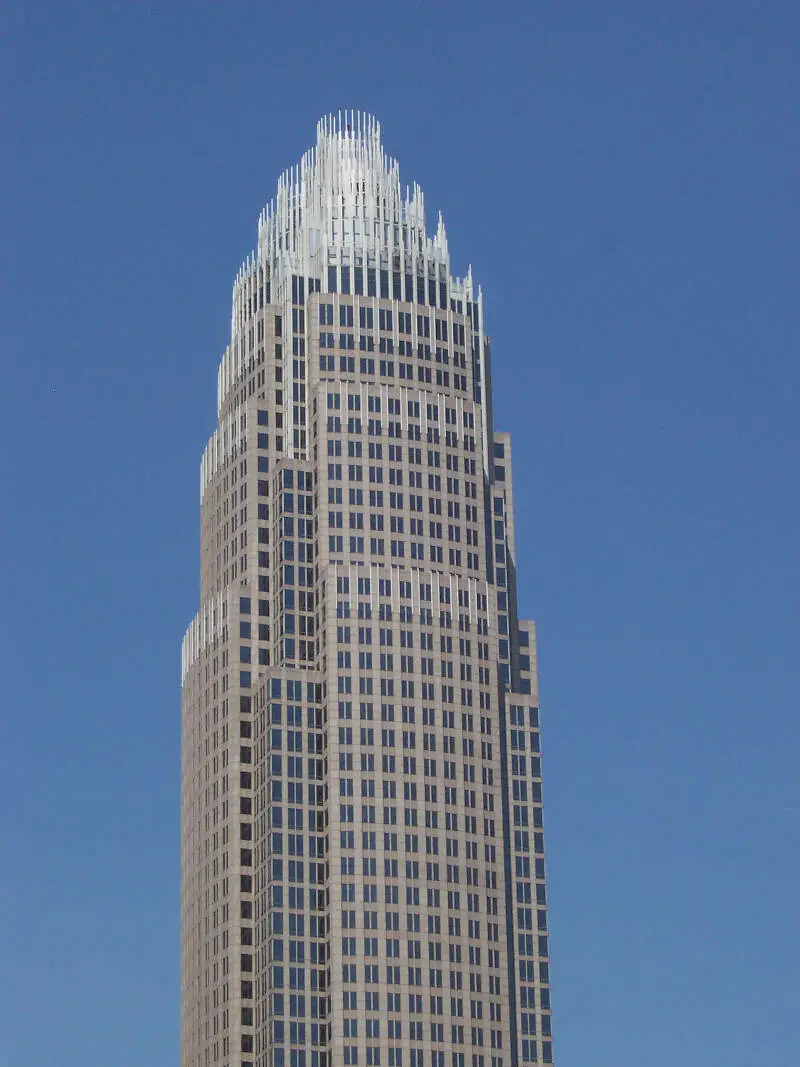 Income: $33,998
Drop out rate: 24%
Crime: 9th highest
Statesville is north of Charlotte, along I-77. Here, crime is also really high. For every year you spend here, you have a 1 in 15 chance of being the victim of some type of property crime.
Residents here are also very much struggling. 1 in 4 is a high school dropout.
40% of residents who are either kids or over 65 live at or below the poverty line.
3. Lumberton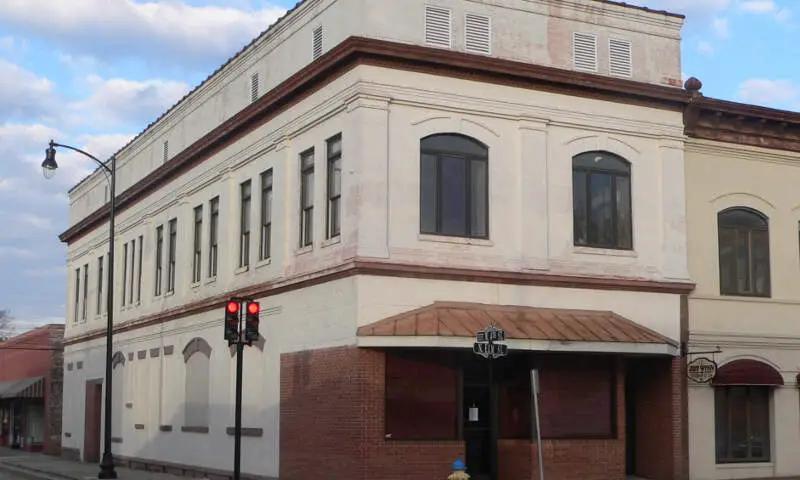 Income: $32,383
Drop out rate: 32%
Crime: Worst
When you're measuring cities over 10,000 people, Lumberton is the worst, crime wise in North Carolina.
According to the latest FBI numbers, there were three murders in 2013, and you have a whopping 1 in 7 chance of being the victim of a property crime for every year you stay here. That's close to one of the highest rates in the country.
You can see why; 1 in 3 residents over the age of 25 doesn't have a diploma. That's just asking for trouble.
There were lots of Lumberton residents voicing their opinions about how #ghetto Lumberton is.
Example: "That's it. Lumberton is officially the ghetto"
Lumberton is south of Fayetteville in your way to South Carolina.
4. Smithfield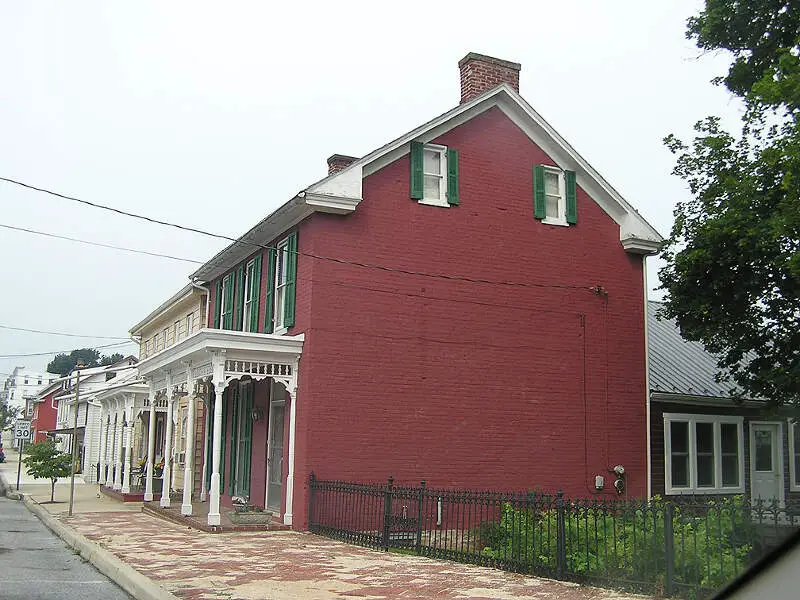 Source: Public Domain
Income: $30,243
Crime: 14th worst
Dropout rate: 29%
Smithfield is a bit of a drive south of Raleigh. In fact, so far, all of these cities are 'isolated,' meaning they're not suburbs of any major city. Perhaps that's the dynamic of the North Carolina ghetto – poor places with high crime, long distances from any major city center.
Smithfield's population is 11,000, and increasing at a decent rate. For such a small place, more than 2 property crimes each day is quite high.
5. Lexington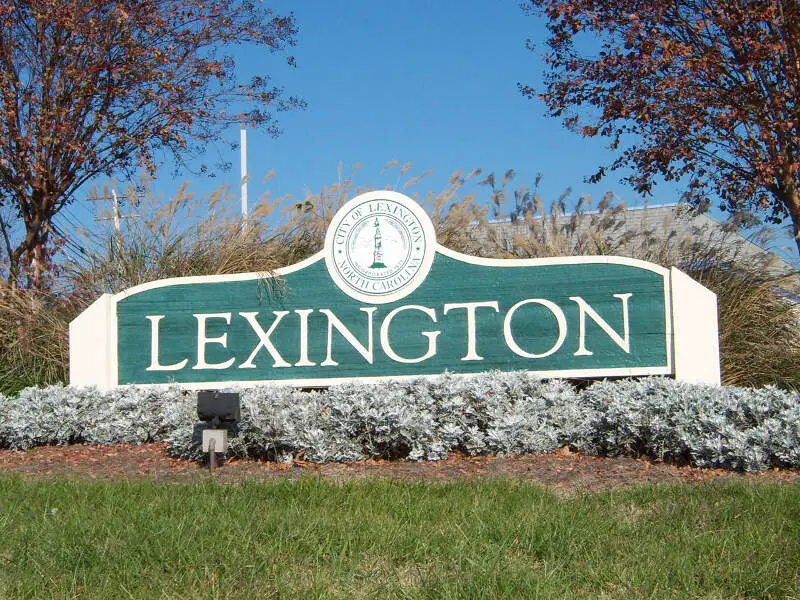 Income: $28,922
Drop out rate: 37%
Discount outlets: 2nd most in NC
Sociologists have indicated that discount outlets such as drug stores and convenience stores are a staple of inner city life. Lexington has just about more of these places per capita than anywhere else in NC.
Plus, this is the 5th poorest and the least educated among North Carolina's cities.
Crime is actually not too shabby here. That's why Lexington didn't rank higher on this list.
6. Kinston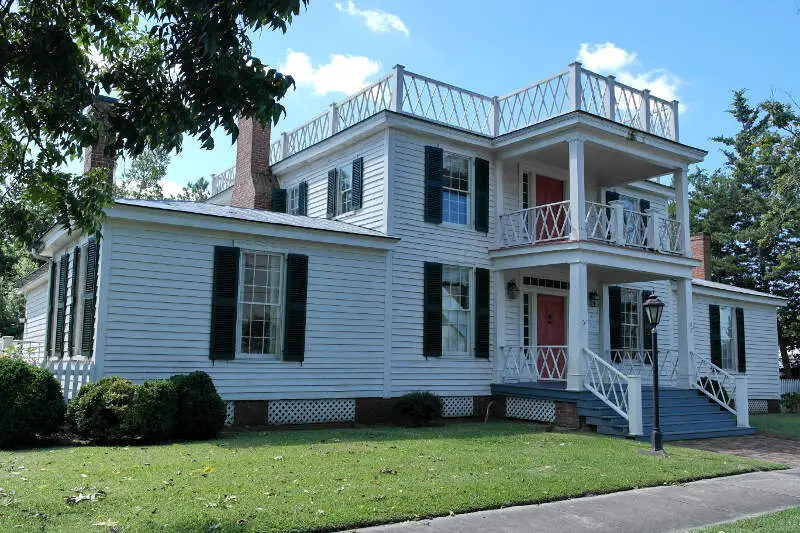 Income: $28,728
Drop out rate: 28%
Crime: 6th worst
Kinston is another 'out there' city that's miles from anywhere else on the eastern side of the state. Perhaps being so isolated has an impact on ghetto numbers. A lack of decent jobs could be the culprit here.
While there are lots of retail and construction (blue collar) jobs in Kinston, there's a lack of a professional presence here, which means low-paying jobs, poverty and high crime.
7. Shelby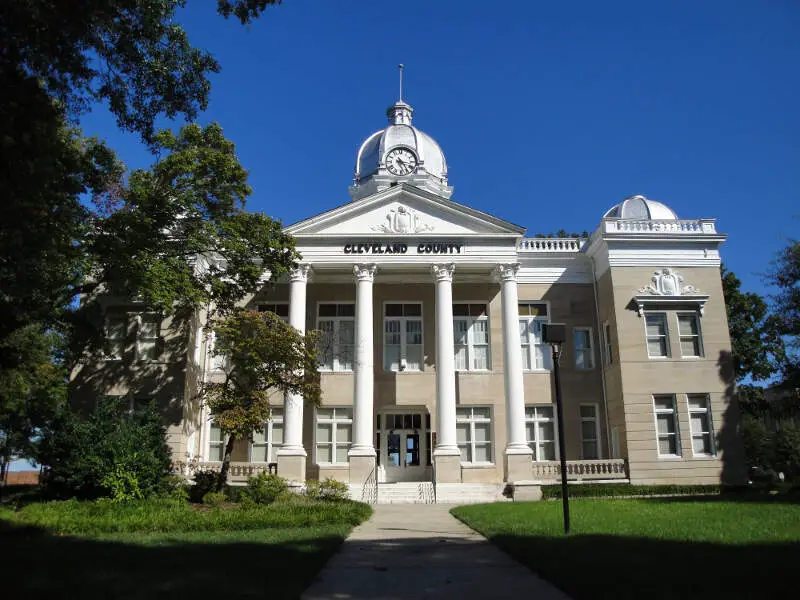 Income: $31,294
Dropout rate: 19%
Crime: 28th worst
Just past Gastonia on the western side of Charlotte is the small town of Shelby. Incomes are very low; 40% of kids and older people (over 65) live below the poverty line.
As a result, homes are some of the 'cheapest' in the state. When you can purchase a home for $70,000, that's a sign of lack of demand.
Folks on City Data who have lived in Shelby indicate that crime is increasing, there is little to do for entertainment, and very few jobs.
8. Greensboro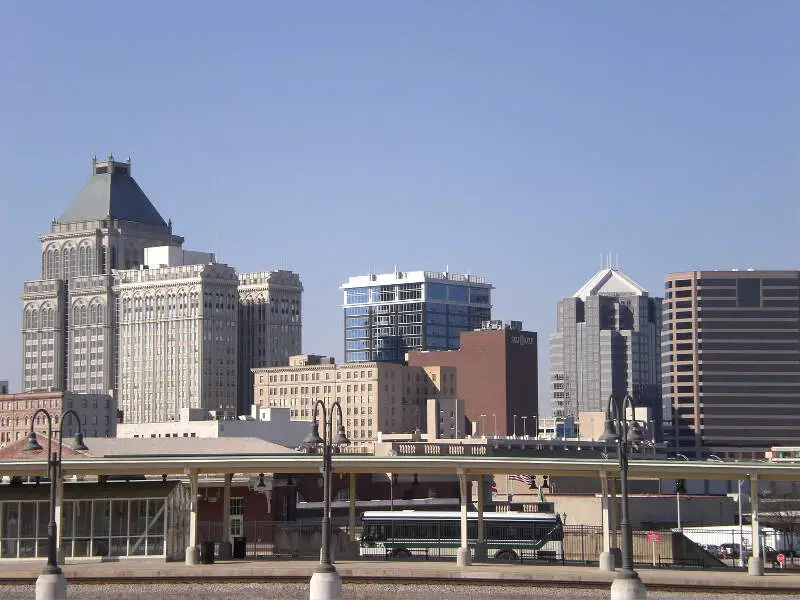 Income: $38,490
Drop out rate: 21%
Discount outlets: 1st per capita
Florida Street and a major area south of downtown is quite ghetto. If you exit I-40 at Martin Luther King Jr. Drive and head north into downtown, it would be quite wise for you to wait until you're past downtown to stop for gas.
Quite a few people spouted off on Twitter regarding Greensboro being ghetto.
Example: "Watching neighbors cuss each other. The adventures of ghetto Greensboro."
There isn't a place in North Carolina where there are more drug stores and convenience stores than here. It's very surprising that the area surrounding the coliseum is so ghetto, yet is a popular place for concerts and major NCAA events.
9. Laurinburg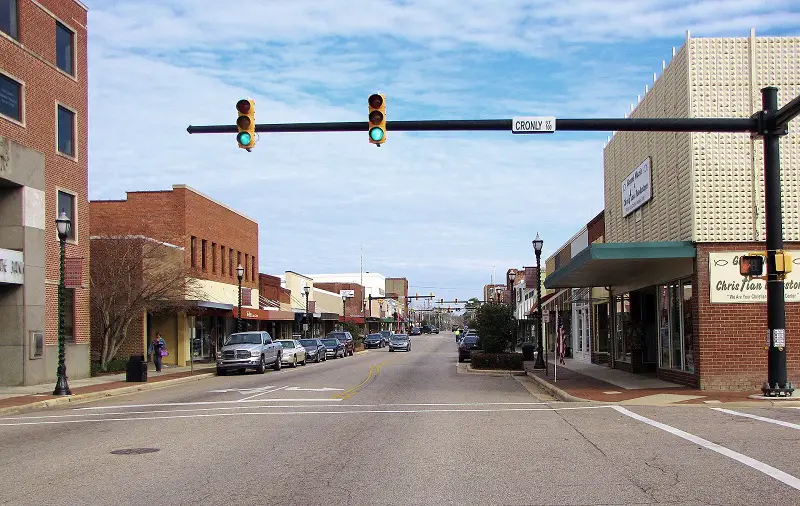 Income: $26,985
Drop out rate: 25%
Crime: 12th worst
There are only 15,000 people in Laurinburg, and yet, three times a day here, someone is the victim of some type of property crime. When a quarter of the population didn't even get a GED by the age of 25, and a whopping half of the population lives below the poverty line, things are bad in a big way.
10. New Bern
Income: $37,394
Drop out rate: 21%
Crime: 23rd worst
Here's the deal with New Bern: Sure, a big part of downtown is nice and quaint, and there are sprawling areas of the city that are very nice, with responsible members of the North Carolina community.
Then you have entire sections of New Bern that are ghetto – areas north of Queen street, especially. You can literally turn a corner here and go from peaceful and safe to 'watch your back.'
Because 25% of this city has absolutely no interest in assisting with contributing to New Bern's successes, it makes a list like this.
There You Have It
If you're measuring the locations in North Carolina where there are a high number of poor and uneducated residents, and where there are a high number of discounted shopping stores, this is an accurate list.
Additionally, here are the least ghetto places in NC: Pinehurst, Lewisville, Murraysville, Summerfield, Holly Springs.
We also wrote about the 10 Most Redneck Cities in North Carolina if you didn't happen to see it.
If you need a laugh, check out 5 North Carolina Foods Taste Tested By Californians.
Desktop users, below is a chart of all the cities, from most ghetto to least: