This article is an opinion based on facts and is meant as info-tainment. Don't freak out.
Swipe left for slideshow
Advertisement
[adrotate banner='4′]
There are lots of people who throw the term 'ghetto' around. But where is the actual ghetto in Texas?
How do you decide if a place is ghetto or not? You ask the internet. According to the Urban Dictionary, a ghetto is defined as:
"urban; of or relating to (inner) city life" and "poor; of or relating to the poor life."
Using that criteria, it's not hard to scrape the internet, run some scientific data on where ghettos might exist in a state and then put out a list.
After analyzing all cities with a decent amount of people in them, we came up with this list as the most ghetto places in Texas:
Ouch, Houston! Can this be true?
Read on below to see where your home town ranked and why.
For more Texas reading, check out:
Advertisement
[adrotate banner='5′]
What ghetto criteria did we use?
In order to rank the most ghetto places in Texas, we had to determine what criteria defines a ghetto city or neighborhood.
Since a ghetto is defined as a poor area, we used income levels, crime and education levels as a guide to determine where the most broke citizens of a state live.
Additionally, the staples of inner city life include cheap and discounted retail outlets.
We started by making a list of every place in Texas with more than 10,000 people based on the 2013 American Community Survey. That left us with over 200 places in the Lone Star State.
We threw a lot of criteria at this one in order to get the best, most complete results possible. Using Yelp and Area Vibes, this is the criteria we used:
Household income levels
High school graduation rates
Number of convenience stores
Number of drug stores
Number of discount stores
Crime
Note: For the sake of getting reliable numbers, we counted places within a city's border, as well as within a short driving distance.
All of these results are listed in a per capita basis. Meaning number of stores per person in a state. Additionally, high school graduation rates are determined by looking at the total number of people who live in a city, not the current graduation rate of an area's high schools.
Advertisement
[adrotate banner='7′]
1. Balch Springs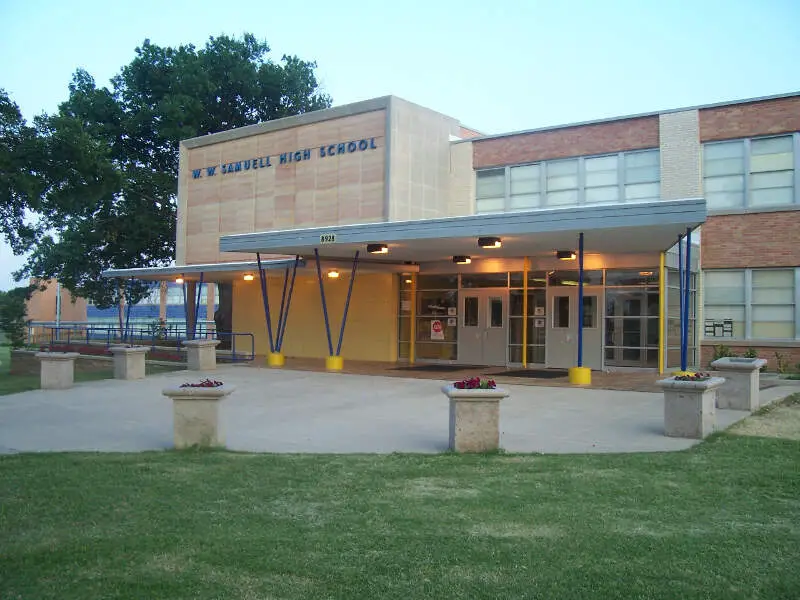 Income: $38,798
Drop out rate: 40%
Crime: 7th highest
If you haven't been through Balch Springs, know this: It's dangerous and uneducated. This Dallas suburb is in a real fine mess, and can truly be defined as one of the more ghetto areas in Texas.
Balch Springs is the 7th most dangerous city in Texas, where residents face a 1 in 18 chance of being robbed for every year they live here. And 4 in 10 residents don't have a high school diploma, meaning the unemployment rate and incomes aren't going up any time soon.
There were quite a few people in Balch Springs who Tweeted about it being ghetto, especially the Walmart:
"I hate running into ghetto people in Balch springs."
2. Jacksonville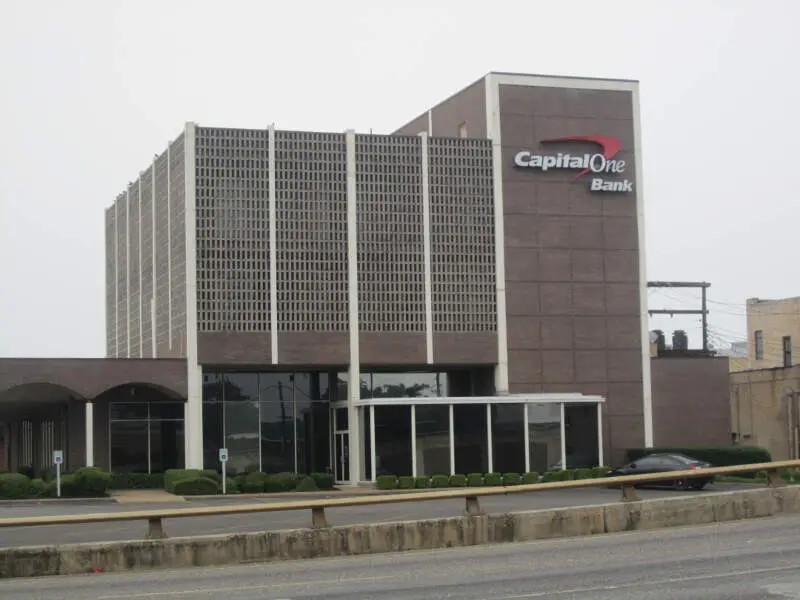 Income: $31,110
Drop out rate: 35%
Crime: 17th highest
About a quarter of the population in Jacksonville lives below the poverty line, which is simply not acceptable in America, especially in the state of Texas. That might be one of the reasons that crime is so high here. You'd be hard pressed to find a more dangerous place in eastern Texas.
Jacksonville also has a high number of convenience stores, which sociologists have determined are a strong indication of an inner city.
3. Mercedes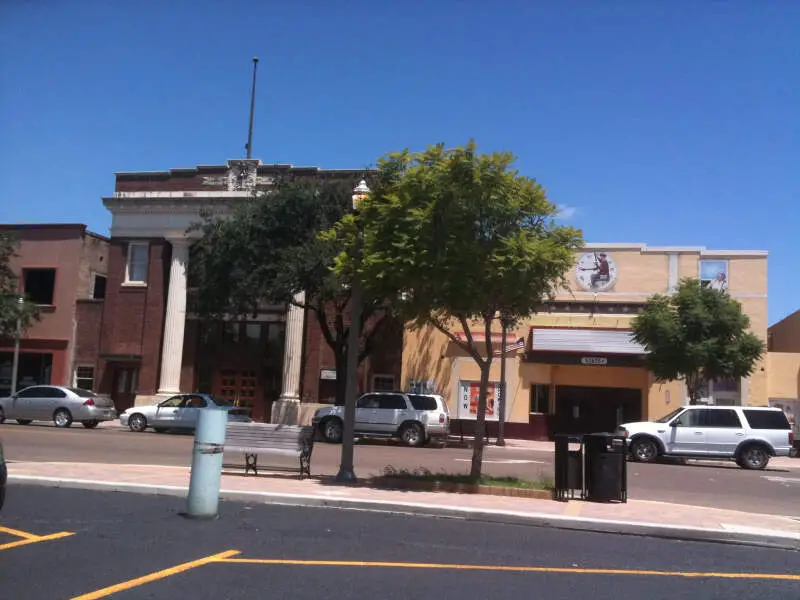 Income: $25,394
Drop out rate: 50%
Crime: 15th highest
Mercedes is a very poor town, plain and simple. Being a border town, it's understandable that a large portion of the community is uneducated, but more than half is a shame. More than a third of the population of 16,000 residents lives below the poverty line, which is defined by the government as $25,000 a year for a family of four.
The fact that Mercedes is the 15th most dangerous city in Texas may also not come as a surprise. There weren't any murders here last year, but folks here face a 1 in 20 chance of being the victim of a property crime.
4. Corsicana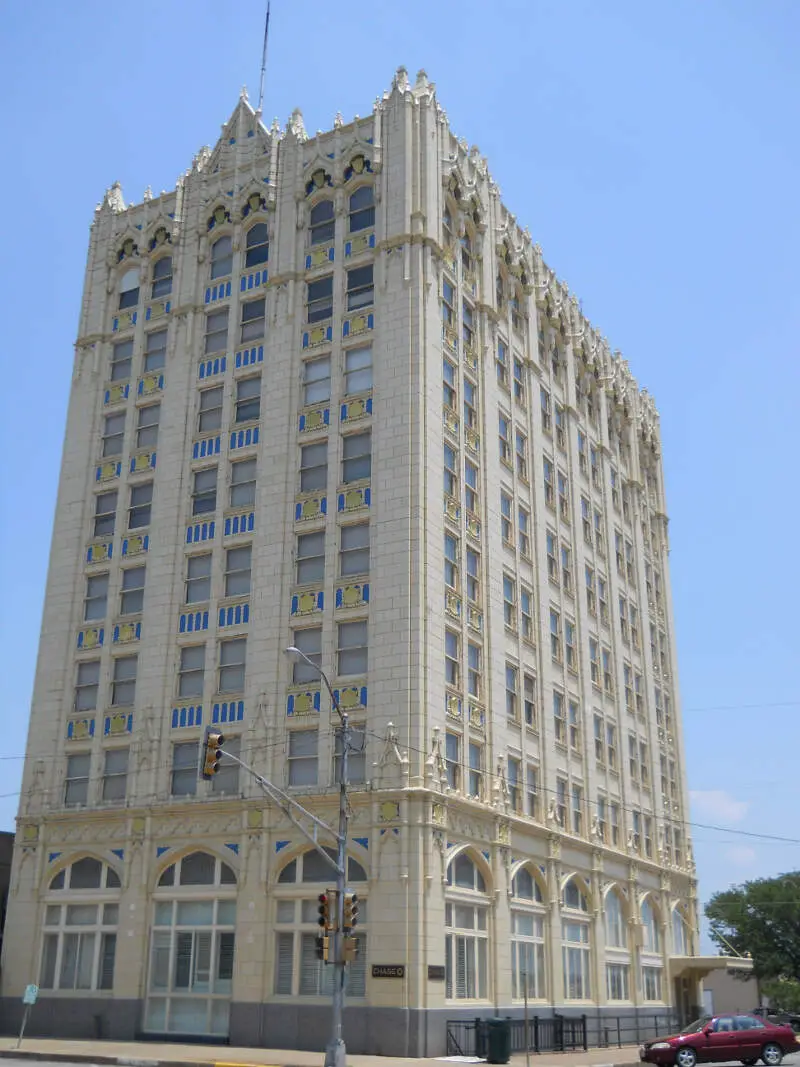 Income: $33,078
Drop out rate: 30%
Crime: 15th highest
Corsicana is just about as dangerous as Mercedes is, overall. However, it appears to be more dangerous here. There was a murder here not too long ago.
The number of convenience stores per capita is in the top 10% in Texas, and there are quite a few drug stores here as well.
Twitter had a lot of interesting things to say about how ghetto Corsicana is in the eyes of its residents. Here's one:
"Corsicana is ghetto at best."
5. Big Spring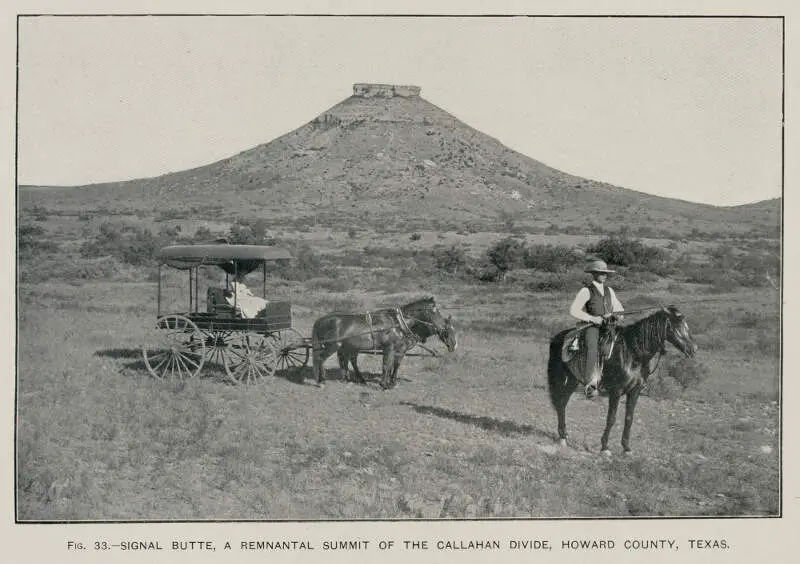 Income: $35,345
Drop out rate: 41.5%
Crime: 38th highest
Big Spring is at a major crossroads, literally and figuratively. It lies in between Midland, Abilene, Lubbock and San Angelo. And, economically speaking, it's a broke place.
4 in 10 of the residents here never got a high school diploma, so the income levels and job growth is going to be limited to the blue collar variety for at least the near future. But crime – while certainly far below average – isn't plaguing the community here like it is for other cities on this list.
6. Beaumont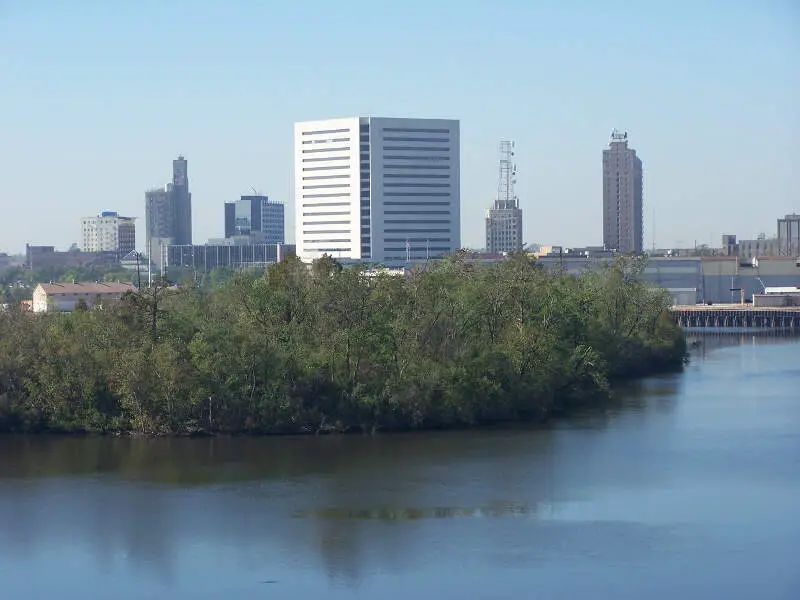 Income: $39,486
Drop out rate: 21%
Crime: 5th highest
Here's the deal with Beaumont: Sure, being a large city, it has a rich history and deep culture. There are plenty of jobs in the area as well.
However, the unemployment rate here is higher than it is for many of the smaller cities we've mentioned earlier. Which is an indication that people aren't trying to get work. Folks make way too little money for such a large city.
And Beaumont is really, really dangerous. Like top 5 in the state dangerous. There were 16 murders here in 2013. If you live there for a year, you have less than a 1 in 100 chance of being raped, murdered or attacked, and less than a 1 in 20 chance of being robbed.
7. Houston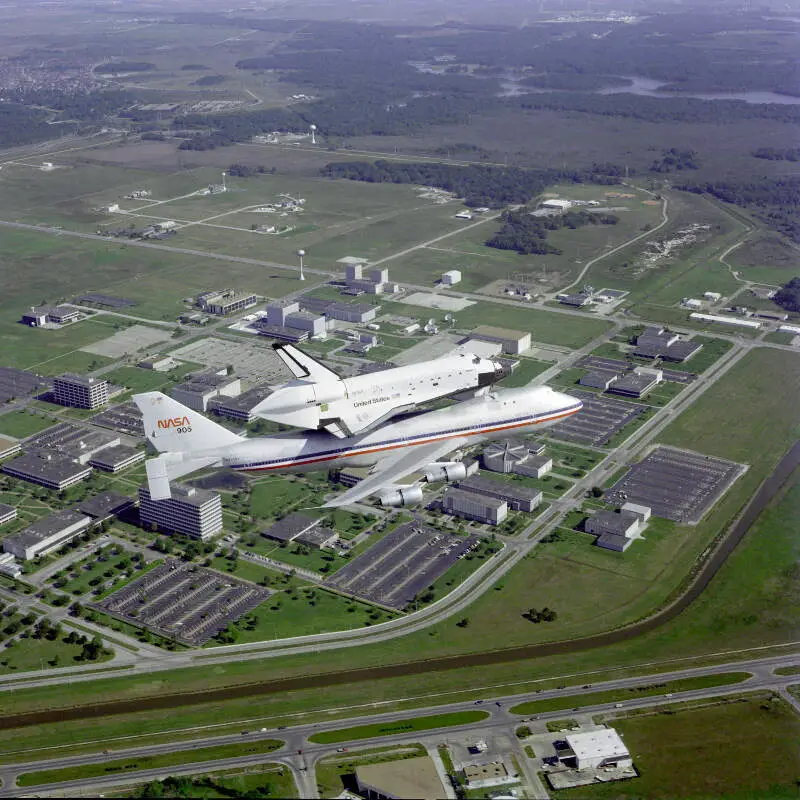 Income: $40,000
Drop out rate: 29%
Crime: 7th highest
Oh, say it ain't so!
Sure, there are TONS of big name companies here, lots to do, and some really wealthy people in the biggest city in the biggest state.
However, a very large portion of the Houston community is uneducated and broke. Would you have guessed than about 1 in 6 people in Houston lives below the poverty line? And the crime is off the charts for Texas.
But there were more than 200 people outright murdered here, and you have a 1 in 20 chance of being robbed yourself if you live here. Every day, 56 people are raped, attacked or killed in Houston. Wow.
So, yes, we're aware that Forbes, and other places have called Houston one of the best cities for business in the nation. But we're not measuring that here.
8. Humble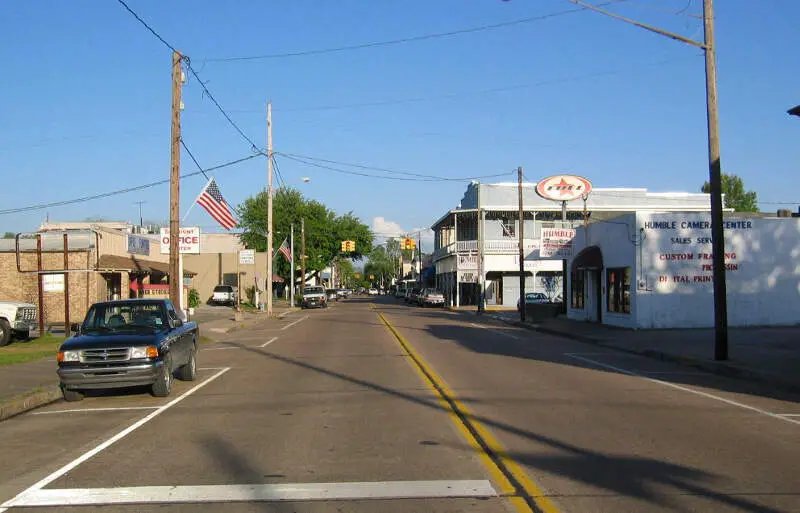 Income: $46,389
Drop out rate: 25.4%
Crime: 8th highest
Like Houston, Humble is a case of the haves and have nots. This Houston suburb is, statistically almost as dangerous as Houston, if you're measuring crimes per person. Although Humble didn't have more than 20,000 violent attacks on its residents like Houston did in 2013.
Humble's ghetto comes from its crime numbers, low economic outlook and significantly high number of convenience, drug and discount stores.
9. Port Arthur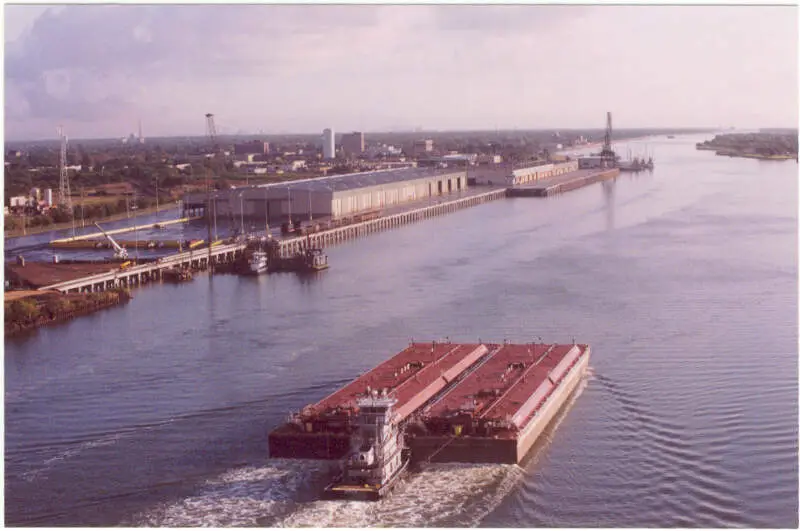 Income: $32,797
Drop out rate: 31%
Crime: 21st highest
After decades of oil industry woes, Port Arthur is trying to make a come back, and there are many blue collar jobs planned here for the near future. But a 9.1% unemployment rate is just about as high as you'll see in the Lone Star State.
Does that make a community ghetto? Not always. But an uneducated, poor population that lives in a dangerous place does. And that just about sums up the state of Port Arthur at this very moment.
10. Texarkana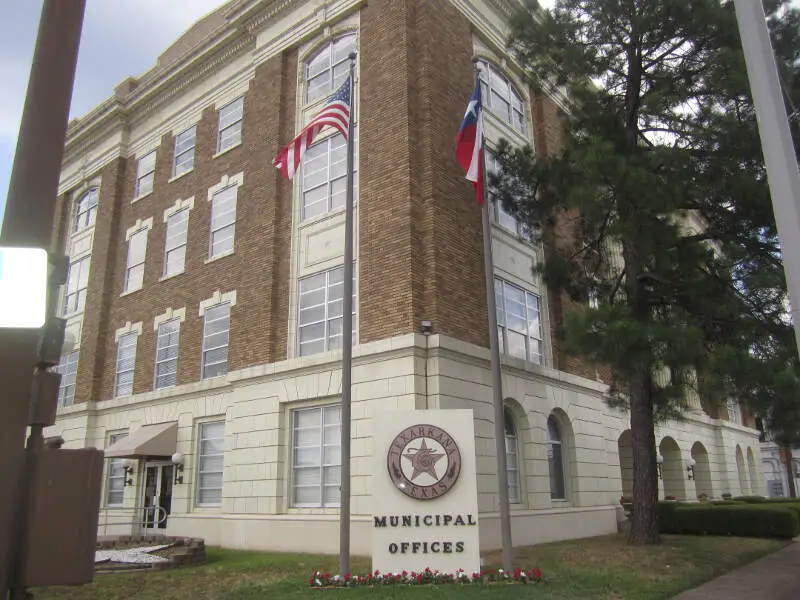 Income: $38,495
Drop out rate: 17%
Crime: 2nd highest
Poor T-Town has taken some abuse from online media sites like this one. And when you look at the numbers, you can see why. It's the 2nd most dangerous place in the entire state. There were two murders here in 2013 (which isn't staggering), but the number of crimes per person (rapes, robberies, arson) is just about as high as you'll see here.
The economy in Texarkana isn't as far behind as some of the cities above, but it's still bad there.
Twitter is filled with ghetto rants about Texarkana. Example:
"Ghetto level would be 100. #texarkana"
There You Have It
If you're measuring the locations in Texas where there are a high number of poor and uneducated residents, and where there are a high number of discounted shopping stores, this is an accurate list.
Additionally, here are the least ghetto places in Texas:
Highland Village (Pop. 15,144)
University Park (Pop. 23,241)
Keller (Pop. 39,763)
Southlake (Pop. 26,454)
Friendswood (Pop. 35,859)
You'll love an amazing video we found of Dallas. A videographer used a drone, and it might be the best video ever filmed of the Big D. Click here to watch it.
Desktop users, below is a chart of the top 100 ghetto cities in Texas, along with their crime rates: