This article is an opinion based on facts and is meant as infotainment. Don't freak out.
Swipe left for slideshow. Article continues below.
Advertisement
[adrotate banner='4′]
There are lots of people who throw the term 'ghetto' around. But which of the largest cities in West Virginia are the most ghetto of all?
How do you decide if a place is ghetto or not? You ask the internet. According to the Urban Dictionary, a ghetto is defined as:
"urban; of or relating to (inner) city life" and "poor; of or relating to the poor life."
Using that criteria, it's not hard to scrape the internet, run some scientific data on where ghettos might exist in a state, and then put out a list.
After analyzing the largest cities here, we came up with this list as the most ghetto places to live in West Virginia:
In case you're wondering, Teays Valley is the least ghetto city of all we measured.
Read on below to see where your hometown ranked and why.
For more West Virginia reading, check out:
Advertisement
[adrotate banner='5′]
What ghetto criteria did we use?
In order to rank the most ghetto places in West Virginia, we had to determine what criteria defines a ghetto city or neighborhood.
Since a ghetto is defined as a poor area, we used income levels, crime and education levels as a guide to determine where the most broke citizens of a state live.
Additionally, the staples of inner city life include cheap and discounted retail outlets.
We started by making a list of cities with populations over 5,000 based on the 2014 American Community Survey.
We threw a lot of criteria at this one in order to get the best, most complete results possible. Using Yelp and Area Vibes, this is the criteria we used:
Household income levels
High school graduation rates
Number of convenience stores
Number of drug stores
Number of discount stores
Crime
Note: For the sake of getting reliable numbers, we counted places within a city's border, as well as within a short driving distance.
All of these results are listed in a per capita basis. Meaning number of stores per person in a state. Additionally, high school graduation rates are determined by looking at the total number of people who live in a city, not the current graduation rate of an area's high schools.
And by the way, West Virginia ghetto folks like to play online sweepstakes games where you can win real money. Click here to see an example where you can sign up and play for free.
Advertisement
[adrotate banner='7′]
1. Keyser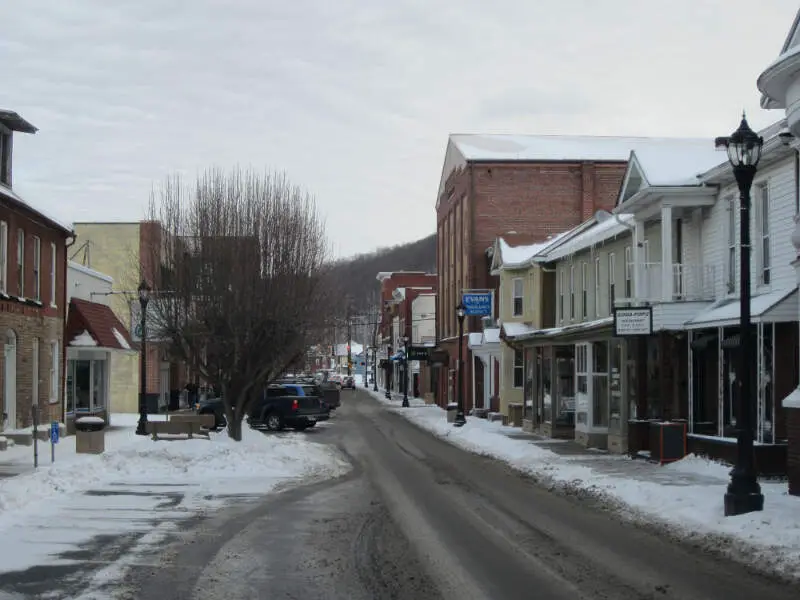 Income: Lowest
Drop out rate: 23%
Crime: Worst
When you look at the unbiased data, the city of Keyser is the most ghetto place in West Virginia. Let's see why.
First off, Keyser is the most dangerous place in the state of West Virginia, according to the latest crime data. Residents are also the poorest of all cities in West Virginia, where families average less than the poverty rate each month.
When nearly 1 in 4 residents are without high school diplomas, it's going to be tough for this city to get out of the ghetto situation they're in.
Keyser is along Route 220, not too far from the Maryland border.
2. Beckley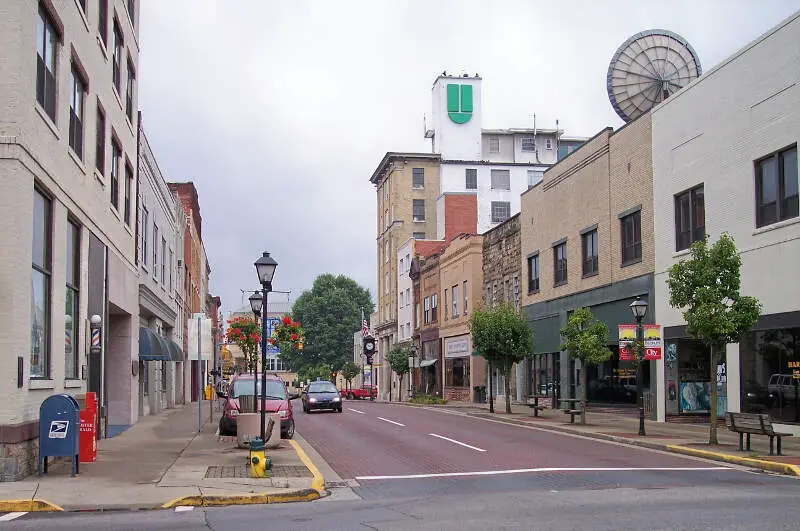 Income: 9th lowest
Drop out rate: 21%
Crime: 2nd worst
This Raleigh County city along I-64 is the 2nd most dangerous place you can live in the state. Residents who spend a year within Beckley city limits have a 1 in 14 chance of being the victim of a property crime each year. Beckley is also 3rd in the state for drug stores per capita.
Sociologists have indicated that drug stores and other discount shopping places are a staple of inner city life.
3. Princeton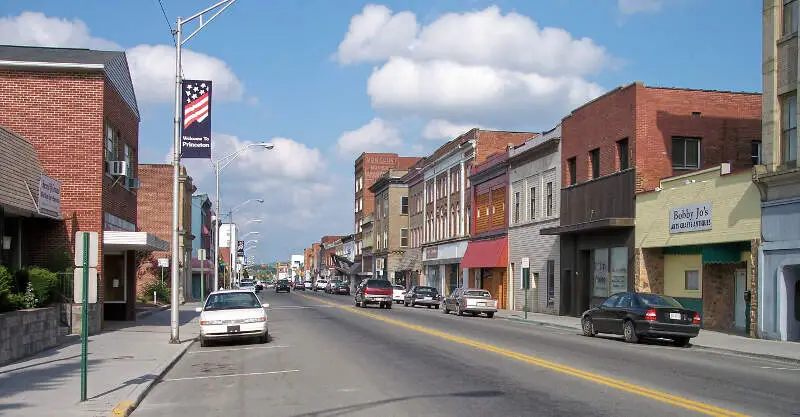 Income: 5th lowest
Drop out rate: 30%
Crime: 4th worst
Princeton is the first place people come to when they enter West Virginia on I-77. They'd see a pretty ghetto city: Crime is statistically way higher than in other places in the state, and residents are pretty poor.
But 3 in 10 never graduated high school, which is the biggest problem that may plague little Princeton for years to come.
4. Martinsburg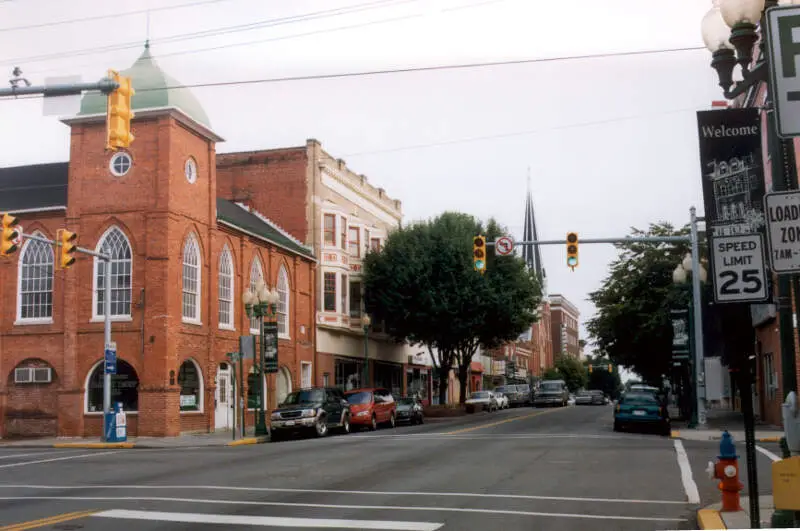 Income: Average
Drop out rate: 24%
Crime: 7th worst
The problem in Martinsburg isn't the low incomes – those are about on average with the state at about $38,000 a year. So while families here aren't comfortable, they're not struggling, either.
But it's a fairly dangerous and uneducated place with the third most convenience and discount stores in the state.
5. Huntington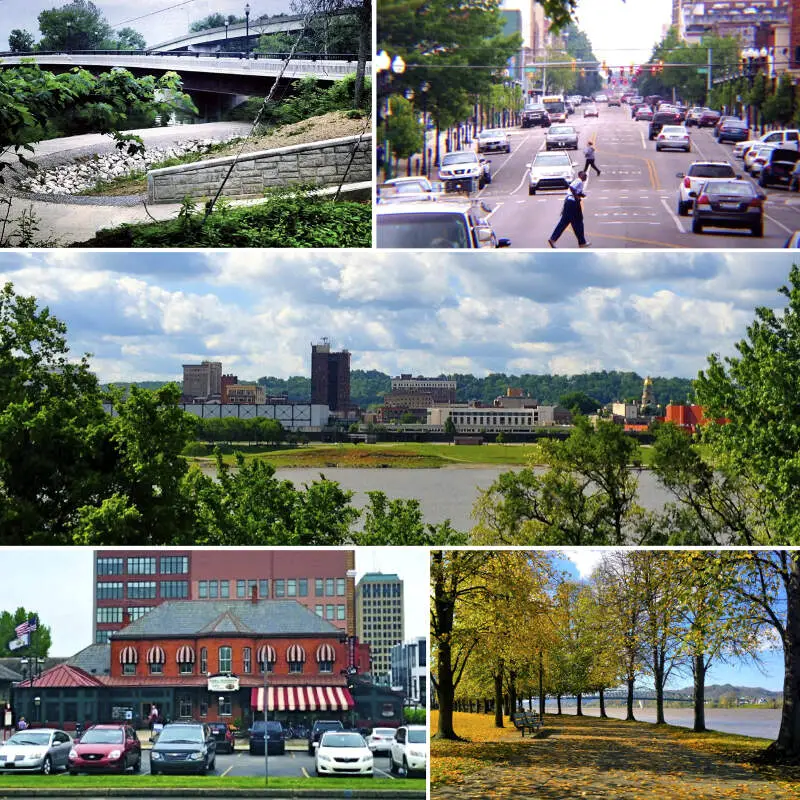 Income: 3rd lowest
Drop out rate: 20%
Crime: 8th highest
Huntington is the biggest city on this list. Home of Marshall University, and situated along the Ohio River, this city suffers from really low incomes. About 3 in 10 kids under 10 lives in poverty, and an additional 12% of the elderly does as well.
There were quite a few #ghetto Tweets coming from Huntington. Example: "If I want to go to the ghetto to watch a football game, I'll go to Huntington."
6. Bluefield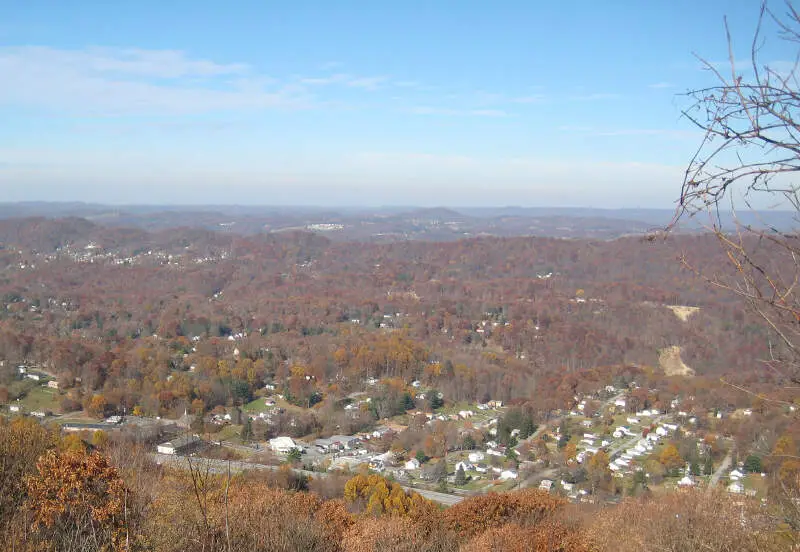 Income: 6th lowest
Drop out rate: 17%
Crime: Average
Across the board, this Virginia border town isn't horrible in any one category. It's below to far below average in all of them, making it technically one of the most ghetto cities in the state.
There were several residents who agreed on Twitter. Example: "The West Virginia side of Bluefield is so ghetto."
7. Morgantown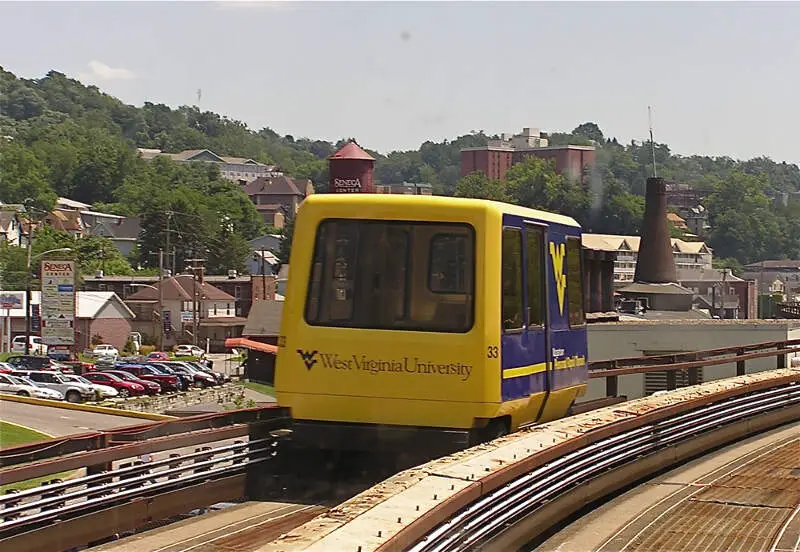 Income: 2nd lowest
Drop out rate: 14%
Crime: 10th worst
Home to West Virginia University, Morgantown's education numbers are only about average. But the crime is far above average, and it's the 2nd poorest place in the state. Families earn, on average, a tick above the poverty line, and that includes the large number of people who work at the university.
So, most residents here who aren't affiliated with WVU are simply struggling to make ends meet each month.
8. Elkins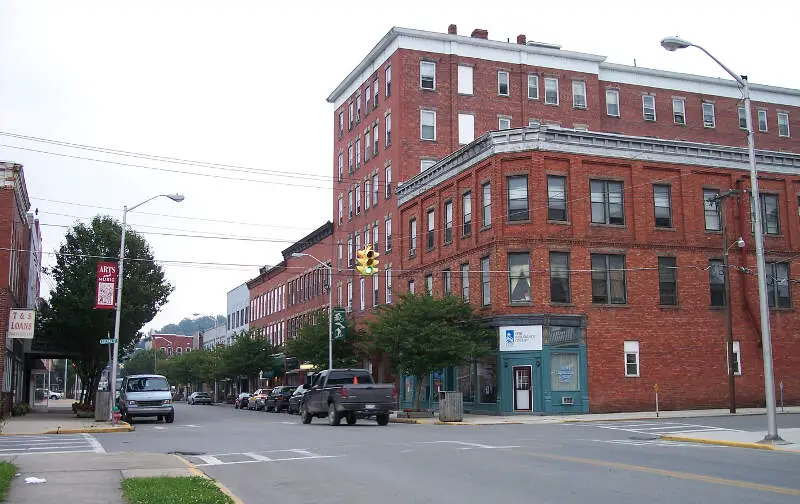 Income: 7th lowest
Drop out rate: 20%
Crime: 3rd worst
Elkins is a little city along Route 33 east of I-79. Here, crime is really bad, when compared to the rest of the state. 1 in 5 residents never completed high school, and families are relatively poor.
9. Clarksburg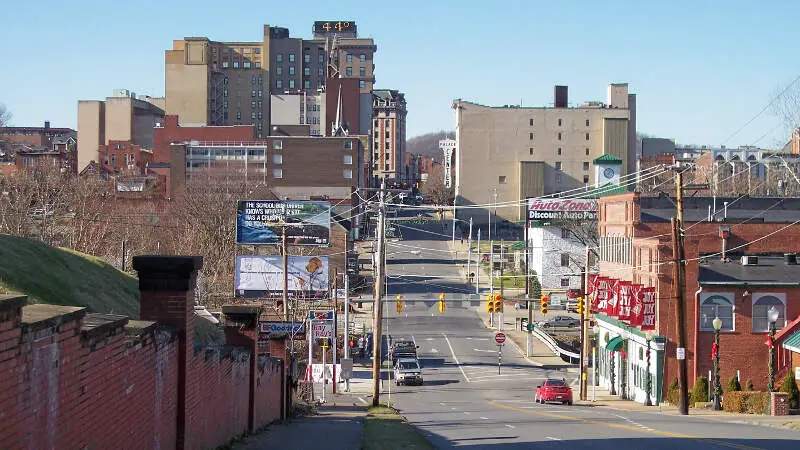 Income:11th lowest
Drop out rate: 24%
Crime: 6th worst
Such is the condition of education in West Virginia when a 24% dropout rate is only the 7th lowest in the state. But when you combine a crime rate that's 6th highest and schools that are poorly funded (the 4th lowest in WV), that's the sign of a relatively ghetto city.
10. Grafton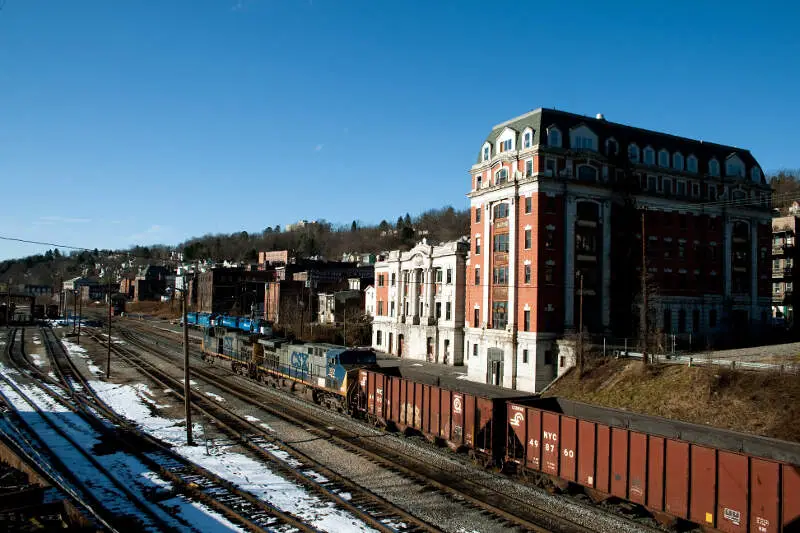 Income: 4th lowest
Drop out rate: 30%
Crime: 14th worst
You won't find a more uneducated population than in Grafton, a small city off the beaten path south of Morgantown. 3 in 10 people here never earned a high school diploma by the age of 25.
Part of that issue might lie in the public school system here, which is the least funded of all schools in the state. So, the kids are off to a slower start than their peers in other areas of West Virginia.
Other Highlights From The Study
Not ghetto at all: The following are the least ghetto areas in the Mountain State: Teays Valley, Hurricane, Cheat Lake, Brookhaven and Vienna. The first two are just west of Charleston, and the second two are northern suburbs of Morgantown.
Charleston proper is about average.
There You Have It
If you're measuring the locations in West Virginia where there are a high number of poor and uneducated residents, and where there are a high number of discounted shopping stores, this is an accurate list.
We also wrote about the 10 Drunkest Cities in West Virginia if you didn't happen to see it.
The Most Ghetto Cities in West Virginia with detailed information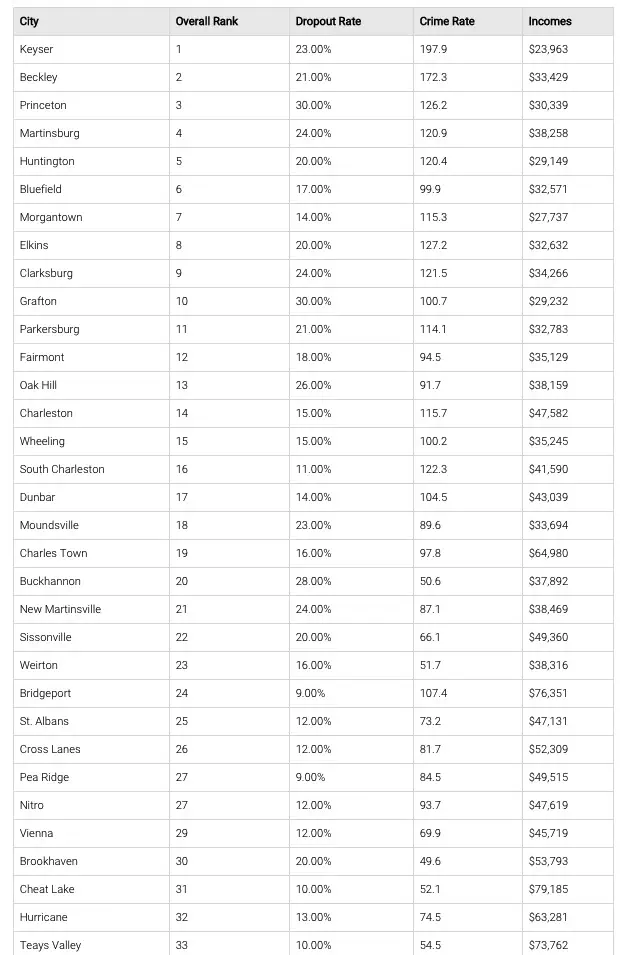 Desktop users, below is a chart of all large cities in West Virginia, along with their crime numbers.