This article is an opinion based on facts and is meant as info-tainment. Don't freak out.
Swipe left for slideshow. Article continues below.
There are lots of people who throw the term 'ghetto' around. But where is the actual ghetto in New York?
How do you decide if a place is ghetto or not? You ask the internet. According to the Urban Dictionary, a ghetto is defined as:
"urban; of or relating to (inner) city life" and "poor; of or relating to the poor life."
Using that criteria, it's not hard to scrape the internet, run some scientific data on where ghettos might exist in a state and then put out a list.
After analyzing all cities with a decent amount of people in them, we came up with this list as the most ghetto places in New York:
Middletown
South Jamaica
Brownsville
Read on below to see where your town ranked.
For more New York reading, check out:
What ghetto criteria did we use?
In order to rank the most ghetto places in New York, we had to determine what criteria defines a ghetto city or neighborhood.
Since a ghetto is defined as a poor area, we used income levels and education levels as a guide to determine where the most broke citizens of a state live.
Additionally, the staples of inner city life include cheap and discounted retail outlets.
We started by making a list of every place in New York with more than 2,000 people based on the 2013 American Community Survey. That left us with over 500 places in the Empire State.
We threw a lot of criteria at this one in order to get the best, most complete results possible. Using Yelp and Area Vibes, this is the criteria we used:
Household income levels
High school graduation rates
Number of convenience stores
Number of drug stores
Number of discount stores
Note: For the sake of getting reliable numbers, we counted places within a city's border, as well as within a short driving distance.
All of these results are listed in a per capita basis. Meaning number of stores per person in a state. Additionally, high school graduation rates are determined by looking at the total number of people who live in a city, not the current graduation rate of an area's high schools.
1. Monticello

Income: $22,897
High school: 75%
Convenience stores: 41st in NY
Discount stores: 20th
About 90 minutes north of downtown is the small, ghetto city of Monticello. Here, a quarter of the population is uneducated, and the median income is the lowest in the entire state.
The government says the poverty line for a family of 4 is $25,000. In Monticello, the average household earns less than that.
The number of drug stores and discount stores is in the top 5% in the state as well.
A recent raid by state and federal authorities brought down 14 criminals in Monticello, one of NYC suburbs with ties to major gangs. And an NPR story that was written not too long ago talked about how gangs are taking over these once decent middle class suburbs of NYC.
2. Middletown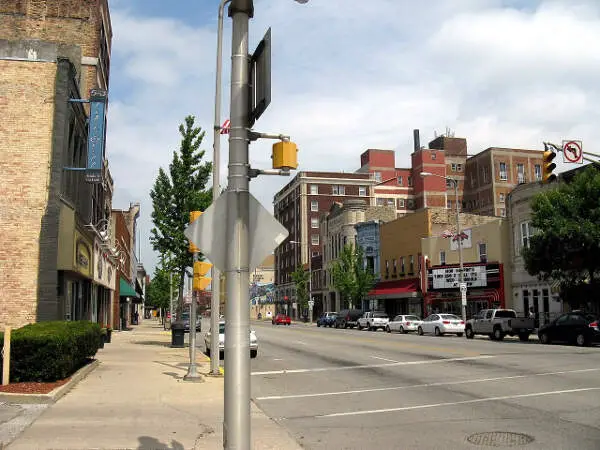 Source: Public Domain
Income: $53,096
High school: 70%
Convenience stores: 20th
Middletown can also be considered a northern suburb of NYC.
And speaking of the NPR story, a majority of the focus was on Middletown. While, as recently as 2000, Middletown was a decent middle class suburb, it has really gone downhill since. There are ties to major gangs here, and it seems to be getting worse.
And the data backs that up. The average income and education levels in Middletown are far below average.
3. Poughkeepsie
Income: $39,528
High school: 72%
Drug stores: 51st in NY
Three years ago, Forbes Magazine dissed Poughkeepsie big time, calling it one of the most miserable cities in America. If you give Poughkeepsie a Google, you'll see many mentions from locals and former Vassar College students calling the place a ghetto, too.
The numbers back it up – Poughkeepsie's overall income levels are in the bottom 10% in the state, and more than a quarter of the population never took the time to finish high school.
The inner city shopping experiences are in the top 20% – not the worst by far, but way up there.
Throw it all together, and what you have is a pretty ghetto city.
4. Hempstead

Income: $53,729
High school: 65%
Drug stores: 11th most
There were 10 murders in Hempstead in 2013, making it one of the most dangerous places in the state. And when you look at the education numbers and number of inner city shopping outlets in the area, Hempstead is by definition, a ghetto.
Located on Long Island, this city has seen its fair share of negative coverage from news outlets across the country. Newsweek Magazine once wrote about the drug war that takes place here.
5. Troy

Income: $38,122
High school: 75%
Convenience stores: 16th most
Troy has the 12th highest violent crime rate in the state of New York, and, statistically, is the 10th most dangerous place in the state overall.
Located on the banks of the Hudson River just north of Albany, Troy has been described as ghetto, grimy, gritty and run down on several internet forums, which backs up the data we analyzed.
6. South Jamaica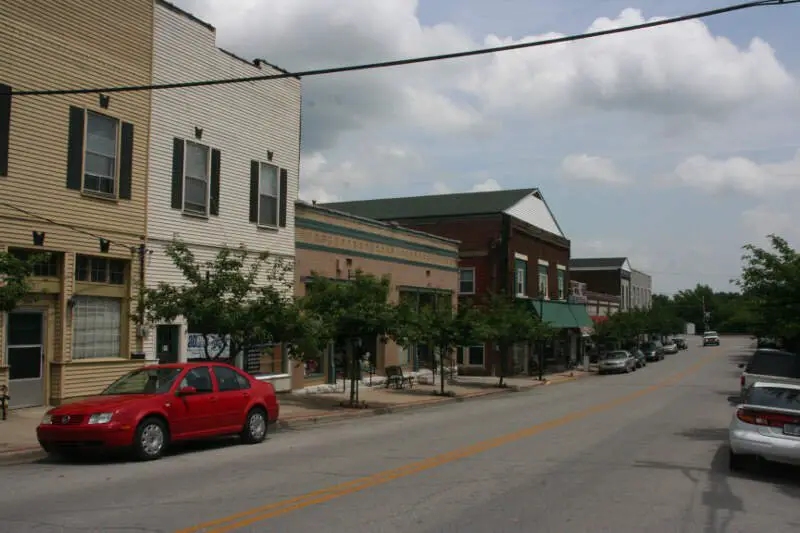 Source: Public Domain
Income: $58,343
High school: 66%
Drug stores: 9th most
South Jamaica is a working class neighborhood in Queens that's pretty famously known as being called one of the most ghetto places in New York.
Merely 1 in 3 people graduated from high school here, and the number of reports of dangerous elements here is reported pretty much daily.
Notable residents of South Jamaica include 50 Cent, Nikki Minaj, G-Unit and a rapper called Mr. Cheeks.
7. Uniondale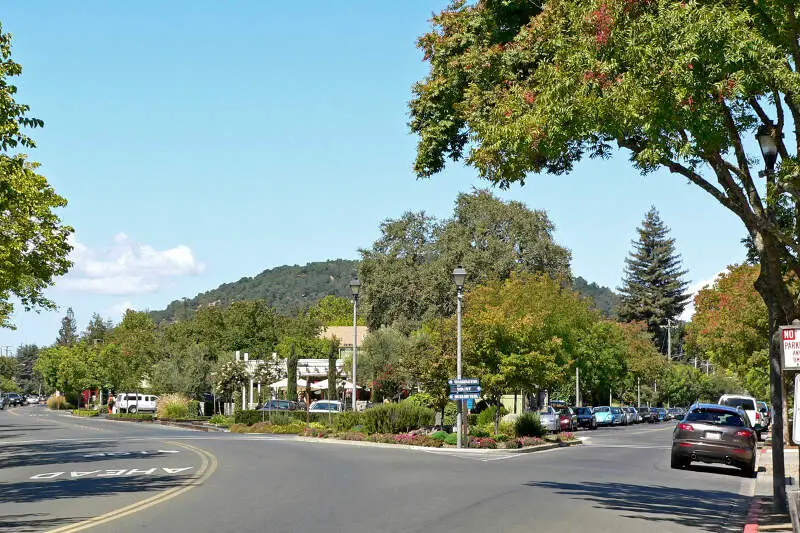 Source: Public Domain
Income: $72,370
High school: 72%
Drug stores: 11th most
Uniondale is a CDP in Nassau County on Long Island in Hempstead. While not as dangerous as Hempstead, it's still a pretty ghetto place when you look at the data. While certain parts of the area aren't 'ghetto' by definition, the north side of Uniondale more than makes up for it.
Statistically, the north end of Uniondale is one of the more dangerous areas in the state, where education and income levels are in the bottom 5% of the state.
Here's what one Twitter user had to say:
"Hempstead, and Uniondale is the ghetto of LI 4 those who don't know. Ppl are always getting arrested"
8. Newburgh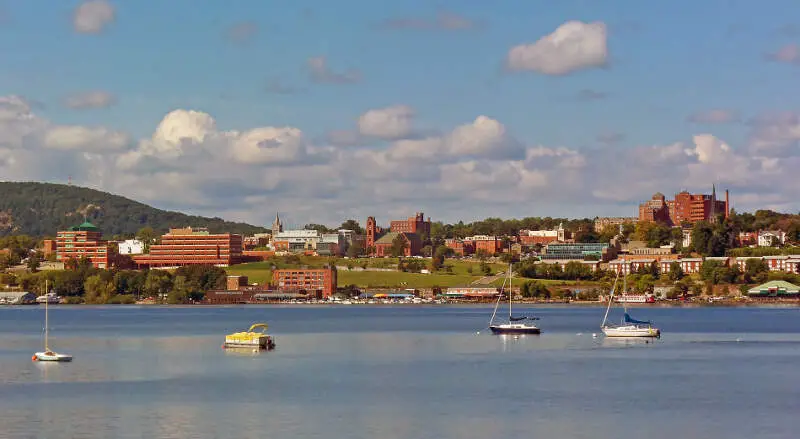 Income: $36,077
High school: 60%
Convenience stores: 12th most
Newburgh has the 2nd highest number of high school dropouts in the state of New York, and as a result, income levels are just about as low as you can get as well.
New York Magazine called Newburgh the murder capital of New York. It also referred to Newburgh as a place where drugs are openly sold, where gangs thrive, and where residents are afraid to walk on the streets, even in the daytime.
Newburgh is along the Hudson, about an hour's drive north of downtown.
9. Brownsville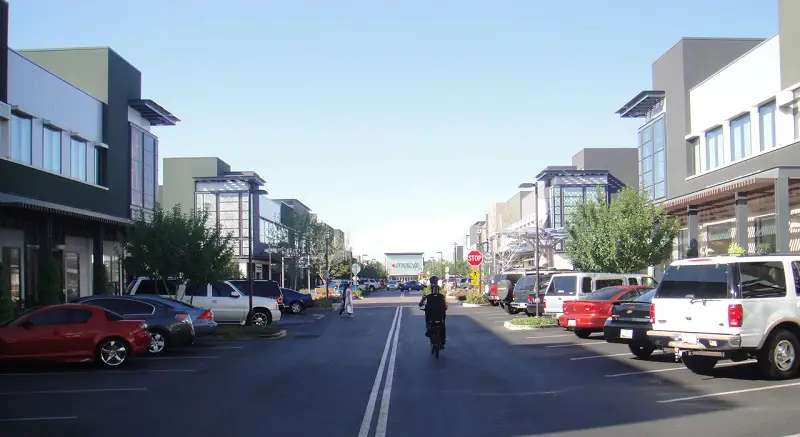 Source: Public Domain
Income: $31,833
High school: 30%
Drug stores: 1st
When you Google Brownsville, Google auto suggests 'Brownsville New York crime rate'. And, there's a subsection on the Brownsville Wikipedia page that mentions the police. That's also not a good sign.
Brownsville is a neighborhood in Brooklyn with a staggeringly low 70% dropout rate, where the income levels are bordering the poverty line.
10. Utica

Income: $31,048
High school: 73%
Convenience stores: 16th most
Utica has been cited in numerous studies as having one of the highest crime rates in the state of New York. When you look at the number of high school dropouts, income levels and inner city shopping options, you can see why.
In many of the chat rooms that talk about Utica, people argue back and forth about whether or not Utica is actually a 'ghetto.' Most former and current residents are resigned to the fact that, indeed, Utica has become a ghetto, but that it has potential to turn things around.
There You Have It
If you're measuring the locations in New York where there are a high number of poor and uneducated residents, and where there are a high number of discounted shopping stores, this is an accurate list.
Additionally, here are the least ghetto places in New York:
East Shoreham (Pop. 6,266)
Fort Salonga (Pop. 9,875)
West Hills (Pop. 5,297)
Hastings-on-Hudson (Pop. 7,855)
North Wantagh (Pop. 11,562)
We wrote about the 10 Drunkest Cities in New York if you want another interesting read.