Sure, we get it. You live in North Dakota for a reason, and it's not necessarily to `get ahead' in life. You're happy with the simple things, most likely. And boring to most Americans would be `fun' to you.
So calling a place `the worst' in North Dakota might not resonate as much as it does in other states. But we're sure you're curious, so we included you guys in our rankings. After all, the other 49 states we ranked all got tons of attention. You're welcome!
Just like every other state, North Dakota has its least desirable spots. The purpose of this post is to use science and data to determine which places are the worst you could possibly live in if you make North Dakota your home.
After analyzing 23 of the state's most populous cities (over 2,000 people), we came up with this list as the 10 worst places to live in the state of North Dakota:
What? Where are these places you wonder? And before you get all riled up and say we're picking on small town America, that's not the case.
We understand there's a lot of good in every place.
However, according to data (which doesn't measure things like beauty and 'friendly people'), there are far better options in the state for making a place home. And the worst place to live in North Dakota? That would be Jamestown.
Read on below to see how we crunched the numbers and see how your city fared in 2021.
If you're looking for something more national, check out the worst cities in America or the worst states in America.
For more North Dakota reading, check out:
The 10 Worst Places To Live In North Dakota For 2021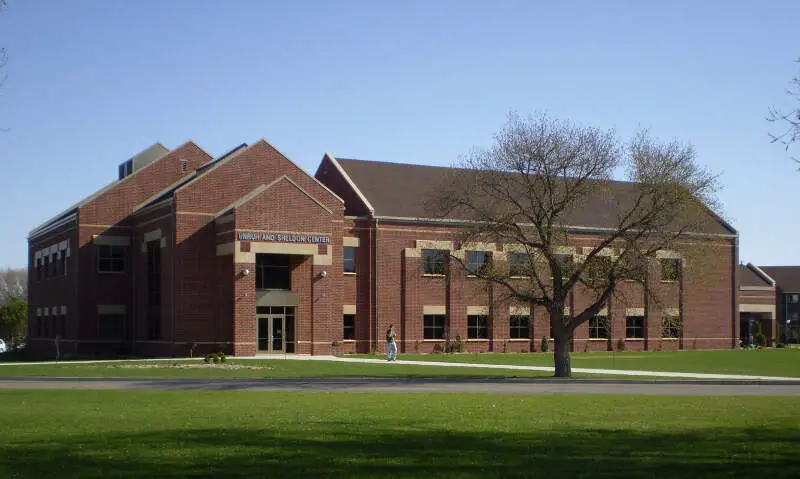 Take a ride through Jamestown and you'll probably be struck by the giant statue of a bison standing outside the National Buffalo Museum. The image underlines the fact that the town of 15,289 people is surrounded by a sprawling prairie, where giant herds of buffalo once roamed.
This isolation hurts the community. Housing and diversity are below expectations. Meanwhile, local schools score just a 5/10 on Great Schools. Still, as one of the few population centers in the area (and one of the state's biggest cities, if you can believe it), Jamestown's economy remains reasonably strong. Its unemployment rate stands at 3.2% and its median income hovers at $51,789.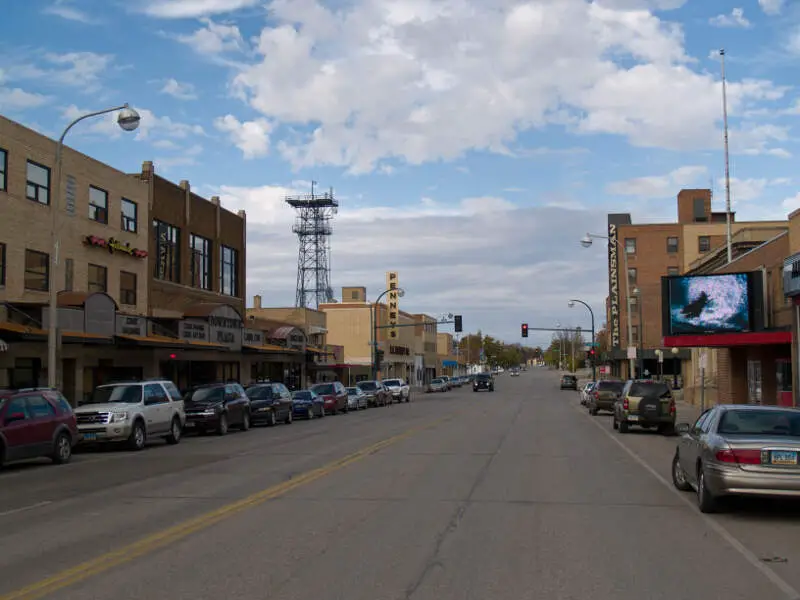 Williston has seen a major surge in population in recent decades, sparked largely by a local oil boom. The number of residents has swelled from less than 13,000 in the 2000 census to a mark of 27,250 today.
That expansion has come with its share of problems. Sure, the oil industry keeps the economy humming, leading to a 2.6% unemployment rate and a $84,710 median income. But this has led to other problems. Specifically, Williston has experienced something of a crime wave, with a rate now more than 25% above the national average.
Besides its strong financial base, Williston offers excellent outdoor activities.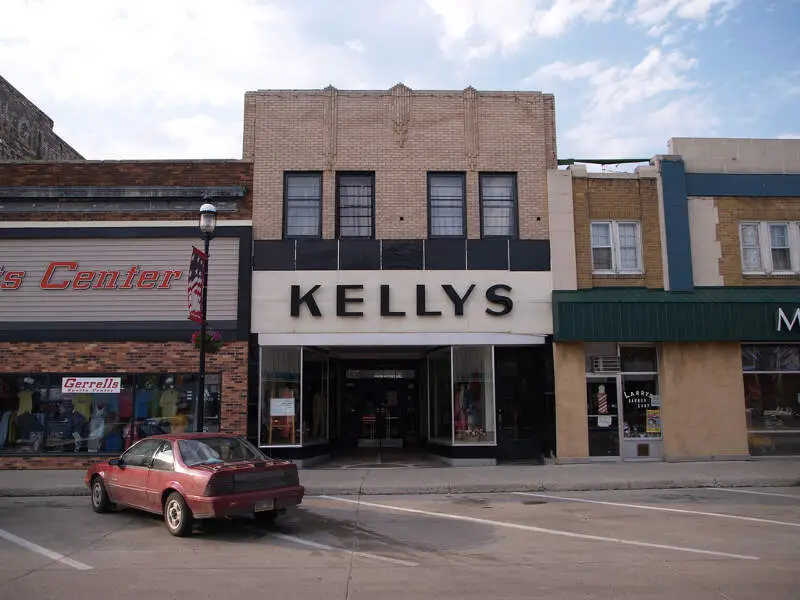 Devils Lake is the largest city to make this list. It's just across Devil's Lake from a reservation in the northern half of the state.
There's a lot of crime here. In fact, it's the 2nd most dangerous place in North Dakota. You have a 1 in 22 chance of being the victim of a property crime when you're within the city limits every year. That's a lot of stolen Vikings (or Packers) jerseys, and a lot of missing slush burgers and bunny lunches.

Welcome to Wahpeton, home of the Wahpper! In case you don't know, that's a 40-foot long statue of a fish, known as the world's largest catfish. When your town has that going for it, what could go wrong?
Plenty, as it turns out. The local economy is sluggish, with a poverty rate of 16.0%. At the same time, housing and education don't meet expectations. Meanwhile, crime tracks at 20% above the national average.
Sitting near the Minnesota border on the eastern edge of the state, Wahpeton has more to offer than a giant fiberglass fish. You can also check out the Sheyenne National Grassland, located about 40 minutes away.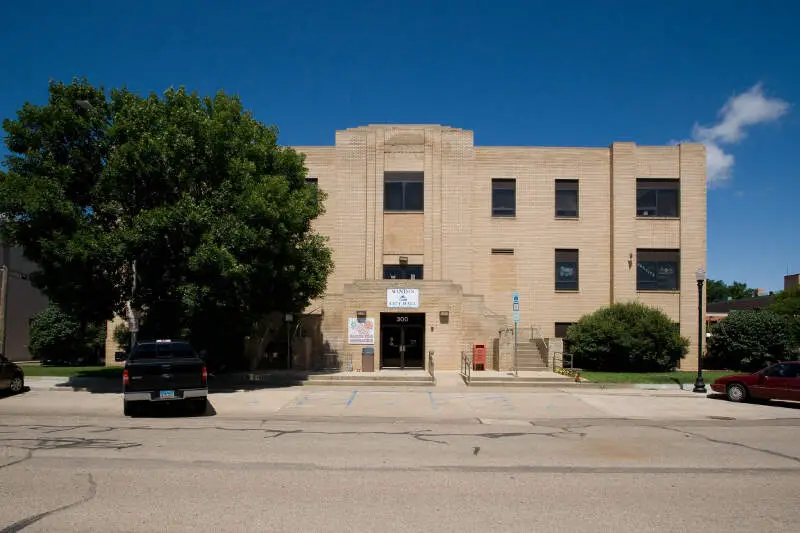 Mandan sits along the Missouri River in the central part of the state, across the bridge from the state capital of Bismarck. That makes the city part of one of North Dakota's most important metropolitan areas (though, this being North Dakota, the population only reaches 22,301).
The economy of Mandan stands well ahead of most of the towns that show up on these worst cities lists. The unemployment rate comes in at a scanty 2.3%, while median income hovers at $69,014. Still, there are weak spots. Diversity in town is thin and the crime rate beats the national average by about 30%.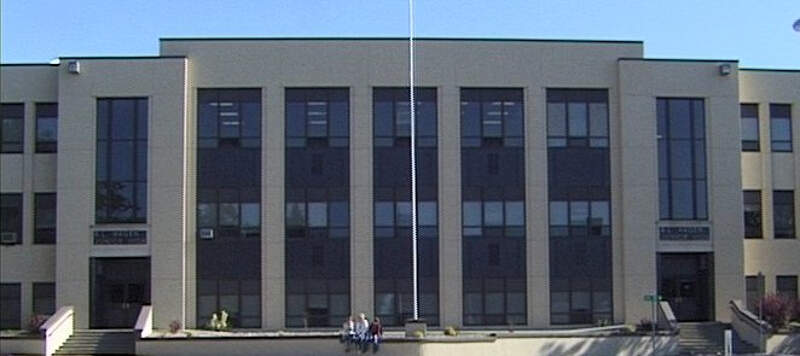 Dickinson advertises itself as "First Choice for Families, Great Choice for Opportunity." For most of the cities on these worst lists, that would count as severe false advertising. Here, it actually has some merit.
Bolstered by the North Dakota oil boom, Dickinson boasts a skimpy unemployment rate and a median income of $68,718. Housing and affordability also get solid ratings. The town also has its share of local amenities, such as the Dickinson Museum Center, featuring the Badlands Dinosaur Museum.
So what's the problem? Well, diversity in town leaves a lot to be desired. At the same time, the city's schools top out at a 6/10 on Great Schools.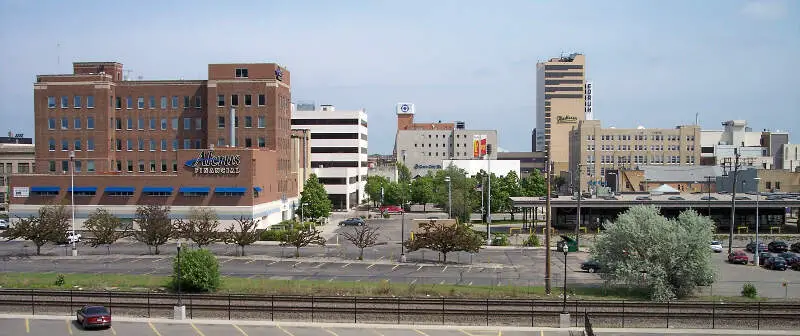 With a population of 121,889, Fargo ranks as the largest city in North Dakota. This gives the community some advantages. The economy chugs along with a 3.2% unemployment rate and a $55,551 median income. You'll also find plenty of activities, from the Plains Art Museum to the Fargo Air Museum.
However, as a big city (by North Dakota standards, anyway), Fargo has its share of problems. The median home price of $212,100 is out of the range of many locals, who earn a median income of $55,551. At the same time, the crime rate stands more than 40% above the national average.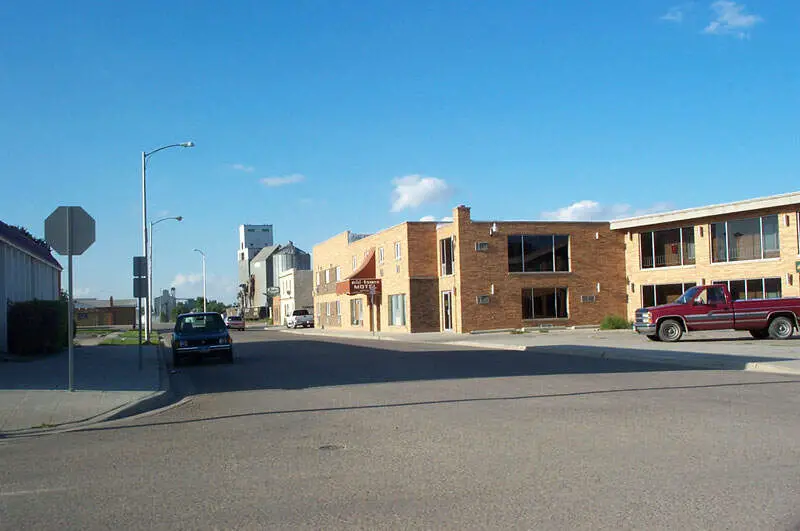 Grafton ranks as the 8th worst place to live in North Dakota for 2021, let's take a look at why.
Grafton lies in northeast part of the state, near the Minnesota state line and about an hour south of the Canadian border. Founded as a railroad town in the 19th century, the community lands on this list as a result of a weak housing situation and a substandard education system. The local high school scores a horrendous 1/10 on Great Schools.
As the principle population center in the area, Grafton acts as a regional hub. It serves as the county seat and offers significant amenities, including parks and golf courses. If you want a look at historic Grafton, you can check out Elmwood House, a Victorian mansion built in 1895.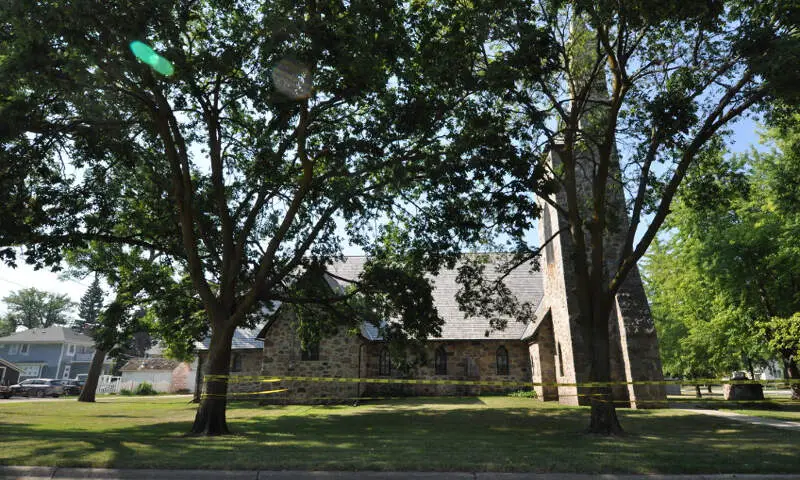 Casselton was once the site as the world's largest pile of empty oil cans. The castoffs from a local gas station were shaped into a 45-foot-tall tower in the 1930s. It lasted until the 21st century, but has since been taken down.
Having lost this landmark, the 2,677 residents of town can take solace in their strong economy. The unemployment rate sits at 1.7% and the median income hovers at $78,438. Overall, it ranks as the 9th worst place to live in North Dakota for 2021.
With that financial base, why does the city end up on this list? Because of a demolished oil-can tower? Not exactly. Instead, the community suffers from a thin diversity and a lack of amenities.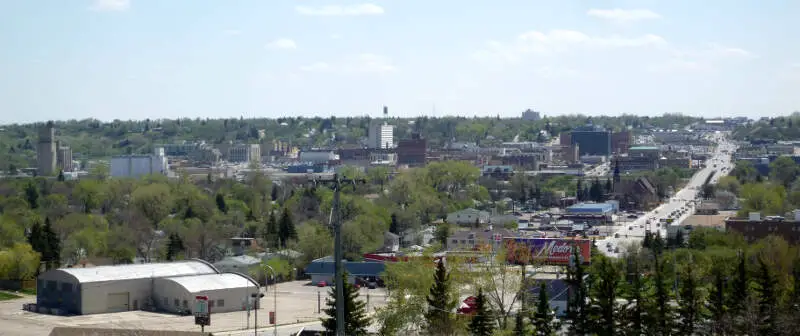 It may have only 48,261 people, but Minot serves as a major commercial and cultural center for its region. Located in the north-central part of the state, the town has a surprising number of attractions, including the Dakota Territory Air Museum and the Taube Museum of Art.
Minot also has a serviceable economy. The unemployment rate sits at just 2.7%, while the median income comes in at $66,194.
There are some issues however. Not everyone in the area shares in the prosperity. The poverty rate hangs at 10.9%. At the same time, the cost of living stands 10% above the national average. With a median home price of $208,700, Minot has an extremely expensive housing market for North Dakota.
How we determined the worst places to live in North Dakota for 2021
To figure out how bad a place is to live in, we only needed to know what kinds of things people like and then decide what cities have the least amount of those things.
We don't think it's a stretch to assume that people like the following things:
Good education
Lots of jobs
Low crime
Low poverty
Nice homes
High incomes
High population density (Lots of things to do)
Short work commutes
Health insurance
The data comes from the Census's most recent American Community Survey and from the FBI Uniform Crime Report.
We broke crime down into violent crime and property crime to give violent crime a larger weight — if you did a simple calculation of all crimes per capita, property crimes are normally 7x more common and really bias that ranking.
Furthermore, only cities with at least 2,000 people were considered — leaving 23 cities.
We then ranked each city from 1 to 23 for all the criteria with a #1 ranking being the worst for the particular criteria.
Next, we averaged the rankings into one "Worst Place To Live Score".
Finally, we ranked every city on the "Worst Place To Live Score" with the lowest score being the worst city in North Dakota — Jamestown. Read on for a detailed look at the 10 worst cities in North Dakota. You can download the data here.
This list is a scientific analysis based on real data and is completely unbiased.
Wrapping Up The Worst In North Dakota
If you're looking at areas in North Dakota with the worst economic situations, where there's higher than average crime, and not a lot to do, this is an accurate list.
And in the end, Jamestown ranks as the worst city to live in North Dakota for 2021.
If you're curious enough, here are the best cities to live in North Dakota:
Rugby (Pop. 2,724)
Carrington (Pop. 2,133)
Lincoln (Pop. 3,703)
For more North Dakota reading, check out:
Where Are The Worst Places To Live In North Dakota?
| Rank | City | Population |
| --- | --- | --- |
| 1 | Jamestown | 15,289 |
| 2 | Williston | 27,250 |
| 3 | Devils Lake | 7,344 |
| 4 | Wahpeton | 7,802 |
| 5 | Mandan | 22,301 |
| 6 | Dickinson | 22,882 |
| 7 | Fargo | 121,889 |
| 8 | Grafton | 4,182 |
| 9 | Casselton | 2,677 |
| 10 | Minot | 48,261 |
| 11 | Bottineau | 2,094 |
| 12 | Bismarck | 72,777 |
| 13 | Grand Forks | 56,500 |
| 14 | Horace | 2,741 |
| 15 | Stanley | 2,655 |
| 16 | Oakes | 2,129 |
| 17 | Lisbon | 2,009 |
| 18 | Hazen | 2,543 |
| 19 | Beulah | 3,235 |
| 20 | West Fargo | 35,397 |
| 21 | Rugby | 2,724 |
| 22 | Carrington | 2,133 |
| 23 | Lincoln | 3,703 |
Editor's Note: This article is an opinion based on facts and is meant as infotainment. Don't freak out we updated this article for 2021. This is our seventh time ranking the worst places to live in North Dakota.