This article is an opinion based on facts and is meant as infotainment. Don't freak out.
Swipe left for slideshow. Article continues below.
Advertisement
[adrotate banner="4″]
Do you know anyone whom you'd refer to as Trashy? Most likely. Either there's someone at your job, in your neighborhood, or in your family that you'd throw that label on.
Essentially, Trashy is everywhere.
While calling someone Trashy might be a mean-spirited way of ridiculing or poking fun at a particular demographic, it can also serve as a way to express disdain about the way someone lives their life. It isn't as derogatory as using other racial slurs, and in fact, the term has a bit of humor associated with it, making it the focus of pop culture.
Take for instance Jerry Springer, Honey Boo Boo, Kid Rock, Eminem, Uncle Rico from Napoleon Dynamite and even Cousin Eddie in National Lampoon movies.
According to the Merriam Webster Dictionary, trashy is defined as:
"A term used broadly to define a person or group of persons whom embody the concepts of ignorance, racism, violence, alcoholism, poverty, and anglo-saxon ancestry. Similarly used with the term 'cracker,' 'hillbilly' or 'redneck'."
So, using some data crunching, we should be able to measure where the most Trashy communities in the state of Missouri are actually located.
After pouring over data, watching too many fist fights and perusing illiterate Facebook comments, we've determined these are the most Trashy cities in Missouri:
Time to take some meth and stay up all night with us as we go through the cities one by one. And before you say we're some kind of reverse racist, you can also check out the most Ghetto city in Missouri.
For more reading, check out:
Advertisement
[adrotate banner="5″]
How we determined the most trashy cities in Missouri?
Using publicly available government data, as well as Google Maps, we were able to collect the data on the following trashy metrics:
Cities where there are lots of white people
Cities where residents are poorer than average
Cities where a high number of residents are high school dropouts
Cities with a high number of single parents
High drug use
Higher than average Payday Loan Outlets
Violent cities (measured in aggravated assaults)
Cities with a high number of residents on welfare
We used the government Census for most of the data. For drug use and violence, we used FBI data, and for Cash Advance Outlets, we used Google Maps.
Simple, right?
We limited the analysis to non-CDPs that have over 5,000 people.
Then, we ranked each place from 1 to 111 for each of the trashy criteria.
Next, then averaged all the ranks to create a "trashy index".
In the end, Nevada ended up being the the most trashy city in the Show Me State.
Advertisement
[adrotate banner="7″]
1. Nevada

Population: 8,454

% White: 94.24%
% Single Moms: 16.4%
Toss back a Budweiser, and suck down another Camel, Nevada, cause you're the whitest trash of all in Missouri.
Many of the folks in Nevada smell of cheap cigarettes, and if you grew up in Nevada, there's a decent chance you made a cameo in the movie: Poor Trashy.
Nevada ranks in the top 10% for several categories, including the number of residents on welfare, the most amount of high school dropouts, as well as a high number of payday loans per capita.
2. Warrenton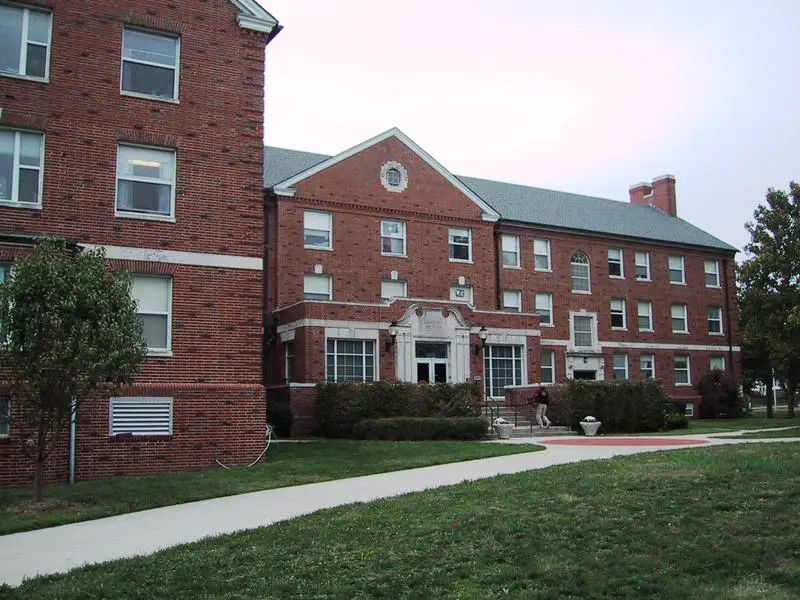 Population: 8,025

% White: 95.7%
% Single Moms: 16.59%
Warrenton comes in at a cool second. This number doesn't reflect the high number of mullets (is it a mullet, a perm, or merm Warrenton?), shag haircuts, bangs teased out like it's 1990, and the number of people who wear pajamas to Walmart.
Warrenton's population is as close to 100% white as you can possibly get. If you live here, and you are white, you're most likely making wind chimes out of beer cans.
Warrenton was in the top 5 for poor, uneducated white residents, and ranks high for check cashing outlets. At least the large number of cash advance companies is creating jobs in Warrenton.
3. Kennett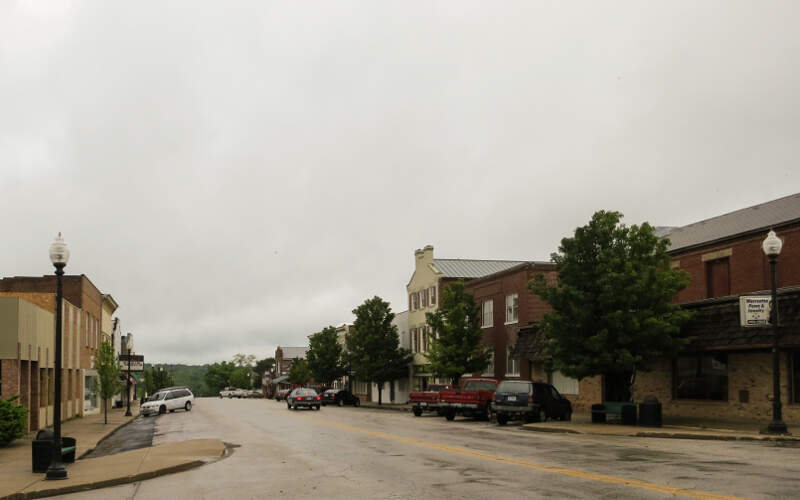 Population: 10,678
% White: 84.02%
% Single Moms: 11.26%
Kennett is located smack at the 84 and 412 intersections in the middle of nowhere Missouri. When it comes to defining proper trashy etiquette in this town, always remember the cardinal rule: You need to be careful what you say in Kennett because someone might come over and pop the wheels on your house. Or was it, you mess with me, you mess with the whole trailer park? So confusing. That's what happens when you try livin' the Kennett way: 24 beer cans, 24 hours in a day. Genius.
Kennett ranks in the top 5 for three separate trashy metrics, including a number of aggravated assaults, and for poor, white single mothers on welfare. T
4. Sedalia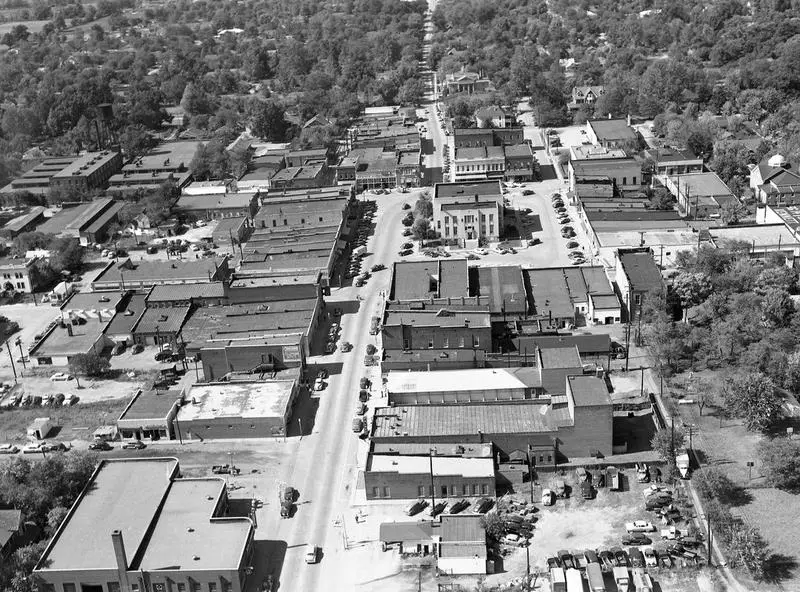 Population: 21,457

% White: 87.94%
% Single Moms: 11.83%
Chances are, if you and your kids have moved in with someone after just two dates, than you might be from Sedalia.
The city ranks high for aggravated assaults (meaning drunken fist fights). And in pure trashy form, when it comes to fightin' over that week's favorite meth slut, you better believe it will be handled bare knuckle style in your trailer's front yard.
This small city is a long drive from route 70 in the middle of nowhere (like most places on the list). And, according to online forums, Sedalia has a major drug problem.
5. Lebanon

Population: 14,637
% White: 94.16%
% Single Moms: 10.81%
Splitting the distance between Springfield and Rolla is Lebanon.
Lebanon ranks in the top 5 for three separate trashy metrics, including number of aggravated assaults and for poor, white single mothers on welfare.
If you live here, there's a good chance you're makin' meth. Meth-related arrests are on the rise in this 'little piece of heaven'. Huffin' ain't easy people. You're a true gem, Lebanon.
6. Clinton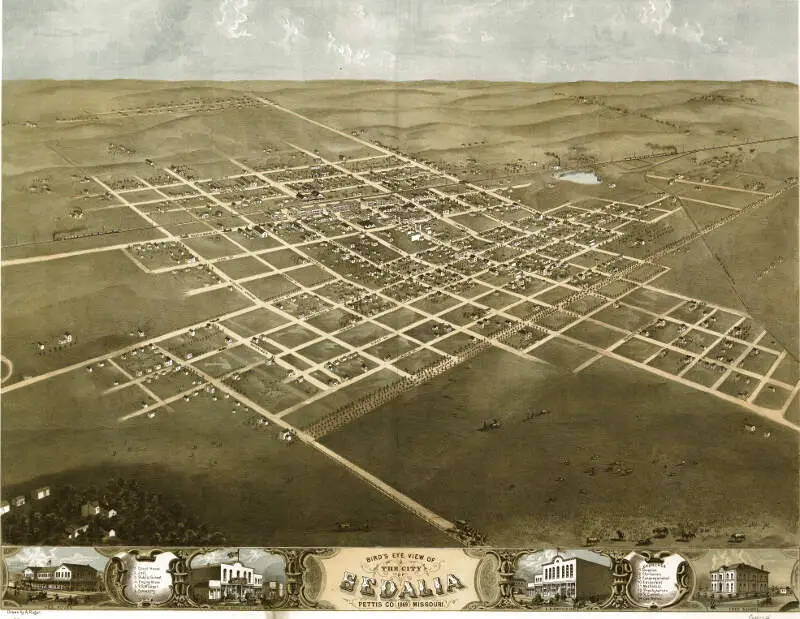 Source: Public domain
Population: 9,012
% White: 95.27%
% Single Moms: 10.7%
Welcome to Clinton, MO, where the official vehicle is a rusted out 1987 Chevy Blazer. At least they have a community college here (SFCC-Clinton), where folks can take a few classes before dropping out to take care of their kid(s).
Statistically, Clinton ranks in the top 20 in a few categories, including number of dollar stores per capita, as well as number of poor, uneducated residents. Clinton residents who want to move up in the world make the trek to the big city of Kansas City to become assistant managers at a Walmart.
This city ranks highly for single white moms and for the number of thefts per capita. Nothing says trashy more than someone taking a lawnmower to buy some meth–unless you get a DUI while driving that mower.
#YouAlmostFeltTheWindInYourMullet.
7. Caruthersville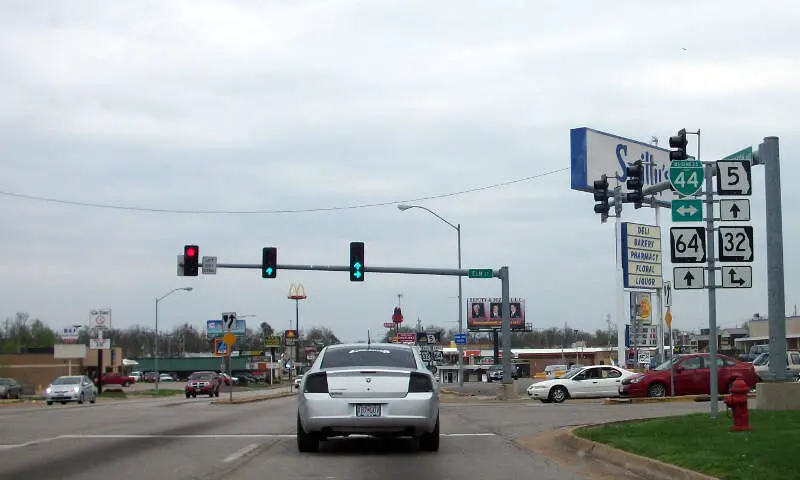 Population: 6,026
% White: 62.48%
% Single Moms: 15.88%
Caruthersville, where a large number of people live on disability, or work at one of the 20 or so Dollar Stores in the area. Just because you shop at the local dollar stores does not make you 'country chic,' Caruthersville, it makes you trashy.
And a lot of your trash must be getting into fist fights at your local dollar store when it's 50% off day, because you are 3rd for aggravated assaults.
That's right, in Caruthersville they fight over the lawn mower; they fight over what beer is better (Busch or Natural Light); they fight over who has more teeth; and of course, they fight over where the best meth is made. They just have a real chip on their shoulders.
8. West Plains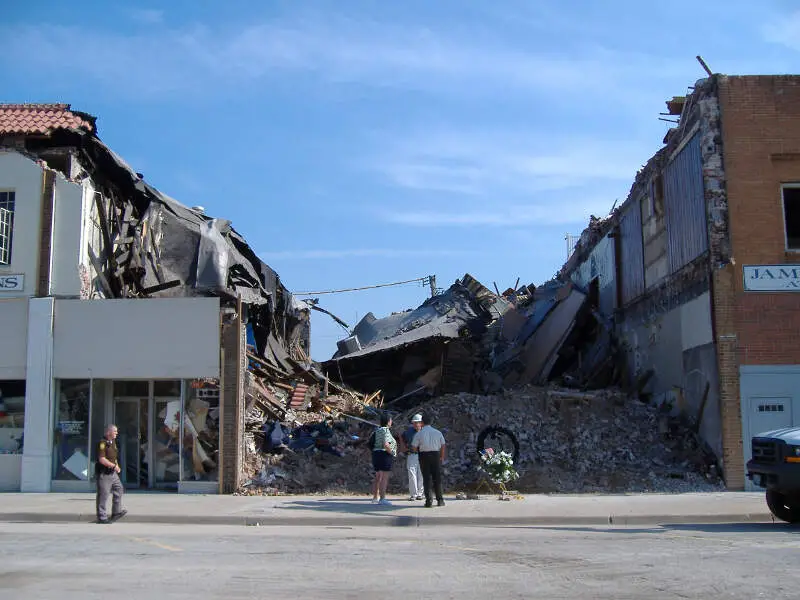 Population: 12,230
% White: 93.64%
% Single Moms: 11.79%
This Howell County city near Arkansas cracks the top 10 for most Trashy cities in Missouri. When you look at the data, it isn't hard to see why. About 1 in 5 residents is a single parent on welfare.
If you're a dead-beat dad named Rick who snorts Tylenol (because he can't afford adderall), and you moved to Little Rock with your sister's best friend, you might be from West Plains.
9. De Soto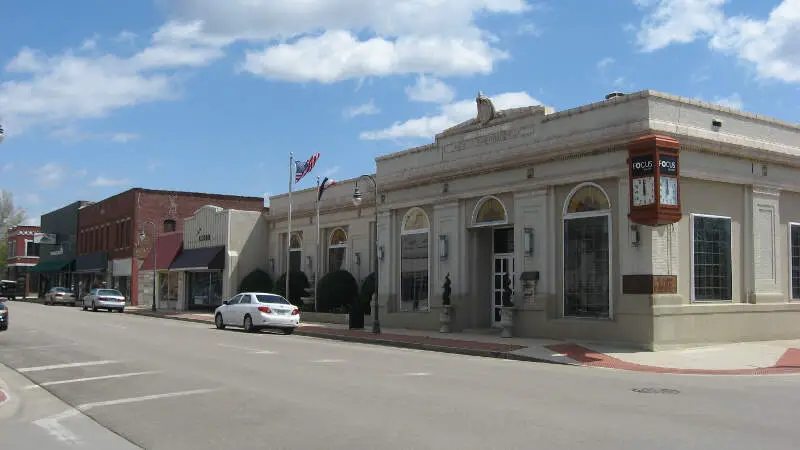 Source: Public domain
Population: 6,469
% White: 93.94%
% Single Moms: 14.93%
Nothin' says trashy like a good 'ol ass whoopin at a Walmart. You just might see that in De Soto every now and then.
In fact, De Soto was home to the infamous trashy Walmart fight between the woman in the jammies and the other woman in the jammies. Maybe they should fight at their local dollar store so they won't feel like they have to dress up.
Obviously De Soto is home to the high class trashy. It's a lifestyle, here: They have the most tattoo shops per capita. Way to keep the tramp stamp alive.
Hey De Soto, stay classy and keep it trashyy. Otherwise we won't have anything to write about.
10. Aurora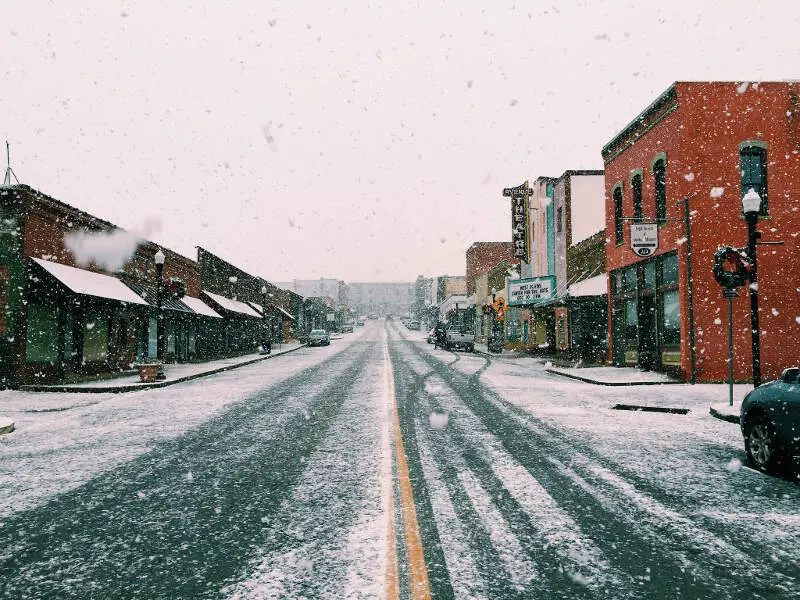 Population: 7,473
% White: 94.15%
% Single Moms: 6.44%
Rounding out the list of the ten most trashy cities in Missouri brings us to Aurora. This is where the high class trashy live. You think you're 'all that' now that you have a Walmart to wear your pajamas to.
Aurora has a high number of single white moms with more than one kid. More babies = more $$.
Aurora, when are you going to stop smoking cigs with kids in your car? It's not only hurting the environment, you have one of the highest dropout rates in the state.
There You Have It
According to the official dictionary definition of Trashy, and based on stereotypes that the internet says are true, using science to determine the most Trashy cities in a state can't be too far off.
If you're analyzing cities in Missouri with lots of angry welfare recipients, single mothers and where people have lots of options for payday cash loans, this is an accurate list.
If you're curious enough, here are the least trashy places in Missouri:
Town and Country
Creve Coeur
Ladue
For more Missouri reading , check out:
Detailed List Of The Most Trashy Cities In Missouri
Rank
City
Population
% White
1
Nevada
8,454
2
Warrenton
8,025
3
Kennett
10,678
4
Sedalia
21,457
5
Lebanon
14,637
6
Clinton
9,012
7
Caruthersville
6,026
8
West Plains
12,230
9
De Soto
6,469
10
Aurora
7,473
11
Richmond
5,654
12
Carthage
14,278
13
Poplar Bluff
17,195
14
Hannibal
17,717
15
Branson
11,084
16
Sullivan
6,998
17
Bolivar
10,507
18
Springfield
163,763
19
Sikeston
16,436
20
Dexter
7,920
21
Fulton
12,812
22
Marshfield
6,860
23
St. Joseph
77,037
24
Rolla
19,910
25
Neosho
12,102
26
Troy
11,175
27
Joplin
51,042
28
Pacific
6,305
29
Perryville
8,333
30
Cape Girardeau
38,959
31
Chillicothe
9,025
32
Pevely
5,596
33
Park Hills
8,695
34
Farmington
17,570
35
Trenton
6,042
36
Ozark
18,608
37
Overland
16,011
38
Independence
117,192
39
Union
10,644
40
Moberly
13,879
41
Mexico
11,588
42
Harrisonville
10,003
43
Bowling Green
5,465
44
Excelsior Springs
11,512
45
Republic
15,594
46
Arnold
21,123
47
Marshall
13,048
48
St. John
6,491
49
Belton
23,209
50
Kirksville
17,574
51
Boonville
8,350
52
Maplewood
7,960
53
Macon
5,468
54
Bridgeton
11,699
55
Monett
8,957
56
Webb City
11,035
57
Cameron
10,167
58
Festus
11,839
59
Odessa
5,222
60
Jefferson City
43,186
61
Raytown
29,486
62
Warrensburg
19,739
63
Washington
13,993
64
St. Ann
12,973
65
Maryville
11,997
66
Columbia
115,391
67
Gladstone
26,309
68
Grain Valley
13,134
69
Oak Grove
7,839
70
Jackson
14,439
71
Carl Junction
7,577
72
Bonne Terre
7,064
73
Nixa
20,177
74
Florissant
52,356
75
Pleasant Hill
8,216
76
Liberty
30,035
77
St. Charles
67,479
78
Willard
5,429
79
Blue Springs
53,364
80
Savannah
5,092
81
Sunset Hills
8,533
82
Kearney
9,039
83
Eureka
10,450
84
Des Peres
8,480
85
Richmond Heights
8,510
86
Brentwood
8,052
87
Wentzville
32,827
88
St. Peters
55,135
89
Parkville
5,946
90
Crestwood
11,961
91
Maryland Heights
27,401
92
Battlefield
5,844
93
Greenwood
5,400
94
Ellisville
9,181
95
Smithville
8,911
96
Lee'S Summit
93,618
97
Shrewsbury
6,208
98
O'Fallon
83,053
99
Lake St. Louis
14,933
100
Waynesville
5,250