Arkansas is known as the "Natural State", and it's often easy to see why: there's an absolute abundance of natural scenic beauty, clear lakes and streams, and fascinating wildlife.
But, unfortunately, there are some cities and towns that are better places to live in Arkansas than others. Using scientific data, we've compiled a list of the worst places to live in Arkansas.
These are the places you don't want to end up for reasons like high crime and unemployment rates, along with lack of access to quality education.
Here is the worst of the worst in Arkansas:
The 10 Worst Places To Live In Arkansas For 2023
Where are these places, you wonder? And before you get all riled up and say we're picking on small towns in Arkansas, that's not the case.
We understand there's a lot of good in every place. For example, the best place to live in Arkansas is Cave Springs.
However, according to data (which doesn't measure things like beauty and 'friendly people'), the state has far better options for making a place home. And the worst place to live in Arkansas? The worst place to live in Arkansas is Newport.
Read below to see how we crunched the numbers and how your city fared in 2023.
If you're looking for something more national, check out the worst cities in America or the worst states in America.
For more Arkansas reading, check out:
---
Table Of Contents: Top Ten | Methodology | Summary | Table
---
The 10 Worst Places To Live In Arkansas For 2023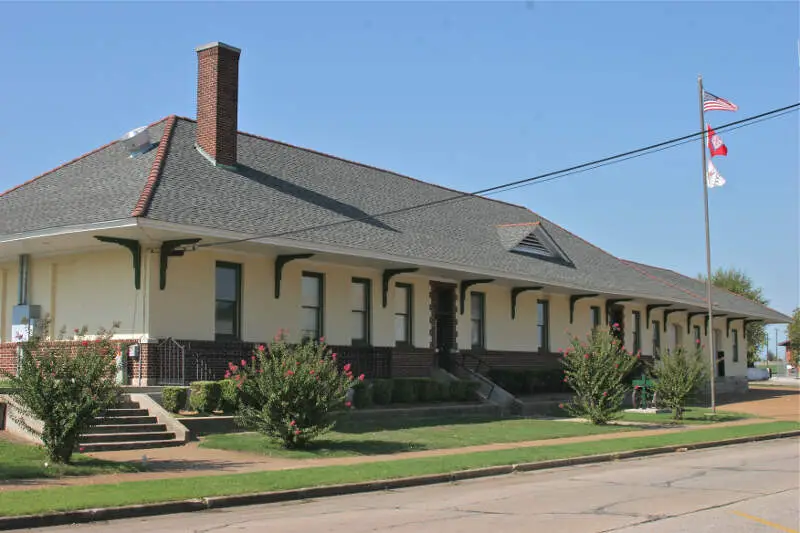 Next on our list is Newport. This community of 7,829 ranks highly for all the wrong reasons.
The area is 12th in the state for lowest median home value. An accomplishment that makes sense considering no one is getting much for their money when they decide to sell here. The median home value in Newport is a just $90,700.
Things aren't a whole lot better when it comes to how much money families are bringing in either. The city has the 4th lowest median household income in Arkansas. Luckily for residents though, the area is at least affordable. The overall cost of living score here is 78, where the US average is 100.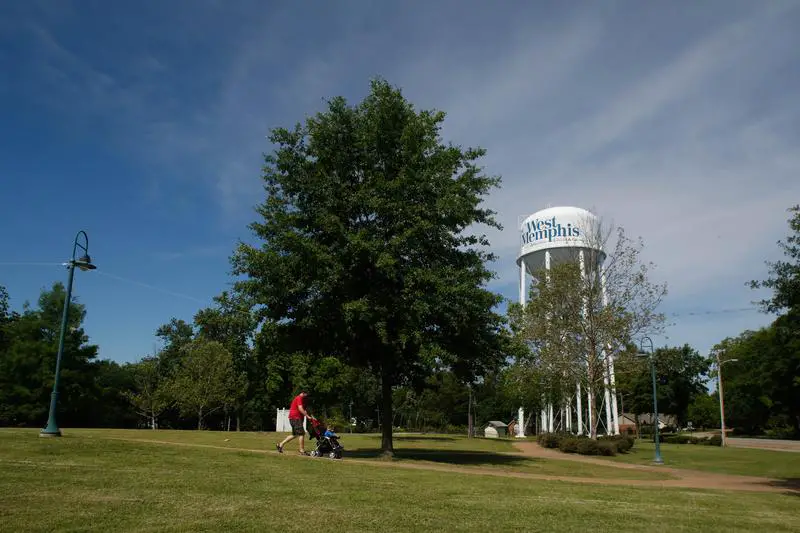 You'll find West Memphis right by the Arkansas-Tennessee border. If you're smart, you'll keep driving until you make your way out of this city. We wouldn't be shocked if its 24,666 residents were right behind you too.
People often associate a larger population with a thriving metropolitan area that is rich in opportunity. West Memphis offers neither of those things, except plenty of people to share your sorrow. The area has a dismal 12.4% unemployment rate, which is probably part of the reason 10.2% of its population is on food stamps. To top all of that off, the city ranks 1st in the state for highest levels of violent crime and is also one of the most dangerous cities in Arkansas.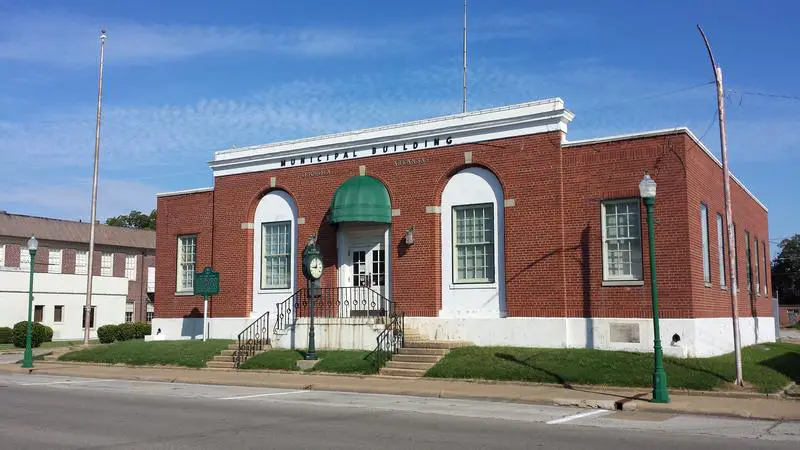 While the median household income in Osceola is higher than other towns on this list, causing it to be lower down on the list of "worst cities", Osceola still has the 2nd worst unemployment rate in the state, as well as the 9th worst crime index.
Therefore, though the average Osceola household brings in a higher income, there are fewer people working here than in other cities across the state. It doesn't help that everyone has to be constantly worried about crime, either.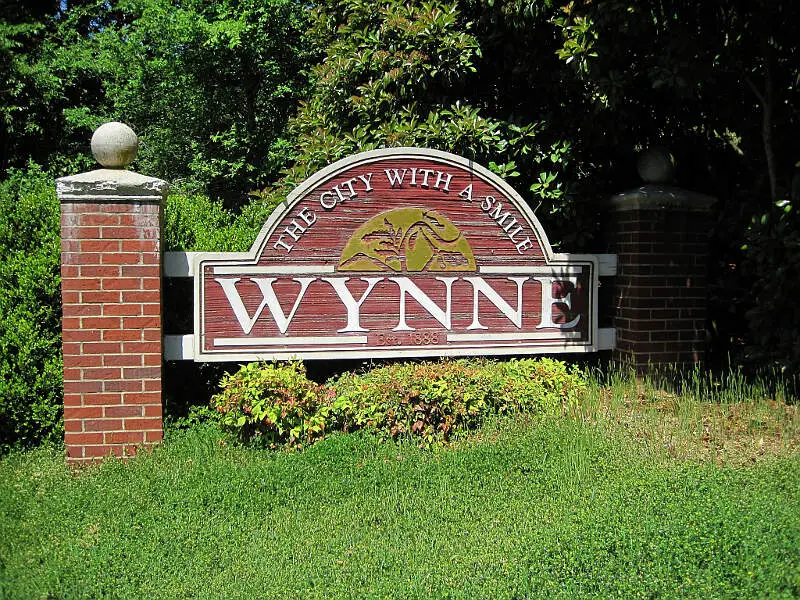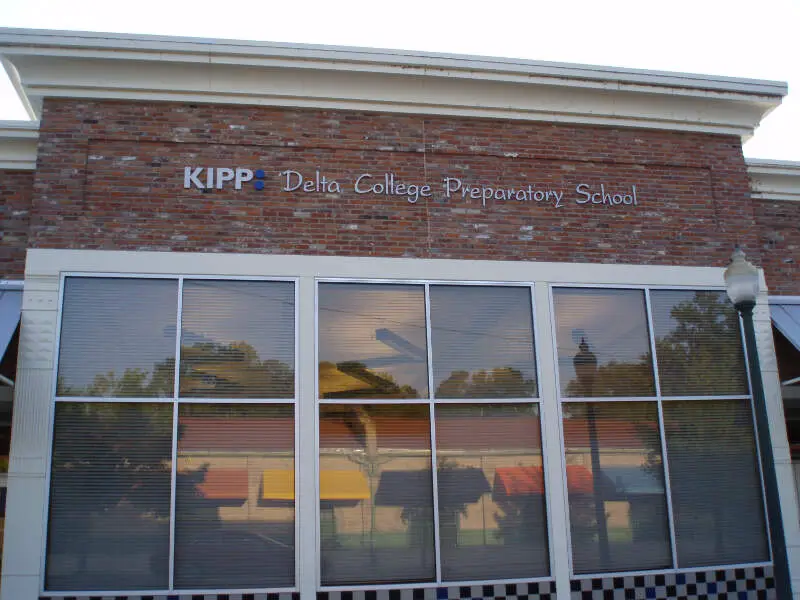 Source: Public domain
There's not a lot near Helena-West Helena and unfortunately, the city itself isn't much of a hot spot either. Even if the area did have plenty to offer, residents would have a hard time affording any of it given that the city has the highest unemployment rate in the state.
The people here who do have a job are barely better off than those without pay. The median household income here is only $25,735. A bleak figure that may have something to do with the fact that 19.0% of the adult population dropped out of high school. Yikes. Let's hope this city that was once known for its blues community can get back some of its former glory in one way or another.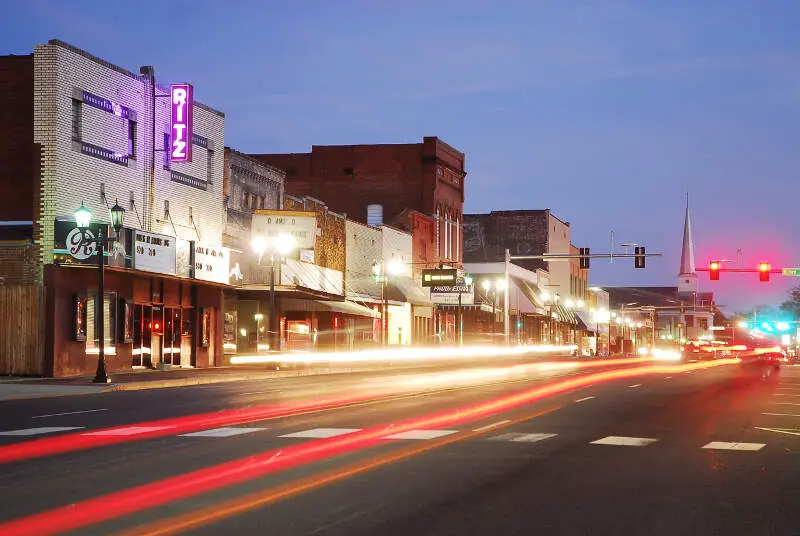 About 30 minutes away from Hot Springs is Malvern. Though it might be known as "The Brick Capital of the World," it's certainly not a top relocation destination.
In fact, the people who currently live here are probably planning their escape right now. First, however, it's likely they'll need to round up some extra money for their move. The median household income here is only $34,880.
And if residents are able to get out, fingers crossed employers in their new home care about their workers. The ones in Malvern definitely don't, given that 10.9% of people here don't have health insurance.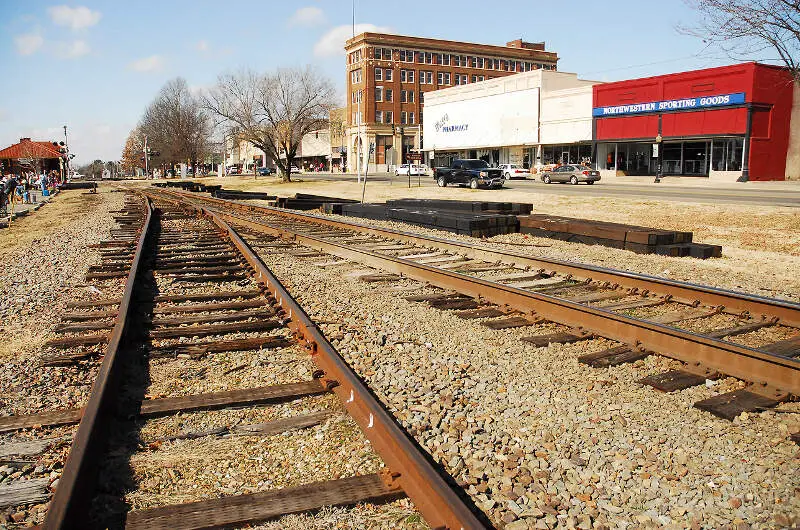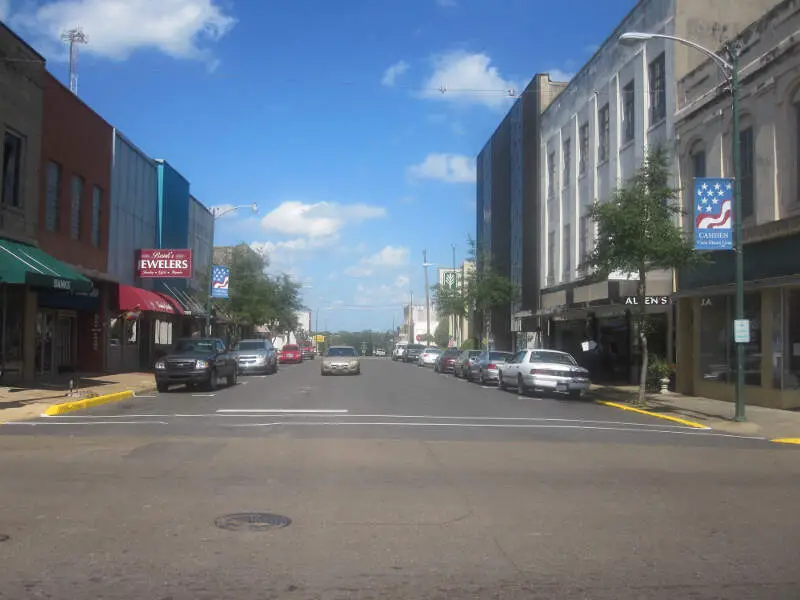 History buffs may enjoy seeing the many historic buildings Camden has on display, but they certainly won't want to put down roots here.
According to the data, life in the city is grim for anyone who has chosen to stick around. A staggering 24.9% of residents live at the poverty level. A figure that is hard enough to wrap one's mind around. Yet, on top of that, 6.9% of people here are on food stamps too.
The final factor for those questioning whether to move on from this place seemingly devoid of growth should be that Camden also has the 24th lowest median household income in Arkansas.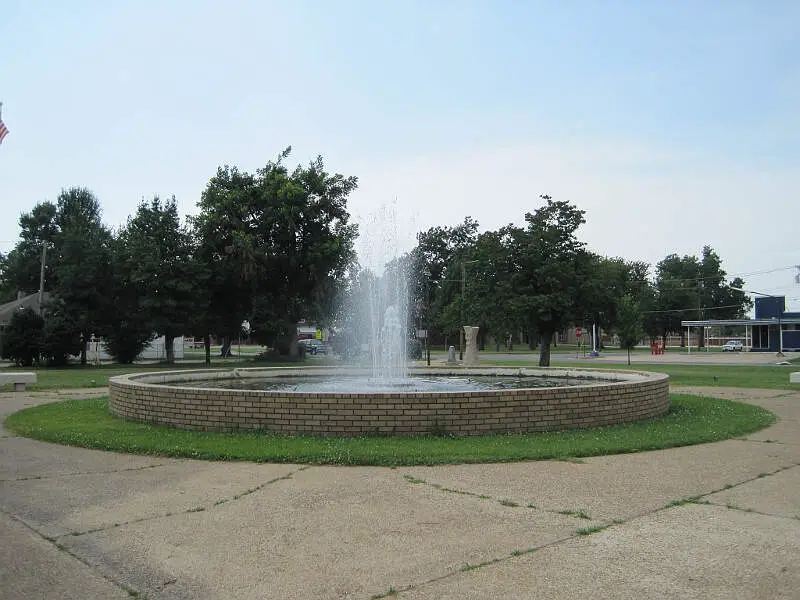 Blytheville is the kind of place that has it bad all around. Not only does the city have economic problems like its 13.0% unemployment rate, which happens to be the 4th highest in the state, it's also a hotbed of crime.
In the 2021 data year, lawbreakers committed 158 violent crimes. The real kicker though is that 2 of those were murder.
The city's one redeeming quality may be that those who get out alive, seem to do well. It's been home to a decent number of big names, including the famous
football coach Fred Akers.
Methodology: How we determined the worst places to live in Arkansas for 2023
To figure out the worst places to live in Arkansas, we only needed to know what kinds of things people like and then decide what cities have the least amount of those things.
We don't think it's a stretch to assume that people like the following things:
Good education
Lots of jobs
Low crime
Low poverty
Nice homes
High incomes
High population density (Lots of things to do)
Short work commutes
Health insurance
The data comes from the Census's most recent American Community Survey and the FBI Uniform Crime Report.
We broke crime down into violent crime and property crime to give violent crime a more significant weight. If you did a simple calculation of all crimes per capita, property crimes are typically 7x more common and bias that ranking.
Furthermore, only cities with at least 5,000 people were considered — leaving 63 cities.
We then ranked each city from 1 to 63 for all the criteria, with a #1 ranking being the worst for the particular criteria.
Next, we averaged the rankings into one "Worst Place To Live Score."
Finally, we ranked every city on the "Worst Place To Live Score," with the lowest score being the worst city in Arkansas — Newport. Read on for a detailed look at the ten worst cities in Arkansas.
Editor's Note: This article is an opinion based on facts meant as infotainment. We updated this article for 2023. This is our tenth time ranking the worst places to live in Arkansas.
Summary: Wrapping Up The Worst In Arkansas
If you're looking at areas in Arkansas with the worst economic situations, where there's higher than average crime and little to do, this is an accurate list.
And in the end, Newport ranks as the worst city to live in Arkansas for 2023.
If you're curious enough, here are the best cities to live in Arkansas:
Maumelle (Pop. 19,070)
Bentonville (Pop. 52,565)
Cave Springs (Pop. 5,224)
For more Arkansas reading, check out:
Worst Places To Live In Arkansas?
| Rank | City | Population |
| --- | --- | --- |
| 1 | Newport | 7,829 |
| 2 | West Memphis | 24,666 |
| 3 | Osceola | 7,016 |
| 4 | Wynne | 8,352 |
| 5 | Helena-West Helena | 9,707 |
| 6 | Malvern | 10,626 |
| 7 | Morrilton | 6,948 |
| 8 | Camden | 10,644 |
| 9 | Pocahontas | 7,269 |
| 10 | Blytheville | 13,559 |
| 11 | Pine Bluff | 41,964 |
| 12 | Texarkana | 29,492 |
| 13 | Alma | 5,806 |
| 14 | Fort Smith | 89,116 |
| 15 | Jacksonville | 29,385 |
| 16 | Hope | 9,010 |
| 17 | Paragould | 29,327 |
| 18 | El Dorado | 17,800 |
| 19 | Hot Springs | 38,050 |
| 20 | Walnut Ridge | 5,392 |
| 21 | Warren | 5,485 |
| 22 | North Little Rock | 64,444 |
| 23 | Russellville | 29,057 |
| 24 | De Queen | 6,192 |
| 25 | Jonesboro | 77,520 |
| 26 | Heber Springs | 7,015 |
| 27 | Magnolia | 11,205 |
| 28 | Trumann | 7,416 |
| 29 | Mena | 5,626 |
| 30 | Searcy | 23,074 |
| 31 | Prairie Grove | 6,908 |
| 32 | Berryville | 5,612 |
| 33 | Springdale | 85,887 |
| 34 | Clarksville | 9,444 |
| 35 | Siloam Springs | 16,944 |
| 36 | Little Rock | 201,893 |
| 37 | Van Buren | 23,213 |
| 38 | Beebe | 8,343 |
| 39 | Marion | 13,624 |
| 40 | Monticello | 8,567 |
| 41 | Batesville | 11,117 |
| 42 | Fayetteville | 92,070 |
| 43 | Conway | 63,746 |
| 44 | Lowell | 9,630 |
| 45 | Ward | 5,943 |
| 46 | Benton | 34,746 |
| 47 | Harrison | 13,081 |
| 48 | Rogers | 68,340 |
| 49 | Bryant | 20,399 |
| 50 | Stuttgart | 8,363 |
| 51 | Cabot | 26,411 |
| 52 | Sherwood | 32,544 |
| 53 | Mountain Home | 12,722 |
| 54 | Pea Ridge | 6,491 |
| 55 | Arkadelphia | 10,332 |
| 56 | White Hall | 5,599 |
| 57 | Greenwood | 9,498 |
| 58 | Greenbrier | 5,683 |
| 59 | Farmington | 7,601 |
| 60 | Centerton | 17,455 |
| 61 | Maumelle | 19,070 |
| 62 | Bentonville | 52,565 |
| 63 | Cave Springs | 5,224 |