Idaho is one of those off-the-radar states that you don't hear about very often. As far as we're concerned, Idaho is a beautiful state with hard-working Americans. But we're not here to debate Idaho's merits — either good or bad.
We're here to simply make an unbiased, research-driven analysis of where the worst places to live in Idaho are. And for those looking to visit the Gem State, or move there permanently, this list should provide some value.
According to scientific data, and after analyzing the most populated cities, these are the worst 10 places that you could possibly live in Idaho:
The 10 Worst Places To Live In Idaho For 2021
What? Where are these places you wonder? And before you get all riled up and say we're picking on small town America, that's not the case.
We understand there's a lot of good in every place.
However, according to data (which doesn't measure things like beauty and 'friendly people'), there are far better options in the state for making a place home. And the worst place to live in Idaho? That would be Caldwell.
Read on below to see how we crunched the numbers and see how your city fared in 2021.
If you're looking for something more national, check out the worst cities in America or the worst states in America.
For more Idaho reading, check out:
The 10 Worst Places To Live In Idaho For 2021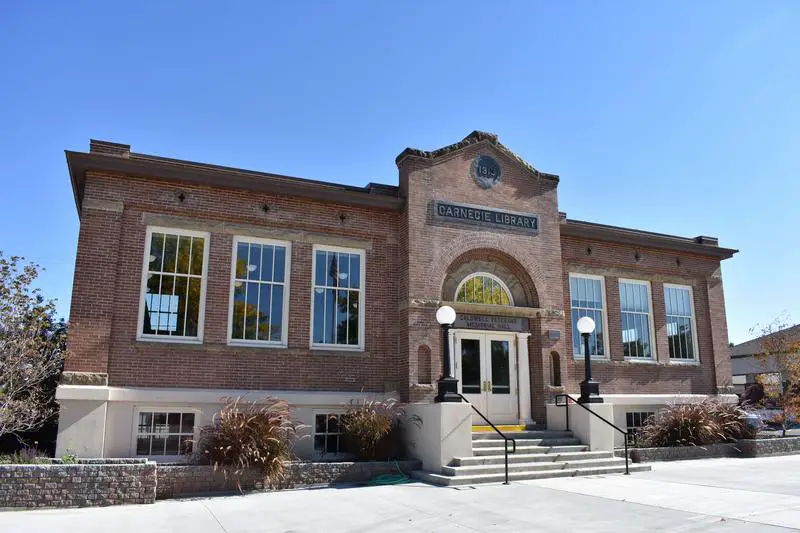 Gold drew many of the early settlers to Caldwell during the 19th century. A lot of that luster has faded in recent times. Now, the city posts a sluggish economy, which includes a poverty rate of 16.5%.
Caldwell also has issues with its public education system. Some local charter schools perform well, but most of the public institutions score a 6/10 or lower on Great Schools.
Don't get us wrong: Caldwell has its strong point as well. Located in the southwest part of the state, the community serves as a regional population center. As such, it provides a cultural hub for its area. This includes the annual Indian Creek Festival.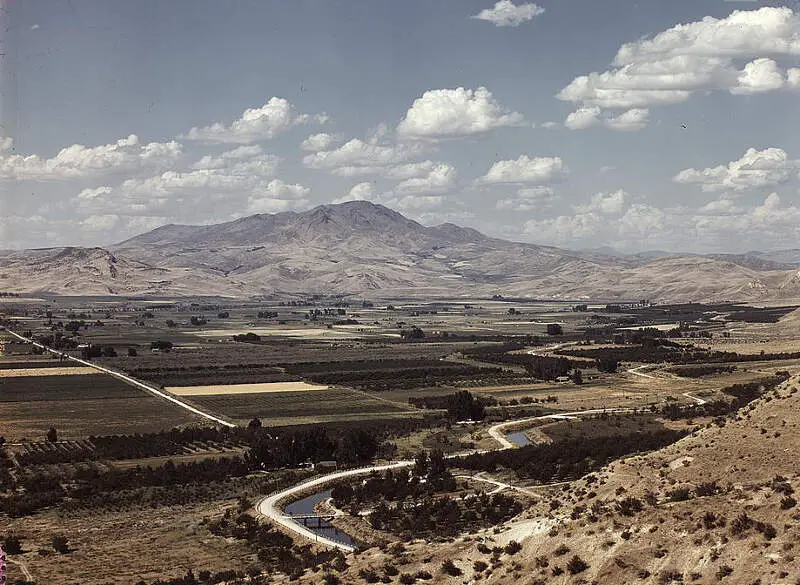 Source: Public domain
Here's another one-time gold town. Emmett stands in the southeastern section of the state, about 45 minutes outside of Boise. Built along the Payette River, it serves as the county seat (and only major population center) in Gem County.
Despite the impression you might get from the name "Gem County," the economy in the area is less than a precious jewel. Rather, you might best describe it as mixed. The unemployment rate is relatively low, coming in at 4.1%. But, while locals can find work, good-paying jobs remain elusive. The median income sits at just $35,970. As a result, about 1 in 4 residents suffers below the poverty line.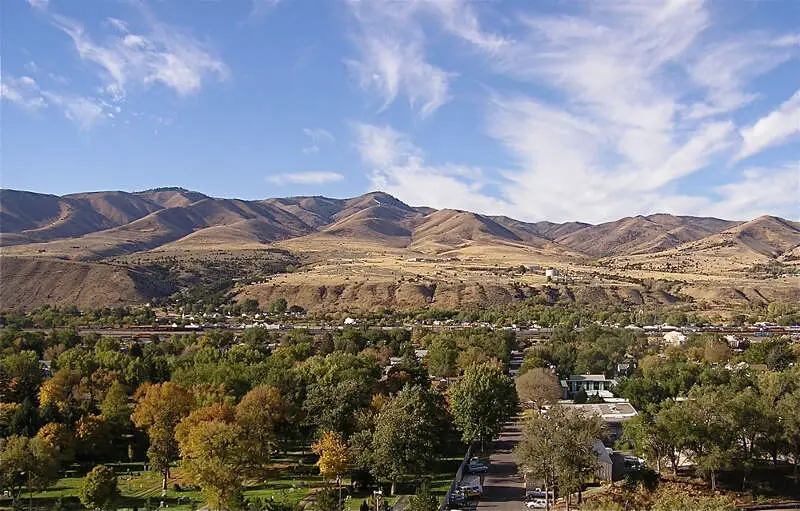 Source: Public domain
Pocatello, one of the largest cities in Idaho, makes it toward the top of the list primarily due to the crime levels and education rankings. Expenditure per student is $6.586 — far lower than other cities in Idaho — and a teacher-to-student ratio of 23:1, also far lower than other cities on the list.
Pocatello does have a low unemployment rate (4.6%), and was named as one of the best small places for business and careers about eight years ago.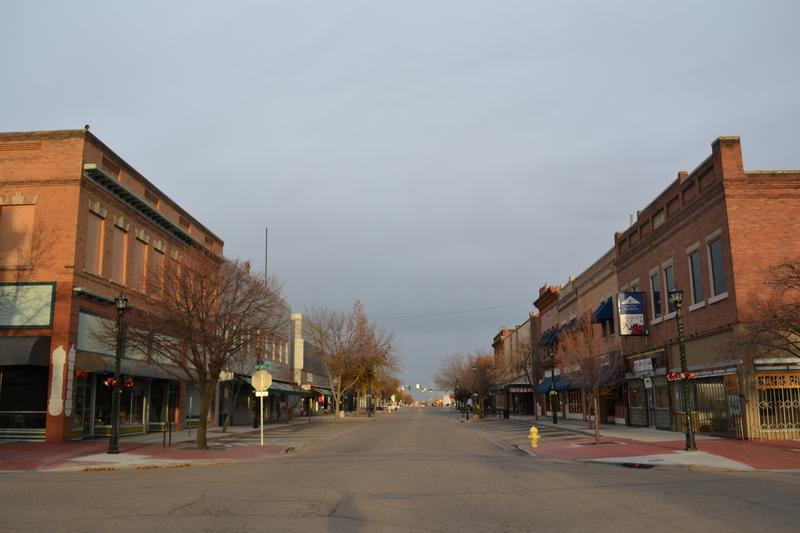 No, this isn't Tampa. Changing one letter makes a big difference. This isn't a haven of beaches and sun tans. Instead, it's a city in the southwestern part of Idaho.
Though, to be fair, you can head to nearby Lake Lowell for a bit of water-related fun. Maybe not Tampa-style fun, but not bad for Idaho.
With a population of 93,952 people, Nampa ranks among the state's biggest population centers. As a result, you'll find some of the downsides of a sizable urban area. This includes poverty, with a local poverty rate of 15.0%. It also manifests itself in an inconsistent education system.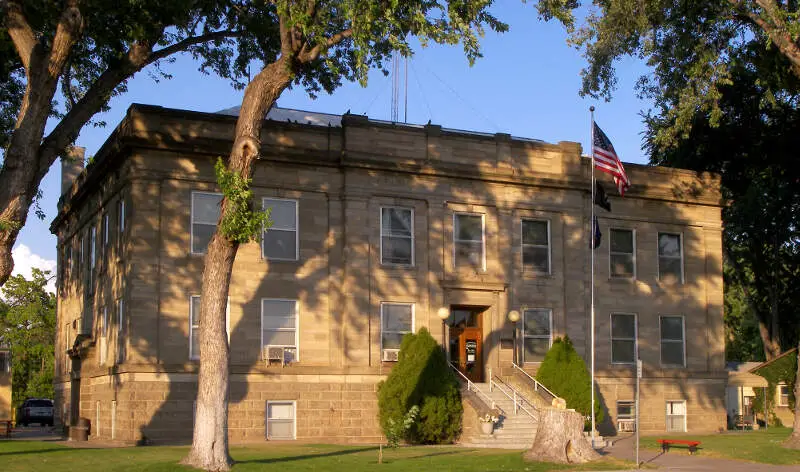 Mountain Home ranks as the 5th worst place to live in Idaho for 2021, let's take a look at why.
Mountain Home has one of those names that perfectly describes the town. The town represents your home in the mountains, sitting at an elevation of more than 3,000 feet. A great place for breathtaking vistas and invigorating hikes.
However, people need more than beautiful views to get by in life. Mountain Home provides the mountains, sure, just as promised. But it has trouble offering some of the key aspects of home. You know, like a promising economy, good housing, or a consistent education. Instead, locals deal with an unemployment rate of 6.6% and a poverty rate of 16.4%.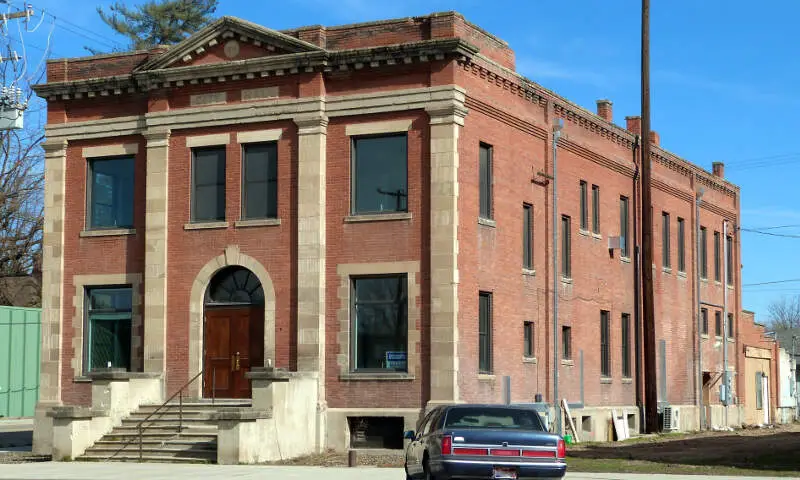 There seems to be a pattern here, as Payette, another city on the western side of the Boise-Nampa area, ranks as the 6th-worst place to live in Idaho, according to the data.
Payette (population 7,487), which is about an hour drive north of Boise. The average household income here is less than most other cities in the state (10th lowest), and crime is exceptionally high for the state of Idaho.
At least the sun shines more here, as Payette has more sunny days than any other city except the town of Buhl.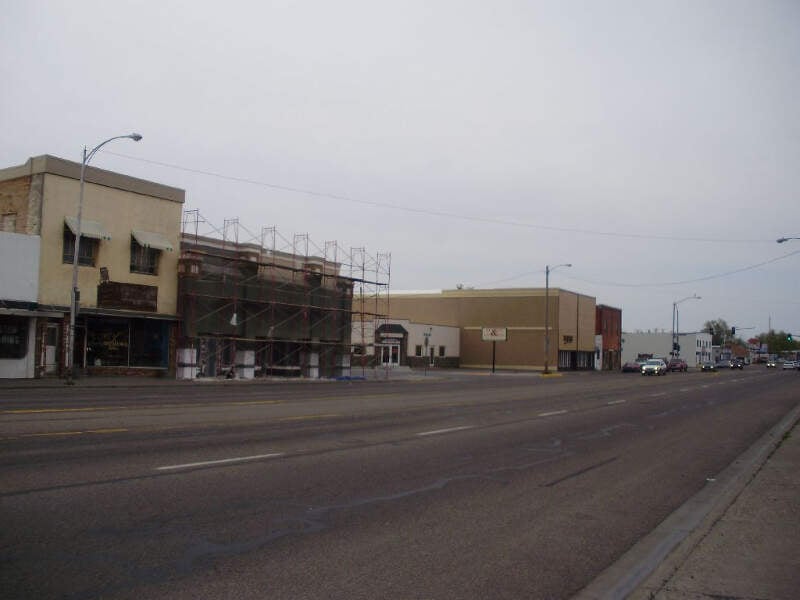 Alright, let's get it out of the way: Idaho is known for its potatoes. Hawaii's got surfing. Manhattan's got skyscrapers. Idaho's got spuds.
Well, here we have the epicenter of that. Blackfoot has earned the title "Potato Capital of the World." You can learn all about it at the Idaho Potato Museum in town.
So what about the town's non-tuber residents? Is a good place for people as well as potatoes? Sorry to say, Blackfoot comes up a little short. A sluggish non-spud economy leads to a poverty rate of 13.8%. At the same time, housing and education are mediocre.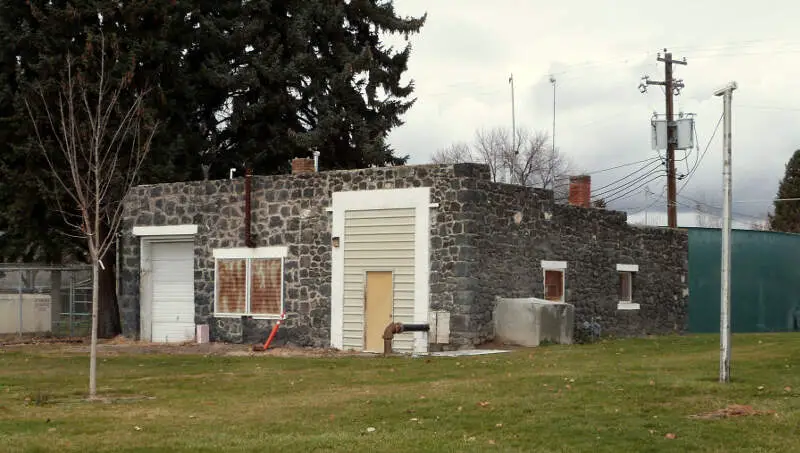 Jerome sits along I-84, about 20 minutes north of Twin Falls, in an area known as the Magic Valley. Unfortunately, life isn't quite so magic for the 11,653 residents of the community.
Parts of Jerome's economy work extremely well. Just look at the unemployment rate, which comes in at 1.8%. Not too shabby, right? Still, the folks in town have trouble making ends meet. The poverty rate runs 26.1%.
Low wages represent only part of the problem. At the same time, housing and education miss expectations. The local schools score just a 2/10 from Great Schools.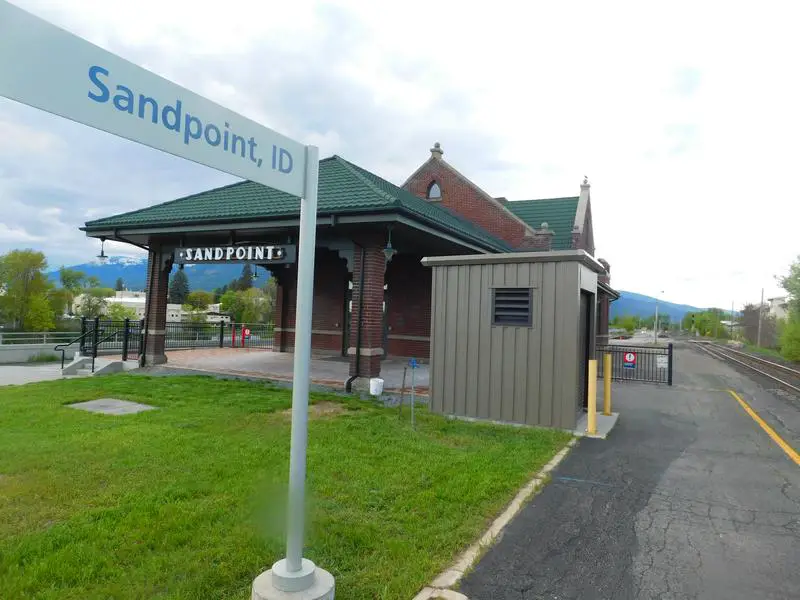 Idaho is a landlocked state. Sandpoint, though, lets folks get a taste of seaside living. It stands on the shores of Lake Pend Oreille, the state's longest body of water. This makes it a centerpiece of regional tourism, with the town once winning the distinction of the "Most Beautiful Small Town" in the U.S.
The influx of tourist dollars props up the local economy, which supports a very healthy unemployment rate of 3.5%. However, this has a dark side. The interest from visitors drives up real estate values, making the area difficult to afford for many locals.
The median home value hovers at $249,400, compared to a median income of $43,938. This relatively expensive cost of living (especially for Idaho) also contributes to a 21.4% poverty rate.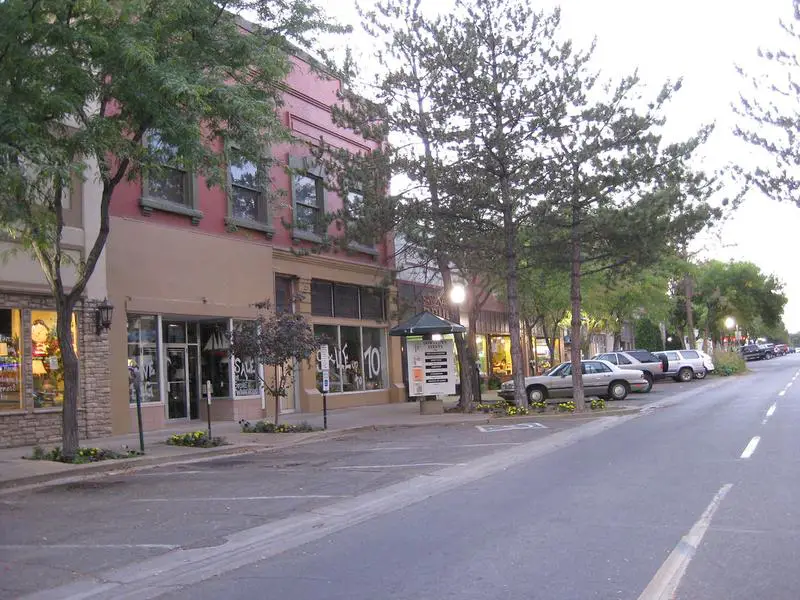 The name doesn't lie: there really are some gorgeous waterfalls near Twin Falls. Shoshone Falls represents the most famous of these, located just down the Snake River.
Beyond the natural wonders, though, life in Twin Falls can be bumpy. Not bad, really. Just choppy…kind of like the river just before hitting the falls.
You've got a relatively strong economy, with a 3.0% unemployment rate and a $50,739 median income. But you've also got an inconsistent education system and a crime rate that's relatively high, given the standard for the rest of the state.
How we determined the worst places to live in Idaho for 2021
To figure out how bad a place is to live in, we only needed to know what kinds of things people like and then decide what cities have the least amount of those things.
We don't think it's a stretch to assume that people like the following things:
Good education
Lots of jobs
Low crime
Low poverty
Nice homes
High incomes
High population density (Lots of things to do)
Short work commutes
Health insurance
The data comes from the Census's most recent American Community Survey and from the FBI Uniform Crime Report.
We broke crime down into violent crime and property crime to give violent crime a larger weight — if you did a simple calculation of all crimes per capita, property crimes are normally 7x more common and really bias that ranking.
Furthermore, only cities with at least 5,000 people were considered — leaving 31 cities.
We then ranked each city from 1 to 31 for all the criteria with a #1 ranking being the worst for the particular criteria.
Next, we averaged the rankings into one "Worst Place To Live Score".
Finally, we ranked every city on the "Worst Place To Live Score" with the lowest score being the worst city in Idaho — Caldwell. Read on for a detailed look at the 10 worst cities in Idaho. You can download the data here.
This list is a scientific analysis based on real data and is completely unbiased.
Wrapping Up The Worst In Idaho
If you're looking at areas in Idaho with the worst economic situations, where there's higher than average crime, and not a lot to do, this is an accurate list.
And in the end, Caldwell ranks as the worst city to live in Idaho for 2021.
If you're curious enough, here are the best cities to live in Idaho:
Rexburg (Pop. 28,414)
Moscow (Pop. 25,319)
Meridian (Pop. 101,905)
For more Idaho reading, check out:
Where Are The Worst Places To Live In Idaho?
| Rank | City | Population |
| --- | --- | --- |
| 1 | Caldwell | 54,887 |
| 2 | Emmett | 6,770 |
| 3 | Pocatello | 55,525 |
| 4 | Nampa | 93,952 |
| 5 | Mountain Home | 14,166 |
| 6 | Payette | 7,487 |
| 7 | Blackfoot | 11,907 |
| 8 | Jerome | 11,653 |
| 9 | Sandpoint | 8,386 |
| 10 | Twin Falls | 48,951 |
| 11 | Burley | 10,313 |
| 12 | Rathdrum | 8,284 |
| 13 | Weiser | 5,323 |
| 14 | Preston | 5,376 |
| 15 | Rupert | 5,796 |
| 16 | Middleton | 7,556 |
| 17 | Fruitland | 5,264 |
| 18 | Hayden | 14,698 |
| 19 | Hailey | 8,408 |
| 20 | Post Falls | 33,225 |
| 21 | Kuna | 19,580 |
| 22 | Idaho Falls | 61,459 |
| 23 | Coeur d'Alene | 50,540 |
| 24 | Chubbuck | 14,995 |
| 25 | Lewiston | 32,664 |
| 26 | Ammon | 15,859 |
| 27 | Star | 9,115 |
| 28 | Eagle | 26,514 |
| 29 | Rexburg | 28,414 |
| 30 | Moscow | 25,319 |
| 31 | Meridian | 101,905 |
Editor's Note: This article is an opinion based on facts and is meant as infotainment. Don't freak out we updated this article for 2021. This is our seventh time ranking the worst places to live in Idaho.