This article is an opinion based on facts and is meant as info-tainment. Don't freak out.
Swipe left for slideshow
Is there anything wrong with being called the drunkest city in your state? Especially in Illinois, which NPR said is the 6th highest in the nation for binge drinking. It's pretty clear that you all like to get your drink on just about every chance you can get up there in The Land Of Lincoln.
How do you decide how much a place drinks? By the number of available places to buy booze, and by how often people are talking about drinking, that's how.
Plus, we thought why not add in a stereotype? Cause, you know, drinking is one reason for divorce, and something that divorced people do a lot of.
Using that criteria, it's not hard to scrape the internet, run some scientific data on where partiers might live in Illinois, and then put out a list.
Because, the data never lies, does it?
So, hold our beers and watch this. After analyzing all cities with a decent amount of people in them, we came up with this list as The Drunkest Cities in Illinois:
Loves Park
Alton
Libertyville
Geneva
Grayslake
Blue Island
Chicago
Springfield
Lisle
Schaumburg
Many of these are mid-size cities in Illinois with many bars in town or nearby, where there's a higher than average divorce rate. Studies have indicated that when one or both partners in a marriage are alcoholics, that couple is three times more likely to divorce.
Read on below to see where your town ranked.
What drunken criteria did we use?
In order to rank the drunkest cities in Illinois, we had to determine what criteria defines someone who drinks a lot.
We threw a lot of criteria at this one in order to get the best, most complete results possible. Using Yelp and Sperling's Best Places, this is the criteria we used:
Number of bars and pubs per capita
Number of wineries per capita
Number of liquor stores per capita
Each city's drunk related tweets within the last week
Each city's divorce rate
For geo-located tweets, we measured the following raw number of tweets that came from within a city's general are: #Drunk, #Party, #Beer, #Wine and #Cocktails
Note: For the sake of getting reliable numbers, we counted places within a city's border, as well as within a short driving distance.
1. Loves Park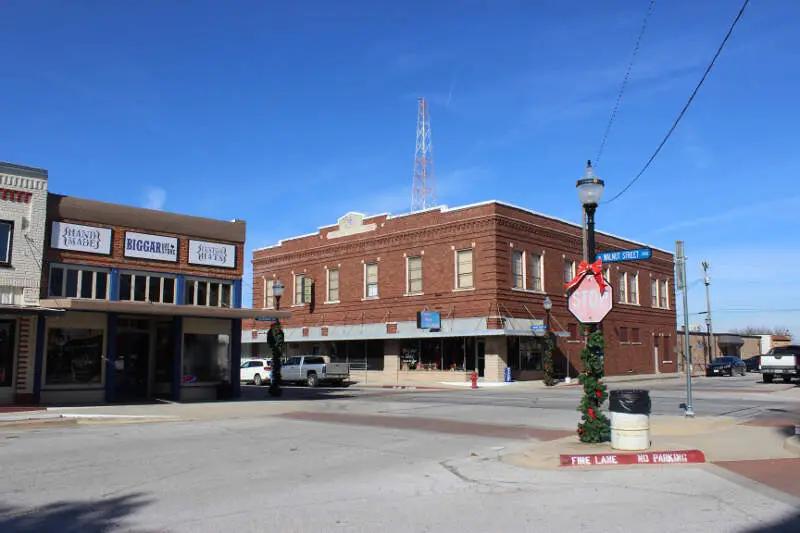 Sahara Tavern and Liquors, Loves Park, IL. Google maps
Population: 23,968
Divorce rate: 9th highest in the state
Bars per capita: 14th in the state
Liquor stores per capita: 13th in Illinois
Wow, Loves Park, you are tore up from the floor up! We're impressed. Based on the data, it sounds like you are all having a really, really good time.
When you have the 13th most liquor stores per capita in the state, and the 14th most bars, it's pretty obvious that you all like to get your drink on. And, when you consider that 14% of you are divorced, it's clear that there's a lot of…down time at your house.
Loves Park is just outside of Rockford (but Loves Park folks all probably know the back roads, right? Wink, wink). We did see that last year was the highest for drunk driving arrests in Loves Park.
While we didn't see a ton of drunk tweets coming from Loves Park, we did see this:
"A Loves Park woman is arrested for drunk driving just after 8 a.m. Wednesday near schools."
Wow, lady. You must be their ringleader.
2. Alton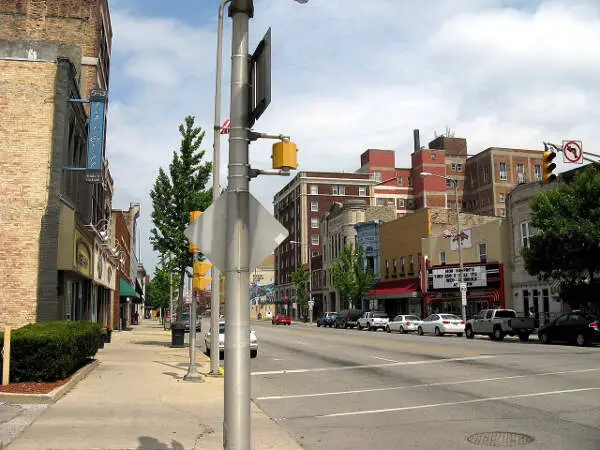 CTW's Lounge, Alton, IL. Google maps
Population: 27,868
Divorce rate: Highest in Illinois
Bars per capita: 2nd in Illinois
Liquor stores per capita: 40th in the state
What do you think you're gonna get when you have the highest divorce rate in the state, and the 2nd most bars per capita in the state? A lot of heavy drinking, that's what.
We're not sure if the drinking was the reason that nearly 1 in 5 people in Alton headed towards splitsville, or if the Big D is the reason so many bars are needed, but let's face it. Many, many people down here near the Mississippi River are drinking lots.
While we didn't scrape Twitter for "hate my ex" in Alton, we did see this interesting note: Alton bills itself as the 'wedding capital of the midwest.'
That's just bad luck.
3. Libertyville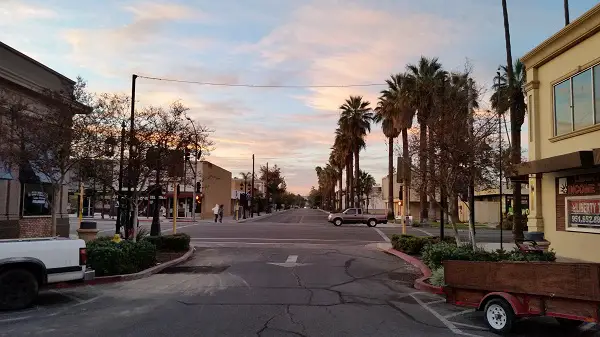 Downing's, Libertyville, IL. Google maps.
Population: 20,388
Divorce rate: 57th in the state
Bars per capita: 6th in the state
Liquor stores per capita: 11th in Illinois
Here's what's interesting about Libertyville – you are all able to hold things together. You have a very low divorce rate, despite having one of the highest number of bars and liquor stores in the state.
Are there lots of counselors per capita in your area? Do you all just 'stay together for the kids?' Or, is the bar scene there so merry go lucky that couples don't go home pissed at one another, even after 6 shots of tequila?
We're not rooting for divorces at all, in fact it's just the opposite. But you guys would've won this whole thing had more of you decided to part ways more often.
4. Geneva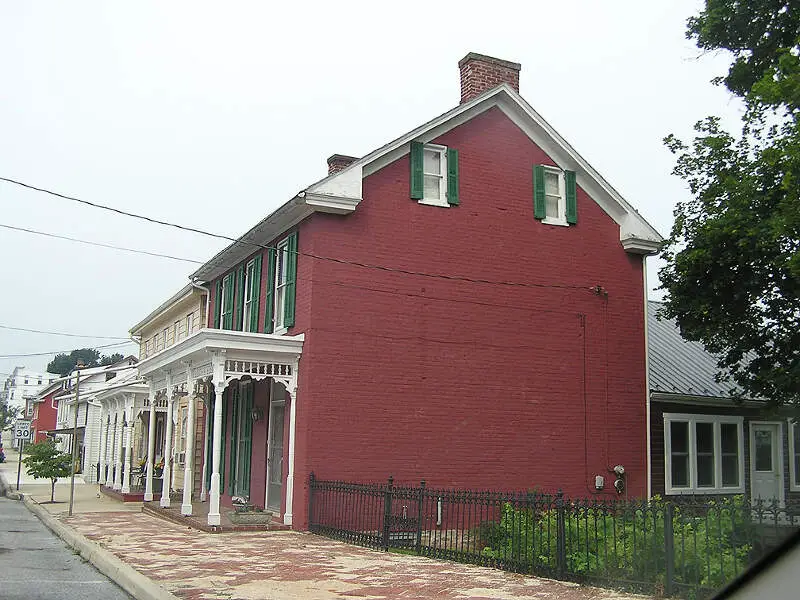 Old Towne Bar, Geneva, IL. Google maps
Population: 21,588
Divorce rate: 76th highest in the state
Bars per capita: 1st in the state
Liquor stores per capita: 13th in Illinois
What did we just say about Libertyville? And then we see the numbers on Geneva? Wow. Most bars and one of the lowest divorce rates. Bravo, Geneva spouses. You are all some very patient people.
You know the saying, money solves all problems? Well the people in Geneva are rich. Like $100,000 a year rich. So, maybe Geneva residents are functional drinkers, or they're the type that can hold their own. A little top shelf Glenlivet never hurt anyone right?
Geneva is just outside of the Chicago suburb sprawl.
5. Grayslake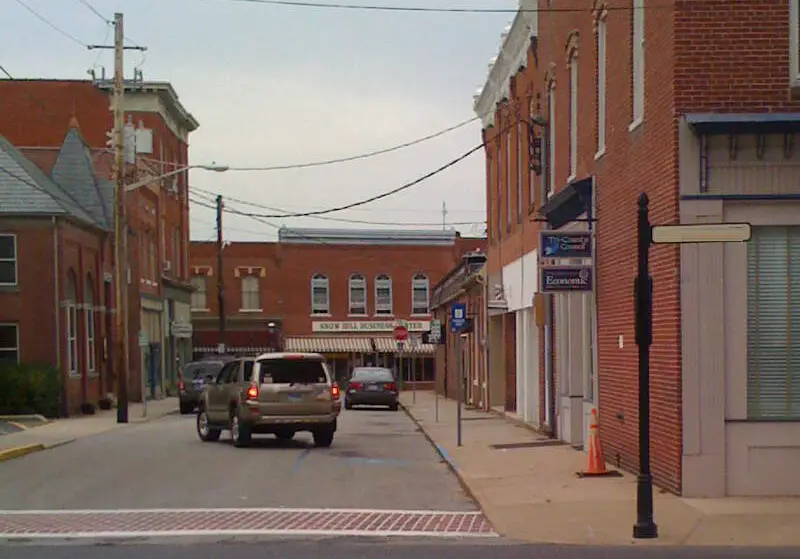 Emil's, Grayslake, IL. From their Facebook page
Population: 20,943
Divorce rate: 10%
Bars per capita: 18th in the state
Liquor stores per capita: 12th in Illinois
Grayslake is right next door to Libertyville, and about three beers north of downtown Chicago. Hopefully, the drinkers of Grayslake are taking public transportation, though.
Maybe not. This gem came from Twitter: "After driving around Grayslake for 45 mins dropping everyone off, I'm finally home. And I think I'm still drunk."
You all have lots of bars, pubs and liquor stores here. And a higher than normal number of drunk-related Tweets. We counted 15 in the last week – but several from the same person.
Who will remain nameless. You know who you are.
6. Blue Island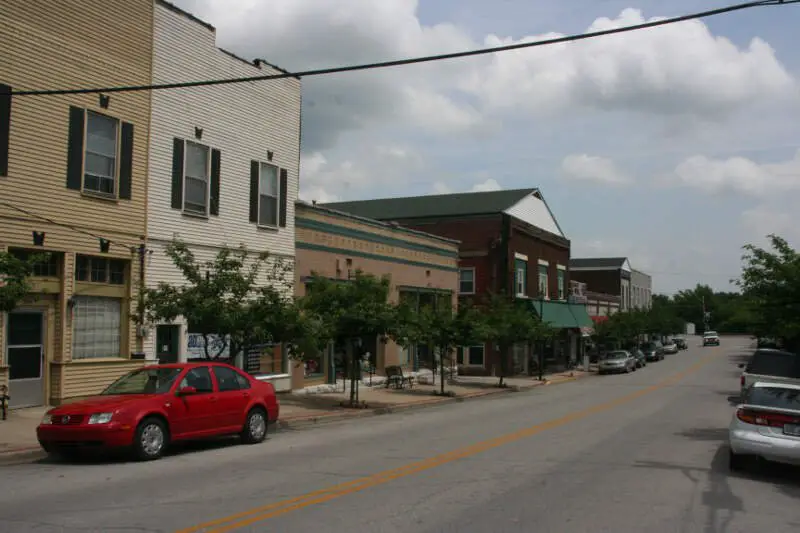 The Forge Pub, Blue Island, IL. Google maps
Population: 23,460
Divorce rate: 11%
Bars per capita: 4th in the state
Liquor stores per capita: 28th in Illinois
Blue Island is south of Chicago, but not in south Chicago. Here, 1 in 10 residents are divorced, and when you have the 4th highest number of bars per capita, there are probably lots of desperate bleary-eyed people working on their second marriages here.
Here's to that!
7. Chicago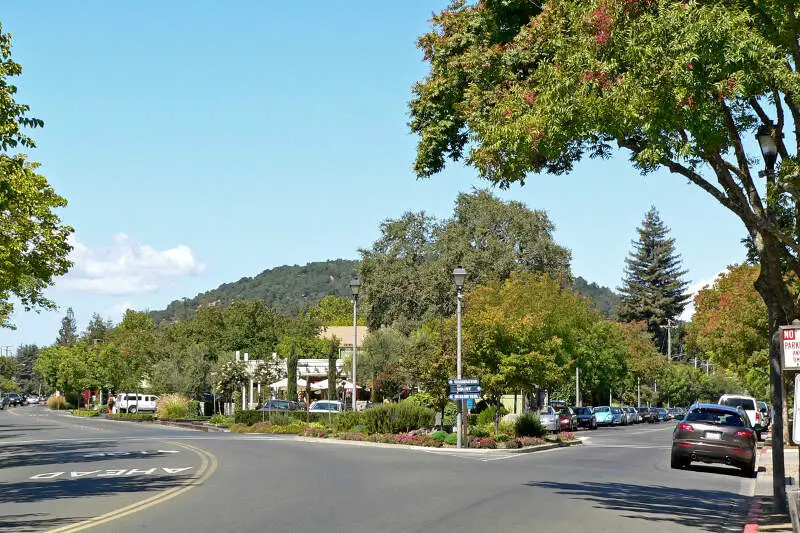 O'Leary's Public House, Chicago, IL. Google Maps.
Population: 2,702,471
Divorce rate: 8.7%
Bars per capita: 4th in the state
Liquor stores per capita: 13th in Illinois
Okay, so obviously there are tons of bars and liquor stores in Chicago. But we're measuring places to get booze per capita, and there are certainly millions of people in Chicago who don't drink a drop.
That is until football season. Every Bears fan needs to have a beer or 12 to get through another frustrating Sunday.
Seriously though, the divorce rate in Chicago is really low. Good for you, Chicagoans. While many, many, many of you are completely wasted every night of the week, a majority of you are responsible members of the Chicago community.
8. Springfield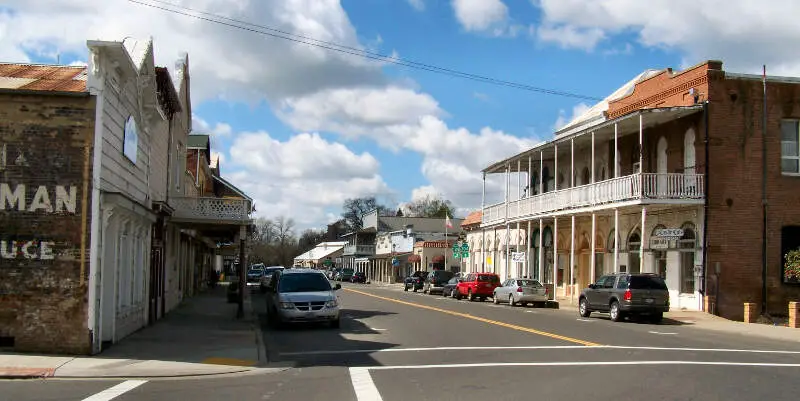 Stadium Bar and Grill, Springfield, IL. Google maps
Population: 115,982
Divorce rate: 15%
Bars per capita: 9th in the state
Drunk tweets per capita: 25th in Illinois
Springfield is the capital of Illinois, but not the capital of drunken people. That's good.
Anyone who has been to Springfield can attest to the fact that tons of people are out getting wasted here. And Twitter proves it. In fact, there were almost as many drunken tweets coming from Springfield as there were from Chicago.
"Either these people are homeless, and Illinois is heartless, or they are drunk, and lllinois is lawless. Either way, Springfield sucks."
and
"Downtown Springfield – the beauty, the history, and the drunk homeless people humping the Abe Lincoln statues."
And these are the people who can only afford a 40. Think of how the people in the bars are acting here.
9. Lisle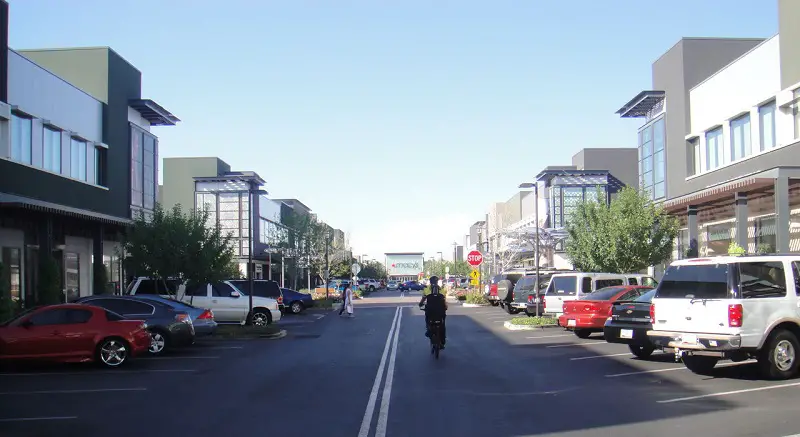 Squirrel Cage Tavern, Lisle, IL
Population: 22,483
Divorce rate: 9.6%
Bars per capita: 21st in the state
Liquor stores per capita: 6th in Illinois
Lisle was ranked as one of the best places for the rich and single by Money Magazine. That means, according to the data, there are tons of drunk, rich white kids running around Lisle looking to make their mark on the community.
The divorce rate is low here. You can tell why – either no one is settled down yet (why would you – you can hook it up without having to tie the knot) or, no one divorces because of money.
Hey, if your man is drunk at the bar all the time, but he's loaded, you just look the other way, right Lisle ladies?
10. Schaumburg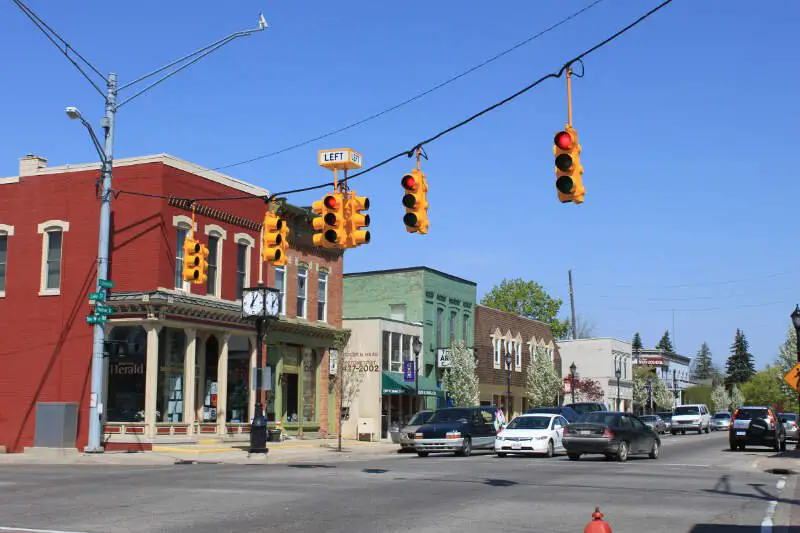 Tilted Kilt, Schaumburg, IL. Google maps
Population: 74,276
Divorce rate: 9.7%
Liquor stores per capita: 18th in Illinois
Bars per capita: 15th in the state
Schaumburg, another Chicago suburb, is apparently full of drinkers. Or at least people that drink a lot. They have a high number of both bars and liquor stores in the state.
We saw a high number of tweets coming from Schaumburg for people going to 'parties'. Several were birthday parties for kids.
Any chance to throw a few back, right Schaumburgers?
There You Have It
If you're measuring the locations in Illinois where there are a high number of divorced people, bars and liquor stores, and where people are talking about drinking the most often, this is an accurate list.
And while you might think the larger cities and college towns are 'more drunk' than these places, when you measure the percentage of people who have access to alcohol, and who are separated, it makes sense. Cause, the data never lies, does it?
If you're curious enough, here are the least drunk places in Illinois. Or the most sober, if you will:
Dekalb (Pop. 44,340)
McHenry (Pop. 26,862)
Hanover Park (Pop. 37,990)
Cicero (Pop. 83,776)
North Chicago (Pop. 31,667)
We also wrote about the worst places to live in Illinois if you didn't happen to see it. Click here to read it.