Editor's Note: We updated this article for 2022. This is our third time ranking the cities in Georgia with the highest divorce rates.
Swipe left for slideshow. Article continues below.
Article Table Of Contents   
(Skip to section)
If you're married, the thought of divorce has probably popped into your mind at least once.
Come on, admit it.
And if you're not married, let me tell you that there's gonna be a point at 2 a.m. when you have a crying baby and haven't slept in two months that it's gonna run through your head to run.
Far.
Away.
But, don't just take my word for it, take the word of the some 420,663 people living in Georgia over fifteen years of age who are divorced. Or compare that to the 28,339,199 dAmericans who are already divorced in 2022.
A lot of people make the decision to run away - or simply split up - across the Peach State.
Isn't the divorce rate in America close to 50%? Yes indeed. But that's not quite what we're measuring; we are looking at counts and percentages of people over 15 years old who are currently divorced.
You typically calculate that 50% statistic as percent of marriages.
But we are just going to focus on the actual number of divorced people today -- what better way to measure marital misery than the straight count of people in Georgia it affects?
So now that we have you biting your nails, rethinking your world view, and pulling out your hair, let's take a look at the places in Georgia with highest rates of divorcees.
The 10 Cities In Georgia With The Highest Divorce Rates
Let's quickly recap before we dive into the methodology and a closer look at the top ten places in GA.
What is the city in Georgia with the highest divorce rate? That would be Locust Grove, with 17.0% of people over 15 years of age being divorced, per the most recent census data.
What is the overall Georgia divorce rate? According to the 2016-2020 Community Survey, the overall divorce rate in Georgia is 5.0%, which compares to the US divorce rate of 10.9%.
Alrighty, on to how we calculated the places with the highest divorce rates in Georgia.
For more Georgia reading, check out: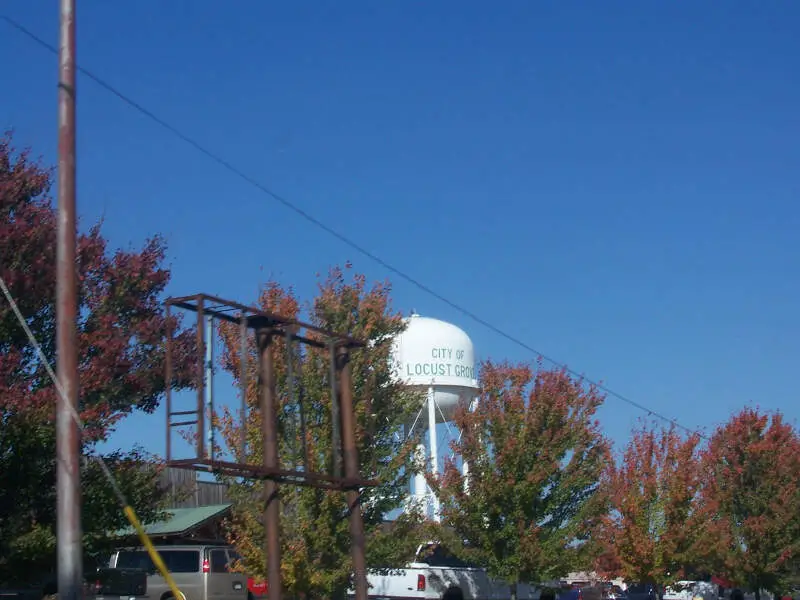 Source: Public domain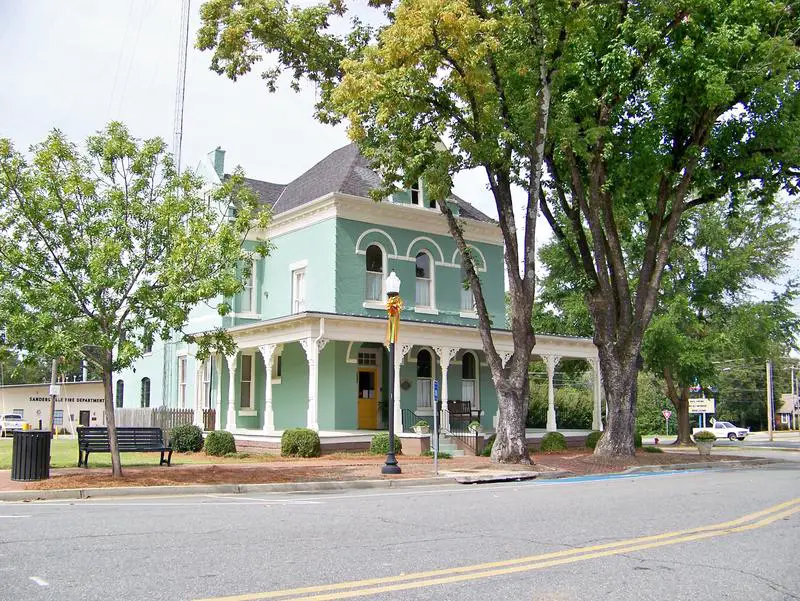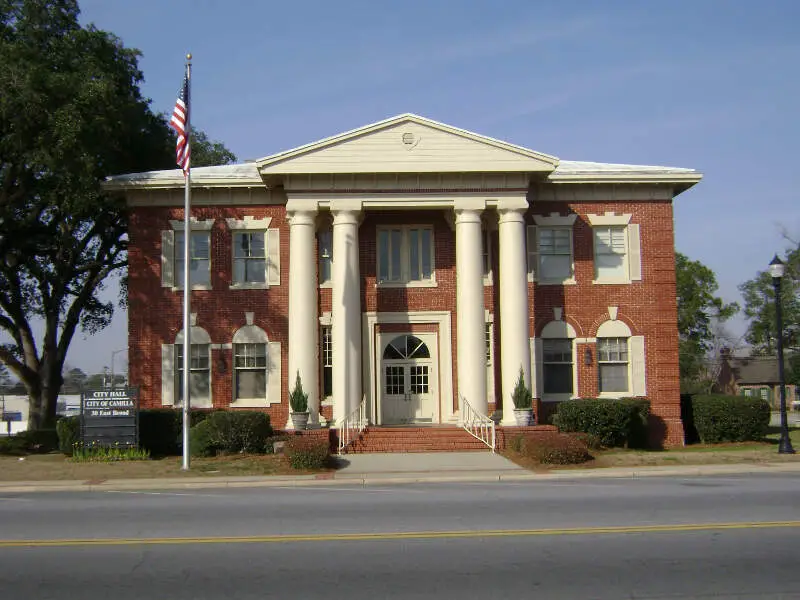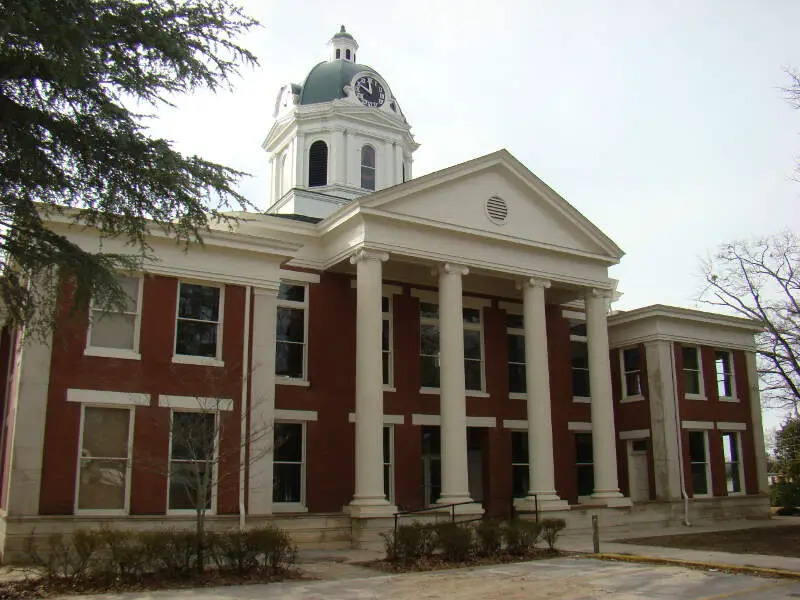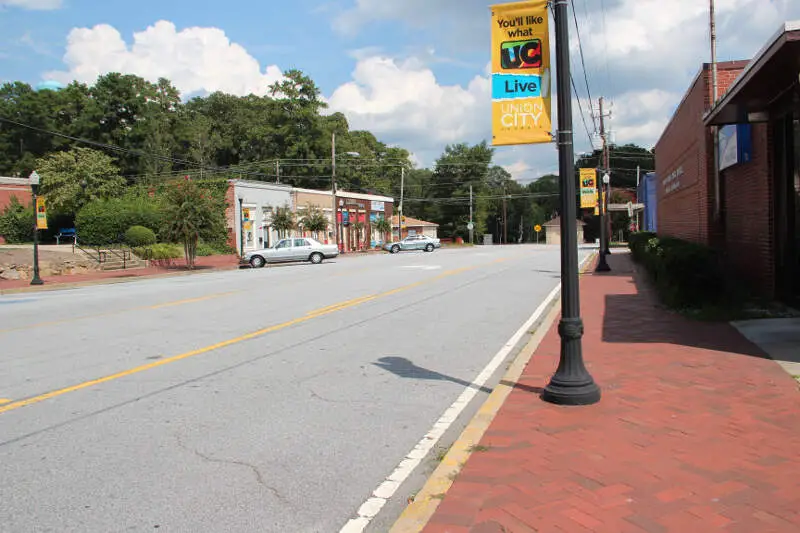 Source: Public domain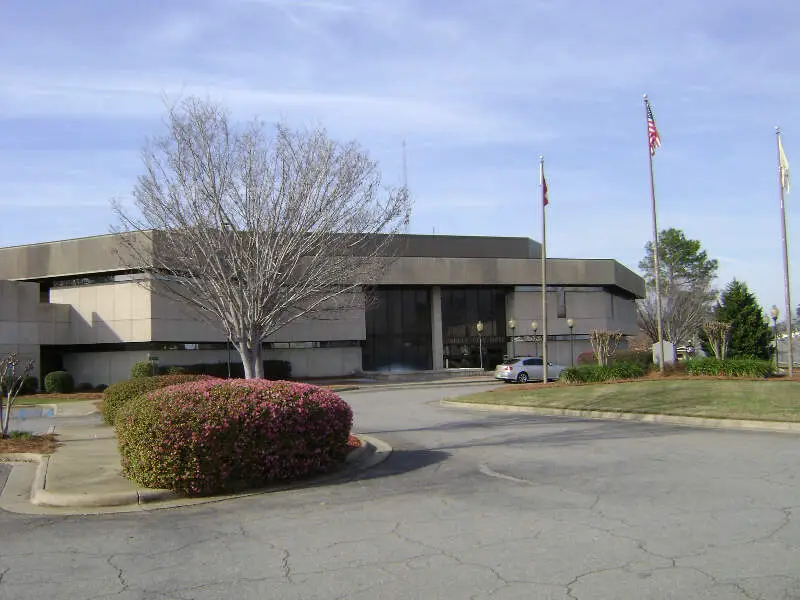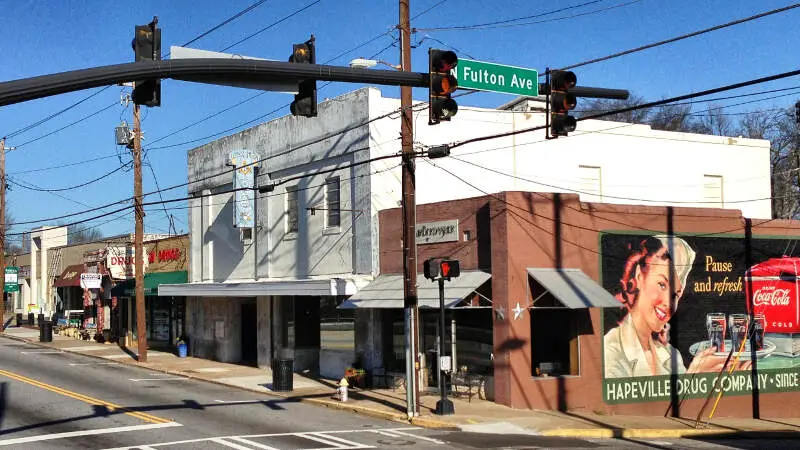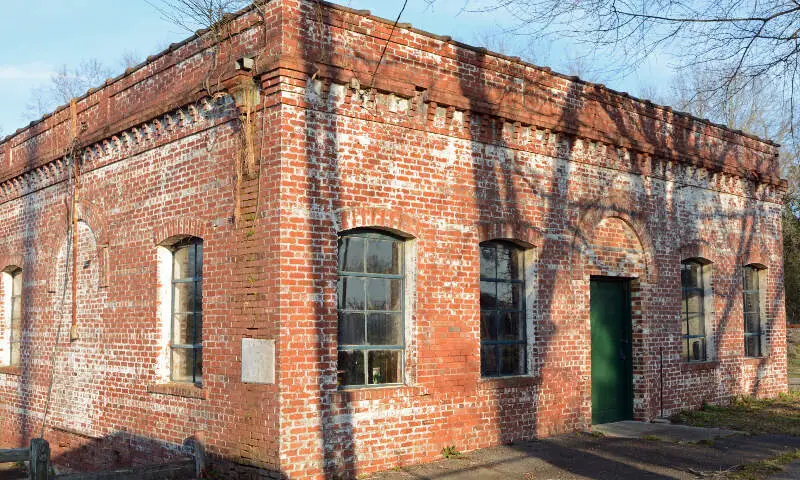 How We Determined The Places In Georgia That Get Un-Hitched The Most
Since that this is the 58th category of rankings we are compiling for the site, we had a pretty good idea where to find data on marriage and divorce in America — the U.S. Census Bureau. Because who likes tracking misery more than the U.S. government?
Specifically, we looked at the 2016-2020 American Community Survey specifically table S1201 -- Marital Status.
Pretty straight forward on that front -- we just had to extract the following column of data:
Population 15 Years and Over -> Divorced
There's some kinda interesting/fun/sad data in there like .1% of female Americans aged 15-19 are divorced, but 0% of males (That's probably a rounding issue, but still).
But the national data is for another day, today the analysis focuses on the 128 places in Georgia with a population of over 5,000.
We ranked each of these places by the percentage of divorcees over 15 years of age from highest to lowest. We crowned the divorce capital of Georgia the place with the highest incidence of divorcees, Locust Grove.
And if you're trying to avoid divorce, check out Peachtree City, the city with the lowest divorce rate in Georgia.
Getting Some Closure In Georgia After Untying The Know
Besides just coming up with what we thought would be a great new blog/book title, "Untying the Knot In Georgia: Life After Divorce", we now have a sense of what places in the Peach State don't pay much attention to the whole "'til death do we part" phrase.
Try to keep in mind that the reason cities rank where they do in Georgia could be because of the age, education, and income distribution, as all of those things impact the rate of divorce.
And, in all honestly, that's probably for the best. It's much better to get out of a toxic relationship than stay it.
Just make sure you have your running shoes ready to go.
For more Georgia reading, check out:
Detailed List Of The Cities With The Highest Divorce Rates In Georgia
| Rank | City | Divorce Rate |
| --- | --- | --- |
| 1 | Locust Grove, GA | 17.0% |
| 2 | Sandersville, GA | 13.0% |
| 3 | Camilla, GA | 13.0% |
| 4 | Toccoa, GA | 13.0% |
| 5 | Union City, GA | 13.0% |
| 6 | Cordele, GA | 13.0% |
| 7 | Commerce, GA | 13.0% |
| 8 | Hawkinsville, GA | 12.0% |
| 9 | Hapeville, GA | 12.0% |
| 10 | Swainsboro, GA | 12.0% |
| 11 | Dallas, GA | 11.0% |
| 12 | Americus, GA | 11.0% |
| 13 | Albany, GA | 11.0% |
| 14 | Jackson, GA | 11.0% |
| 15 | Dublin, GA | 10.0% |
| 16 | Fitzgerald, GA | 10.0% |
| 17 | Griffin, GA | 10.0% |
| 18 | Thomson, GA | 10.0% |
| 19 | Thomaston, GA | 10.0% |
| 20 | Calhoun, GA | 10.0% |
| 21 | Brunswick, GA | 10.0% |
| 22 | Monroe, GA | 10.0% |
| 23 | Waycross, GA | 10.0% |
| 24 | Thomasville, GA | 10.0% |
| 25 | Garden City, GA | 9.0% |
| 26 | Lafayette, GA | 9.0% |
| 27 | Eastman, GA | 9.0% |
| 28 | Byron, GA | 9.0% |
| 29 | Rome, GA | 9.0% |
| 30 | Covington, GA | 9.0% |
| 31 | Moultrie, GA | 9.0% |
| 32 | Douglas, GA | 9.0% |
| 33 | Perry, GA | 9.0% |
| 34 | Sylvester, GA | 9.0% |
| 35 | Lagrange, GA | 8.0% |
| 36 | Eatonton, GA | 8.0% |
| 37 | Jesup, GA | 8.0% |
| 38 | Riverdale, GA | 8.0% |
| 39 | Richmond Hill, GA | 8.0% |
| 40 | Glennville, GA | 8.0% |
| 41 | East Point, GA | 8.0% |
| 42 | Cartersville, GA | 8.0% |
| 43 | Cairo, GA | 8.0% |
| 44 | Vidalia, GA | 8.0% |
| 45 | Cedartown, GA | 8.0% |
| 46 | Fort Oglethorpe, GA | 7.0% |
| 47 | Flowery Branch, GA | 7.0% |
| 48 | Valdosta, GA | 7.0% |
| 49 | Hampton, GA | 7.0% |
| 50 | Winder, GA | 7.0% |
| 51 | Milledgeville, GA | 7.0% |
| 52 | Adel, GA | 7.0% |
| 53 | Douglasville, GA | 7.0% |
| 54 | Tifton, GA | 7.0% |
| 55 | Augusta-Richmond County Consolidated Government (Balance), GA | 7.0% |
| 56 | Savannah, GA | 7.0% |
| 57 | Warner Robins, GA | 6.0% |
| 58 | Barnesville, GA | 6.0% |
| 59 | Dalton, GA | 6.0% |
| 60 | Jonesboro, GA | 6.0% |
| 61 | Bainbridge, GA | 6.0% |
| 62 | Lovejoy, GA | 6.0% |
| 63 | College Park, GA | 6.0% |
| 64 | Columbus, GA | 6.0% |
| 65 | Fort Valley, GA | 6.0% |
| 66 | Villa Rica, GA | 6.0% |
| 67 | Smyrna, GA | 5.0% |
| 68 | Austell, GA | 5.0% |
| 69 | Auburn, GA | 5.0% |
| 70 | Kingsland, GA | 5.0% |
| 71 | Buford, GA | 5.0% |
| 72 | Port Wentworth, GA | 5.0% |
| 73 | Cumming, GA | 5.0% |
| 74 | Grovetown, GA | 5.0% |
| 75 | Forest Park, GA | 5.0% |
| 76 | Conyers, GA | 5.0% |
| 77 | Fairburn, GA | 5.0% |
| 78 | Waynesboro, GA | 4.0% |
| 79 | Norcross, GA | 4.0% |
| 80 | Newnan, GA | 4.0% |
| 81 | Athens-Clarke County Unified Government (Balance), GA | 4.0% |
| 82 | Atlanta, GA | 4.0% |
| 83 | Pooler, GA | 4.0% |
| 84 | Jefferson, GA | 4.0% |
| 85 | Statesboro, GA | 4.0% |
| 86 | Fayetteville, GA | 4.0% |
| 87 | Loganville, GA | 4.0% |
| 88 | Gainesville, GA | 4.0% |
| 89 | Carrollton, GA | 4.0% |
| 90 | Stone Mountain, GA | 4.0% |
| 91 | Decatur, GA | 4.0% |
| 92 | Tyrone, GA | 4.0% |
| 93 | Mcdonough, GA | 4.0% |
| 94 | Powder Springs, GA | 3.0% |
| 95 | Snellville, GA | 3.0% |
| 96 | Acworth, GA | 3.0% |
| 97 | Hinesville, GA | 3.0% |
| 98 | Bremen, GA | 3.0% |
| 99 | Marietta, GA | 3.0% |
| 100 | Canton, GA | 3.0% |