This article is an opinion based on facts and is meant as info-tainment. Don't freak out.
Swipe left for slideshow. Article continues below.
Snobs come in all shapes, sizes, and varieties—kind of like cars. There are your music snobs, culture snobs, wealth snobs, and of course, car snobs. Then there are some people who think they're better than the rest because of their clothes, their homes, or even, their cities.
And just like cars, every city in the U.S. is filled with snobby people, for one reason or another.
We're not hating or anything. In fact, we're kinda' jealous of the people here, and of how awesome these cities are. So don't hate on us.
These are the 10 snobbiest of snobby places in Maryland:
Now before you get all worked up and throw your glass of Domaine de la Romanee-Conti at the computer, you should probably read how we came up with this list first.
For more Maryland reading, check out:
How We Determined the Snobbiest Places in Maryland
In lists like these, we always rely solely on facts and figures, rather than our own opinions or hearsay to come up with our rankings. So first, we gathered up all of the places in Maryland with populations of 5,000 people or more. This left us with a total of 183 places.
We then looked at each of these places in terms of these snooty criteria:
Median home price (higher is snobbier)
Median household income (higher is snobbier)
Percent of population with a college degree
Private schools per capita (higher is snobbier)
Theaters per capita (higher is snobbier)
Art galleries per capita (higher is snobbier)
From there, we ranked each of our places in each category with scores from one to 183. We averaged each place's ranking into one overall score, where the lowest scores went to the 10 snobbiest places in Maryland. So
congratulations?
To see how more places in the state ranked, you can head down to the bottom of this post for a more complete list. Otherwise, keep reading to see just why each place made the top 10.
1. Bethesda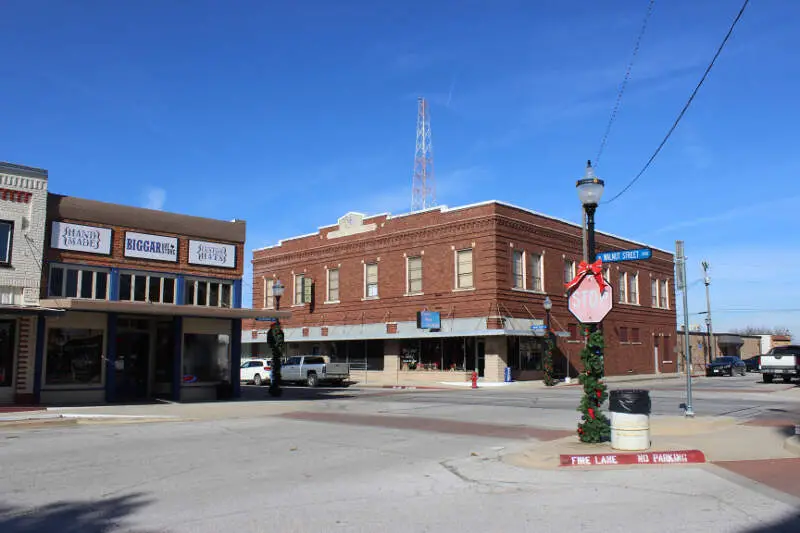 Source: Public Domain
Population: 59,591
Median household income: $141,817
Median home price: $805,900
Okay, really. Who didn't see this coming? Not only is Bethesda one of the highest paid communities in Maryland; it's also THE most highly educated, with a whopping 84% of residents holding at least a college degree.
Perhaps this has a little to do with the high number of private schools per capita here (the 8th most in the state), the smattering of theaters (the 5th most), or even the variety of galleries (the 9th most). Or maybe it is just because Larry Kaufman is from Bethesda, and his intelligence has permeated the very air around him—and if you don't know who that is, smarty pants, Google it.
2. Chevy Chase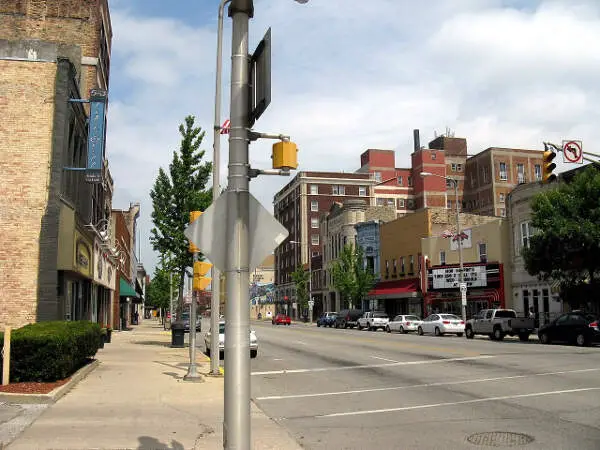 Source: Public Domain
Population: 9,344
Median household income: $157,802
Median home price: $863,500
Okay, if you thought residents in Bethesda made a lot of money, mosey on over to Chevy Chase; just look at the houses and you'll know you're in one of the wealthiest places, not just in the state, but in the country.
This is primarily a little bedroom community for those who work and play in Washington D.C., but unlike most bedroom communities, this one is actually a whole lot wealthier than just about everyone else. Chevy Chase is where the truly wealthy from D.C. come home at the end of the day.
That being said, it doesn't have nearly as many private schools, galleries, or theaters per capita as some of our other communities, as most residents can simply drive into D.C. for those snooty amenities.
3. Rockville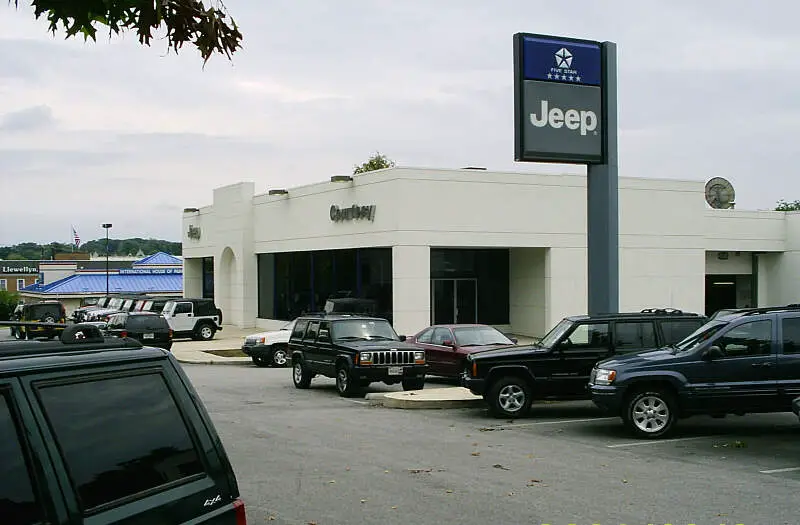 Source: Public domain
Population: 60,960
Median household income: $97,667
Median home price: $481,700
Sure Rockville residents may not make the high salary of those in Chevy Chase—or even more impressive, in our next place—but $97,667 is certainly nothing to sneeze at. Plus, the expensive real estate prices here show us that A) this is a super desirable place to live, and B) people are willing to pay stupid high prices for homes even when they can't exactly afford them in order to impress their friends and families.
Expensive homes aside, Rockville actually is a pretty cool place to live. You'll be surrounded by well educated residents, an array of options for private schools, and of course, plenty of galleries for your weekend shmoozing.
4. Potomac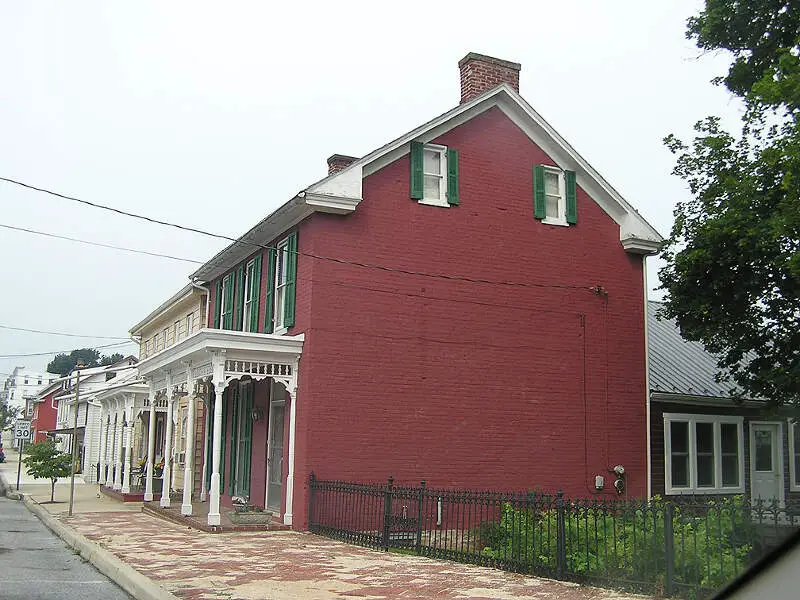 Source: Public Domain
Population: 45,360
Median household income: $173,289
Median home price: $871,400
Daaaaaaaaaaaaannnnnnnnnng, Potomac! Is that nearly $173,300 in your pocket or are you just happy to see us? Yeah, these people are pretty much just about the wealthiest in the nation.
Even more ridiculous is the median home price here: $871,400. This is the highest median home price in the state, and likely one of the highest in the country.
So what's all the fuss about here? Why are people willing to pay so much to live in Potomac? Well, to start, it's just a short commute to D.C. It's also chock-full of private schools and well-educated residents, so you can have conversations about the important things. You know, politics in nearby D.C., work, family, and whose car is more expensive.
5. Gaithersburg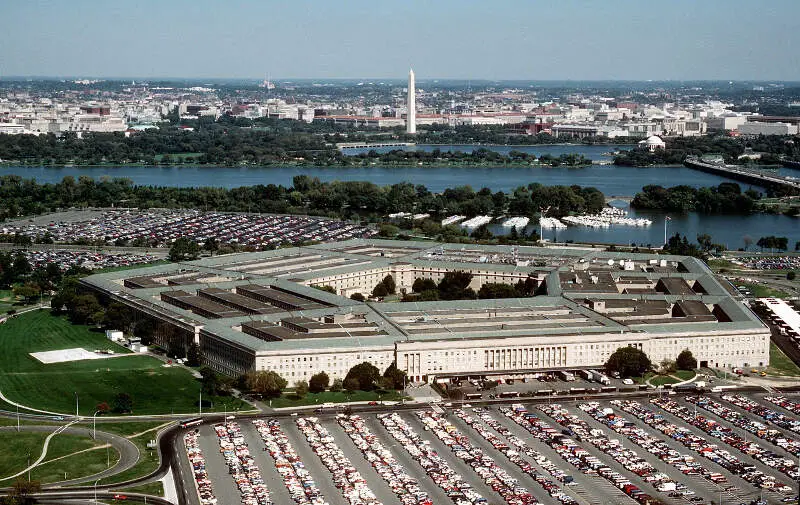 Source: Public domain
Population: 60,223
Median household income: $81,178
Median home price: $364,100
Here's how you know Maryland is a wealthy state: when a median household income of over $80,000 is only the 76th highest in the state, out of 183 places. Usually, we'd probably be seeing a number somewhere between around $40,000 or $50,000 for this kind of ranking. But no. Hats off to you, Maryland.
But back to Gaithersburg in particular. Even though residents make a median of "only" $81,178 per year here, the homes are still among the more expensive. There are also plenty of private schools here and nearby to choose from (the 11th most per capita), theaters (14th most), and art galleries (18th most) in which to say snooty things like "Yes, Beatrice. But it's no Gursky."
6. Ellicott City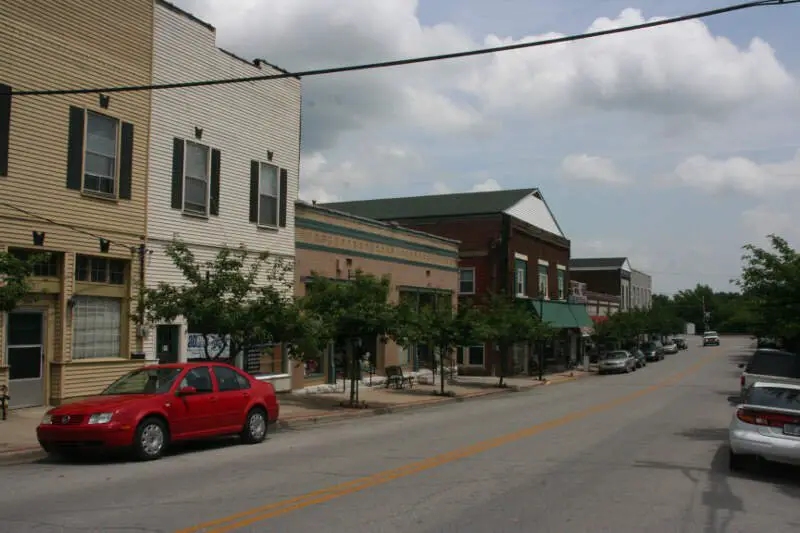 Source: Public Domain
Population: 66,476
Median household income: $114,769
Median home price: $514,300
Fun fact! Since 2005, Ellicott City has been ranked four times among the top "20 Best Places to Live in the United States" by Money and CNNMoney.com. Another fun fact! You probably can't afford it!
Just kidding. If you happen to make about $115K a year, you can totally afford Ellicott City. But why would you want to? We'll tell you why! The downtown area (Historic Ellicott City) is adorable. The homes—beautiful. Plus, all of your neighbors will be rich and equally well-educated, so when you complain about your Porsche being in the shop, you'll have a sympathetic shoulder to cry on.
7. Darnestown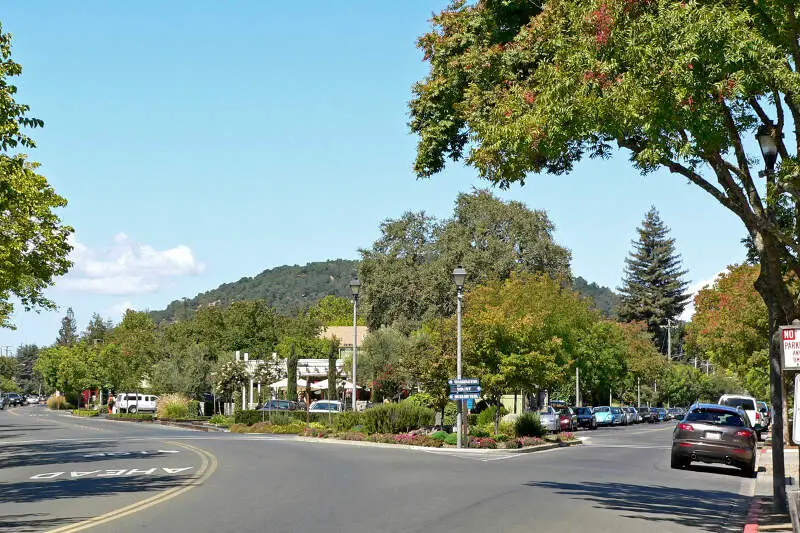 Source: Public Domain
Population: 6,735
Median household income: $172,627
Median home price: $741,600
Darnestown residents certainly are educated. These guys have the 7th most college grads in the state. It's no coincidence that they're also making the second highest salary in the state. Hate to say it, but usually, a better education, leads to more money*.
*Except for Leonardo Del Vecchio, Roman Abramovich, Savitri Jindal, Paul Allen, Michael Dell, Michele Ferrero, Lee Shau Kee, Ingvar Kamprad, Christy Walton, Larry Ellison, and Bill Gates
But you know, I said "usually."
8. Silver Spring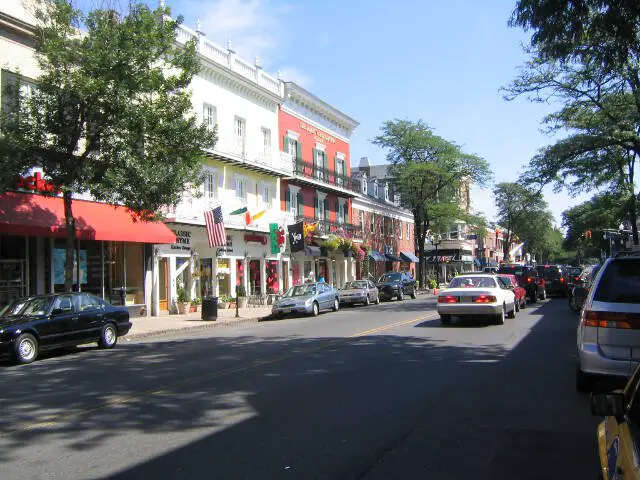 Source: Public Domain
Population: 74,476
Median household income: $72,954
Median home price: $453,900
Silver Spring! Great town, great people. Residents may not make the high dollars that they do in some other places in the state, but that certainly doesn't stop homes from being among the top 20 most expensive. Folks here are well educated and seem to have a rich culture filled with art galleries and theaters.
Yay, Silver Spring!
9. Annapolis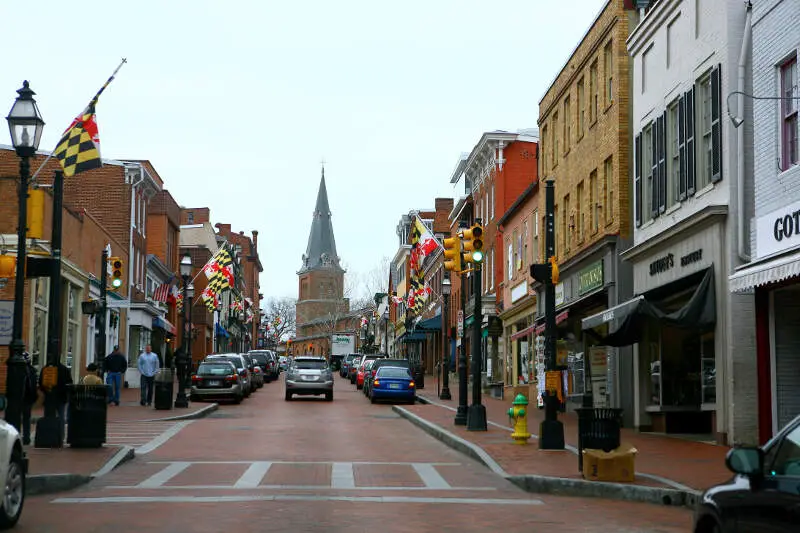 Population: 38,309
Median household income: $70,689
Median home price: $390,700
Just like Silver Spring, Annapolis residents are not some of the best paid. In fact, they just ranked number 105 here. BUT, don't let a humble (not humble at all, really) salary fool you! These guys are plenty snobby—and for good reason.
Their homes are pricey, they have private schools coming out their
neighborhoods, but more than that, Annapolis has some of the most art galleries and theaters per capita in Maryland—the third and second most, respectively.
Plus, it is SO CUTE. You guys, go ahead and be snobby about this place. I would be too.
10. North Bethesda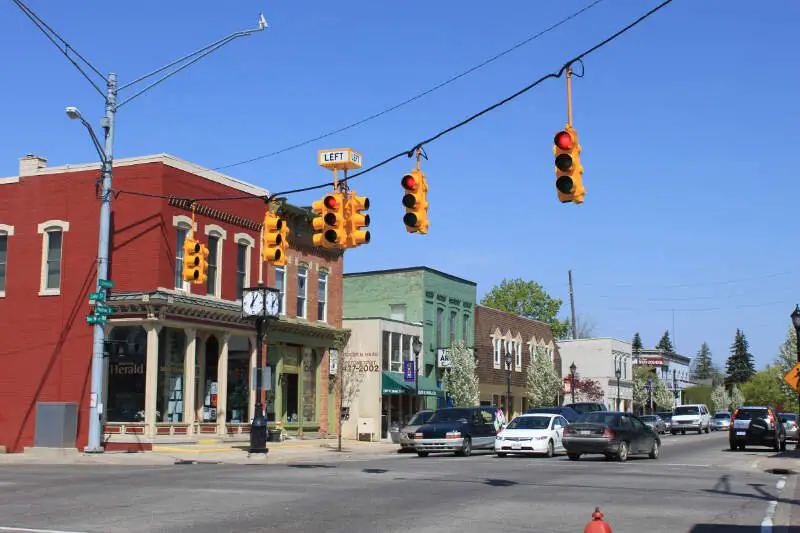 Source: Public Domain
Population: 42,894
Median household income: $100,181
Median home price: $494,200
Wrapping up the list is North Bethesda, the slightly less snobby version of Bethesda. While residents are still paid pretty well, they're not making as much in regular old Bethesda; nor are the homes as expensive. Still, though, $494,200 is much higher than the national median home price of $188,900.
Plus, NoBeth has some of the most college degree-holders in Maryland, with 70% of the population able to claim that they're smarter than you are. Stay snobby, North Bethesda.
Yeah, But You're Still Winning
If we haven't offended you too much with this post, please do feel free to stop by again and see us. And if we have offended you, well, calm down. After all, this post was all in good fun – and when it comes to being well paid, well educated, and well cultured, well, that's where you guys really won.
Even if it means you're a little snobby.
We also wrote about the 10 Most Redneck Cities In Maryland if you haven't seen it yet. Number one will surprise you.