This article is an opinion based on facts and is meant as info-tainment. Don't freak out.
Swipe left for slideshow
When it comes to being a snob, there are all types. You've got your Wine Snobs, your Book Snobs, and of course, your Clothes Snobs. Then there are the Technology Snobs, Car Snobs, and yes, even City Snobs—as in, I'm better than you because I live in (insert snooty city here).
And you have your new money snobs.
If you're reading this from Massachusetts, you are probably on one side of the fence or another. You're either an elitist with a lot of money and success, or you're a regular guy. Which is it? Well, it depends on where you live.
And, we can tell which parts of Massachusetts are the snobbiest by looking at the data.
After analyzing more than 200 cities, we've firmly decided that these are the 10 snobbiest cities in the state of Massachusetts:
Weston
Sudbury
Lincoln
Concord
Bedford
This list probably wasn't a shocker for anyone who lives in Winchester, as they are most likely smiling in their big armchairs with a sense of aloofness.
And to be clear, we didn't form this list based on our own biases — we relied on the cold hard data. For more on how we ran the numbers, keep on reading. Then we'll take a closer look at each of our top 10 snobbiest places.
How we determined the snobbiest places in Massachusetts
If you're feeling a bit haughty about these rankings, calm down. See, we relied on facts and figures to create this list not just our opinions of those cities.
We started by making a list of every place in Massachusetts over 5,000 people based on the 2013 American Community Survey. That left us with more than 200 places in Massachusetts.
We then looked at the following snob-tastic criteria for each of the places on the list:
Median home price (Higher is snobbier)
Median household income (Higher is snobbier)
Percent of population with a college degree (Higher is snobbier)
Private schools per capita (Higher is snobbier)
Theaters per capita (Higher is snobbier)
Art galleries per capita (Higher is snobbier)
Next, we ranked each place in each category from one to 200, where the lower the score, the snobbier the place. Finally, we averaged each place's rankings where the place with the lowest score was crowned "The Snobbiest Place In Massachusetts".
Time to put on your monocle and go through these snooty places.
1. Wellesley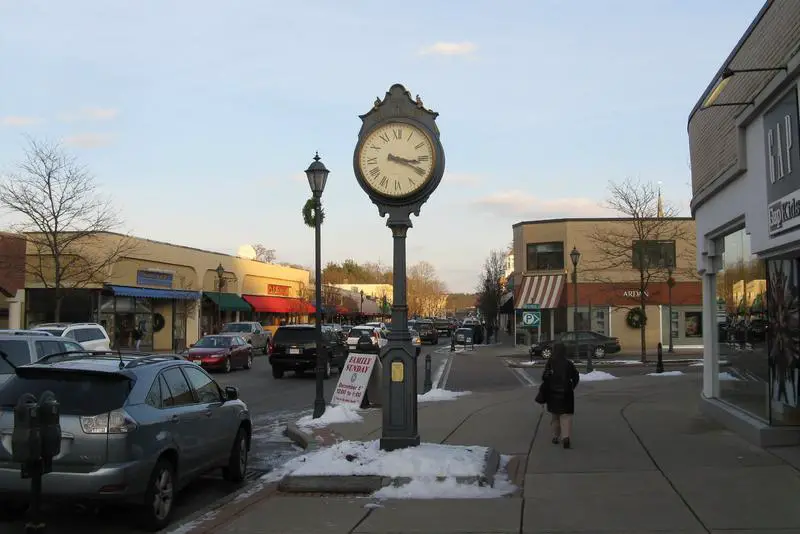 Population: 28,188
Median household income: $155,000
Median home price: $944,000
There are snooty places, there are snobby places, and then there's Wellesley. The rest of New England has nothing on the self aggrandizing that goes on in the most uncontested place to live in Massachusetts.
I mean, check out the picture of their city hall. Is that over the top or what?
Wellesley is home to just about the richest people in the state, who live in the biggest homes. The snobs of Wellesley earn the 3rd highest incomes, and live in the 2nd biggest, most expansive homes in the state. They are also the 'smartest' people in the room, as 80% of the population has at least a bachelor's degree.
2. Weston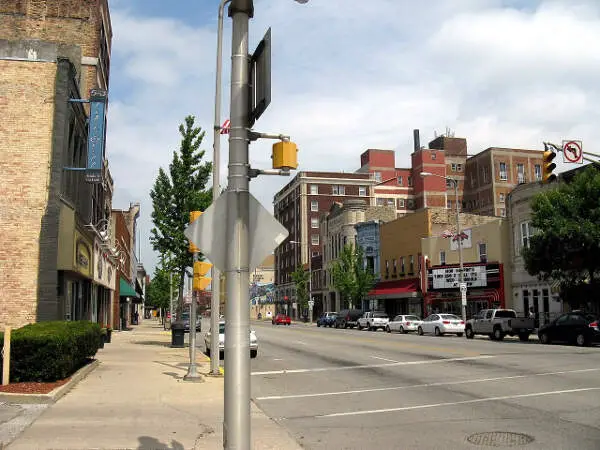 Source: Public Domain
Population: 11,470
Median household income: $176,000
Median home price: $1.2 million
The residents of Weston are most likely out of touch with the rest of Massachusetts. They have by far, the largest McMansions, and earn far more than you and I. If the people of Weston weren't distracted by everyday matters such as making sure their kids get to flute practice on time, they'd probably be sitting in a suite two down from Robert Kraft during playoff time.
And they probably wouldn't even pay attention to the game.
According to Wikipedia, Weston residents, 'tend to brush off the town's reputation as one of the most affluent communities in the state.'
Yeah, right.
3. Winchester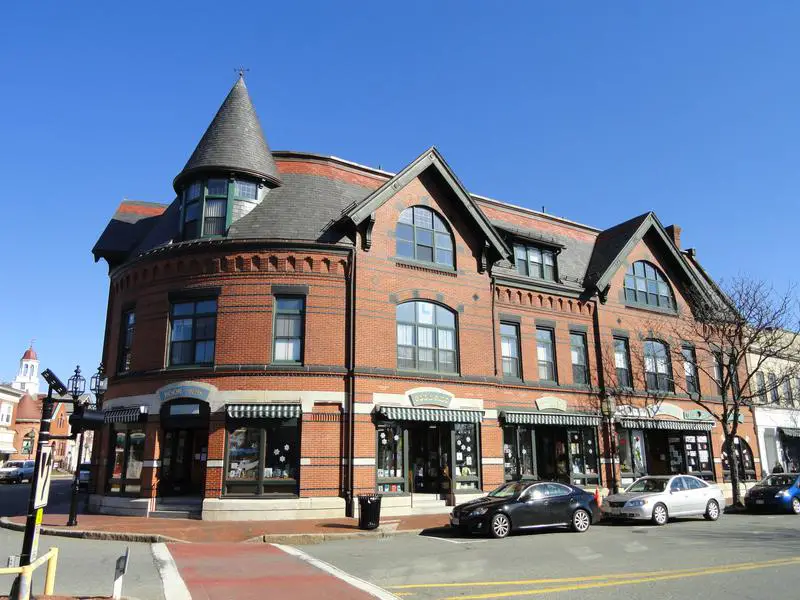 Source: Public domain
Population: 21,487
Median household income: $128,000
Median home price: $757,000
Winchester people probably aspire to one day bump elbows with the snobs over in Wellesley. Maybe if they went to school a little longer, they'd be able to compete. 'Only' 70% of the snooty people of Winchester graduated from college.
Winchester has the 3rd most art galleries and the 5th most private schools in their area. Which can make for an interesting conversation in the car, as mom quizzes her snooty kids about art history while they're on the way home from Whole Foods.
4. Sharon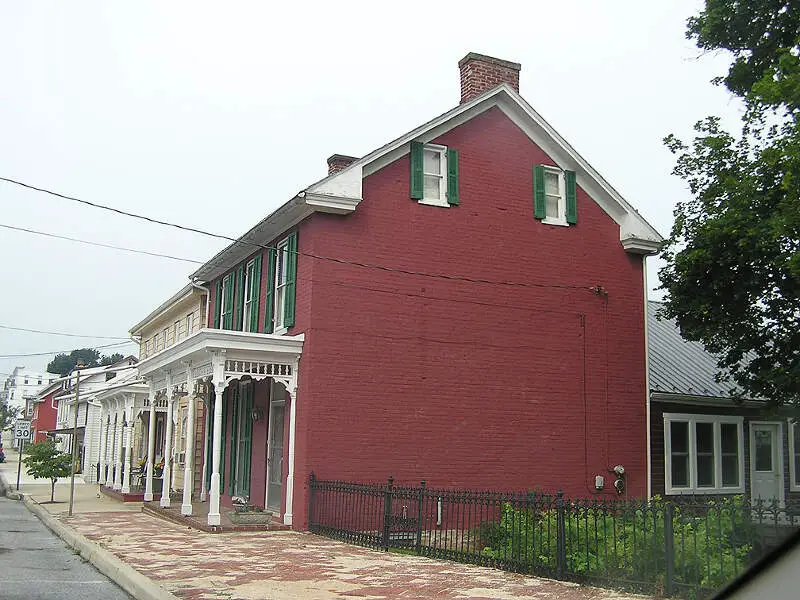 Source: Public Domain
Population: 17,482
Median household income: $123,500
Median home price: $450,000
Sharon is such a snobby place that the city didn't even bother to set up a Facebook page. Perhaps it's because they think they're better than you.
The list of notable people from Sharon is a mix of athletes, physicists, best-selling authors…you get the point. You can most likely bet that they would publicly disagree that they are on this list, but would secretly relish the attention, being compared to Wellseley and Winchester and all.
5. Sudbury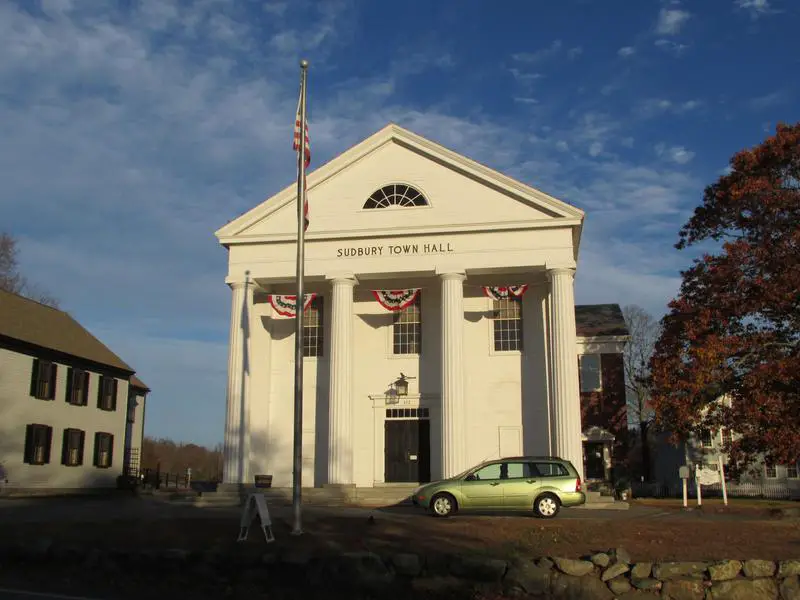 Population: 20,217
Median household income: $164,000
Median home price: $654,000
Sud-bury. It just sounds snobby. Say it with a snobby British accent.
The high and mighty of Sudbury earn less than the folks over in Weston. And now that they realized it, they might just turn their noses up at this entire study.
Don't worry, Sudbury. There are plenty of art galleries, theaters, performing arts centers and other high brow distractions in the area to keep you occupied.
6. Lincoln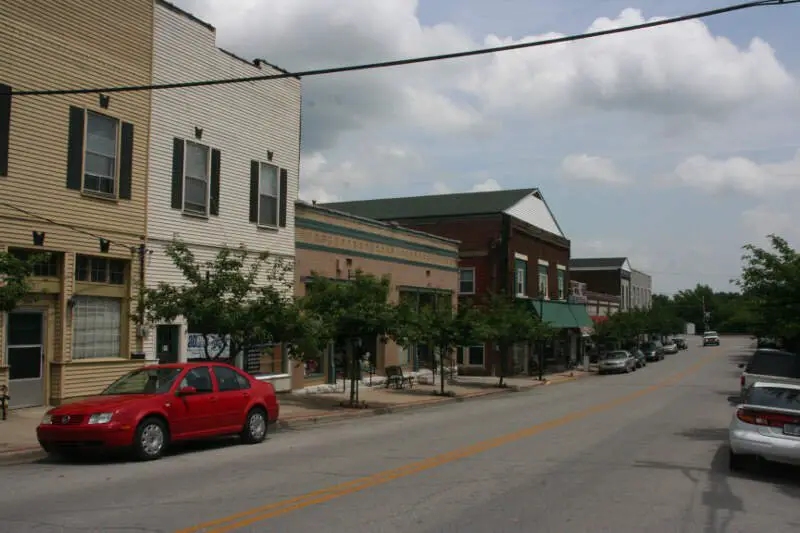 Source: Public Domain
Population: 8,372
Median household income: $119,000
Median home price: $888,300
Just how to the snobs up in Lincoln manage to make ends meet? Their average salaries are the 16th highest in the state, but their home prices are through the roof. That's a sure sign of a real snob…living beyond their means.
There are plenty of snobberific distractions in the area to keep them distracted, though.
7. Concord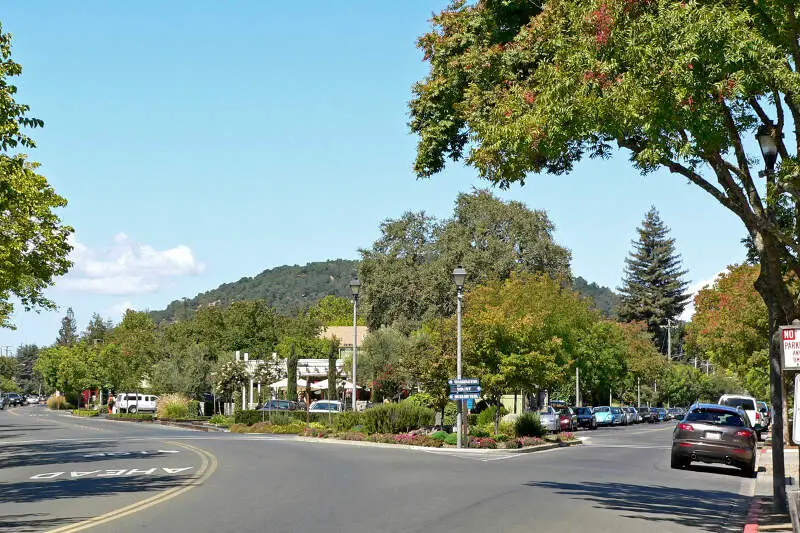 Source: Public Domain
Population: 5,095
Median household income: $131,000
Median home price: $748,000
Here in Concord, you have a lot to choose from if you live the high life. They have several options, whether it's a snooty art event or opening night of Les Miz, you can never be 'bored' here if you enjoy snobby functions.
Ralph Waldo Emerson, Nathaniel Hawthorne,Bronson Alcott, Louisa May Alcott and Henry David Thoreau all had home here at one point or another. You can bet most of the residents of Concord are aware of this, and have copies of their books on the mantle, right next to a Mike Greenwell autographed jersey.
8. Lexington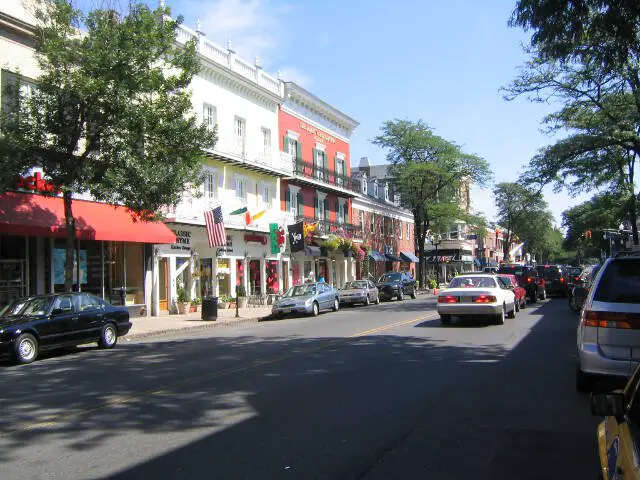 Source: Public Domain
Population: 31,527
Median household income: $138,900
Median home price: $748,700
The hoity toity people of Lexington are really smart, and they live in really large homes. They also make much, much more than you do.
Lexington was also home to the 'first shot' of the Revolutionary War. Odds are, the snobs who live there can take you to the exact spot where it happened; they'll smugly sit there puff their pipes while you take a selfie.
And a sure sign that a city is snobby: They spell their main retail area the Lexington Centre. Because Lexington "Center" just isn't high brow enough.
9. Bedford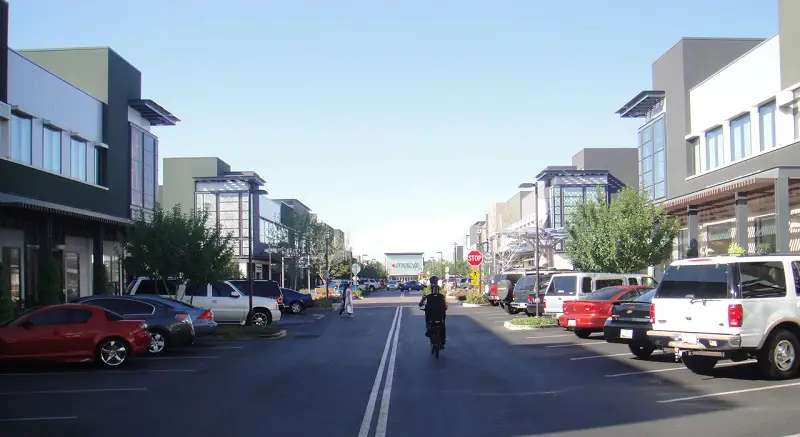 Source: Public Domain
Population: 13,407
Median household income: $104,000
Median home price: $564,100
Bedford is located right near many of the cities listed above. And, though they make less money, and live in smaller homes than their neighbors, their snob level is still at a 7.
They might be more down to earth then the snobs which surround them; only 57% of Bedford residents completed college. Maybe they are trivia snobs instead?
10. Swampscott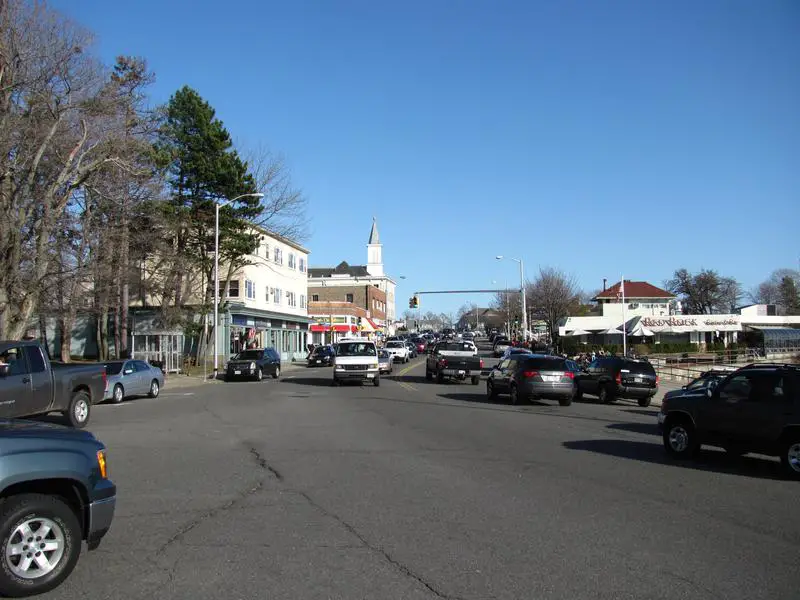 Population: 13,287
Median household income: $106,000
Median home price: $450,000
Alright Swampscott, you made it into the snob spotlight. Now, you can think even more highly of yourselves as you sit in your huge homes, overlooking the Atlantic Ocean, watching the poor saps down below struggle with their beach umbrellas.
Home prices are pretty high here, and in some spots along the coast, homes can fetch upwards of $10 million.
If you live in a $10 million home, you are out of touch with the rest of your Massachusetts peers. We all hope you enjoy your perch from up above. Let us know how the weather is up there.
Summing Up The Humble Pie
Well there you have it, the places in Massachusetts that needed a piece of humble pie, with Wellesley in particular being called out as the snobbiest place in the state.
But you may have known that already.
We also wrote about the 10 Worst Places To Live In Massachusetts if you haven't read that yet.