When it comes to being a snob, there are all types. You've got your Wine Snobs, your Book Snobs, and of course, your Clothes Snobs. Then there are the Technology Snobs, Car Snobs, and yes, even City Snobs—as in, I'm better than you because I live in (insert snooty city here).
Now, if you're reading this from Michigan, you might think that there's no way you could be a snob. With your mid-western hospitality and attitude, you bask in humble pie.
And while you certainly may be less snooty than the rest of the country, there are always pockets of snobbery in every state and Michigan is no exception.
So without further ado, here are the 10 snobbiest places in The Wolverine State, starting with our winner, Northville:
I bet this list surprised no one from Northville, they are just sitting there nodding their heads in high nosed aloofness.
And to be clear, we didn't form this list based on our own biases — we relied on the cold hard data. For more on how we ran the numbers, keep on reading. Then we'll take a closer look at each of our top 10 snobbiest places.
For more Michigan reading, check out:
How We Determined The Snobbiest Places In Michigan
If you're feeling a bit haughty about these rankings, calm down. See, we relied on facts and figures to create this list not just our opinions of those cities.
We started by making a list of every place in Michigan over 5,000 people based on the 2013 American Community Survey. That left us with 61 places in Michigan.
We then looked at the following snob-tastic criteria for each of the places on the list:
Median home price (Higher is snobbier)
Median household income (Higher is snobbier)
Percent of population with a college degree (Higher is snobbier)
Private schools per capita (Higher is snobbier)
Theaters per capita (Higher is snobbier)
Art galleries per capita (Higher is snobbier)
Next, we ranked each place in each category from one to 61, where the lower the score, the snobbier the place. Finally, we averaged each place's rankings where the place with the lowest score was crowned 'The Snobbiest Place In Michigan'.
Now before we start really making fun—or rather, taking a closer look at our top 10 cities, let's just be clear: this list may be completely scientifically proven and absolutely irrefutable (hah), but, really, it's all in good fun. These aren't bad places to live, so don't get that idea.
If you'd like to see more than these top 10, feel free to head down to the bottom of the post for a look at the full list. Otherwise time to put on your monocle as we examine the snobbiest places in Michigan.
1. Northville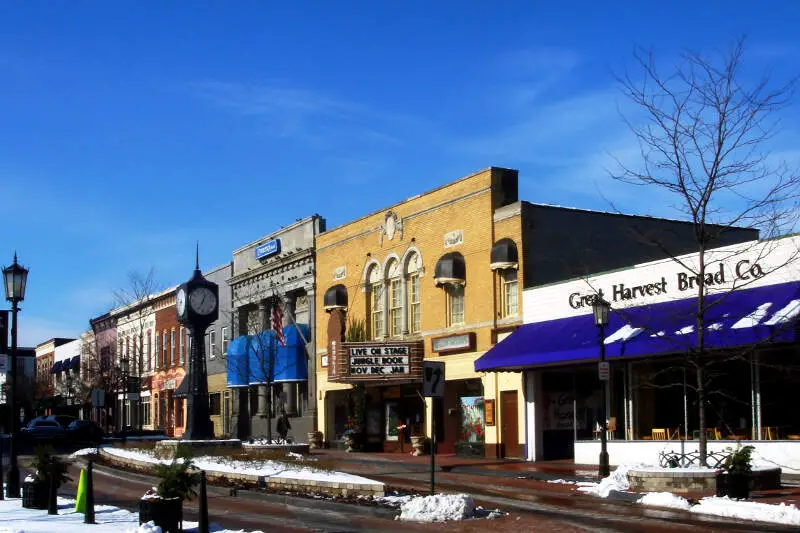 Population 5,996
Median Household Income: $88,237
Median Home Price: $219,500
There are snootty places, then there are snobby places, and then there's Northville. The King of the North has nothing on the self aggrandizing that goes in the uncontested most snobby place to live in Michigan.
The small town combines unparalleled wealth (The highest median household income in Michigan) with expensive homes (2nd highest in Michigan) to create an enclave of snobbery.
It's probably the kind of place where you need to belong to the right book club and your kids have to go to private school, where it ranks as having the 3rd most per capita in the Great Lake State.
2. Rochester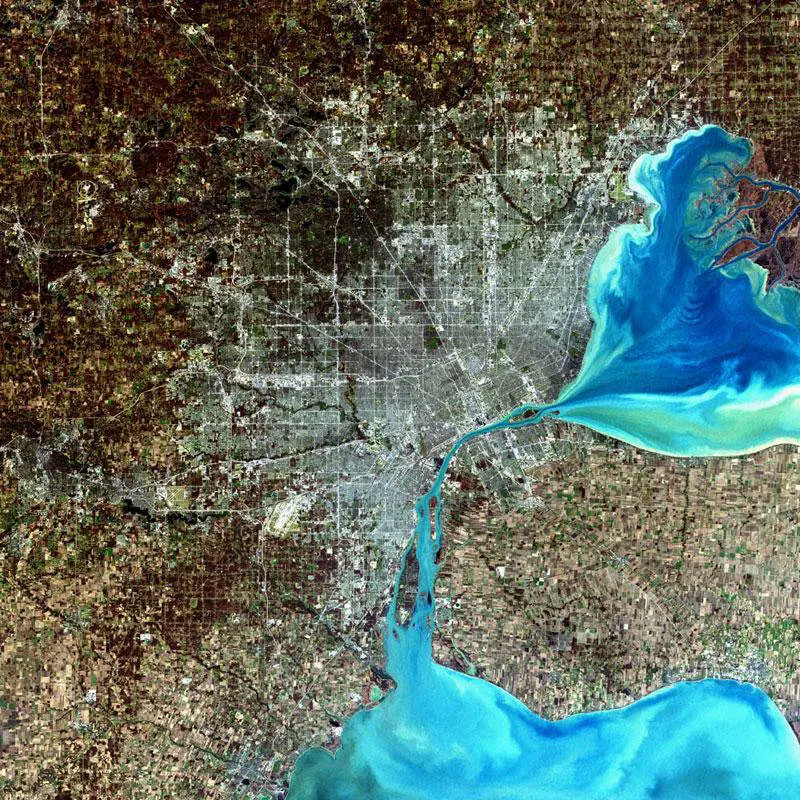 Population 12,647
Median Household Income: $80,747
Median Home Price: $262,100
The second most snobby place in Michigan goes to Rochester.
Like many places on this list, it strategically placed itself close to Detroit , but not close enough to be considered part of Detroit. It boasts the most expensive McMansions in Michigan with a median price of over $262,000 and the fourth most galleries per capita.
It's the kind of place with an over the top Christmas parade every year and farmers markets every Sunday.
3. Plymouth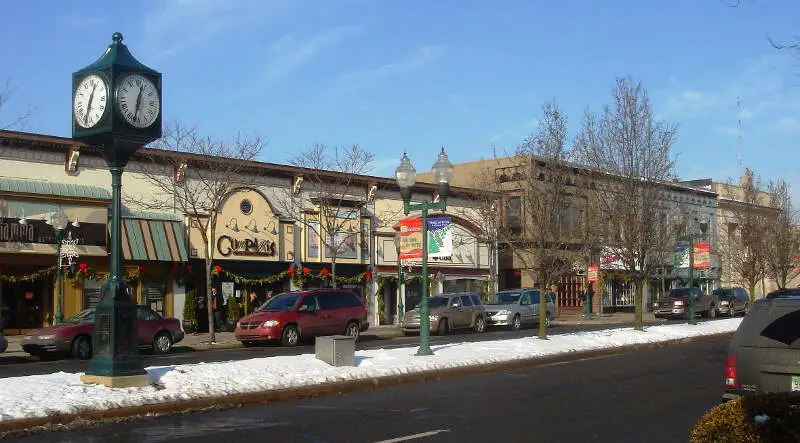 Population 9,070
Median Household Income: $63,875
Median Home Price: $194,400
Plymouth ranks as the third most snobby place in Michigan.
While it couldn't compete with the income and home prices of Northville and Rochester, it makes up for it in snobby things to do.
Plymouth is the kind of snobby that calls their ice sculpting festival the 'Plymouth Ice Spectacular'. And with the second most theatres (yes, they say theatres there) per capita in Michgan, you get events like 'Music in the Air' and 'Art in the Park'.
And if you're interested, there's a 7 page history of the small city on Wikipedia.
4. Royal Oak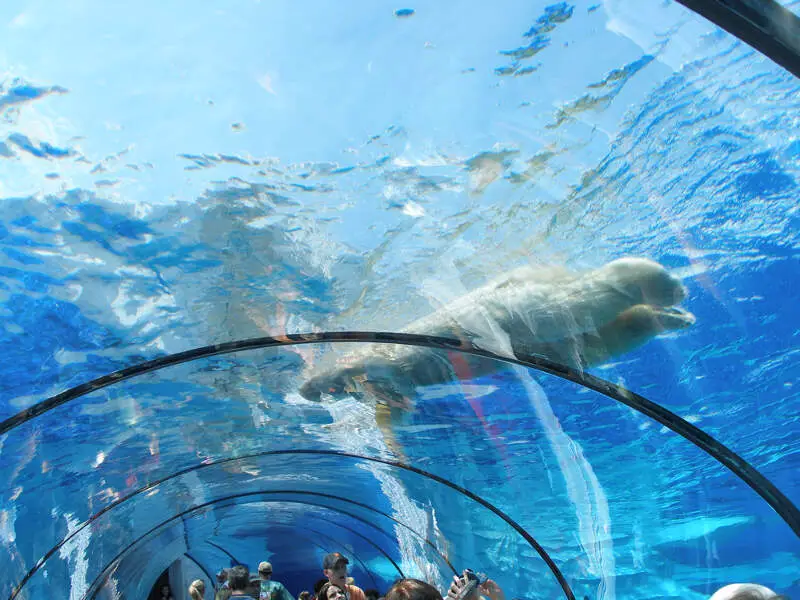 Population 57,761
Median Household Income: $62,453
Median Home Price: $159,800
There's a decent size gap between the snob levels of the top three cities on the list and Royal Oak, the fourth snobbiest place in Michigan.
While the median household income for Royal Oak still places it in the top ten of Michigan, it doesn't quite live up to the royalty in its name.
But what it lacks in (relative) income, it makes up for in snobby amenities. It has the sixth most theaters per capita and the seventh most art galleries per capita.
And when your city is the setting of Home Improvement, you know that you have royally snobby aspirations.
5. Traverse City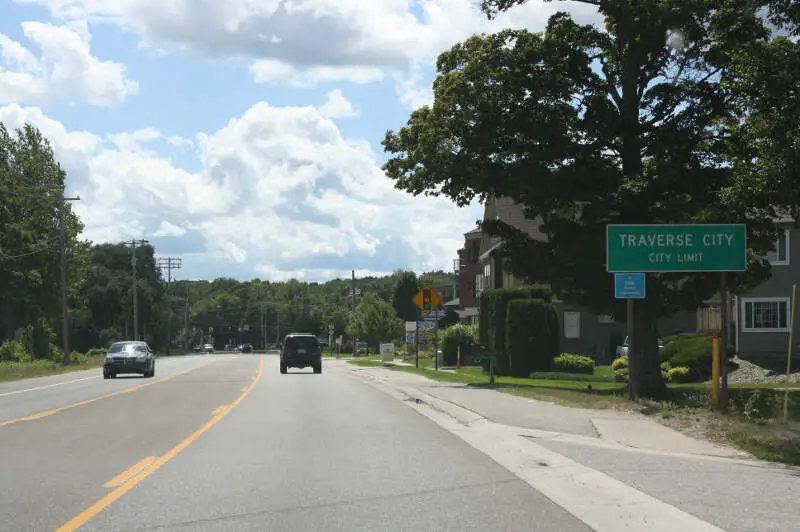 Population 14,702
Median Household Income: $44,542
Median Home Price: $174,500
Traverse City isn't bitter about being the fifth snobbiest place in Michigan, but it might be a little tart. That's because it's the largest producer of tart cherries in the US. And in true snob fashion, had to name its festival the 'National Cherry Festival' because anything less grandiose wouldn't be snobby enough.
In other, more measurable levels of snobbiness Traverse City ranks as having the most private schools per capita and the most theatres per capita in Michigan.
6. Petoskey
Population 5,710
Median Household Income: $42,056
Median Home Price: $190,800
The sixth snobbiest place ranking goes to Petoskey, which has been described as a 'Coastal Resort Community'. Because, you know, being just a city isn't enough.
Petoskey, located in the most northern part of the mitten, didn't take the stereotypical path to snobbery. It actually has the lowest median household income of any place in the top ten, but it makes up for it with the most galleries per capita and second most private schools per capita.
Not to mention the city named a stone after itself, Petoskey stones, which it (probably) lobbied to make the state stone of Michigan. How snobby can you get?
7. Troy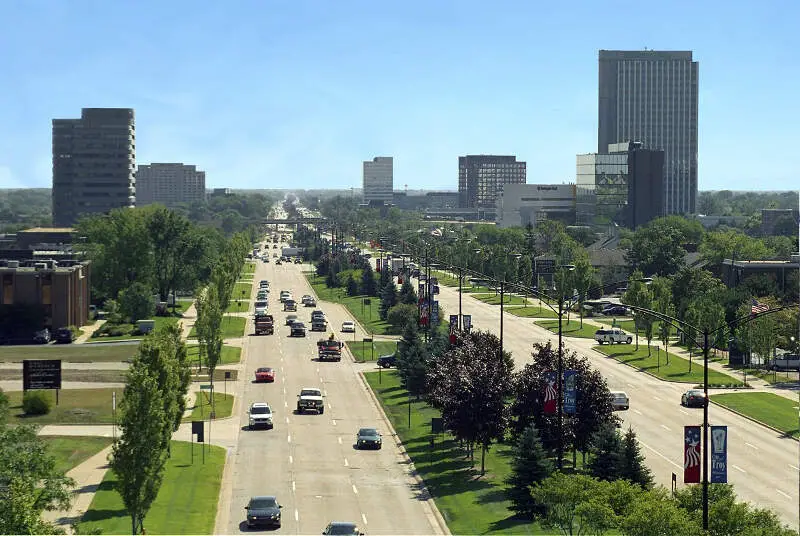 Population 81,307
Median Household Income: $86,465
Median Home Price: $226,200
Troy ranks as the seventh snobbiest place in Michigan and is no stranger to being on lists at RoadSnacks as it also ranked as one of the most boring.
But I guess you don't need much to do when you can swim around in cash, Troy has the second highest median household income in the Wolverine State and the fourth highest median home price.
So I'm pretty sure the city was oblivious to our ranking them as boring since their noses are so high in the air.
8. Novi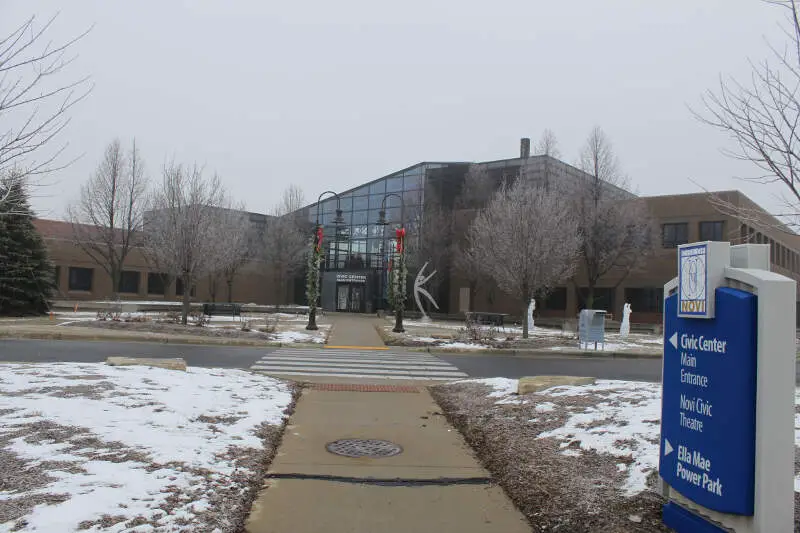 Population 55,319
Median Household Income: $78,430
Median Home Price: $242,600
Novi actually tied Troy in terms of their level of snobbishness, but a slightly lower median household income broke the tie and put them into eighth place.
But don't feel bad for Novi, the median home price ranks as the third highest in Michigan and they have are a 'major shopping destination'.
9. Okemos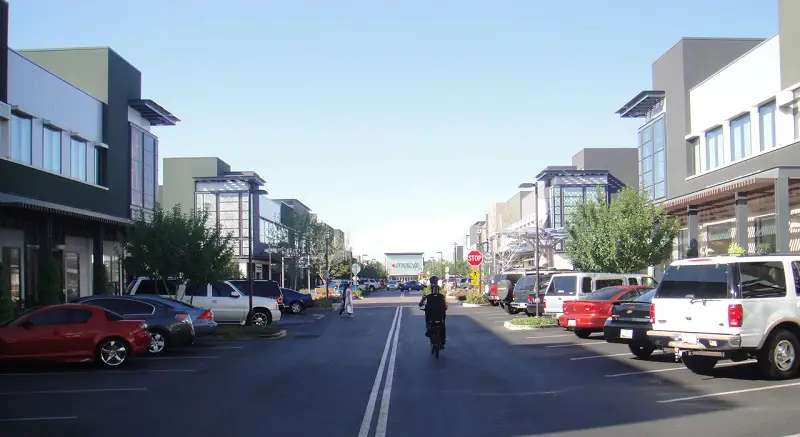 Source: Public Domain
Population 20,885
Median Household Income: $71,291
Median Home Price: $195,800
Okemos ranks as the ninth snobbiest place in Michigan and, odds are, the people living there are smarter than you.
Why do I say that? Because Okemos has more college graduates per capita than any other place in Michigan. In fact a staggering 71% of people have graduated from college. Probably has something to do with East Lansing and Michigan State being next door.
The second most educated place in Michigan, Northville, is 13.4 percentage points behind Okemos (71.1% vs 57.7%). So my bet is they don't even bother with the internet there and only read the Economist and the Harvard Business Review.
10. Saline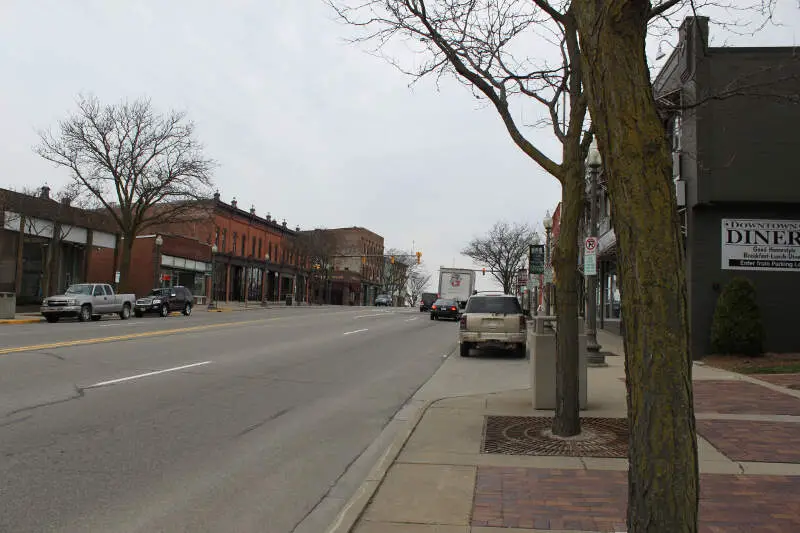 Population 8,845
Median Household Income: $66,543
Median Home Price: $194,100
And rounding out the Michigan snobbery elite is Saline.
Saline has seventh highest median household income in Michigan and the eighth highest median home price. So the price of admission to this small city is high.
But it's not quite as snobby as some of the other places on this list because it doesn't offer the same level of snob-menities, it actually has a below average number of private schools per capita for Michigan.
So of all the places on the list, this one may be the most down to earth like where you live. Maybe.
Summing Up The Humble Pie
Well there you have it, the places in Michigan that needed a piece of humble pie, with Northville in particular being called out as the snobbiest place in Michigan.
And, at the very least, they can all take solace in the fact that they are not the worst places to live in Michigan.