This article is an opinion based on facts and is meant as info-tainment. Don't freak out.
Swipe left for slideshow. Article continues below.
There are certain parts of the country where residents and snootiness go together like a snob and a superiority complex. Of course there's the West Coast snob – a newer creature who perhaps made his or her money in tech or a startup. There's the southern snob, who takes pride in family money and goes to events like cotillions and coming out parties (yes, really.)
And then there's the snob of the Northeast – a wealthy, high-class, individual, who, don't even bother asking, is much smarter, more sophisticated, and learned than you.
Especially in these 10 places in New York:
Now we're not so full of ourselves as to just come up with this list from nowhere. We actually analyzed 500 places in the state in order to bring you these places. But keep your Levi Strauss & Co pants on – we'll get to that in the next section.
And remember, at least these aren't the worst places to live in New York State.
For more New York reading, check out:
How We Determined the Snobbiest Places in New York
Like we said, to come up with this list, we strictly relied on data; not our own opinions or biases.
So we started by making a list of all of the places in New York with 5,000 people or more, and then we looked at each in terms of these snobby criteria:
Median home price (higher is snobbier)
Median household income (higher is snobbier)
Percent of population with a college degree
Private schools per capita (higher is snobbier)
Theaters per capita (higher is snobbier)
Art galleries per capita (higher is snobbier)
Then we ranked each place with a score from one to 500 in each category. We averaged these up into one overall score for each place, and the lowest of those scores went to our 10 snobbiest places.
Don't get your Uwe Koetter panties in a twist though – we're not saying that there's anything wrong with any of these places. In fact, if you're well-educated, well-paid, and highly cultured, good for you!
Now let's take a look at just what makes you so snobby, and if you'd like to see how more cities in New York ranked, just scroll to the bottom of the post for a more complete list. Or ask the butler to do it.
1. Garden City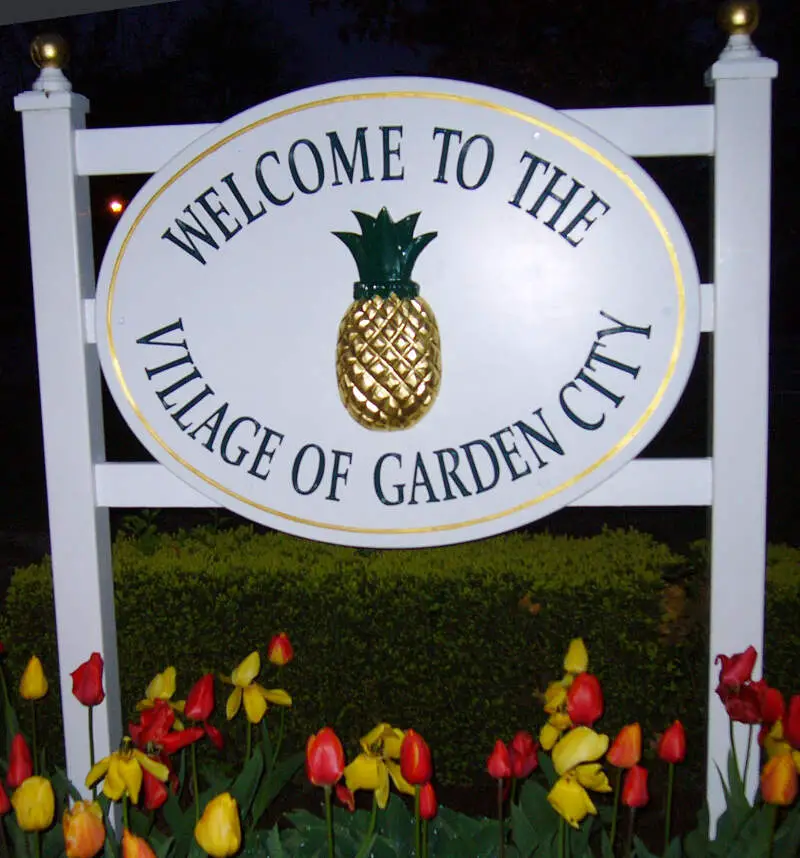 Source: Public domain
Population: 22,349
Median Household Income: $141,239
Median Home Price: $748,300
Let's take a moment to refresh ourselves on some basic vocab. The word median: it means it's the middle number, or the number separating the lower from the higher half. So with a median home price of $748,300, of course there are many lower-priced homes
but there are just as many that are at least twice as much.
To put it bluntly, this place is expensive. Not to worry, though – if you live here, you're likely making pretty good money. You'll also have the added bonus of more art galleries, theaters, and private schools per capita than almost anywhere else in the state (not to mention country.)
2. Huntington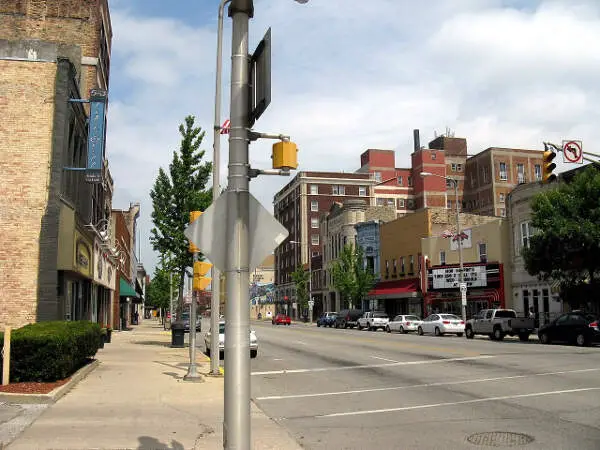 Source: Public Domain
Population: 18,811
Median Household Income: $111,670
Median Home Price: $366,500
This smaller town in Long Island is snobby, sure, but residents here have a lot to feel superior about. Not only do they likely make more money than you do; they're also from some sort of magical, creative-vortex. This town lays claim to big names like Mariah Carey, Billy Joel, Jason Alexander, and Christie Brinkley! (And who's snobbier than a celebrity?)
Perhaps this has a little something to do with the surplus of creative venues here per capita, or the the excellent education. Or maybe you guys are just putting something in the water. A little Dom Perignon perhaps?
3. Rockville Centre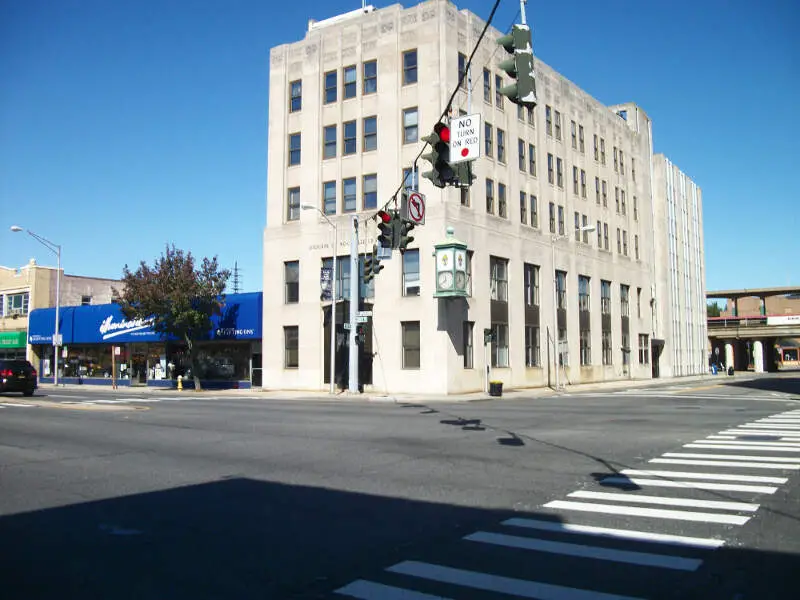 Population: 24,009
Median Household Income: $112,268
Median Home Price: $605,000
Step one in being a snob: spelling "center" like "centre" even though, like it or not, you are in America – not the 1700s, and not Buckingham Palace.
Step two: spending more money on your home than most Americans would spend on three.
Step three: Being better educated and better paid than most anyone in the country.
Not that there's anything wrong with that.
If Bethenny Frankel decides your village is good enough for her needs, then it must be a snobby place.
4. Massapequa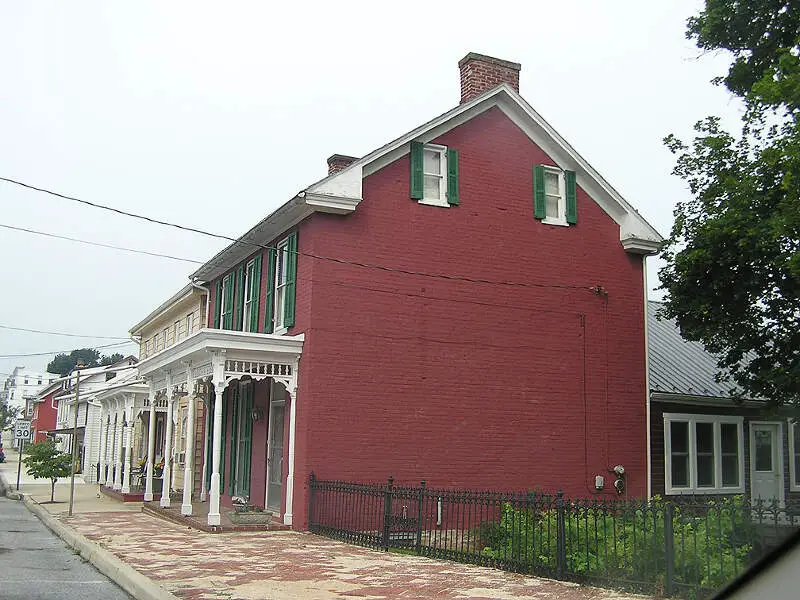 Source: Public Domain
Population: 22,103
Median Household Income: $117,324
Median Home Price: $403,800
This beautiful community has come a long way from being "one of the thirteen tribes of Long Island." These days it's home to some of the highest-paid residents in New York, along with some of the best options for education.
In fact, per capita, it has more private schools than more than 490 places we looked at!
And you know what they say about private schools! Students get a very good education there and will likely do well later in life.
That's all they say about them, really.
5. Melville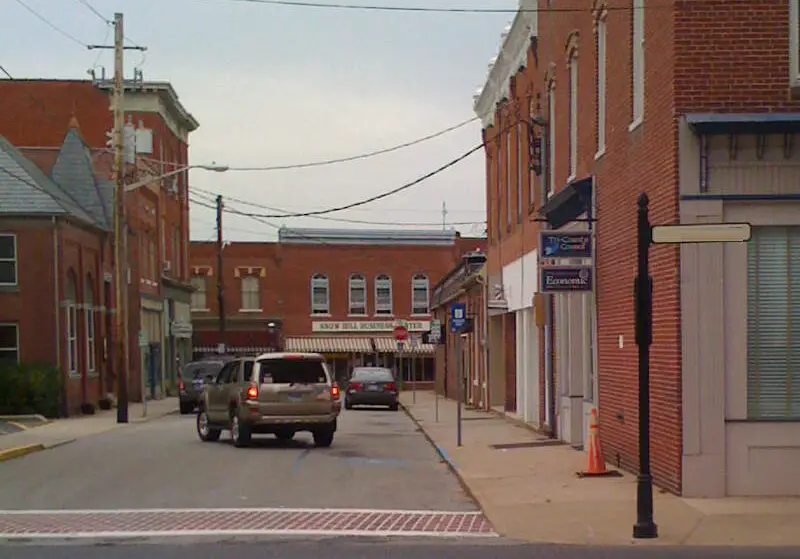 Source: Public Domain
Population: 19,043
Median Household Income: $110,125
Median Home Price: $506,300
Melville is actually a lovely little community, filled with lovely, if not slightly snobby residents. But why shouldn't they be? They make more money per year than many people spend on a home, the residents are well educated, and many of them have more culture in their pinky fingers than many of (us) have in our whole beings.
So bravo, bravo, to Melville.
6. White Plains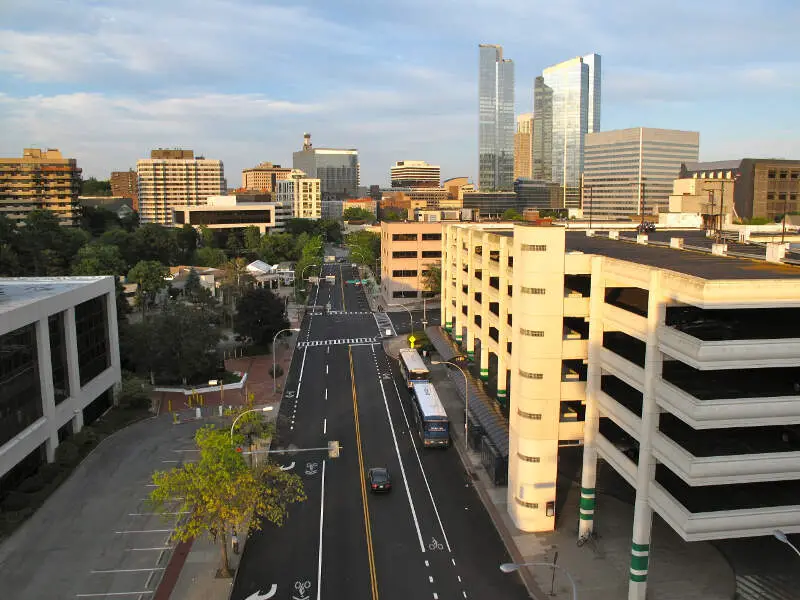 Source: Public domain
Population: 56,768
Median Household Income: $75,254
Median Home Price: $477,000
Here's the thing about White Plains – most residents here don't make a six-figure salary, and yet, they have some of the most expensive homes in the state. Now if anything, this need to show off your wealth, even when you don't really have it
I mean, that's got to make you even snobbier than some of your New York counterparts?
Don't get bent out of shape, you guys do have plenty going on for you. White Plains has more galleries, theatres, and private schools than most places in our analysis. Plus, it's just a quick commute to Manhattan, and if you can't let your snobby flag fly there, well, you can't do it anywhere.
7. Syosset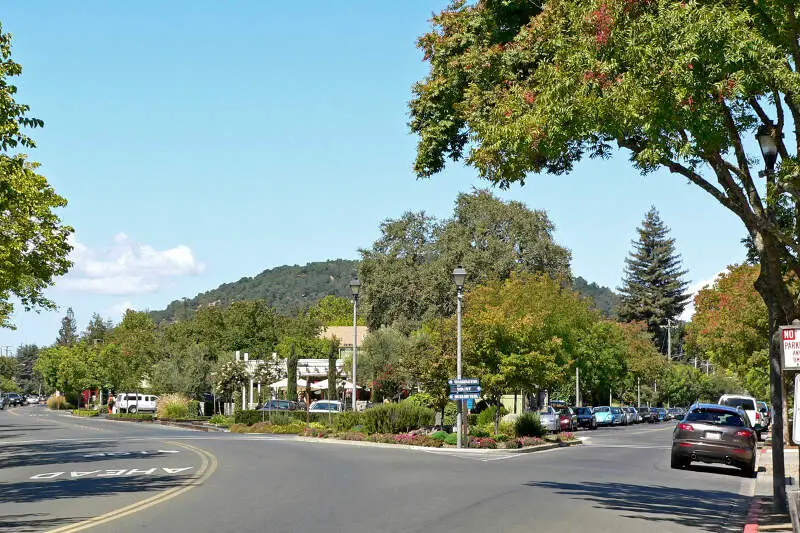 Source: Public Domain
Population: 18,691
Median Household Income: $130,726
Median Home Price: $545,800
Okay, okay, you guys win. You are allowed to be as snobby as you want to be. Why? Syosset was the town that brought us Natalie Portman, Judd Apatow, and some dude named Leslie Buck.
In more practical terms, this is relatively small community, just like any other. The neighborhoods are safe, the residents are supremely well-educated, homes are beautiful
the only difference is that they're about four times larger and more expensive than your home.
Does that make them snobby? Only if they're bragging about it.
8. New City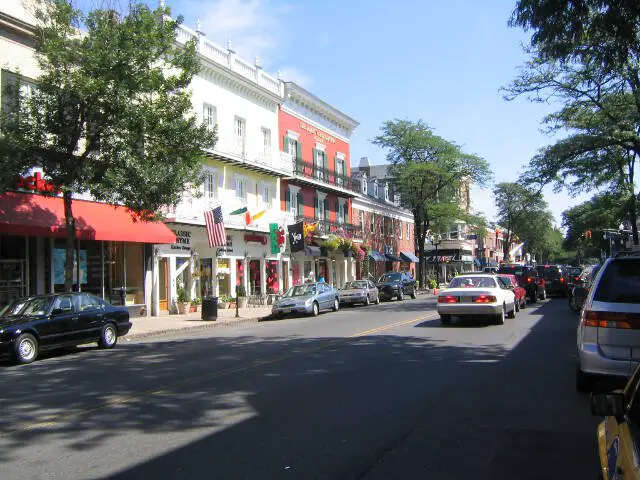 Source: Public Domain
Population:33,807
Median Household Income: $118,363
Median Home Price: $467,100
Here's a place that, despite its massive growth in recent years, has somehow held onto a little bit of its original charm, its natural beauty, and tranquility (especially in the northern areas.)
Of course natural beauty and charm don't mean you can't still be a snob. And according to our criteria (and Cher Horowitz), these guys are snobs and a half.
Whatever.
9. Saratoga Springs
Population: 26,711
Median Household Income: $62,766
Median Home Price:$287,800
You might be looking at this wondering, why would a place where residents make around $63,000 per year and buy homes no more expensive than my own, be considered one of the snobbiest in the state?
Culture, people. That's why. Saratoga Springs has the third most art galleries per capita, and its theaters per capita are second only to Huntington's. And it's not just quantity here; it's quality. The theaters, like the community, are unique and quirky. Just visit the Criterion Cinema if you don't believe us.
And no, we're not saying there's anything snobby about these little venues – just the people who think they're better than others because, like it or not, Saratoga Springs is pretty awesome.
10. Merrick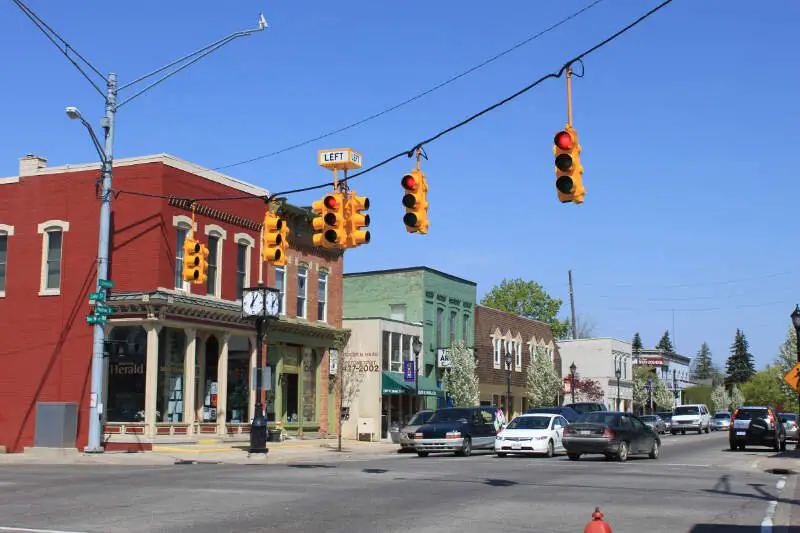 Source: Public Domain
Population: 21,222
Median Household Income: $132,611
Median Home Price: $455,400
Last but most certainly not least snobby (for that, you'll have to check out the list at the bottom of the post) is the community of Merrick. Homes here tend to the expensive side, but the peaceful surroundings might just make it worth it. (After all, the word "Merrick" actually comes from the word "Meroke," meaning "peaceful."
And it's not like residents can't afford it. With salaries of 100K plus, $455,400 for a home is just pocket change. (Especially for snob-tastic residents like Michael Kors!)
Excelsior!
When it comes to snobbery, these places in New York certainly seem to be heading ever upward. Residents in these communities are well educated, well paid, and appear to have all the sophisticated culture and entertainment of an Ernst Lubitsch film right at the tips of their fingers.
Not that there's anything wrong with that.
For more RoadSnacks fun, check out the 10 worst places to live in New York State.