This article is an opinion based on facts and is meant as info-tainment. Don't freak out.
Swipe left for slideshow
Advertisement
[adrotate banner='4′]
When some people think of the Pacific Northwest, perhaps beautiful nature, laid back people, and, maybe flannel, come to mind. Certainly nothing snobby or pretentious.
Well, those people haven't been to Washington—specifically, these 10 high and mighty cities:
Now we're not saying that the nature isn't beautiful, or that the people aren't laid back; we're just saying that they damn well know it, and aren't afraid to brag about it (while wearing flannel, of course.)
And we didn't just come up with this list on our own. No, no, we have the numbers to back us up. Grab your Buddy Holly glasses and keep reading.
For more Washington reading, check out:
Advertisement
[adrotate banner='5′]
How We Determined the Snobbiest Places in Washington
Alright, Washington snobs, before you get your beards in a twist, you should know that we came up with this list using facts and figures; not our own opinions.
First, we gathered up all of the places in the state with populations of 5,000 people or more, which left us with 187 places. Then, we looked at each of these places in terms of these snobberiffic criteria:
Median home price (higher is snobbier)
Median household income (higher is snobbier)
Percent of population with a college degree
Private schools per capita (higher is snobbier)
Theaters per capita (higher is snobbier)
Art galleries per capita (higher is snobbier)
From there, we ranked each of our 187 places in each category with scores from one to 187. We then averaged each place's ranking into one overall score, where the lowest score went to the snobbiest place in Washington. That's you, Woodinville.
Now before you get upset and pull out your weed, chill out. This list is all in good fun. Besides, these 10 places are far from the only snobby cities in the state—there's a whole table full of them at the bottom of this post.
First, though, let's take a closer look at just why residents in these 10 places are so much better than the rest of us.
Advertisement
[adrotate banner='7′]
1. Woodinville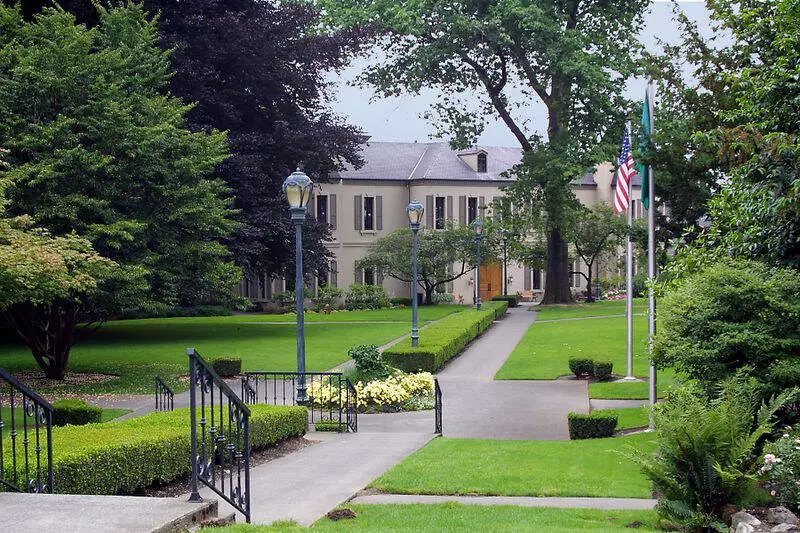 Population: 10,945
Median household income: $93,045
Median home price: $439,300
With schools like Northwest Liberty, Woodinville Montessori, Mack Elementary, and the Attic Learning Community, Woodinville has the most private schools per capita in the state.
But that's not the only reason this city is snob-tastic; it's also packed with galleries and theatres—the 10th and sixth most per capita, respectively. Of course having galleries and theatres doesn't make you a snob—but the fact that you think they make your hometown better than the rest
well, that does.
2. Issaquah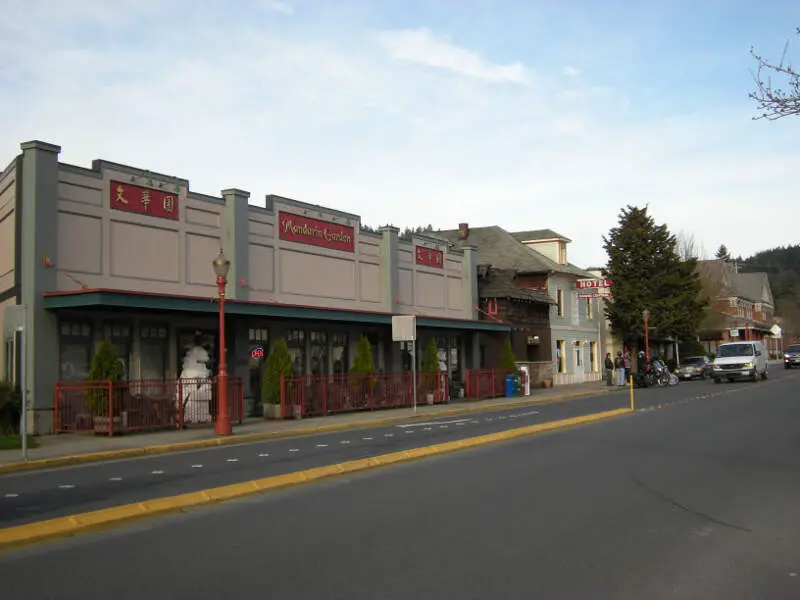 Population: 30,473
Median household income: $87,074
Median home price: $444,900
This snobby Seattle satellite may not have as high an income as, say, Sammamish (where residents make a median of $143,861. Wheewwwww.), but people aren't exactly roughin' it here either.
There are some of the most private schools, theaters, and art galleries per capita here, plus plenty of absolutely non-pretentious events and places, like Salmon Days, the zoo, and the Issaquah Salmon Hatchery. (It's hard to be snobby when you're surrounded by the smell of salmon, let's be honest.)
3. Redmond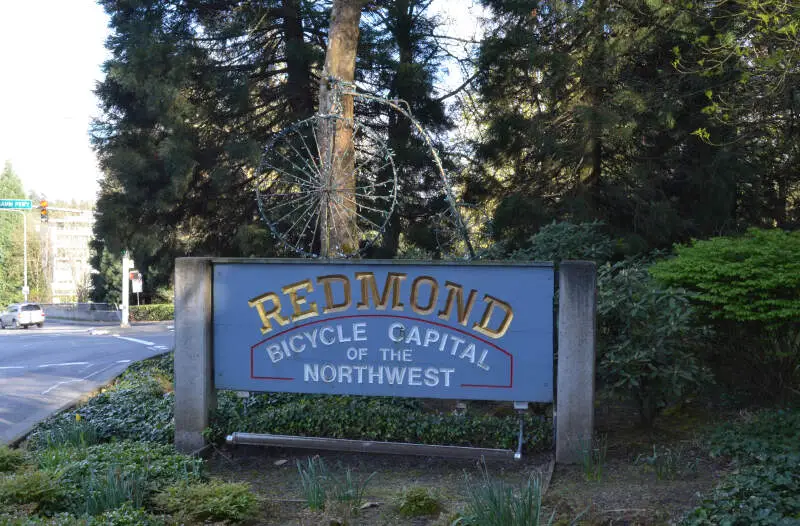 Source: Public domain
Population: 54,389
Median household income: $96,088
Median home price: $456,500
Oh, Redmond, it's hard to make fun of you when you're the home of Microsoft (i.e., the program I am using right now), and Nintendo (80 percent of my childhood.)
In short, you have reason to be snobby. Residents here make a ton of money, the homes tend toward the beautiful side, and you guys have really adorable festivals like Redmond Derby Days, Redmond Lights, and Concerts at Marymoor.
So sure, we might call you snobby, but maybe (we said maybe!) it's because we're secretly/not so secretly jealous.
4. Bellevue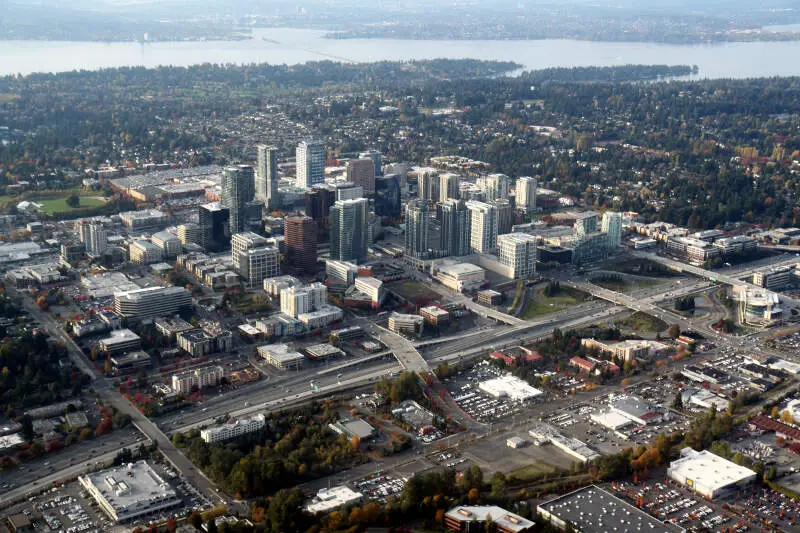 Population: 122,873
Median household income: $88,073
Median home price: $541,600
Bellevue residents hold some of the most college degrees in the state — 62 percent of residents have one.
Bellevue has also been ranked, not just one of, but the best place to live and launch a business by CNNMoney. I mean, the name itself is French for "beautiful view." So if residents here are a little full of themselves, well, that's why.
5. Kirkland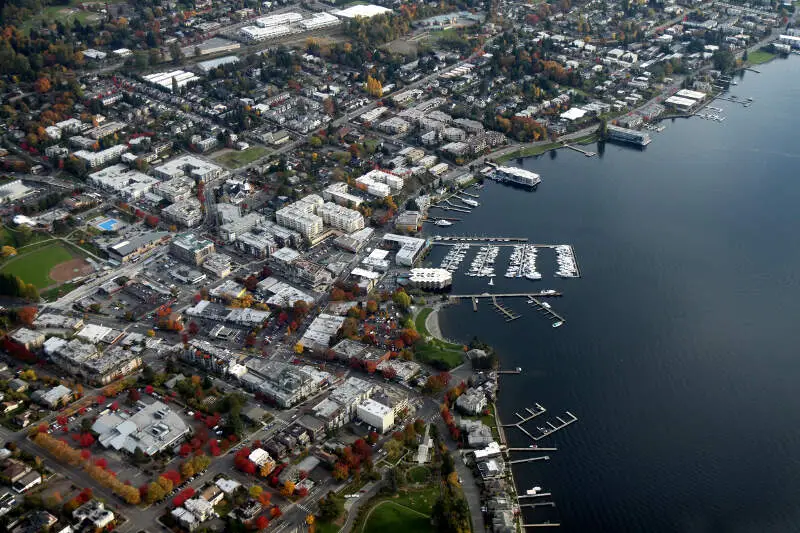 Population: 49,090
Median household income: $86,656
Median home price: $464,200
Here's a fun fact about Kirkland: In 1982 the Kirkland National Little League team won the Little League World Series, and in 1992, it was home to Little League's Big League Softball World Series Champions.
Another fun fact? Holding these (little) claims to fame over everyone's heads for over twenty years makes you
a snob!
But that's not all! Residents in Kirkland might also feel a little superior about their (admittedly superior) level of education, their badass homes, and of course, the culture to which they are privy.
6. Seattle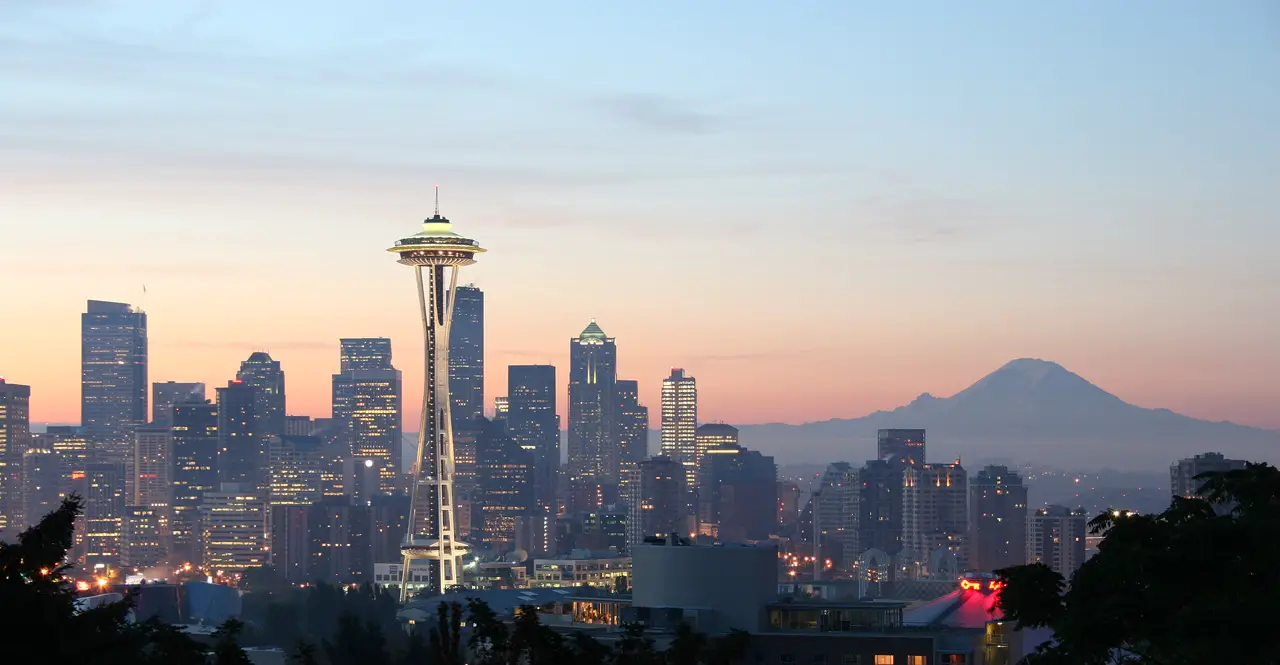 Source: Public domain
Population: 612,916
Median household income: $63,470
Median home price: $441,000
Seattle, we love you. Everyone loves you. But no one loves you more than you love you. Seattle is awesome, yes, don't get us wrong, but it is, perhaps, the most self-aware and self-congratulating city in the Northwest.
You're the types who ask people where they're from, just so you can answer, "Oh me? I'm from Seattle." In the summer your Facebook walls are covered with nature porn, rainbows, and Mt. Ranier; in the winter, cozy coffee shops, people wearing flannel, and looking too cool for school (and likely wearing a t-shirt that says just that.)
So yes, do we all think Seattle is a cool city? Of course. But nobody thinks that as much as Seattleites themselves. "O, how hast thou with 'jealousy infected the sweetness of affiance!" (Things you hear in Seattle coffee shops.)
7. Gig Harbor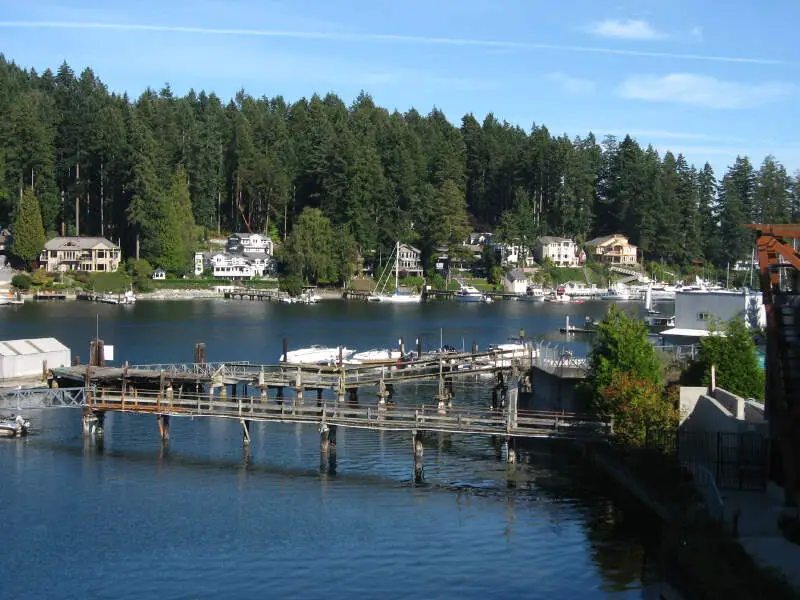 Population: 7,239
Median household income: $63,269
Median home price: $421,800
The "Gateway to the Olympic Peninsula"? Huh? Well that's just…conceited, right?
Okay, fine. There's nothing immediately snobby about Gig Harbor. The median income is not among the highest in the state, the homes are not the very nicest, and the population is only the 33rd most educated.
BUT, where Gig Harbor really gets its snob points is in the arts—the theaters, the galleries, and culture found here is hard to beat (per capita, anyway.) So, yes, you may hide your snobbery beneath layers of quaintness, but we'll always find it like snob hounds.
8. Bainbridge Island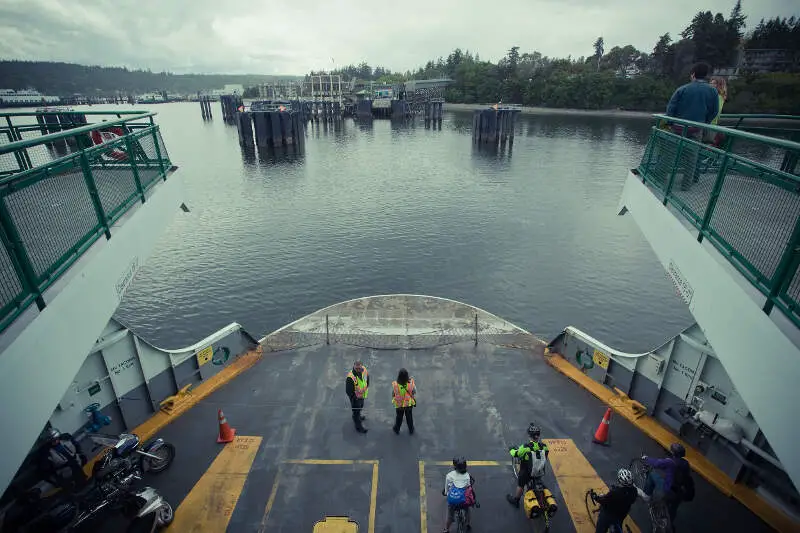 Population: 22,933
Median household income: $92,558
Median home price: $580,200
Here's a fun little exercise: Google all of the famous people who either live in or have lived in Bainbridge Island. Go on, we'll wait.
You see? The list goes on and on! Perhaps this is because it's a bit removed from the buzz of bigger cities like Seattle, maybe it's the natural beauty, the incredibly high percentage of college grads (65 percent), or maybe it's just that the houses are so damn nice.
Whatever it is, Bainbridge Island is pretty, and pretty awesome. And you guys seem to know it.
9. Snoqualmie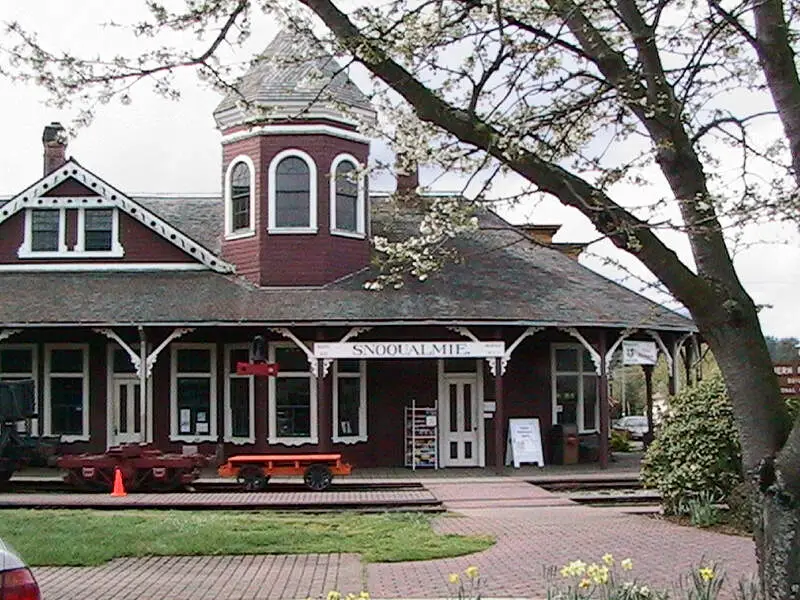 Population: 10,500
Median household income: $121,791
Median home price: $450,600
Ever heard of a little show called "Twin Peaks"? Yeah, it was filmed here. Of course, that's not what makes Snoqualmie snobby (honestly, if you're going around feeling superior because of this, it's time to put away the white-washed denim and join us in 2015). But this city is also one of the wealthiest in the state.
The median household income here is the fifth highest and the homes are the 16th most expensive. Of course if you think that's affluence, just wait until we get to our next place. You know what's coming…
10. Mercer Island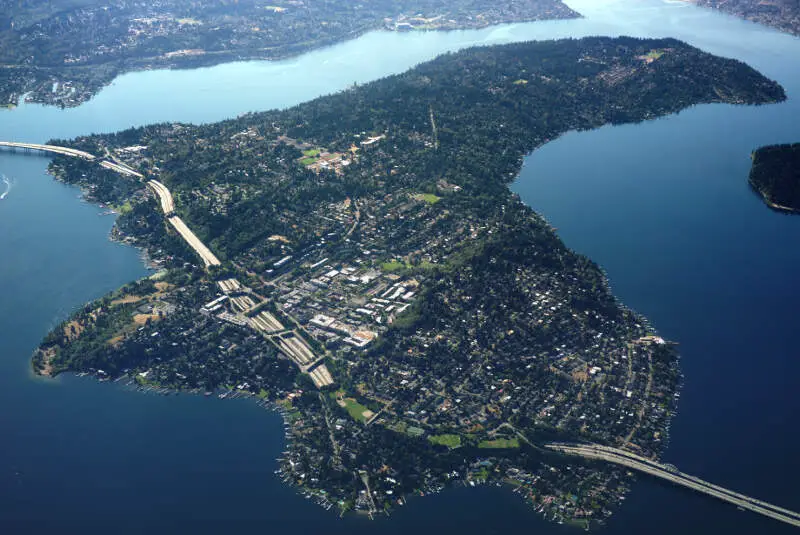 Population: 22,922
Median household income: $127,360
Median home price: $880,700
Ohhhhhhhhh SNAP! I'm sorry—I was just looking at some of the real estate prices in Mercer Island. And my head exploded.
Okay, little vocab refresher really quick. Let's take a look at the word, "median." In short, it means middle. And that means
$880,700 is in the middle of Mercer Island's home prices. As in, there are many homes here that are much more expensive.
Of course with an annual income higher than the price of many American's homes, Mercer Island residents can certainly afford them. Residents also have the highest percentage of college degrees in the state at 76 percent.
Does being wealthy necessarily make you snobby? No, of course not. But living in Mercer Island does.
Chill Out
Hey man, we're not saying there's anything wrong with being a little snobby. In fact, we'd probably be pretty full of ourselves, too, if our hometowns were as awesome as yours.
We just wouldn't brag about it all the time. So just chill out.
You can read our breaking news: We have the list of cities in Washington with the most Ashley Madison accounts. This is the site where people go to cheat on their spouses. Click here to read that one