Is there anything wrong with being called the drunkest city in your state?
Here's what's interesting about Arizona: It's in the middle of the pack when it comes to alcohol consumption per capita. Residents average 20 beers each a year.
The divorce rate is somewhere in the middle, too.
However, the DUI arrest rate is the 6th highest in the nation. Meaning there are some stupid people out there who make poor decisions every night.
So, while hundreds of thousands of people in AZ don't drink a drop, the cities below more than make up for it.
How do you decide how much a place drinks? By the number of available places to buy booze, and by how often people are talking about drinking, that's how.
Plus, we thought why not add in a stereotype? Studies have indicated that when one or both partners in a marriage are alcoholics, that couple is three times more likely to divorce.
Phoenix ranks 14th.
After analyzing all cities with a decent amount of people in them, we came up with this list as The Drunkest Cities in Arizona:
The 10 Drunkest Cities In Arizona
Read on below to see how your city might have fared.
For more reading on Arizona, check out:
What drunken criteria did we use?
Number of bars and pubs per capita
Number of wineries per capita
Number of liquor stores per capita
Each city's drunk related tweets within the last week
Each city's divorce rate
For geo-located tweets, we measured the following raw number of tweets that came from within a city's general area: #Drunk, #Party, #Beer, #Wine and #Cocktails
Note: For the sake of getting reliable numbers, we counted places within a city's border, as well as within a short driving distance.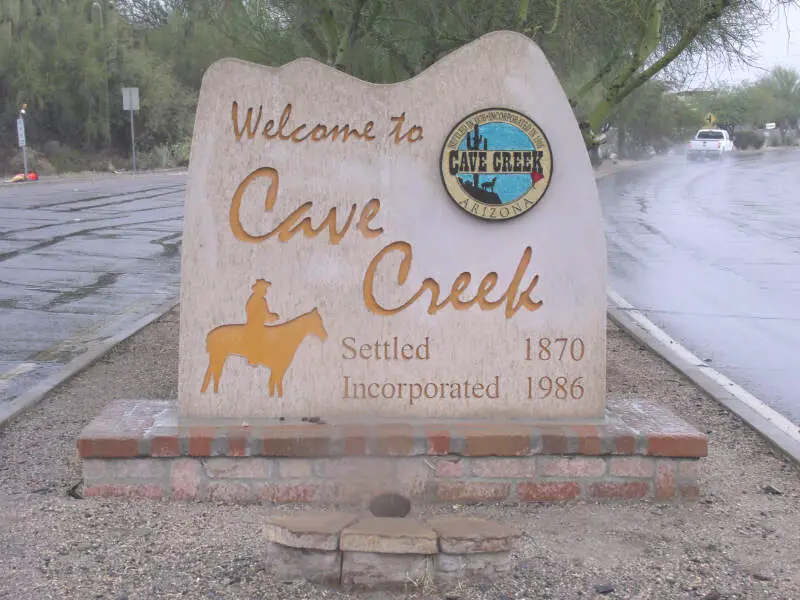 Source:
Wikipedia User Marine 69-71
|
CC BY-SA 4.0
Population: 5,041
Divorce rate: 12%
Bars per capita: 2nd
Liquor stores per capita: 3rd
If you haven't heard of Cave Creek, you have now. This teeny place against the hillsides north of Phoenix is just jam packed with bars. For such a small community, there is more booze to go around than just about any other place in the state.
Cave Creek has a western feel to it, and hosts events like biker rallies as well. Based on the higher than average divorce rate and the fact that indoor entertainment here is quite lacking, you can bet there are lots of late nights in this part of the state.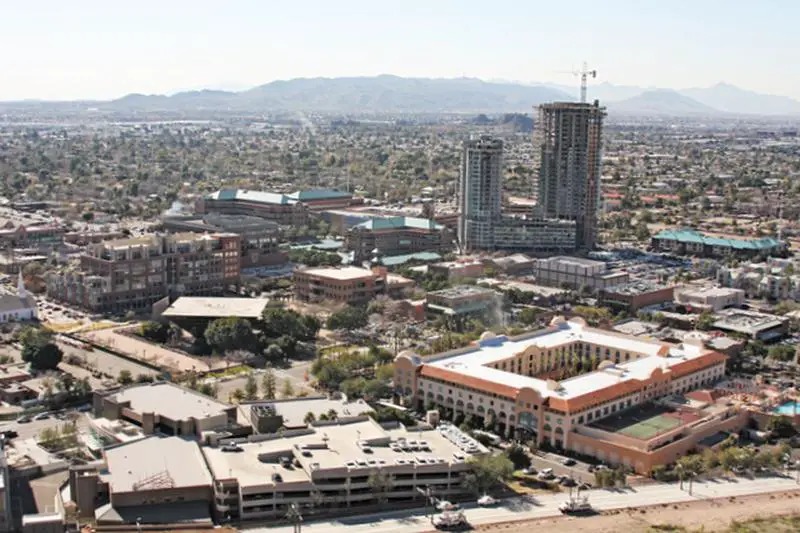 Source:
Wikipedia User Nick
|
CC BY-SA 3.0

Population: 164,139
Divorce rate: 10.5%
Bars per capita: 12th
Liquor stores per capita: 12th
Everyone knows that on most nights, thousands of people are tore up from the floor up in Tempe. Arizona State is always ranked as one of the best' party schools in the country. Heck, even the USC head coach was reportedly drunk on the sidelines during a game in Tempe in 2015.
There are just about an endless number of bars and restaurants in which to consume booze in Tempe. You could just about trip and fall into a bar here.
Some people most likely do just that.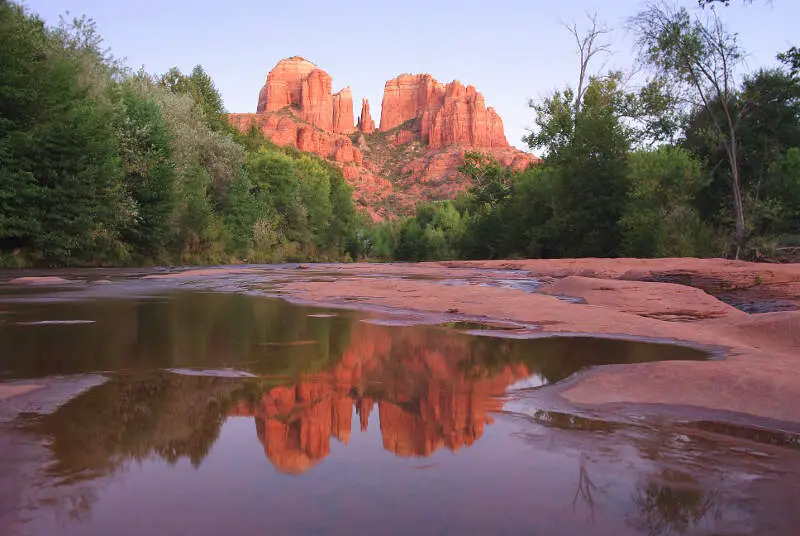 Source:
Wikipedia User Adam Baker from Houston / Moscow / Toulouse
|
CC BY 2.0
Population: 10,131
Divorce rate: 18.5%
Bars per capita: 1st
Liquor stores per capita: 1st
Sedona is known for its red rocks. It might also have a reputation for its red noses, as it appears, according to the data, that there are lots and lots of people here getting hammered every night.
When you look at the number of places to get drunk, in compared to the number of people in town, it's pretty clear that a 18% divorce rate isn't much of a surprise.
There were a fair amount of Tweets coming from Sedona. This one is a gem:
"Today in Sedona, I took my underwear off at a Walmart because I hated them. Also, I was drunkand with my parents"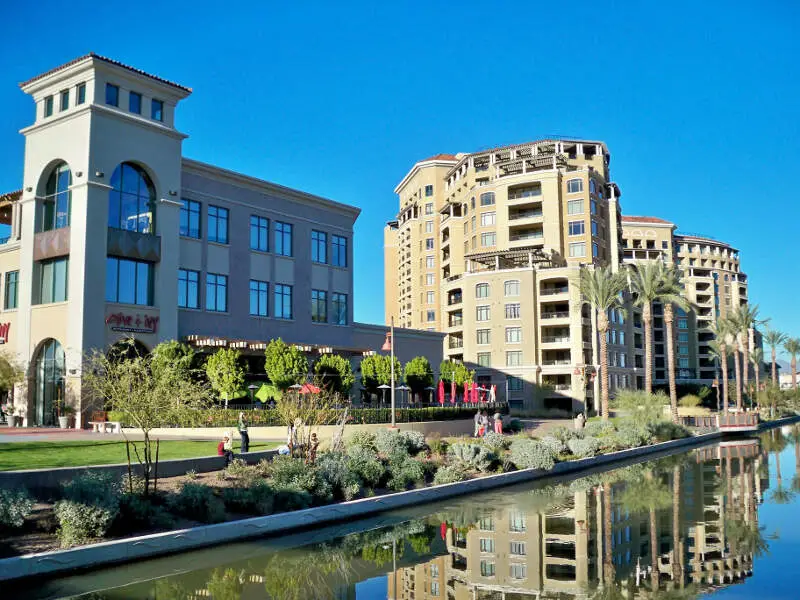 Source:
Wikipedia User Joseph Plotz
|
CC BY-SA 3.0
Population: 219,867
Divorce rate: 13%
Bars per capita: 6th
Liquor stores per capita: 9th
At last count, there were 6 breweries in Scottsdale, and a very large number of bars. For a city of more than 200,000 people, having the 6th most per capita is quite a feat. But they don't build bars and liquor stores where there aren't customers, do they?
Scottsdale is always on the top of some list for being one of the premier golf destinations in the world. You know what goes really well with 18 holes? A bunch of beer, whiskey and cigars.
Scottsdale actually finished 2nd in terms of drunk tweets. Lots of people taking drunk selfies from there. Meaning they are drunk and vain.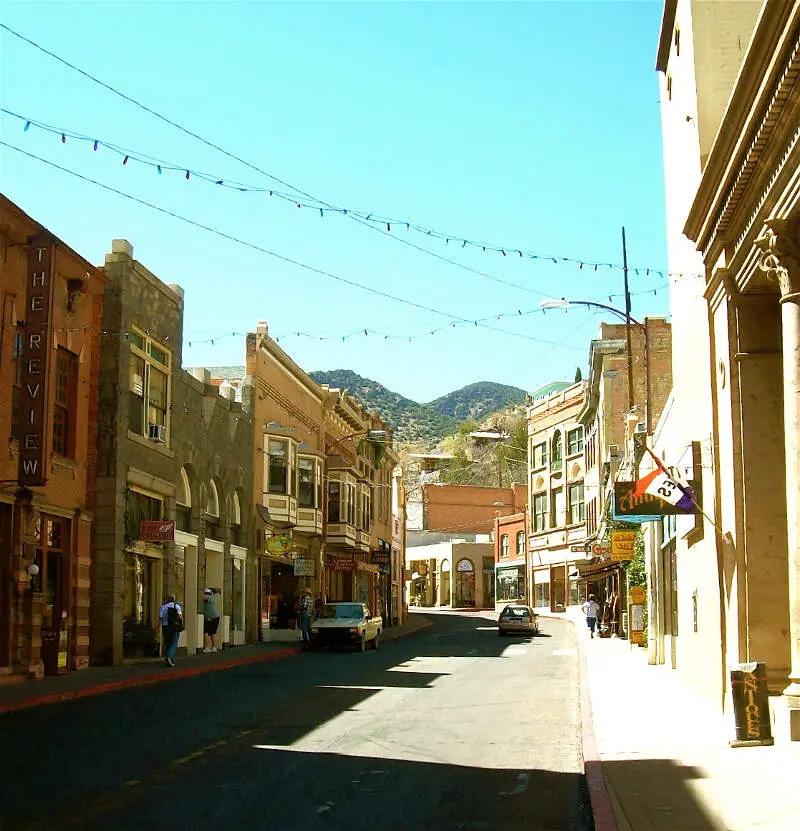 Source:
Wikipedia User The original uploader was Willjay at English Wikipedia
|
GFDL
Population: 5,599
Divorce rate: 23%
Bars per capita: 5th
Liquor stores per capita: 5th
Holy Matrimony, Bisbee! It says, "Till Death Do Us Part" for a reason. Your divorce rate is the absolute highest we've ever seen, and we've done some number crunching on more than 40 states at this point.
It's not clear if the number of divorced people means they need more bars, or if the high number of bars for such a small place helped break people up, but you can imagine that there are lots of interesting moments at closing time in Bisbee every night.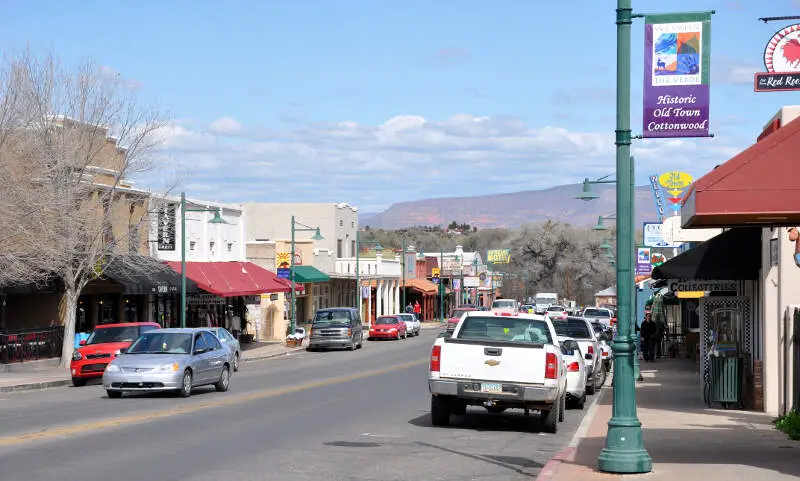 Source:
Wikipedia User Finetooth
|
CC BY-SA 3.0
Population: 11,297
Divorce rate: 20%
Bars per capita: 7th
Liquor stores per capita: 11th
In looking at the divorce rate in Cottonwood, it's pretty clear that the newly single people in Bisbee need to pack up and move to Cottonwood and vice versa. Let's call it musical bar chairs.
Where is Cottonwood? We're glad you asked. It's about 2 or 5 beers south of Flagstaff, depending on how buzzed you want to be when you meet up with friends. We're pretty sure Cottonwood residents have the back roads memorized by now.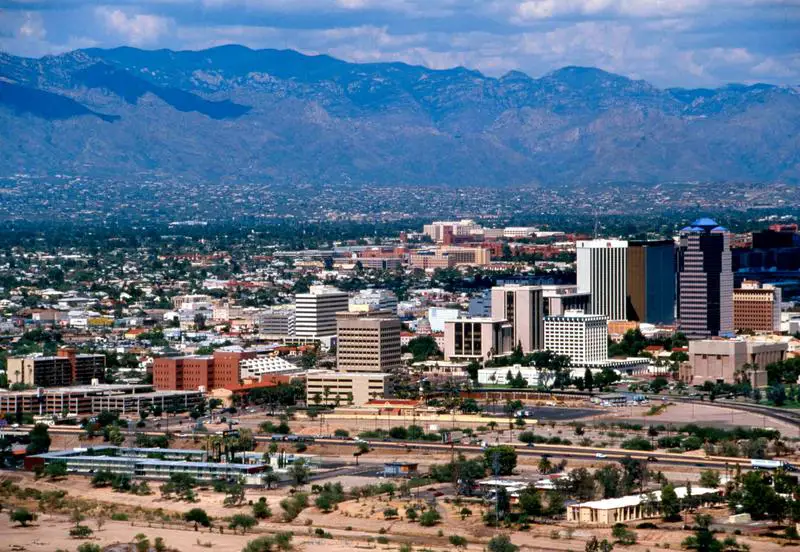 Source: Public domain
Population: 521,695
Divorce rate: 14.5%
Bars per capita: 15th
Liquor stores per capita: 17th
Which students drink more? U of A or ASU? Well, we'll let you guys debate that in the comments. But, according to the data, as a whole, Tucson residents drink at a slightly lower clip than those in Tempe.
Sure, there are tons of people in Tucson getting plastered every night, and there are lots of breweries here as well. But we're measuring amount of booze per person, and the fact is, there are hundreds of thousands of people in Tucson who are content with a quiet night in with the cat.
How boring.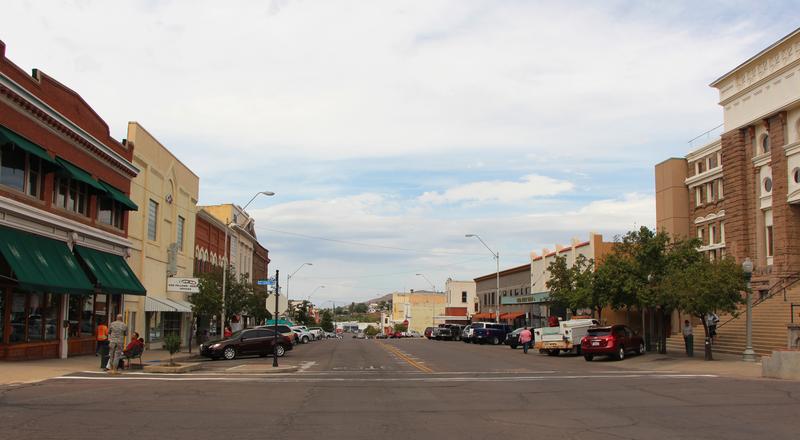 Source:
Wikipedia User Steven C. Price
|
CC BY-SA 4.0

Population: 7,544
Divorce rate: 18%
Bars per capita: 7th
Liquor stores per capita: 9th
If you like small, off the beaten path, blue collar towns where there are lots of bars and lots of drama, then Globe is your place. They're sort of a touristy type town, so saddle on up and head over there and elbow up to the bar.
After all, there isn't too much else to do there. A search of the city's website couldn't turn up an event calendar, and beyond a few hikes, it appears the most exciting thing to do is drink.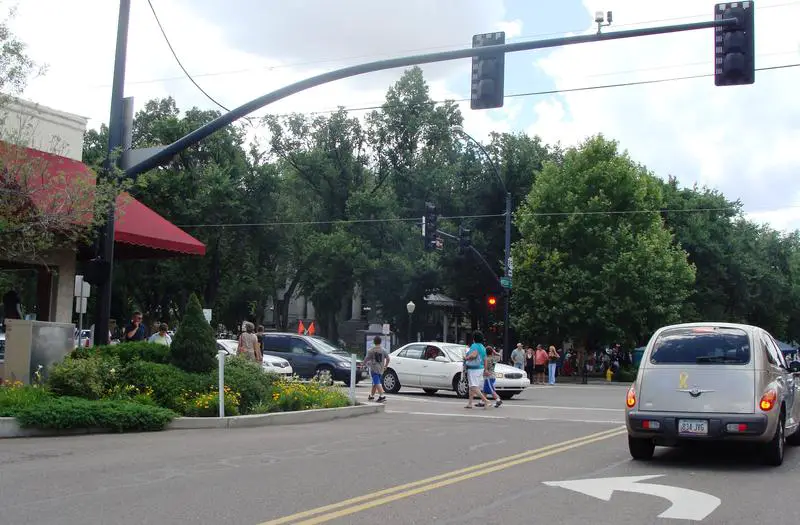 Source:
Wikipedia User Zereshk
|
CC BY-SA 3.0

Population: 39,916
Divorce rate: 17%
Bars per capita: 9th
Liquor stores per capita: 14th
Prescott has 4 breweries, and downtown has just as many bars in one concentrated area as you might see in a much larger city.
Plus, this place is home to the historic and world famous Whiskey Row, a stretch of town known for drinking and getting a littlesquirrely. So, they seem to be pretty proud of their drinking heritage here.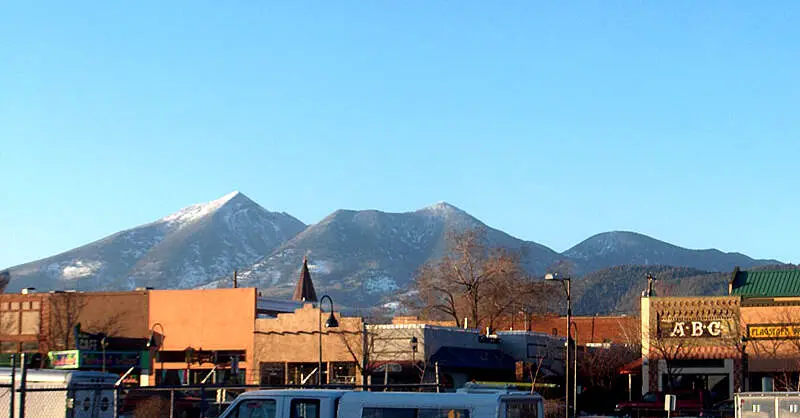 Source:
Wikipedia User Derek Cashman at en.wikipedia
|
GFDL
Population: 65,660
Divorce rate: 9.5%
Bars per capita: 10th
Liquor stores per capita: 15th
A recent shooting at Northern Arizona University apparently began as a drunken brawl. That's too bad.
Twitter had plenty to say about Flagstaff in terms of drunk Tweets. This was the first one we read:
"I need a Flagstaff trip w/ friends who wants to join me? I'll drive but there's a rule we have to get drunk there"
Flagstaff has 5 breweries and plenty of bars to keep even the most bleary eyed entertained every night of the week.
There You Have It
If you're measuring the locations in Arizona where there are a high number of divorced people, bars and liquor stores, and where people are talking about drinking the most often, this is an accurate list.
We also wrote about the worst places in Arizona if you didn't read it yet. Click here to read that one.
Colorado City
Williamson
Saddlebrook
For more reading on Arizona, check out: