This article is an opinion based on facts and is meant as info-tainment. Don't freak out.
Swipe left for slideshow
Advertisement
[adrotate banner="4″]
Is there anything wrong with being called the drunkest city in your state?
Especially in California, which is right in the middle in the nation in terms of the amount of beer and spirits every year. So someone has to pick up the slack, right? And boy do these cities below.
How do you decide how much a place drinks? By the number of available places to buy booze, and by how often people are talking about drinking, that's how.
Plus, we thought why not add in a stereotype? Studies have indicated that when one or both partners in a marriage are alcoholics, that couple is three times more likely to divorce.
So, hold our beers and watch this. After analyzing all cities with a decent amount of people in them, we came up with this list as The Drunkest Cities in California:
Santa Monica
Santa Barbara
Napa
Pasadena
Sacramento
Newport Beach
Oakland
Livermore
San Mateo
El Cajon
Advertisement
[adrotate banner="5″]
What drunken criteria did we use?
Number of bars and pubs per capita
Number of wineries per capita
Number of liquor stores per capita
Each city's drunk related tweets within the last week
Each city's divorce rate
For geo-located tweets, we measured the following raw number of tweets that came from within a city's general area: #Drunk, #Party, #Beer, #Wine and #Cocktails
Note: For the sake of getting reliable numbers, we counted places within a city's border, as well as within a short driving distance.
Advertisement
[adrotate banner="7″]
1. Santa Monica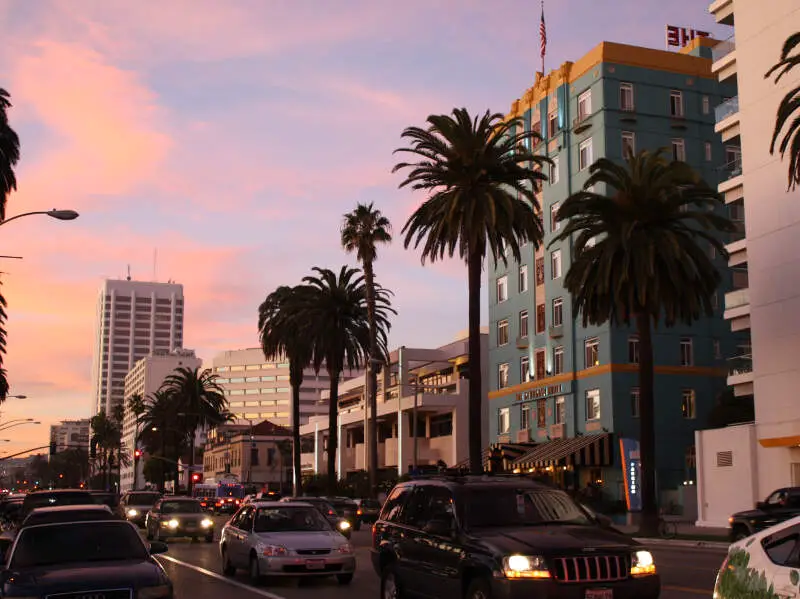 Busby's Santa Monica, CA. Google Maps.
Population: 90,008
Divorce rate: 12.6%
Bars per capita: 1st in CA
Liquor stores per capita: 4th
Wow, Santa Monica, you are tore up from the floor up! Based on the data and number of raw tweets coming from your location, per capita, it sounds like the people there are all having a really, really good time.
There are more bars per capita in Santa Monica than anywhere else in the state. And the divorce rate is the 7th highest in California, too. That's a sign that lots and lots of people here are drinking quite often.
And, there are tons of liquor stores in the area, too. If you've ever spent some time at the Santa Monica pier, you'd know that there are lots of drunk, homeless people everywhere. So it's not just the 'residents' of Santa Monica who are drinking lots and lots every night.
It wasn't even close. It was Santa Monica by a landslide and then everyone else below.
2. Santa Barbara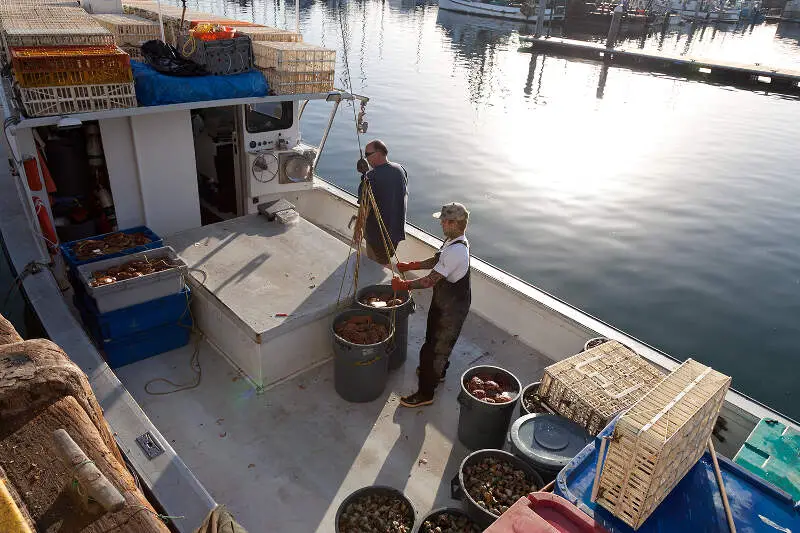 O'Malley's and Baja Sharkeez, Santa Barbara, CA. Google Maps
Population: 88,572
Divorce rate: 11%
Bars per capita: 3rd in CA
Liquor stores per capita: 5th
Santa Barbara: Home of the biggest (perhaps) party school in California. When you've got lower State Street bar crawls and the sheer number of parties in the Isla Vista area next door, it's a recipe for drunken debauchery.
For a college town, the divorce rate is actually really high in Santa Barbara: One in 10 people has already made it to splitsville.
In terms of drunk Tweets per capita, Santa Barbara was really high up there. This was a real gem:
"if you have ever been drunk on state street or woke up in the bushes after falling down and passing out #SantaBarbara"
3. Napa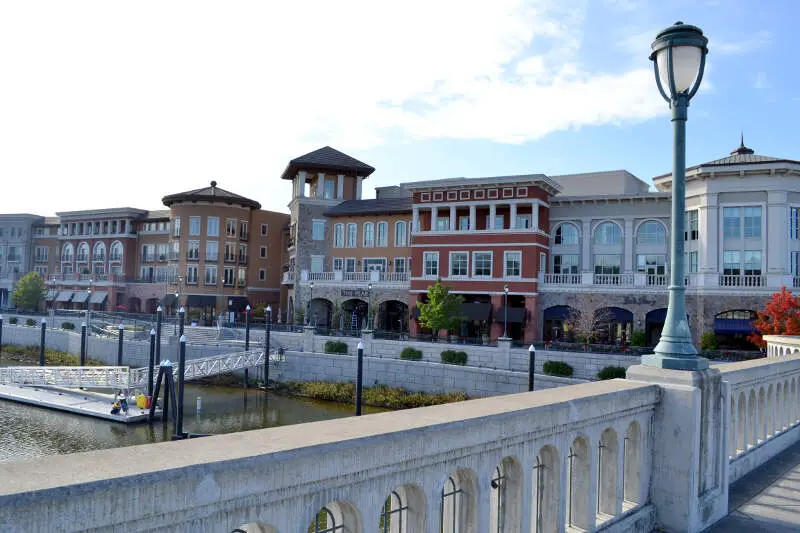 Wikipedia.
Population: 77,121
Divorce rate: 12%
Bars per capita: 6th
Wineries per capita: 1st
Liquor stores per capita: 3rd
There are somewhere between 400 and 600 wineries and tasting rooms in the greater Napa Valley region. In addition, there are lot of other bars and liquor stores, too.
Essentially, for most people, the only reason you're in Napa is to make booze or drink booze. Period.
The divorce rate is really high here as well. Perhaps drinking wine straight out of the bottle is a big negative for relationships.
Twitter had lots and lots to say about it, too. Most were from people talking about wine crawls or reminiscing about drinking wine here. This one is pretty good:
"I like heading to Napa but mom's already drunk and it hasn't barely even started"
4. Pasadena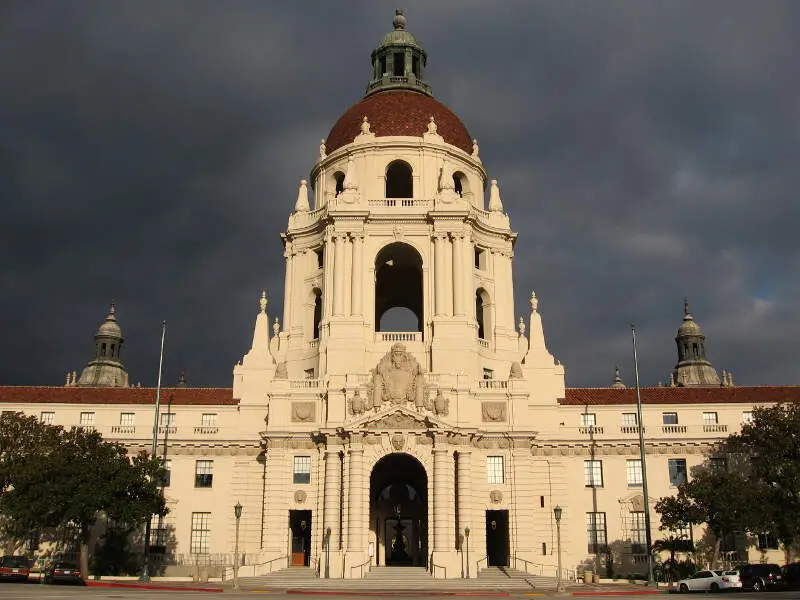 Lucky Baldwin's, Pasadena, CA. Google Maps
Population: 137,316
Divorce rate: 9.4%
Bars per capita: 6th in CA
Liquor stores per capita: 12th
Colorado Boulevard on a Friday night in Pasadena is the most jam packed, gotta-be-seen, dress-up-nice event in the entire region. The only difference between Pasadena and some of the trendier places in the West LA area are the people are usually drunker in Pasadena, and Pasadena partiers aren't as snobby as the LA brats, either.
The divorce rate in Pasadena is actually really low in comparison to the other cities on this list. Bravo to you guys for making it 'work.' Perhaps drinking is the glue in your relationship.
5. Sacramento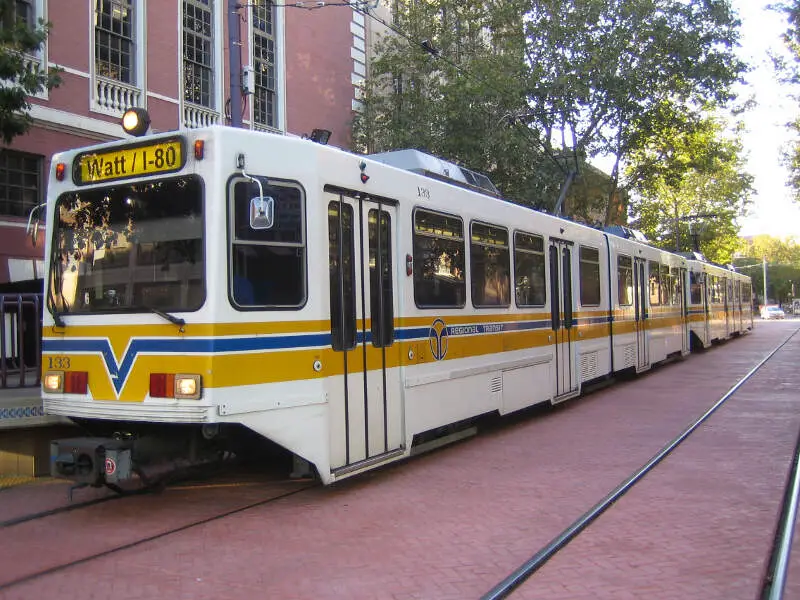 The Press Club, Sacramento, CA. Google Maps
Population: 467,467
Divorce rate: 11.8%
Bars per capita: 9th
Liquor stores per capita: 13th
The state capitol sure does like to party, that's for sure. There are just a ton of places, per capita, to drink and get hammered here. Twitter had lots of drunk related messages coming from Sacramento, including this goodie:
"I think everyone in Sacramento is drunk right now"
If you're one of the 12% of folks in Sacramento who is divorced, buck up and have a shot. You need it.
6. Newport Beach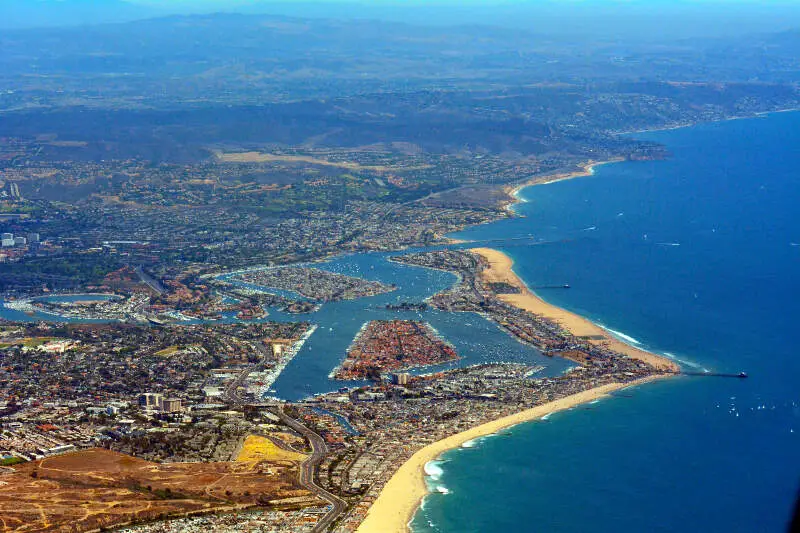 Malarky's Irish Pub, Newport Beach, CA. Google Maps
Population: 85,233
Divorce rate: 12.6%
Bars per capita: 5th in CA
Liquor stores per capita: 21st
Holy Matrimony, Newport Beach.. It says 'Till death do us part' for a reason, but your divorce rate is through the roof!
No wonder you guys are having trouble getting your marriages in tact. There are too many distractions in the area to keep you focused on one another.
If you're in NB and newly single, stop moping and get back out there into the bar scene. After all, that's probably where you met your spouse in the first place.
7. Oakland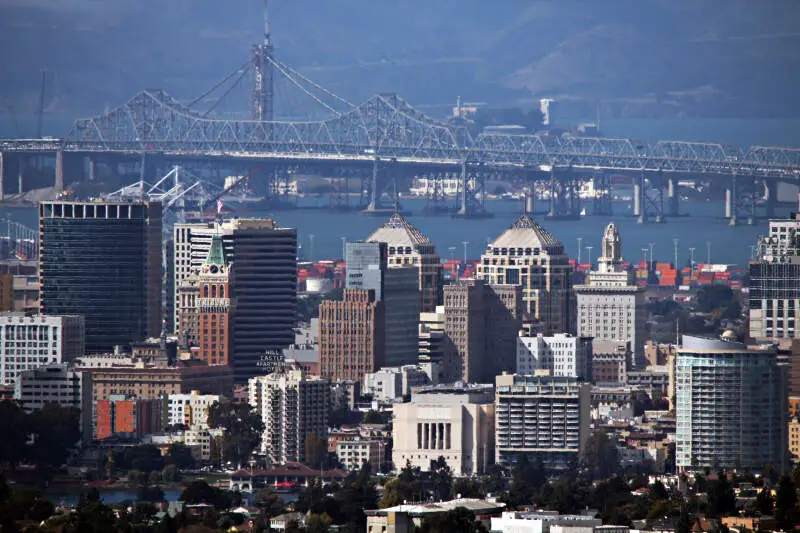 Heart And Dagger Saloon, Oakland, CA. Google Maps
Population: 392,890
Divorce rate: 10.5%
Bars per capita: 8th in CA
Liquor stores per capita: 8th
As the San Francisco side of the bay area continues to become overpriced and, frankly, less stimulating as a result, the cool, young, and frankly, more fun people have moved to the Oakland side. And they're burning the candles at both ends here, you can be sure of that.
There are just a ton of liquor stores, bars and breweries in the area, and it seems it's the teenagers to the homeless that are boozing it up big time here. Have you ever attended a Raiders game? Drunk central.
I once saw two Raiders fans – both wearing Napoleon Kaufman jerseys – punching one another in the bathroom at a Raiders game. They went back in line to get more beer after it was broken up.
8. Livermore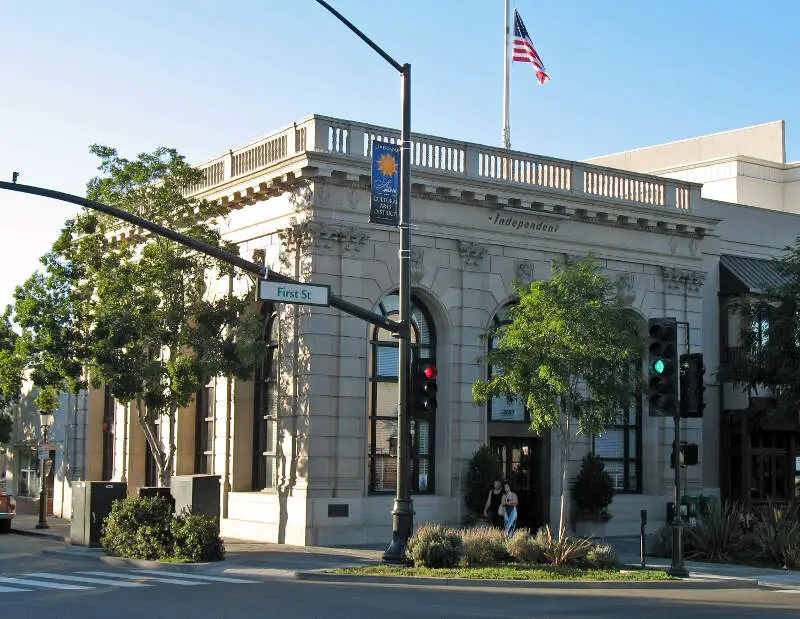 The Good Time Tavern, Livermore, CA. Google Maps
Population: 81,086
Divorce rate: 11%
Bars per capita: 15th
Liquor stores per capita: 18th
Warning. Dad joke coming.
What does a liver in Livermore need more of? A break.
This bay area suburb is relatively under the radar, but you can bet the folks here like to mix it up in the bar scene quite often. With a divorce rate that high, you could assume there are lots of bleary eyed, vulnerable people stumbling around just about any night of the week.
9. San Mateo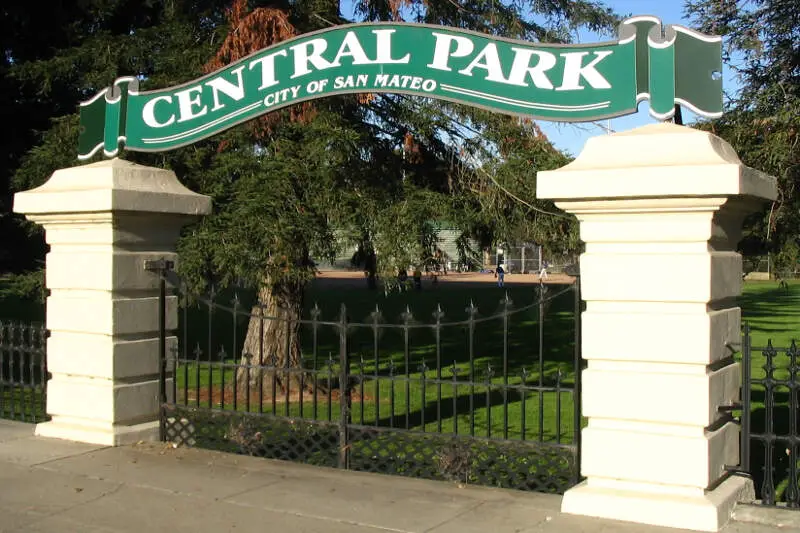 Bucky's Cocktail Lounge opens at 6 am. San Mateo, CA. Google Maps
Population: 97,332
Divorce rate: 10.3%
Bars per capita: 13th in CA
Liquor stores per capita: 16th
It looks to be pretty neck and neck when it comes to which part of California is drunker – the bay area or the L.A. area. San Mateo, another city near San Francisco, has a ton of places to get drunk or buy booze.
It also seems as if San Mateo has more places to get ramen than anywhere else in the state, too. Are there any ramen bars? Ramen martinis anyone?
10. El Cajon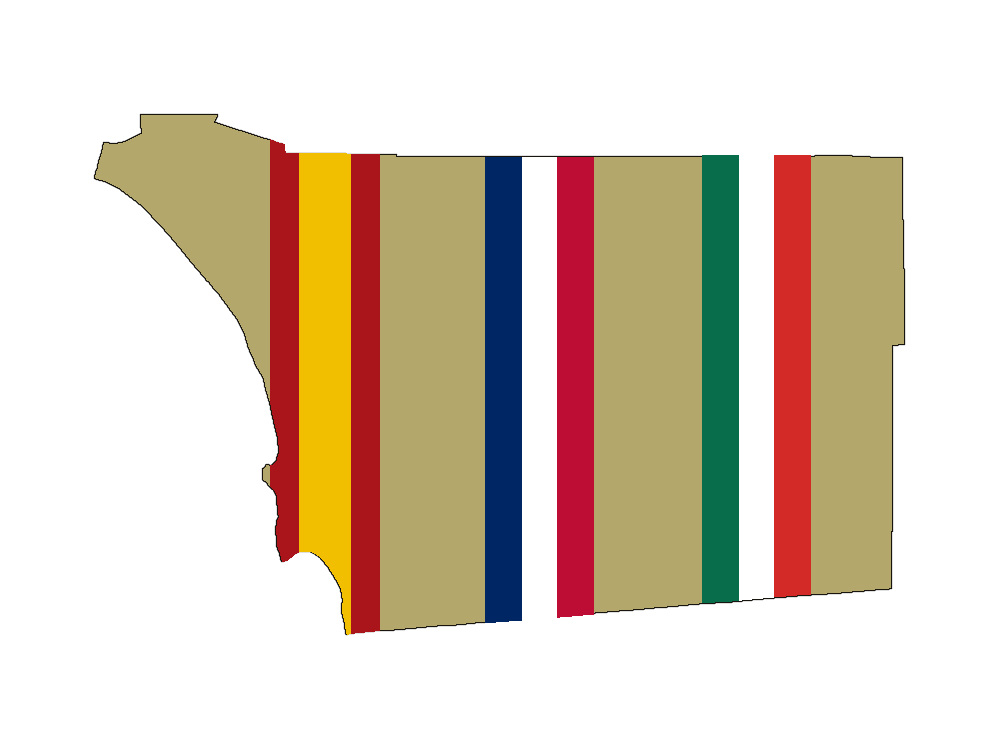 El Cajon Grand. Google Maps
Population: 99,680
Divorce rate: 11.8%
Liquor stores per capita: 6th in CA
Bars per capita: 28th
Finally, we see a San Diego area city on this list. We're pretty sure that there are tons of people in the Gaslamp Quarter in downtown San Diego getting plowed every night. But remember, we're measuring per capita bars, here people. El Cajon has more drunk related things to do, per person.
And, the fact is there are hundreds of thousands of people in San Diego and Los Angeles who are content with a night on the couch to obsess over their Fantasy line ups.
How boring.
There You Have It
If you're measuring the locations in California where there are a high number of divorced people, bars and liquor stores, and where people are talking about drinking the most often, this is an accurate list.
And while you might think the larger cities and college towns are 'more drunk' than these places, when you measure the percentage of people who have access to alcohol, and who are separated, it makes sense. Cause, the data never lies, does it? And by the way, Hemet has the highest divorce rate in the state (15%).
We also wrote about the most redneck cities in California in case you didn't read it. Click here to see that story.
Desktop users: Here's a complete chart with the top 100 drunkest cities in California, along with their divorce rates: