This article is an opinion based on facts and is meant as infotainment. Don't freak out.
Swipe left for slideshow. Article continues below.
The state of Georgia, as a whole, drinks the 5th least amount of alcohol in the entire nation, something close to 20 beers apiece. But we're about to find out which places more than make up for the slow sippers in the Peach State.
But for those of you who aren't in Conyers, Georgia and seeing double right now, let's discuss (perhaps over a glass of wine, or a 12-pack), just what makes one place "drunker" than the next.
First, off: the number of places you can actually buy booze. Certainly an important factor in actually getting drunk. Then, the amount of people who actually go around saying things like "Dude I was so tanked last night," or "How did I wake up in my neighbor's attic
again?!"
And of course, playing to stereotypes, the divorce rate. Because studies have shown that when one or both partners drink a lot, they are three times more likely to divorce.
Incidentally, Georgia's divorce rate is a little higher than the national average.
Don't worry, we'll talk more about our methodology in the next section. First, though, these are the 10 drunkest places in Georgia, according to the research:
Conyers
College Park
Athens
Decatur
Atlanta
Brunswick
Savannah
Covington
Kennesaw
Marietta
Whoa, whoa, whoa, whoa. Don't you throw your empty beer can at the computer just yet. First off, it'll damage the computer. Second, there's actually a method behind this madness
What drunken criteria did we use?
First, we made a list of all of the 100 most populated places in Georgia. Then, we looked at each of these 100 places in terms of these boozy criteria:
Number of bars and pubs per capita
Number of wineries per capita
Number of liquor stores per capita
Each city's drunk related tweets within the last week
Each city's divorce rate
Once we gathered up our information, we ranked each place with scores from one to 100 in each category. We then averaged each place's ranking into one overall score, where the lowest scores went to our 10 drunkest places. (Cheers!)
If you care to see how more than just these top 10 ranked, you can wind your way down to the bottom of the post (you should be seeing just one table.) Otherwise, let's take a look at our top 10 winners!
For geo-located tweets, we measured the following raw number of tweets that came from within a city's general area: #Drunk, #Party, #Beer, #Wine and #Cocktails
Note: For the sake of getting reliable numbers, we counted places within a city's border, as well as within a short driving distance.
1. Conyers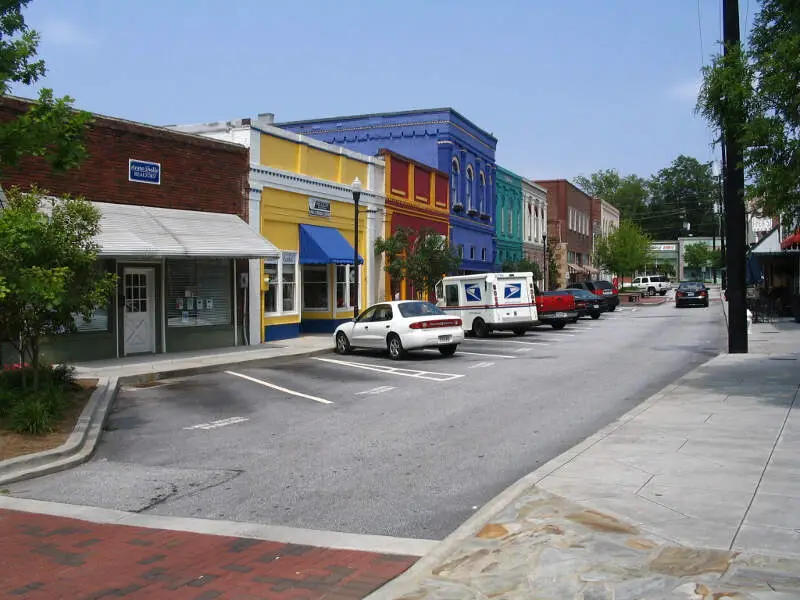 The Celtic Tavern, Conyers, GA
Population: 15,102
Divorce rate: 15%
Bars per capita: 7th
Liquor stores per capita: 1st
For a city with only 15,000 people, there sure are a lot of bars in Conyers. Like 'way too many for an average population' number of bars.
But this isn't your average population.
In addition to the sheer number of bar stools in this city, there are also more liquor stores per person than in any other place in the state.
There were plenty of drunken Tweets coming from Conyers, trust us. Many people Tweeted about a man who just got a DUI for driving a wheelchair drunk here.
Now that's determination!
2. College Park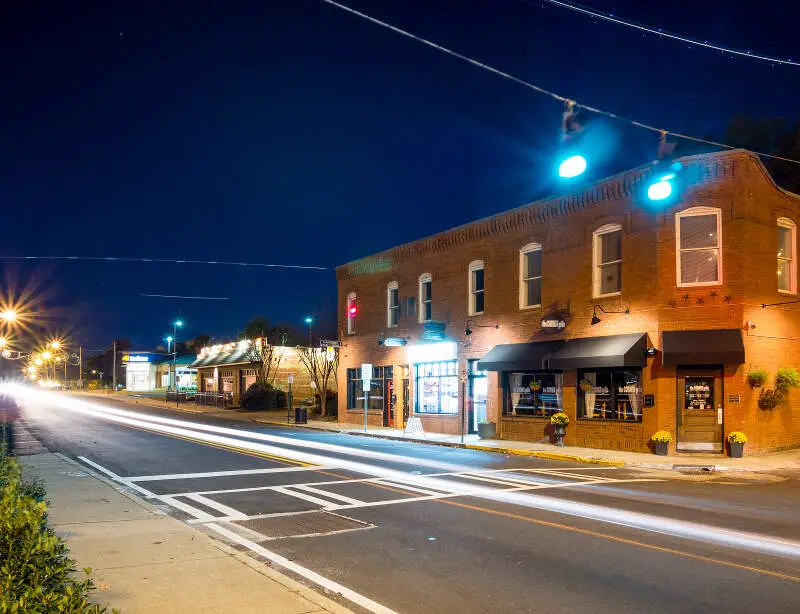 The gang at Allstarz, College Park, GA. From their Facebook page
Population: 19,393
Divorce rate: 14.7%
Bars per capita: 7th
Liquor stores per capita: 5th
College Park is a fairly broke community just south of Atlanta. But people must have a lot of extra spending money, judging by the sheer number of bars here. Perhaps there are lots of bars since it's so close to the airport.
In any event, not only are there lots of opportunities to imbibe, but the divorce rate here is practically as high as you'll see in the state of Georgia.
Judging by the number of murders here every year, perhaps this city needs to hit the pipe and chill out instead.
3. Athens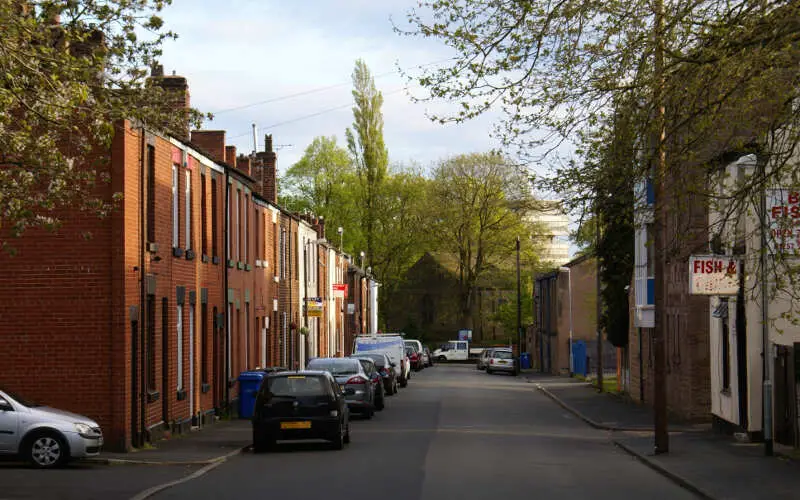 The Foundry, Athens, GA. From their Facebook page.
Population: 118,283
Divorce rate: 7.5%
Bars per capita: 15th
Liquor stores per capita: 16th
We can personally attest from knowing a few people who went to UGA that they party REALLY hard in Athens. In fact, some of them are still a little slow after losing so many brain cells in college.
And they're nearly 40.
UGA received an A+ from Colleges.com for its very impressive drinking scene. From what we hear, there's never a dull moment; the problem is trying to turn down the red solo cups to get back to hitting the books.
Bourbon Street can be a mob.
Athens led the way in drunken Tweets. It wasn't even close. We stopped counting them, and it was only after the first week.
4. Decatur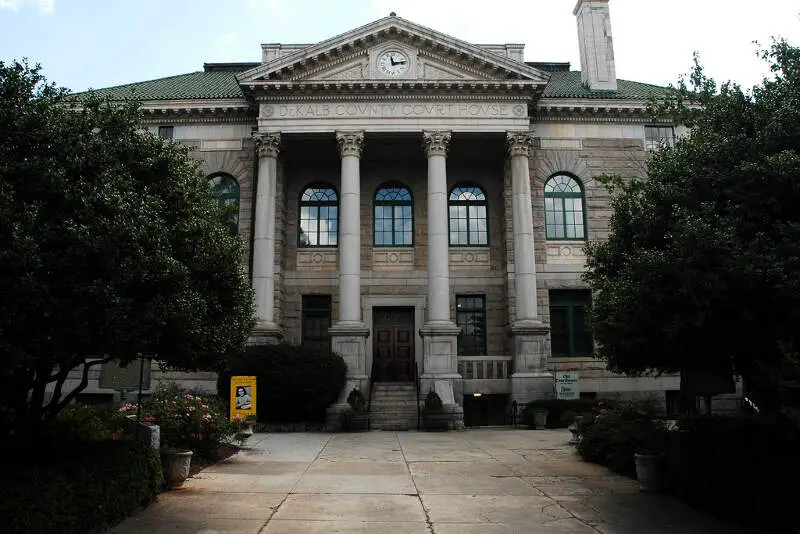 The Cave Sports Bar & Grill, Decatur, GA. From their Facebook page.
Population: 19,500
Divorce rate: 12%
Bars per capita: 4th
Liquor stores per capita: 2nd
Everything is drunker in Decatur.
Decatur's city motto is: "A city of homes, schools and churches." Sounds like they left something out. There are quite a few bars and at least 5 breweries in this town, too.
Twitter was blowing up with drunken Tweets from Decatur. We were alerted to the fact that the Decatur Mayor Pro Tem Kecia Cunningham pleaded guilty to drunk driving in July.
Leading by example, we see.
5. Atlanta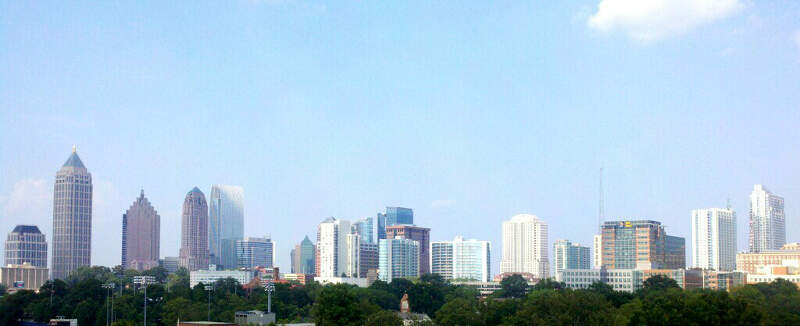 The Gang at Monday Night Brewing, Atlanta, GA. From their Facebook page
Population: 425,943
Divorce rate: 10.8%
Bars per capita: 4th
Liquor stores per capita: 6th
Having the 4th most bars per capita for such a large place is quite impressive, Atlanta. That, and having about 20 breweries to choose from.
Besides the regular folks who hang out in local bars, the thugs walking around with forties all day long, you've also got lots of college kids partying here as well. Colleges.com gave Georgia Tech an A- minus, and Georgia State got a B+ for their respectable party scenes.
Of course, plowing through drunk Tweets from Atlanta was quite entertaining.
This was the very first one we opened:
"I was reading an article where the police found a 12 year old girl in Atlanta naked in the street drunk and high on crack."
6. Brunswick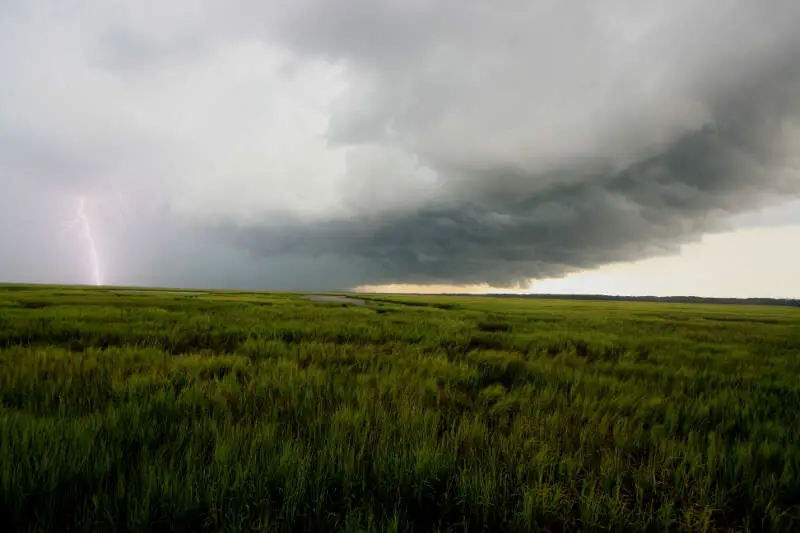 Red Carpet Lounge, Brunswick, GA
Population: 15,505
Divorce rate: 13.8%
Bars per capita: 6th
Liquor stores per capita: 4th
Sure, Brunswick is quite the tourist town, which might explain the high number of places to order drinks. That doesn't mean people aren't regularly getting hammered there.
This is a place for art galleries, events, sporting events, golfing, and bumming around town. And you know what goes well with each of those things? A drink in your hand, that's what.
7. Savannah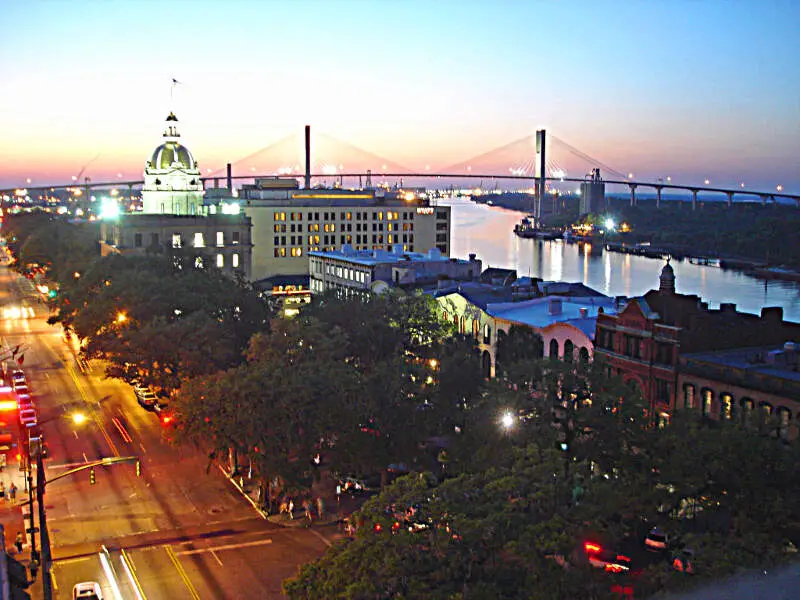 The gang at HangFire Bar, Savannah, GA. From their Facebook page
Population: 137,505
Divorce rate: 12.4%
Bars per capita: 6th
Liquor stores per capita: 17th
Sure, we've all been there. Savannah is a drinker's paradise. You can just about trip and fall into a bar anywhere you walk when you're right along the river. And we're pretty sure that's what a lot of people do here.
There are also at least 4 breweries here.
Twitter was a drunkfest when it came to Savannah. Lots of people on vacation or on a work trip were bragging about how they were about to get drunk, were drunk, or felt like crap because they were out late the night before.
Stuff like this: "My sales pitch can be "hey do you wanna get incoherently drunk in Savannah and finalize the details on this proposal?"
8. Covington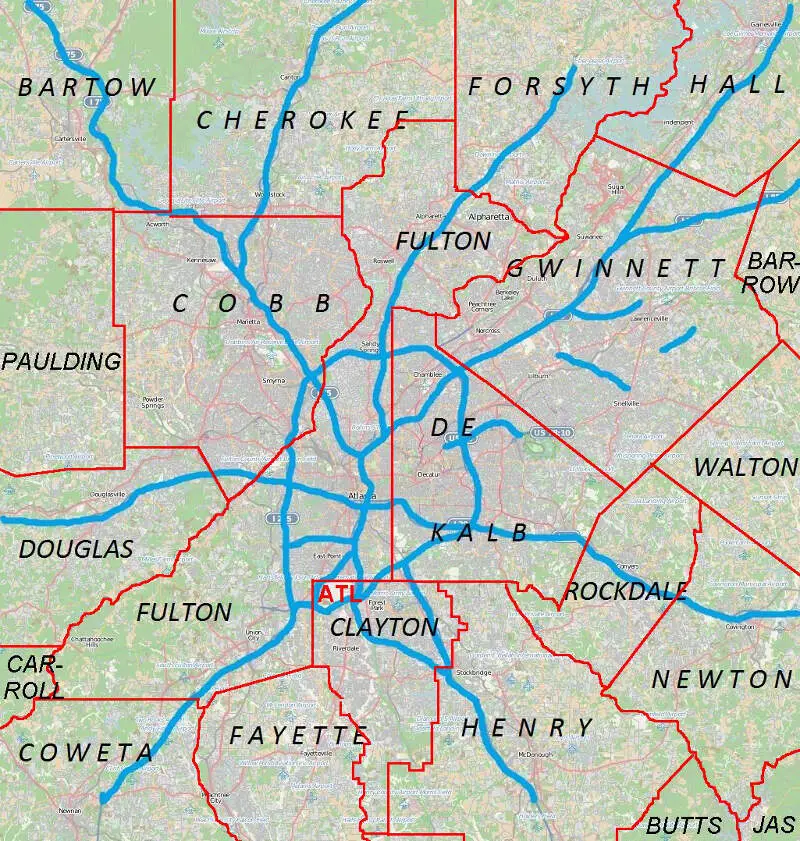 The Five O'clock Sports Bar, Covington, GA
Population: 13,284
Divorce rate: 16.3%
Bars per capita: 20th
Liquor stores per capita: 8th
Holy Matrimony, Covington. The divorce rate is through the roof here. It's not apparent if Covington has the highest divorce rate in Georgia because of the alcohol per person, or if they have to open up more bars to cater to all of the single people here.
But either way, there's probably lots of interesting moments right around closing time in Covington every night.
There weren't very many drunk Tweets coming from the Covington area. This one was good though:
"I'm going to a Covington bar by myself to get sad awkward drunk and sleep on a sidewalk tonight come say hi"
9. Kennesaw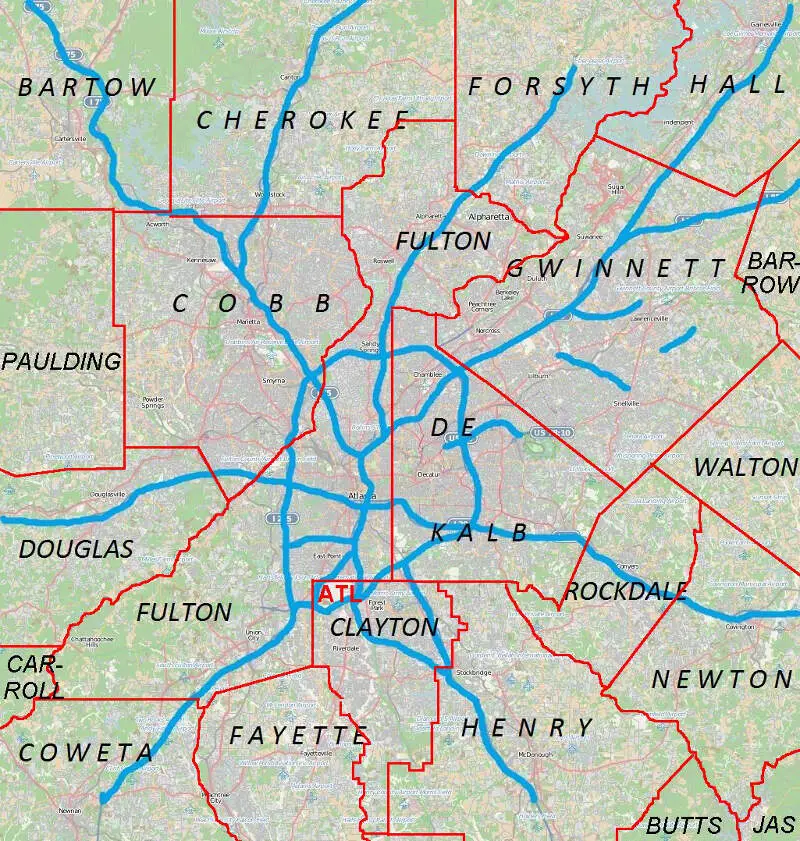 Keegan's Public House, Kennesaw, GA
Population: 30,394
Divorce rate: 13.5%
Bars per capita: 10th
Liquor stores per capita: 18th
Home of Kennesaw State University, this medium sized city sure likes to get after it when you look at the data. Colleges.com gave KSU a low score of B- for its party scene, with most commenters noting that the frats get down with it, and there's also heavy drinking and drug use at house parties.
"Get blackout drunk and wake up in kennesaw naked in a ditch off stilesboro road, with a short walk to awesome biscuits"
Someone Tweeted that. Sounds like fun, actually. The biscuits part, we mean.
10. Marietta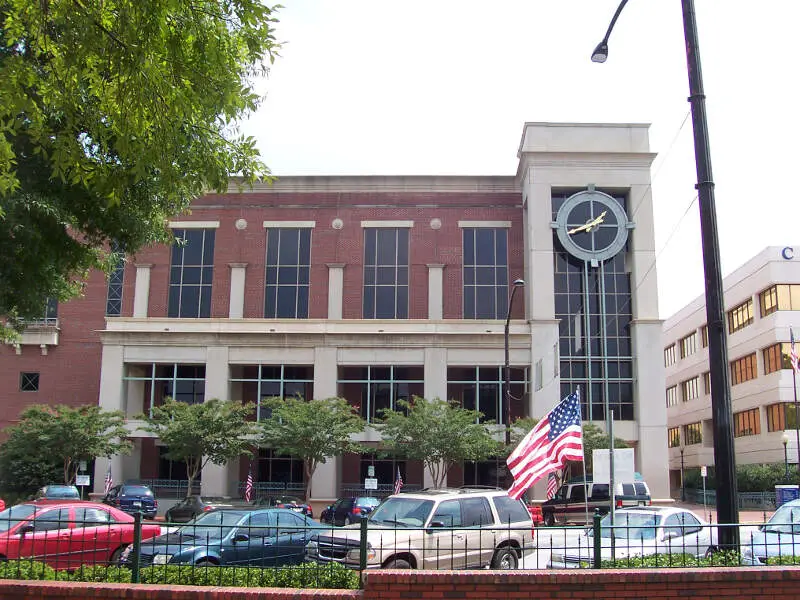 Johnny MacCracken's Celtic Pub, Marietta, GA
Population: 30,687
Divorce rate: 13.3%
Bars per capita: 9th
Liquor stores per capita: 19th
Being an average middle class suburb outside of Atlanta has its perks. You can stay in when you want, and hit it big when you want to head into the city.
But it appears as if the people in Marietta don't have to go too far to get their booze fix. There are lots of places in town to plop down, throw down the card and get after it.
And judging by the high divorce rate, that's exactly what lots of people here are doing just about every night.
There You Have It
If you're measuring the locations in Georgia where there are a high number of divorced people, bars and liquor stores, and where people are talking about drinking the most often, this is an accurate list.
If you're curious, Druid Hills, North Atlanta, Sugar Hill, Milton and Johns Creek are the most sober places in Georgia. Sounds about right.
We also wrote about the 10 Most Redneck Cities In Georgia if you didn't read it yet.
Desktop users: Here's a complete chart with the drunkest cities in Georgia, along with their divorce rates: