This article is an opinion based on facts and is meant as info-tainment. Don't freak out.
Swipe left for slideshow. Article continues below.
Advertisement
[adrotate banner="4″]
Is there anything wrong with being called the drunkest city in your state?
Especially in Kentucky, which drinks the 3rd least amount of beer and spirits every year. So someone has to pick up the slack, right? And boy do these cities below.
How do you decide how much a place drinks? By the number of available places to buy booze, and by how often people are talking about drinking, that's how.
Plus, we thought why not add in a stereotype? Cause, you know, drinking is one reason for divorce, and something that divorced people do a lot of.
Using that criteria, it's not hard to scrape the internet, run some scientific data on where partiers might live in Kentucky, and then put out a list.
Because, the data never lies, does it?
So, hold our beers and watch this. After analyzing all cities with a decent amount of people in them, we came up with this list as The Drunkest Cities in Kentucky:
As it turns out, many of these are smaller cities in Kentucky with many bars in town or nearby, where there's a higher than average divorce rate. Studies have indicated that when one or both partners in a marriage are alcoholics, that couple is three times more likely to divorce.
Read on below to see where your town ranked.
Advertisement
[adrotate banner="5″]
What drunken criteria did we use?
In order to rank the drunkest cities in Kentucky, we had to determine what criteria defines someone who drinks a lot.
We threw a lot of criteria at this one in order to get the best, most complete results possible. Using Yelp and Sperling's Best Places, this is the criteria we used:
Number of bars and pubs per capita
Number of wineries per capita
Number of liquor stores per capita
Each city's drunk related tweets within the last week
Each city's divorce rate
For geo-located tweets, we measured the following raw number of tweets that came from within a city's general area: #Drunk, #Party, #Beer, #Wine and #Cocktails
Note: For the sake of getting reliable numbers, we counted places within a city's border, as well as within a short driving distance.
Advertisement
[adrotate banner="7″]
1. Newport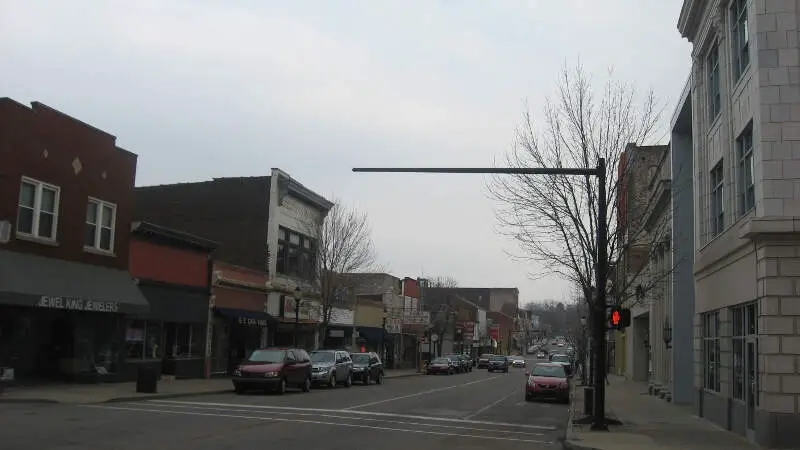 Bar Louie, Newport, KY. Google Maps.
Population: 15,398
Divorce rate: 18.3%
Bars per capita: 6th in KY
Liquor stores per capita: 6th
Wow, Newport you are tore up from the floor up! We're impressed. Based on the data and number of raw tweets coming from your location, per capita, it sounds like you are all having a really, really good time.
Is it because you guys are so close to the party town of Cincinnati? That's most likely the reason that there are so many bars and liquor stores in Newport. Obviously, you guys are letting some Ohio peer pressure get to you.
And the divorce rate is the 19th highest in the state in Newport.
2. Bardstown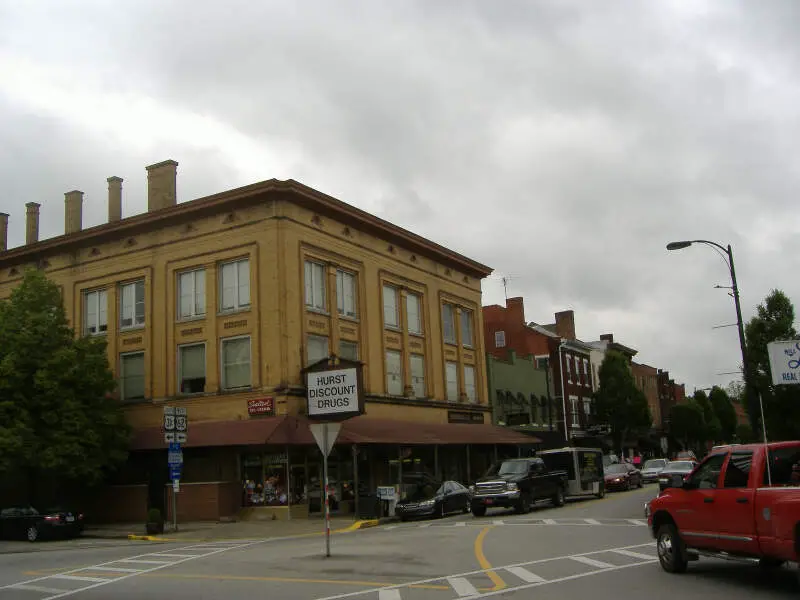 Bluegrass Tavern, Bardstown, KY. Google Maps
Population: 12,291
Divorce rate: 16.3%
Bars per capita: 12th in KY
Liquor stores per capita: 5th
Bardstown is a pretty blue collar place about 3 or 4 beers east of Elizabethtown. But we're sure all you guys down there know all the back roads, right? (Wink, wink).
We saw a huge number of drunk tweets coming from the Louisville/Mt. Washington/Bardstown area, where people were talking about how many drunk drivers were on Bardstown Road (Route 150). Several of the people Tweeting were claiming to be drunk while driving.
Be aware.
3. Paducah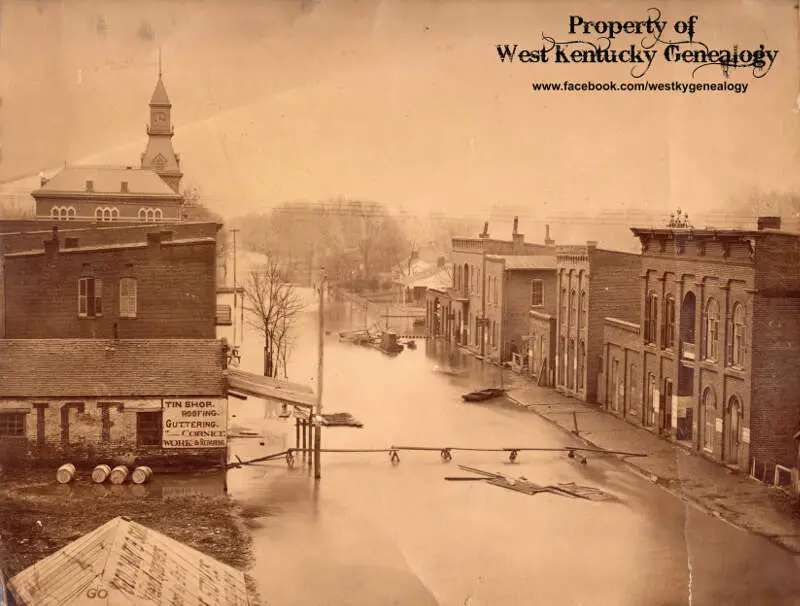 Fat Moe's Bar & Grill, Paducah, KY. Google Maps
Population: 25,081
Divorce rate: 18.5%
Bars per capita: 14th in KY
Liquor stores per capita: 25th
There we go again – letting the Illinois drunks peer pressure you guys into drinking a lot. Here in Paducah, there are lots of bars and several liquor stores per capita, making it quite a lively and boozy place. The type of spot where you want to watch Kentucky basketball games.
And considering the high divorce rate here, Paducah can be a place where there's lots and lots of drama. Meaning there's lots of inebriated and vulnerable people wandering around with a straw in their mouth in this area.
4. Florence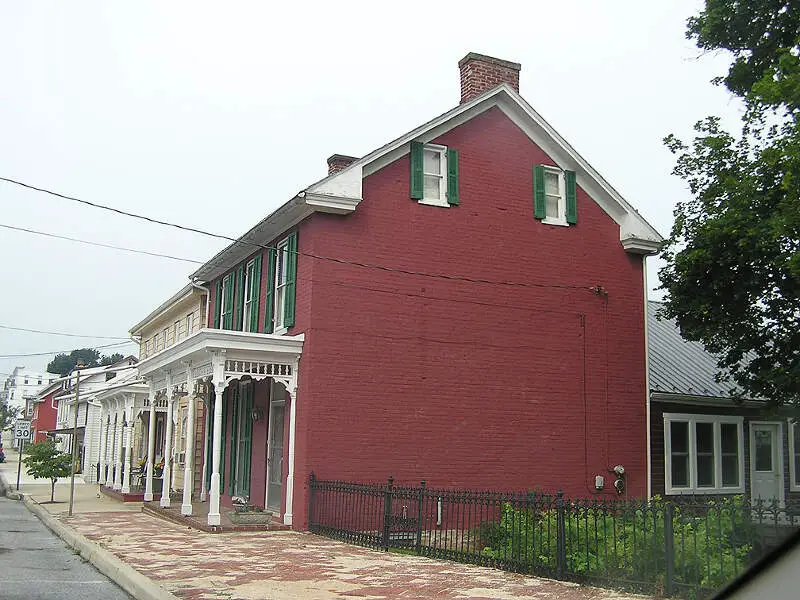 Muggbees, Florence, KY. From their Facebook page
Population: 30,021
Divorce rate: 15.5%
Bars per capita: 12th in KY
Liquor stores per capita: 19th
Another Kentucky city near Cincinnati, Florence also has a high number of bars and liquor stores and a divorce rate that's far higher than the state average.
Florence residents are gainfully employed, and earn great salaries. That just goes to show you – it's possible to burn the candle at both ends. However, working hard and partying hard has taken a toll on the marriages in Florence, Ya'll.
5. Lexington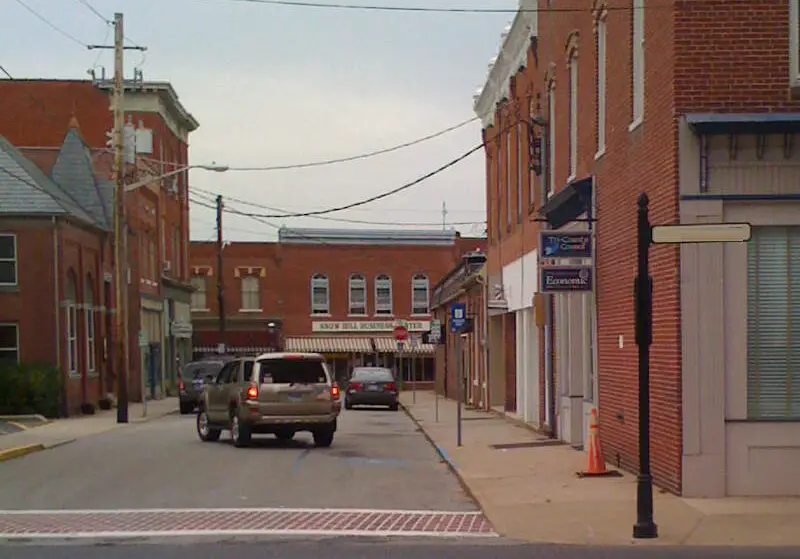 West Sixth Brewing, Lexington, KY. From their Facebook page
Population: 296,766
Divorce rate: 12.3%
Bars per capita: 18th
Liquor stores per capita: 35th
Of course, when you have a college town, you can expect that there are lots and lots of opportunities to get plowed at all hours of the day. Lexington has way more bars and liquor stores per capita than Louisville does.
And that's just the actual bars. No telling how many bars are opened up at 8 am inside of the dorms and frat houses.
Of course, the divorce rate is lower than average here. The kids here are too young to have experienced the ups and downs of settling down with someone who parties their butts off all the time. Just give them time. They'll come to their senses.
6. Crestview Hills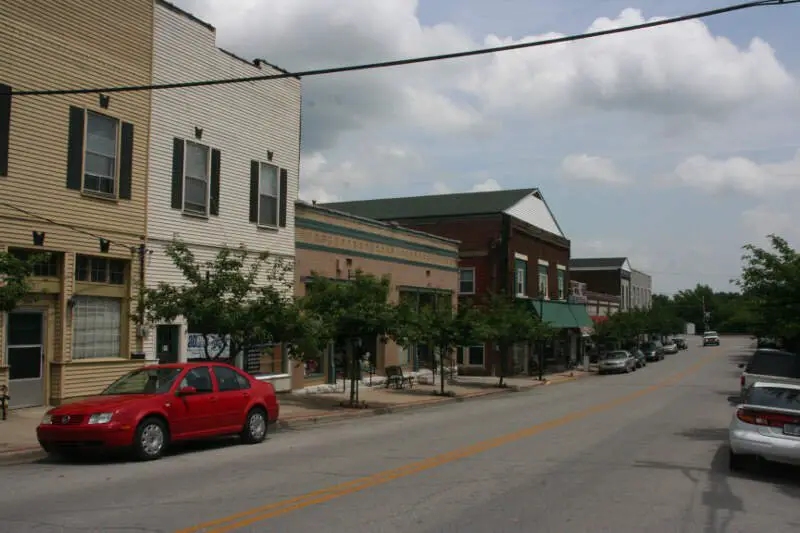 The Pub, Crestview Hills, KY. Google Maps
Population: 3,123
Divorce rate: 15.2%
Bars per capita: 1st in KY
Liquor stores per capita: 32nd
This folks in this little fairly wealthy suburb of Cincinnati simply have too many distractions to focus on their relationships, since the divorce rate is really high. Perhaps too many nights out ordering the top shelf Michter's Celebration Sour Mash Whiskey, produced right there in Kentucky?
7. Brandenburg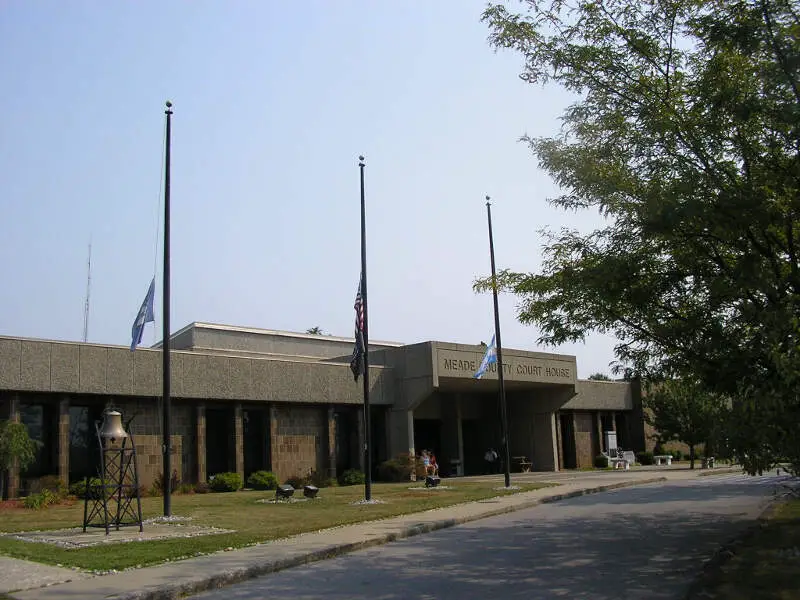 The SHOP, Brandenburg, KY. From their Facebook page
Population: 2,702
Divorce rate: 20.86%
Bars per capita: 5th in KY
Liquor stores per capita: 12th
Holy Matrimony, Brandenburg! Your divorce rate is through the roof. Was it because of the frequent nights out?
Brandenburg is located way out along the Ohio River south of Louisville. Considering that the population here is really small, and everyone knows everyone else, you can bet there are lots of interesting moments near closing time in Brandenburg bars.
Gossip central.
8. Prestonsburg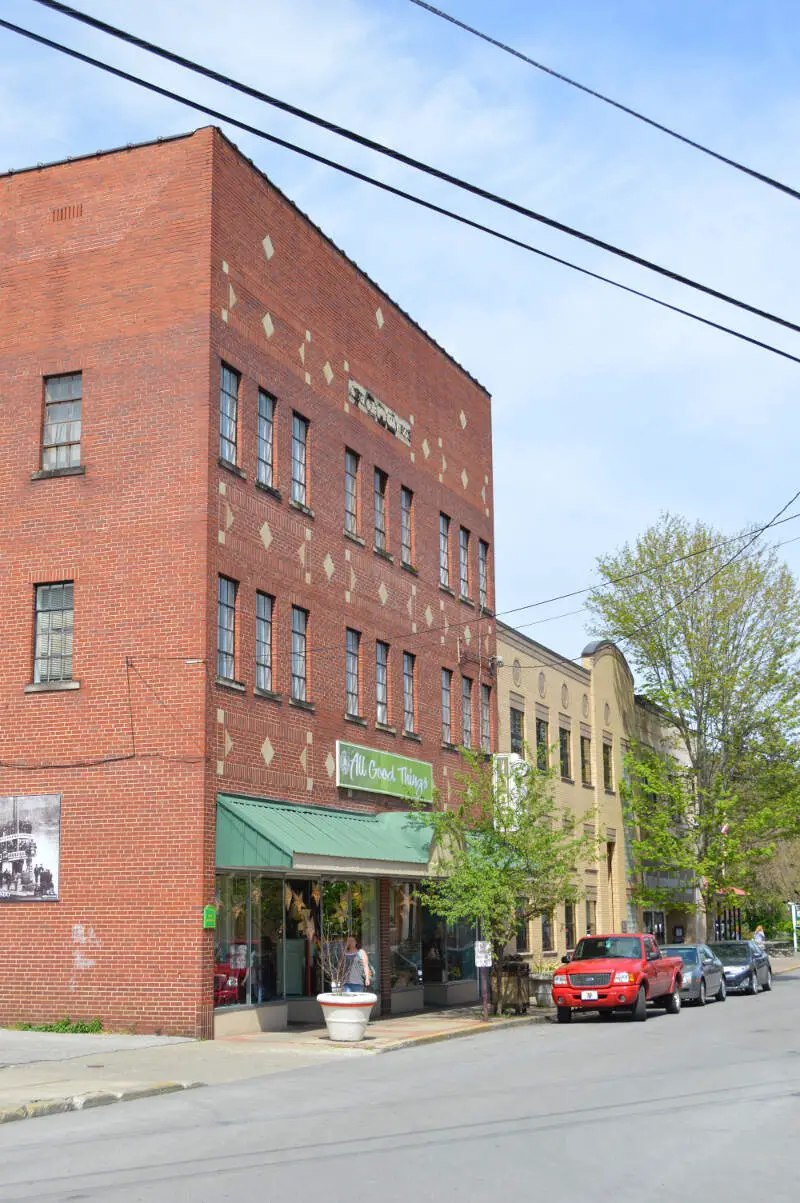 Pig In A Poke, Prestonsburg, KY. Google Maps
Population: 3,308
Divorce rate: 15.9%
Bars per capita: 7th
Liquor stores per capita: 2nd
Man, Prestonsburg, you guys are a mess. Nearly 1 in 6 of you are divorced, 1 in 10 of you are unemployed, and you're broke. Being way out in the sticks has really made it tough on you guys.
What are you gonna do while you're waiting for another job and nursing that ego? Elbow up to the bar that's what. You can't keep a good man down, right?
9. Corbin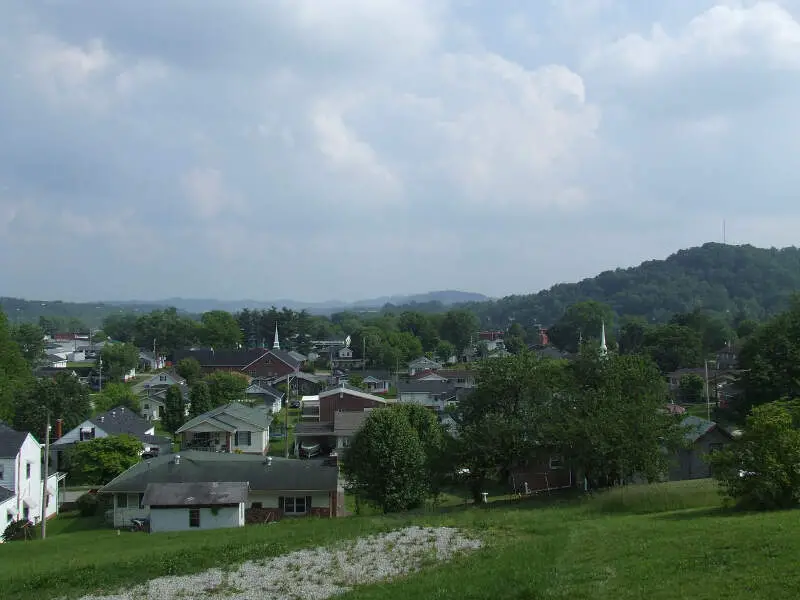 Old Town Grill, Corbin, KY. From their Facebook page
Population: 7,010
Divorce rate: 16%
Bars per capita: 18th
Liquor stores per capita: 35th
Corbin is another small, very poor, isolated place in Kentucky where there isn't much to do except fish, hunt and drink. So you can't really blame them. Just look at the city's event calendar. Blank. https://www.corbin-ky.gov/newsite/event-calendar/
The people here are really motivated to get their buzz on, too. Despite being in a dry county, the residents lobbied to allow full retail alcohol sales, following a successful local election a few years back. When there's a will, there's a way, right Corbinites?
10. Frankfort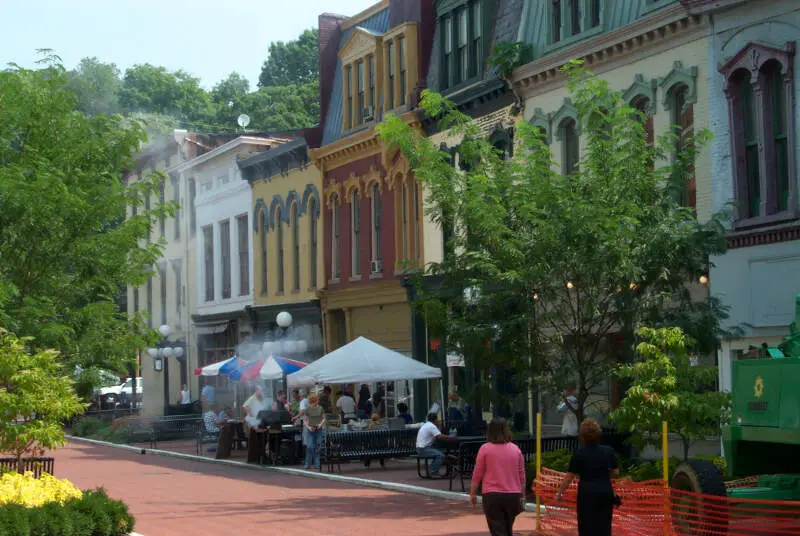 Cooter Brown's, Frankfort, KY. From their Facebook page
Population: 26,745
Divorce rate: 19%
Drunk tweets per capita: 7th in the state
Bars per capita: 19th in KY
Frankfort is a little middle class city not too far from Lexington. If you take the back roads (for undisclosed reasons), it'd probably take you 45 minutes.
While there were only a few drunk Tweets coming from Frankfort, there were several people talking about heading off to children's birthday parties. Hey, we won't judge you guys for throwing back some cold ones at a 5 year old's cupcake party.
This just about sums up the Frankfort Twitter notes:
"Goodnight Frankfort. I'm drunk."
There You Have It
If you're measuring the locations in Kentucky where there are a high number of divorced people, bars and liquor stores, and where people are talking about drinking the most often, this is an accurate list.
And while you might think the larger cities and college towns are 'more drunk' than these places, when you measure the percentage of people who have access to alcohol, and who are separated, it makes sense. Cause, the data never lies, does it?
If you're curious enough, here are the least drunk places in Kentucky. Or the most sober, if you will:
Fort Campbell North (Pop. 13,761)
Fort Knox (Pop. 10,919)
Indian Hills (Pop. 2,855)
Villa Hills (Pop. 7,417)
Claryville (Pop. 2,515)
We also wrote about the 10 worst places in Kentucky in case you didn't read it. Click here to see that story. https://www.roadsnacks.net/these-are-the-10-worst-places-to-live-in-kentucky/
Desktop users, here's the complete chart: