This article is an opinion based on facts and is meant as info-tainment. Don't freak out.
Swipe left for slideshow. Article continues below.
Is there anything wrong with being called the drunkest city in your state?
Here's what's interesting about Maryland: It's towards the back of the pack when it comes to alcohol consumption per capita. Residents average 21 beers each a year.
The divorce rate is somewhere in the bottom, too.
Bravo, Maryland. Especially when you consider that right next door to the 2nd and 3rd drunkest places in the nation (Delaware and D.C.)
But, while hundreds of thousands of people don't drink a drop, the cities below more than make up for it.
How do you decide how much a place drinks? By the number of available places to buy booze, and by how often people are talking about drinking, that's how.
Plus, we thought why not add in a stereotype? Studies have indicated that when one or both partners in a marriage are alcoholics, that couple is three times more likely to divorce.
After analyzing all cities with a decent amount of people in them, we came up with this list as The Drunkest Cities in Maryland.
Annapolis
Hagerstown
Bel Air
College Park
Baltimore
Frederick
Cumberland
Laurel
Parkville
Elkton
Read on below to see how your city might have fared.
What drunken criteria did we use?
Number of bars and pubs per capita
Number of wineries per capita
Number of liquor stores per capita
Each city's drunk related tweets within the last week
Each city's divorce rate
For geo-located tweets, we measured the following raw number of tweets that came from within a city's general area: #Drunk, #Party, #Beer, #Wine and #Cocktails
Note: For the sake of getting reliable numbers, we counted places within a city's border, as well as within a short driving distance.
1. Annapolis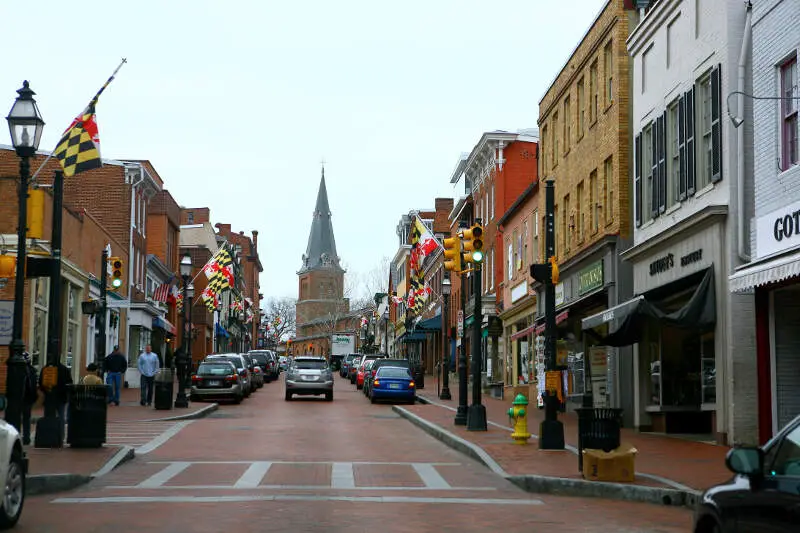 The gang at Davis' Pub, Annapolis, MD
Population: 38,309
Divorce rate: 12.3%
Bars per capita: 1st
Liquor stores per capita: 4th
No surprises here if you've ever spent time in Annapolis. There are bars and restaurants up and down West Street here. In fact, there are more bars per capita than anywhere else in the state of Maryland.
So Annapolis is is the capital in more ways than one.
The divorce rate is one of the highest as well. There's no telling what percent of the wrecked marriages were due to alcoholism, but when you have tons of options for getting wrecked any night of the week, there are gonna be some interesting moments around closing time in Annapolis.
2. Hagerstown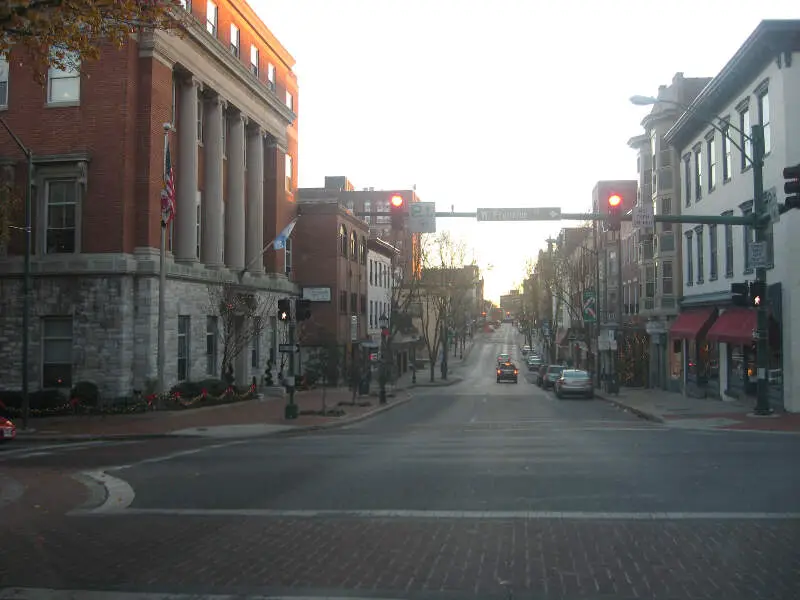 Thunder Road Bar & Grille, Hagerstown, MD
Population: 40,078
Divorce rate: 13.5%
Bars per capita: 3rd
Liquor stores per capita: 6th
Hagerstown is a pretty blue collar city which also has lots of bars and liquor stores per capita. It's also home to Antietam Brewery.
Beyond the sheer number of drinking opportunities, Hagerstown is home to many festivals and events throughout the year. At which a cocktail would probably accompany.
Twitter was relatively quiet regarding Hagerstown Tweets, but there were lots of mentions of people drinking and driving here. This was a gem:
"Is everyone driving in downtown Hagerstown drunk right now?"
3. Bel Air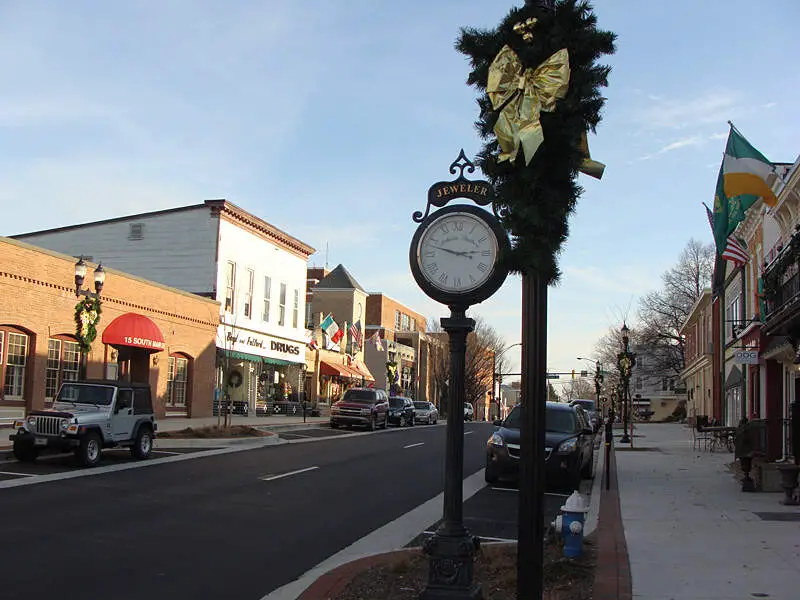 Looney's Pub, Bel Air, MD. From the Facebook page
Population: 10,172
Divorce rate: 11.9%
Bars per capita: 2nd
Liquor stores per capita: 2nd
Bel Air is a small city about 4 or 7 beers north of Baltimore, depending on how buzzed you wanted to be when you meet up with friends. And we're pretty sure Bel Air residents know all of the back roads, right? (Wink, wink.)
There is just about more alcohol available per capita here. Meaning lots of drunk people.
4. College Park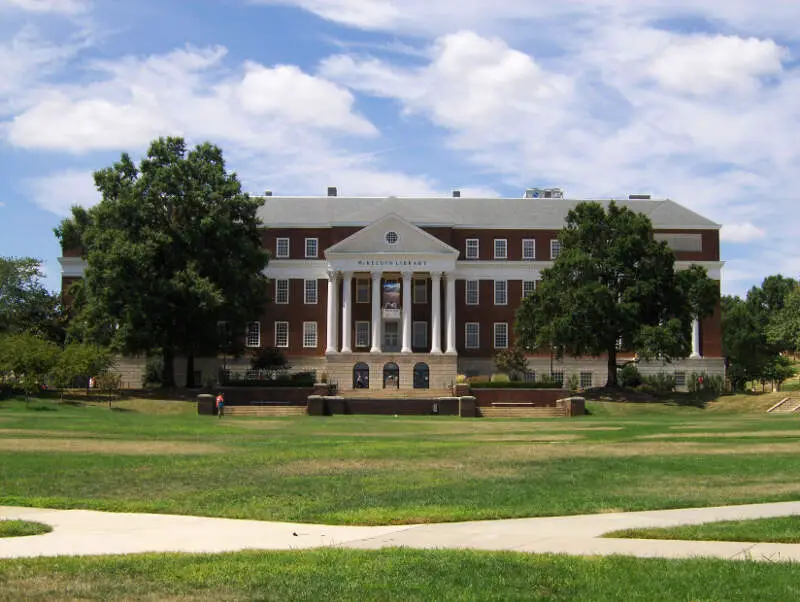 The gang at Looney's Pub, College Park, MD. From their Facebook page
Population: 30,478
Divorce rate: 3.6%
Bars per capita: 17th
Liquor stores per capita: 27th
You know there's a ton of drinking going on at the University of Maryland. They're consistently ranked as the 15th or 16th best party school in the nation. There just aren't as many bars here as in other places.
So yeah, there are plenty of frat parties every night of the week. We don't have to tell you that.
College Park was right behind Baltimore when it came to Drunk Tweets as well:
"woke up. didn't know where I was. quiz at 10. still drunk. college park what have you done to us."
5. Baltimore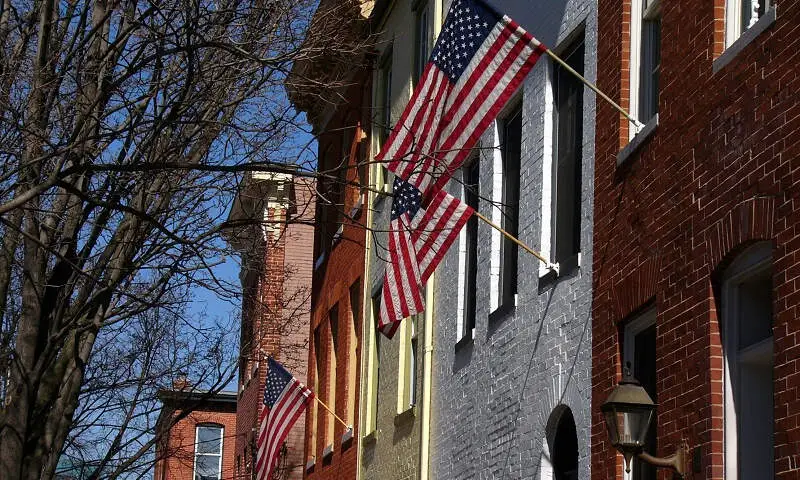 The gang at Cat's Eye Pub, Baltimore, MD. From their Facebook page
Population: 620,644
Divorce rate: 11%
Bars per capita: 7th
Liquor stores per capita: 18th
Sure, there are tens of thousands of people in Baltimore who are abusing booze and getting outright unruly pretty much every night of the week. But remember, we're measuring alcohol available per capita here.
Which means that there are hundreds of thousands of people in Baltimore who are content with just sitting at home with the cat.
How boring.
Baltimore has a fair share of breweries and of course, there are plenty of events downtown at which a resident can imbibe quite often.
As you might expect, Baltimore led the drunk Twitter battle. This was interesting:
"once i had an uber driver tell us how he doesn't drink anymore bc 1x he got blackout drunk and woke up in the baltimore harbor"
6. Frederick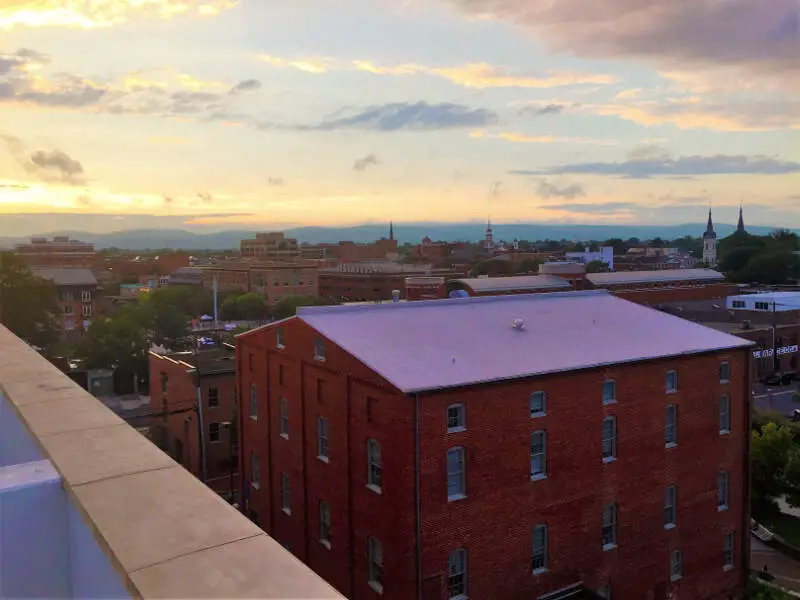 The Cellar Door, Frederick, MD
Population: 65,171
Divorce rate: 13.4%
Bars per capita: 5th
Liquor stores per capita: 11th
You might think Frederick is a little under the radar in terms of the amount of people drinking. But you can be sure, there are lots of places where a Fredericker can get their buzz on around every corner.
If you look at the city's event calendar, Saturday and Sundays are pretty…lacking in anything to do. So, what does a bored person do Saturday afternoon? Drinks, that's what.
7. Cumberland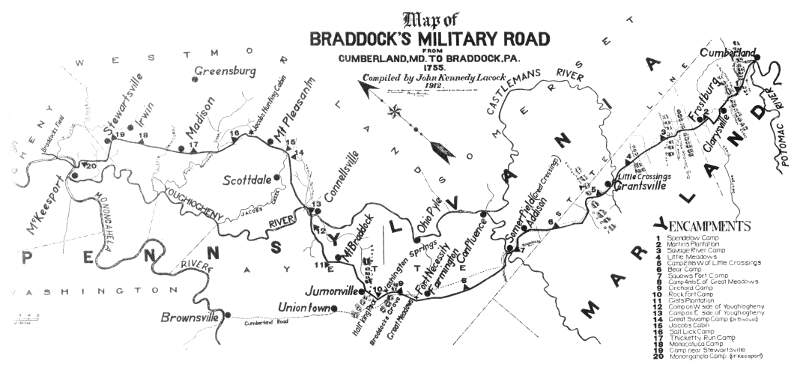 The gang at Cahoots, Cumberland, MD. From their Facebook page
Population: 20,776
Divorce rate: 15.7%
Bars per capita: 15th
Liquor stores per capita: 17th
Holy Matrimony, Cumberland! It says, "Till Death Do Us Part" for a reason. Your divorce rate is through the roof. There's only one other city in the state where people have failed marriages. Here's lookin' at you, Lake Arbor.
Cumberland is a mess, actually. Low incomes, high unemployment, and lots of alcohol at their disposal. Perhaps they need to back away from the bar and get jobs, dammit!
Okay, enough motherly scolding from us.
8. Laurel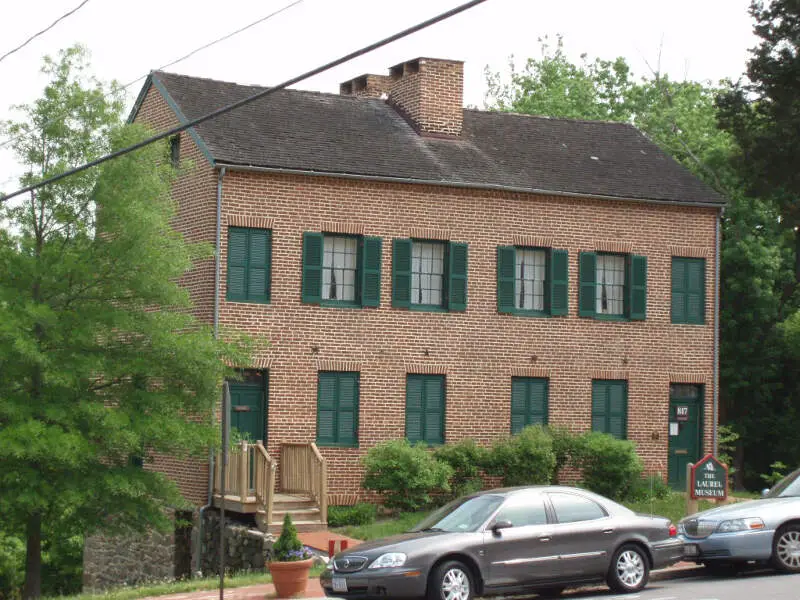 Oliver's Old Town Tavern, Laurel, MD
Population: 25,026
Divorce rate: 12%
Bars per capita: 4th
Liquor stores per capita: 5th
Laurel is just north of DC, and there are plenty of bars and restaurants along Route 1 at which drinkers can get their fix. It appears to be a relatively quiet, middle class place. The divorce rate is high, but not too out of control.
Are Laurel responsible drinkers? You guys tell us in the comments.
9. Parkville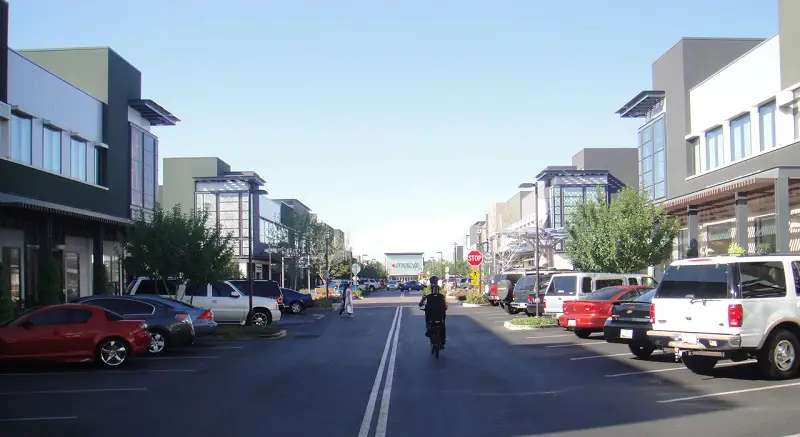 Racers' Cafe, Parkville, MD. From their Facebook page
Population: 30,485
Divorce rate: 12.5%
Bars per capita: 15th
Liquor stores per capita: 15th
Just outside of Baltimore is Parkville, which has some overflow from both the drunks in Baltimore, and the college kids at nearby Towson University. While Parkville certainly has its fair share of boozy activities, its residents have the benefit of short bike rides (cause we're drinking, people!) into other nearby communities whenever there are drink specials outside of their city limits.
10. Elkton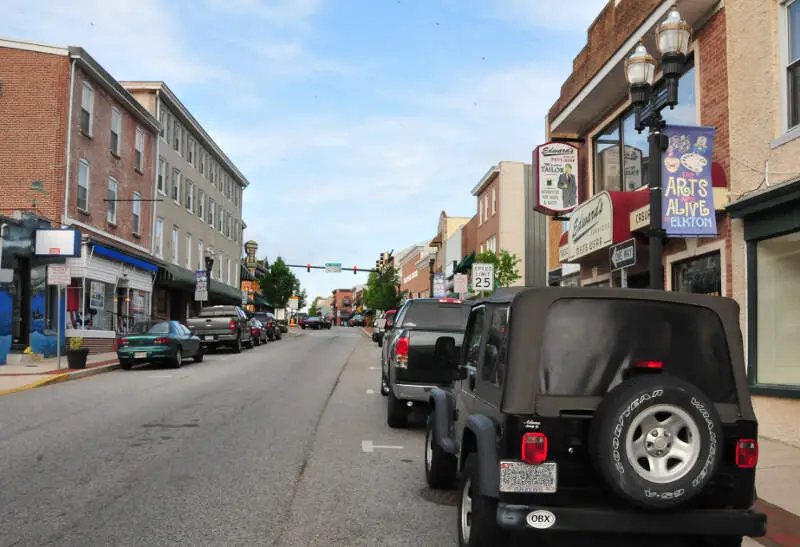 Minihane's Irish Pub & Restaurant, Elkton, MD. From their Facebook page
Population: 15,393
Divorce rate: 14%
Bars per capita: 24th
Liquor stores per capita: 9th
Elkton is a smallish place right along the Delaware border. Did you know that Delaware is the 2nd drunkest state in the nation right behind Nevada? Is there some peer pressure coming across the border, perhaps?
Hey, we're not judging you. In fact, it sounds like fun in all of these places. How can you expect Maryland to slow down on the consumption when there's so many distractions all over the place?
There You Have It
If you're measuring the locations in Maryland where there are a high number of divorced people, bars and liquor stores, and where people are talking about drinking the most often, this is an accurate list.
We also wrote about the 10 worst places in Maryland if you didn't read it yet. Click here to read that one.
Desktop users: Here's a complete chart with the drunkest cities in Maryland, along with their divorce rates: