This article is an opinion based on facts and is meant as info-tainment. Don't freak out.
Advertisement
[adrotate banner="5″]
Missouri is known as the "Show Me State." Let that sink in for a moment. I mean, really, of all the states' mottos, doesn't this one just scream "drunk"?
It's fitting, really, when you look at the state's track record of complete drunken ridiculousness. Even CBS reported Missouri as one of the US's drunkest states—and that's real news. But which of the slurry state's cities are the drunkest of them all? That honor goes to these 10:
Branson
Valley Park
St. Louis
Bonne Terre
Nevada
Kansas City
Joplin
Poplar Bluff
Springfield
Maplewood
Now before you throw that empty beer can at the monitor, just know, we didn't come up with this list in a drunken stupor. In fact, we didn't really come up with it at all.
Advertisement
[adrotate banner="5″]
How We Determined the Drunkest Places in Missouri
Like we said, this list had nothing to do with our own opinions about these places; we relied solely on the magic of math to come up with this order.
First, we made a list of all of the places in Missouri with populations of 5,000 people or more. Then, we looked at each of these 142 places in terms of these boozy criteria:
Number of bars and pubs per capita
Number of wineries per capita
Number of liquor stores per capita
Each city's drunk-related Tweets within the past week
Each city's divorce rate
Okay, so the divorce rate thing may be a little more serious than the rest of our criteria, but seriously, it's a huge factor in the demise in many a relationship in this country. Plus, we needed another criterion.
Once we gathered up our information, we ranked each place with scores from one to 142 in each category. We then averaged each place's ranking into one overall score, where the lowest scores went to our 10 drunkest places. (Cheers, you're drunk!)
If you're still sober enough to read on, please do so. Otherwise, you can check out a more complete list at the bottom of the post. First up to the plate, Branson, the drunkest place in Missouri. And that's saying a lot.
Advertisement
[adrotate banner="7″]
1. Branson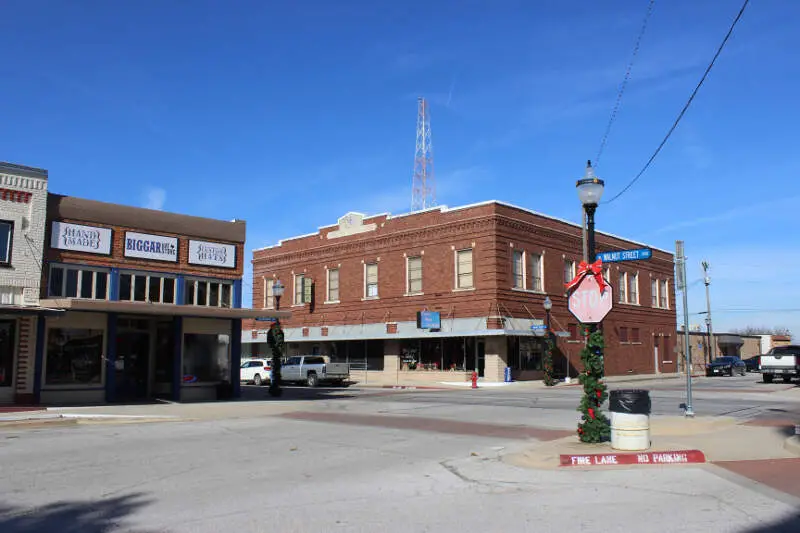 Wikipedia..
Population: 10,463
Divorce rate: 18.24%
Bars per capita: 9th most per capita
Liquor stores per capita: 2nd most per capita
Here's a fun exercise (if you're sober enough to do it). Just type in "Branson Missouri Drunk" in Twitter and count up all of the ridiculous Tweets from the past month or so, let alone the past week. My personal favorite: "Last night @____ were drunk on tequila and riding super charged lawn mowers down the streets of Branson Missouri with Anne Hathaway."
Well, hell, that sounds like fun! But on a less fun note—let's take a look at Branson's divorce rate. It's the 8th highest in the state. Now, we're not saying that this necessarily has anything to do with one of the highest number of liquor stores per capita. But you've got to wonder: drunk-riding lawn mowers in the middle of the night, probably isn't helping your marriage either.
2. Valley Park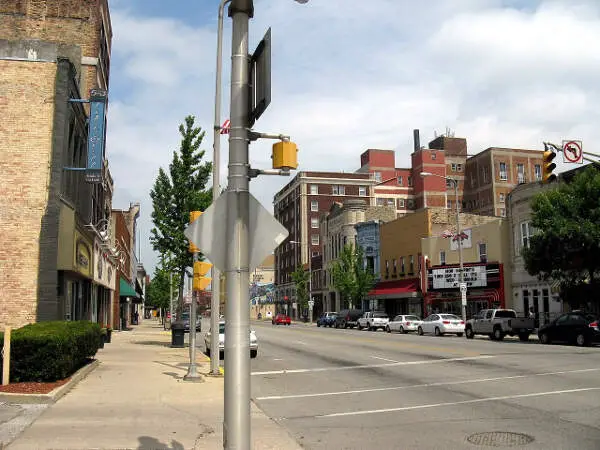 Meramec Jack's, Valley Park, MO. Google Maps
Population: 6,938
Divorce rate: 14.55%
Bars per capita: 14th most per capita
Liquor stores per capita: 5th most per capita
Many a memory was made (and lost) getting drunk in Valley Park. This place seems to be the perfect spot to wander around dunk and aimless, as the city isn't all that big, and honestly, there's not a whole lot to do. (Hence the high number of liquor stores per capita.)
In the past week, this small city did manage to have a handful of Tweets concerning drinking, beer, booze, being drunk, and one that simply said, "DRUNK," around three in the morning. But this one (though over a week old) has got to be the best:
"#tbt to when my brother was drunk and tried to convince me that the landfill in valley park is the highest point in Missouri."
Sounds like a lovely place, right?
3. St. Louis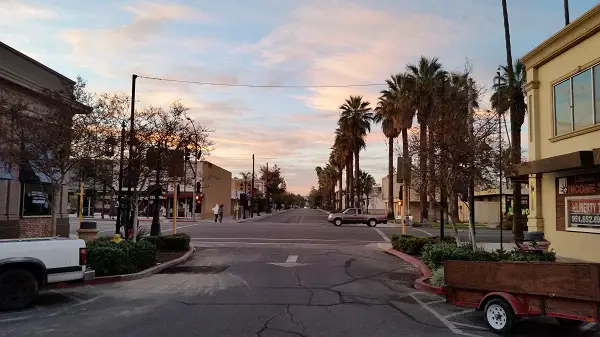 Wikipedia..
Population: 318,527
Divorce rate: 12.01%
Bars per capita: THE most per capita
Liquor stores per capita: 3rd most per capita
Oh St. Louis, you are DRUNK. Let us count the ways…
First of all, this city has the most bars per capita in the state—and we're betting, the most per capita in many states. The liquor stores per cap aren't far behind, but luckily, the divorce rate is actually pretty low compared to most places in the state.
Well, as long as you're both drunk all the time, we can see why it works.
St. Louis had a staggering (get it?) number of tweets over the past week mentioning in one way or another how drunk residents are, including one about a very notable resident: The river.
"Dear Missouri River, you've wandered across the interstate three times since St. Louis. You are clearly drunk."
4. Bonne Terre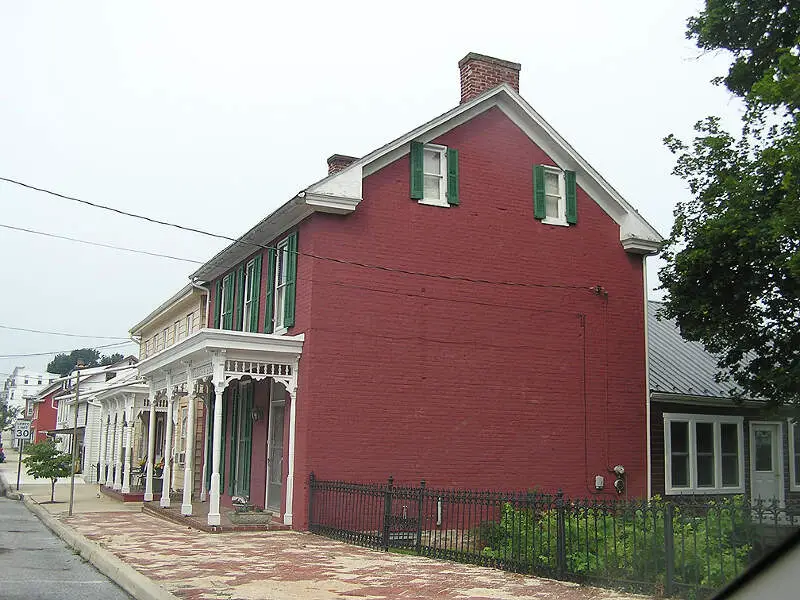 Hub's Pub and Grill, LLC, Bonne Terre, MO. Google Maps
Population: 6,853
Divorce rate: 18.91%
Bars per capita: 31st most per capita
Liquor stores per capita: 12th most per capita
When your hometown's biggest attraction is an old mine site, well, we can see why you drink. And drink you do! There are three liquor stores in Bonne Terre—which doesn't sound like a lot, we know. But when you consider that the population is under 7,000 people, which is like the size of two high schools, three is more than enough.
Not exactly good news for a happy marriage, it seems. The divorce rate in Bonne Terre is the 5th highest in the state. Maybe people are just looking for something to do? "Hey let's divorce today. That sounds fun."
5. Nevada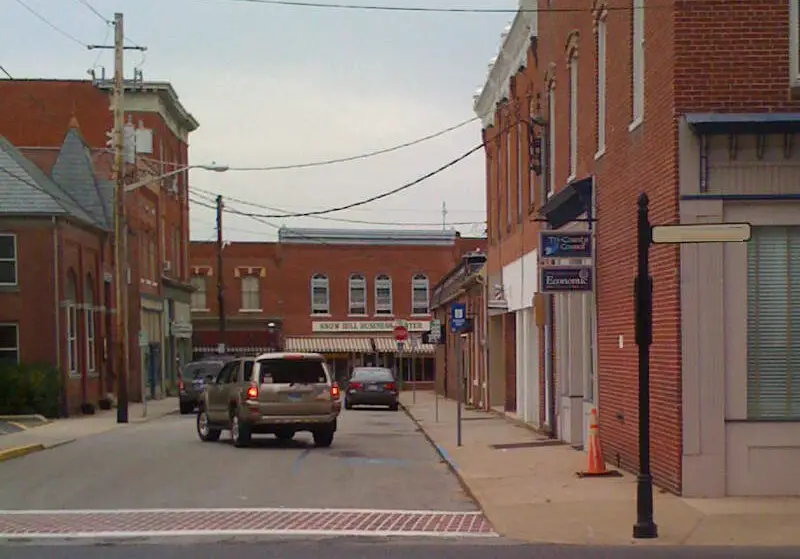 Cherry's Sports Bar and Grill, Nevada, MO. Google Maps.
Population: 8,073
Divorce rate: 15.22%
Bars per capita: 20th most per capita
Liquor stores per capita: 19th most per capita
Holy Legal Problems, Batman! Look through the Tweets this past week from Nevada, Missouri, and we can totally see why you guys drink. In fact, you should probably be drinking more. Your hometown is scary as hell! Every other Tweet was about a new arrest, parole being broken, and a fugitive on the loose?
If that's not enough to send you to the liquor store (which you have plenty of), we don't know what is.
6. Kansas City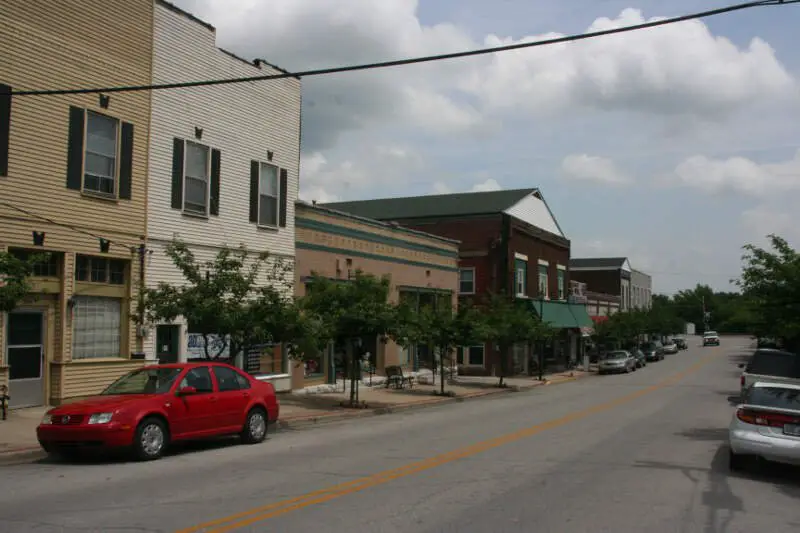 Wikipedia..
Population: 459,772
Divorce rate: 13.05%
Bars per capita: 11th most per capita
Liquor stores per capita: 23rd most per capita
Having the 23rd most liquor stores per capita may not seem like a lot, but do bear in mind, we looked at over 140 Missouri places. Plus, Kansas City more than makes up for this slightly less impressive ranking with its high number of bars per capita.
Of course, what can you expect? This city is home to University of Missouri, (among other colleges), and it was the birthplace of Ernest Hemingway. He was a brilliant writer, but also loved his drink.
KCMO also has a bustling Irish population, to boot. And we don't even need to explain that one.
Among the 12 DRUNK TWEETS just in this past week, this was one of the best: "Woke up. No pants. Noon. Just another Sunday in Kansas City MO."
7. Joplin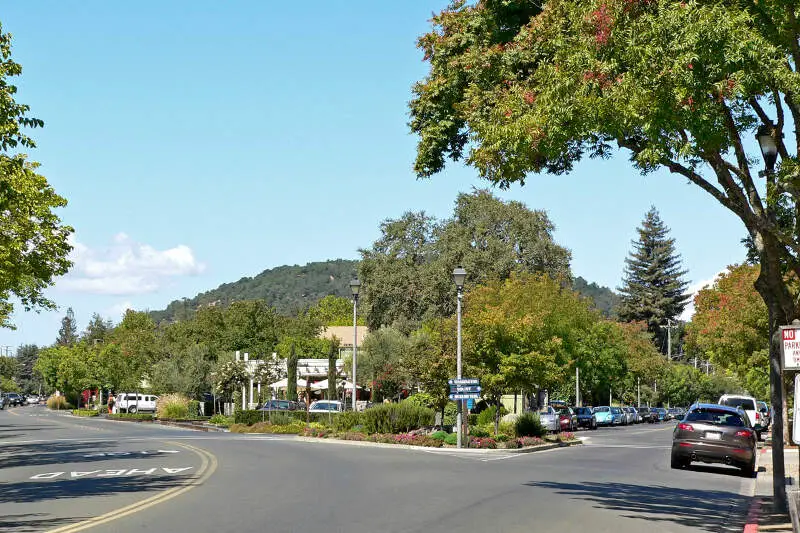 Blackthorn Pizza & Pub, Joplin, MO. Google Maps
Population: 49,924
Divorce rate: 14.95%
Bars per capita: 13th most per capita
Liquor stores per capita: 4th most per capita
Joplin, Missouri has at least one thing going for it: it didn't have nearly as many drunk Tweets as some of the places on our list. (Maybe you guys use Instagram?)
Anyway, that was about it for the non-drinking team of Joplin. This city has more liquor stores per capita than about 140 places in the state and more bars than most other places, per person.
8. Poplar Bluff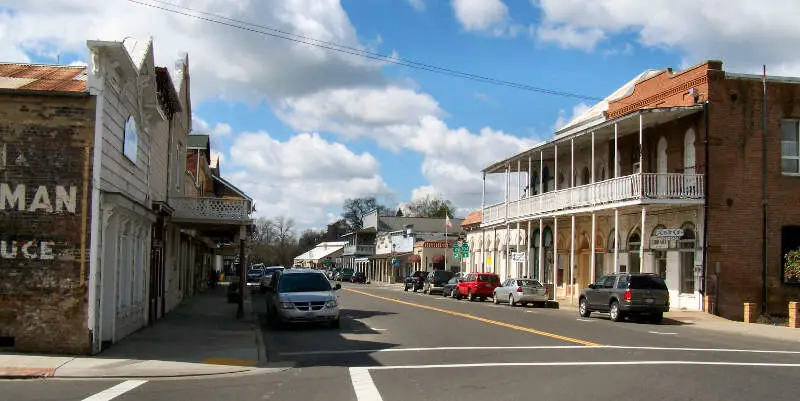 Tios Bar & Grill, Poplar Bluff, MO. Google Maps
Population: 17,110
Divorce rate: 19.33%
Bars per capita: 24th most per capita
Liquor stores per capita: 15th most per capita
Ah, The Gateway to the Ozarks. The Bluff. PB. The most volatile city for marriage ever. What, you guys haven't adopted that nickname yet? You might want to think about it. After all, Poplar Bluff has the third highest divorce rate in Missouri.
The highest, if you want to know, went to residents in Pevely.
The high divorce rate, plus the high number of drunk tweets in the past week (16) really put Poplar Bluff amongst the… winners.
9. Springfield
Springfield Brewing Company. From their Facebook page
Population: 160,246
Divorce rate: 14.73%
Bars per capita: 6th most per capita
Liquor stores per capita: 25th most per capita
Who knew the Queen of the Ozarks was such a lush? You, probably, if you live in Springfield. After all, you're simply surrounded by bars, and likely the drunk people stumbling down the streets whose tweets we were perusing before making this list. There were 19 this past week alone.
Here's a good one: "I am with beer, therefore I am happy." It's as though a Buddhist monk got drunk and grabbed hold of someone's Twitter account.
Namaste.
10. Maplewood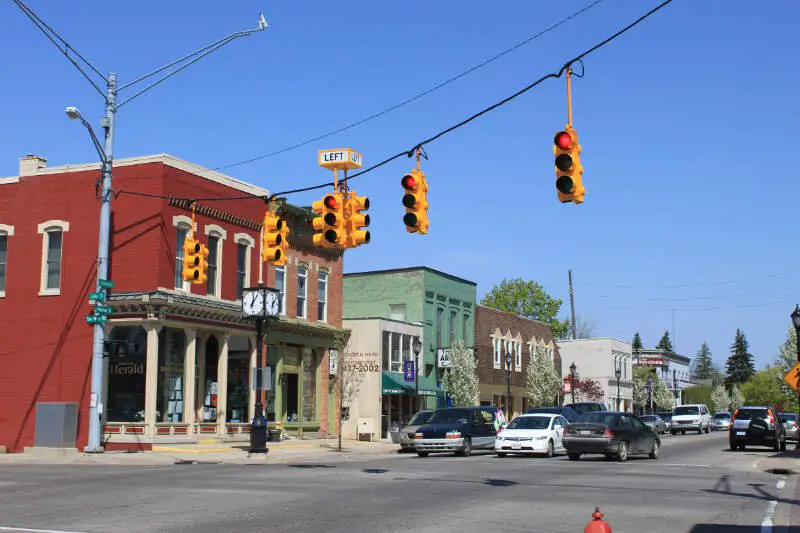 Schlafly Bottleworks, Maplewood, MO. From their Facebook page
Population: 8,081
Divorce rate: 14.27%
Bars per capita: 15th most per capita
Liquor stores per capita: 9th most per capita
Last, but certainly not least drunk, we have Maplewood.
Maplewood may seem like your run-of-the-mill charming small town, and…. well, it kind of is. And what do people do in run-of-the-mill, charming small towns? Well, in Missouri, it looks like they drink. After all, there are more bars, pubs, and liquor stores here per capita than there are groceries.
And while the divorce rate isn't exactly the highest on our list, it sure as chickens isn't the lowest, either. It ranked 42nd here.
If You're Still Able To Read This
…. Then you probably don't live in one of our top 10 places. Those guys passed out twenty minutes ago.
Congratulations to all of our… winners on this list! And for those of you who didn't make the cut, well, congratulations to you, too. Your livers win.
If you're curious, here are the the least drunk – or most sober if you will – places in Missouri.
Town And Country (Pop. 10,821)
Oakville (Pop. 36,418)
Shrewsbury (Pop. 6,261)
Glendale (Pop. 5,911)
Fort Leonard Wood (Pop. 16,393)
Fun fact! The lowest divorce rate in the state is just 1.75 percent is in Fort Leonard Wood. Also, no coincidence, one of the least drunk places in MO. Good job guys!
We also wrote about the worst places to live in Missouri. You can read that post here.
Desktop users, here is the complete table, including divorce rates for all of the cities.