Is there anything wrong with being called the drunkest city in Nebraska?
Here's what's interesting about Nebraska: The Cornhusker State drinks the 10th most alcohol each year in the nation. Residents average something like 30 beers a year each.
Hey we're not judging. It sounds like you guys are having a blast.
Did you know Nebraska is 4th in the U.S. for number of DUI arrests each year?
Okay, we're judging that. That's just plain stupid.
How do you decide how much a city within a state drinks? By the number of available places to buy booze, and by how often people are talking about drinking, that's how.
Plus, we thought why not add in a stereotype? Studies have indicated that when one or both partners in a marriage are alcoholics, that couple is three times more likely to divorce.
Nebraska's divorce rate is just about the lowest of all U.S. states, by the way.
After analyzing all cities with a decent amount of people in them, we came up with this list as The Drunkest Places in Nebraska:
The 10 Drunkest Cities In Nebraska
Ogalalla
Read on below to see how your city might have fared.
For more reading on Nebraska, check out:
What drunken criteria did we use?
Number of bars and pubs per capita
Number of wineries per capita
Number of liquor stores per capita
Each city's drunk related tweets within the last week
Each city's divorce rate
For geo-located tweets, we measured the following raw number of tweets that came from within a city's general area: #Drunk, #Party, #Beer, #Wine and #Cocktails
Note: For the sake of getting reliable numbers, we counted places within a city's border, as well as within a short driving distance.
1. Ogalalla
Population: 4,685
Divorce rate: 14%
Bars per capita: 1st
Liquor stores per capita: 5th
Believe it or don't, but the small town of Ogallala is the drunkest city in the state of Nebraska, when you look at the numbers.
Ogallala has about 5 bars in a town of less than 5,000 people. That's a ton of booze per capita. And there are quite a few places to get liquor, too.
And, the divorce rate is the 3rd highest in the nation here. Sounds like all of the drinking opportunities are really starting to impact relationships.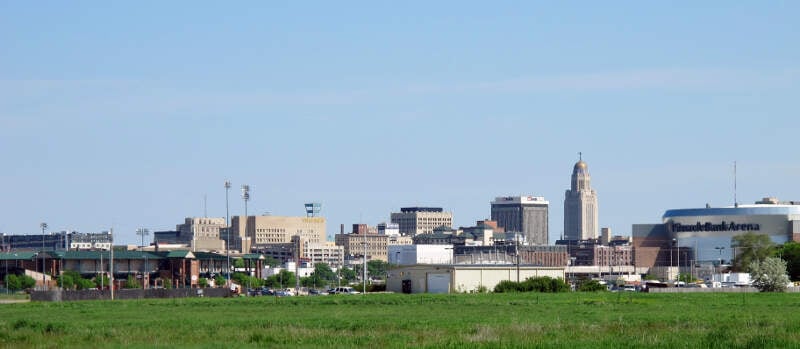 Source:
Wikipedia User Hanyou23
|
CC BY-SA 4.0
Population: 259,303
Divorce rate: 11.1%
Bars per capita: 7th
Liquor stores per capita: 19th
There are a ton of bars you can stumble into along P Street in downtown Lincoln. In fact, it's pretty clear that lots of people do just that.
Colleges.com gave Lincoln an "A" for its party scene, and many students commented that the house parties here are dirty.' Apparently throwing a party in a beat up house in the North Bottoms is a bad idea if you're trying to impress a female.
In any case, beyond the high number of bars and pubs serving booze, there is a really high divorce rate for a college town. Meaning heavy drinking among the adults, too.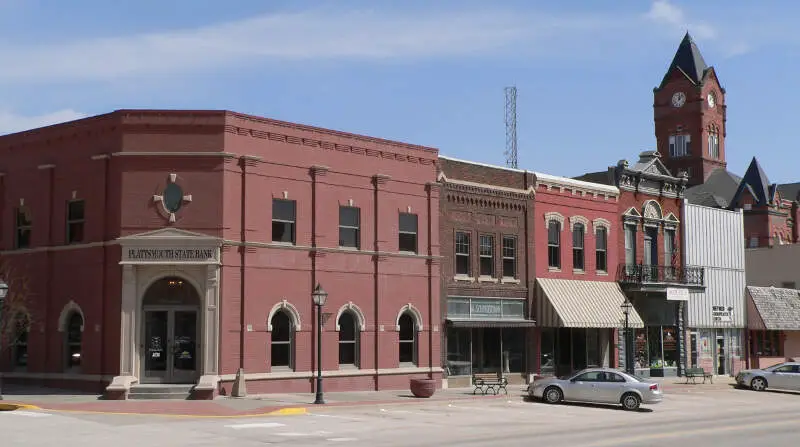 Source: Public domain
Population: 6,518
Divorce rate: 13%
Bars per capita: 6th
Liquor stores per capita: 5th
You can tell where the priorities are in little ole' Plattsmouth. They have just about as many bars here as they do in Ogallala.
And, holy matrimony, Plattsmouth. Your divorce rate is through the roof! No word on whether the number of newly single Nebraskans are the reason there are so many bar stools here, or the number of bars helped wreck marriages.
In any event, you can bet there are lots of interesting moments in this small town just south of Omaha.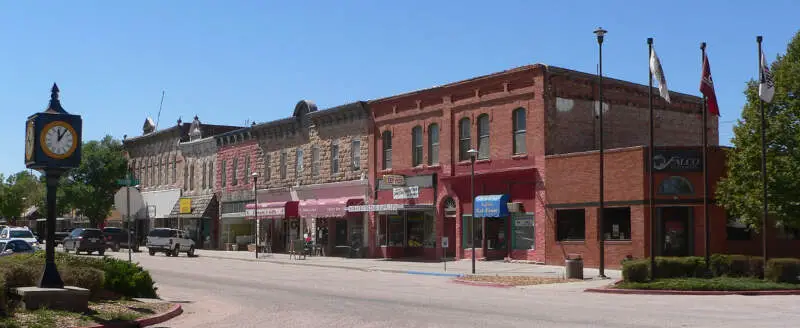 Source: Public domain
Population: 5,846
Divorce rate: 11.2%
Bars per capita: 7th
Liquor stores per capita: 2nd
What else is there to do in Chadron for most of the year? This tiny place way up near South Dakota has plenty of booze in town, and it looks like residents here take full advantage of it, too.
For such a small place, there were quite a few drunk Tweets coming from the Chadron area. This one is a gem:
"Walkin drunk across chadron by yourself – it's rather relaxing and you meet cool people."
We bet you did. Most we're probably buzzed like you, random Tweeter.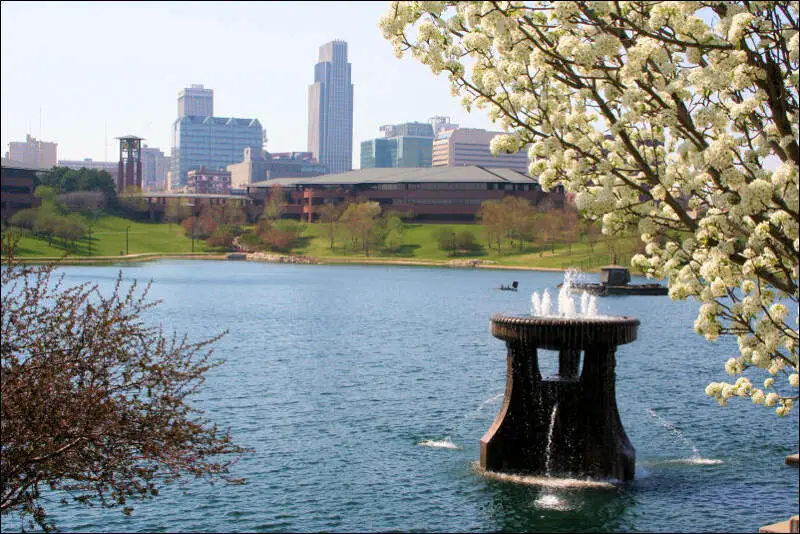 Source:
Wikipedia User Raymond Bucko, SJ
|
CC BY 2.0
Population: 412,689
Divorce rate: 11.8%
Bars per capita: 2nd
Liquor stores per capita: 19th
You might be surprised to hear that there are more drunks per capita in these smaller towns. Sure, we're aware that the kids in college get hammered just about any night of the week.
But remember, we're talking about number of drinkers per population, and the fact is, there are lots of people in Omaha who would rather sit at home and watch the corn grow than hit the bar scene.
The divorce rate is really high for a large city. More than 1 in 10 people in Omaha has decided that marriage is no longer in the cards. Which means lots more heavy drinking.
UNO got a B' for its party scene. People say the parties there suck' and they would rather go to Lincoln to get drunk.
Omaha beats Lincoln for drunk Tweets. There are lots of people talking about drunk drivers and passing out at people's homes.
We also read about a drunk woman who had her hand bitten off at the Omaha Zoo when she tried to pet a tiger.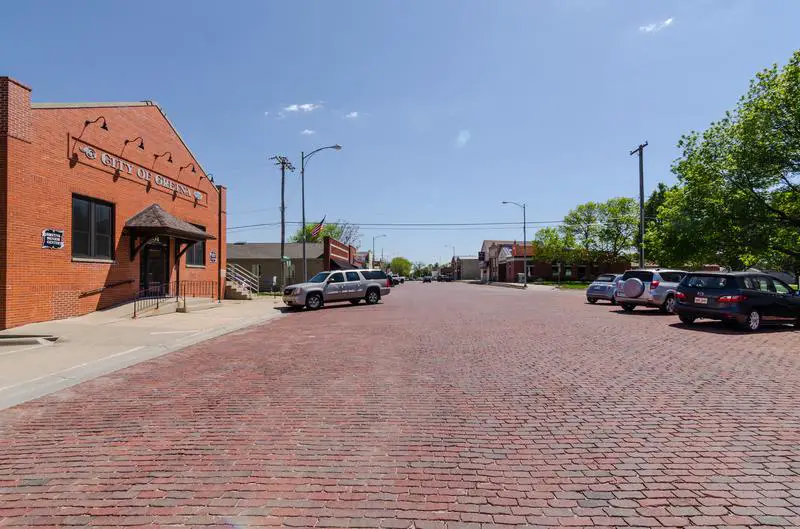 Source:
Wikipedia User Jared Winkler
|
CC BY-SA 4.0

Population: 4,807
Divorce rate: 9.7%
Bars per capita: 4th
Liquor stores per capita: 7th
Hey now, Gretna. All that money must be burning a hole in your pocket, huh?
Gretna is the wealthiest city in the state of Nebraska. Families here earn nearly $80,000 apiece. So there's a lot of disposable income laying around. And in Nebraska, things can get boring pretty quickly.
The divorce rate here is just about as low as you'll see for a town with lots of bars. Perhaps having a big bank account makes it easier to forgive him when he stumbles home every now and again.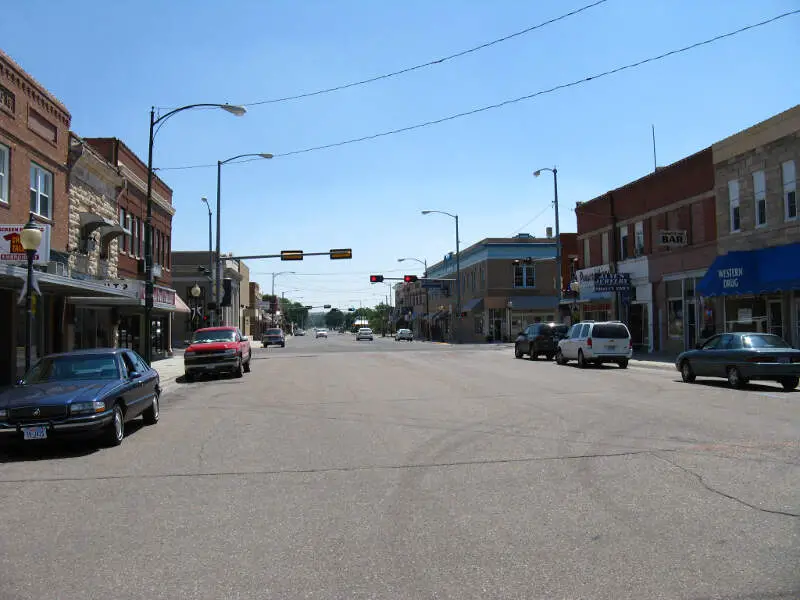 Source:
Wikipedia User Publichall
|
CC BY-SA 3.0
Population: 6,768
Divorce rate: 11.2%
Bars per capita: 8th
Liquor stores per capita: 11th
A quick glance of the city of Sidney's events calendar has determined that most of the big time events here involve alcohol. If you attended the city's Cheyenne County Fair & Rodeo, Gold Rush Days and Oktoberfest, you'd most likely see lots of drinking going on.
For a town of just about 6,000 people, having 5 bars is quite the number.
Sidney is along I-80 on the western side of the state. But we're pretty sure Sidney residents have all of the back roads memorized.

Source: Public domain
Population: 8,431
Divorce rate: 10.6%
Bars per capita: 9th
Liquor stores per capita: 4th
Gering has one of the highest unemployment rates in the state, which might inversely be proportional to the number of available liquor bottles in town. And 1 in 10 people is divorced, indicating a higher than normal consumption pattern.
This small city is just outside of Scottsbluff.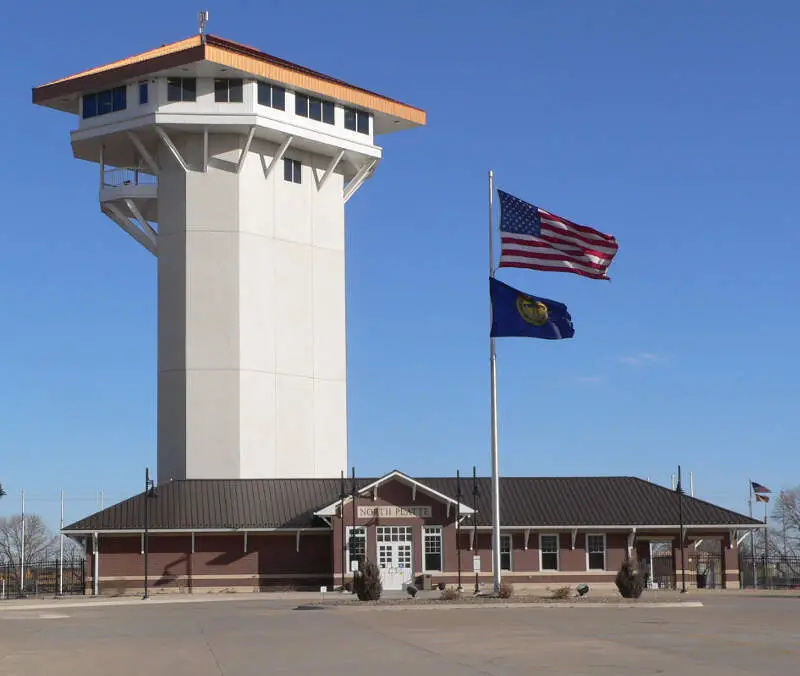 Source: Public domain
Population: 24,945
Divorce rate: 13.5%
Bars per capita: 11th
Liquor stores per capita: 3rd
There aren't too many other places in the state of Nebraska where you'll find a higher concentration of divorced people and bottles of whiskey than in North Platte. Cheer up, North Platte divorcees, at least you'll have lots of company if you peel yourself off the couch and head into town for a cold one.
There are quite a few bars here, but apparently people here get hammered in all sorts of places.
"great time with friends in north platte, NE last night. never been so drunk at an Applebee's in my life"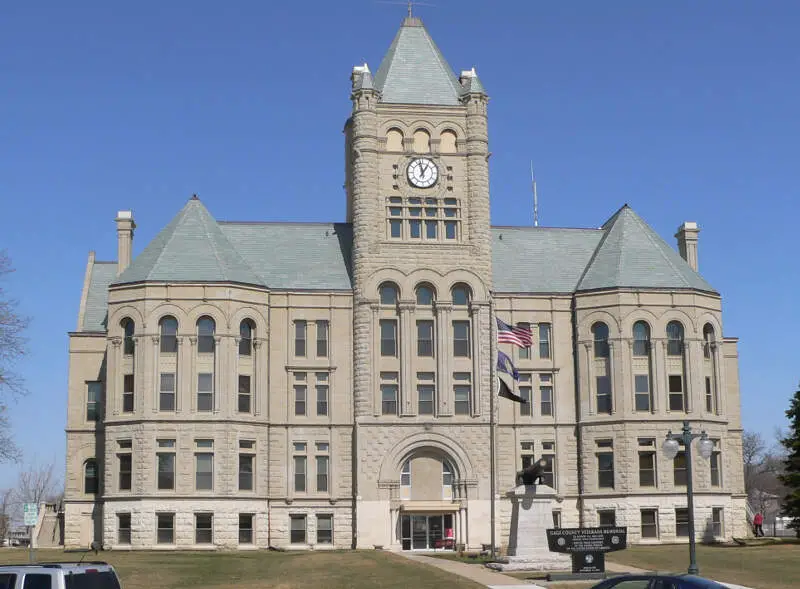 Source: Public domain
Population: 12,446
Divorce rate: 14.5%
Bars per capita: 14th
Liquor stores per capita: 9th
If you look at a map of Beatrice, there are lots of bars downtown, and strategically, there's a at least one bar in every direction on the fringes of town.
Most likely, that's where the husbands have been going to get away from the ole' ball and chain. If they keep it up, that divorce rate is gonna be tops in the state. As it stands, 1 in 7 people here has already headed for the Big D.
And we don't mean Dallas.
There You Have It
If you're measuring the locations in Nebraska where there are a high number of divorced people, bars and liquor stores, and where people are talking about drinking the most often, this is an accurate list.
For more reading on Nebraska, check out: