Is there anything wrong with being called the drunkest city in your state?
In New York State, people don't drink nearly as much as they do in places like New Hampshire, North Dakota and Alaska. In fact, NY is the 12th most sober state in the nation.
So, someone has to make up the slack, right? And boy do these cities below.
How do you decide how much a place drinks? By the number of available places to buy booze, and by how often people are talking about drinking, that's how.
Plus, we thought why not add in a stereotype? Studies have indicated that when one or both partners in a marriage are alcoholics, that couple is three times more likely to divorce.
After analyzing all cities with a decent amount of people in them, we came up with this list as The Drunkest Cities in New York. Read on below to see how your city might have fared.
For more reading on New York, check out:
What drunken criteria did we use?
Number of bars and pubs per capita
Number of wineries per capita
Number of liquor stores per capita
Each city's drunk related tweets within the last week
Each city's divorce rate
For geo-located tweets, we measured the following raw number of tweets that came from within a city's general area: #Drunk, #Party, #Beer, #Wine and #Cocktails
Note: For the sake of getting reliable numbers, we counted places within a city's border, as well as within a short driving distance.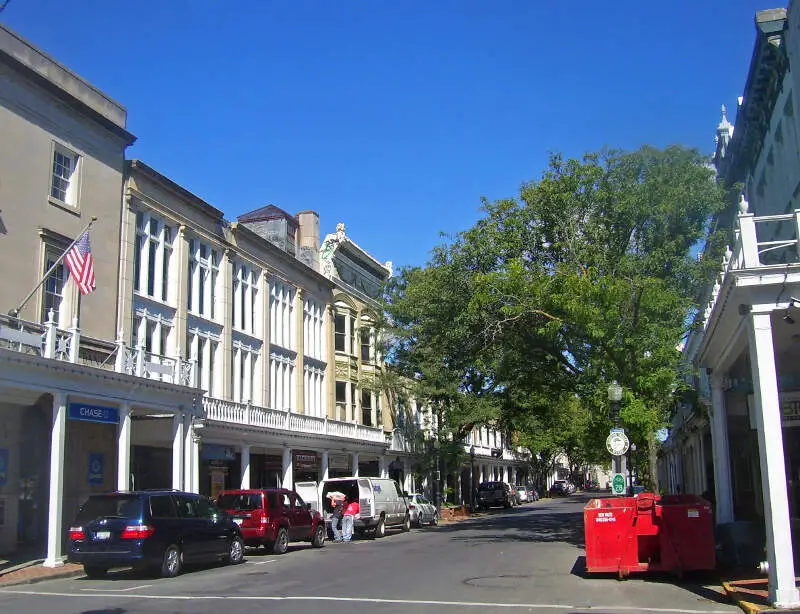 Source:
Wikipedia User Daniel Case
|
CC BY-SA 3.0
Population: 23,864
Divorce rate: 11.1%
Bars per capita: 4th in NY
Liquor stores per capita: 3rd
Wow, Kingston, we're impressed. Based on the fact that you guys have just about more booze per person in the entire state of New York at your disposal, you're obviously having a really, really good time.
In a state so large, having the 4th most bars per capita is quite a feat. And holy cow, your divorce rate is one of the highest as well. Perhaps too many nights out has taken a toll on your marriages.
Kingston is right along the Hudson about 2 or 4 beers north of Poughkeepsie. More on them later.
Population: 27,887
Divorce rate: 10.8%
Bars per capita: 15th
Liquor stores per capita: 15th
Just where in the world is the drunken enclave of Bay Shore? We're glad you asked. It's halfway down the Atlantic shore on Long Island, maybe 3 beers from downtown. But we're pretty sure all the folks in Bay Shore know all of the back roads, right?
1 in 10 people here have ended their marriages. The data doesn't say why, but you can bet having a high number of bars and liquor stores had something to do with it.
Twitter was aglow with several mentions of drunk drivers along the coast in this direction. Just a heads up. Take the train when you're bleary eyed, folks.
Source: Public domain
Population: 31,593
Divorce rate: 10.6%
Bars per capita: 10th
Liquor stores per capita: 20th
The students at Vassar are lucky they have so many alcohol related opportunities at their disposal. Poughkeepsie is also along the Hudson River, meaning this part of the state is setting the bar' high for the rest of the state.
This Tweet just about sums up Poughkeepsie:
"a whole army of drunk skanks and poughkeepsie punks are in the streets"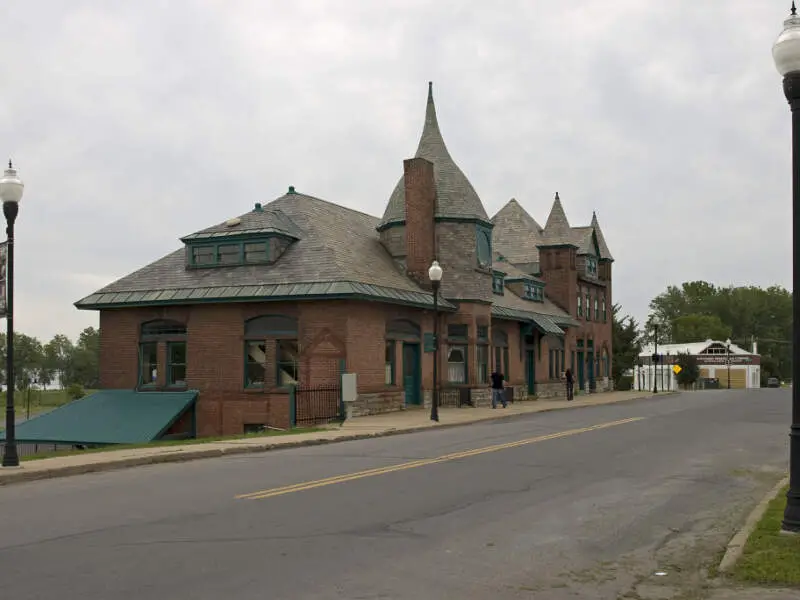 Source:
Wikipedia User Ymblanter
|
CC BY-SA 3.0
Population: 19,911
Divorce rate: 10.5%
Bars per capita: 8th
Liquor stores per capita: 18th
Plattsburgh is pretty isolated, way up near the Canadian border, near Lake Champlain. Perhaps that's one reason there are so many bars and liquor stores here. What else are you going to do for long stretches in the winter?
Plattsburgh actually ranked really high in terms of drunk tweets. It might be because it's home to a SUNY campus. Either way, you can bet they probably drink more often than you do here.
This Tweet is a gem:
"plattsburgh would be a million times better if we had a football team they could even be bad, all i want is to tailgate nd be drunk at games."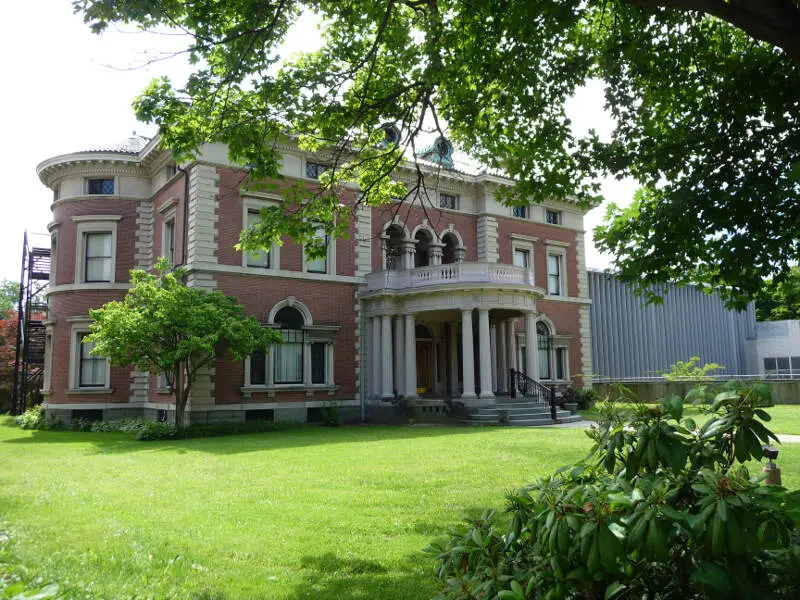 Source:
Wikipedia User ConfluenceOfRivers
|
CC BY-SA 3.0
Population: 47,107
Divorce rate: 11.6%
Bars per capita: 12th
Liquor stores per capita: 25th
Holy matrimony, Binghamton. It says, Till Death Do Us Part' for a reason. You guys have the 10th highest divorce rate in the state. They say alcoholism ruins marriages. Considering there are lots of relationship ruining places in town, perhaps you guys should slow down a bit.
Not that we can judge. It actually sounds like lots of fun there. If you like getting hammered all the time.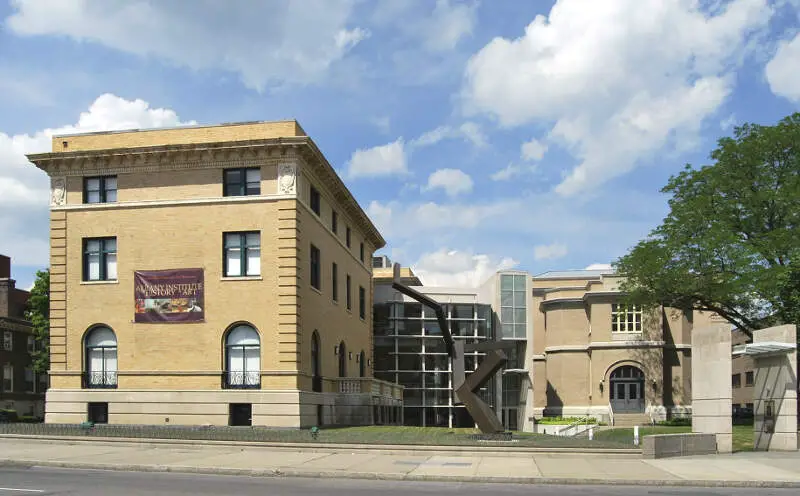 Source:
Wikipedia User UpstateNYer
|
CC BY-SA 3.0
Population: 97,892
Divorce rate: 8.4%
Bars per capita: 5th
Liquor stores per capita: 12th
So, we're pretty sure that there are tons of people in Albany who are either stumbling around at this very moment or nursing a severe hangover, so you guys up there can make a case that you're drunker' than some of these smaller cities.
However, we're measuring per capita drinkers. And the fact is, while thousands of Albanyans are partying hardy, there are tens of thousands who are studying for their exams.
How boring..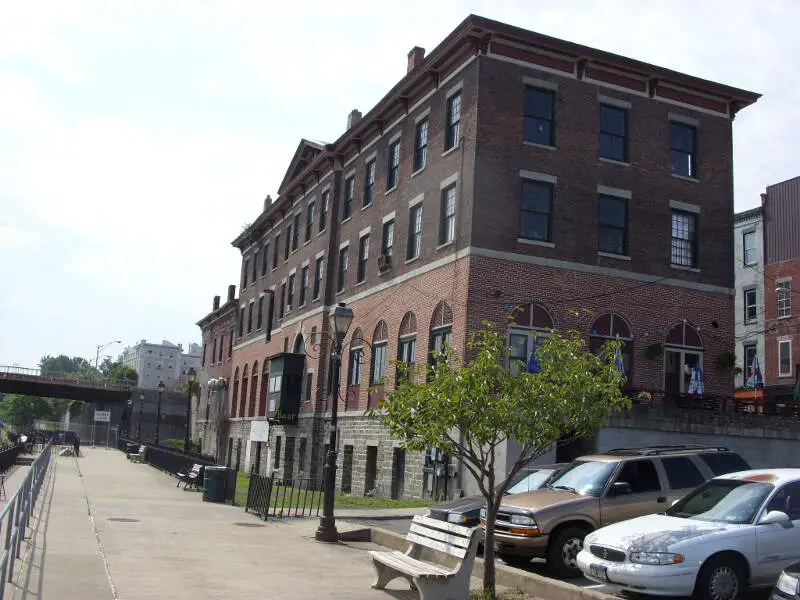 Source:
Wikipedia User Doug Kerr from Upstate New York
|
CC BY-SA 2.0
Population: 18,140
Divorce rate: 11.2%
Bars per capita: 11th
Liquor stores per capita: 23rd
The author of this post can attest to the drinking factor in Oswego. I dated a girl who attended SUNY Oswego, and she and her friends took over the club whenever they came out to visit in Ohio.
Oswego had a lot of drunk related Tweets. These two were pretty good:
"Oswego residents are frustrated with drunk and out of control college kids" that's the radio headline I just heard on the radio"
And
"Everyone in Oswego is always either drunk, high, or horny."
Population: 19,346
Divorce rate: 10.5%
Bars per capita: 27th
Liquor stores per capita: 4th
Yeah try saying that 5 times after 10 shots. If you're caught drinking and driving in the area, don't try and tell cops you're heading to Ronkonkoma. Pick another city in Long Island city to try and enumerate.
Sounds like there might be some closet drinkers here, since the concentration of liquor stores here is just about as high as you can get in the entire state.
Population: 27,956
Divorce rate: 10%
Bars per capita: 15th
Liquor stores per capita: 8th
Middletown is a rough and tumble suburb of NYC, about 4 beers from downtown, depending on how buzzed you want to be when you meet up with friends.
When your city's event calendar includes stuff like osteoporosis exercise time, golden age seniors club and Mah Jongg, it's pretty clear that there's not much else to do here except elbow up to a bar and watch the game.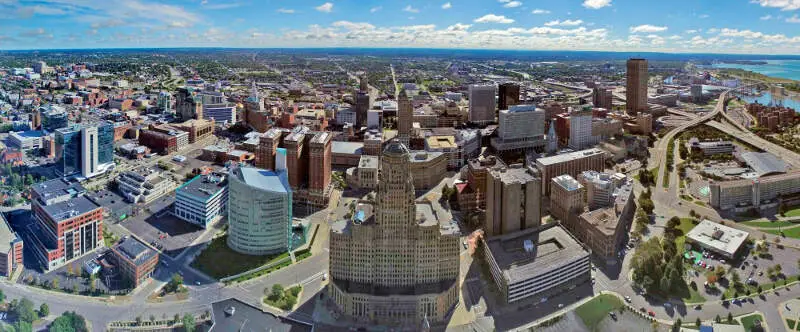 Source:
Wikipedia User
|
GFDL
Population: 261,955
Divorce rate: 8.4%
Liquor stores per capita: 7th
Bars per capita: 31st
If the Buffalo Bills had a home game every night of the week, Buffalo would probably be the drunkest city in the entire world. Seriously, do yourself a favor and Google some variation of drunk Bills tailgates for a good chuckle.
Apparently, it's funny to run into buses outside of Ralph Wilson like they're tackling sleds.
Buffalo led the way with drunk Tweets in the state. Lots of people mentioned being drunk during the Bills game, and apparently, if you're not drunk by 9 am on game day, you're not trying hard enough.
There You Have It
If you're measuring the locations in New York where there are a high number of divorced people, bars and liquor stores, and where people are talking about drinking the most often, this is an accurate list.
By the way, the least drunk city in New York is Kiryas Joel, which is not a surprise if you know anything about that place. Their divorce rate is.36%, which might be the lowest in the country.
For more reading on New York, check out: