This article is an opinion based on facts and is meant as info-tainment. Don't freak out.
Swipe left for slideshow
Is there anything wrong with being called the drunkest city in your state?
Here's what's interesting about North Dakota: You drink. A LOT. Like more alcohol than pretty much any other group in the state. Residents average something like 30 beers a year each.
Hey, we're not judging. What else is there to do there? Kinda sounds like you're making the best of it.
And, North Dakota has the 7th highest DUI rate in the nation.
Okay, we're judging you on that one. That's just plain stupid.
How do you decide how much a city within a state drinks? By the number of available places to buy booze, and by how often people are talking about drinking, that's how.
Plus, we thought why not add in a stereotype? Studies have indicated that when one or both partners in a marriage are alcoholics, that couple is three times more likely to divorce.
After analyzing all cities with a decent amount of people in them, we came up with this list as The Drunkest Cities in North Dakota:
Fargo
Grand Forks
Mandan
West Fargo
Bottineau
Beulah
Williston
Bismarck
Devils Lake
Casselton
Read on below to see how your city might have fared.
What drunken criteria did we use?
Number of bars and pubs per capita
Number of wineries per capita
Number of liquor stores per capita
Each city's drunk related tweets within the last week
Each city's divorce rate
For geo-located tweets, we measured the following raw number of tweets that came from within a city's general area: #Drunk, #Party, #Beer, #Wine and #Cocktails
Note: For the sake of getting reliable numbers, we counted places within a city's border, as well as within a short driving distance.
1. Fargo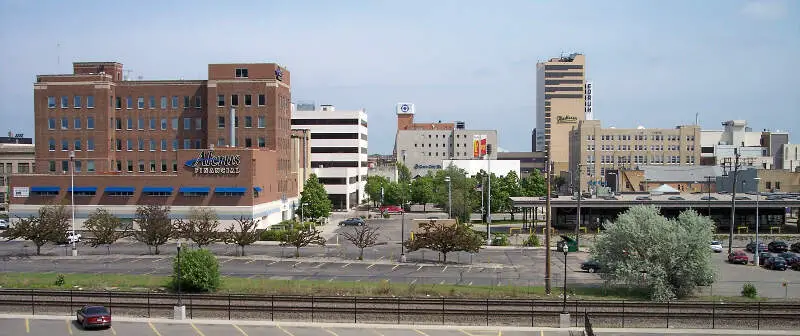 Granite City Food & Brewery, Fargo, ND
Population: 106,005
Divorce rate: 9%
Bars per capita: 17th
Liquor stores per capita: 14th
Fargo has by far the most bars, wineries, liquor stores and breweries in the state. And, North Dakota State is a much better party school than UND (according to Twitter and several reputable rating sites like Colleges.Niche.Com).
So take that, Fighting Sioux!
Plus, according to the Center for Disease Control, Fargo has the most binge drinkers in the country. Apparently 28% of Fargo residents say they drink heavily.
Is it the weather or the cheap booze? Or the fact that there are 180 liquor licences here?
In any case, bravo to Fargo, which has a really low divorce rate in comparison to other heavy drinking cities.
Besides the fact that you can literally trip and fall into bars in Fargo, there are several breweries here, including FBC, which has the famous Sodbuster Porter.
Of course, Fargo led the way with drunk Tweets. Stuff like this:
"You can tell the Bison played today, downtown Fargo is sloppy drunk at 6pm"
2. Grand Forks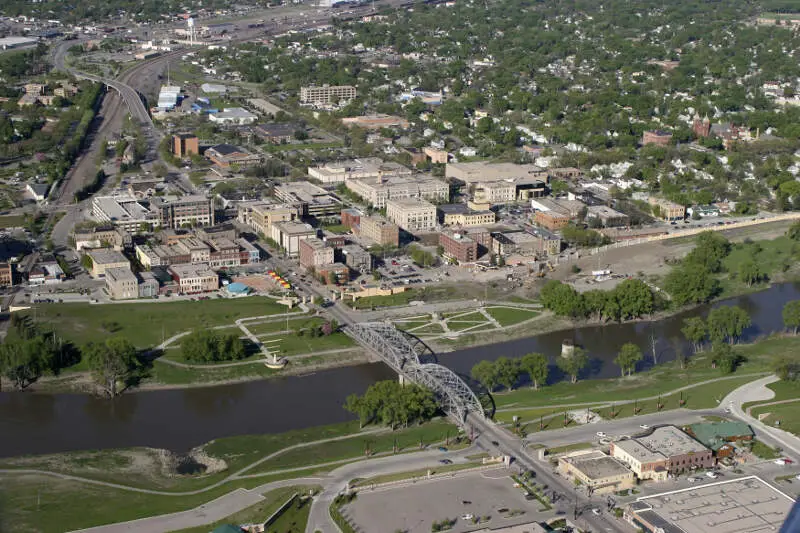 TJ's Sports Bar, Grand Forks, ND
Population: 52,773
Divorce rate: 9.2%
Bars per capita: 12th
Liquor stores per capita: 11th
Overall, per capita, there aren't as many bars and liquor stores as there are in some of the smaller cities we looked at. But when you factor in the number of drunken students at the UND (especially after hockey games apparently), what you have is a high number of drunk people, year round.
Especially during Spring Fest.
Grand Forks had a lot of drunk Tweets, as you might expect. This was a goodie:
"Go home Grand Forks, you're drunk"
3. Mandan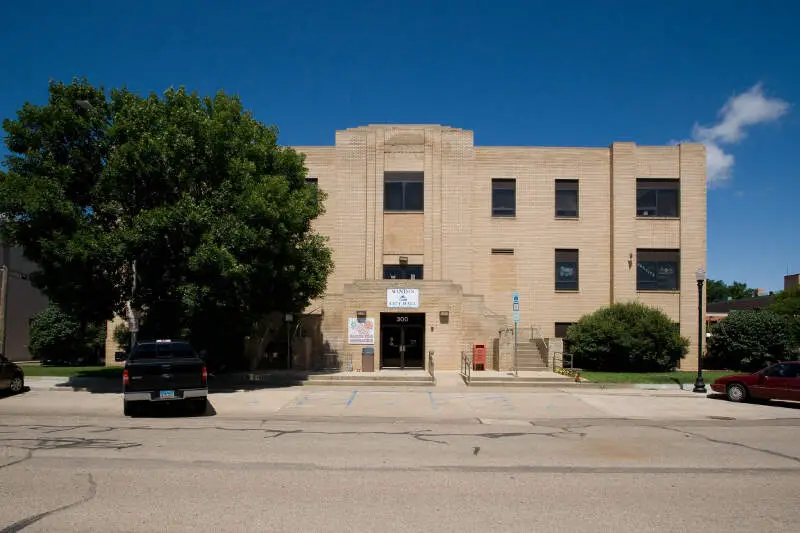 The Gang at Last Call Bar, Mandan, ND. From their Facebook page
Population: 18,365
Divorce rate: 12.6%
Bars per capita: 12th
Liquor stores per capita: 12th
There are two breweries (of the state's 10 or so total) in Mandan, and plenty of booze to keep the 18,000 folks here entertained. Or at least we think there's enough booze. After all North Dakotans are known to drink more than their fair share.
Mandan is located right across the Missouri from Bismarck. So the folks who get plowed here can safely walk or ride their bikes back and forth without becoming a public nuisance.
4. West Fargo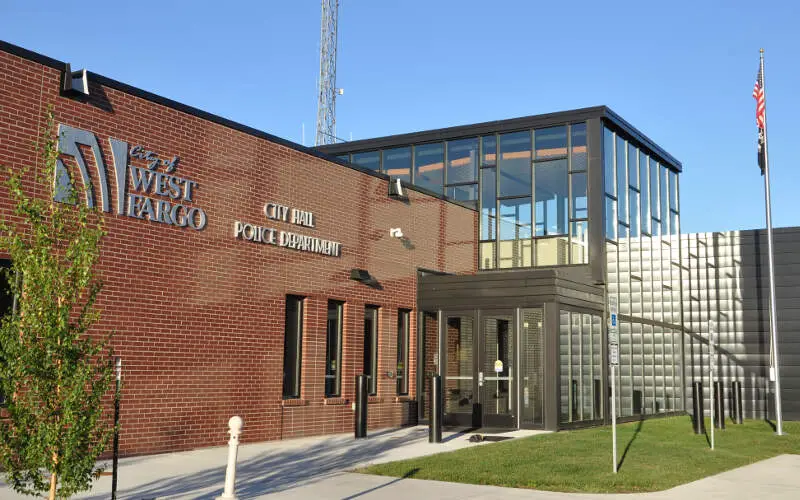 The Blarney Stone Pub, West Fargo, ND
Population: 30,033
Divorce rate: 10%
Bars per capita: 17th
Liquor stores per capita: 12th
There's plenty of drinking going on in West Fargo, too. In fact, if you took 13th Avenue out of Fargo, you could probably bar hop all the way to jail if you wanted to.
5. Bottineau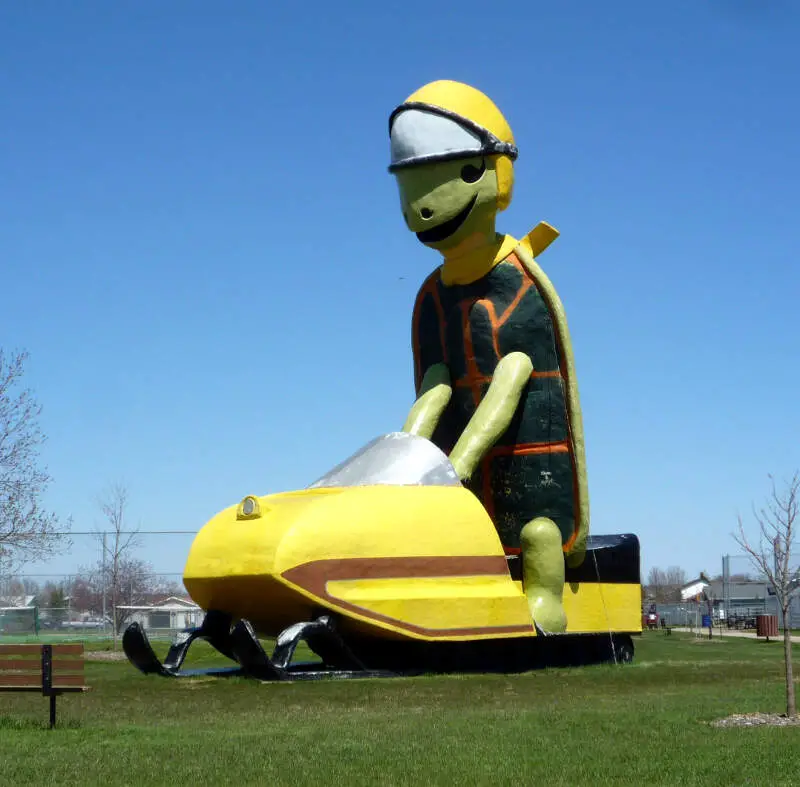 A Frame Bar & Grill, Bottineau, ND. From their Facebook page
Population: 2,290
Divorce rate: 11.1%
Bars per capita: 2nd
Liquor stores per capita: 4th
Don't let teeny little Bottineau fool you. They're a drunk in sheep's clothing. At least that's what the data says. For a tiny place, they have lots of booze laying around.
It's a good thing the roads are nice and straight way up here. Bottineau is about a 12 pack away from a major city. So you know that when there's nothing on the boob tube (hockey, buffalo wrestling), they have nothing else to do but get plowed.
6. Beulah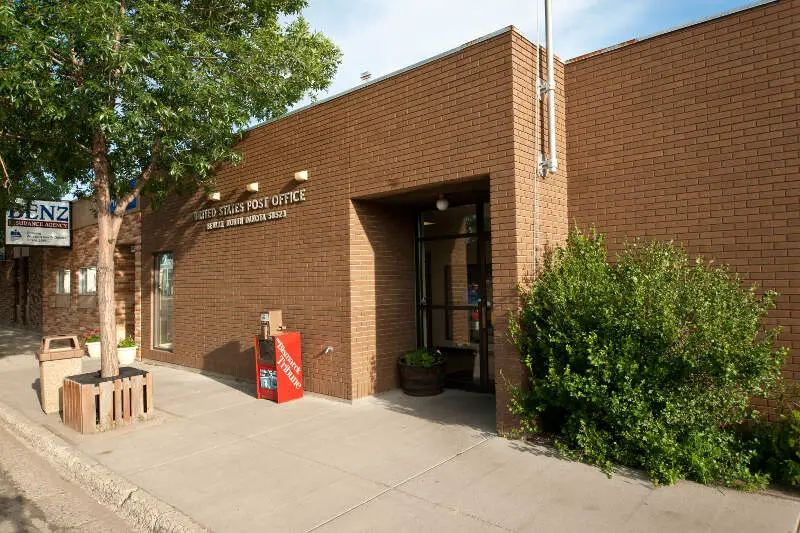 The gang at Lindey's On Beulah. From their Facebook page.
Population: 3,115
Divorce rate: 14%
Bars per capita: 10th
Liquor stores per capita: 8th
Holy Matrimony, Beulah! It says, "Till Death Do Us Part" for a reason. Your divorce rate is just about as high as it gets in the state of North Dakota.
It's not clear if the number of divorced people means they need more bars, or if the high number of bars for such a small place helped break people up, but you can imagine that there are lots of interesting moments at closing time in Beulah every night.
Beulah is somewhere near Bismarck.
7. Williston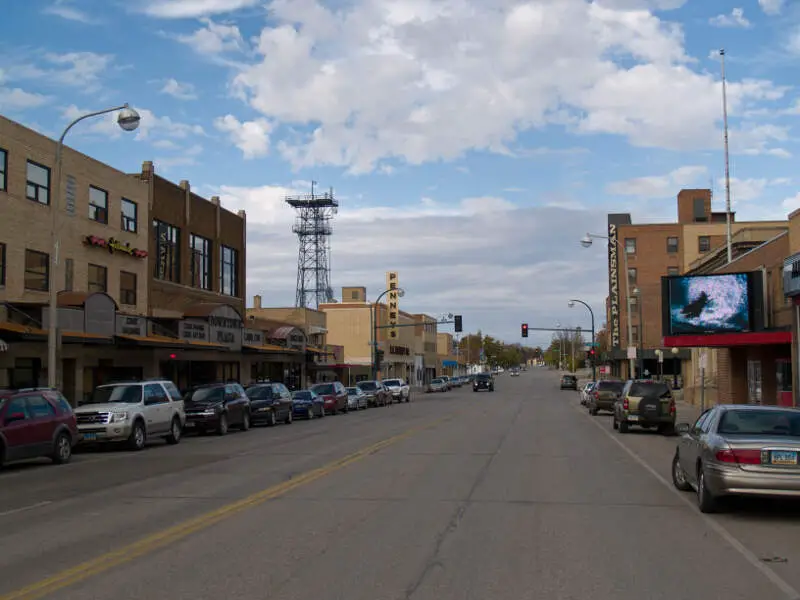 J Dub's Bar & Grill, Williston, ND
Population: 15,533
Divorce rate: 13.7%
Bars per capita: 12th
Liquor stores per capita: 11th
What do lots of oil workers do after a long day at the job? They dig deep in their pockets for as much as they can afford to spend at the bar, that's what.
Williston is a major center for the fracking boom in this part of the state. Perhaps that's why there's a higher than average concentration of bars and a really high divorce rate. It's a tough, nomadic career.
That, or people here just like to get wasted. Nothing wrong with that.
8. Bismarck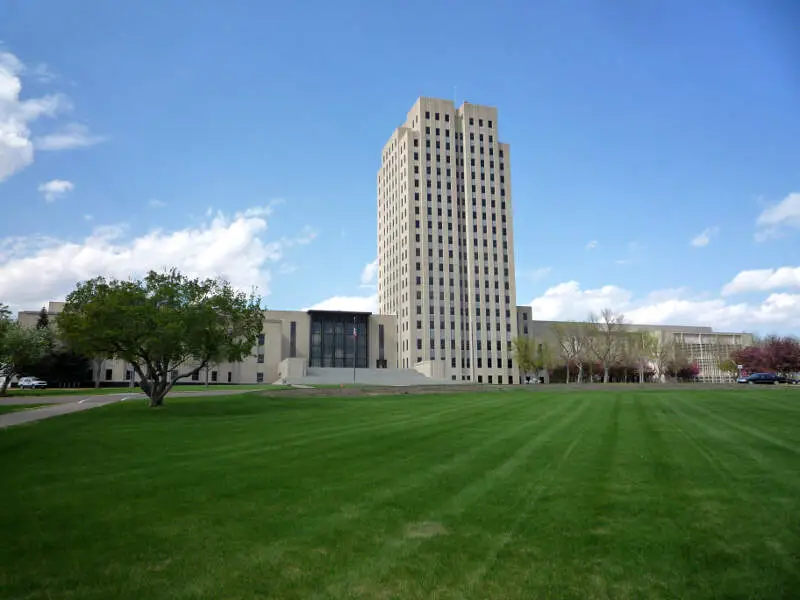 Our Place Tavern, Bismarck, ND
Population: 61,941
Divorce rate: 10.8%
Bars per capita: 27th
Liquor stores per capita: 17th
There aren't as many bars and liquor stores as you might expect in Bismarck proper, seeing as it's pretty much the biggest city for about a 3 hour drive and all. Sure, there are thousands of people here getting hammered every night. But judging by the availability of alcohol, there's lots of people who are content with just chillin (literally) at home on a Friday night.
Twitter was all over the place with Bismarck. We read about a drunk man chasing a woman out on her daily jog, a truck full of 'drunk Indians' driving around town throwing beer cans, and a guy who was arrested for driving a zamboni drunk at a hockey game.
He pleaded not guilty.
9. Devils Lake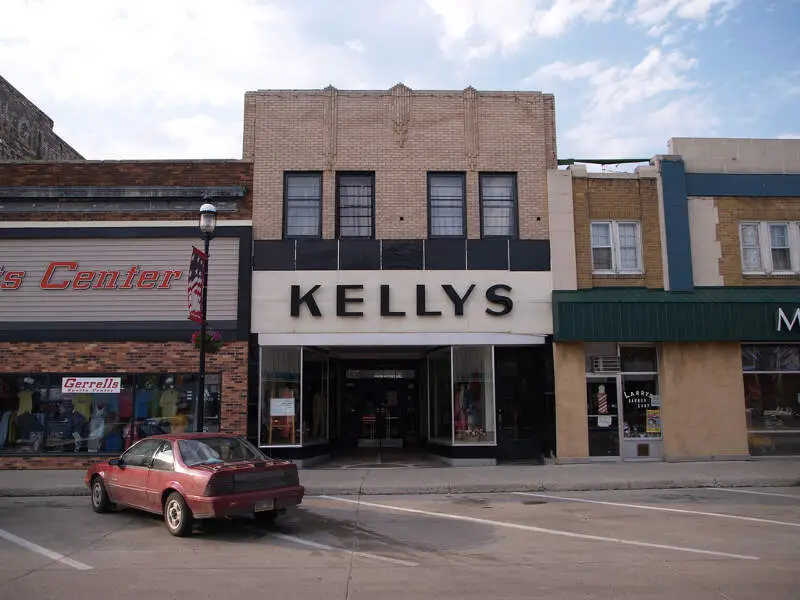 Nellie's Bar & Lounge, Devils Lake, ND
Population: 7,129
Divorce rate: 12%
Bars per capita: 9th
Liquor stores per capita: 9th
Devils Lake might be one of the best kept drunk secrets in North Dakota. For a small place, there are quite a few opportunities to get all stumbly home with it. And when you look at that high divorce rate, it appears that quite a few people have stumbled home quite a few times in these parts.
If you want to get here, it's about 4 or 7 beers due west of Grand Forks. We're going to assume all of the people in Devils Lake have all the back roads memorized.
10. Casselton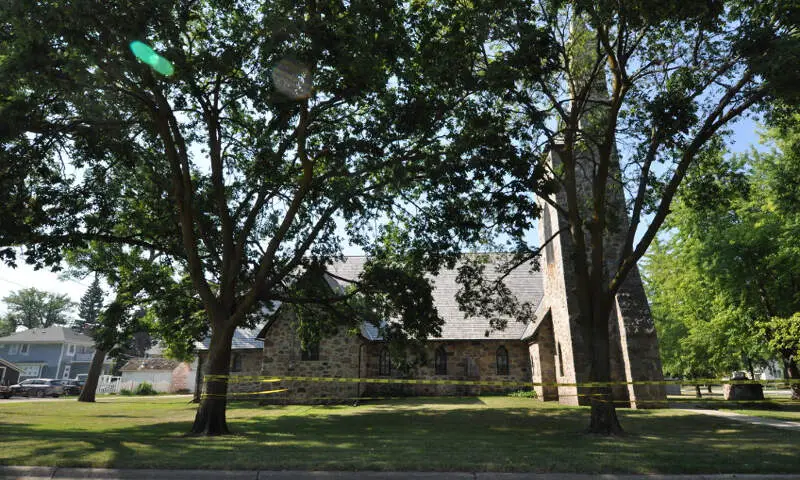 Casselton, ND
Population: 2,327
Divorce rate: 10%
Bars per capita: 17th
Liquor stores per capita: 6th
For the people who are looking to escape the hustle and bustle that is the metropolis of Fargo, you can drive 10 minutes outside of town to Casselton, where, for a tiny town, there are a few bars that you can hide out in.
Did you know that at one point, Casselton was home to the world's largest free standing oil can structure? Now, we don't want to jump to conclusions here, but we can guess why someone was motivated to erect a 45-foot tall oil can pile.
There You Have It
If you're measuring the locations in North Dakota where there are a high number of divorced people, bars and liquor stores, and where people are talking about drinking the most often, this is an accurate list. If you're curious, the most sober city in North Dakota is Shell Valley.
We also wrote about the worst places in North Dakota if you didn't read it yet. Click here to read that one.
Desktop users: Here's a complete chart with the drunkest cities in North Dakota, along with their divorce rates:
>