This article is an opinion based on facts and is meant as info-tainment. Don't freak out.
Swipe left for slideshow
Is there anything wrong with being called the drunkest city in Vermont? I mean, the state's motto should be "Small State. Big Beer."
Here's what's interesting about Vermont: You drink. A LOT. Not as much as the lushes in New Hampshire and Delaware, but still, Vermont is 7th in the U.S. for alcohol consumption.
Residents average something like 26 beers a year each.
Hey, we're not judging. What else is there to do there? Kinda sounds like you're making the best of it.
How do you decide how much a city within a state drinks? By the number of available places to buy booze, and by how often people are talking about drinking, that's how.
Plus, we thought why not add in a stereotype? Studies have indicated that when one or both partners in a marriage are alcoholics, that couple is three times more likely to divorce. Vermont's divorce rate is above average, incidentally.
After analyzing all cities with a decent amount of people in them, we came up with this list as The Drunkest Places in Vermont:
Burlington
Stowe
Brattleboro
Shelburne
Rutland
Montpelier
Bellows Falls
Middlebury
Barre
Winooski
Read on below to see how your city might have fared.
What drunken criteria did we use?
Number of bars and pubs per capita
Number of wineries per capita
Number of liquor stores per capita
Each city's drunk related tweets within the last week
Each city's divorce rate
For geo-located tweets, we measured the following raw number of tweets that came from within a city's general area: #Drunk, #Party, #Beer, #Wine and #Cocktails
Note: For the sake of getting reliable numbers, we counted places within a city's border, as well as within a short driving distance.
1.Burlington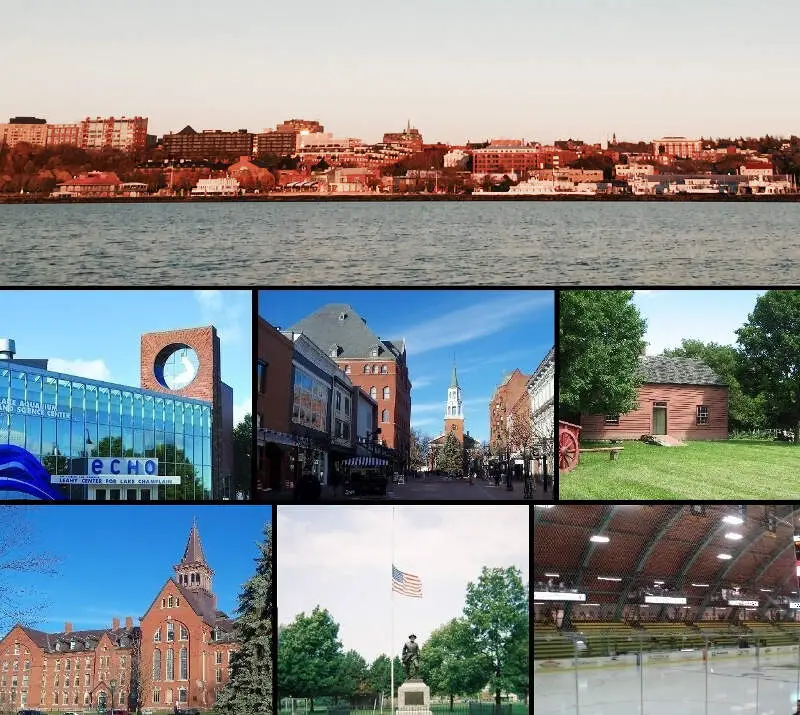 The gang at Zen Lounge, Burlington, VT. From the Facebook page
Population: 42,259
Divorce rate: 8.8%
Bars per capita: 6th
Liquor stores per capita: 6th
So this wasn't really a surprise. There are just a ton of places in the greater Burlington area to get wasted just about every night of the week. You can literally stumble into places to get drunk downtown. Some people probably do just that.
And with UVM so close, there are house parties going on all year long.
Burlington also led the way in the drunk Tweets category. There were lots of mentions of drunk driving arrests here, which is surprising, because we can attest firsthand to the huge number of taxis that line the streets after 10 pm in downtown, waiting to take drunk people home safely.
2. Stowe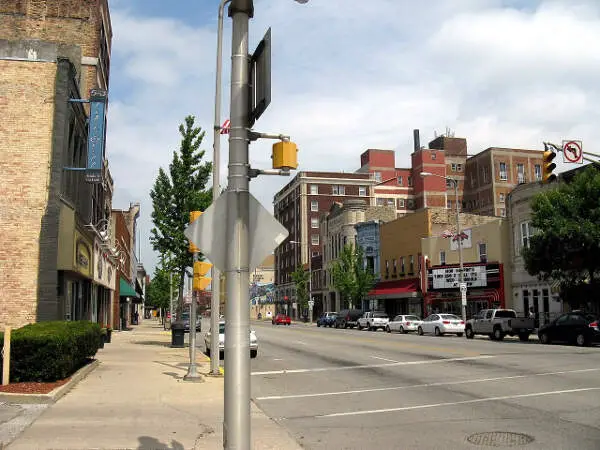 O'Grady's Grill and Bar, Stowe, VT
Population: 4,319
Divorce rate: 12.5%
Bars per capita: 1st
Liquor stores per capita: 1st
Stowe is a small touristy mountain town and a haven for local skiers and boarders. So, no surprises that there are a lot of places to get booze. When you look at the data, there's actually more alcohol per person in Stowe than anywhere else in Vermont.
We know lots of people who would prefer to be stoned than drunk while skiing, but that's another story in itself. Which city has the most stoned residents in Vermont? Tell us in the comments.
3. Brattleboro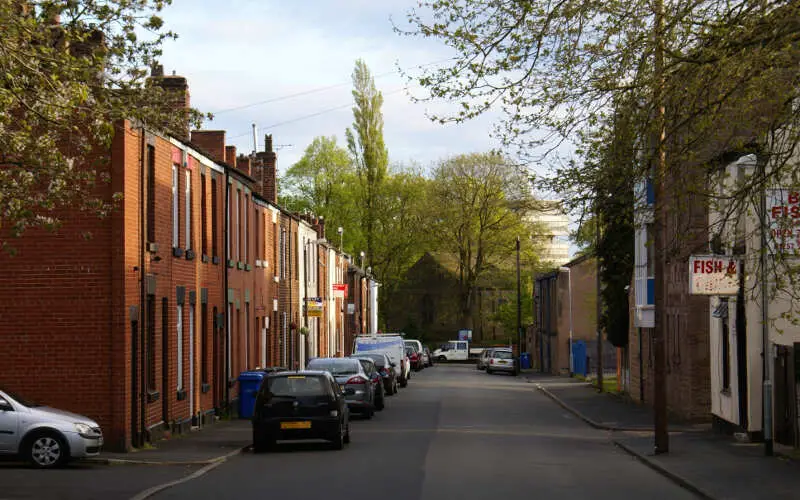 Sportsman's Lounge, Brattleboro, VT
Population: 12,046
Divorce rate: 17%
Bars per capita: 7th
Liquor stores per capita: 7th
There are two breweries (of the state's 40 or so total) in Brattleboro, and plenty of booze to keep the 12,000 folks here entertained. Or at least we think there's enough booze. After all Vermont residents are known to drink more than their fair share.
Brattleboro is located right across the New Hampshire state line, so you can bet there's some peer pressure coming from across the way, since New Hampshire is the drunkest state in the entire country.
4. Shelburne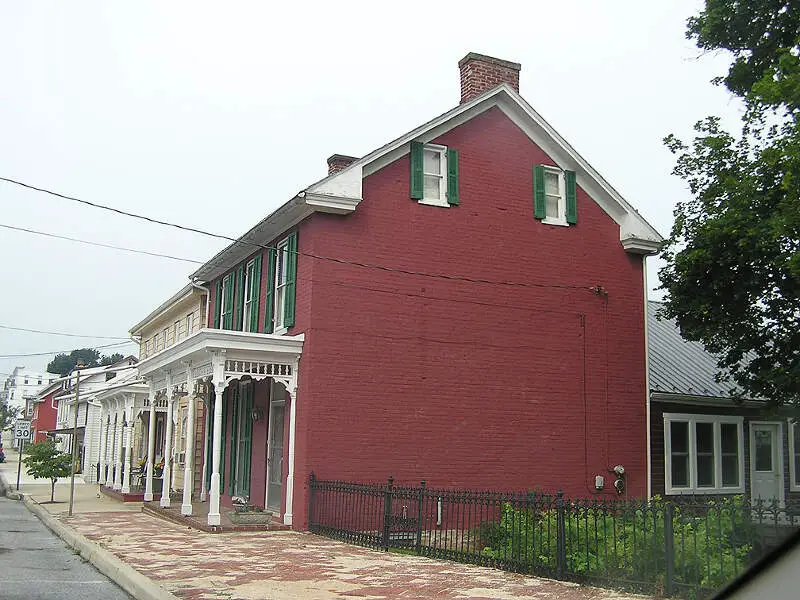 Fiddlehead Brewing Company, Shelburne, VT
Population: 7,265
Divorce rate: 8%
Bars per capita: 12th
Liquor stores per capita: 14th
As anyone who has driven north/south into and out of Burlington can attest, there are lots of places to pull over and have a few in Shelburne. There's a couple of breweries here, and lots of chain and mom and pop restaurants that serve alcohol.
It's a wealthier town, which might explain why the divorce rate is so low. After all, it's a lot easier to overlook a few late nights out in a row when he's got a large bank account.
5. Rutland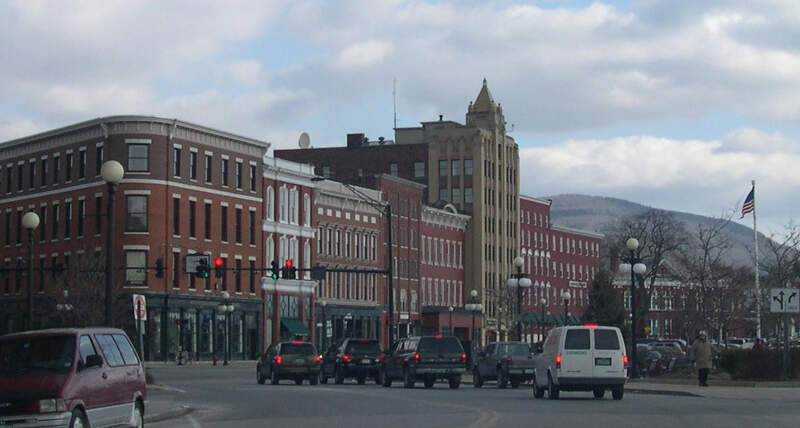 Downtown Tavern, Rutland, VT
Population: 16,478
Divorce rate: 16%
Bars per capita: 9th
Liquor stores per capita: 6th
Rutland is way down by the New York state line, about 4 or 8 beers down on Route 4. We're pretty sure Rutland residents have all of the back roads memorized, though. (Wink, wink.)
Here, you've got more than enough bars and liquor stores to keep residents entertained, even in the long winter months. And apparently, it's not just the 'regular' folks like you and me who are having more than our fair share of booze. This summer, a former Rutland city attorney who was drunk hit and killed a woman.
6. Montpelier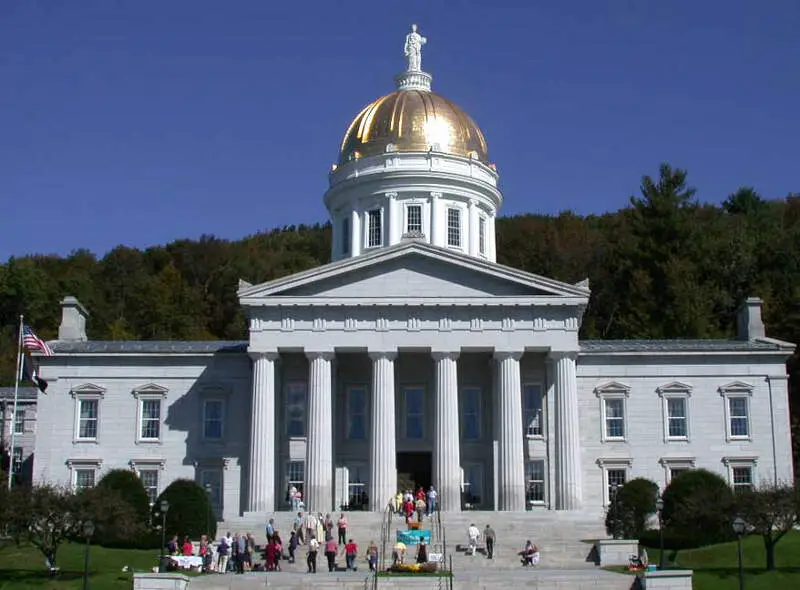 Three Penny Taproom, Montpelier, VT
Population: 7,848
Divorce rate: 19.4%
Bars per capita: 12th
Liquor stores per capita: 17th
Do politicians drink more or less than average? We couldn't find an easy answer to that question, but it's pretty clear that, based on the amount of booze available in the state capital, that everyone here has a chance to 'win' at the drinking game every night.
Twitter had absolutely nothing to say about Montpelier. Nada. Zlich. Obviously, the people who booze it up here are really quiet about it.
7. Bellows Falls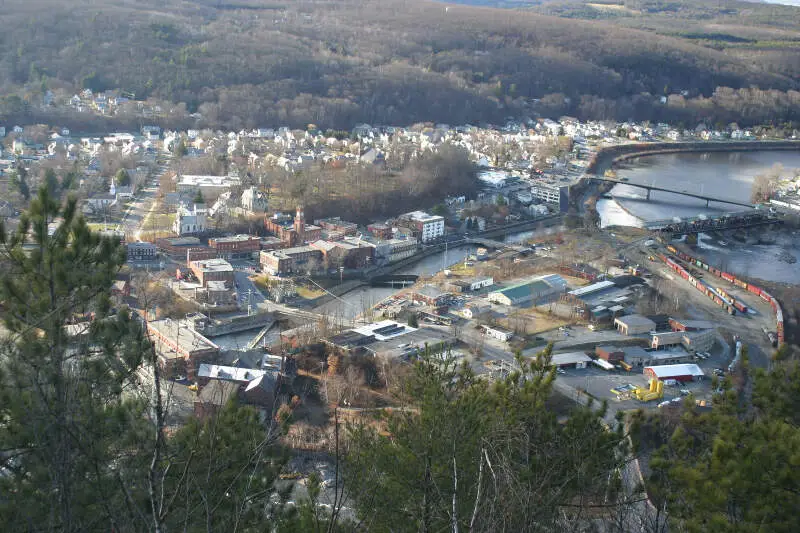 PK's Pub, Bellows Falls, VT
Population: 2,825
Divorce rate: 21%
Bars per capita: 9th
Liquor stores per capita: 14th
Holy Matrimony, Bellows Falls! It says, "Till Death Do Us Part" for a reason. Your divorce rate is the highest in the state of Vermont.
It's not clear if the number of divorced people means they need more bars, or if the high number of bars for such a small place helped break people up, but you can imagine that there are lots of interesting moments at closing time in Bellow Falls every night.
8. Middlebury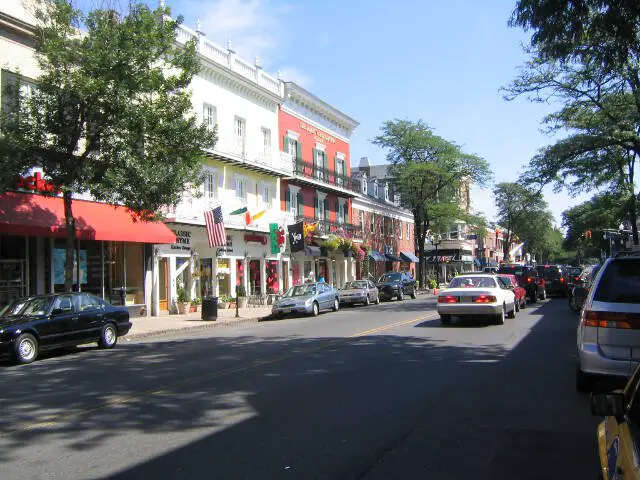 Two Brothers Tavern, Middlebury, VT
Population: 6,518
Divorce rate: 9%
Bars per capita: 4th
Liquor stores per capita: 2nd
Middlebury is home to Drop In Brewing Company and Otter Creek Brewing, along with a handful of bars and restaurants that serve booze. For a city of just over 6,000 people, there's plenty to go around.
The divorce rate here is really low. Perhaps alcohol is the glue to the relationships, or lots of couples in Middlebury met while raging one night. Either way, bravo to Middlebury for showing other cities how to balance both worlds.
9. Barre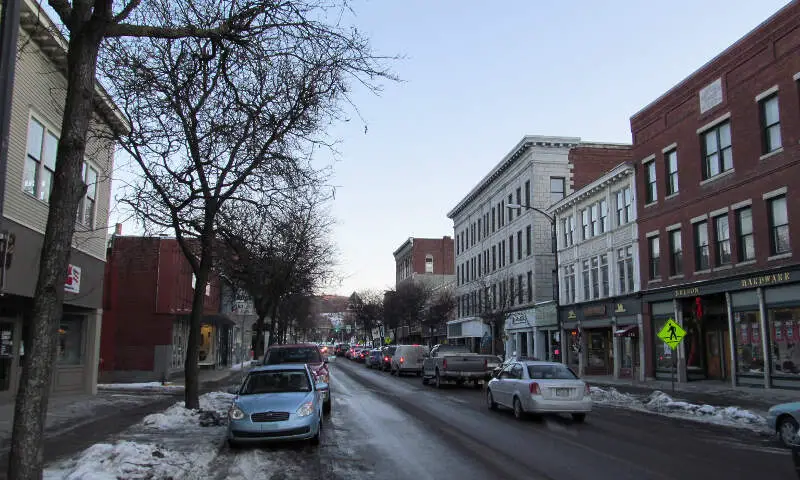 Gusto's, Barre, VT
Population: 9,044
Divorce rate: 17%
Bars per capita: 6th
Liquor stores per capita: 6th
The place is called Barre. Come on. It's in the damn name of the town.
There are quite a few barres along Route 302 in Barre in which to get highly intoxicated if that's your thing. And, it looks like it's a lot of people's thing when you notice that 1 in 6 people in Barre has decided that being married is no longer in the cards.
Maybe too many late nights at the…barres.
10. Winooski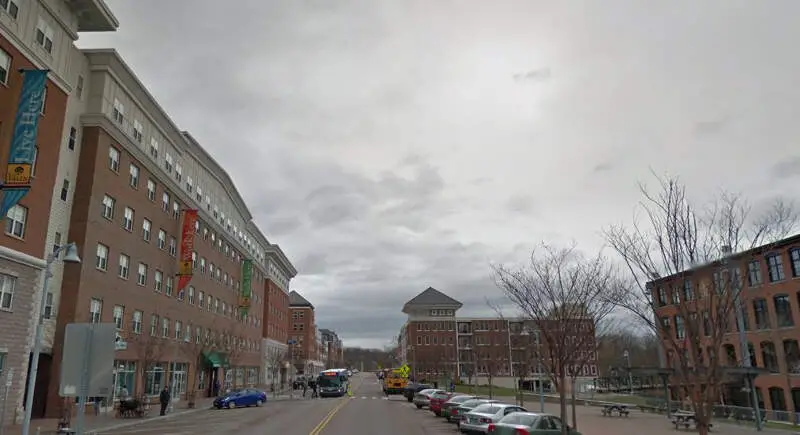 C & K Sports Bar, Winooski, VT
Population: 7,223
Divorce rate: 11.8%
Bars per capita: 10th
Liquor stores per capita: 19th
Winooski is considered the most diverse city in northern New England, with lots of people settled from all over Europe. You know what that means, right? Lots of drinkers made their way here.
Twitter had quite a few things to say, even for a small place like Winooski. This one is a goodie:
"Just witnessed a very drunk man getting arrested in front of my work…just another casual Monday in winooski"
There You Have It
If you're measuring the locations in Vermont where there are a high number of divorced people, bars and liquor stores, and where people are talking about drinking the most often, this is an accurate list.
We also wrote about the worst places in Vermont if you didn't read it yet. Click here to read that one.
If you're curious, here are the most sober places in Vermont:
Highgate (6% divorce rate)
Georgia (8.5% divorce rate)
Underhill (7% divorce rate)
Northfield (9% divorce rate)
Vergennes (13% divorce rate)
Desktop users: Here's a complete chart with the drunkest cities in Vermont, along with their divorce rates: