Is there anything wrong with being called the drunkest city in your state? Especially in Connecticut, which has been called out in numerous studies for drinking some of the least amount of booze, per year.
Someone has to make up the slack, right?
In any event, it's pretty clear that while a majority of the state sips every now and then, certain cities in Connecticut like to get their drunk on a lot more often.
How do you decide how much a place drinks? By the number of available places to buy booze, and by how often people are talking about drinking, that's how.
Plus, we thought why not add in a stereotype? Cause, you know, drinking is one reason for divorce, and something that divorced people do a lot of.
Using that criteria, it's not hard to scrape the internet, run some scientific data on where partiers might live in Connecticut, and then put out a list.
Because, the data never lies, does it? You're probably thinking Show me the proof!"
So, hold our beers and watch this. After analyzing all cities with a decent amount of people in them, we came up with this list as The Drunkest Cities in Connecticut:
The 10 Drunkest Cities In Connecticut
Branford
Plainville
Cromwell
Torrington
Westport
Many of these are mid-size cities in Connecticut with many bars in town or nearby, where there's a higher than average divorce rate. Studies have indicated that when one or both partners in a marriage are alcoholics, that couple is three times more likely to divorce.
Read on below to see where your town ranked.
For more reading on Connecticut, check out:
What drunken criteria did we use?
In order to rank the drunkest cities in Connecticut, we had to determine what criteria defines someone who drinks a lot.
We threw a lot of criteria at this one in order to get the best, most complete results possible. Using Yelp and Sperling's Best Places, this is the criteria we used:
Number of bars and pubs per capita
Number of wineries per capita
Number of liquor stores per capita
Each city's drunk related tweets within the last week
Each city's divorce rate
For geo-located tweets, we measured the following raw number of tweets that came from within a city's general are: #Drunk, #Party, #Beer, #Wine and #Cocktails
Note: For the sake of getting reliable numbers, we counted places within a city's border, as well as within a short driving distance.
1. Branford
Population: 28,058
Divorce rate: 10th highest in the state
Bars per capita: 11th in CT
Liquor stores per capita: 10th in the state
Hot damn, Branford, you are tore up from the floor up! We're impressed. Based on the data, it sounds like you are all having a really, really good time.
First off, it's no surprise that you guys ranked so high. You have several breweries in Branford. DuVig Brewing, Thimble Island Brewing Company, Stony Creek Brewery and and Southport Brewing Company all call you home.
The divorce rate is the 10th highest in the state in Branford. Maybe too many trips to fill up the growler is taking its toll? But when 1 in 8 of you have called it quits, it's understandable why you might be burning the candle at both ends.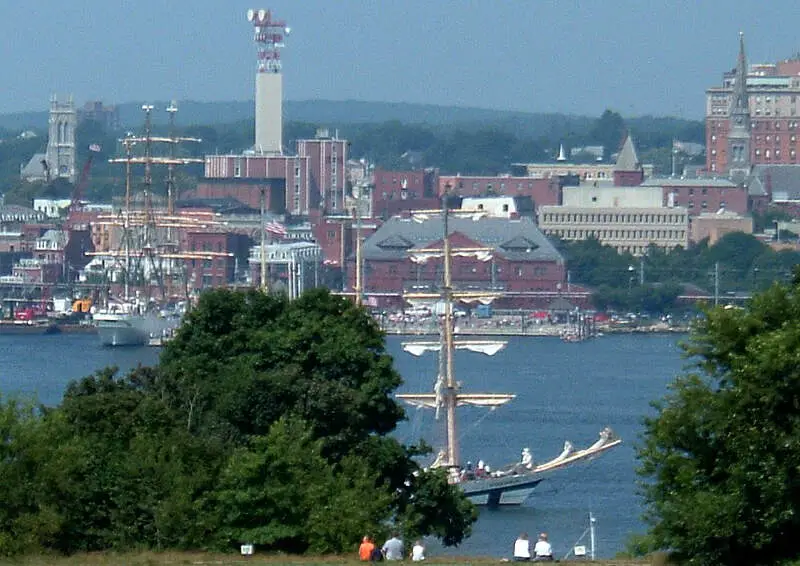 Source:
Wikipedia User
|
GFDL
Population: 27,631
Divorce rate: 12%
Bars per capita: 6th in the state
Liquor stores per capita: 5th in the state
Hey now, New London. You simply have too many distractions in town for you to be at home watching Netflix, don't you? Unless you're curled up on the couch, watching Games of Thrones with a stiff jack and coke in your lap, of course. I mean, you do have the 5th most bars per capita in the state.
There weren't too many drunk tweets coming from this area, but this one caught our eye:
"It's a beautiful day to get drunk in the streets of downtown New London."
Yes it is, random person. It sounds like it always is. Sun or snow.
3. Plainville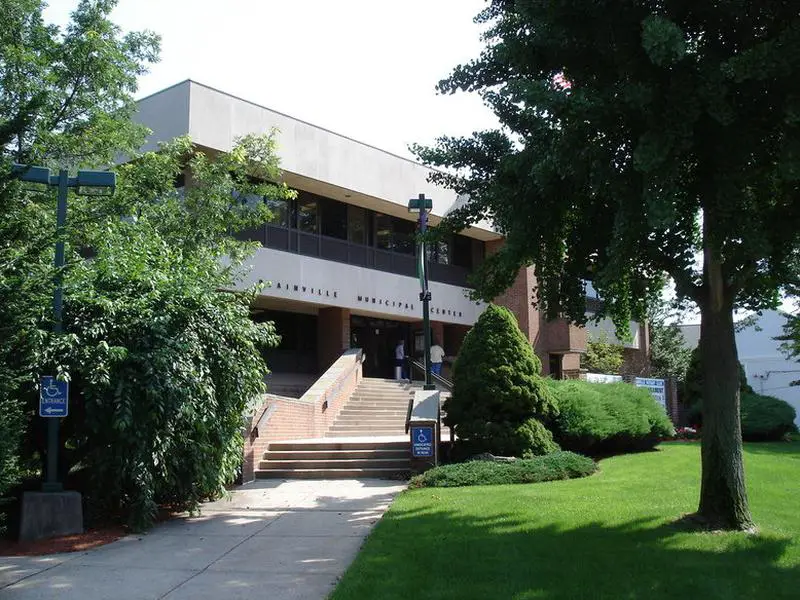 Source:
Wikipedia User Kept Private
|
CC BY-SA 4.0
Population: 17,948
Divorce rate: 13.2%
Bars per capita: 11th
Liquor stores per capita: 13th in CT
Just where is Plainville, you ask? Just a quick jaunt south of Hartford. But we're sure all you folks in Plainville know the back roads, right?
In Plainville, you have a high number of both bars and liquor stores, per capita. Sure, the folks in Hartford and Stamford can argue till their noses turn red about this, but the fact is that we're measuring drinkers per capita.
We know that many, many of you in the bigger cities are out till the wee hours just about every night. But the fact is, most of the people in larger cities of Connecticut are content with a quiet night in with the cat.
How boring.
4. Cromwell
Population: 14,266
Divorce rate: 12%
Bars per capita: 12th in the state
Liquor stores per capita: 10th
There you go, little Cromwell. You guys show them how it's done. They don't open up bars and liquor stores where people ain't drinking, you know what I'm saying?
Of course you do. You may not understand what I'm saying after 10 pm every other night, but you're probably reading this with a hangover in bed the next morning anyways.
It's probably high time you got up, put on something decent, and got back out there. It's probably dollar fifty shot night somewhere, right?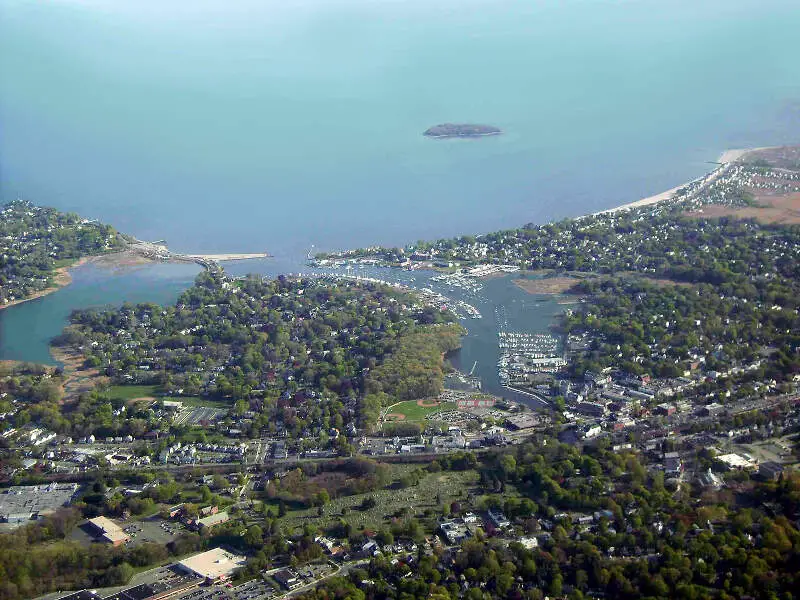 Source:
Wikipedia User makemake
|
GFDL
Population: 51,155
Divorce rate: 13%
Bars per capita: 7th in the state
Liquor stores per capita: 25th in CT
Good for you, Milford. You guys got it figured out. You're just a short drive away from New Haven, so you can whoop it up on your own, and then go into the big city when you really want to hit it hard.
Hopefully you're calling an Uber, though.
You can tell they know how to party hardy in Milford. After all, they have an annual Oyster Festival.
Oyster shots anyone? Anyone? No?
Apparently, famous sportscaster Dan Patrick lives here. And if you've ever listened to his show, he's always talking about taking the Danettes out for beers. So you know things are hoppin' here.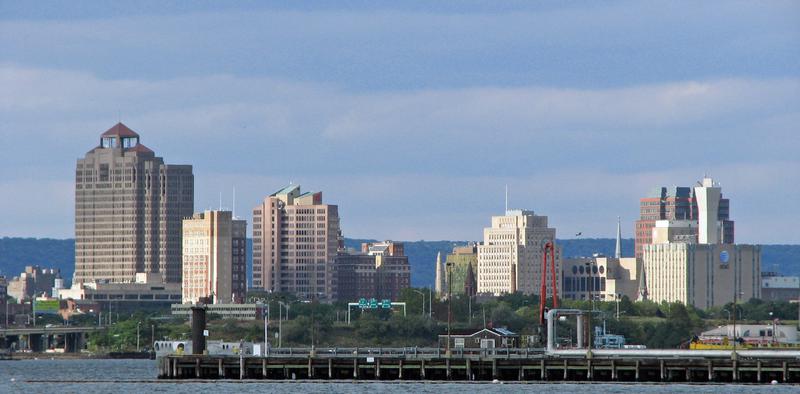 Source:
Wikipedia User Versageek
|
GFDL
Population: 129,898
Divorce rate: 10%
Bars per capita: 4th in the state
Liquor stores per capita: 25th in CT
How do you guys do it in New Haven? We don't mean drink so much – that's obvious. We mean stay together? Your divorce rate is only 10%. Meaning either the alcohol is the glue in your relationship, or drinking often keeps the edge off.
Either way, we're impressed.
You guys have a ton of bars. Expect to see a lot of couples out drinking together, instead of depressed divorcees out trying to numb the pain around these parts.
7. Torrington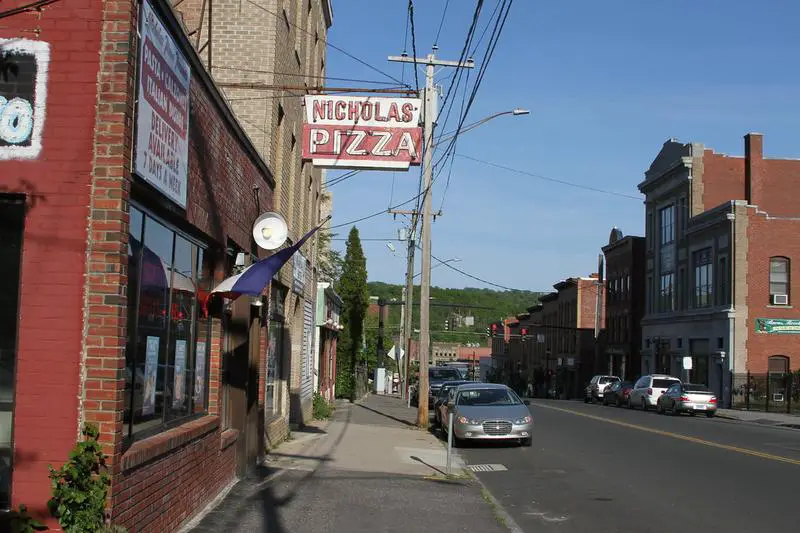 Source:
Flickr User Danielle Scott
|
CC BY-SA 2.0
Population: 36,239
Divorce rate: 13%
Bars per capita: 20th in Connecticut
Liquor stores per capita: 13th in the state
Torrington is about 2 or 6 beers west of Hartford, depending on how buzzed you want to get before meeting up with friends. But, based on the number of bars and liquor stores in the Torrington area, it's a wonder that most people even need to leave town to have a good time.
Like most of the smallish towns, there weren't too many drunk tweets coming out of Torrington. This one caught our eye:
"There is something about going out in Torrington that makes me get horrendously drunk".
You and many, many others, apparently.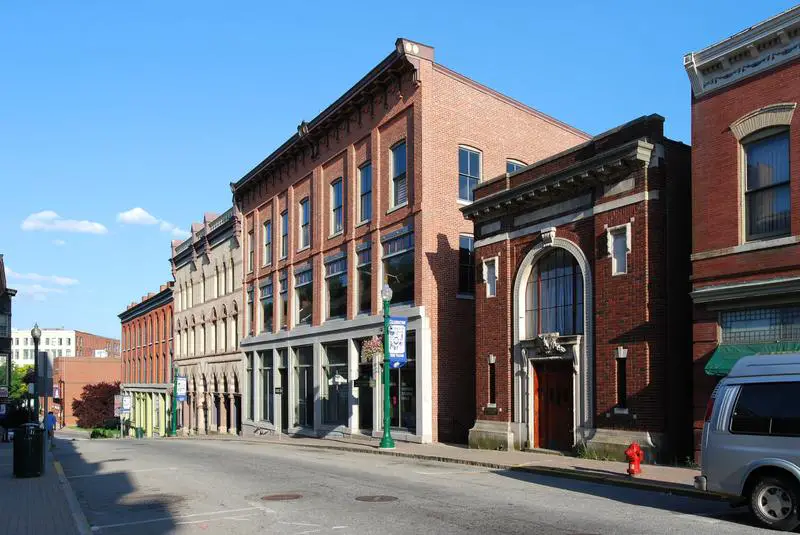 Source: Public domain
Population: 40,322
Divorce rate: 3rd highest in the state
Bars per capita: 27th in the state
Liquor stores per capita: 12th
You know things are bad when a school bus driver is arrested for being drunk behind the wheel. Well, that was the case in Norwich earlier this year.
While there aren't a ton of bars per capita here, what makes Norwich stand out are the high number of liquor stores, and the fact that nearly 15% of the population is divorced. That may be a correlation; perhaps the number of liquor stores is inversely related to the number of people who ruined their marriages drinking.
These Guys Brewing makes Norwich home. They might just pour you a free cold one if you tell them you saw this story.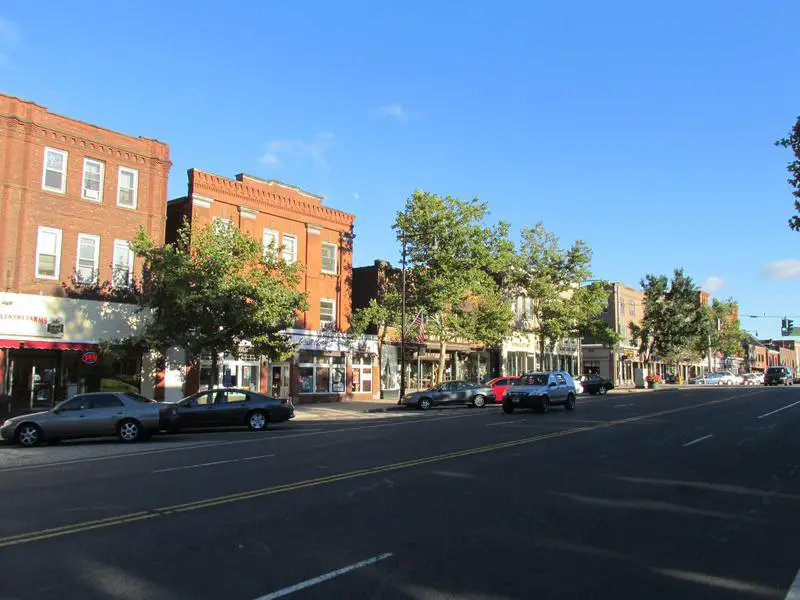 Source:
Wikipedia User John Phelan
|
CC BY-SA 3.0
Population: 58,241
Divorce rate: 14.5%
Bars per capita: 16th in the state
Liquor stores per capita: 14th in CT
Manchester has the 4th highest divorce rate in Connecticut. We are assuming that means that there are lots of people out, trying to forget about the past.
If you're reading this from your couch in Manchester, and you've gone the way of the Big D, it's high time you got out there and started to meet people again. Heck, you never know; the next Mrs. You could be sitting at some bar, slowly stirring her drink, waiting to be swept off her feet.
10. Westport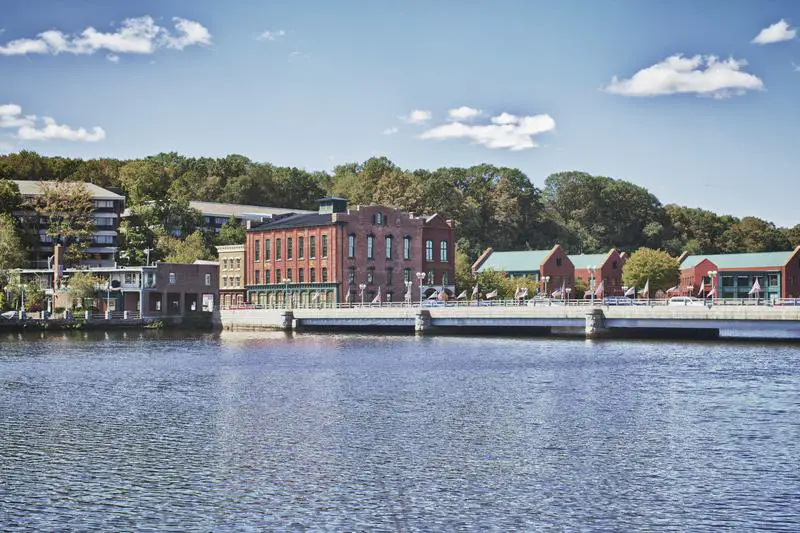 Source:
Wikipedia User WestportWiki
|
CC BY-SA 3.0
Population: 26,526
Divorce rate: 8.7%
Liquor stores per capita: 2nd in Connecticut
Bars per capita: 9th
We got you pegged, Westport. You have one of the lowest divorce rates in the state, and you have almost more bars and liquor stores than anyone in the state. How do you manage it?
Oh, you're loaded. That makes it quite clear. You're staying together for the money, right? It's a lot easier to overlook your husband's frequent nights out when he has a very large bank account.
We get it. And we're a little jealous. Just remember to buy the little guy a shot every once in a while.
There You Have It
If you're measuring the locations in Connecticut where there are a high number of divorced people, bars and liquor stores, and where people are talking about drinking the most often, this is an accurate list.
And while you might think the larger cities and college towns are more drunk' than these places, when you measure the percentage of people who have access to alcohol, and who are separated, it makes sense. Cause, the data never lies, does it?
Mansfield
Plymouth
Storrs
Weston
Trumbull
For more reading on Connecticut, check out: