This article is an opinion based on facts and is meant as infotainment. Don't freak out.
Swipe left for slideshow
No one said that Illinois is a dumb state. According to a survey of hundreds of public schools in each state, Illinois actually finished as the 35th dumbest. The survey took into account mostly the achievement levels of the children in the school systems.
But we wanted to measure the entire population.
So, how do you decide which city in Illinois is the dumbest? By measuring the high school graduation rate of the entire population, and looking at the number of educational vs drinking opportunities in these places, that's how.
Plus, we thought why not add in a stereotype? Cause, you know, women are always saying that they are smarter than men. That might not actually be a stereotype though. According to ABC News, women just passed men on IQ tests.
And, when we ran the data, it was true. The cities at the top of the dumb list were male dominated.
Using that criteria, it's not hard to scrape the internet, run some scientific data on where the dumbest people in Illinois might live, and then put out a list.
After analyzing all cities with a decent amount of people in them, we came up with this list as The Dumbest Cities in Illinois:
As it turns out, almost all of these cities are male dominated, where the high school graduation rate is very, very low, and where there aren't a lot of options for learning outside of the classroom.
Read on below to see where your town ranked.
For more Illinois reading, check out:
What stupid criteria did we use?
In order to rank the dumbest cities in Illinois, we had to determine what criteria defines a dumb person.
We started by making a list of every place in Illinois over 5,000 people based on the 2013 American Community Survey. That left us with 350 places in the Land of Lincoln.
We then looked at the following dumb-tastic criteria for each of the places on the list:
Number of bars vs. libraries per capita
High school graduation rates
Number of men in a city
Note: For the sake of getting reliable numbers, we counted places within a city's border, as well as within a short driving distance.
1. Posen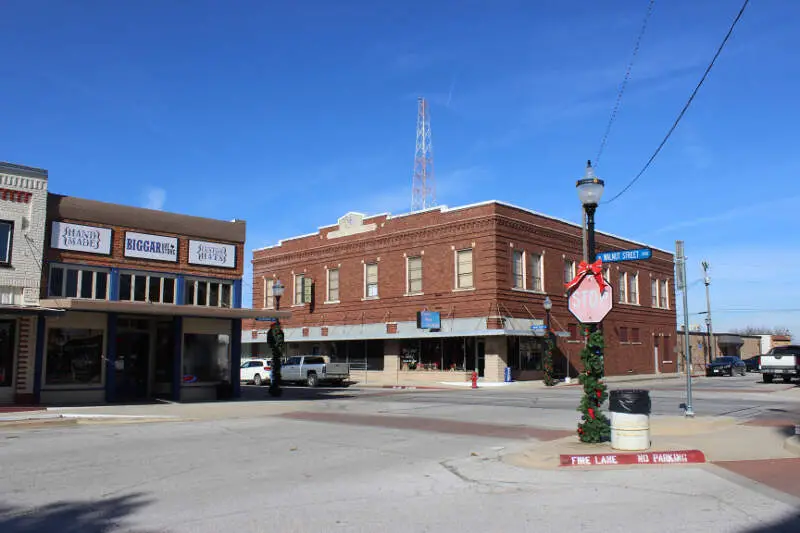 Source: Public Domain
Population: 5,975
High school graduation rate: 65%
Libraries: 0. Bars: 5
% of city that's men: 50.98%
When you don't have a library in your town, and more than 1 in 3 people is walking around without a high school education, that's a sign that your town is kinda dumb. While we're not judging the individual intelligence level of anyone in Posen in particular, it's clear there's not a lot upstairs with many, many people here.
The number of men here is slightly above 50%, and certainly not the highest on our list. But every single city up to the 12th dumbest is male dominated. That's saying something about how underrated women are in today's world.
Posen is a teeny place towards the Indiana state line, not too far from East Chicago.
2. Cicero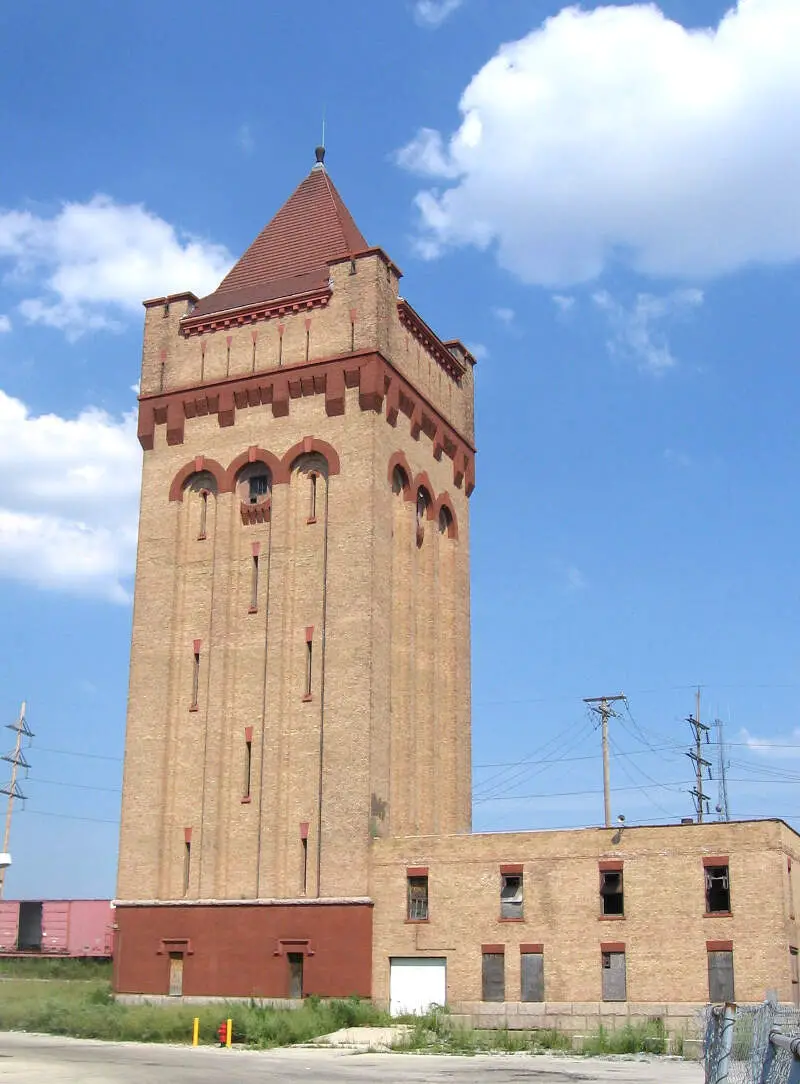 Population: 83,756
High school graduation rate: 59%
Libraries: 1. Bars: 13
% of city that's men: 50.94%
Holy ditch day Cicero! What did you guys do all day long while a lot of the other kids were sitting in math class? You guys have the 3rd lowest education level in the state.
Just outside of Chicago, Cicero has one public library for the entire city. That's really, really low. But you make up for it in the number of bars, that's for sure. Count em: 13.
It looks like at least there are lots of blue collar jobs in the area. Too bad almost 10% of Cicero residents are unemployed.
3. Melrose Park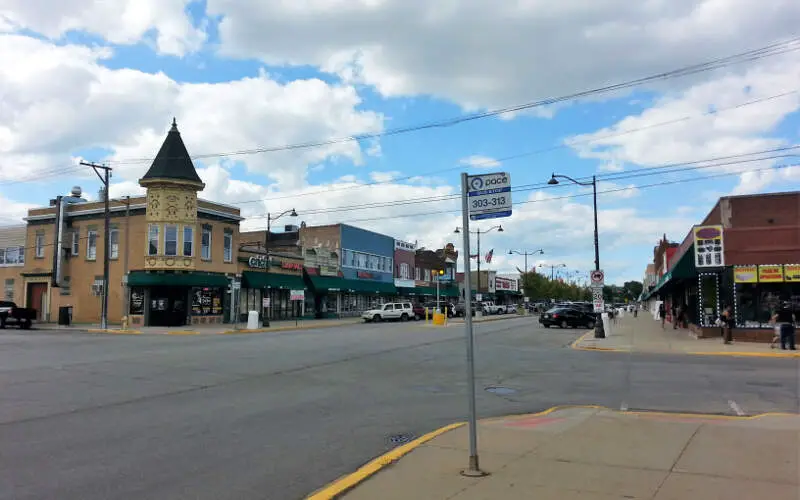 Population: 25,251
High school graduation rate: 63%
Libraries: 1. Bars: 12
% of city that's men: 51.33%
Keeping it in the greater Chicago area, Melrose Park is just a short jaunt west of the Windy City. Here, they have a library, but for a city of 25,000, that's not enough. Not when you consider that Melrose Park has the 5th most people without a high school diploma walking around.
We're gonna continue with this theme of women being smarter than men. Melrose Park has the 29th most men in the state. Girl power!
4. LaSalle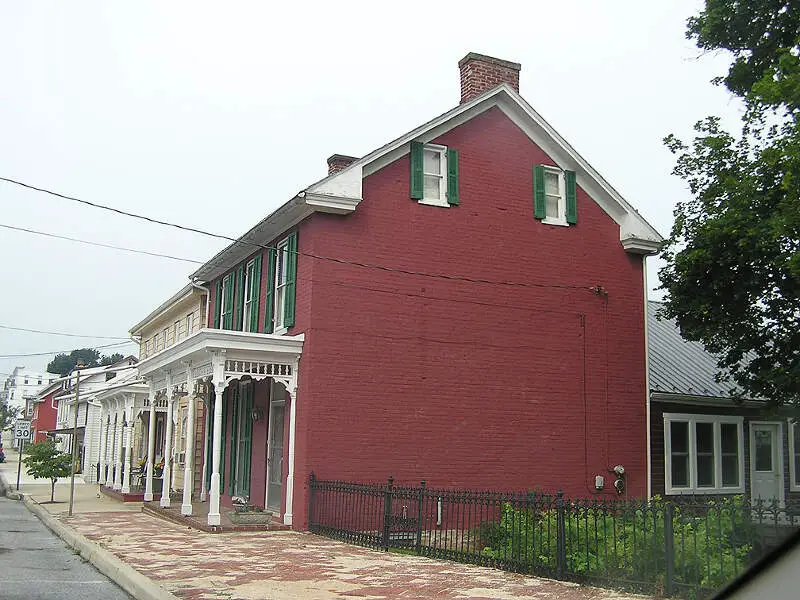 Source: Public Domain
Population: 9,574
High school graduation rate: 80%
Libraries: 1. Bars: 14
% of city that's men: 52.89%
LaSalle has lots of men, no libraries and 14 bars. That's a bad combination if you're gauging the smart factor in a city.
When 1 in 5 people doesn't have a high school diploma, that's actually not horrible when you look at the rest of the cities on this list.
La Salle is in the greater Chicago area, along the I-80/I-39 intersection. Don't stop there and ask for directions. You may be more lost than you were when you stopped.
5. Carpentersville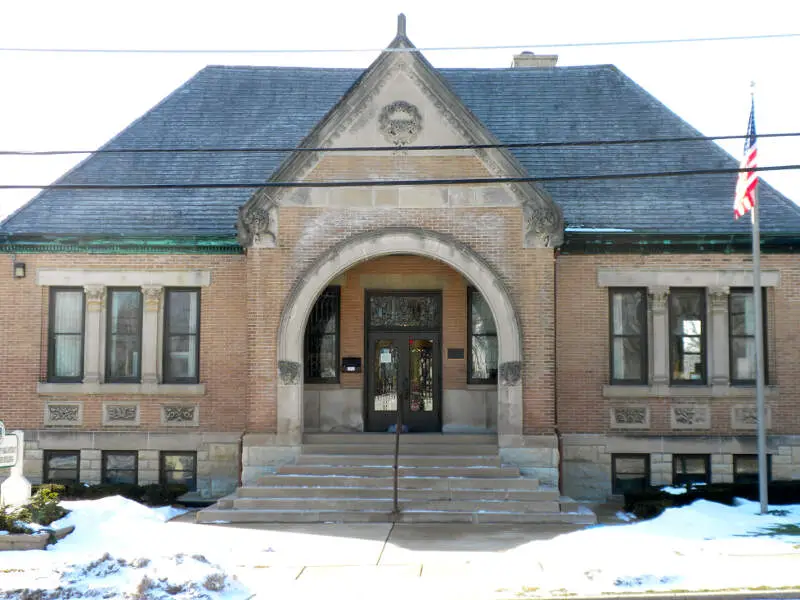 Source: Public domain
Population: 37,758
High school graduation rate: 70%
Libraries: 2. Bars: 6
% of city that's men: 50.99%
We're starting to see a pattern here. Carpentersville is another Chicago suburb – a short drive west of downtown along I-90.
They actually have a couple of libraries here, which is a good thing, since 3 in 10 people doesn't have a high school diploma. Have you heard the saying, "Only dumb people are happy?" If that's true, than the folks in Carpentersville are sitting pretty right now.
6. Belvidere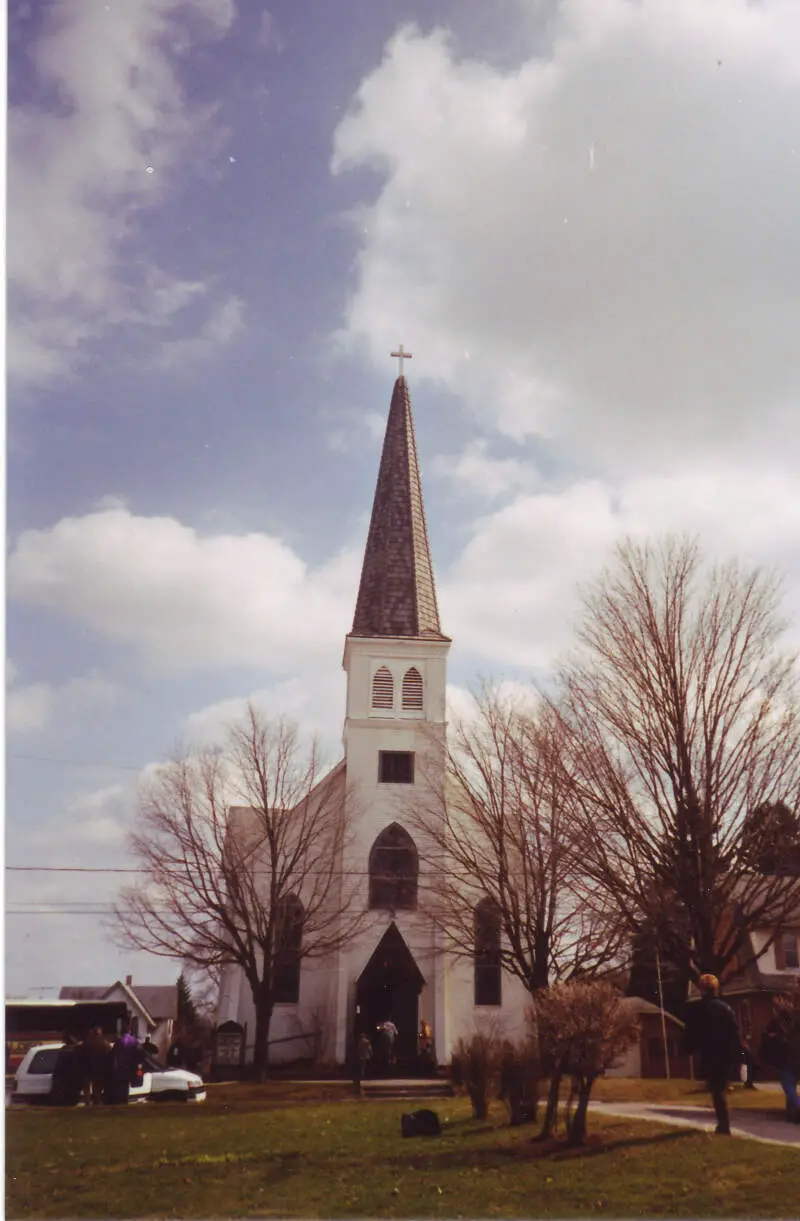 Source: Public domain
Population: 25,544
High school graduation rate: 70%
Libraries: 1. Bars: 8
% of city that's men: 50.26%
Belvidere isn't too far away from Carpentersville. Perhaps they should become study buddies.
Apparently it's not just the adults that are intelligence challenged. Here's a Tweet from the Belvidere area the other day:
"the kids in belvidere are so stupid, who the hell runs across the railroad when a train is coming and lays down as a joke!?"
They were most likely boys, not girls.
7. Dixon
Source: Public domain
Population: 15,332
High school graduation rate: 76%
Libraries: 1. Bars: 13
% of city that's men: 54.91%
Ladies, I'm tellin' ya, girls rule and boys drool. Case in point: Dixon. It has the 9th highest number of men in the state of Illinois, and it's on this list.
A couple hours west of downtown Chicago, Dixon does have a library. And, based on the fact that 1 in 4 residents is gonna need a GED at some point, that library should be packed. But more likely, it's the 13 bars that will be elbow to elbow here.
8. Crest Hill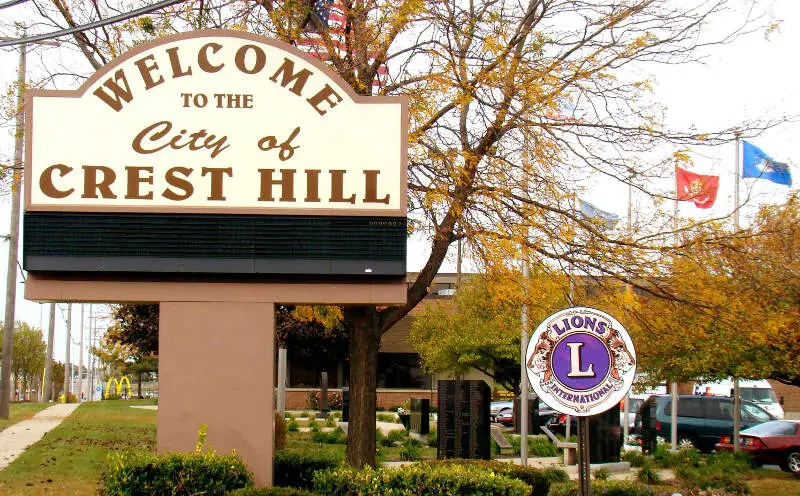 Population: 20,724
High school graduation rate: 79.5%
Libraries: 1. Bars: 14
% of city that's men: 53.96%
Another male dominated Chicago suburb (that's right ladies!), Crest Hill pushes the limits when it comes to borderline acceptable high school education levels.
Here's an interesting Tweet:
"you aren't automatically a hardass if you're from crest hill. damn these kids are stupid."
9. Glendale Heights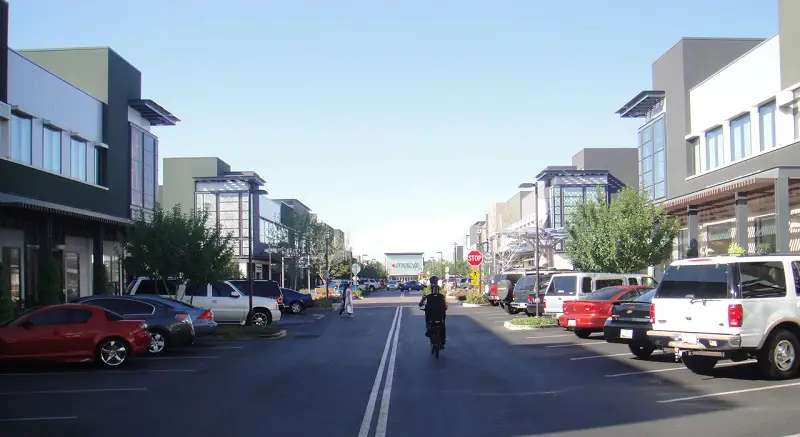 Source: Public Domain
Population: 34,159
High school graduation rate: 79.8%
Libraries: 1. Bars: 8
% of city that's men: 51.05%
Just west of Chicago, Glendale Heights' claim to fame is that it was the home town to Smashing Pumpkins founder Billy Corgan. He's a pretty brilliant composer, we have to give you guys that.
Other than that, it looks like lots of people who live here are highly uneducated, and judging by the high unemployment rate, not too interested in getting their lives back on track. Dumb, dumb, dumb.
10. Pontiac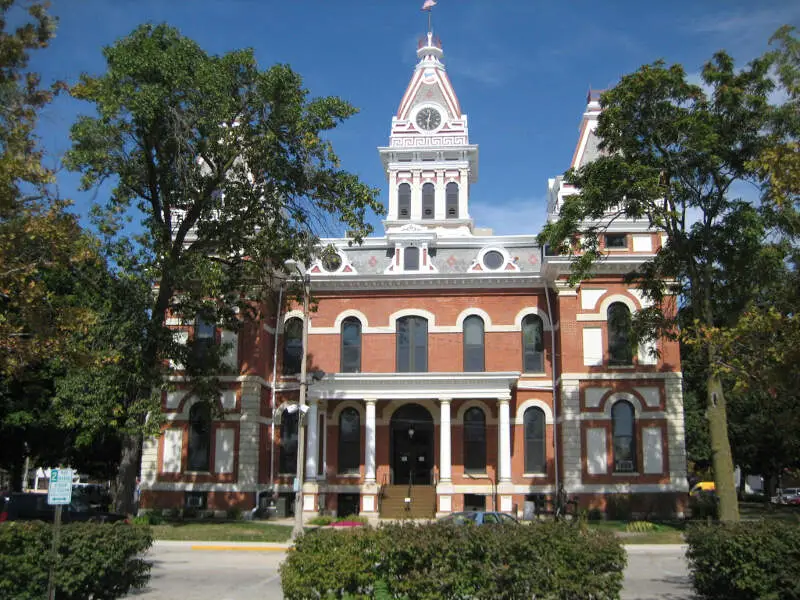 Population: 12,210
High school graduation rate: 74%
Libraries: 1. Bars: 8
% of city that's men: 56.95%
It's an official clean sweep for northern/central Illinois. Pontiac isn't in the greater Chicago area, but it's towards the central part of the state. Accordingly, central and southern Illinois are much more intelligent than their peers to the north.
Pontiac has one of the highest male to female ratios in the state. A study by the Washington Post said women have better verbal skills than men. To that study, I say, "Duh!"
There You Have It
If you're measuring the locations in Illinois where there are a high number of dropouts, few libraries, and where men tend to dominate, this is an accurate list.
If you're curious enough, here are the least stupid places in Illinois. Or, the smartest, if you will:
Flossmoor (Pop. 9,387)
Savoy (Pop. 6,989)
Northfield (Pop. 5,234)
University Park (Pop. 7,034)
Oak Park (Pop. 51,781)
We also wrote about the most redneck cities in Illinois if you didn't happen to see it. Click here to read it.