This article is an opinion based on facts and is meant as infotainment. Don't freak out.
Advertisement
[adrotate banner='4′]
Recently, the Washington Post published a study on the smartest (and dumbest) states in America. The Post based each state's intelligence on SAT scores, IQ scores, and the number of college graduates.
Louisiana finished 43rd, just head of West Virginia and just behind North Carolina.
But, we wanted to know which cities in the Bayou State are the dumbest. How can we tell? By measuring the school completion rates in Louisiana, that's how.
After analyzing all cities with populations of 5,000 or more, we came up with this list as The Dumbest Cities in Louisiana:
Also, we're not saying the people in these cities – or the cities themselves – are bad. We're just making an observation that as a majority, they're not the brightest bulbs in the room.
Read on below to see where your town ranked.
For more Louisiana reading, check out:
Advertisement
[adrotate banner='5′]
What stupid criteria did we use?
In order to rank the dumbest cities in Louisiana, we had to determine what criteria defines a dumb person.
We started by making a list of every place in the U.S. with over 5,000 people based on the 2014 American Community Survey. That left us with 80 places to rank.
We then looked at the following dumb-tastic criteria for each of the places on the list:
% of the population with less than a high school education (Age 25+)
% of high school drop outs (Ages 16-19)
Note: We looked at the graduation rates of the entire population, not the current rates for high schoolers.
1. Crowley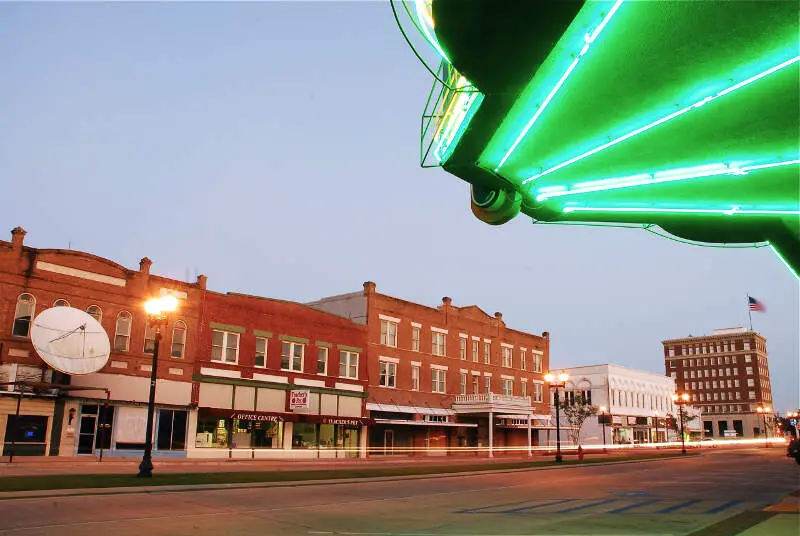 Population: 14,120
Unfortunately, when you look at the data, little Crowley, a short drive west of Lafayette, is the dumbest city in Louisiana. Here's why.
A full 18% of kids between the ages of 16 and 19 have dropped out of high school, according to the latest numbers from the just-released American Community Survey. That's the 12th highest number of dropouts in the state for cities above 5,000 people.
But things don't get better when you realize that 35% of the population doesn't have a high school degree by the age of 25. That's the educational attainment of the adults who currently live in Crowley, which is the third highest rate in the state.
So essentially, more than 1 in 3 residents who currently live in Crowley are uneducated, even without a basic high school degree.
Crowley is in Acadia Parish, where they've been able to get by on rice farming and, more recently, crawfish farming. So perhaps a formal education doesn't matter very much here for employment purposes. Keep in mind that more than 60% of either teenagers or the elderly live in poverty in Crowley.
Advertisement
[adrotate banner='7′]
Other Highlights
New Iberia: The largest city on this list (31,000) has a high school dropout rate of 23% – which is the 5th highest rate in the state. Overall, New Iberia is the 10th least educated city in Louisiana.
However, at least most of the adults have a formal education – only 8.4% of adults over the age of 25 is uneducated. That means either adults are going back to complete their education later, or the population moving into the New Iberia area has at least a high school degree.
New Orleans The Big Easy has a 15% dropout rate and only 6% of adults are considered uneducated. Those numbers are both towards the bottom, putting New Orleans as the 16th smartest city in the state of Louisiana.
Baton Rouge and Lafayette However, Baton Rouge is even smarter. Anchored by Louisiana State University, only 5.8% of the population here never finished high school. That's the 20th highest in the state.
Lafayette is slightly 'dumber' than both New Orleans and Baton Rouge. Almost 8% of its residents are without a high school degree, but only 14% of its current high school age teens are drop outs. That means Lafayette kids are a little smarter, but their adults are a little dumber than those in New Orleans.
Smartest cities in Louisiana: Of those cities with populations above 5,000, here are the smartest cities in The Pelican State: Zachary, Mandeville, Gonzales, Scott, and Youngsville.
Three of the 5 are Baton Rouge suburbs. Youngsville is a short drive from Lafayette. Only Mandeville, across Lake Pontchartrain from New Orleans, is relatively separate from a major city center.
There You Have It
If you're measuring the locations in Louisiana where there are a high number of teenage dropouts and adults who never received a formal education, this is an accurate list.
For a lighter fare, you will love a video of Californians taste testing Louisiana food for the first time. Click here to watch it. Hi-LAR-ious.
The Dumbest Cities In Louisiana, with detailed information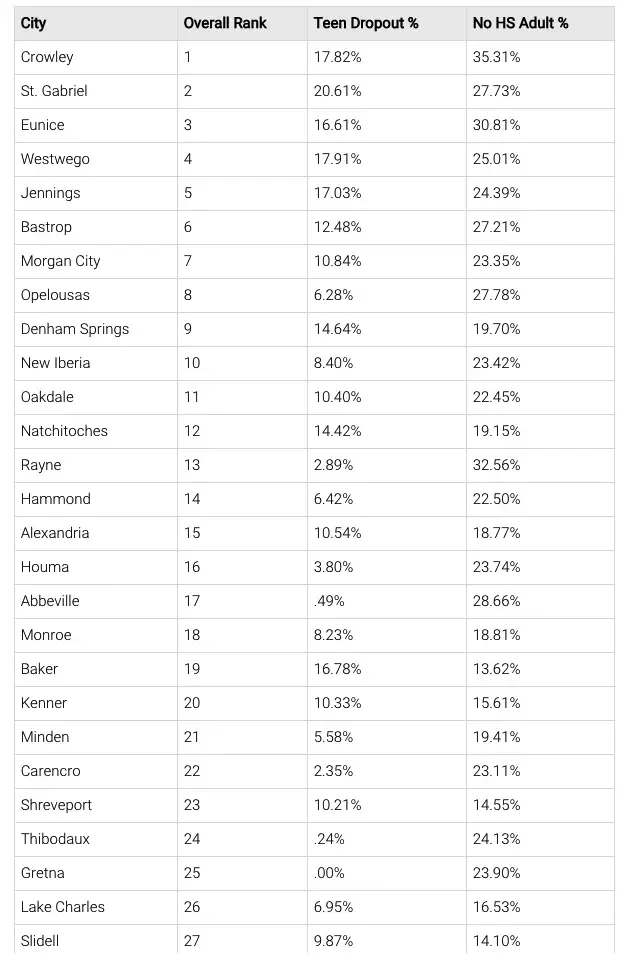 Below is the desktop version, with more detailed stats.