This article is an opinion based on facts and is meant as infotainment. Don't freak out.
Swipe left for slideshow
No one said that Ohio is a dumb state. According to a survey of hundreds of public schools in each state, Ohio actually finished as the 17th dumbest. The survey took into account mostly the achievement levels of the children in the school systems.
So it's not like the Buckeye State is completely stupid. There are plenty of other dumber places out there (here's looking at you, Illinois and Michigan.)
But we wanted to measure the entire population of Ohio.
So, how do you decide which city in Ohio is the dumbest? By measuring the high school graduation rate of the entire population, and looking at the number of educational vs drinking opportunities in these places, that's how.
Plus, we thought why not add in a stereotype? Cause, you know, women are always saying that they are smarter than men. That might not actually be a stereotype though. According to ABC News, women just passed men on IQ tests.
And, when we ran the data, it was true. The top two cities at the top of the dumb list were very much male dominated.
Using that criteria, it's not hard to scrape the internet, run some scientific data on where the dumbest people in Ohio might live, and then put out a list.
After analyzing all cities with a decent amount of people in them, we came up with this list as The Dumbest Cities in Ohio:
We're not saying the people in these cities – or the cities themselves – are bad. We're just making an observation that as a majority, they're not the brightest bulbs in the room.
Read on below to see where your town ranked.
For more Ohio reading, check out:
What stupid criteria did we use?
In order to rank the dumbest cities in Ohio, we had to determine what criteria defines a dumb person.
We started by making a list of every place in Ohio over 15,000 people based on the 2013 American Community Survey. That left us with 103 places in the Buckeye State.
We then looked at the following dumb-tastic criteria for each of the places on the list:
Number of bars vs. libraries per capita
High school graduation rates
Number of men in a city
Note: For the sake of getting reliable numbers, we counted places within a city's border, as well as within a short driving distance.
1. Marion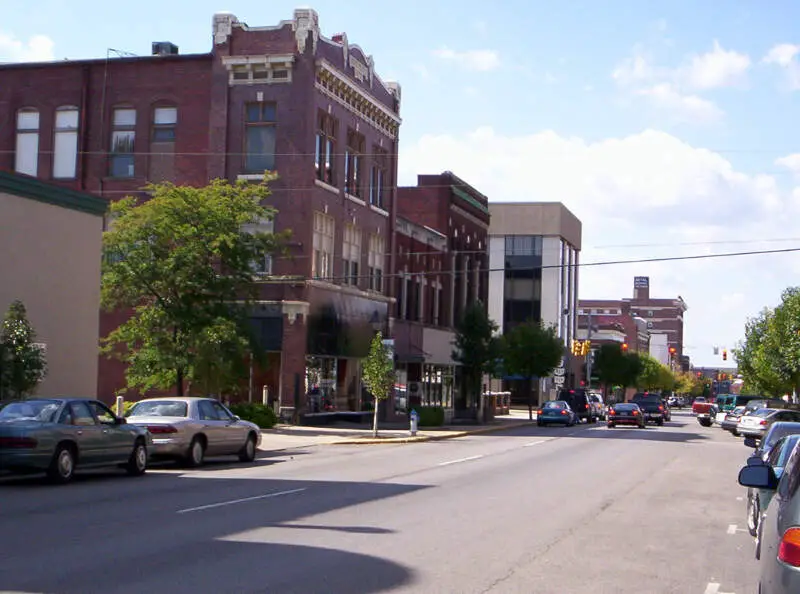 Population: 36,987
High school graduation rate: 70%
Libraries: 1. Bars: 27
% of city that's men: 55.65%
When your bar to library ratio is 27 to 1, and 3 in 10 people is walking around without a high school education, that's a sign that your town is kinda dumb. While we're not judging the individual intelligence level of anyone in Marion in particular, it's clear there's not a lot upstairs with many, many people here.
The number of men here is the highest in the state as well at 55.65%. That's saying something about how underrated women are in today's world.
Marion is about an hour north of Columbus. We spoke to several citizens who live here, and they pointed out the fact that a former U.S. President lived here, and that the city of Marion strives to help residents get jobs and educational opportunities.
2. Lima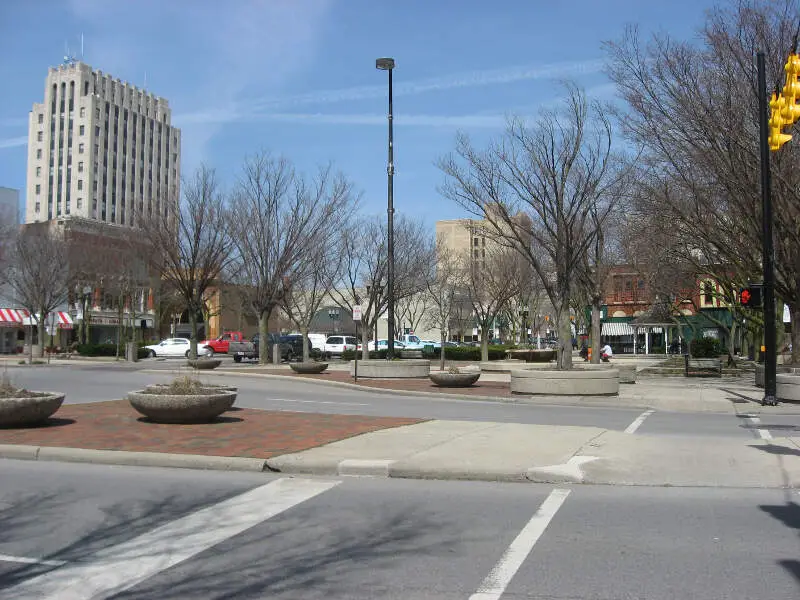 Source: Public domain
Population: 38,647
High school graduation rate: 75%
Libraries: 1. Bars: 26
% of city that's men: 52.61%
When we ran the data, it was Marion, and then everyone else was a distant second. Lima's graduation rate is 'only' the 13th lowest in the state, but still pretty high. And a 26-to-1 bar to library ratio is pretty impressive.
Again, the percentage of men is really high here as well. Girl power!
3. Painesville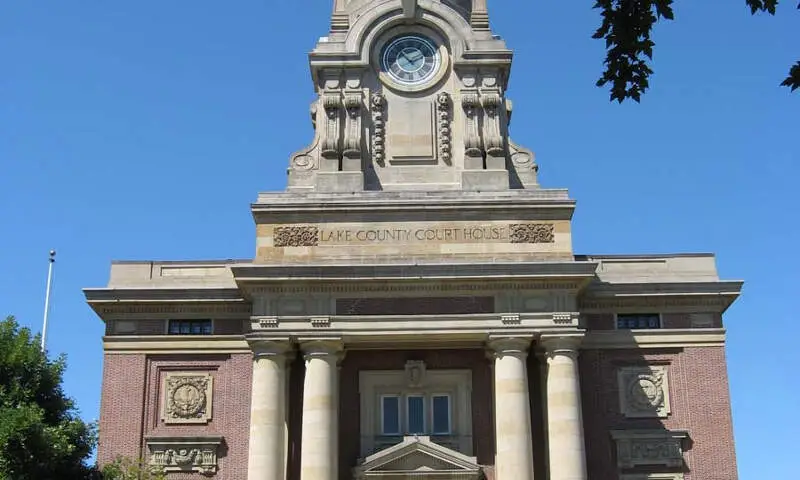 Population: 19,496
High school graduation rate: 75%
Libraries: 1. Bars: 19
Painesville is home to the Morley Library and Lake Erie College. However, 1 in 4 people here is a high school dropout, and there are plenty more bars than places to learn here.
It's a very blue collar place, and there are lots of blue collar jobs in the area. It's a good thing, since 6.7% of the population is jobless according to the most recent data.
4. Youngstown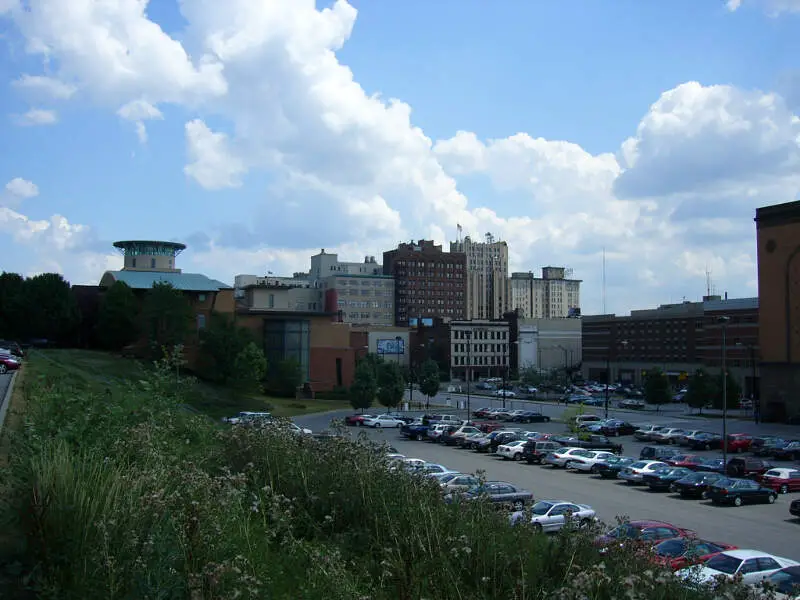 Population: 67,093
High school graduation rate: 74%
Libraries: 8. Bars: 94
So here's the deal about Youngstown. It has the 6th highest dropout rate in the state, which is quite a feat, even for Ohio.
And Youngstown has just about more libraries than anyone on this list. The problem is that there are about 100 bars in and around the area, depending on what place is still opened up. So, while lots of people here can get their learn on, it's evident that they aren't taking advantage of the educational opportunities presented to them.
5. Niles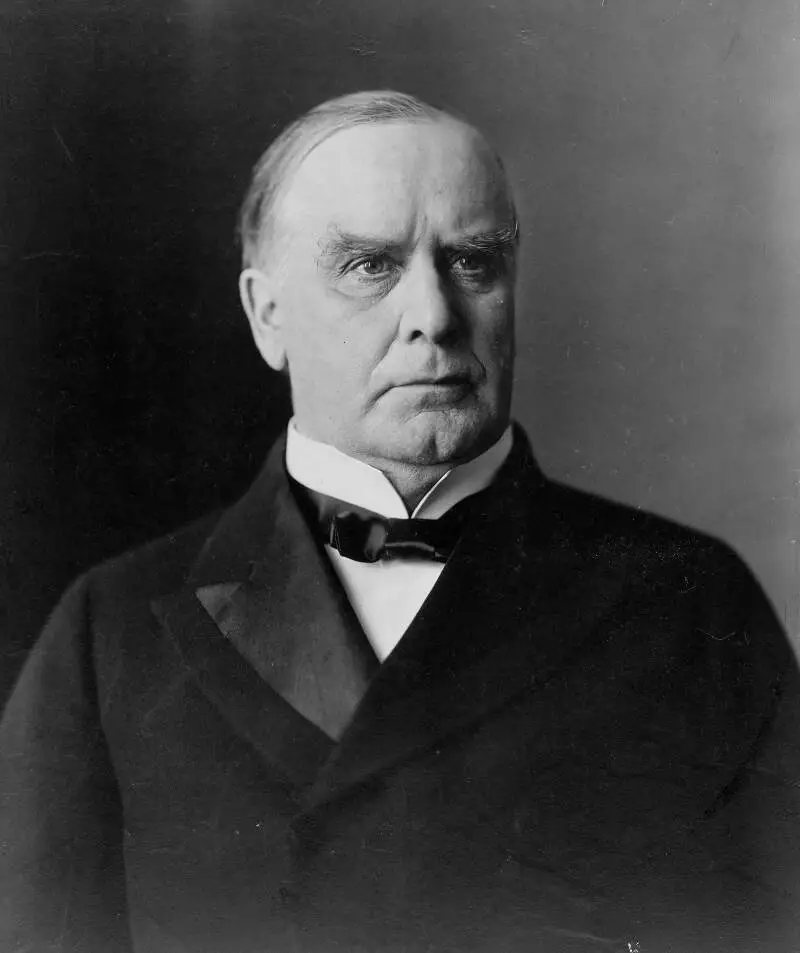 Source: Public domain
Population: 19,274
High school graduation rate: 81%
Libraries: 1. Bars: 23
Niles isn't too far from Youngstown, towards the Pennsylvania state line. The graduation rate here is below average, but not horrible. But the 23-to-1 bar ratio certainly distracts residents who may otherwise have educational ambitions.
Another blue-collar town, Niles has been hurt by a loss of manufacturing jobs, but has diversified into steel and glass production.
6. Mansfield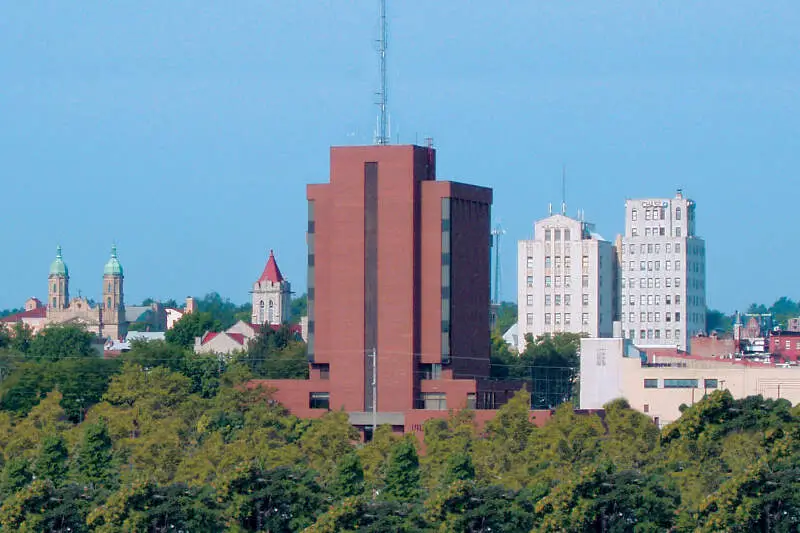 Population: 47,854
High school graduation rate: 75%
Libraries: 2. Bars: 40
% of city that's men: 52.45%
Bravo to Mansfield for keeping their libraries at 'only' 20-to-1. That's actually not too shabby. We understand that libraries aren't the only place where people can learn, and that many educated people read books they download.
What we're saying is that there are a lot of younger kids who don't have the internet, who can only learn at a library. So, if there's a bar on every corner, and a library is a long drive away, that's setting a city up for future issues.
Plus, Mansfield is male dominated by a wide margin.
7. Sandusky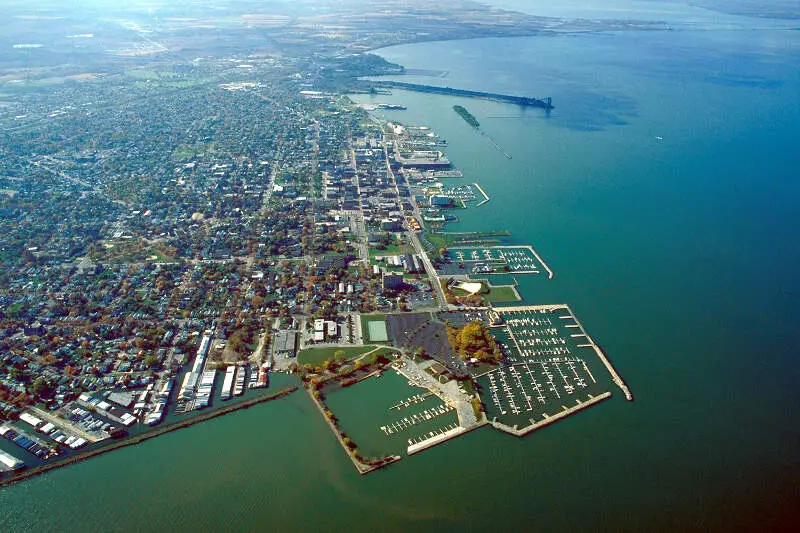 Source: Public domain
Population: 25,787
High school graduation rate: 77%
Libraries: 2. Bars: 74
Sandusky has the 3rd highest bar-to-library ratio in the state, and nearly the highest dropout rate. So while it's a tourist draw (somewhat explaining the bars), that doesn't mean residents are any smarter.
Plus, a guy just died the other way when he entered a restricted space at Cedar Point and got crushed by an oncoming roller coaster. That's a pretty stupid thing to do.
8. Middletown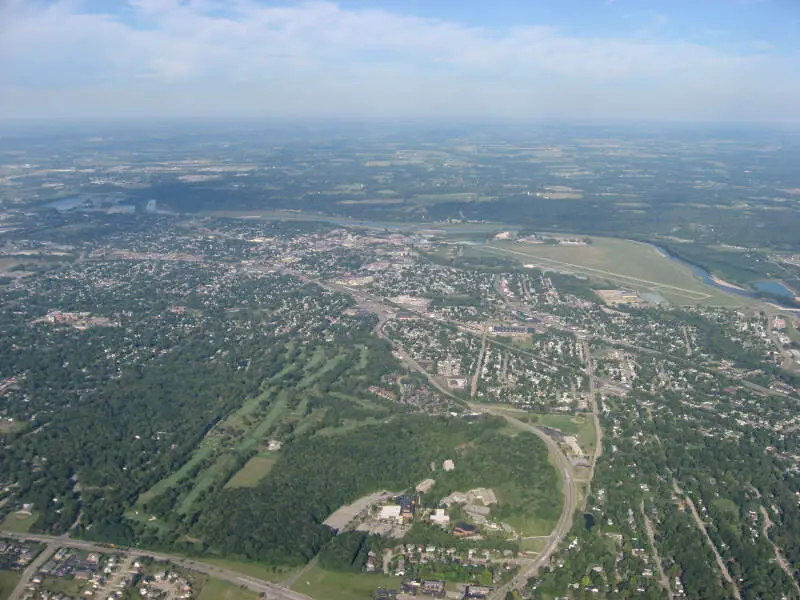 Source: Public domain
Population: 48,647
High school graduation rate: 76%
Libraries: 2. Bars: 27
Middletown Ohio is a very blue collar place in the southern part of the state, where dropouts are fairly common. It seems to be a good thing that there are steel jobs here, based on the educational attainment of many of its citizens.
The city's motto is "Bright past, brighter future." Hopefully, 'bright' means hope, because the past wasn't very 'bright' for a quarter of the city.
9. Norwood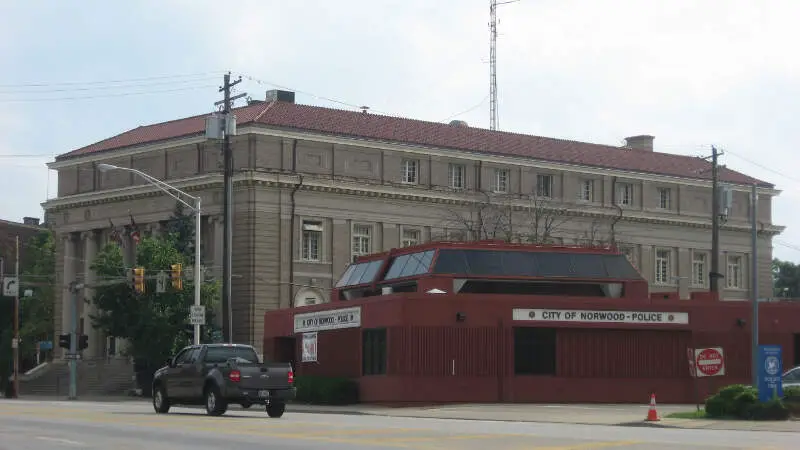 Source: Public domain
Population: 19,214
High school graduation rate: 74%
Libraries: 1. Bars: 9
Norwood isn't too far away from Cincinnati. If you're passing through, don't expect to get a good answer if you need directions.
It has the 8th highest dropout rate in the state. The 9-to-1 bar to library ratio, though, is actually, sadly, one of the best on this list.
That's really saying where Ohio residents' priorities are.
But hey, we're not judging. We'd rather be at the bar than staring at a book ourselves, too.
10. East Cleveland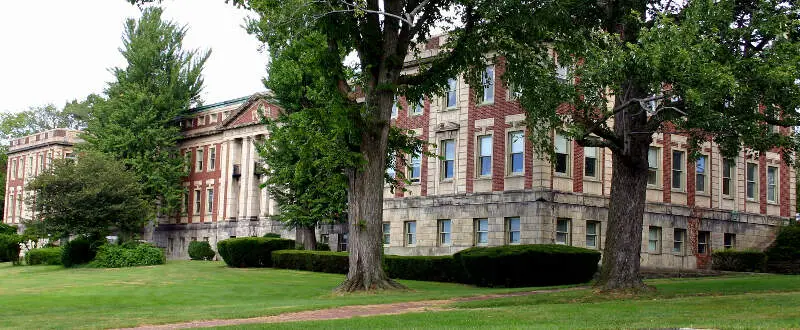 Source: Public domain
Population: 18,179
High school graduation rate: 73%
Libraries: 1. Bars: 28
Here's the deal with East Cleveland: Had we not measured men vs. women, it would have won this whole thing. As you might expect if you've ever visited East Cleveland, a lot of the people here are not educationally motivated, to put it best.
Sure, there are plenty places in the area to get your BUD, but not very many opportunities to get your GED here.
There You Have It
If you're measuring the locations in Ohio where there are a high number of dropouts, few libraries, and where men tend to dominate, this is an accurate list.
A study by the Washington Post said women have better verbal skills than men. To that study, I say, "Duh!"
If you're curious enough, here are the least stupid places in Ohio. Or, the smartest, if you will:
Shaker Heights (Pop. 28,289)
South Euclid (Pop. 22,207)
Upper Arlington (Pop. 33,848)
Bay Village (Pop. 15,589)
Bridgetown (Pop. 14,644)
We also wrote about the most redneck cities in Ohio if you didn't happen to see it. Click here to read it.