This article is an opinion based on facts and is meant as infotainment. Don't freak out.
Swipe left for slideshow
No one said that Pennsylvania is a dumb state. According to a survey of hundreds of public schools in each state, PA actually finished as the 10th smartest. The survey took into account mostly the achievement levels of the children in the school systems.
The only other 'smarter' state in the area is New Jersey, which is actually the third smartest state in the nation. New York – 16th smartest. Ohio: Dumb (34th).
But we wanted to measure the entire population of Pennsylvania to see where the biggest dummies live.
So, how do you decide which city in PA is the dumbest? By measuring the high school graduation rate of the entire population, and looking at the number of educational vs drinking opportunities in these places, that's how.
Plus, we thought why not add in a stereotype? Cause, you know, women are always saying that they are smarter than men. That might not actually be a stereotype though. According to ABC News, women just passed men on IQ tests.
And, when we ran the data, it was true. The top three cities at the top of the dumb list were very much male dominated.
Using that criteria, it's not hard to scrape the internet, run some scientific data on where the dumbest people in Pennsylvania might live, and then put out a list.
After analyzing all cities with a decent amount of people in them, we came up with this list as The Dumbest Cities in Pennsylvania:
We're not saying the people in these cities – or the cities themselves – are bad. We're just making an observation that as a majority, they're not the brightest bulbs in the room.
Read on below to see where your town ranked.
For more Pennsylvania reading, check out:
What stupid criteria did we use?
In order to rank the dumbest cities in PA, we had to determine what criteria defines a dumb person.
We started by making a list of every place in Pennsylvania over 5,000 people based on the 2013 American Community Survey. That left us with 250 places in the Keystone State.
We then looked at the following dumb-tastic criteria for each of the places on the list:
Number of bars vs. libraries per capita
High school graduation rates
Number of men in a city
Note: For the sake of getting reliable numbers, we counted places within a city's border, as well as within a short driving distance.
1. Washington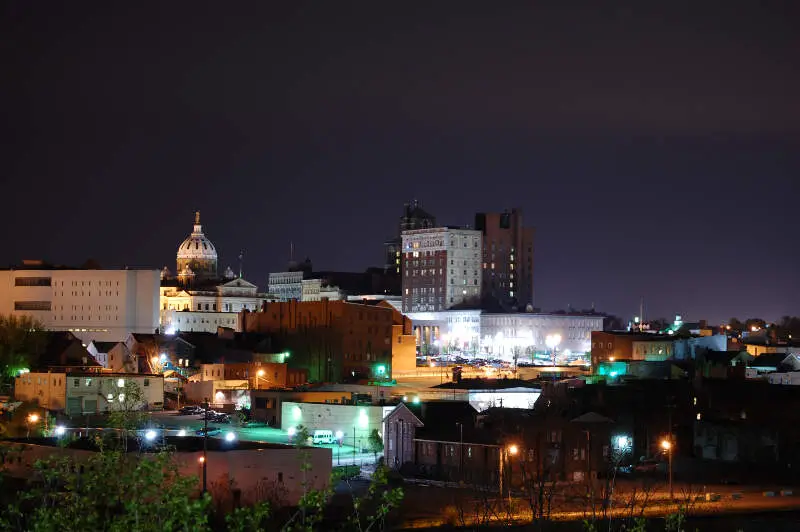 Population: 13,720
High school graduation rate: 76%
Libraries: 1. Bars: 42
% of city that's men: 54%
When your bar to library ratio is 42 to 1, and 1 in 4 people is walking around without a high school education, that's a sign that your town is kinda dumb. While we're not judging the individual intelligence level of anyone in Washington in particular, it's clear there's not a lot upstairs with many, many people here.
The number of men here is the second-highest in the state as well at 51%. That's saying something about how underrated women are in today's world.
Marion is about an hour south of Pittsburgh. Pittsburgh itself is the 72nd dumbest in the state, by the way.
2. Shenandoah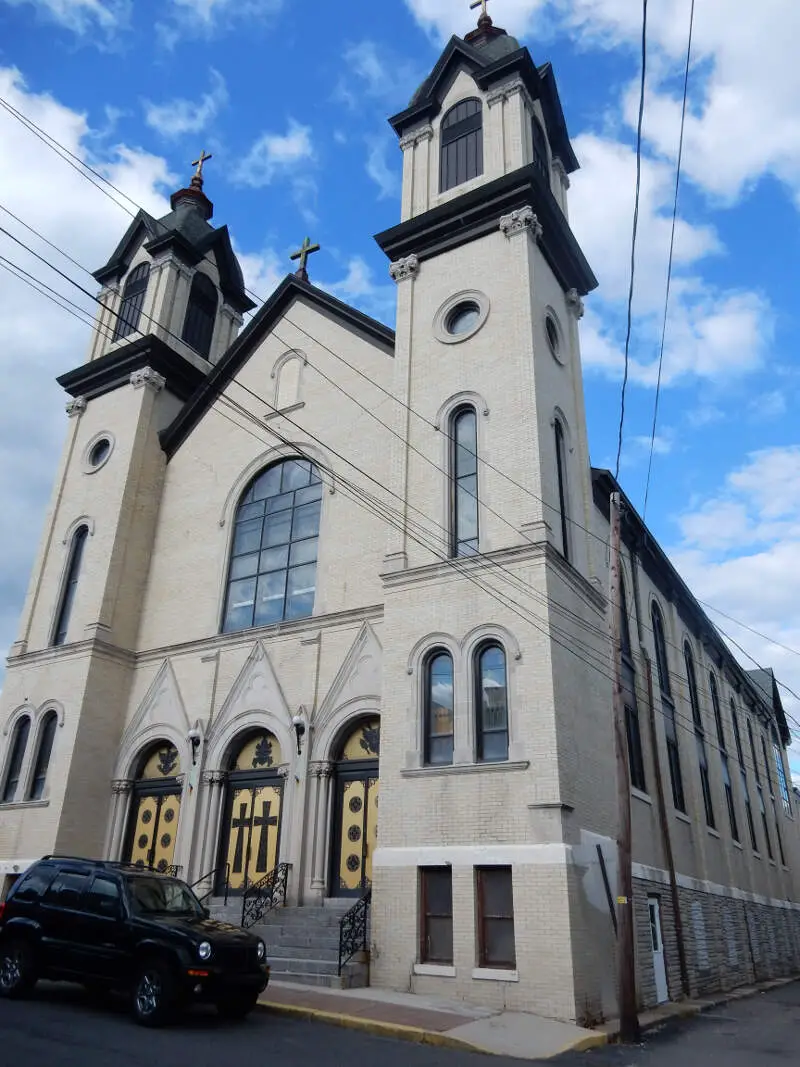 Population: 5,073
High school graduation rate: 66%
Libraries: 1. Bars: 6
% of city that's men: 52.71%
This small town near West Virginia has the 4th highest number of college dropouts in Pennsylvania. While there aren't a ton of bars here (it's a small place), there's only one library, too, giving Shenandoah a 6-to-1 bar to library ratio.
Shenandoah's unemployment rate is actually fairly low at 6%.
Again, the percentage of men is really high here as well. Girl power!
3. Easton

Source: Public domain
Population: 26,996
High school graduation rate: 72%
Libraries: 6. Bars: 50
There are 50 bars in Easton, and 6 libraries. Actually, 6 libraries is pretty good for a town of 26,000 people. But you can still tell where a city's priorities are when you take into account the bar-to-library ratio.
And more than 1 in 4 people is a high school dropout. Easton is on the New Jersey border.
4. Shamokin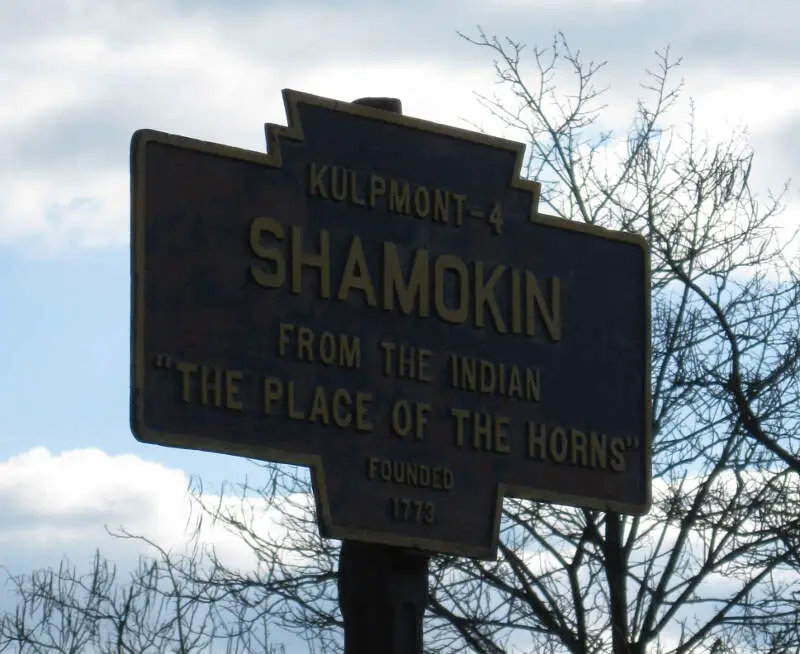 Population: 26,830
High school graduation rate: 75%
Libraries: 1. Bars: 11
Little Shamokin isn't the brightest bulb in the lamp when you look at the data. The bar-to-library ratio is 11-1, and 1 in 4 residents is a dropout.
Shamokin's unemployment rate is really low, but it's clearly a very blue collar town in the coal mining region of Northumberland County.
5. Reading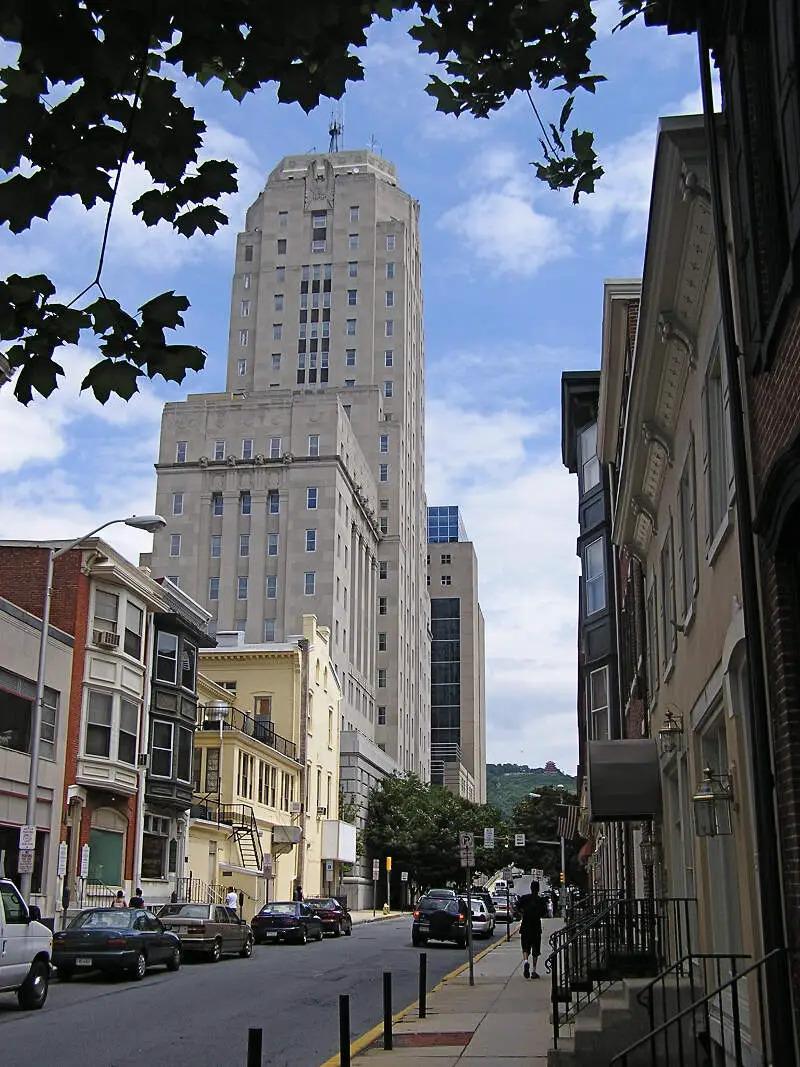 Source: Public domain
Population: 89,293
High school graduation rate: 57%
Libraries: 12. Bars: 97
You can tell people in Reading aren't reading.
Here's the deal with Reading: It has the absolute highest dropout rate in the state of Pennsylvania. It's actually one of the highest in the nation to tell you the truth.
There are lots of opportunities to get your learn on here, as there are a dozen libraries, and several colleges in the area. But the book nooks are widely outnumbered by the bar hounds.
6. Lancaster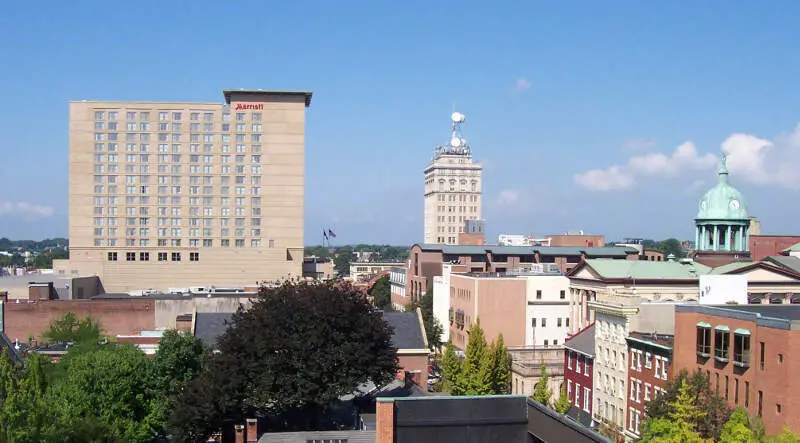 Population: 59,205
High school graduation rate: 68%
Libraries: 4. Bars: 100
Here we go again with Lancaster. They've shown up on our list before on the past as one of the most redneck cities in PA. So, it makes sense that they're on the dumb list, too, doesn't it?
Hey, don't judge. The definition of a redneck is a relatively uneducated, blue collar person from the south.
7. Kennett Square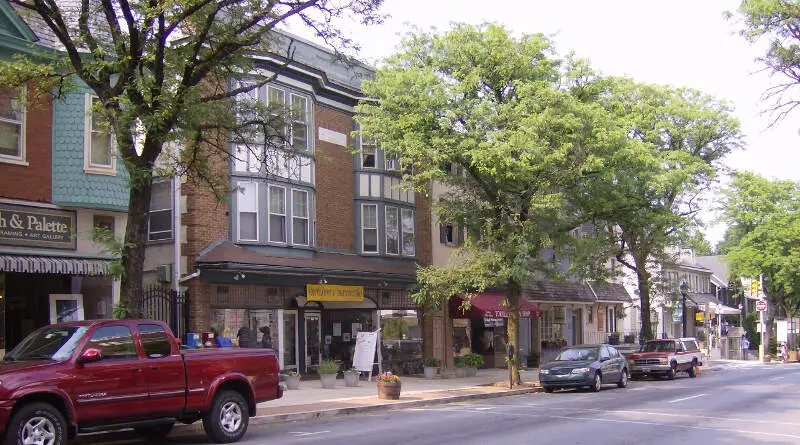 Population: 6,054
High school graduation rate: 59%
Libraries: 1. Bars: 12
% of city that's men: 56%
Little Kennett Square is a borough near the Delaware border in Chester County. It has the 2nd most dropouts in the state at 41% of the population. Plus, that bar-to-library ratio is pretty eye-opening as well for such a small place.
Kennett Square is the most male dominated city in PA by a wide margin. Girl power!
8. Hazleton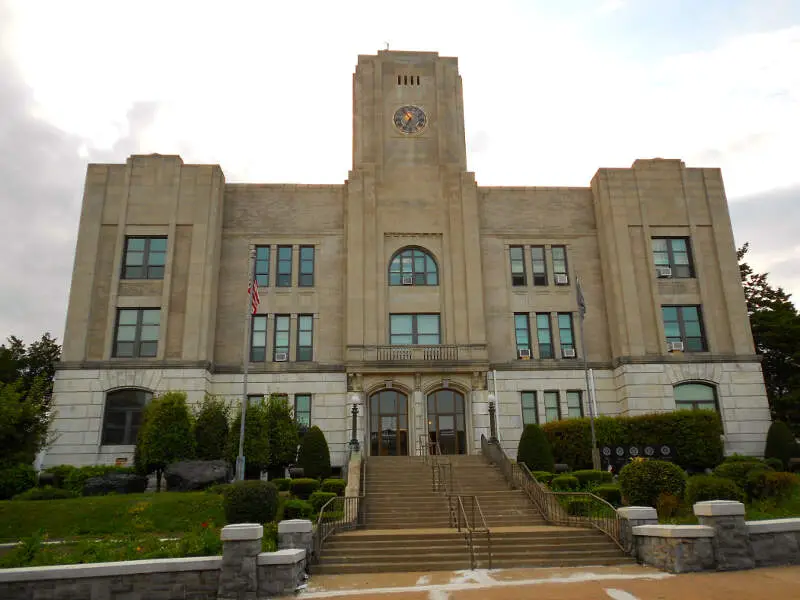 Source: Public domain
Population: 25,787
High school graduation rate: 70%
Libraries: 4. Bars: 31
Four libraries is actually quite impressive for a town of 25,000 people. But when you consider the dropout rate is 3 in 10, it's possible that many of the chairs in these libraries might be empty.
But there's lot of places to get drunk here. Which seems to be where most of the crowd is headed, since the unemployment rate is over 10%.
Hazleton is in Luzerne County.
9. Lebanon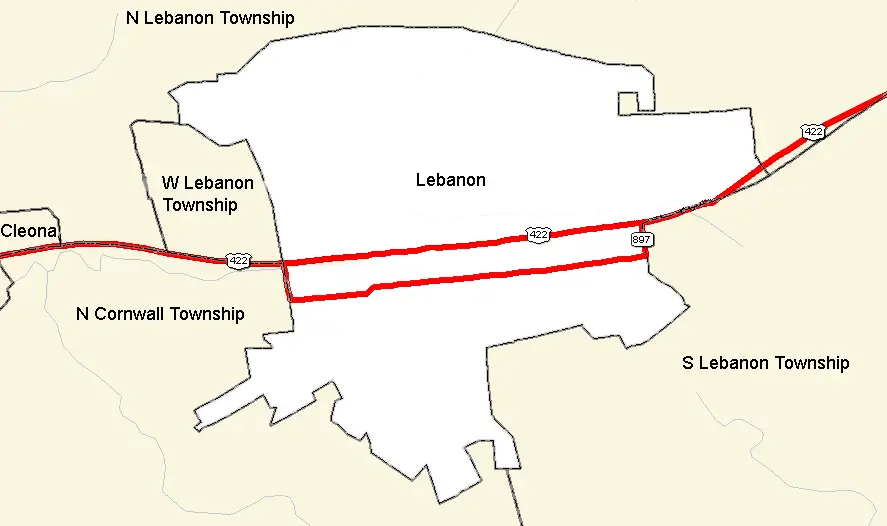 Population: 25,495
High school graduation rate: 68%
Libraries: 1. Bars: 40
Holy ditch day, Lebanon! Clearly your priorities were out of order as teens. More than 3 in 10 of you decided that finishing high school was not in your plans.
And while there are plenty of places to get your BUD here, there aren't too many ways to get your GED. Lebanon's unemployment rate is 7.2%.
10. Allentown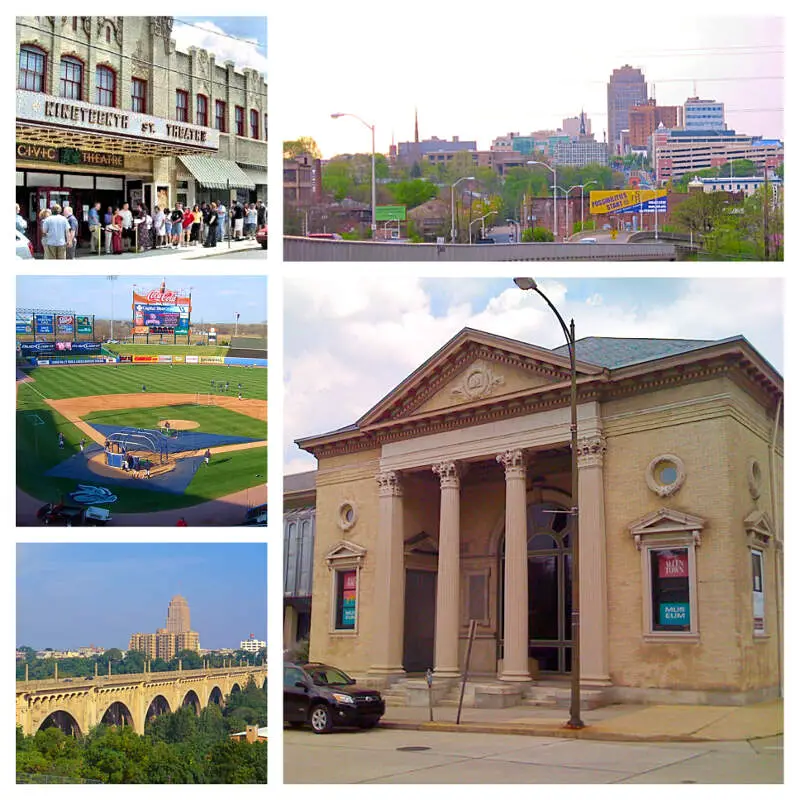 Population: 118,933
High school graduation rate: 70%
Libraries: 4. Bars: 99
Allentown is one of many blue collar cities in PA which has had to adjust to the decline of the rust belt industry. 3 in 10 people are dropouts.
Look at the number of bars vs. libraries here. And while there are a couple of colleges in Allentown at which residents can strive to attend, the next generation of kids coming up has an uphill battle, based on Allentown's storied history.
.
There You Have It
If you're measuring the locations in Pennsylvania where there are a high number of dropouts, few libraries, and where men tend to dominate, this is an accurate list.
A study by the Washington Post said women have better verbal skills than men. To that study, I say, "Duh!"
If you're curious enough, here are the least stupid places in Pennsylvania. Or, the smartest, if you will:
Penn Wynne (Pop. 5,912)
Lower Allen (Pop. 6,489)
Swarthmore (Pop. 61,95)
Forest Hills (Pop. 6,534)
Wyndmoor (Pop. 5,654)
We also wrote about the most redneck cities in Pennsylvania if you didn't happen to see it. Click here to read it.